Name: Tacoma Full Width Front Bumper & Rear Bumper w/Tire Carrier

* Friendly Reminder :
Please Double-check All of the Item Pictures to Purchase What you Like
Feature
Full-Width Front Bumper w/Winch Plate
Fits 2005-2011 Toyota Tacoma Models; Heavy-Duty, High Tensile Steel Construction; Textured Black Powder Coat Finish; Winch Plate for up to 12000 lbs; 3/4'' D-Rings Included, 9500 lbs Rated; D-Rings w/Rubber Rings to Provide Extra Protection Against Abrasion; Bumper Weight: About 140 lbs; Decorated w/"Hooke Road" LOGO; Stinger Hoop Design w/Powerful Style to Provide Superior Protection; Comes With a Winch Plate – Only Fits Advanced Wireless Remote Operate Winch without a Manual Clutch Handle. Rated Up to 12,000 Pounds. Moderate Bolt-on Installation w/Clear and Detailed Instruction
Please Double-check the distance between front bumper edge and fender below to Purchase What you Like.
Rear Bumper w/ Swing Out Tire Carrier & 5.3-Gallon Jerry Can Holder
Fits 2005-2015 Toyota Tacoma Models
The Whole bumper weight: about 142 lbs; Heavy-duty, high tensile 8 gauge (11/64 inch) steel construction for the bumper body; Textured black powder coat finish; 9500 lbs rated, 3/4'' D-rings included; License plate mounting plane included; Accommodates factory hitch receiver; Not Compatible with factory back-up sensors; New type lock w/ a double latch system to secure carrier arm; Holds 5.3-Gallon Jerry Can(Not Included). Equipped with ratchet tie-down strap to secure the Jerry Can. Easily stow and access gas can; Great for long-distance driving adventures; Can accommodate up to 35" Tires; Adjustable for different wheel heights
Bolt-on installation w/ clear and detailed instruction

Dimension
Toyota Tacoma Front Bumper/Toyota Tacoma Rear Bumper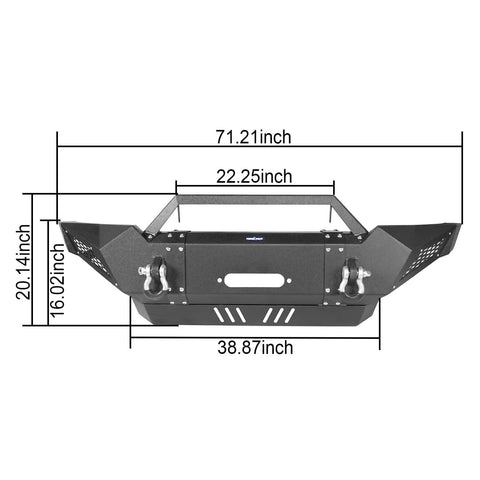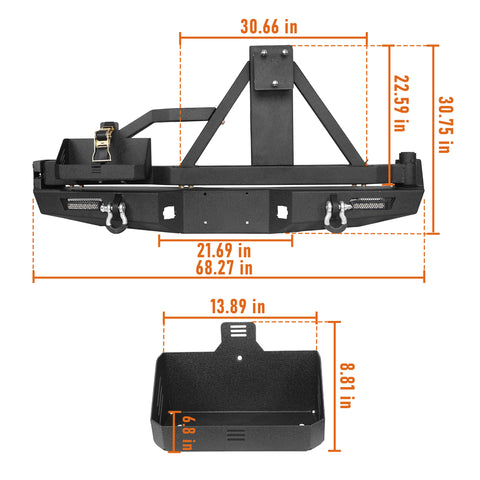 Front Bumper Package Included

1 x Tacoma Full Width Destroyer Front Bumper w/Winch Plate(Comes with 2 Packages)
2 x D-rings w/Rubber Rings
2 x 18W High Power LED Spotlights
Mounting Hardware
Rear Bumper Package Included

1 x Tacoma Rear Bumper
1 x Swing Out Tire Carrier
1 x Jerry Can Holder
2 x Ratchet Tie Down Strap
2 x D-Rings
Mounting Hardware
* The item includes two packages: Package A & Package B
2011 Toyota Tacoma Base Crew Cab Pickup 4-Door
2011 Toyota Tacoma Base Crew Cab Pickup 4-Door
2011 Toyota Tacoma Base Extended Cab Pickup 4-Door
2011 Toyota Tacoma Base Extended Cab Pickup 4-Door
2011 Toyota Tacoma Base Standard Cab Pickup 2-Door
2011 Toyota Tacoma Base Standard Cab Pickup 2-Door
2011 Toyota Tacoma Pre Runner Crew Cab Pickup 4-Door
2011 Toyota Tacoma Pre Runner Crew Cab Pickup 4-Door
2011 Toyota Tacoma Pre Runner Extended Cab Pickup 4-Door
2011 Toyota Tacoma Pre Runner Extended Cab Pickup 4-Door
2011 Toyota Tacoma TRD Sport Crew Cab Pickup 4-Door
2011 Toyota Tacoma X-Runner Extended Cab Pickup 4-Door
2010 Toyota Tacoma Base Crew Cab Pickup 4-Door
2010 Toyota Tacoma Base Crew Cab Pickup 4-Door
2010 Toyota Tacoma Base Extended Cab Pickup 4-Door
2010 Toyota Tacoma Base Extended Cab Pickup 4-Door
2010 Toyota Tacoma Base Standard Cab Pickup 2-Door
2010 Toyota Tacoma Base Standard Cab Pickup 2-Door
2010 Toyota Tacoma Pre Runner Crew Cab Pickup 4-Door
2010 Toyota Tacoma Pre Runner Crew Cab Pickup 4-Door
2010 Toyota Tacoma Pre Runner Extended Cab Pickup 4-Door
2010 Toyota Tacoma Pre Runner Extended Cab Pickup 4-Door
2010 Toyota Tacoma Pre Runner Standard Cab Pickup 2-Door
2010 Toyota Tacoma Pre Runner Standard Cab Pickup 2-Door
2010 Toyota Tacoma TRD Sport Crew Cab Pickup 4-Door
2010 Toyota Tacoma X-Runner Extended Cab Pickup 4-Door
2009 Toyota Tacoma Base Crew Cab Pickup 4-Door
2009 Toyota Tacoma Base Crew Cab Pickup 4-Door
2009 Toyota Tacoma Base Extended Cab Pickup 4-Door
2009 Toyota Tacoma Base Extended Cab Pickup 4-Door
2009 Toyota Tacoma Base Standard Cab Pickup 2-Door
2009 Toyota Tacoma Base Standard Cab Pickup 2-Door
2009 Toyota Tacoma Pre Runner Crew Cab Pickup 4-Door
2009 Toyota Tacoma Pre Runner Crew Cab Pickup 4-Door
2009 Toyota Tacoma Pre Runner Extended Cab Pickup 4-Door
2009 Toyota Tacoma Pre Runner Extended Cab Pickup 4-Door
2009 Toyota Tacoma Pre Runner Standard Cab Pickup 2-Door
2009 Toyota Tacoma Pre Runner Standard Cab Pickup 2-Door
2009 Toyota Tacoma SR5 Prerunner Crew Cab Pickup 4-Door
2009 Toyota Tacoma TRD Sport Prerunner Crew Cab Pickup 4-Door
2009 Toyota Tacoma X-Runner Extended Cab Pickup 4-Door
2008 Toyota Tacoma Base Crew Cab Pickup 4-Door
2008 Toyota Tacoma Base Crew Cab Pickup 4-Door
2008 Toyota Tacoma Base Extended Cab Pickup 4-Door
2008 Toyota Tacoma Base Extended Cab Pickup 4-Door
2008 Toyota Tacoma Base Standard Cab Pickup 2-Door
2008 Toyota Tacoma Base Standard Cab Pickup 2-Door
2008 Toyota Tacoma Pre Runner Crew Cab Pickup 4-Door
2008 Toyota Tacoma Pre Runner Crew Cab Pickup 4-Door
2008 Toyota Tacoma Pre Runner Extended Cab Pickup 4-Door
2008 Toyota Tacoma Pre Runner Extended Cab Pickup 4-Door
2008 Toyota Tacoma Pre Runner Standard Cab Pickup 2-Door
2008 Toyota Tacoma Pre Runner Standard Cab Pickup 2-Door
2008 Toyota Tacoma SR5 Prerunner Crew Cab Pickup 4-Door
2008 Toyota Tacoma TRD Sport Prerunner Crew Cab Pickup 4-Door
2008 Toyota Tacoma X-Runner Extended Cab Pickup 4-Door
2007 Toyota Tacoma Base Crew Cab Pickup 4-Door
2007 Toyota Tacoma Base Crew Cab Pickup 4-Door
2007 Toyota Tacoma Base Extended Cab Pickup 4-Door
2007 Toyota Tacoma Base Extended Cab Pickup 4-Door
2007 Toyota Tacoma Base Standard Cab Pickup 2-Door
2007 Toyota Tacoma Base Standard Cab Pickup 2-Door
2007 Toyota Tacoma Pre Runner Crew Cab Pickup 4-Door
2007 Toyota Tacoma Pre Runner Crew Cab Pickup 4-Door
2007 Toyota Tacoma Pre Runner Extended Cab Pickup 4-Door
2007 Toyota Tacoma Pre Runner Extended Cab Pickup 4-Door
2007 Toyota Tacoma Pre Runner Standard Cab Pickup 2-Door
2007 Toyota Tacoma Pre Runner Standard Cab Pickup 2-Door
2007 Toyota Tacoma SR5 Prerunner Crew Cab Pickup 4-Door
2007 Toyota Tacoma TRD Sport Prerunner Crew Cab Pickup 4-Door
2007 Toyota Tacoma X-Runner Extended Cab Pickup 4-Door
2006 Toyota Tacoma Base Crew Cab Pickup 4-Door
2006 Toyota Tacoma Base Crew Cab Pickup 4-Door
2006 Toyota Tacoma Base Extended Cab Pickup 4-Door
2006 Toyota Tacoma Base Extended Cab Pickup 4-Door
2006 Toyota Tacoma Base Prerunner Crew Cab Pickup 4-Door
2006 Toyota Tacoma Base Standard Cab Pickup 2-Door
2006 Toyota Tacoma Base Standard Cab Pickup 2-Door
2006 Toyota Tacoma Pre Runner Crew Cab Pickup 4-Door
2006 Toyota Tacoma Pre Runner Crew Cab Pickup 4-Door
2006 Toyota Tacoma Pre Runner Extended Cab Pickup 4-Door
2006 Toyota Tacoma Pre Runner Extended Cab Pickup 4-Door
2006 Toyota Tacoma Pre Runner Standard Cab Pickup 2-Door
2006 Toyota Tacoma Pre Runner Standard Cab Pickup 2-Door
2006 Toyota Tacoma SR5 Prerunner Crew Cab Pickup 4-Door
2006 Toyota Tacoma TRD Sport Prerunner Crew Cab Pickup 4-Door
2006 Toyota Tacoma X-Runner Extended Cab Pickup 4-Door
2005 Toyota Tacoma Base Crew Cab Pickup 4-Door
2005 Toyota Tacoma Base Crew Cab Pickup 4-Door
2005 Toyota Tacoma Base Extended Cab Pickup 3-Door
2005 Toyota Tacoma Base Extended Cab Pickup 3-Door
2005 Toyota Tacoma Base Standard Cab Pickup 2-Door
2005 Toyota Tacoma Base Standard Cab Pickup 2-Door
2005 Toyota Tacoma Pre Runner Crew Cab Pickup 4-Door
2005 Toyota Tacoma Pre Runner Crew Cab Pickup 4-Door
2005 Toyota Tacoma Pre Runner Extended Cab Pickup 3-Door
2005 Toyota Tacoma Pre Runner Extended Cab Pickup 3-Door
2005 Toyota Tacoma Pre Runner Standard Cab Pickup 2-Door
2005 Toyota Tacoma Pre Runner Standard Cab Pickup 2-Door
2005 Toyota Tacoma X-Runner Extended Cab Pickup 3-Door
Package Included
Front Bumper Package Included

1 x Tacoma Full Width Destroyer Front Bumper w/Winch Plate(Comes with 2 Packages)
2 x D-rings w/Rubber Rings
2 x 18W High Power LED Spotlights
Mounting Hardware
Rear Bumper Package Included

1 x Tacoma Rear Bumper
1 x Swing Out Tire Carrier
1 x Jerry Can Holder
2 x Ratchet Tie Down Strap
2 x D-Rings
Mounting Hardware
* The item includes two packages: Package A & Package B
Fitment
2011 Toyota Tacoma Base Crew Cab Pickup 4-Door
2011 Toyota Tacoma Base Crew Cab Pickup 4-Door
2011 Toyota Tacoma Base Extended Cab Pickup 4-Door
2011 Toyota Tacoma Base Extended Cab Pickup 4-Door
2011 Toyota Tacoma Base Standard Cab Pickup 2-Door
2011 Toyota Tacoma Base Standard Cab Pickup 2-Door
2011 Toyota Tacoma Pre Runner Crew Cab Pickup 4-Door
2011 Toyota Tacoma Pre Runner Crew Cab Pickup 4-Door
2011 Toyota Tacoma Pre Runner Extended Cab Pickup 4-Door
2011 Toyota Tacoma Pre Runner Extended Cab Pickup 4-Door
2011 Toyota Tacoma TRD Sport Crew Cab Pickup 4-Door
2011 Toyota Tacoma X-Runner Extended Cab Pickup 4-Door
2010 Toyota Tacoma Base Crew Cab Pickup 4-Door
2010 Toyota Tacoma Base Crew Cab Pickup 4-Door
2010 Toyota Tacoma Base Extended Cab Pickup 4-Door
2010 Toyota Tacoma Base Extended Cab Pickup 4-Door
2010 Toyota Tacoma Base Standard Cab Pickup 2-Door
2010 Toyota Tacoma Base Standard Cab Pickup 2-Door
2010 Toyota Tacoma Pre Runner Crew Cab Pickup 4-Door
2010 Toyota Tacoma Pre Runner Crew Cab Pickup 4-Door
2010 Toyota Tacoma Pre Runner Extended Cab Pickup 4-Door
2010 Toyota Tacoma Pre Runner Extended Cab Pickup 4-Door
2010 Toyota Tacoma Pre Runner Standard Cab Pickup 2-Door
2010 Toyota Tacoma Pre Runner Standard Cab Pickup 2-Door
2010 Toyota Tacoma TRD Sport Crew Cab Pickup 4-Door
2010 Toyota Tacoma X-Runner Extended Cab Pickup 4-Door
2009 Toyota Tacoma Base Crew Cab Pickup 4-Door
2009 Toyota Tacoma Base Crew Cab Pickup 4-Door
2009 Toyota Tacoma Base Extended Cab Pickup 4-Door
2009 Toyota Tacoma Base Extended Cab Pickup 4-Door
2009 Toyota Tacoma Base Standard Cab Pickup 2-Door
2009 Toyota Tacoma Base Standard Cab Pickup 2-Door
2009 Toyota Tacoma Pre Runner Crew Cab Pickup 4-Door
2009 Toyota Tacoma Pre Runner Crew Cab Pickup 4-Door
2009 Toyota Tacoma Pre Runner Extended Cab Pickup 4-Door
2009 Toyota Tacoma Pre Runner Extended Cab Pickup 4-Door
2009 Toyota Tacoma Pre Runner Standard Cab Pickup 2-Door
2009 Toyota Tacoma Pre Runner Standard Cab Pickup 2-Door
2009 Toyota Tacoma SR5 Prerunner Crew Cab Pickup 4-Door
2009 Toyota Tacoma TRD Sport Prerunner Crew Cab Pickup 4-Door
2009 Toyota Tacoma X-Runner Extended Cab Pickup 4-Door
2008 Toyota Tacoma Base Crew Cab Pickup 4-Door
2008 Toyota Tacoma Base Crew Cab Pickup 4-Door
2008 Toyota Tacoma Base Extended Cab Pickup 4-Door
2008 Toyota Tacoma Base Extended Cab Pickup 4-Door
2008 Toyota Tacoma Base Standard Cab Pickup 2-Door
2008 Toyota Tacoma Base Standard Cab Pickup 2-Door
2008 Toyota Tacoma Pre Runner Crew Cab Pickup 4-Door
2008 Toyota Tacoma Pre Runner Crew Cab Pickup 4-Door
2008 Toyota Tacoma Pre Runner Extended Cab Pickup 4-Door
2008 Toyota Tacoma Pre Runner Extended Cab Pickup 4-Door
2008 Toyota Tacoma Pre Runner Standard Cab Pickup 2-Door
2008 Toyota Tacoma Pre Runner Standard Cab Pickup 2-Door
2008 Toyota Tacoma SR5 Prerunner Crew Cab Pickup 4-Door
2008 Toyota Tacoma TRD Sport Prerunner Crew Cab Pickup 4-Door
2008 Toyota Tacoma X-Runner Extended Cab Pickup 4-Door
2007 Toyota Tacoma Base Crew Cab Pickup 4-Door
2007 Toyota Tacoma Base Crew Cab Pickup 4-Door
2007 Toyota Tacoma Base Extended Cab Pickup 4-Door
2007 Toyota Tacoma Base Extended Cab Pickup 4-Door
2007 Toyota Tacoma Base Standard Cab Pickup 2-Door
2007 Toyota Tacoma Base Standard Cab Pickup 2-Door
2007 Toyota Tacoma Pre Runner Crew Cab Pickup 4-Door
2007 Toyota Tacoma Pre Runner Crew Cab Pickup 4-Door
2007 Toyota Tacoma Pre Runner Extended Cab Pickup 4-Door
2007 Toyota Tacoma Pre Runner Extended Cab Pickup 4-Door
2007 Toyota Tacoma Pre Runner Standard Cab Pickup 2-Door
2007 Toyota Tacoma Pre Runner Standard Cab Pickup 2-Door
2007 Toyota Tacoma SR5 Prerunner Crew Cab Pickup 4-Door
2007 Toyota Tacoma TRD Sport Prerunner Crew Cab Pickup 4-Door
2007 Toyota Tacoma X-Runner Extended Cab Pickup 4-Door
2006 Toyota Tacoma Base Crew Cab Pickup 4-Door
2006 Toyota Tacoma Base Crew Cab Pickup 4-Door
2006 Toyota Tacoma Base Extended Cab Pickup 4-Door
2006 Toyota Tacoma Base Extended Cab Pickup 4-Door
2006 Toyota Tacoma Base Prerunner Crew Cab Pickup 4-Door
2006 Toyota Tacoma Base Standard Cab Pickup 2-Door
2006 Toyota Tacoma Base Standard Cab Pickup 2-Door
2006 Toyota Tacoma Pre Runner Crew Cab Pickup 4-Door
2006 Toyota Tacoma Pre Runner Crew Cab Pickup 4-Door
2006 Toyota Tacoma Pre Runner Extended Cab Pickup 4-Door
2006 Toyota Tacoma Pre Runner Extended Cab Pickup 4-Door
2006 Toyota Tacoma Pre Runner Standard Cab Pickup 2-Door
2006 Toyota Tacoma Pre Runner Standard Cab Pickup 2-Door
2006 Toyota Tacoma SR5 Prerunner Crew Cab Pickup 4-Door
2006 Toyota Tacoma TRD Sport Prerunner Crew Cab Pickup 4-Door
2006 Toyota Tacoma X-Runner Extended Cab Pickup 4-Door
2005 Toyota Tacoma Base Crew Cab Pickup 4-Door
2005 Toyota Tacoma Base Crew Cab Pickup 4-Door
2005 Toyota Tacoma Base Extended Cab Pickup 3-Door
2005 Toyota Tacoma Base Extended Cab Pickup 3-Door
2005 Toyota Tacoma Base Standard Cab Pickup 2-Door
2005 Toyota Tacoma Base Standard Cab Pickup 2-Door
2005 Toyota Tacoma Pre Runner Crew Cab Pickup 4-Door
2005 Toyota Tacoma Pre Runner Crew Cab Pickup 4-Door
2005 Toyota Tacoma Pre Runner Extended Cab Pickup 3-Door
2005 Toyota Tacoma Pre Runner Extended Cab Pickup 3-Door
2005 Toyota Tacoma Pre Runner Standard Cab Pickup 2-Door
2005 Toyota Tacoma Pre Runner Standard Cab Pickup 2-Door
2005 Toyota Tacoma X-Runner Extended Cab Pickup 3-Door