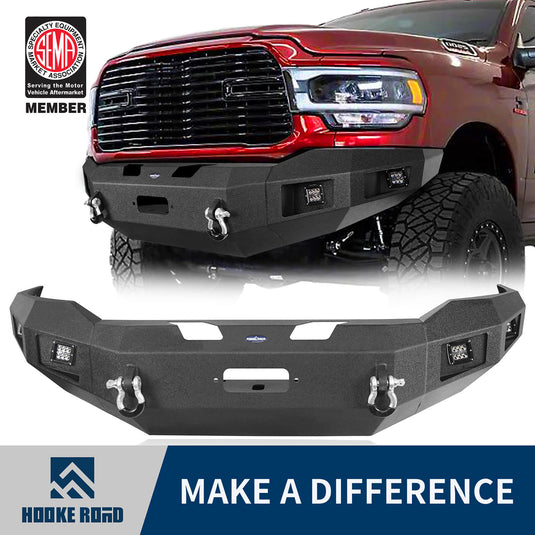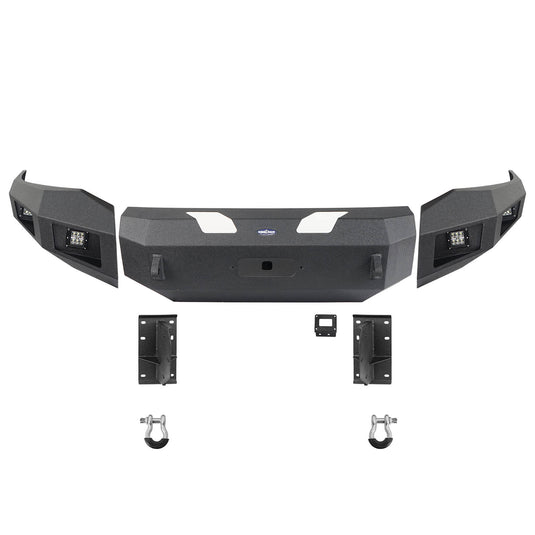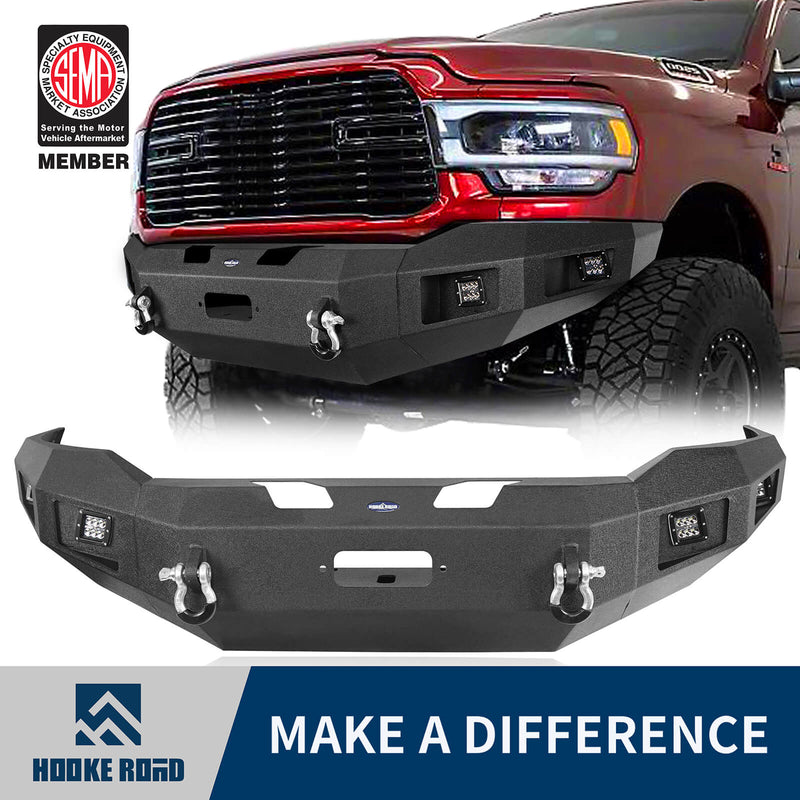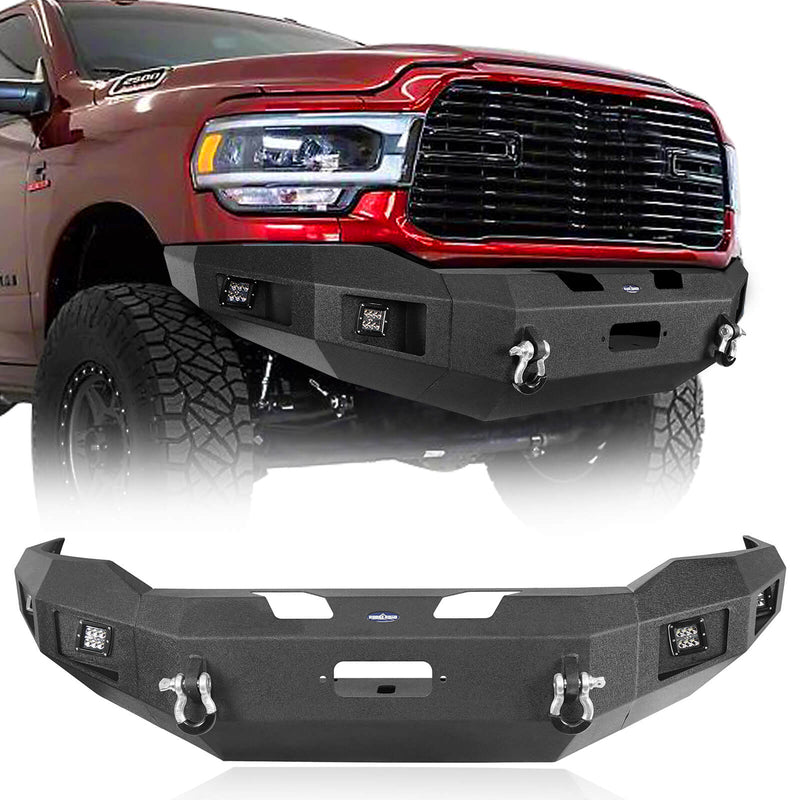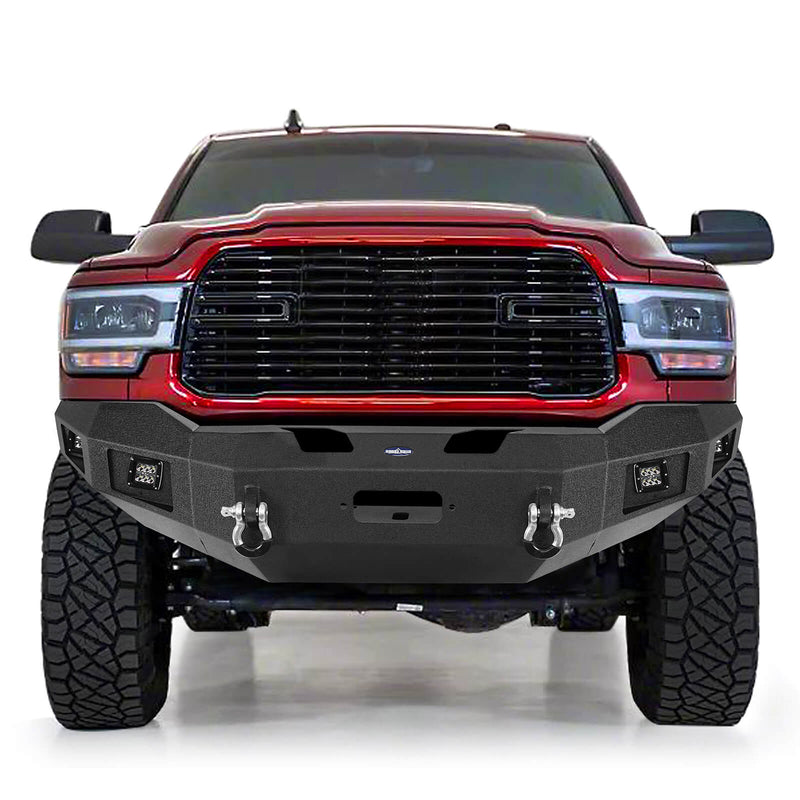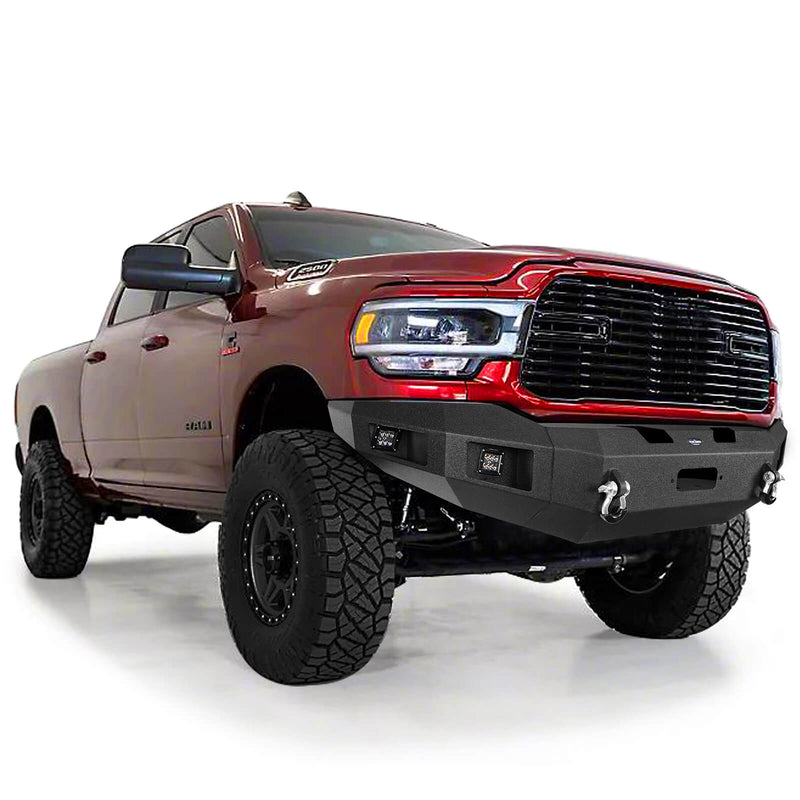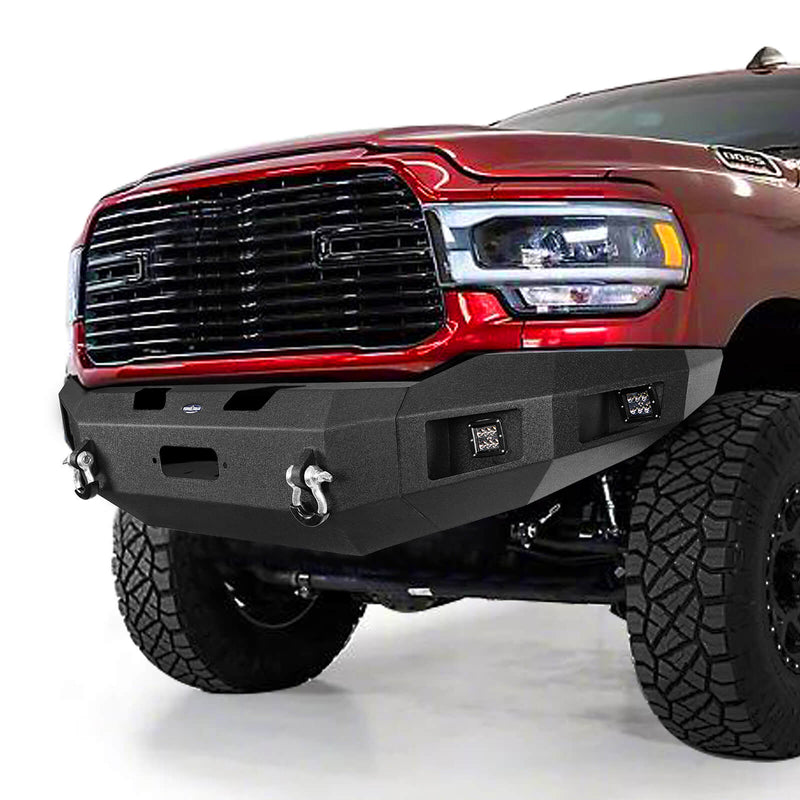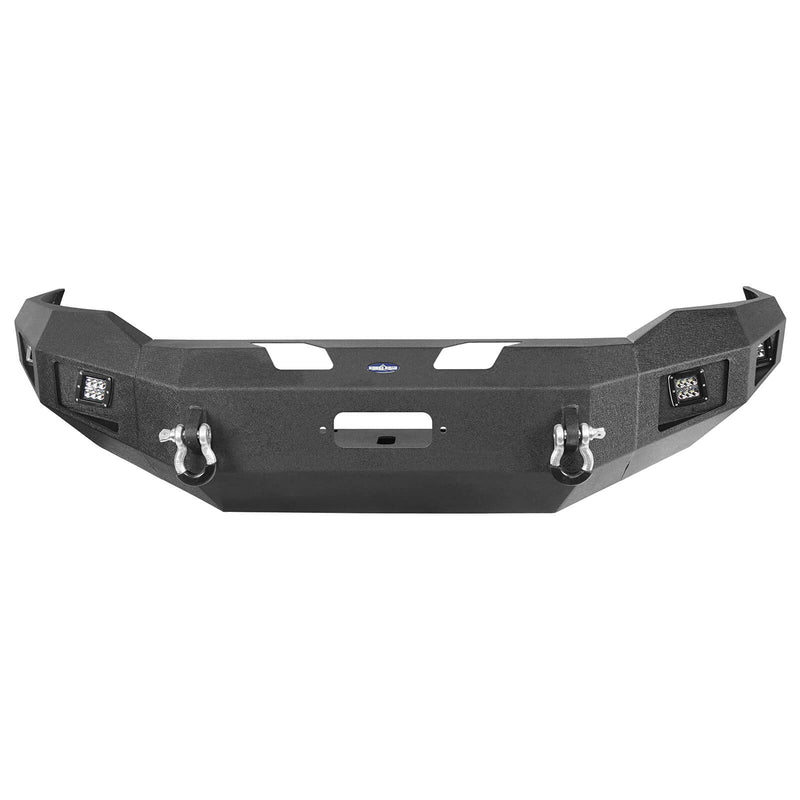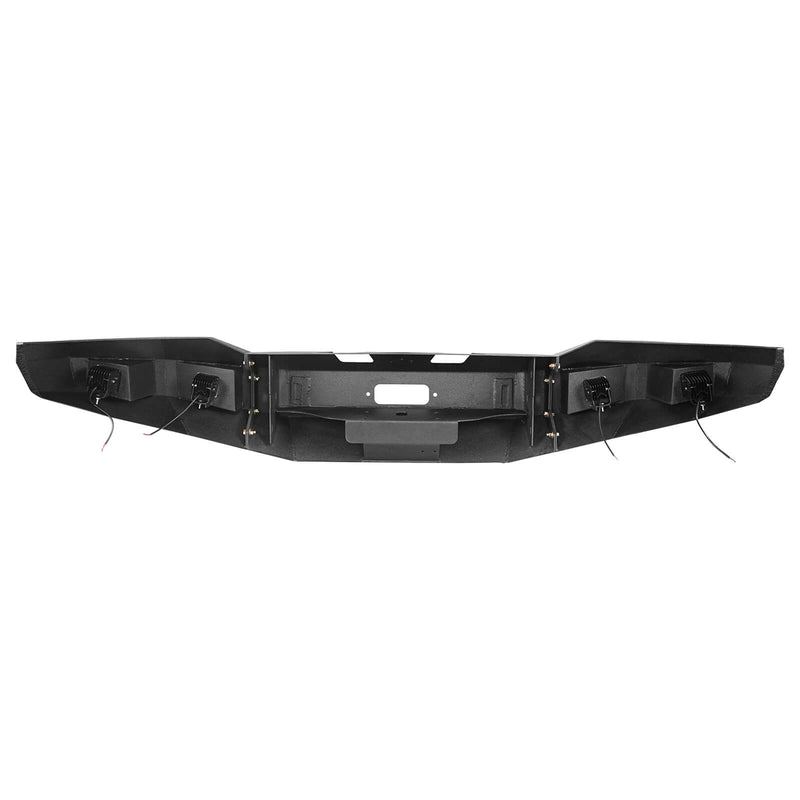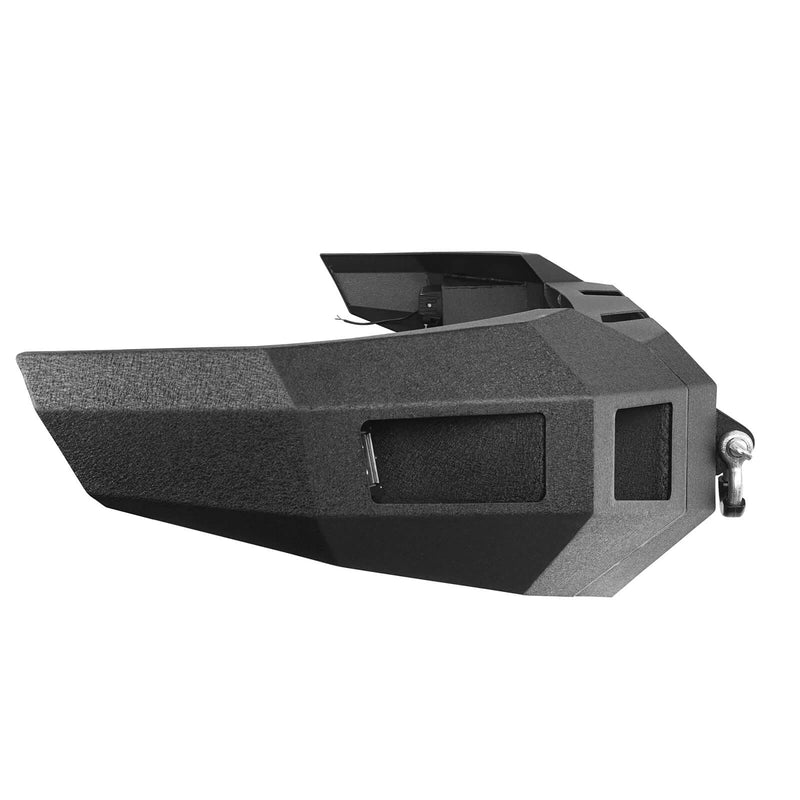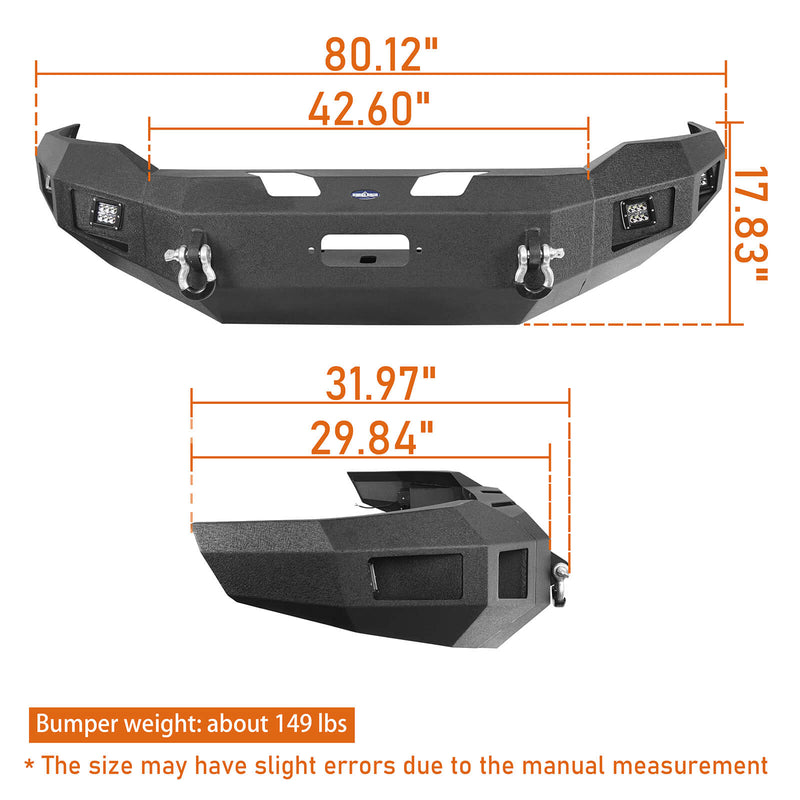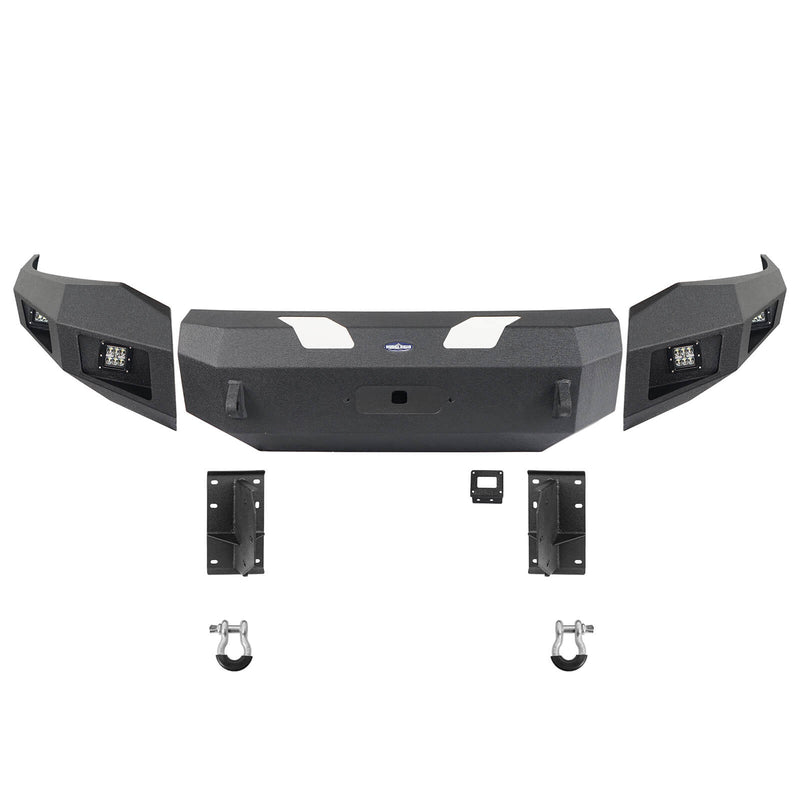 Name: Full Width Front Bumper w/Winch Plate & LED Spotlights DiscoveryⅠ(19-23 Ram 2500)

Feature
Fit for 2019-2023 Ram 2500 Models
Bumper Weight: About 149 lbs
Not Compatible with Factory Sensors
Included 3/4 Inch D-rings which can support up to 9,500 lbs. Rubber D-ring Isolators are included
Comes With a Winch Plate; Rated Up to 12,000 pounds
Adequate Lighting for Safe Driving; 4 x 18w LED Spotlights Included.
3-Piece Modular Design. Fits the Vehicle Body Line Perfectly; Heavy-Duty Structure Enhanced Protection
Heavy Duty Steel Construction: 11-Gauge(1/8 Inch) for the Bumper Body, 8-Gauge(11/64 Inch) Steel for the Mounting Plate
Textured Black Powder Coat Finish
Simple Bolt-On Installation. No Drilling Required
 * The item includes two packages: Package A & Package B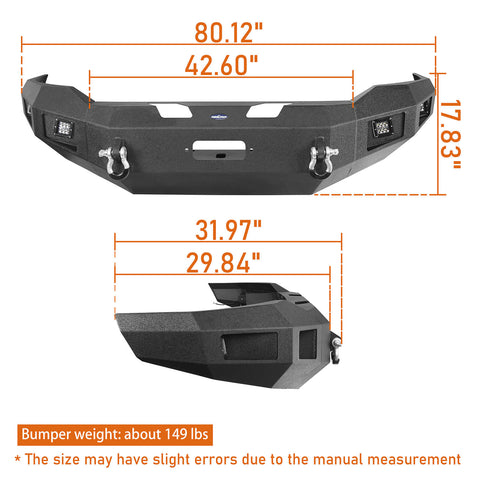 Protects Against Road Hazards.
Make your off-road drives a lot safer by gearing your truck up with this Discovery Ⅰ Front Bumper. With this installed, your truck's front end won't easily sustain damages since this Full Width Front Bumper effectively deflects road debris with its strong build. Furthermore, adding this to your truck lets it sport a more aggressive stance, making it stand out from the crowd. There are 4 LED spotlights that provide adequate lighting at night.
Construction and Appearance
. This Full Width Front Bumper is a 3-piece design made of 1/8-inch, cold-rolled steel. That equals strength and defense. The matte black, powder-coated finish adds a style dynamic as well as corrosion and rust resistance.
Direct Bolt-On Installation
. We engineered our Front Bumper to be a direct bolt-on replacement for the original stock bumper reusing the factory hardware and mounting points. First, uninstall the factory bumper. Then assemble the parts to be a bumper. Lastly, place the bumper onto the car frame and tighten up all the bolts after adjusting the bumper position. There is no cutting or modifications required for a clean straightforward installation. Installation can be completed in about 1.5 hours with just basic hand tools and the help of a friend.
SEMA Membership.
Our brand has been certified as a member of SEMA. We are studious and gradually grow up to be a professional aftermarket retailer. As a SEMA member, we make, buy, sell and use all kinds of specialty parts and accessories to make vehicles more attractive, more unique, more convenient, faster, safer, more fun, and even like-new again. Wish you have a terrific off-road experience with our products.
1 x Dodge Ram Full Width Front Bumper with Winch Plate & LED Spotlights
2 x Mounting Plates
2 x D-rings
Mounting Hardware Kit
2023 Ram 2500 Big Horn
2023 Ram 2500 Laramie
2023 Ram 2500 Limited
2023 Ram 2500 Lone Star
2023 Ram 2500 Power Wagon Crew Cab Pickup 4-Door
2023 Ram 2500 Rebel
2023 Ram 2500 Tradesman
2023 Ram 3500 Big Horn
2023 Ram 3500 Laramie
2023 Ram 3500 SLT
2023 Ram 3500 Tradesman
2022 Ram 2500 Big Horn
2022 Ram 2500 HD
2022 Ram 2500 Laramie
2022 Ram 2500 Limited
2022 Ram 2500 Lone Star
2022 Ram 2500 Power Wagon
2022 Ram 2500 SLT HD
2022 Ram 2500 Tradesman
2022 Ram 3500 Big Horn
2022 Ram 3500 Laramie
2022 Ram 3500 Limited
2022 Ram 3500 Lone Star
2022 Ram 3500 SLT
2022 Ram 3500 Tradesman
2021 Ram 2500 Big Horn
2021 Ram 2500 HD
2021 Ram 2500 Laramie
2021 Ram 2500 Limited
2021 Ram 2500 Lone Star
2021 Ram 2500 Power Wagon Crew Cab Pickup 4-Door
2021 Ram 2500 SLT HD
2021 Ram 2500 Tradesman
2021 Ram 3500 Big Horn
2021 Ram 3500 Laramie
2021 Ram 3500 Limited
2021 Ram 3500 Lone Star
2021 Ram 3500 SLT
2021 Ram 3500 Tradesman
2020 Ram 2500 Big Horn
2020 Ram 2500 HD
2020 Ram 2500 Laramie
2020 Ram 2500 Limited
2020 Ram 2500 Lone Star
2020 Ram 2500 Power Wagon Crew Cab Pickup 4-Door
2020 Ram 2500 SLT2020 Ram 2500 Tradesman
2020 Ram 3500 Big Horn
2020 Ram 3500 Laramie
2020 Ram 3500 Limited
2020 Ram 3500 Lone Star
2020 Ram 3500 SLT
2020 Ram 3500 Tradesman
2019 Ram 2500 Big Horn
2019 Ram 2500 Laramie
2019 Ram 2500 HD
2019 Ram 2500 Limited
2019 Ram 2500 Lone Star
2019 Ram 2500 Power Wagon Crew Cab Pickup 4-Door
2019 Ram 2500 R/T
2019 Ram 2500 SLT
2019 Ram 2500 Sport
2019 Ram 2500 Tradesman
2019 Ram 3500 Big Horn
2019 Ram 3500 Laramie2019 Ram 3500 Limited
2019 Ram 2500 Big Horn
2019 Ram 2500 HD
2019 Ram 2500 Laramie
2019 Ram 2500 Limited
2019 Ram 2500 Lone Star
2019 Ram 2500 Power Wagon Crew Cab Pickup 4-Door
2019 Ram 2500 SLT
2019 Ram 2500 Tradesman
2019 Ram 3500 Big Horn2019 Ram 3500 Laramie
2019 Ram 3500 Limited
2019 Ram 3500 Lone Star
Package Included
1 x Dodge Ram Full Width Front Bumper with Winch Plate & LED Spotlights
2 x Mounting Plates
2 x D-rings
Mounting Hardware Kit
Fitment
2023 Ram 2500 Big Horn
2023 Ram 2500 Laramie
2023 Ram 2500 Limited
2023 Ram 2500 Lone Star
2023 Ram 2500 Power Wagon Crew Cab Pickup 4-Door
2023 Ram 2500 Rebel
2023 Ram 2500 Tradesman
2023 Ram 3500 Big Horn
2023 Ram 3500 Laramie
2023 Ram 3500 SLT
2023 Ram 3500 Tradesman
2022 Ram 2500 Big Horn
2022 Ram 2500 HD
2022 Ram 2500 Laramie
2022 Ram 2500 Limited
2022 Ram 2500 Lone Star
2022 Ram 2500 Power Wagon
2022 Ram 2500 SLT HD
2022 Ram 2500 Tradesman
2022 Ram 3500 Big Horn
2022 Ram 3500 Laramie
2022 Ram 3500 Limited
2022 Ram 3500 Lone Star
2022 Ram 3500 SLT
2022 Ram 3500 Tradesman
2021 Ram 2500 Big Horn
2021 Ram 2500 HD
2021 Ram 2500 Laramie
2021 Ram 2500 Limited
2021 Ram 2500 Lone Star
2021 Ram 2500 Power Wagon Crew Cab Pickup 4-Door
2021 Ram 2500 SLT HD
2021 Ram 2500 Tradesman
2021 Ram 3500 Big Horn
2021 Ram 3500 Laramie
2021 Ram 3500 Limited
2021 Ram 3500 Lone Star
2021 Ram 3500 SLT
2021 Ram 3500 Tradesman
2020 Ram 2500 Big Horn
2020 Ram 2500 HD
2020 Ram 2500 Laramie
2020 Ram 2500 Limited
2020 Ram 2500 Lone Star
2020 Ram 2500 Power Wagon Crew Cab Pickup 4-Door
2020 Ram 2500 SLT2020 Ram 2500 Tradesman
2020 Ram 3500 Big Horn
2020 Ram 3500 Laramie
2020 Ram 3500 Limited
2020 Ram 3500 Lone Star
2020 Ram 3500 SLT
2020 Ram 3500 Tradesman
2019 Ram 2500 Big Horn
2019 Ram 2500 Laramie
2019 Ram 2500 HD
2019 Ram 2500 Limited
2019 Ram 2500 Lone Star
2019 Ram 2500 Power Wagon Crew Cab Pickup 4-Door
2019 Ram 2500 R/T
2019 Ram 2500 SLT
2019 Ram 2500 Sport
2019 Ram 2500 Tradesman
2019 Ram 3500 Big Horn
2019 Ram 3500 Laramie2019 Ram 3500 Limited
2019 Ram 2500 Big Horn
2019 Ram 2500 HD
2019 Ram 2500 Laramie
2019 Ram 2500 Limited
2019 Ram 2500 Lone Star
2019 Ram 2500 Power Wagon Crew Cab Pickup 4-Door
2019 Ram 2500 SLT
2019 Ram 2500 Tradesman
2019 Ram 3500 Big Horn2019 Ram 3500 Laramie
2019 Ram 3500 Limited
2019 Ram 3500 Lone Star
Awesome bumper. I bought one a while back and got in a head 50 mph head on crash. Everyone was ok but the other truck was absolutely wrecked. And mine didn't even look like anything even happened
Ram 2500 winch bumper
Delivery was received with in 3 days, order was split and received second part of order also with in 3 days of contacting company, have not installed yet