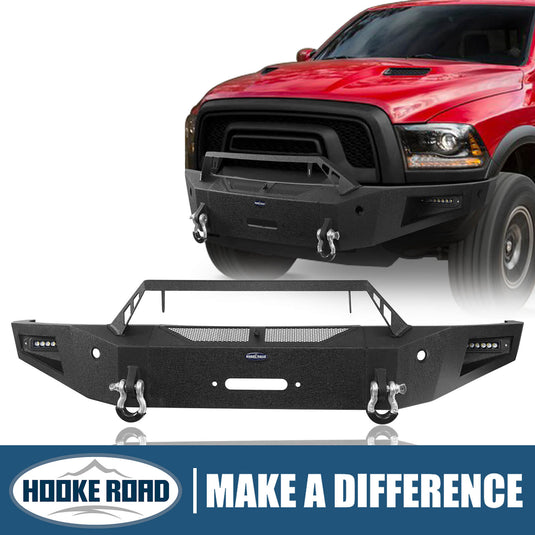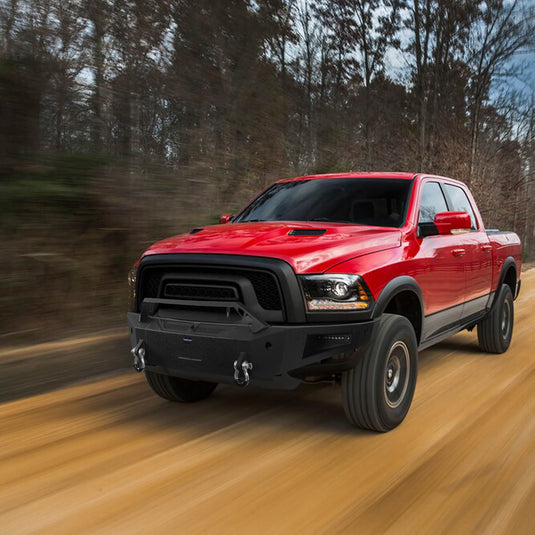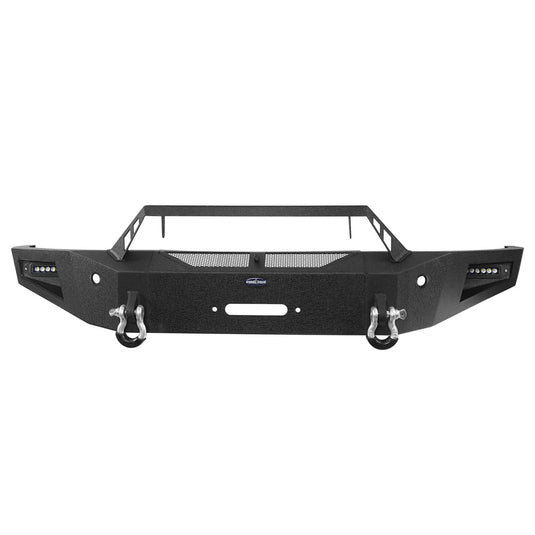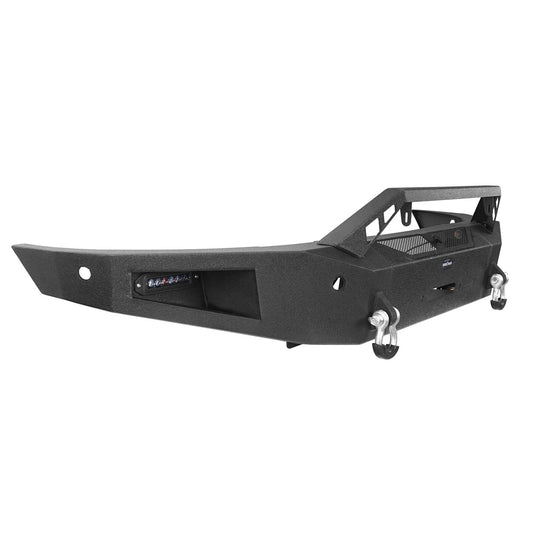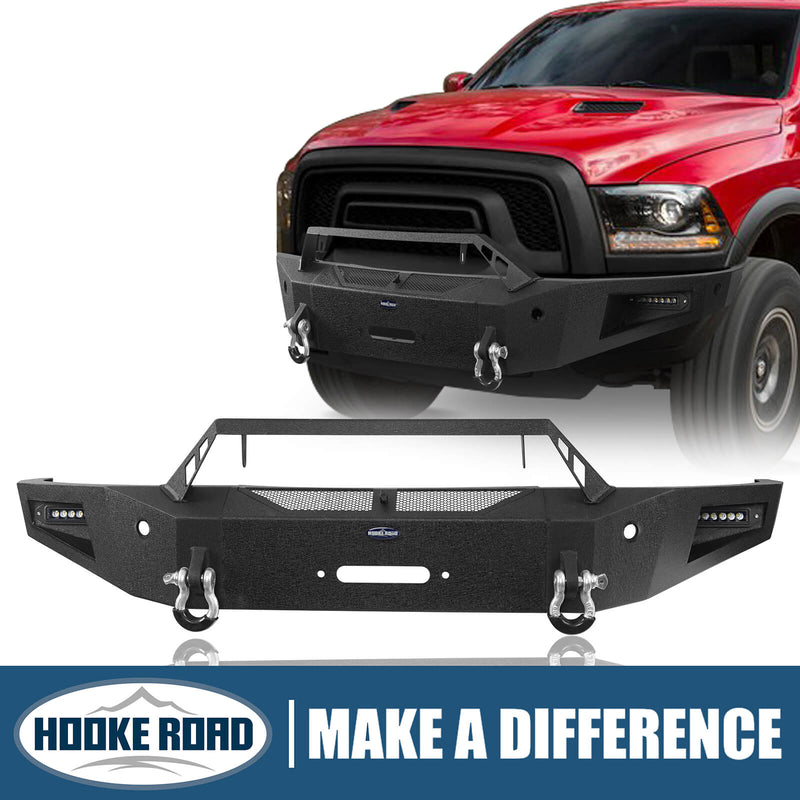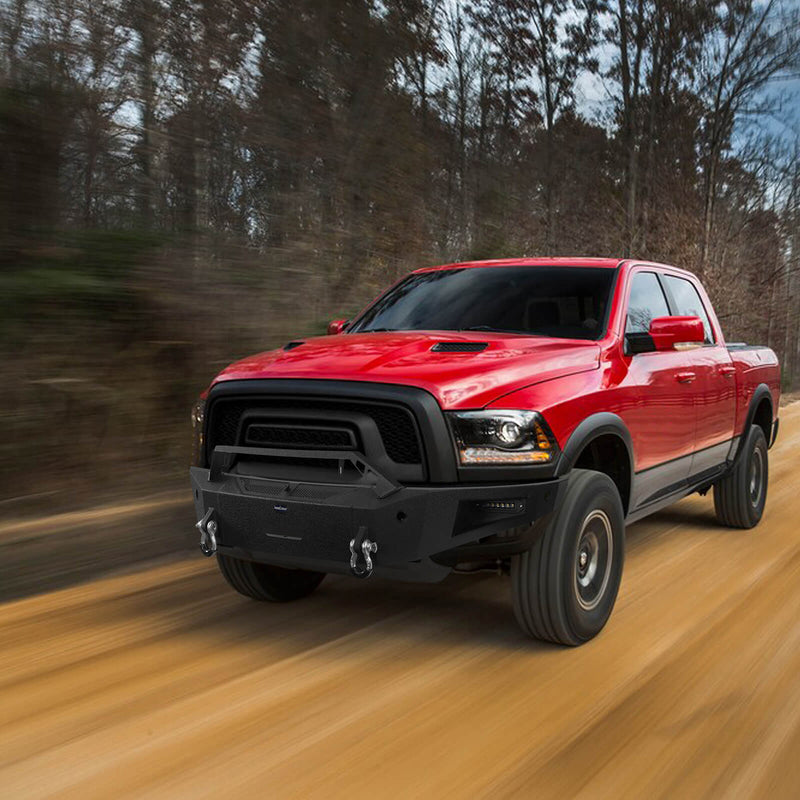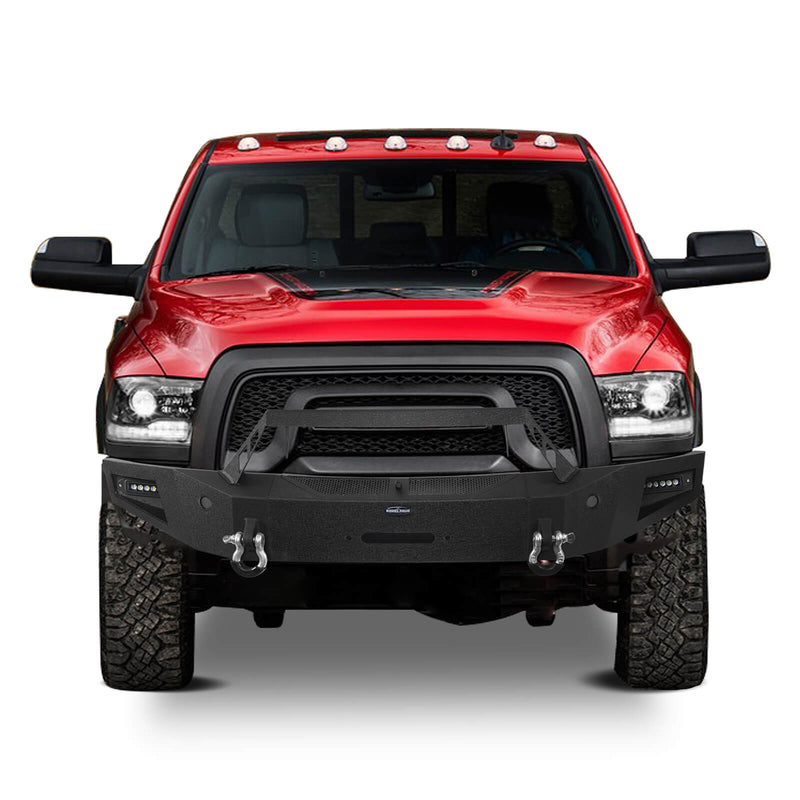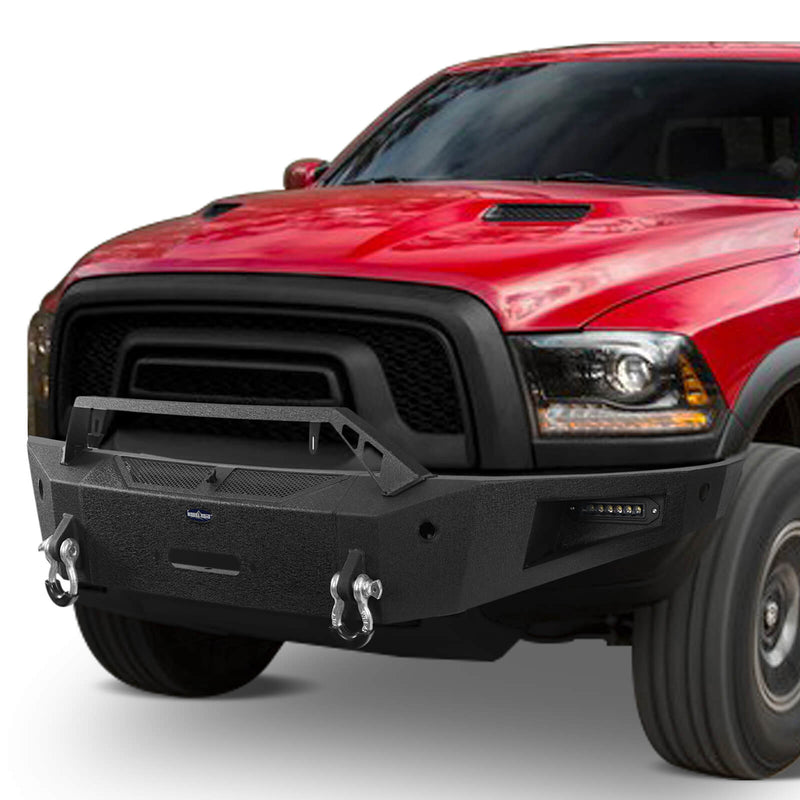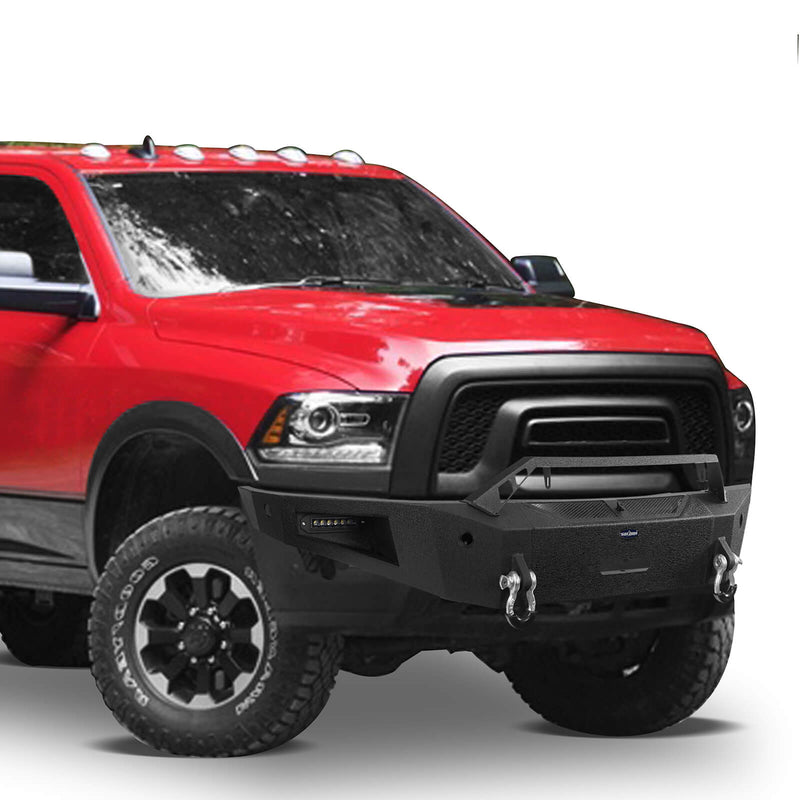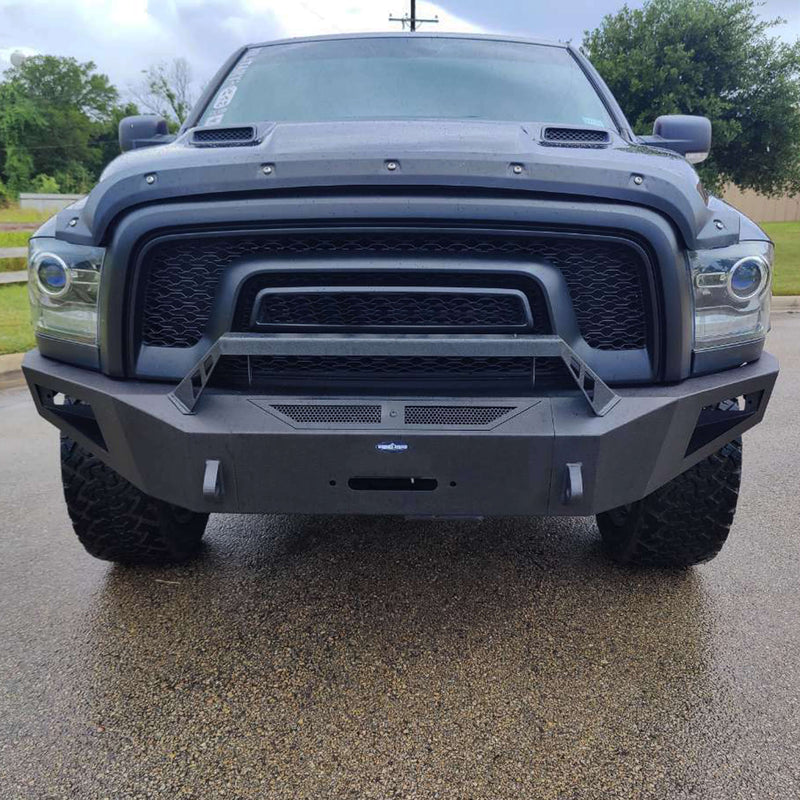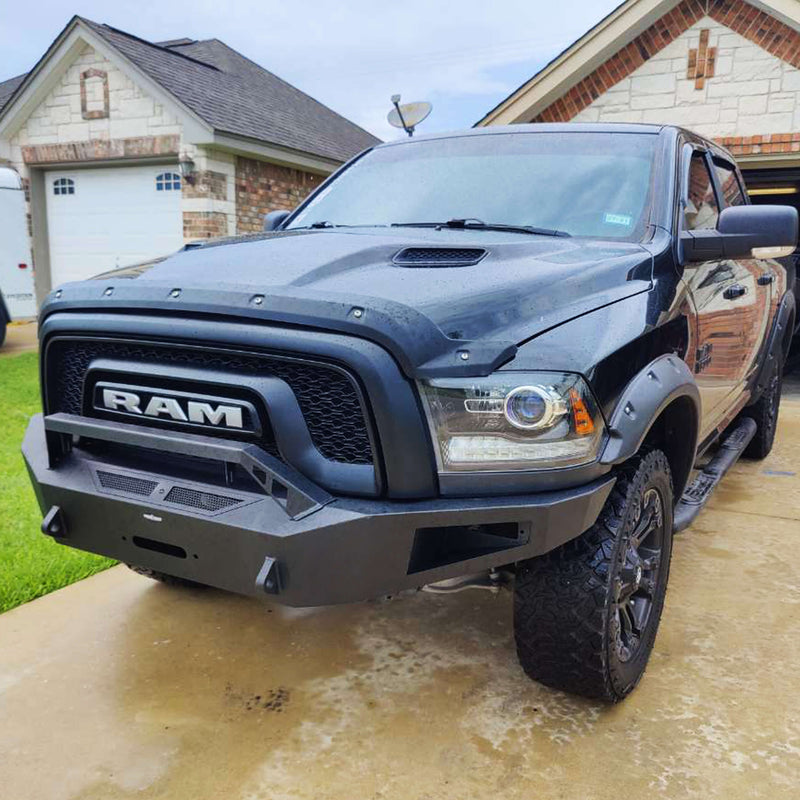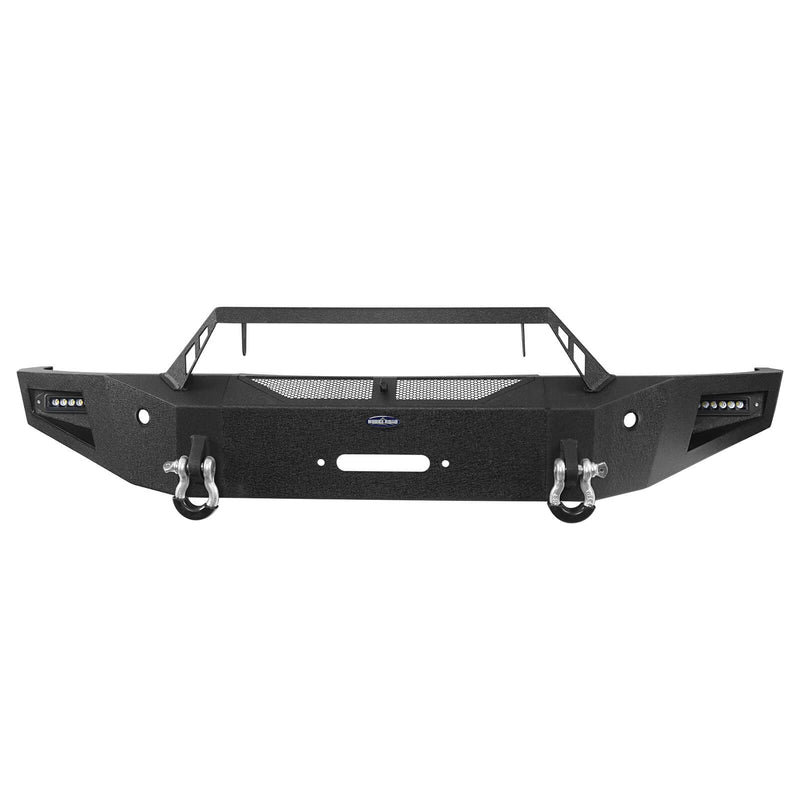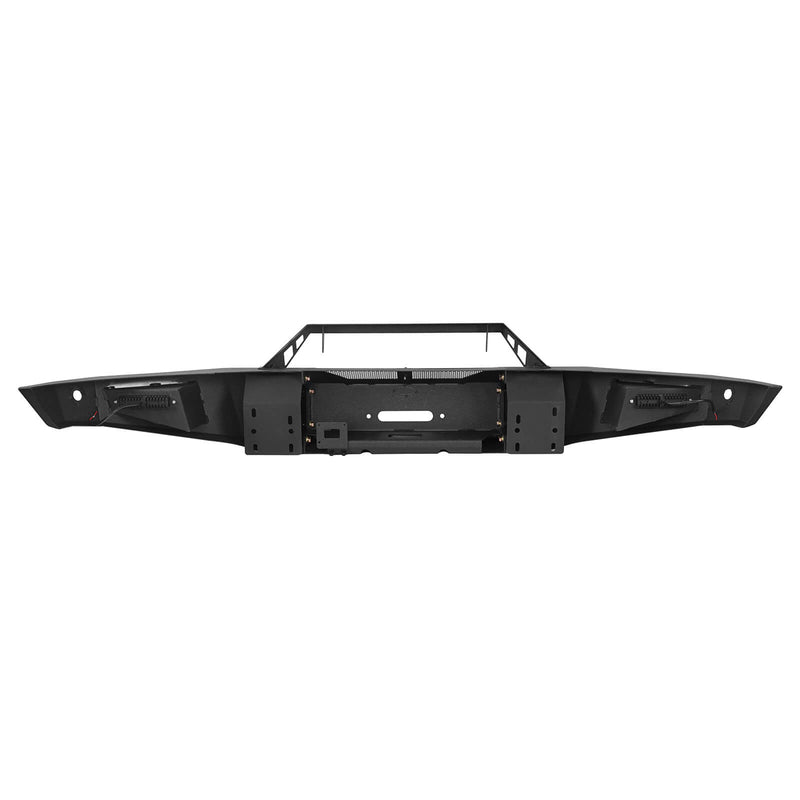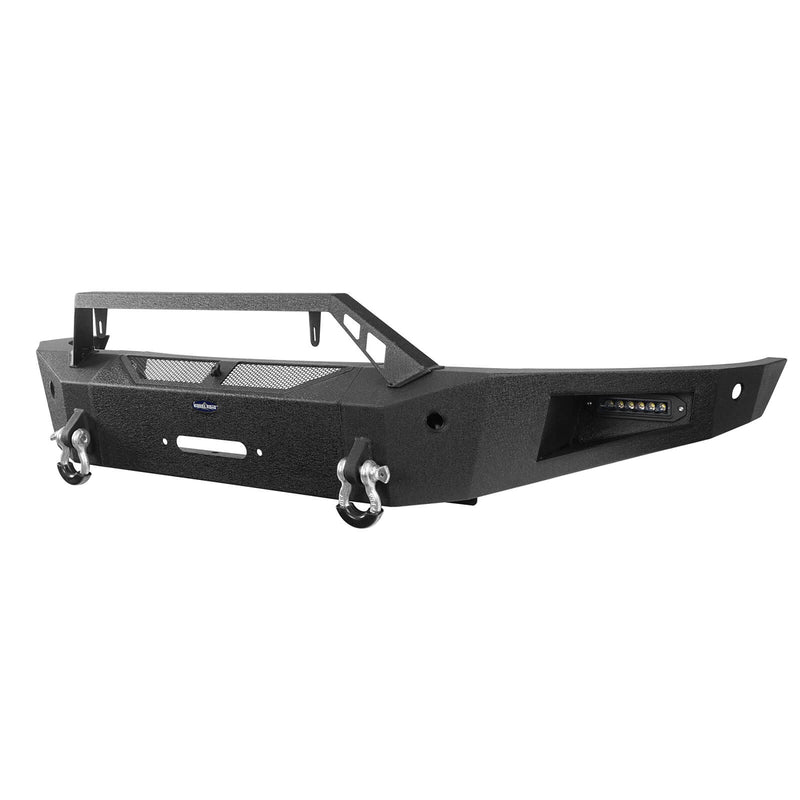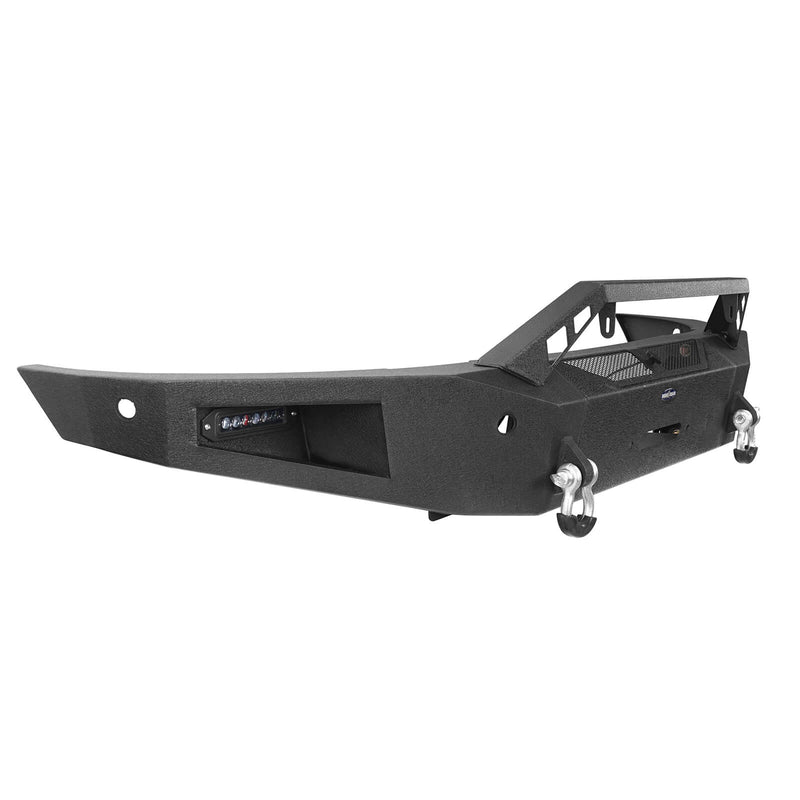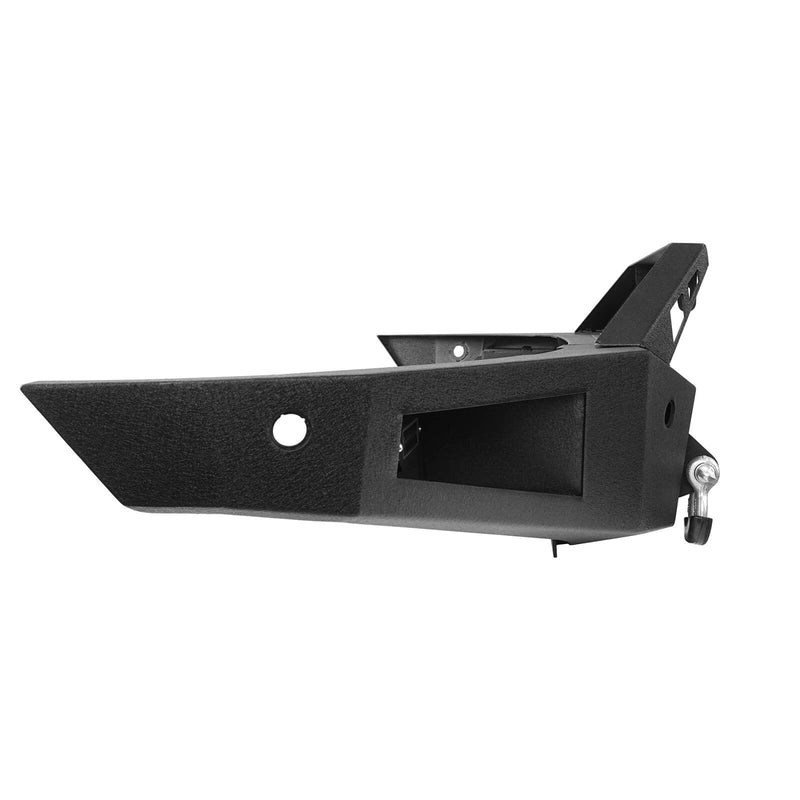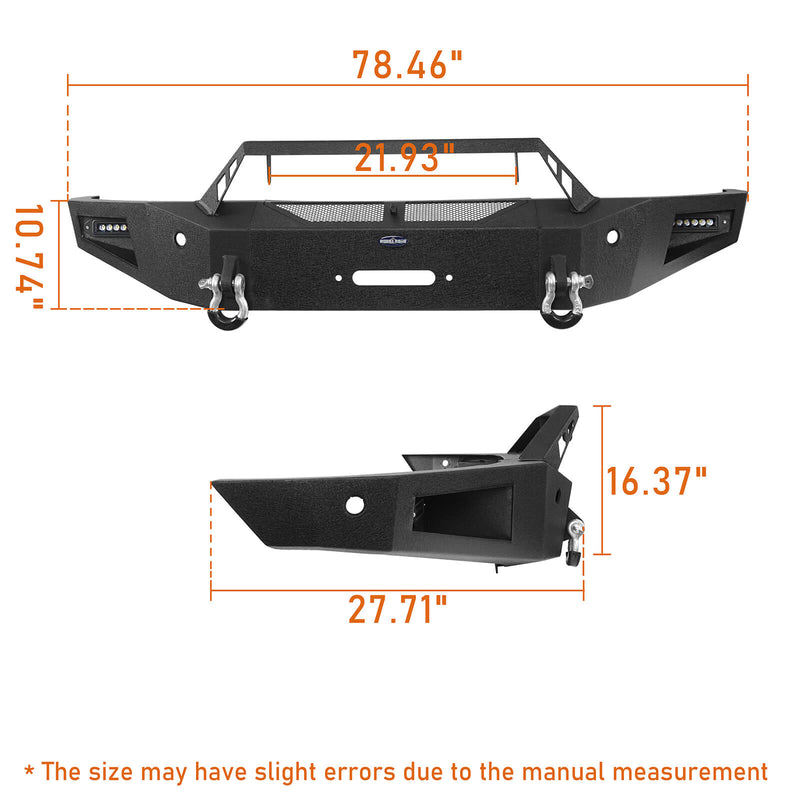 Name: DiscoveryⅠFull Width Front Bumper w/Winch Plate(15-18 Ram 1500 Rebel)

Feature
Fit for 2015-2018 Ram 1500 Rebel Models; Not Compatible with Factory Sensors
Bumper Weight: About 109 lbs
3-Piece Modular Design; Aggressive Off-Road Styling; Heavy-Duty Structure Enhanced Protection
Reinforced Clevis Mounts with 3/4" D-Rings Which can Support up to 9,500 lbs; Rubber D-Ring Isolators are Included
Built-In Winch Plate that Rated up to 12,000 Pounds
2 x 18w LED Flush Mount Spotlights Included
Heavy-Duty Steel Construction: 11-Gauge(1/8 Inch) for the Bumper Body, 8-Gauge(11/64 Inch) Steel for the Mounting Parts
Textured Black Powder Coat Finish
Simple Bolt-on Installation; No Drilling is Required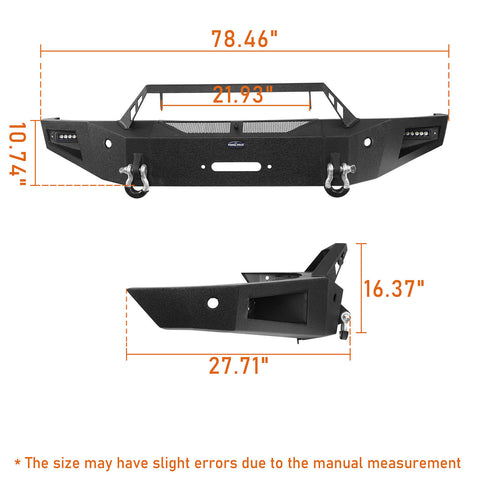 Please Double-check the distance between front bumper edge and fender below to Purchase What you Like.
Aggressive Styling.
Add aggressive off-road styling to your Rebel truck with a Dodge Ram 1500 Full Width Front Bumper. Designed with the adventurous off-roader in mind, this Dodge Ram 1500 Front Bumper features a built-in winch plate that is capable of supporting a 12,000-pound winch. Additional features include an integrated grille guard hoop, LED auxiliary lights, and two high strength D-Ring mounts. Loaded with all these great features, this Ram 1500 Rebel Front Bumper is ideal for both street and off-road use.
Built to be Tough.
Manufactured from heavy duty 5/32-inch steel plating for strength, this Ram 1500 Rebel Front Bumper is cold-formed into shape. After trimming and final finishing, we then complete our Bumper in a two stage finish using epoxy pre-coating and high-grade textured black powder coating for durability and long-lasting corrosion resistance.
Straightforward Installation.
This medium install requires no drilling or modifications. First, uninstall the factory bumper. Then assemble the parts to be a bumper. Lastly, place the bumper onto the car frame and tighten up all the bolts after adjusting the bumper position. Durable hardware is included, and the installation time is approximately 2 hours.
SEMA Membership.
The Brand has been certified as a member of SEMA. We are studious and gradually grow up to be a professional aftermarket retailer. As a SEMA member, we make, buy, sell and use all kinds of specialty parts and accessories to make vehicles more attractive, more unique, more convenient, faster, safer, more fun, and even like-new again. Wish you have a terrific off-road experience with our products.
front Bumper Assembly
2 × D-rings
2 × LED Spotlights
Mounting Hardware Kit
Installation Instruction
2018 Ram 1500 Rebel Crew Cab Pickup 4-Door
2017 Ram 1500 Rebel Crew Cab Pickup 4-Door
2016 Ram 1500 Rebel Crew Cab Pickup 4-Door
2015 Ram 1500 Rebel Crew Cab Pickup 4-Door
2015 Ram 1500 Rebel Crew Cab Pickup 4-Door
Package Included
front Bumper Assembly
2 × D-rings
2 × LED Spotlights
Mounting Hardware Kit
Installation Instruction
Fitment
2018 Ram 1500 Rebel Crew Cab Pickup 4-Door
2017 Ram 1500 Rebel Crew Cab Pickup 4-Door
2016 Ram 1500 Rebel Crew Cab Pickup 4-Door
2015 Ram 1500 Rebel Crew Cab Pickup 4-Door
2015 Ram 1500 Rebel Crew Cab Pickup 4-Door