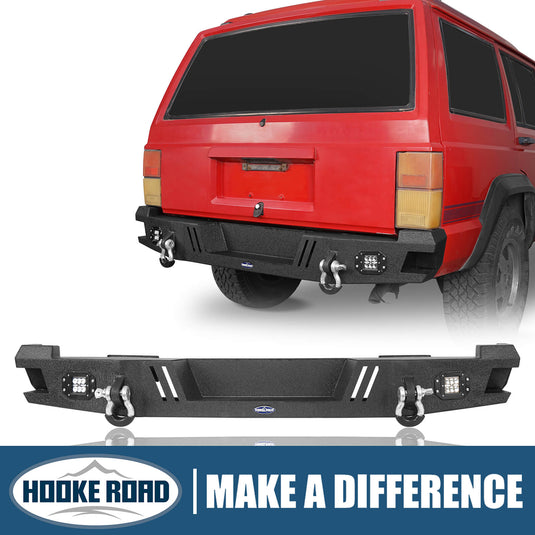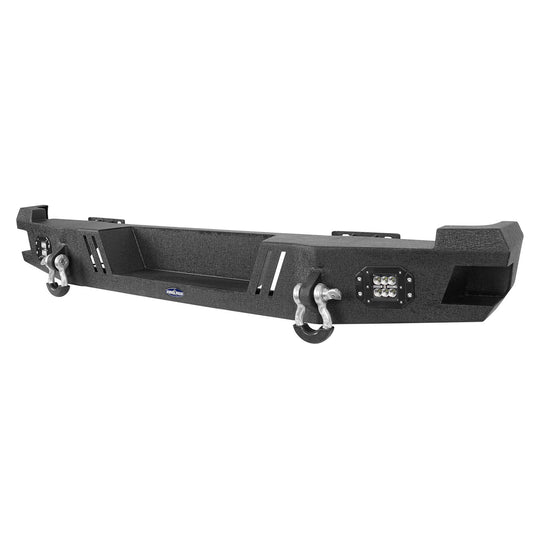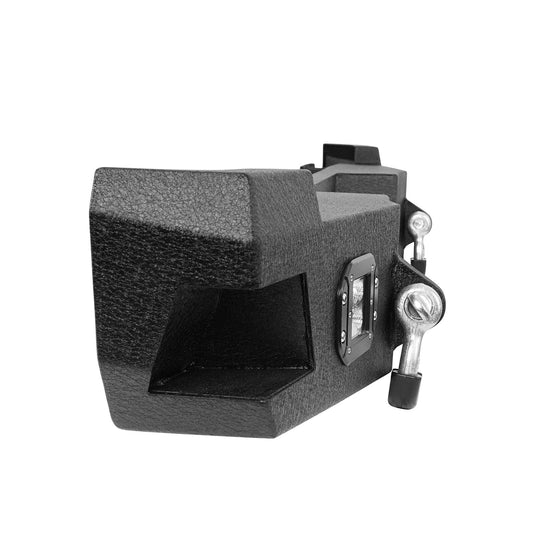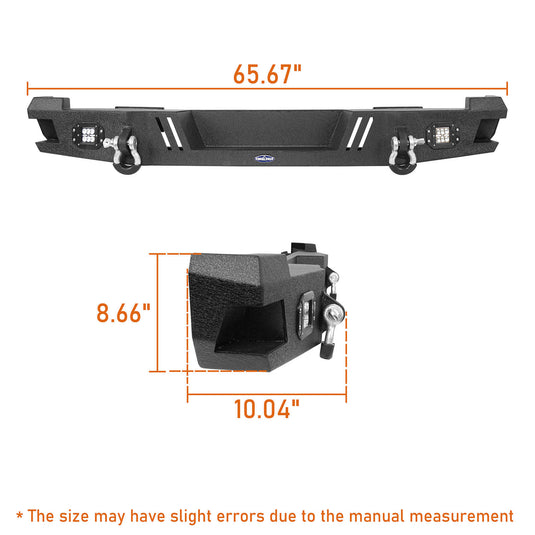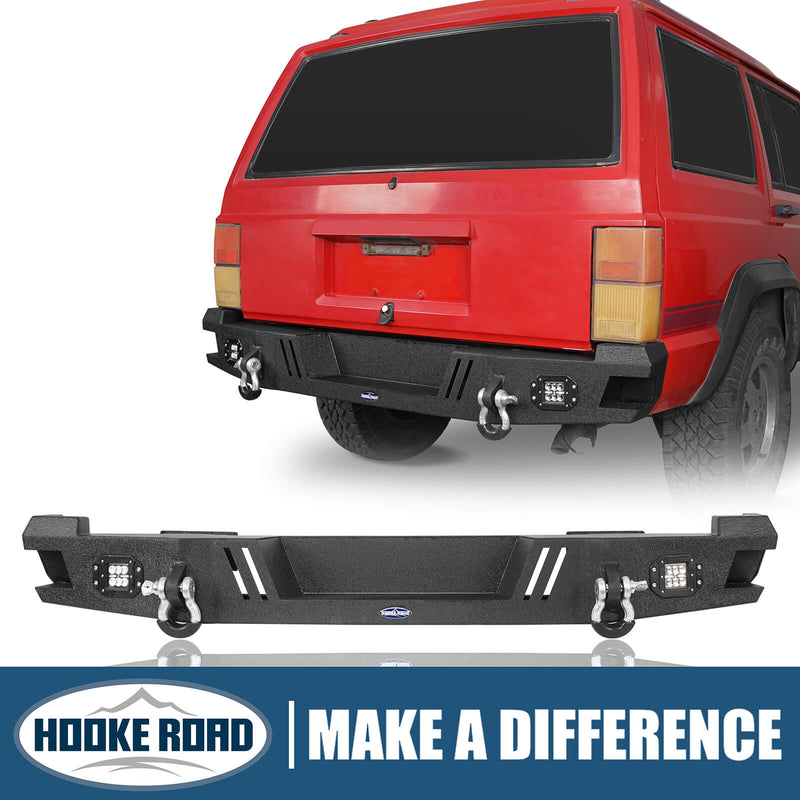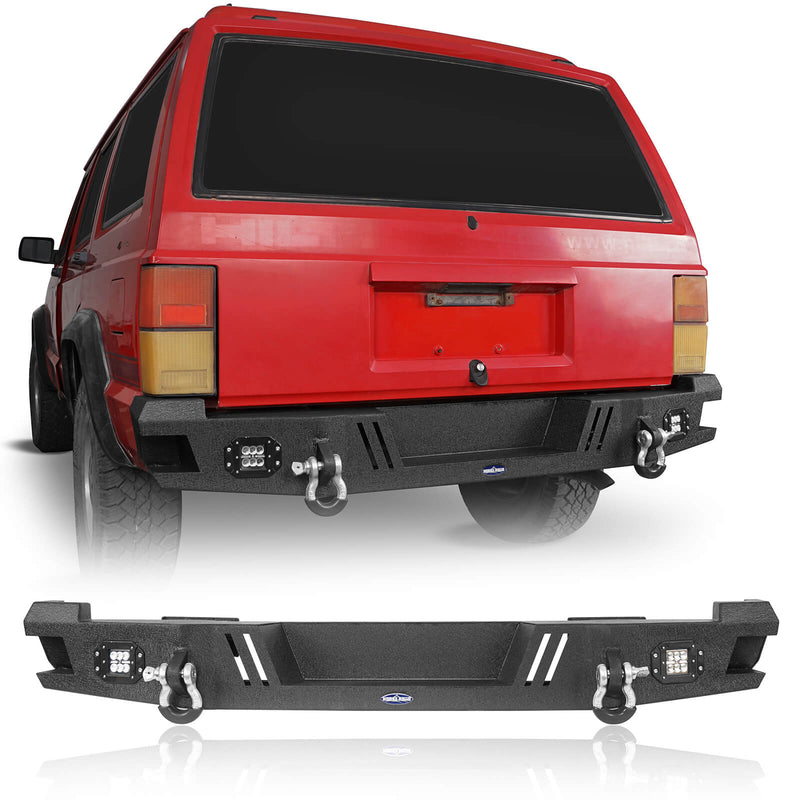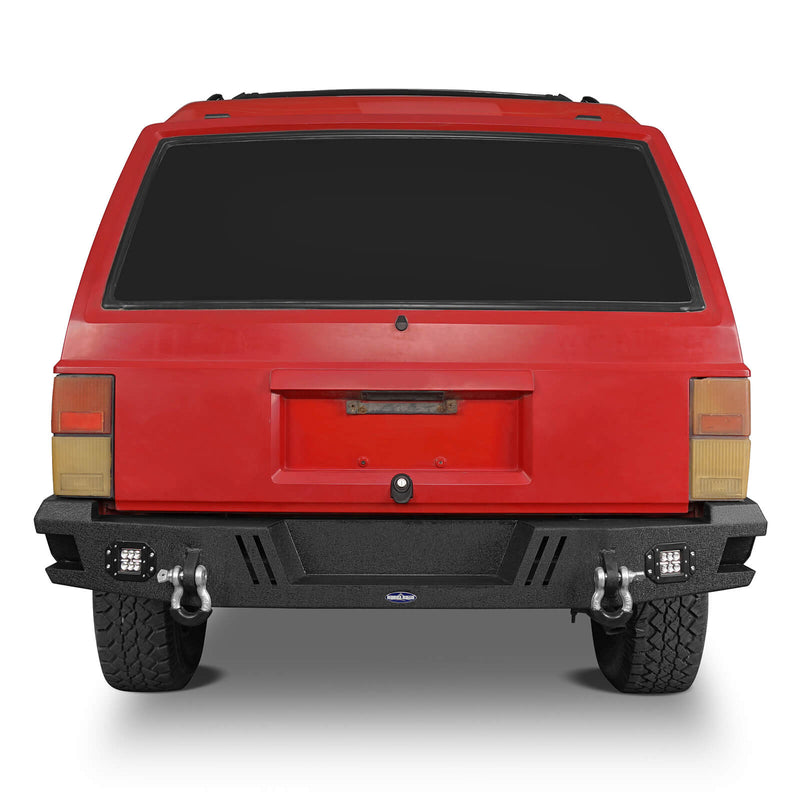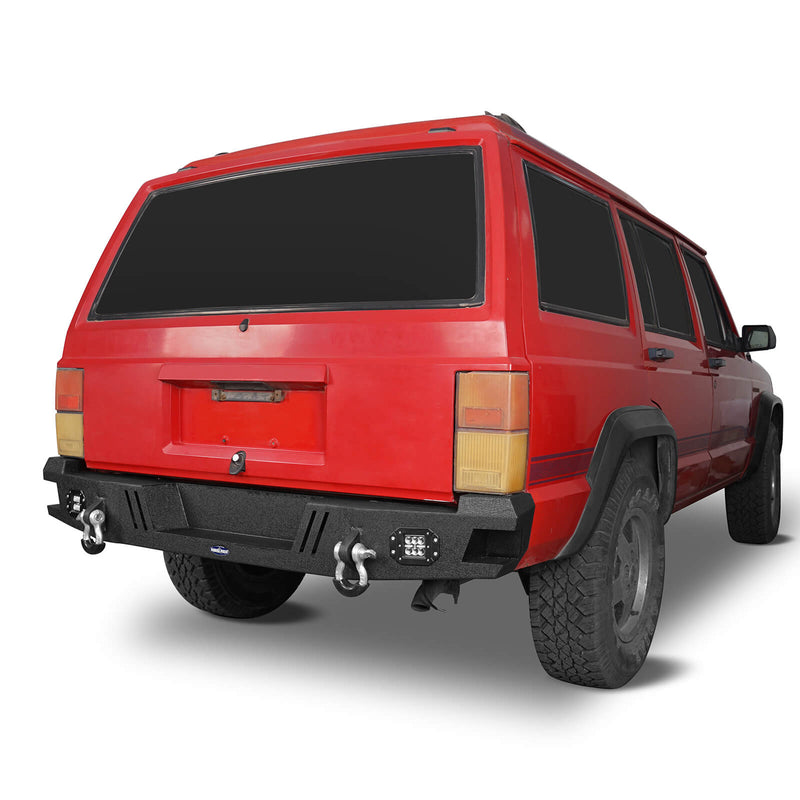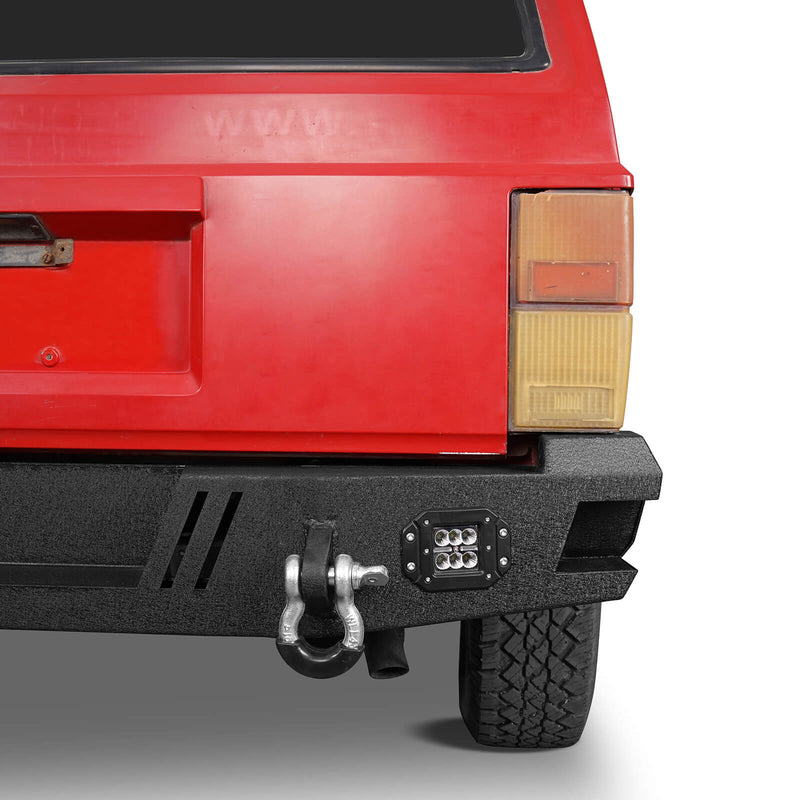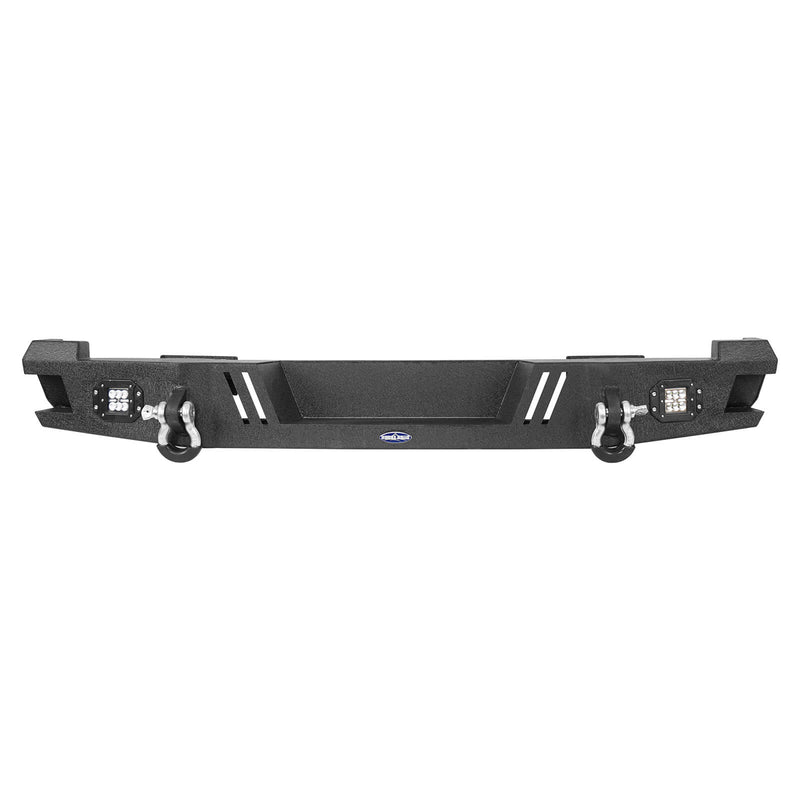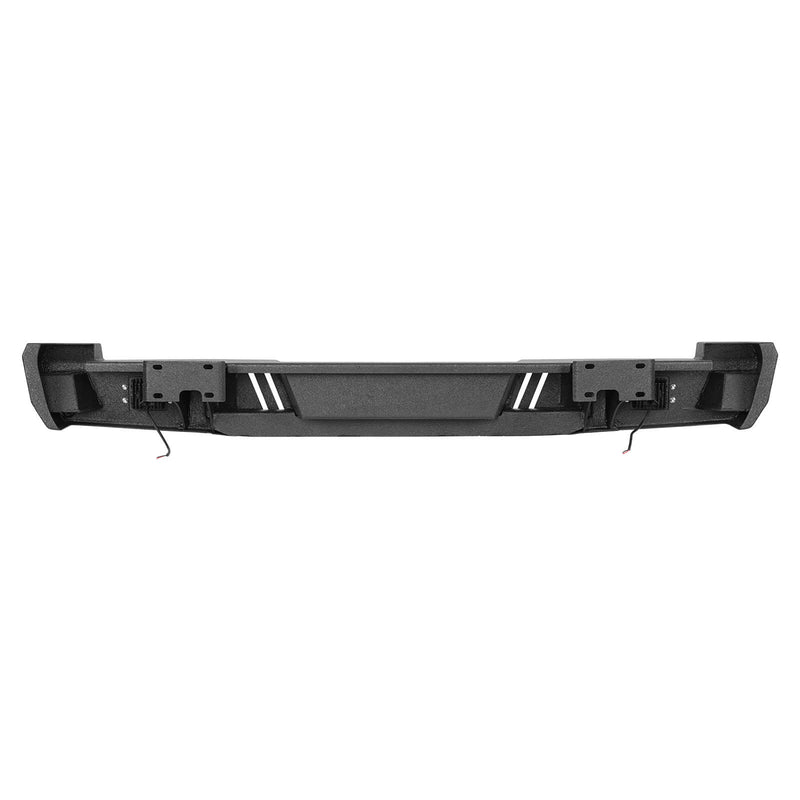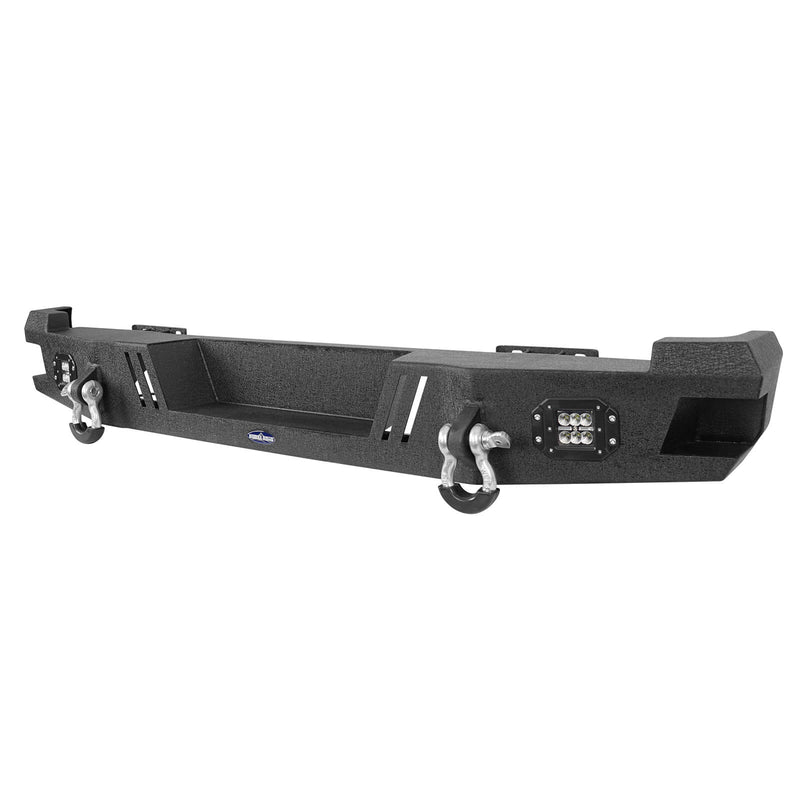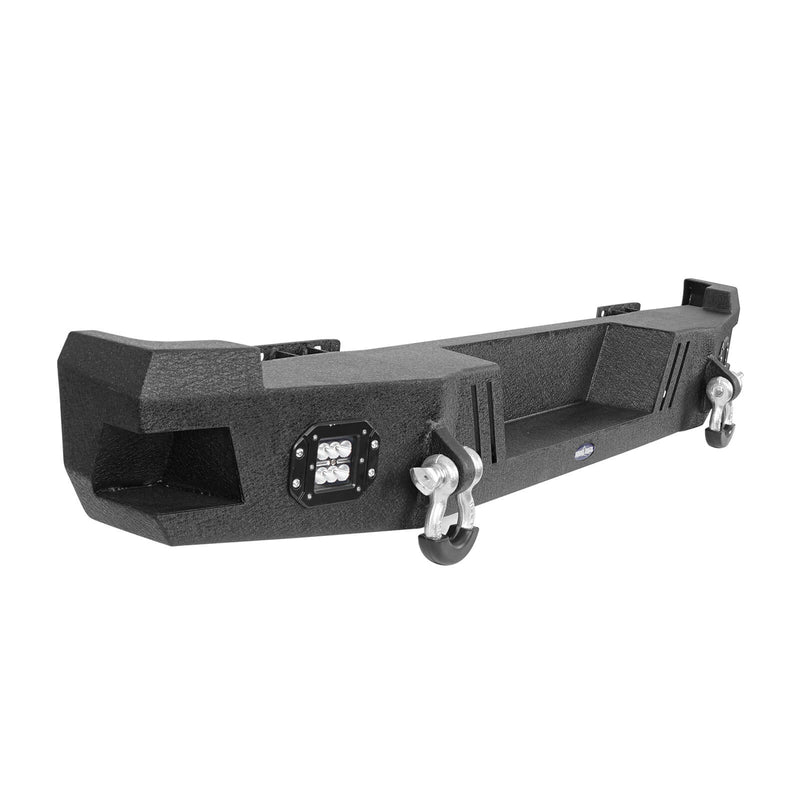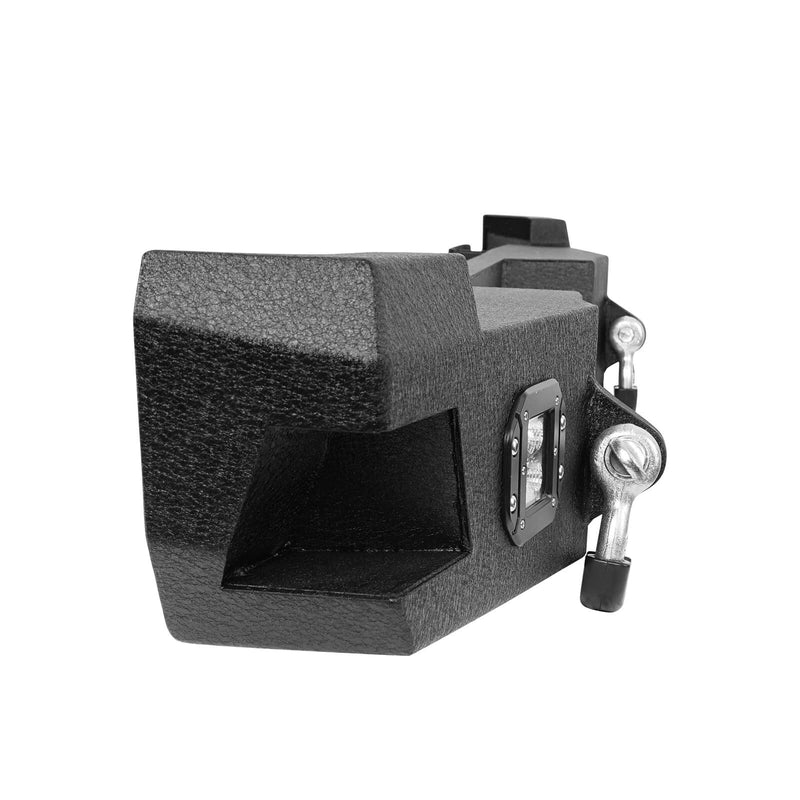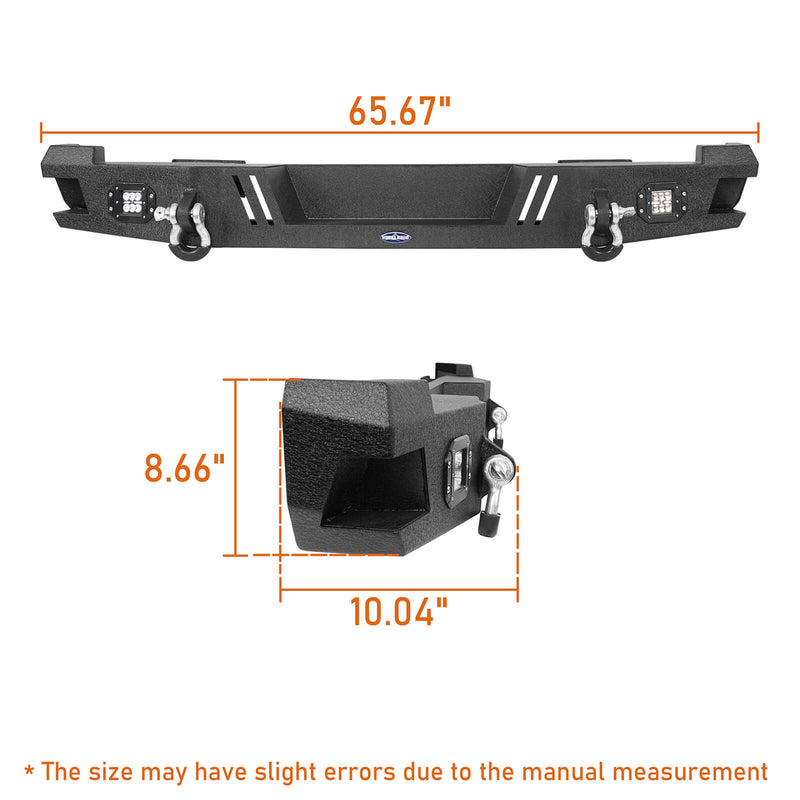 Name: 1984-2001 Jeep Cherokee XJ Rear Bumper w/LED Floodlights

Feature
Fit for 1984-2001 Jeep Cherokee XJ
Bumper Weight: About 53 lbs
Provides Excellent Rear End Protection
Gives your Cherokee XJ a Contemporary Look
Comes with 2×18W LED White Floodlights
Included 3/4 in D-rings that support up to 9,500 lbs. Rubber D-ring isolators are included.
Heavy-Duty Steel Construction: 11-Gauge(1/8 Inch) for the Bumper Body, 8-Gauge(11/64 Inch) Steel for the Mounting Structure Plate
Textured Black Powder Coat Finish 
Simple Bolt-On Installation; No Drilling is Required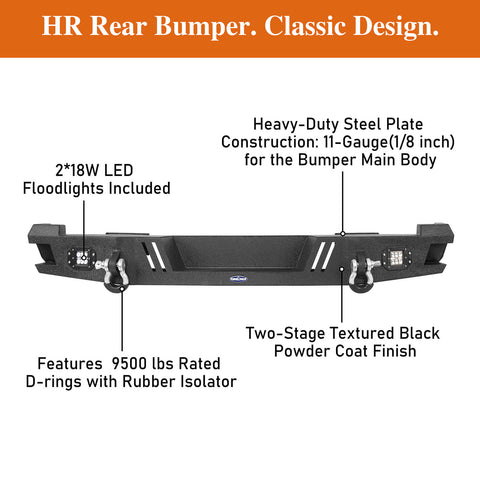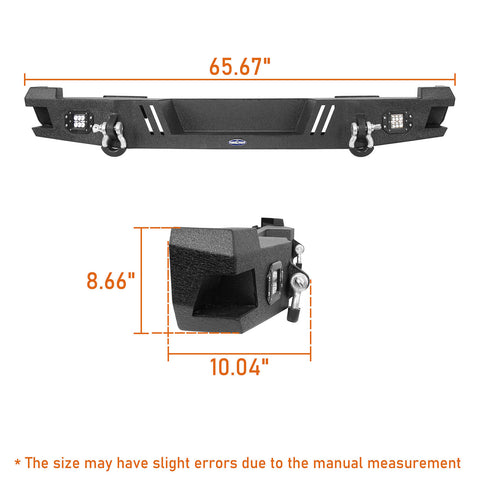 Ideal For Off-Road Use. Give your Cherokee XJ the adventurous styling of years past with this Jeep Cherokee XJ Rear Bumper. Designed to provide your vehicle with superior rear end protection, this XJ Rear Bumper is ideal for off-road use. Cherokee XJ Rear Bumper features two high strength D-Ring mounts with two 3/4" D-Rings that are rated at 9,500 lb.

Heavy Duty Construction. The Brand Off-Road manufactures their Classic Rear Bumper to precise specifications from 1/8" thick mild steel plating for superior strength and rigidity. The brand then completes the entire Bumper in a high-grade satin black powder coated finish for long lasting durability. The D-Ring mounts are welded both inside and outside for extra strength.

E-Coating Process. E-coat systems can deliver a wide range of lacquer and paint finishes with a combination of state-of-the art performance and decorative effects. The product percent of pass reaches 100% after the salt spray test.

Installation. With the help of the supplied detailed instruction,the procedure is demonstrated step by step to help you finish the installation. You should expect to take up to 1 hour installing this unit, based on your level of mechanical skills. Attempt to complete the operation in your garage and save you a pretty penny ranges from 100 to 200 dollars.

SEMA Membership. The Brand has been certified as a member of SEMA.We are studious and gradually grow up to be a professoinal aftermarket retailer.As a SEMA member, we make, buy, sell and use all kinds of specialty parts and accessories to make vehicles more attractive, more unique, more convenient, faster, safer, more fun and even like-new again.Wish you have a terrific off-road experience with our products.
1 x Jeep Cherokee XJ Rear Bumper w/LED Floodlights
2 x D-rings
Mounting Hardware Kit
2001 Jeep Cherokee Classic Sport Utility
2001 Jeep Cherokee Limited Sport Utility
2001 Jeep Cherokee SE Sport Utility
2001 Jeep Cherokee Sport Sport Utility
2000 Jeep Cherokee Classic Sport Utility
2000 Jeep Cherokee Limited Sport Utility
2000 Jeep Cherokee SE Sport Utility
2000 Jeep Cherokee Sport Sport Utility
1999 Jeep Cherokee Classic Sport Utility
1999 Jeep Cherokee Limited Sport Utility
1999 Jeep Cherokee SE Sport Utility
1999 Jeep Cherokee Sport Sport Utility
1998 Jeep Cherokee Classic Sport Utility
1998 Jeep Cherokee Limited Sport Utility
1998 Jeep Cherokee SE Sport Utility
1998 Jeep Cherokee Sport Sport Utility
1997 Jeep Cherokee Country Sport Utility
1997 Jeep Cherokee SE Sport Utility
1997 Jeep Cherokee Sport Sport Utility
1996 Jeep Cherokee Country Sport Utility
1996 Jeep Cherokee SE Sport Utility
1996 Jeep Cherokee Sport Sport Utility
1995 Jeep Cherokee Country Sport Utility1995 Jeep Cherokee SE Sport Utility
1995 Jeep Cherokee Sport Sport Utility
1994 Jeep Cherokee Base Sport Utility
1994 Jeep Cherokee Country Sport Utility
1994 Jeep Cherokee SE Sport Utility
1994 Jeep Cherokee Sport Sport Utility
1993 Jeep Cherokee Base Sport Utility
1993 Jeep Cherokee Country Sport Utility1993 Jeep Cherokee Sport Sport Utility
1992 Jeep Cherokee Base Sport Utility
1992 Jeep Cherokee Briarwood Sport Utility
1992 Jeep Cherokee Laredo Sport Utility
1992 Jeep Cherokee Limited Sport Utility
1992 Jeep Cherokee Sport Sport Utility
1991 Jeep Cherokee Base Sport Utility
1991 Jeep Cherokee Briarwood Sport Utility
1991 Jeep Cherokee Laredo Sport Utility
1991 Jeep Cherokee Sport Sport Utility
1990 Jeep Cherokee Base Sport Utility
1990 Jeep Cherokee Laredo Sport Utility
1990 Jeep Cherokee Limited Sport Utility
1990 Jeep Cherokee Pioneer Sport Utility1990 Jeep Cherokee Sport Sport Utility
1989 Jeep Cherokee Base Sport Utility
1989 Jeep Cherokee Laredo Sport Utility
1989 Jeep Cherokee Limited Sport Utility
1989 Jeep Cherokee Pioneer Sport Utility
1989 Jeep Cherokee Sport Sport Utility
1988 Jeep Cherokee Base Sport Utility
1988 Jeep Cherokee Chief Sport Utility
1988 Jeep Cherokee Laredo Sport Utility
1988 Jeep Cherokee Limited Sport Utility
1988 Jeep Cherokee Pioneer Sport Utility
1987 Jeep Cherokee Base Sport Utility
1987 Jeep Cherokee Chief Sport Utility
1987 Jeep Cherokee Laredo Sport
1987 Jeep Cherokee Limited Sport
1987 Jeep Cherokee Pioneer Sport
1986 Jeep Cherokee Base Sport Utility
1986 Jeep Cherokee Chief Sport Utility
1986 Jeep Cherokee Laredo Sport Utility
1986 Jeep Cherokee Pioneer Sport Utility
1985 Jeep Cherokee Base Sport Utility
1985 Jeep Cherokee Chief Sport Utility
1985 Jeep Cherokee Laredo Sport Utility
1985 Jeep Cherokee Pioneer Sport Utility1984 Jeep Cherokee Base Sport Utility
1988 Jeep Cherokee Classic Sport Utility
1988 Jeep Cherokee Limited Sport Utility1988 Jeep Cherokee SE Sport Utility
1988 Jeep Cherokee Sport Sport Utility
1988 Jeep Cherokee Classic Sport Utility
1988 Jeep Cherokee Limited Sport Utility
1988 Jeep Cherokee SE Sport Utility
1988 Jeep Cherokee Sport Sport Utility1987 Jeep Cherokee Classic Sport Utility
1987 Jeep Cherokee Limited Sport Utility
1987 Jeep Cherokee SE Sport Utility1987 Jeep Cherokee Sport Sport Utility
1987 Jeep Cherokee Classic Sport Utility
1987 Jeep Cherokee Limited Sport Utility
1987 Jeep Cherokee SE Sport Utility
1987 Jeep Cherokee Sport Sport Utility
1986 Jeep Cherokee Classic Sport Utility
1986 Jeep Cherokee Limited Sport Utility
1986 Jeep Cherokee SE Sport Utility
1986 Jeep Cherokee Sport Sport Utility
1986 Jeep Cherokee Classic Sport Utility
1986 Jeep Cherokee Limited Sport Utility
1986 Jeep Cherokee SE Sport Utility
1986 Jeep Cherokee Sport Sport Utility
1985 Jeep Cherokee Classic Sport Utility
1985 Jeep Cherokee Limited Sport Utility
1985 Jeep Cherokee SE Sport Utility
1985 Jeep Cherokee Sport Sport Utility
1985 Jeep Cherokee Classic Sport Utility
1985 Jeep Cherokee Limited Sport Utility1985 Jeep Cherokee SE Sport Utility
1985 Jeep Cherokee Sport Sport Utility
1984 Jeep Cherokee Classic Sport Utility
1984 Jeep Cherokee Limited Sport Utility1984 Jeep Cherokee SE Sport Utility
1984 Jeep Cherokee Sport Sport Utility
1984 Jeep Cherokee Classic Sport Utility
1984 Jeep Cherokee Limited Sport Utility
1984 Jeep Cherokee SE Sport Utility
1984 Jeep Cherokee Sport Sport Utility
Package Included
1 x Jeep Cherokee XJ Rear Bumper w/LED Floodlights
2 x D-rings
Mounting Hardware Kit
Fitment
2001 Jeep Cherokee Classic Sport Utility
2001 Jeep Cherokee Limited Sport Utility
2001 Jeep Cherokee SE Sport Utility
2001 Jeep Cherokee Sport Sport Utility
2000 Jeep Cherokee Classic Sport Utility
2000 Jeep Cherokee Limited Sport Utility
2000 Jeep Cherokee SE Sport Utility
2000 Jeep Cherokee Sport Sport Utility
1999 Jeep Cherokee Classic Sport Utility
1999 Jeep Cherokee Limited Sport Utility
1999 Jeep Cherokee SE Sport Utility
1999 Jeep Cherokee Sport Sport Utility
1998 Jeep Cherokee Classic Sport Utility
1998 Jeep Cherokee Limited Sport Utility
1998 Jeep Cherokee SE Sport Utility
1998 Jeep Cherokee Sport Sport Utility
1997 Jeep Cherokee Country Sport Utility
1997 Jeep Cherokee SE Sport Utility
1997 Jeep Cherokee Sport Sport Utility
1996 Jeep Cherokee Country Sport Utility
1996 Jeep Cherokee SE Sport Utility
1996 Jeep Cherokee Sport Sport Utility
1995 Jeep Cherokee Country Sport Utility1995 Jeep Cherokee SE Sport Utility
1995 Jeep Cherokee Sport Sport Utility
1994 Jeep Cherokee Base Sport Utility
1994 Jeep Cherokee Country Sport Utility
1994 Jeep Cherokee SE Sport Utility
1994 Jeep Cherokee Sport Sport Utility
1993 Jeep Cherokee Base Sport Utility
1993 Jeep Cherokee Country Sport Utility1993 Jeep Cherokee Sport Sport Utility
1992 Jeep Cherokee Base Sport Utility
1992 Jeep Cherokee Briarwood Sport Utility
1992 Jeep Cherokee Laredo Sport Utility
1992 Jeep Cherokee Limited Sport Utility
1992 Jeep Cherokee Sport Sport Utility
1991 Jeep Cherokee Base Sport Utility
1991 Jeep Cherokee Briarwood Sport Utility
1991 Jeep Cherokee Laredo Sport Utility
1991 Jeep Cherokee Sport Sport Utility
1990 Jeep Cherokee Base Sport Utility
1990 Jeep Cherokee Laredo Sport Utility
1990 Jeep Cherokee Limited Sport Utility
1990 Jeep Cherokee Pioneer Sport Utility1990 Jeep Cherokee Sport Sport Utility
1989 Jeep Cherokee Base Sport Utility
1989 Jeep Cherokee Laredo Sport Utility
1989 Jeep Cherokee Limited Sport Utility
1989 Jeep Cherokee Pioneer Sport Utility
1989 Jeep Cherokee Sport Sport Utility
1988 Jeep Cherokee Base Sport Utility
1988 Jeep Cherokee Chief Sport Utility
1988 Jeep Cherokee Laredo Sport Utility
1988 Jeep Cherokee Limited Sport Utility
1988 Jeep Cherokee Pioneer Sport Utility
1987 Jeep Cherokee Base Sport Utility
1987 Jeep Cherokee Chief Sport Utility
1987 Jeep Cherokee Laredo Sport
1987 Jeep Cherokee Limited Sport
1987 Jeep Cherokee Pioneer Sport
1986 Jeep Cherokee Base Sport Utility
1986 Jeep Cherokee Chief Sport Utility
1986 Jeep Cherokee Laredo Sport Utility
1986 Jeep Cherokee Pioneer Sport Utility
1985 Jeep Cherokee Base Sport Utility
1985 Jeep Cherokee Chief Sport Utility
1985 Jeep Cherokee Laredo Sport Utility
1985 Jeep Cherokee Pioneer Sport Utility1984 Jeep Cherokee Base Sport Utility
1988 Jeep Cherokee Classic Sport Utility
1988 Jeep Cherokee Limited Sport Utility1988 Jeep Cherokee SE Sport Utility
1988 Jeep Cherokee Sport Sport Utility
1988 Jeep Cherokee Classic Sport Utility
1988 Jeep Cherokee Limited Sport Utility
1988 Jeep Cherokee SE Sport Utility
1988 Jeep Cherokee Sport Sport Utility1987 Jeep Cherokee Classic Sport Utility
1987 Jeep Cherokee Limited Sport Utility
1987 Jeep Cherokee SE Sport Utility1987 Jeep Cherokee Sport Sport Utility
1987 Jeep Cherokee Classic Sport Utility
1987 Jeep Cherokee Limited Sport Utility
1987 Jeep Cherokee SE Sport Utility
1987 Jeep Cherokee Sport Sport Utility
1986 Jeep Cherokee Classic Sport Utility
1986 Jeep Cherokee Limited Sport Utility
1986 Jeep Cherokee SE Sport Utility
1986 Jeep Cherokee Sport Sport Utility
1986 Jeep Cherokee Classic Sport Utility
1986 Jeep Cherokee Limited Sport Utility
1986 Jeep Cherokee SE Sport Utility
1986 Jeep Cherokee Sport Sport Utility
1985 Jeep Cherokee Classic Sport Utility
1985 Jeep Cherokee Limited Sport Utility
1985 Jeep Cherokee SE Sport Utility
1985 Jeep Cherokee Sport Sport Utility
1985 Jeep Cherokee Classic Sport Utility
1985 Jeep Cherokee Limited Sport Utility1985 Jeep Cherokee SE Sport Utility
1985 Jeep Cherokee Sport Sport Utility
1984 Jeep Cherokee Classic Sport Utility
1984 Jeep Cherokee Limited Sport Utility1984 Jeep Cherokee SE Sport Utility
1984 Jeep Cherokee Sport Sport Utility
1984 Jeep Cherokee Classic Sport Utility
1984 Jeep Cherokee Limited Sport Utility
1984 Jeep Cherokee SE Sport Utility
1984 Jeep Cherokee Sport Sport Utility