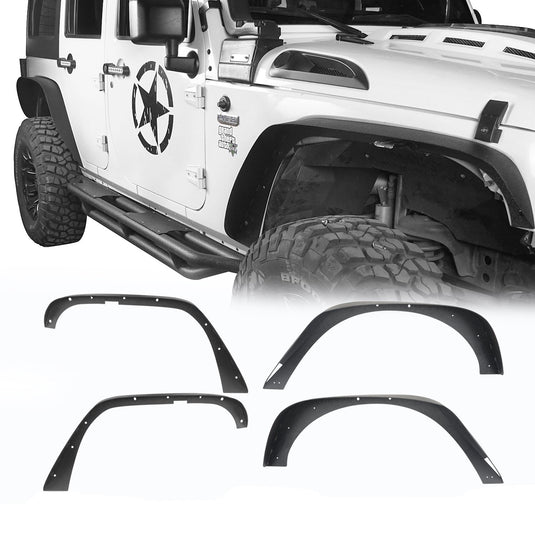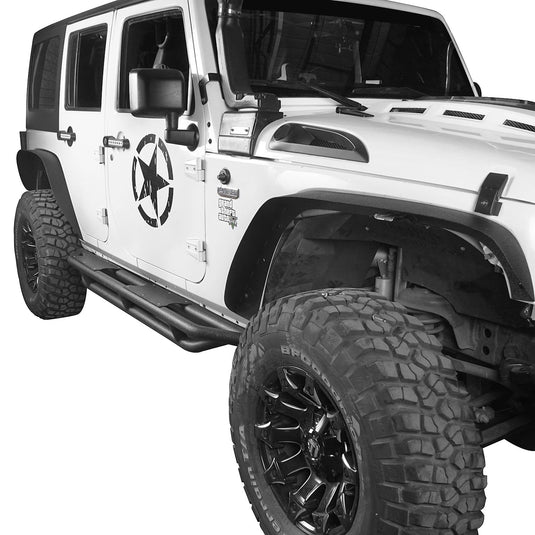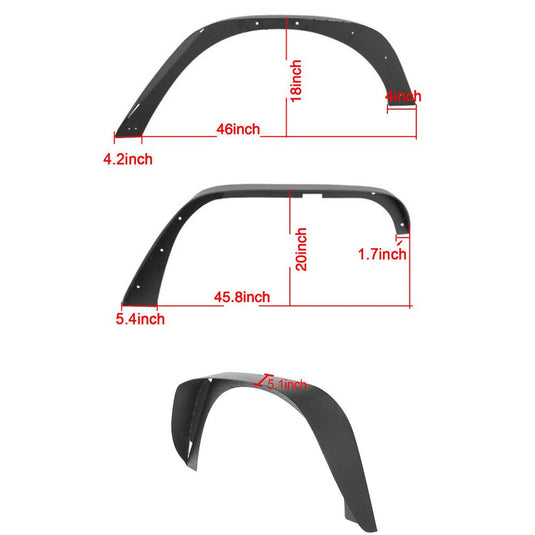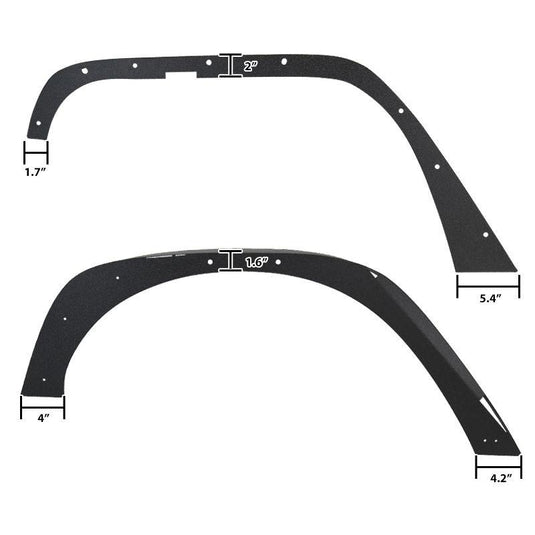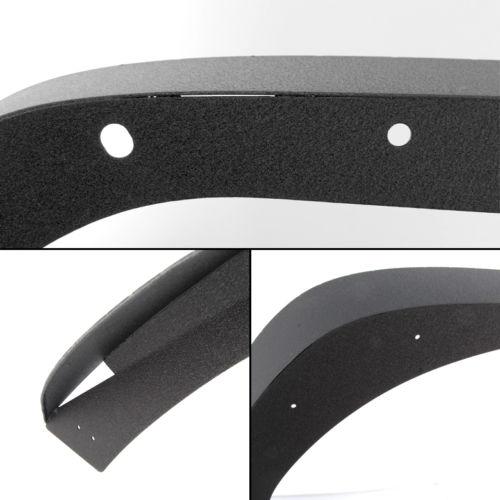 Name:Jeep JK Flat Fender Flares
Feature
Fit For 2007-2018 Jeep Wrangler JK; Do Not Fit For 2018 JL

Color: Textured Black
Material: Durable Carbon Steel Plate, 100% Steel Construction for Extra Durability
Finishing: Powder-Coated For Immediate Use & Durability
Function: Protect Wheel Wells From Mud, Scratches, Sand And Other Outer Damage. Flexible, Shatter-Resistant, Perfectly Contour To Wheel Wells;?Increases Tire Clearance for Optimal Suspension Articulation
Moderate Bolt-On Installation: Drilling is Needed for The Installation of your Rear Fenders
Style
They are a flat fender.There is a little bit bend on edge.

Moderate Bolt-On Installation
Drilling is needed for rear fenders to ensure a solid mount, but it is quite easy. Please check the User Manual to view the details or contact our customer service?for further help.

E-Coating Process
E-coat systems can deliver a wide range of lacquer and paint finishes with a combination of state-of-the-art performance and decorative effects. The product percent of pass reaches 100% after the salt spray test.

Off-road Look
The slim design provides extra tire coverage for larger tires while maintaining an Off-road look. Don't need to worry about the wheels rubbing the fender flares.
About Hooke Road
Dimension
1 x Jeep JK Flat Fender Flares
Mounting Hardware
2018 Jeep Wrangler (JK) Rubicon (2-Door)
2018 Jeep Wrangler (JK) Sahara (2-Door)
2018 Jeep Wrangler (JK) Sport (2-Door)
2018 Jeep Wrangler (JK) Unlimited Rubicon (4-Door)
2018 Jeep Wrangler (JK) Unlimited Sahara (4-Door)
2018 Jeep Wrangler (JK) Unlimited Sport (4-Door)
2017 Jeep Wrangler (JK) Rubicon (2-Door)
2017 Jeep Wrangler (JK) Sahara (2-Door)
2017 Jeep Wrangler (JK) Sport (2-Door)
2017 Jeep Wrangler (JK) Unlimited Rubicon (4-Door)
2017 Jeep Wrangler (JK) Unlimited Sahara (4-Door)
2017 Jeep Wrangler (JK) Unlimited Sport (4-Door)
2016 Jeep Wrangler (JK) Rubicon (2-Door)
2016 Jeep Wrangler (JK) Sahara (2-Door)
2016 Jeep Wrangler (JK) Sport (2-Door)
2016 Jeep Wrangler (JK) Unlimited Rubicon (4-Door)
2016 Jeep Wrangler (JK) Unlimited Sahara (4-Door)
2016 Jeep Wrangler (JK) Unlimited Sport (4-Door)
2016 Jeep Wrangler (JK) Unlimited Sport S (4-Door)
2016 Jeep Wrangler (JK) Sport S (2-Door)
2016 Jeep Wrangler (JK) 75th Anniversary (2-Door)
2016 Jeep Wrangler (JK) Unlimited 75th Anniversary (4-Door)
2015 Jeep Wrangler (JK) Rubicon (2-Door)
2015 Jeep Wrangler (JK) Sahara (2-Door)
2015 Jeep Wrangler (JK) Sport (2-Door)
2015 Jeep Wrangler (JK) Unlimited Rubicon (4-Door)
2015 Jeep Wrangler (JK) Unlimited Sahara (4-Door)
2015 Jeep Wrangler (JK) Unlimited Sport (4-Door)
2014 Jeep Wrangler (JK) Rubicon (2-Door)
2014 Jeep Wrangler (JK) Sahara (2-Door)
2014 Jeep Wrangler (JK) Sport (2-Door)
2014 Jeep Wrangler (JK) Unlimited Rubicon (4-Door)
2014 Jeep Wrangler (JK) Unlimited Sahara (4-Door)
2014 Jeep Wrangler (JK) Unlimited Sport (4-Door)
2013 Jeep Wrangler (JK) Rubicon (2-Door)
2013 Jeep Wrangler (JK) Sahara (2-Door)
2013 Jeep Wrangler (JK) Sport (2-Door)
2013 Jeep Wrangler (JK) Unlimited Rubicon (4-Door)
2013 Jeep Wrangler (JK) Unlimited Sport (4-Door)
2013 Jeep Wrangler (JK) Unlimited Sahara (4-Door)
2012 Jeep Wrangler (JK) Rubicon (2-Door)
2012 Jeep Wrangler (JK) Sahara (2-Door)
2012 Jeep Wrangler (JK) Sport (2-Door)
2012 Jeep Wrangler (JK) Unlimited Rubicon (4-Door)
2012 Jeep Wrangler (JK) Unlimited Sahara (4-Door)
2012 Jeep Wrangler (JK) Unlimited Sport (4-Door)
2011 Jeep Wrangler (JK) Rubicon (2-Door)
2011 Jeep Wrangler (JK) Sahara (2-Door)
2011 Jeep Wrangler (JK) Sport (2-Door)
2011 Jeep Wrangler (JK) Unlimited Rubicon (4-Door)
2011 Jeep Wrangler (JK) Unlimited Sahara (4-Door)
2011 Jeep Wrangler (JK) Unlimited Sport (4-Door)
2011 Jeep Wrangler (JK) 70th Anniversary (2-Door)
2011 Jeep Wrangler (JK) Unlimited 70th Anniversary (4-Door)
2010 Jeep Wrangler (JK) Rubicon (2-Door)
2010 Jeep Wrangler (JK) Sahara (2-Door)
2010 Jeep Wrangler (JK) Unlimited Rubicon (4-Door)
2010 Jeep Wrangler (JK) Unlimited Sahara (4-Door)
2010 Jeep Wrangler (JK) Unlimited X (4-Door)
2010 Jeep Wrangler (JK) X (2-Door)
2010 Jeep Wrangler (JK) Sport (2-Door)
2010 Jeep Wrangler (JK) Unlimited Sport (4-Door)
2009 Jeep Wrangler (JK) Rubicon (2-Door)
2009 Jeep Wrangler (JK) Sahara (2-Door)
2009 Jeep Wrangler (JK) Unlimited Rubicon (4-Door)
2009 Jeep Wrangler (JK) Unlimited Sahara (4-Door)
2009 Jeep Wrangler (JK) Unlimited X (4-Door)
2009 Jeep Wrangler (JK) X (2-Door)
2008 Jeep Wrangler (JK) X (2-Door)
2008 Jeep Wrangler (JK) Unlimited X (4-Door)
2008 Jeep Wrangler (JK) Unlimited Sahara (4-Door)
2008 Jeep Wrangler (JK) Unlimited Rubicon (4-Door)
2008 Jeep Wrangler (JK) Sahara (2-Door)
2008 Jeep Wrangler (JK) Rubicon (2-Door)
2007 Jeep Wrangler (JK) Rubicon (2-Door)
2007 Jeep Wrangler (JK) Sahara (2-Door)
2007 Jeep Wrangler (JK) Unlimited Rubicon (4-Door)
2007 Jeep Wrangler (JK) Unlimited Sahara (4-Door)
2007 Jeep Wrangler (JK) Unlimited X (4-Door)
2007 Jeep Wrangler (JK) X (2-Door)
Package Included
1 x Jeep JK Flat Fender Flares
Mounting Hardware
Fitment
2018 Jeep Wrangler (JK) Rubicon (2-Door)
2018 Jeep Wrangler (JK) Sahara (2-Door)
2018 Jeep Wrangler (JK) Sport (2-Door)
2018 Jeep Wrangler (JK) Unlimited Rubicon (4-Door)
2018 Jeep Wrangler (JK) Unlimited Sahara (4-Door)
2018 Jeep Wrangler (JK) Unlimited Sport (4-Door)
2017 Jeep Wrangler (JK) Rubicon (2-Door)
2017 Jeep Wrangler (JK) Sahara (2-Door)
2017 Jeep Wrangler (JK) Sport (2-Door)
2017 Jeep Wrangler (JK) Unlimited Rubicon (4-Door)
2017 Jeep Wrangler (JK) Unlimited Sahara (4-Door)
2017 Jeep Wrangler (JK) Unlimited Sport (4-Door)
2016 Jeep Wrangler (JK) Rubicon (2-Door)
2016 Jeep Wrangler (JK) Sahara (2-Door)
2016 Jeep Wrangler (JK) Sport (2-Door)
2016 Jeep Wrangler (JK) Unlimited Rubicon (4-Door)
2016 Jeep Wrangler (JK) Unlimited Sahara (4-Door)
2016 Jeep Wrangler (JK) Unlimited Sport (4-Door)
2016 Jeep Wrangler (JK) Unlimited Sport S (4-Door)
2016 Jeep Wrangler (JK) Sport S (2-Door)
2016 Jeep Wrangler (JK) 75th Anniversary (2-Door)
2016 Jeep Wrangler (JK) Unlimited 75th Anniversary (4-Door)
2015 Jeep Wrangler (JK) Rubicon (2-Door)
2015 Jeep Wrangler (JK) Sahara (2-Door)
2015 Jeep Wrangler (JK) Sport (2-Door)
2015 Jeep Wrangler (JK) Unlimited Rubicon (4-Door)
2015 Jeep Wrangler (JK) Unlimited Sahara (4-Door)
2015 Jeep Wrangler (JK) Unlimited Sport (4-Door)
2014 Jeep Wrangler (JK) Rubicon (2-Door)
2014 Jeep Wrangler (JK) Sahara (2-Door)
2014 Jeep Wrangler (JK) Sport (2-Door)
2014 Jeep Wrangler (JK) Unlimited Rubicon (4-Door)
2014 Jeep Wrangler (JK) Unlimited Sahara (4-Door)
2014 Jeep Wrangler (JK) Unlimited Sport (4-Door)
2013 Jeep Wrangler (JK) Rubicon (2-Door)
2013 Jeep Wrangler (JK) Sahara (2-Door)
2013 Jeep Wrangler (JK) Sport (2-Door)
2013 Jeep Wrangler (JK) Unlimited Rubicon (4-Door)
2013 Jeep Wrangler (JK) Unlimited Sport (4-Door)
2013 Jeep Wrangler (JK) Unlimited Sahara (4-Door)
2012 Jeep Wrangler (JK) Rubicon (2-Door)
2012 Jeep Wrangler (JK) Sahara (2-Door)
2012 Jeep Wrangler (JK) Sport (2-Door)
2012 Jeep Wrangler (JK) Unlimited Rubicon (4-Door)
2012 Jeep Wrangler (JK) Unlimited Sahara (4-Door)
2012 Jeep Wrangler (JK) Unlimited Sport (4-Door)
2011 Jeep Wrangler (JK) Rubicon (2-Door)
2011 Jeep Wrangler (JK) Sahara (2-Door)
2011 Jeep Wrangler (JK) Sport (2-Door)
2011 Jeep Wrangler (JK) Unlimited Rubicon (4-Door)
2011 Jeep Wrangler (JK) Unlimited Sahara (4-Door)
2011 Jeep Wrangler (JK) Unlimited Sport (4-Door)
2011 Jeep Wrangler (JK) 70th Anniversary (2-Door)
2011 Jeep Wrangler (JK) Unlimited 70th Anniversary (4-Door)
2010 Jeep Wrangler (JK) Rubicon (2-Door)
2010 Jeep Wrangler (JK) Sahara (2-Door)
2010 Jeep Wrangler (JK) Unlimited Rubicon (4-Door)
2010 Jeep Wrangler (JK) Unlimited Sahara (4-Door)
2010 Jeep Wrangler (JK) Unlimited X (4-Door)
2010 Jeep Wrangler (JK) X (2-Door)
2010 Jeep Wrangler (JK) Sport (2-Door)
2010 Jeep Wrangler (JK) Unlimited Sport (4-Door)
2009 Jeep Wrangler (JK) Rubicon (2-Door)
2009 Jeep Wrangler (JK) Sahara (2-Door)
2009 Jeep Wrangler (JK) Unlimited Rubicon (4-Door)
2009 Jeep Wrangler (JK) Unlimited Sahara (4-Door)
2009 Jeep Wrangler (JK) Unlimited X (4-Door)
2009 Jeep Wrangler (JK) X (2-Door)
2008 Jeep Wrangler (JK) X (2-Door)
2008 Jeep Wrangler (JK) Unlimited X (4-Door)
2008 Jeep Wrangler (JK) Unlimited Sahara (4-Door)
2008 Jeep Wrangler (JK) Unlimited Rubicon (4-Door)
2008 Jeep Wrangler (JK) Sahara (2-Door)
2008 Jeep Wrangler (JK) Rubicon (2-Door)
2007 Jeep Wrangler (JK) Rubicon (2-Door)
2007 Jeep Wrangler (JK) Sahara (2-Door)
2007 Jeep Wrangler (JK) Unlimited Rubicon (4-Door)
2007 Jeep Wrangler (JK) Unlimited Sahara (4-Door)
2007 Jeep Wrangler (JK) Unlimited X (4-Door)
2007 Jeep Wrangler (JK) X (2-Door)