Hooke Road Front Bumper(07-18 Jeep Wrangler JK)
Like to Join in Discount List
P.O. Box Address is not available. Please Offer the physical address on checkout.
Community Support
Offroad Life Enthousiast · Trucks & Wrangler Mods
Hooke Road Installation Manual
Out of Stock? => Free Instock Notification
Need Help to PRE ORDER? => PRE ORDER
Name: Jeep Wrangler JK Front Bumper
 Inventory Notice:

The G2024 will be in stock about 7-15 Workdays. Marked on September 8, 2021.
If you like it, you can PREORDER now. Stock is NOT ENOUGH. First Come First Service!
* Friendly Reminder :

The Title, Description and Images of listing are for all Items of  Whole Variant Types. The Item of Variant "TYPE" is what you will take  and receive.

Double-check the Variant Type before selecting quick shop or add to cart to assure you receive the correct product(s)
Thanks for your kind cooperation ahead.*
G2024 DESTROYER Blade Full-Width Front Bumper
Fits for 2007-2018 Jeep Wrangler JK Models; Do not fit for 2018 JL
Blade Full-Width Front Bumper;Destroyer Bull Bar;Built-in Winch Plate for up to 12,000lb. Winch;6 x 18W High Powered LED Spotlights Included;License Plate Mounting Bracket Included;Bumper Weight: 90.4 lbs;Heavy-Duty, High Strength Steel Construction;Perfect for Off-Roading Protection;Textured Black Powder Coat Finish;Made for Ultimate Durability and Corrosion Resistance
Bolt-On Installation
Package Included:
1 x DESTROYER Blade Full-Width Front Bumper w/Bull Bar
6 x 18W High Powered LED Spotlights
Hardware
G2027  Mad Max Front Bumper
Fits for 2007-2018 Jeep Wrangler JK Models
Bumper Weight: 118 lbs;Built-in Winch Plate for up to 12,000lbs; High Strength D-Ring Mounts w/ D-Rings Included;Textured Black Powder Coat Finish;Heavy-Duty, High Strength Steel Construction
Easy to Install
Package Included:

1 x Front Bumper w/Grill Guard & Winch Plate
2 x D-rings
Mounting Hardware
G2032 Stubby LOTUS Tubular Front Bumper
Fits 2007-2018 Jeep Wrangler JK Models
Heavy Duty 3/16" Steel Construction;Winch Plate is Rate up to 12,000lb;D-Rings w/Rubber Rings to Provide Extra Protection Against Abrasion;Bumper Weight: 64 lbs;Premium E-Coating;Process for 5-Year Corrosion Protection in Normal Use
Simple Bolt-on Installation w/Clear and Detailed Instruction
2 Year Manufacturer Warranty & Lifetime Customer Support
Package Included

1 x Jeep JK Stubby Tubular Front Bumper w/Winch Plate
2 x 18W LED Spotlights
Mounting Hardware
G2038 Mad Max Front Bumper
Fits 2007-2018 Jeep Wrangler JK Models
68 lbs; Grill Structure Increase Structural Strength Contradiction Space Exterior Design Style, Possess Aesthetics; Exterior, Simultaneously Own Intrepid Appearance; Decorated w/Vivid Red "since 1941" Pattern in Two Sides; Premium E-Coating Process for 5-Year Corrosion Protection; One-piece Structure Integrated; Winch plate included for up to 12,000lb. Winch; High Strength D-Ring Mounts w/ D-Rings Included£»D-rings w/protective sleeve design
Simple Bolt-on Installation w/Clear and Detailed Instruction
2 Year Limited Manufactory Warranty & Lifetime Customer Service
Package Included:

1 x Mad Max Front Bumper w/Grill Guard & Winch plate
2 x 18W High Powered LED Spotlights
2 x D-rings
Hardware
G2039 Jeep Wrangler JK Front Bumper
Fit for 2007-2018 Jeep Wrangler JK
Front Bumper w/Stinger - Built in Winch Mount;Winch Plate Included for up to 12,000lb. Winch;High Strength D-Ring Mounts w/ 9,500 lb. Rated D-Rings Included;Bumper Weight: 77 lbs;Heavy-Duty, High Tensile Steel Construction;Textured Black Powder Coat Finish;Fortified Winch Plates and Excellent Approach Angles;2pcs 2inch High Powered LED Spotlights Included
Simple Bolt-On Installation
2 Year Limited Warranty
Package Included:
1 x Jeep Wrangler JK Stinger Bar Front Bumper w/Winch Plate Mount
2 x D-Rings
2 x 18W LED Spotlight
Hardware
Dimension. (Manual measurement. There may be deviations from the actual product.)
G2027  Mad Max Front Bumper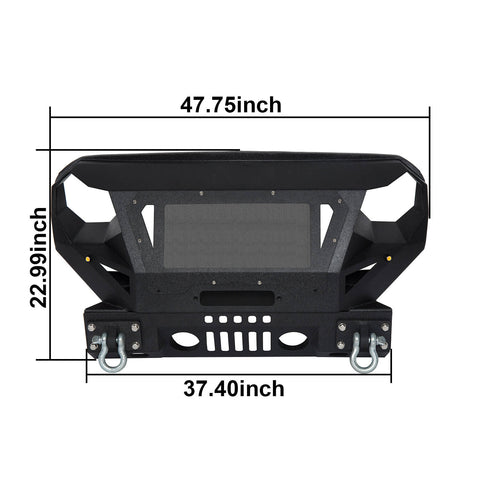 G2032 Stubby LOTUS Tubular Front Bumper