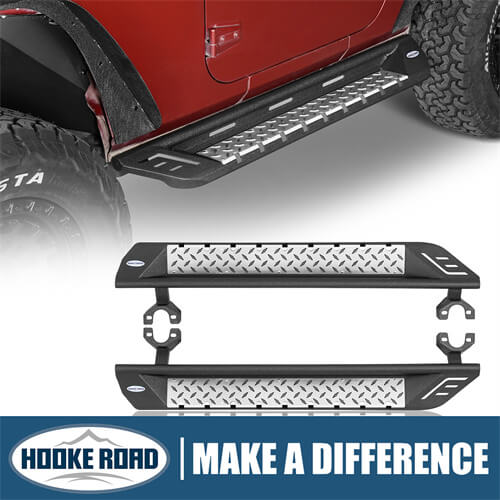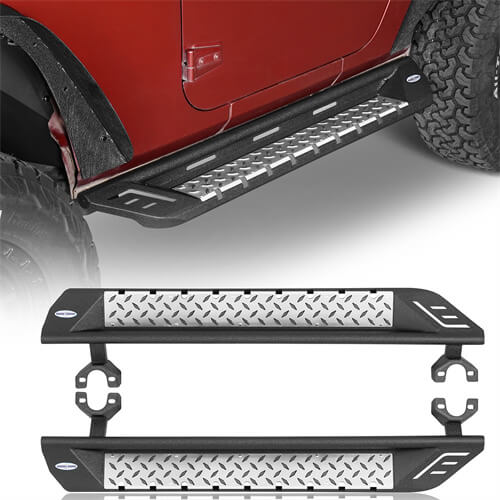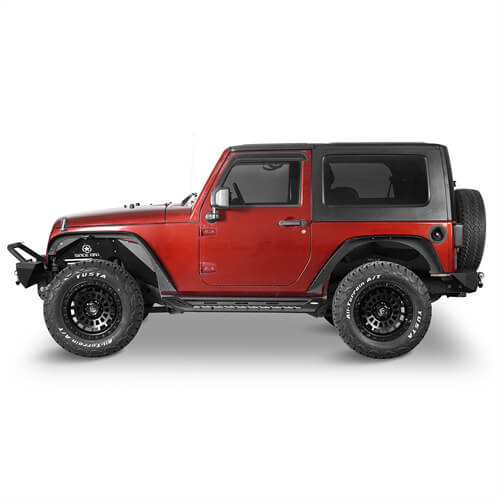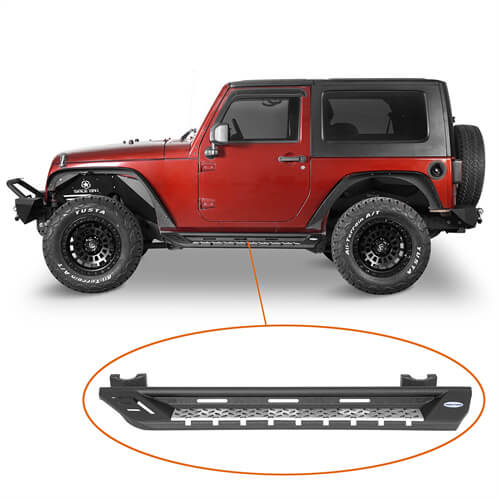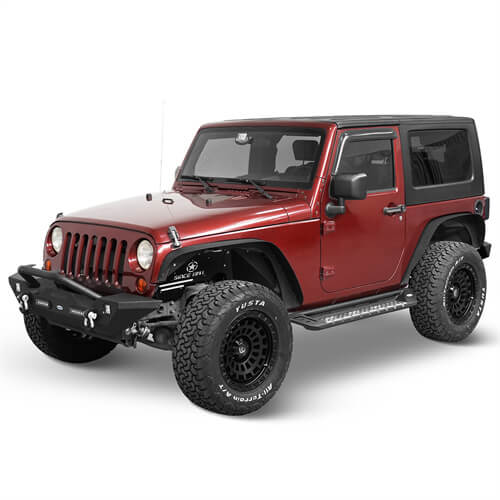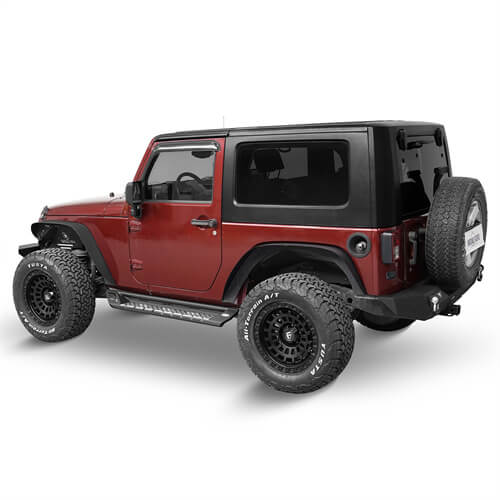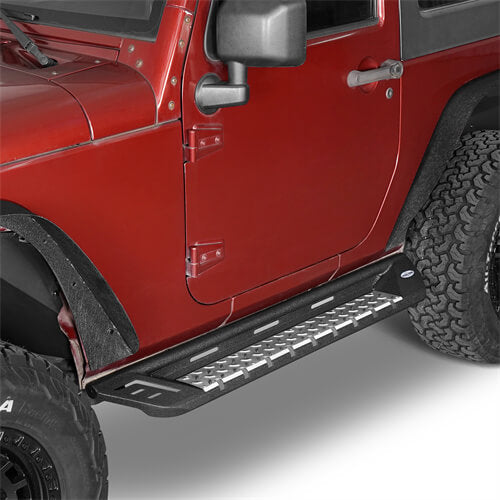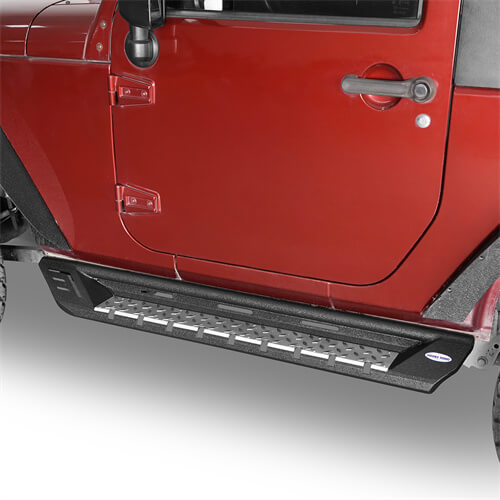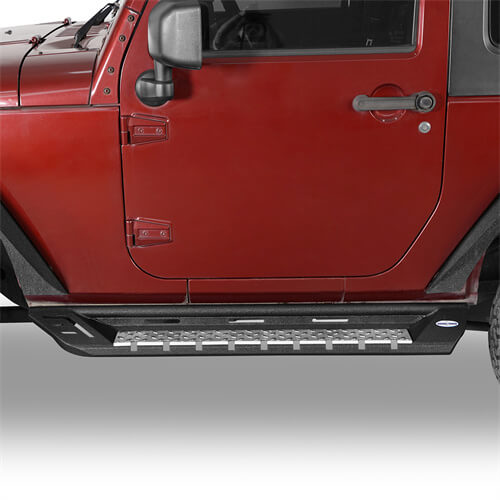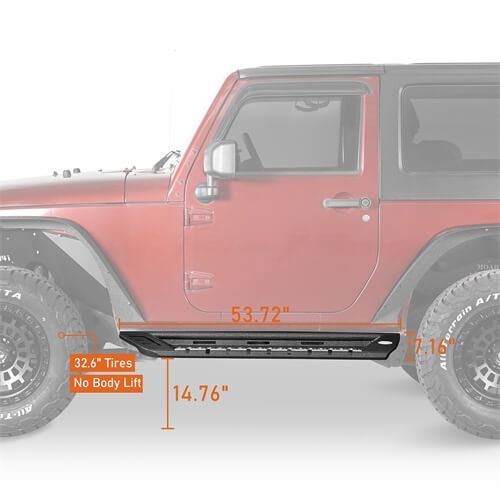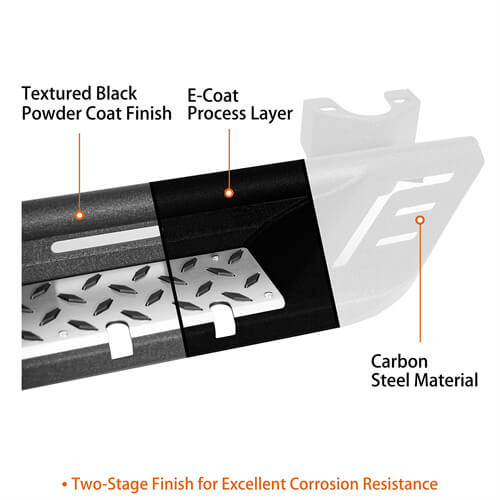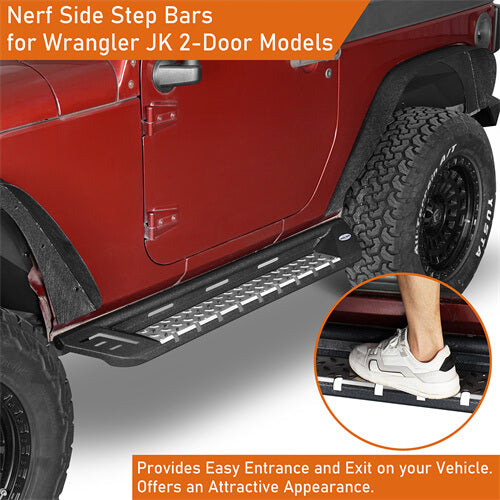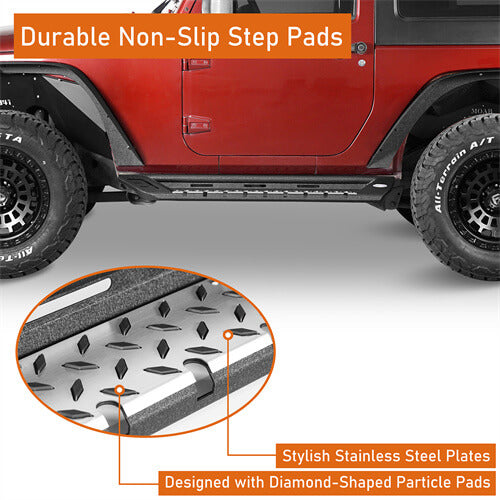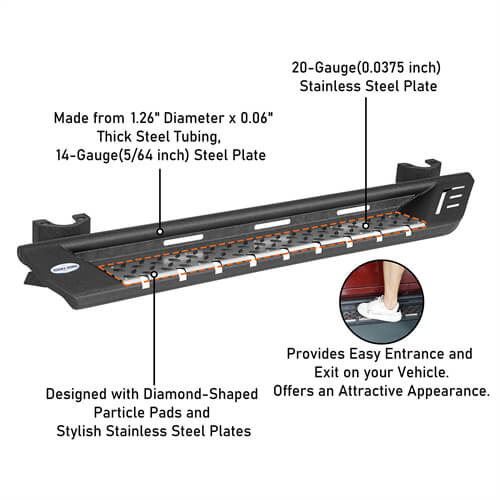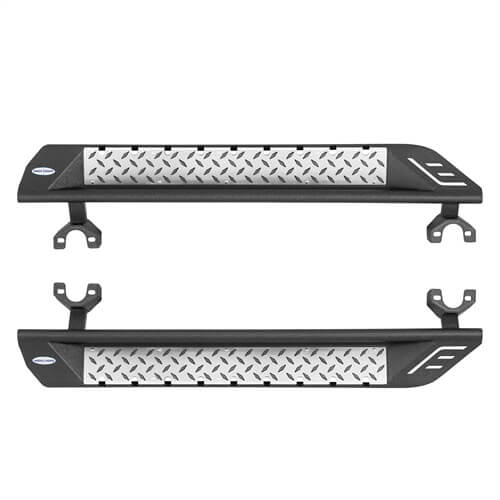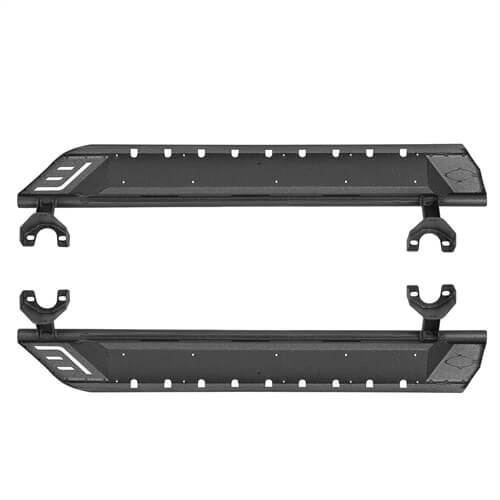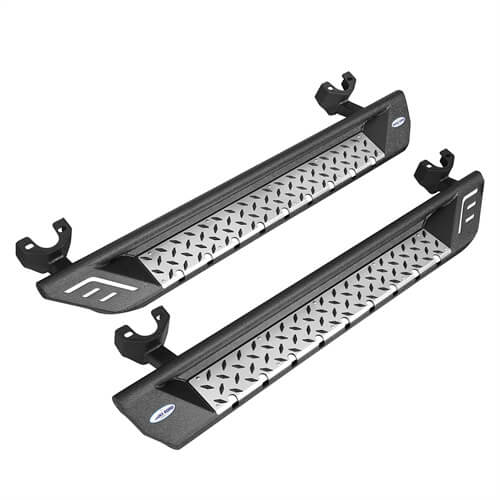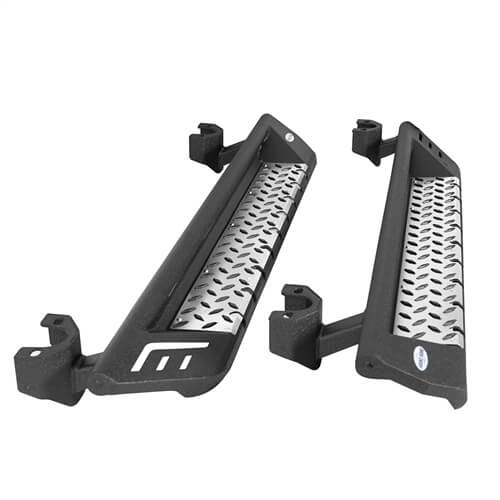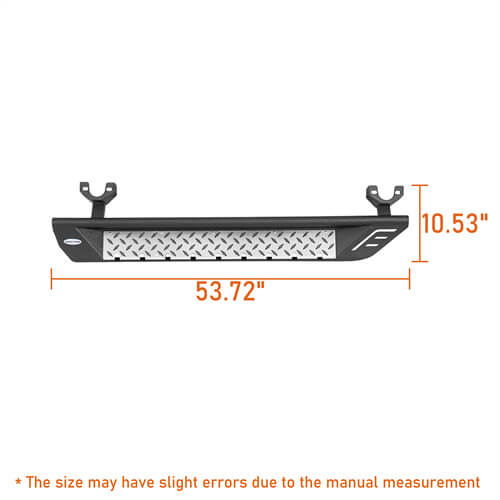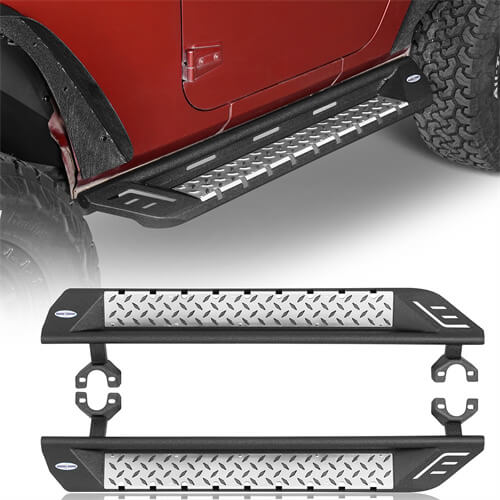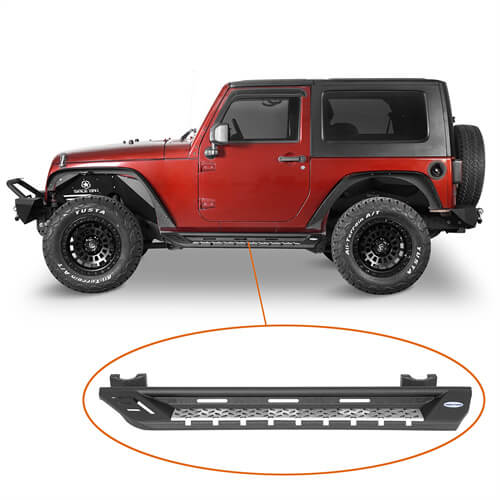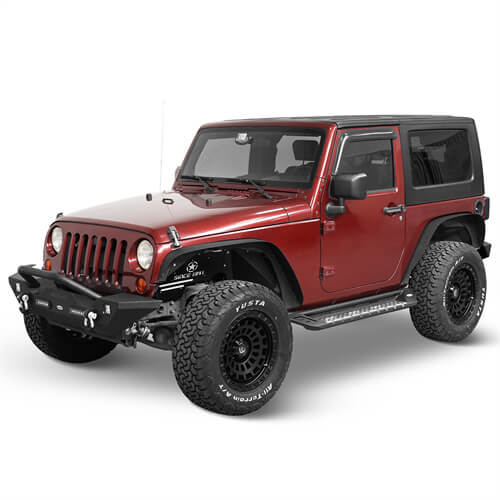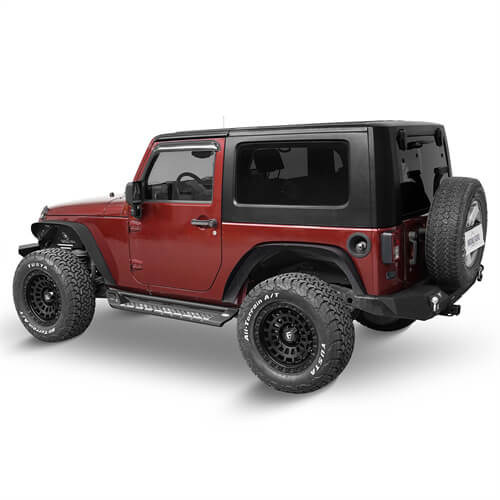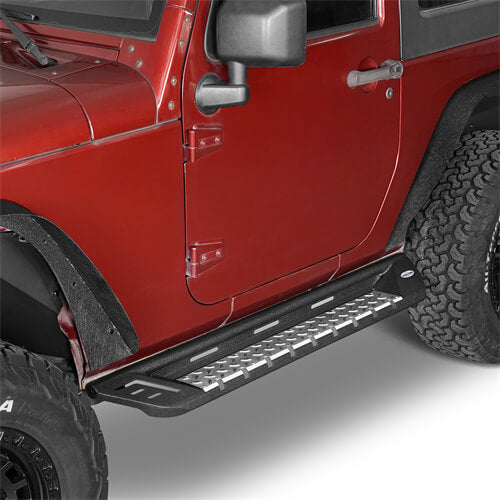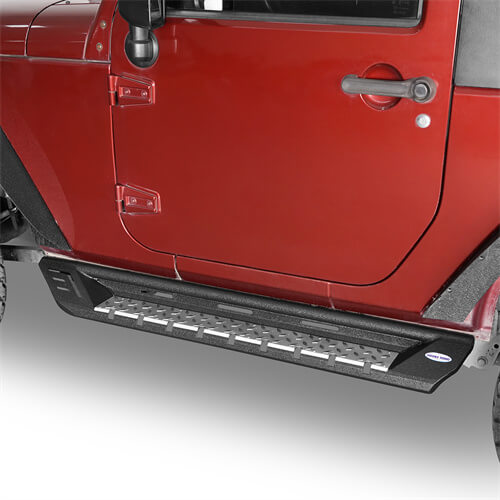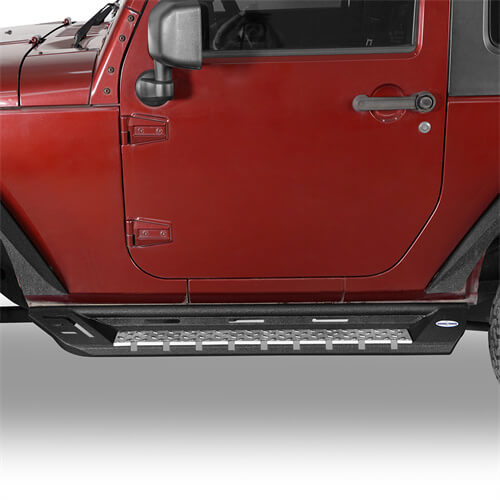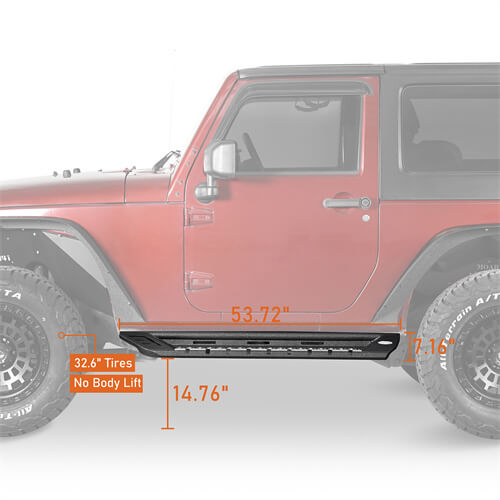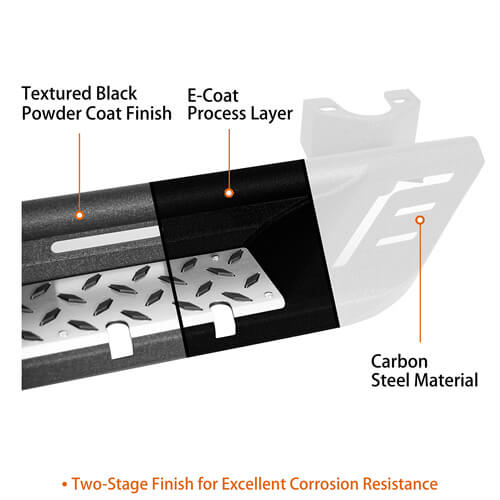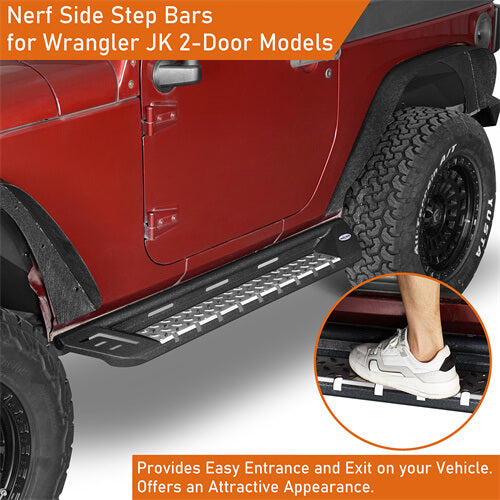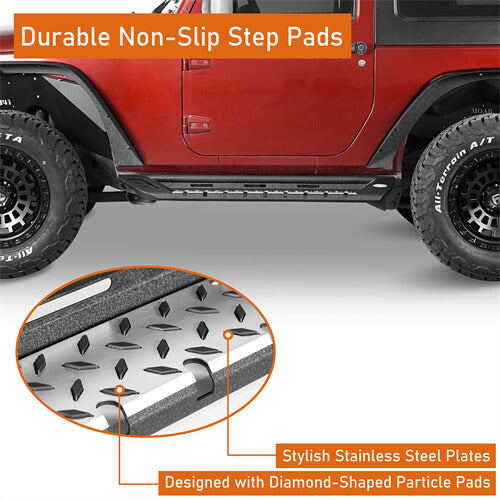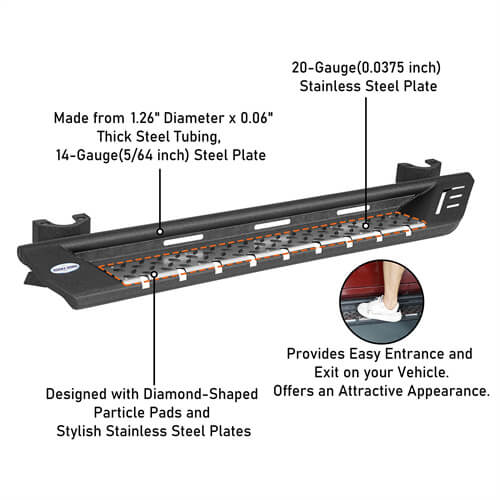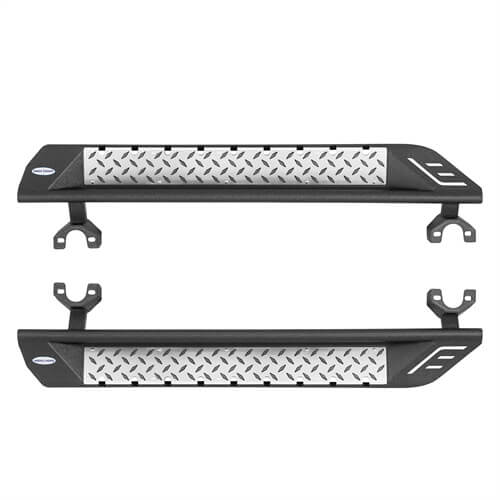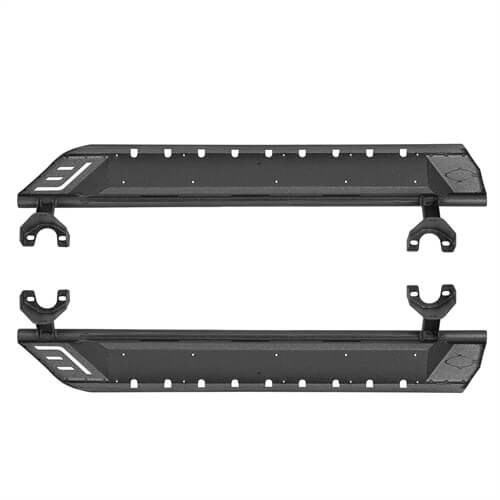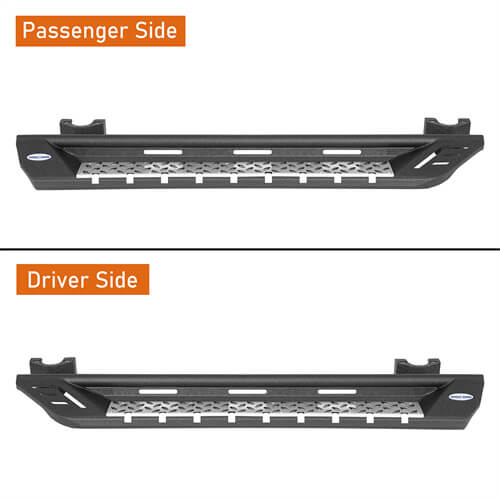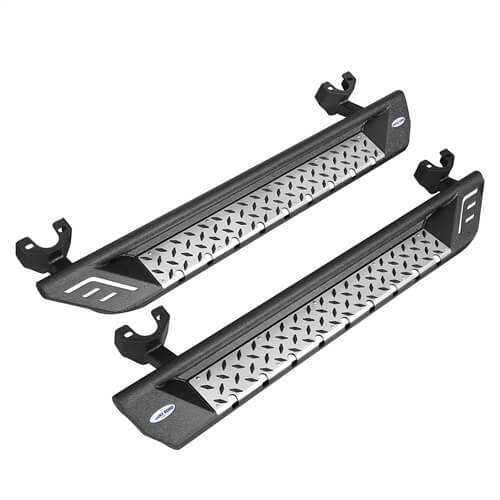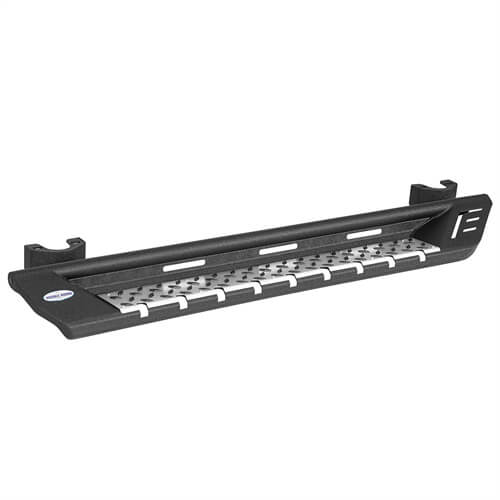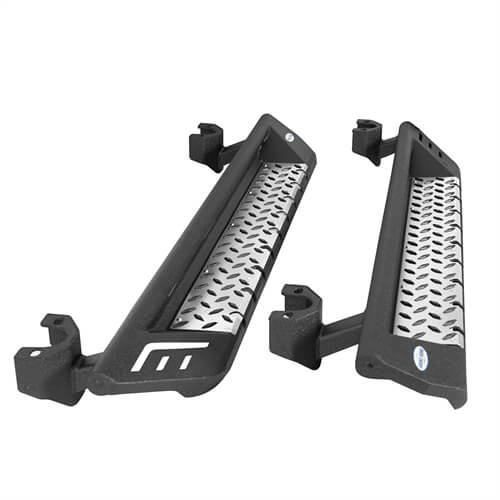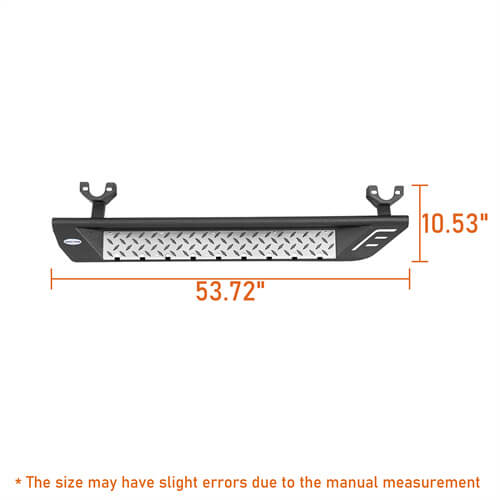 Name: Hooke Road Jeep Wrangler JK 2 Door Wheel To Wheel Running Boards Side Step Bars
Are you looking for Side Steps? The Hooke Road Nerf Side Step Bars have been meticulously crafted to offer convenient access to your Wrangler JK 2-Door, ensuring effortless vehicle entry and exit. Beyond their functional utility, these side step bars harmonize with your vehicle's contours, contributing to its visual allure. Boasting non-slip step pads designed with diamond-shaped particles and elegant stainless steel plates, these side steps significantly enhance stability while radiating an appealing aesthetic. Functioning as more than just handy steps, they also furnish robust safeguarding for both the side and undercarriage of your cherished vehicle.
FEATURE
Fits for 2007-2018 Jeep Wrangler JK 2-Door Models
Product weight: about 39 lbs
Made from 1.26" diameter x 0.06" thick steel tubing, 14-gauge(5/64 inch) steel plate, and 18-gauge(1/20 inch) stainless steel plate
Apply with the textured black powder coat finish and premium E-coating process inside for the steel material
Featuring non-slip step pads, Designed with diamond-shaped particle pads and stylish stainless steel plates
Make it easier to get in your vehicle whether it is stock or lifted
Robust side and undercarriage protection
Driver and passenger sides included
Quick and easy bolt-on installation
DIMENSION
SOMETHING YOU WANT TO KNOW
Heavy Duty Construction. These side step are meticulously crafted from robust materials, purpose-built to endure the demanding challenges of off-road usage. Constructed utilizing 1.26" diameter x 0.06" thick steel tubing, in conjunction with 14-gauge steel plate and 18-gauge stainless steel plate, these side steps exhibit unparalleled strength and resilience. A textured black powder coat finish not only imparts a refined appearance but also fortifies the bars against corrosion. The application of a premium E-coating process on the interior further amplifies their durability and lifespan.

Direct Bolt-On Installation. Installing the Hooke Road Nerf Side Step Bars is a simple bolt-on process. The package includes side steps for both the driver and passenger sides, ensuring a complete installation. With the necessary hardware included, you can easily mount these side steps to your vehicles without any complicated modifications or drilling required. The straightforward installation process allows you to enjoy the benefits of these side steps quickly and conveniently, adding both functionality and style to your vehicle.
2 × Side Steps(Passenger and Driver Side)
1 × Installation Instruction
2018 Jeep Wrangler (JK) Rubicon (2-Door)
2018 Jeep Wrangler (JK) Sahara (2-Door)
2018 Jeep Wrangler (JK) Sport (2-Door)
2017 Jeep Wrangler (JK) Rubicon (2-Door)
2017 Jeep Wrangler (JK) Sahara (2-Door)
2017 Jeep Wrangler (JK) Sport (2-Door)
2016 Jeep Wrangler (JK) Rubicon (2-Door)
2016 Jeep Wrangler (JK) Sahara (2-Door)
2016 Jeep Wrangler (JK) Sport (2-Door)
2016 Jeep Wrangler (JK) Sport S (2-Door)
2016 Jeep Wrangler (JK) 75th Anniversary (2-Door)
2015 Jeep Wrangler (JK) Rubicon (2-Door)
2015 Jeep Wrangler (JK) Sahara (2-Door)
2015 Jeep Wrangler (JK) Sport (2-Door)
2014 Jeep Wrangler (JK) Rubicon (2-Door)
2014 Jeep Wrangler (JK) Sahara (2-Door)
2014 Jeep Wrangler (JK) Sport (2-Door)
2013 Jeep Wrangler (JK) Rubicon (2-Door)
2013 Jeep Wrangler (JK) Sahara (2-Door)
2013 Jeep Wrangler (JK) Sport (2-Door)
2012 Jeep Wrangler (JK) Rubicon (2-Door)
2012 Jeep Wrangler (JK) Sahara (2-Door)
2012 Jeep Wrangler (JK) Sport (2-Door)
2011 Jeep Wrangler (JK) Rubicon (2-Door)
2011 Jeep Wrangler (JK) Sahara (2-Door)
2011 Jeep Wrangler (JK) Sport (2-Door)
2011 Jeep Wrangler (JK) 70th Anniversary (2-Door)
2010 Jeep Wrangler (JK) Rubicon (2-Door)
2010 Jeep Wrangler (JK) Sahara (2-Door)
2010 Jeep Wrangler (JK) X (2-Door)
2010 Jeep Wrangler (JK) Sport (2-Door)
2009 Jeep Wrangler (JK) Rubicon (2-Door)
2009 Jeep Wrangler (JK) Sahara (2-Door)
2009 Jeep Wrangler (JK) X (2-Door)
2008 Jeep Wrangler (JK) X (2-Door)
2008 Jeep Wrangler (JK) Sahara (2-Door)
2008 Jeep Wrangler (JK) Rubicon (2-Door)
2007 Jeep Wrangler (JK) Rubicon (2-Door)
2007 Jeep Wrangler (JK) Sahara (2-Door)
2007 Jeep Wrangler (JK) X (2-Door)
Package Included
2 × Side Steps(Passenger and Driver Side)
1 × Installation Instruction
Fitment
2018 Jeep Wrangler (JK) Rubicon (2-Door)
2018 Jeep Wrangler (JK) Sahara (2-Door)
2018 Jeep Wrangler (JK) Sport (2-Door)
2017 Jeep Wrangler (JK) Rubicon (2-Door)
2017 Jeep Wrangler (JK) Sahara (2-Door)
2017 Jeep Wrangler (JK) Sport (2-Door)
2016 Jeep Wrangler (JK) Rubicon (2-Door)
2016 Jeep Wrangler (JK) Sahara (2-Door)
2016 Jeep Wrangler (JK) Sport (2-Door)
2016 Jeep Wrangler (JK) Sport S (2-Door)
2016 Jeep Wrangler (JK) 75th Anniversary (2-Door)
2015 Jeep Wrangler (JK) Rubicon (2-Door)
2015 Jeep Wrangler (JK) Sahara (2-Door)
2015 Jeep Wrangler (JK) Sport (2-Door)
2014 Jeep Wrangler (JK) Rubicon (2-Door)
2014 Jeep Wrangler (JK) Sahara (2-Door)
2014 Jeep Wrangler (JK) Sport (2-Door)
2013 Jeep Wrangler (JK) Rubicon (2-Door)
2013 Jeep Wrangler (JK) Sahara (2-Door)
2013 Jeep Wrangler (JK) Sport (2-Door)
2012 Jeep Wrangler (JK) Rubicon (2-Door)
2012 Jeep Wrangler (JK) Sahara (2-Door)
2012 Jeep Wrangler (JK) Sport (2-Door)
2011 Jeep Wrangler (JK) Rubicon (2-Door)
2011 Jeep Wrangler (JK) Sahara (2-Door)
2011 Jeep Wrangler (JK) Sport (2-Door)
2011 Jeep Wrangler (JK) 70th Anniversary (2-Door)
2010 Jeep Wrangler (JK) Rubicon (2-Door)
2010 Jeep Wrangler (JK) Sahara (2-Door)
2010 Jeep Wrangler (JK) X (2-Door)
2010 Jeep Wrangler (JK) Sport (2-Door)
2009 Jeep Wrangler (JK) Rubicon (2-Door)
2009 Jeep Wrangler (JK) Sahara (2-Door)
2009 Jeep Wrangler (JK) X (2-Door)
2008 Jeep Wrangler (JK) X (2-Door)
2008 Jeep Wrangler (JK) Sahara (2-Door)
2008 Jeep Wrangler (JK) Rubicon (2-Door)
2007 Jeep Wrangler (JK) Rubicon (2-Door)
2007 Jeep Wrangler (JK) Sahara (2-Door)
2007 Jeep Wrangler (JK) X (2-Door)