Name: Hooke Road Aftermarket Rear Bumper w/ 2 Gasoline Fuel Cans & Tire Carrier Compatible with Jeep Wrangler JL

Perfect For Off-Road Use. Featuring two high strength D-Ring mounts and a 2" standard receiver hitch this Hooke Road Rear Bumper is perfect for off-road use.
Be Prepared. Be prepared for all possibilities including running out of fuel by outfitting your JL with 2 fuel gasoline cans. You can try more long-distance driving adventures and feel relaxed by carrying extra fuel.
Bumper Features:

Textured black powder coat finish & Premium E-coating process inside

9500 lbs rated, 3/4'' D-rings included; 2×18w LED floodlights included
Compatible with factory back-up sensors
Swing Out Tire Carrier Features:
1.9" diameter × 0.06" thick steel tube construction for swing out tire carrier
New type lock w/ a double latch system to secure carrier arm
Can accommodate up to 37" Tires
Gasoline Carry Capacity for Each Fuel Container:2 Gallons, About 7.5 Litres. Easily stow and access gas can.
DIMENSION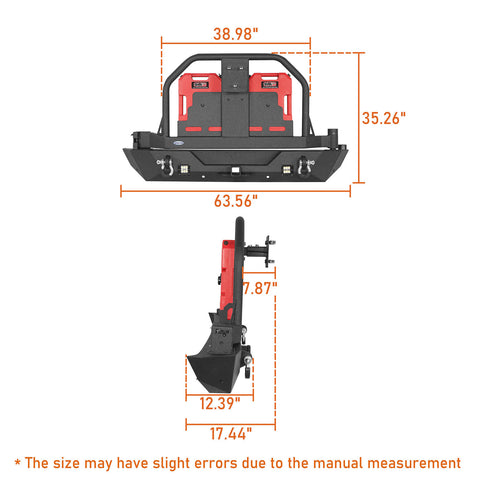 DETAILS
The whole bumper weight: about 158 lbs

Bolt-on installation w/ clear and detailed instruction
Great for long distance driving adventures
Heavy-Duty Construction. Manufactured for maximum durability, this Hooke Road bumper is fabricated from 11-gauge(1/8 Inch) steel plates and 1.9" diameter × 0.06" thick steel tubes. Hooke Road then powder coats its bumper in a 2-stage, textured black powder coat finish for long-lasting durability and corrosion resistance.

Bolt-on Installation. Hooke Road engineered their bumper to be a direct bolt-on upgrade replacement for your original stock bumper reusing the factory mounting points. There is no cutting, drilling, or modifications required for a simple straightforward install. With the help of a friend and a set of basic hand tools, this bumper can be installed in about two hours.

SEMA Membership. The Hooke Road Brand has been certified as a member of SEMA. We are studious and gradually grow up to be a professional aftermarket retailer. As a SEMA member, we make, buy, sell and use all kinds of specialty parts and accessories to make vehicles more attractive, more unique, more convenient, faster, safer, more fun, and even like-new again. Wish you have a terrific off-road experience with our products.
Rear Bumper Body
Tire Carrier Assembly
2 × Gasoline Cans
2 × D-rings
2 × LED Floodlights
Mounting Hardware Kit
Installation Instruction
2023 Jeep Wrangler Rubicon Sport Utility 2-Door
2023 Jeep Wrangler Sport S Sport Utility 2-Door
2023 Jeep Wrangler Sport Sport Utility 2-Door
2023 Jeep Wrangler Unlimited High Altitude 4xe Sport Utility 4-Door
2023 Jeep Wrangler Unlimited High Altitude Sport Utility 4-Door
2023 Jeep Wrangler Unlimited Rubicon 4xe Sport Utility 4-Door
2023 Jeep Wrangler Unlimited Rubicon 392 Sport Utility 4-Door
2023 Jeep Wrangler Unlimited Rubicon Sport Utility 4-Door
2023 Jeep Wrangler Unlimited Sahara 4xe Sport Utility 4-Door
2023 Jeep Wrangler Unlimited Sahara Altitude Sport Utility 4-Door
2023 Jeep Wrangler Unlimited Sahara High Altitude Sport Utility 4-Door
2023 Jeep Wrangler Unlimited Sahara Sport Utility 4-Door
2023 Jeep Wrangler Unlimited Sport Altitude Sport Utility 4-Door
2023 Jeep Wrangler Unlimited Sport S Sport Utility 4-Door
2023 Jeep Wrangler Unlimited Sport Sport Utility 4-Door
2023 Jeep Wrangler Unlimited Willys 4xe Sport Utility 4-Door
2023 Jeep Wrangler Unlimited Willys Sport Sport Utility 4-Door
2023 Jeep Wrangler Unlimited Willys Sport Utility 4-Door
2023 Jeep Wrangler Willys Sport Sport Utility 2-Door
2023 Jeep Wrangler Willys Sport Utility 2-Door
2022 Jeep Wrangler Rubicon Sport Utility 2-Door
2022 Jeep Wrangler Sport S Sport Utility 2-Door
2022 Jeep Wrangler Sport Sport Utility 2-Door
2022 Jeep Wrangler Unlimited Rubicon 392 Sport Utility 4-Door
2022 Jeep Wrangler Unlimited Rubicon Sport Utility 4-Door
2022 Jeep Wrangler Unlimited Sahara Altitude Sport Utility 4-Door
2022 Jeep Wrangler Unlimited Sahara High Altitude Sport Utility 4-Door
2022 Jeep Wrangler Unlimited Sahara Sport Utility 4-Door
2022 Jeep Wrangler Unlimited Sport Altitude Sport Utility 4-Door
2022 Jeep Wrangler Unlimited Sport S Sport Utility 4-Door
2022 Jeep Wrangler Unlimited Sport Sport Utility 4-Door
2022 Jeep Wrangler Unlimited Willys Sport Sport Utility 4-Door
2022 Jeep Wrangler Unlimited Willys Sport Utility 4-Door
2022 Jeep Wrangler Willys Sport Sport Utility 2-Door
2022 Jeep Wrangler Willys Sport Utility 2-Door
2021 Jeep Wrangler 80th Anniversary Sport Utility 2-Door
2021 Jeep Wrangler Freedom Sport Utility 2-Door
2021 Jeep Wrangler Islander Sport Utility 2-Door
2021 Jeep Wrangler Rubicon Sport Utility 2-Door
2021 Jeep Wrangler Sport S Sport Utility 2-Door
2021 Jeep Wrangler Sport Sport Utility 2-Door
2021 Jeep Wrangler Unlimited 80th Anniversary Sport Utility 4-Door
2021 Jeep Wrangler Unlimited Freedom Sport Utility 4-Door
2021 Jeep Wrangler Unlimited High Altitude Sport Utility 4-Door
2021 Jeep Wrangler Unlimited Islander Sport Utility 4-Door
2021 Jeep Wrangler Unlimited Rubicon 392 Sport Utility 4-Door
2021 Jeep Wrangler Unlimited Rubicon Sport Utility 4-Door
2021 Jeep Wrangler Unlimited Sahara Altitude Sport Utility 4-Door
2021 Jeep Wrangler Unlimited Sahara High Altitude Sport Utility 4-Door
2021 Jeep Wrangler Unlimited Sahara Sport Utility 4-Door
2021 Jeep Wrangler Unlimited Sport Altitude Sport Utility 4-Door
2021 Jeep Wrangler Unlimited Sport S Sport Utility 4-Door
2021 Jeep Wrangler Unlimited Sport Sport Utility 4-Door
2021 Jeep Wrangler Unlimited Willys Sport Sport Utility 4-Door
2021 Jeep Wrangler Unlimited Willys Sport Utility 4-Door
2021 Jeep Wrangler Willys Sport Sport Utility 2-Door
2021 Jeep Wrangler Willys Sport Utility 2-Door
2020 Jeep Wrangler Rubicon Deluxe Sport Utility 2-Door
2020 Jeep Wrangler Rubicon Sport Utility 2-Door
2020 Jeep Wrangler Sport S Sport Utility 2-Door
2020 Jeep Wrangler Sport Sport Utility 2-Door
2020 Jeep Wrangler Unlimited Black and Tan Sport Utility 2-Door
2020 Jeep Wrangler Unlimited Black and Tan Sport Utility 4-Door
2020 Jeep Wrangler Unlimited Freedom Sport Utility 2-Door
2020 Jeep Wrangler Unlimited Freedom Sport Utility 4-Door
2020 Jeep Wrangler Unlimited North Edition Sport Utility 4-Door
2020 Jeep Wrangler Unlimited Recon Sport Utility 2-Door
2020 Jeep Wrangler Unlimited Recon Sport Utility 4-Door
2020 Jeep Wrangler Unlimited Rubicon Deluxe Sport Utility 4-Door
2020 Jeep Wrangler Unlimited Rubicon Sport Utility 4-Door
2020 Jeep Wrangler Unlimited Rubicon Xtreme Sport Utility 4-Door
2020 Jeep Wrangler Unlimited Sahara Altitude Sport Utility 4-Door
2020 Jeep Wrangler Unlimited Sahara Sport Utility 4-Door
2020 Jeep Wrangler Unlimited Sport Altitude Sport Utility 4-Door
2020 Jeep Wrangler Unlimited Sport S Sport Utility 4-Door
2020 Jeep Wrangler Unlimited Sport Sport Utility 4-Door
2020 Jeep Wrangler Unlimited Willys Sport Utility 2-Door
2020 Jeep Wrangler Unlimited Willys Sport Utility 4-Door
2019 Jeep Wrangler Rubicon Deluxe Sport Utility 2-Door
2019 Jeep Wrangler Rubicon Sport Utility 2-Door
2019 Jeep Wrangler Sport S Sport Utility 2-Door
2019 Jeep Wrangler Sport Sport Utility 2-Door
2019 Jeep Wrangler Unlimited Moab Sport Utility 4-Door
2019 Jeep Wrangler Unlimited Rubicon Sport Utility 4-Door
2019 Jeep Wrangler Unlimited Sahara Altitude Sport Utility 4-Door
2019 Jeep Wrangler Unlimited Sahara Sport Utility 4-Door
2019 Jeep Wrangler Unlimited Sport S Sport Utility 4-Door
2019 Jeep Wrangler Unlimited Sport Sport Utility 4-Door
2018 Jeep Wrangler Rubicon Sport Utility 2-Door
2018 Jeep Wrangler Sport S Sport Utility 2-Door
2018 Jeep Wrangler Sport Sport Utility 2-Door
2018 Jeep Wrangler Unlimited Moab Sport Utility 4-Door
2018 Jeep Wrangler Unlimited Rubicon Sport Utility 4-Door
2018 Jeep Wrangler Unlimited Sahara Sport Utility 4-Door
2018 Jeep Wrangler Unlimited Sport S Sport Utility 4-Door
2018 Jeep Wrangler Unlimited Sport Sport Utility 4-Door
Package Included
Rear Bumper Body
Tire Carrier Assembly
2 × Gasoline Cans
2 × D-rings
2 × LED Floodlights
Mounting Hardware Kit
Installation Instruction
Fitment
2023 Jeep Wrangler Rubicon Sport Utility 2-Door
2023 Jeep Wrangler Sport S Sport Utility 2-Door
2023 Jeep Wrangler Sport Sport Utility 2-Door
2023 Jeep Wrangler Unlimited High Altitude 4xe Sport Utility 4-Door
2023 Jeep Wrangler Unlimited High Altitude Sport Utility 4-Door
2023 Jeep Wrangler Unlimited Rubicon 4xe Sport Utility 4-Door
2023 Jeep Wrangler Unlimited Rubicon 392 Sport Utility 4-Door
2023 Jeep Wrangler Unlimited Rubicon Sport Utility 4-Door
2023 Jeep Wrangler Unlimited Sahara 4xe Sport Utility 4-Door
2023 Jeep Wrangler Unlimited Sahara Altitude Sport Utility 4-Door
2023 Jeep Wrangler Unlimited Sahara High Altitude Sport Utility 4-Door
2023 Jeep Wrangler Unlimited Sahara Sport Utility 4-Door
2023 Jeep Wrangler Unlimited Sport Altitude Sport Utility 4-Door
2023 Jeep Wrangler Unlimited Sport S Sport Utility 4-Door
2023 Jeep Wrangler Unlimited Sport Sport Utility 4-Door
2023 Jeep Wrangler Unlimited Willys 4xe Sport Utility 4-Door
2023 Jeep Wrangler Unlimited Willys Sport Sport Utility 4-Door
2023 Jeep Wrangler Unlimited Willys Sport Utility 4-Door
2023 Jeep Wrangler Willys Sport Sport Utility 2-Door
2023 Jeep Wrangler Willys Sport Utility 2-Door
2022 Jeep Wrangler Rubicon Sport Utility 2-Door
2022 Jeep Wrangler Sport S Sport Utility 2-Door
2022 Jeep Wrangler Sport Sport Utility 2-Door
2022 Jeep Wrangler Unlimited Rubicon 392 Sport Utility 4-Door
2022 Jeep Wrangler Unlimited Rubicon Sport Utility 4-Door
2022 Jeep Wrangler Unlimited Sahara Altitude Sport Utility 4-Door
2022 Jeep Wrangler Unlimited Sahara High Altitude Sport Utility 4-Door
2022 Jeep Wrangler Unlimited Sahara Sport Utility 4-Door
2022 Jeep Wrangler Unlimited Sport Altitude Sport Utility 4-Door
2022 Jeep Wrangler Unlimited Sport S Sport Utility 4-Door
2022 Jeep Wrangler Unlimited Sport Sport Utility 4-Door
2022 Jeep Wrangler Unlimited Willys Sport Sport Utility 4-Door
2022 Jeep Wrangler Unlimited Willys Sport Utility 4-Door
2022 Jeep Wrangler Willys Sport Sport Utility 2-Door
2022 Jeep Wrangler Willys Sport Utility 2-Door
2021 Jeep Wrangler 80th Anniversary Sport Utility 2-Door
2021 Jeep Wrangler Freedom Sport Utility 2-Door
2021 Jeep Wrangler Islander Sport Utility 2-Door
2021 Jeep Wrangler Rubicon Sport Utility 2-Door
2021 Jeep Wrangler Sport S Sport Utility 2-Door
2021 Jeep Wrangler Sport Sport Utility 2-Door
2021 Jeep Wrangler Unlimited 80th Anniversary Sport Utility 4-Door
2021 Jeep Wrangler Unlimited Freedom Sport Utility 4-Door
2021 Jeep Wrangler Unlimited High Altitude Sport Utility 4-Door
2021 Jeep Wrangler Unlimited Islander Sport Utility 4-Door
2021 Jeep Wrangler Unlimited Rubicon 392 Sport Utility 4-Door
2021 Jeep Wrangler Unlimited Rubicon Sport Utility 4-Door
2021 Jeep Wrangler Unlimited Sahara Altitude Sport Utility 4-Door
2021 Jeep Wrangler Unlimited Sahara High Altitude Sport Utility 4-Door
2021 Jeep Wrangler Unlimited Sahara Sport Utility 4-Door
2021 Jeep Wrangler Unlimited Sport Altitude Sport Utility 4-Door
2021 Jeep Wrangler Unlimited Sport S Sport Utility 4-Door
2021 Jeep Wrangler Unlimited Sport Sport Utility 4-Door
2021 Jeep Wrangler Unlimited Willys Sport Sport Utility 4-Door
2021 Jeep Wrangler Unlimited Willys Sport Utility 4-Door
2021 Jeep Wrangler Willys Sport Sport Utility 2-Door
2021 Jeep Wrangler Willys Sport Utility 2-Door
2020 Jeep Wrangler Rubicon Deluxe Sport Utility 2-Door
2020 Jeep Wrangler Rubicon Sport Utility 2-Door
2020 Jeep Wrangler Sport S Sport Utility 2-Door
2020 Jeep Wrangler Sport Sport Utility 2-Door
2020 Jeep Wrangler Unlimited Black and Tan Sport Utility 2-Door
2020 Jeep Wrangler Unlimited Black and Tan Sport Utility 4-Door
2020 Jeep Wrangler Unlimited Freedom Sport Utility 2-Door
2020 Jeep Wrangler Unlimited Freedom Sport Utility 4-Door
2020 Jeep Wrangler Unlimited North Edition Sport Utility 4-Door
2020 Jeep Wrangler Unlimited Recon Sport Utility 2-Door
2020 Jeep Wrangler Unlimited Recon Sport Utility 4-Door
2020 Jeep Wrangler Unlimited Rubicon Deluxe Sport Utility 4-Door
2020 Jeep Wrangler Unlimited Rubicon Sport Utility 4-Door
2020 Jeep Wrangler Unlimited Rubicon Xtreme Sport Utility 4-Door
2020 Jeep Wrangler Unlimited Sahara Altitude Sport Utility 4-Door
2020 Jeep Wrangler Unlimited Sahara Sport Utility 4-Door
2020 Jeep Wrangler Unlimited Sport Altitude Sport Utility 4-Door
2020 Jeep Wrangler Unlimited Sport S Sport Utility 4-Door
2020 Jeep Wrangler Unlimited Sport Sport Utility 4-Door
2020 Jeep Wrangler Unlimited Willys Sport Utility 2-Door
2020 Jeep Wrangler Unlimited Willys Sport Utility 4-Door
2019 Jeep Wrangler Rubicon Deluxe Sport Utility 2-Door
2019 Jeep Wrangler Rubicon Sport Utility 2-Door
2019 Jeep Wrangler Sport S Sport Utility 2-Door
2019 Jeep Wrangler Sport Sport Utility 2-Door
2019 Jeep Wrangler Unlimited Moab Sport Utility 4-Door
2019 Jeep Wrangler Unlimited Rubicon Sport Utility 4-Door
2019 Jeep Wrangler Unlimited Sahara Altitude Sport Utility 4-Door
2019 Jeep Wrangler Unlimited Sahara Sport Utility 4-Door
2019 Jeep Wrangler Unlimited Sport S Sport Utility 4-Door
2019 Jeep Wrangler Unlimited Sport Sport Utility 4-Door
2018 Jeep Wrangler Rubicon Sport Utility 2-Door
2018 Jeep Wrangler Sport S Sport Utility 2-Door
2018 Jeep Wrangler Sport Sport Utility 2-Door
2018 Jeep Wrangler Unlimited Moab Sport Utility 4-Door
2018 Jeep Wrangler Unlimited Rubicon Sport Utility 4-Door
2018 Jeep Wrangler Unlimited Sahara Sport Utility 4-Door
2018 Jeep Wrangler Unlimited Sport S Sport Utility 4-Door
2018 Jeep Wrangler Unlimited Sport Sport Utility 4-Door