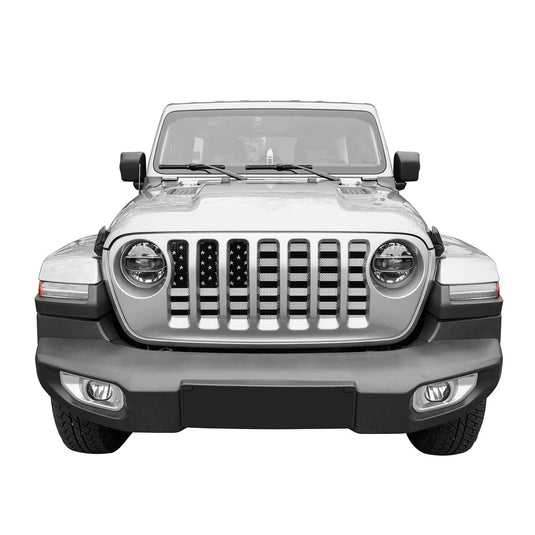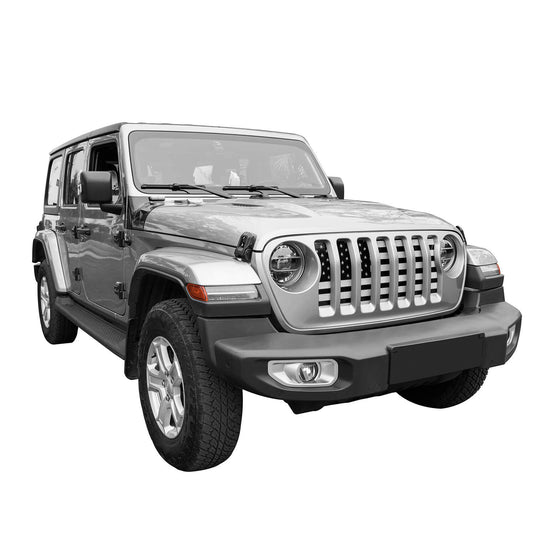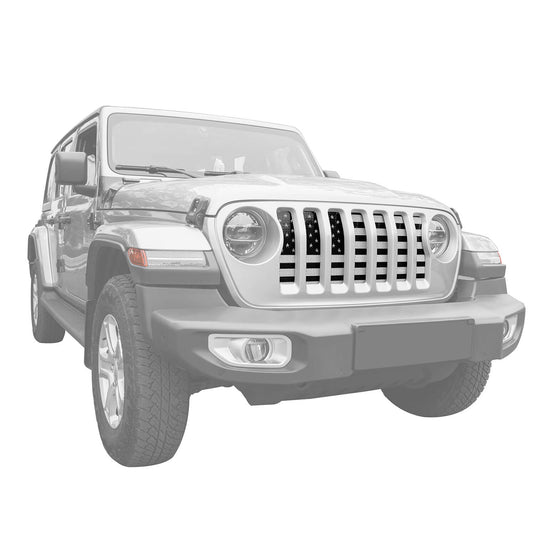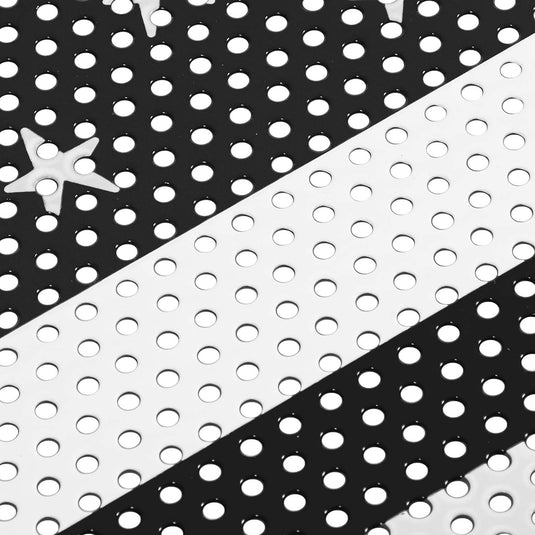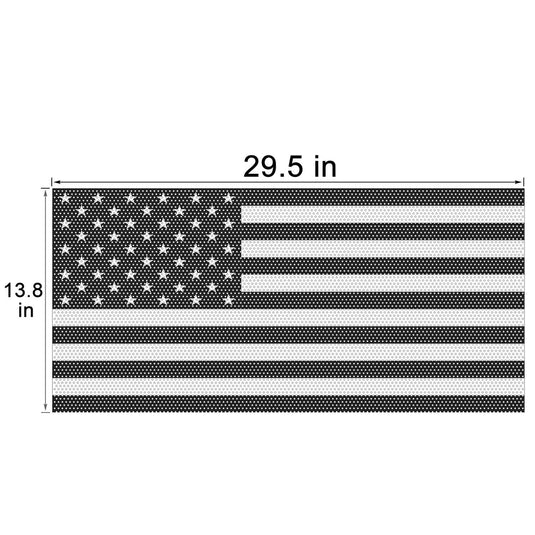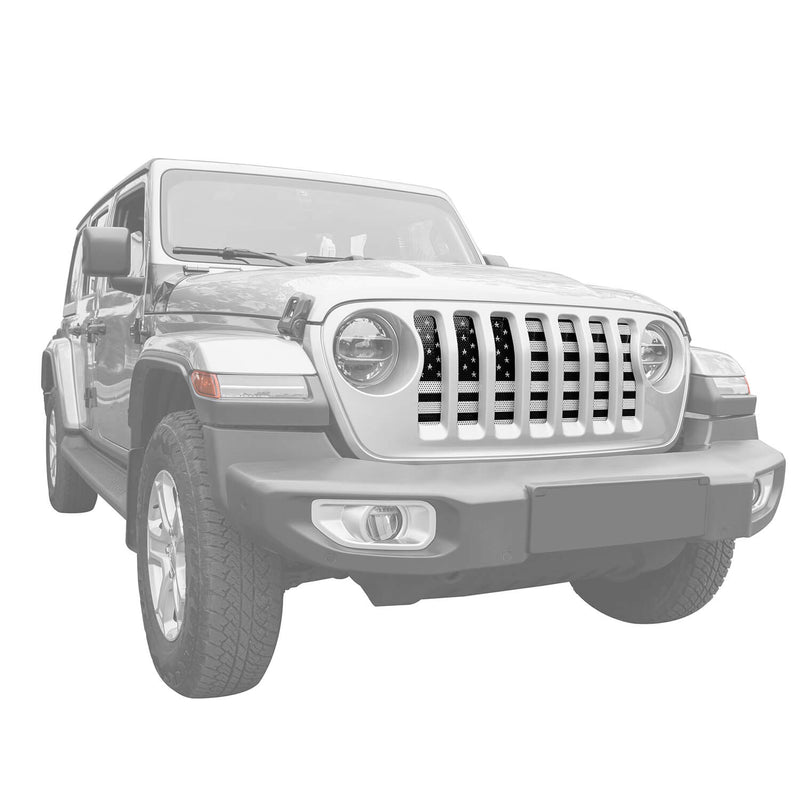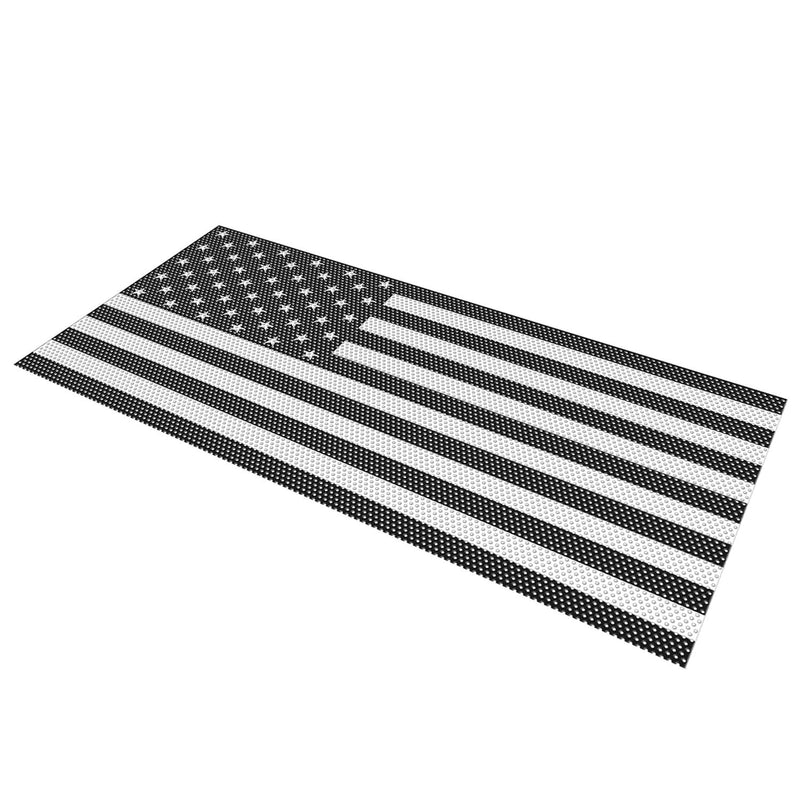 Name:  Front US American Flag Grille Insert Paws Black and White Compatible with Jeep Wrangler JL 18-21 & Gladiator JT 20-21 
Made from top-class steel, this Grille Insert ensures that your Wrangler is well-guarded from any road debris that could damage it under normal circumstances. In addition, the distressed old glory design isn't just there to look good, as it also has a finish that aids in preventing corrosion. 
PRODUCT SPECIFICATIONS
| | |
| --- | --- |
| Parts | Grille Insert |
| Brand | |
| Material | Steel |
| Color | Black and White |
HIGHLIGHS
Fit Like a Glove:  Fits for 2018-2021 Jeep Wrangler JL & 2020-2021 Jeep Gladiator JT 
Comes with a black powder coat finish;Perfectly match with factory mounting points and hold your light bar firmly
Durable steel construction;Direct bolt-on installation using your factory bolts;
Sold in pairs
Not Compatible with grille-mounted Front Camera
DETAILS
Designed with the "Paws Black and White" Graphic
DIMENSION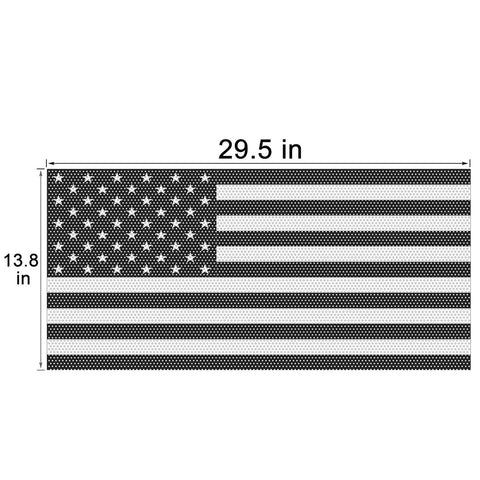 SOMETHING YOU MIGHT WANT TO KNOW
Unique Grille Design and Extra Protection. Show your love for both your country and your 4-legged furry friend with this Insert. The graphic on this insert is printed using UV-ink and is then applied with an automotive-grade clear topcoat. This ensures that the design won't fade or chip—even after years of exposure to harsh outdoor conditions. Indeed, this insert will be a perfect addition on your Jeep Wrangler, providing both extra styling and protection to your front end. 
Simple Installation. Simply remove your factory grille and plug your new grille insert in. 
SEMA Membership. The Hooke Road Brand has been certified as a member of SEMA.We are studious and gradually grown up to be a professoinal aftermarket retailer.As a SEMA member, we make, buy, sell and use all kinds of specialty parts and accessories to make vehicles more attractive, more unique, more convenient, faster, safer, more fun and even like-new again.Wish you have a terrific off-road experience with our products.
2023 Jeep Gladiator High Altitude Crew Cab Pickup 4-Door
2023 Jeep Gladiator High Altitude Crew Cab Pickup 4-Door
2023 Jeep Gladiator Mojave Crew Cab Pickup 4-Door
2023 Jeep Gladiator Overland Crew Cab Pickup 4-Door
2023 Jeep Gladiator Rubicon Crew Cab Pickup 4-Door
2023 Jeep Gladiator Sport Crew Cab Pickup 4-Door
2023 Jeep Gladiator Sport S Crew Cab Pickup 4-Door
2023 Jeep Gladiator Sport S Crew Cab Pickup 4-Door
2023 Jeep Gladiator Willys Crew Cab Pickup 4-Door
2023 Jeep Gladiator Willys Crew Cab Pickup 4-Door
2023 Jeep Gladiator Willys Sport Crew Cab Pickup 4-Door
2023 Jeep Gladiator Willys Sport Crew Cab Pickup 4-Door
2022 Jeep Gladiator Altitude Crew Cab Pickup 4-Door
2022 Jeep Gladiator Altitude Crew Cab Pickup 4-Door
2022 Jeep Gladiator High Altitude Crew Cab Pickup 4-Door
2022 Jeep Gladiator High Altitude Crew Cab Pickup 4-Door
2022 Jeep Gladiator Mojave Crew Cab Pickup 4-Door
2022 Jeep Gladiator Overland Crew Cab Pickup 4-Door
2022 Jeep Gladiator Overland Crew Cab Pickup 4-Door
2022 Jeep Gladiator Rubicon Crew Cab Pickup 4-Door
2022 Jeep Gladiator Rubicon Crew Cab Pickup 4-Door
2022 Jeep Gladiator Sport Crew Cab Pickup 4-Door
2022 Jeep Gladiator Sport Crew Cab Pickup 4-Door
2022 Jeep Gladiator Sport S Crew Cab Pickup 4-Door
2022 Jeep Gladiator Sport S Crew Cab Pickup 4-Door
2022 Jeep Gladiator Willys Crew Cab Pickup 4-Door
2022 Jeep Gladiator Willys Crew Cab Pickup 4-Door
2022 Jeep Gladiator Willys Sport Crew Cab Pickup 4-Door
2022 Jeep Gladiator Willys Sport Crew Cab Pickup 4-Door
2021 Jeep Gladiator 80th Anniversary Crew Cab Pickup 4-Door
2021 Jeep Gladiator 80th Anniversary Crew Cab Pickup 4-Door
2021 Jeep Gladiator High Altitude Crew Cab Pickup 4-Door
2021 Jeep Gladiator High Altitude Crew Cab Pickup 4-Door
2021 Jeep Gladiator Mojave Crew Cab Pickup 4-Door
2021 Jeep Gladiator Overland Crew Cab Pickup 4-Door
2021 Jeep Gladiator Overland Crew Cab Pickup 4-Door
2021 Jeep Gladiator Rubicon Crew Cab Pickup 4-Door
2021 Jeep Gladiator Rubicon Crew Cab Pickup 4-Door
2021 Jeep Gladiator Sport Crew Cab Pickup 4-Door
2021 Jeep Gladiator Sport Crew Cab Pickup 4-Door
2021 Jeep Gladiator Sport S Crew Cab Pickup 4-Door
2021 Jeep Gladiator Sport S Crew Cab Pickup 4-Door
2021 Jeep Gladiator Willys Crew Cab Pickup 4-Door
2021 Jeep Gladiator Willys Crew Cab Pickup 4-Door
2021 Jeep Gladiator Willys Sport Crew Cab Pickup 4-Door
2021 Jeep Gladiator Willys Sport Crew Cab Pickup 4-Door
2020 Jeep Gladiator Altitude Crew Cab Pickup 4-Door
2020 Jeep Gladiator Launch Edition Crew Cab Pickup 4-Door
2020 Jeep Gladiator Mojave Crew Cab Pickup 4-Door
2020 Jeep Gladiator North Edition Crew Cab Pickup 4-Door
2020 Jeep Gladiator Overland Crew Cab Pickup 4-Door
2020 Jeep Gladiator Rubicon Crew Cab Pickup 4-Door
2020 Jeep Gladiator Sport Crew Cab Pickup 4-Door
2020 Jeep Gladiator Sport S Crew Cab Pickup 4-Door
2023 Jeep Wrangler Unlimited High Altitude 4xe Sport Utility 4-Door
2023 Jeep Wrangler Unlimited High Altitude Sport Utility 4-Door
2023 Jeep Wrangler Unlimited Rubicon 4xe Sport Utility 4-Door
2023 Jeep Wrangler Unlimited Rubicon 392 Sport Utility 4-Door
2023 Jeep Wrangler Unlimited Rubicon Sport Utility 4-Door
2023 Jeep Wrangler Unlimited Sahara 4xe Sport Utility 4-Door
2023 Jeep Wrangler Unlimited Sahara Altitude Sport Utility 4-Door
2023 Jeep Wrangler Unlimited Sahara High Altitude Sport Utility 4-Door
2023 Jeep Wrangler Unlimited Sahara Sport Utility 4-Door
2023 Jeep Wrangler Unlimited Sport Altitude Sport Utility 4-Door
2023 Jeep Wrangler Unlimited Sport S Sport Utility 4-Door
2023 Jeep Wrangler Unlimited Sport Sport Utility 4-Door
2023 Jeep Wrangler Unlimited Willys 4xe Sport Utility 4-Door
2023 Jeep Wrangler Unlimited Willys Sport Sport Utility 4-Door
2023 Jeep Wrangler Unlimited Willys Sport Utility 4-Door
2022 Jeep Wrangler Unlimited Rubicon 392 Sport Utility 4-Door
2022 Jeep Wrangler Unlimited Rubicon Sport Utility 4-Door
2022 Jeep Wrangler Unlimited Sahara Altitude Sport Utility 4-Door
2022 Jeep Wrangler Unlimited Sahara High Altitude Sport Utility 4-Door
2022 Jeep Wrangler Unlimited Sahara Sport Utility 4-Door
2022 Jeep Wrangler Unlimited Sport Altitude Sport Utility 4-Door
2022 Jeep Wrangler Unlimited Sport S Sport Utility 4-Door
2022 Jeep Wrangler Unlimited Sport Sport Utility 4-Door
2022 Jeep Wrangler Unlimited Willys Sport Sport Utility 4-Door
2022 Jeep Wrangler Unlimited Willys Sport Utility 4-Door
2021 Jeep Wrangler Unlimited 80th Anniversary Sport Utility 4-Door
2021 Jeep Wrangler Unlimited Freedom Sport Utility 4-Door
2021 Jeep Wrangler Unlimited High Altitude Sport Utility 4-Door
2021 Jeep Wrangler Unlimited Islander Sport Utility 4-Door
2021 Jeep Wrangler Unlimited Rubicon 392 Sport Utility 4-Door
2021 Jeep Wrangler Unlimited Rubicon Sport Utility 4-Door
2021 Jeep Wrangler Unlimited Sahara Altitude Sport Utility 4-Door
2021 Jeep Wrangler Unlimited Sahara High Altitude Sport Utility 4-Door
2021 Jeep Wrangler Unlimited Sahara Sport Utility 4-Door
2021 Jeep Wrangler Unlimited Sport Altitude Sport Utility 4-Door
2021 Jeep Wrangler Unlimited Sport S Sport Utility 4-Door
2021 Jeep Wrangler Unlimited Sport Sport Utility 4-Door
2021 Jeep Wrangler Unlimited Willys Sport Sport Utility 4-Door
2021 Jeep Wrangler Unlimited Willys Sport Utility 4-Door
2020 Jeep Wrangler Unlimited Black and Tan Sport Utility 4-Door
2020 Jeep Wrangler Unlimited Freedom Sport Utility 4-Door
2020 Jeep Wrangler Unlimited North Edition Sport Utility 4-Door
2020 Jeep Wrangler Unlimited Recon Sport Utility 4-Door
2020 Jeep Wrangler Unlimited Rubicon Deluxe Sport Utility 4-Door
2020 Jeep Wrangler Unlimited Rubicon Sport Utility 4-Door
2020 Jeep Wrangler Unlimited Rubicon Xtreme Sport Utility 4-Door
2020 Jeep Wrangler Unlimited Sahara Altitude Sport Utility 4-Door
2020 Jeep Wrangler Unlimited Sahara Sport Utility 4-Door
2020 Jeep Wrangler Unlimited Sport Altitude Sport Utility 4-Door
2020 Jeep Wrangler Unlimited Sport S Sport Utility 4-Door
2020 Jeep Wrangler Unlimited Sport Sport Utility 4-Door
2020 Jeep Wrangler Unlimited Willys Sport Utility 4-Door
2019 Jeep Wrangler Unlimited Moab Sport Utility 4-Door
2019 Jeep Wrangler Unlimited Rubicon Sport Utility 4-Door
2019 Jeep Wrangler Unlimited Sahara Altitude Sport Utility 4-Door
2019 Jeep Wrangler Unlimited Sahara Sport Utility 4-Door
2019 Jeep Wrangler Unlimited Sport S Sport Utility 4-Door
2019 Jeep Wrangler Unlimited Sport Sport Utility 4-Door
2018 Jeep Wrangler Unlimited Moab Sport Utility 4-Door
2018 Jeep Wrangler Unlimited Rubicon Sport Utility 4-Door
2018 Jeep Wrangler Unlimited Sahara Sport Utility 4-Door
2018 Jeep Wrangler Unlimited Sport S Sport Utility 4-Door
2018 Jeep Wrangler Unlimited Sport Sport Utility 4-Door
Fitment
2023 Jeep Gladiator High Altitude Crew Cab Pickup 4-Door
2023 Jeep Gladiator High Altitude Crew Cab Pickup 4-Door
2023 Jeep Gladiator Mojave Crew Cab Pickup 4-Door
2023 Jeep Gladiator Overland Crew Cab Pickup 4-Door
2023 Jeep Gladiator Rubicon Crew Cab Pickup 4-Door
2023 Jeep Gladiator Sport Crew Cab Pickup 4-Door
2023 Jeep Gladiator Sport S Crew Cab Pickup 4-Door
2023 Jeep Gladiator Sport S Crew Cab Pickup 4-Door
2023 Jeep Gladiator Willys Crew Cab Pickup 4-Door
2023 Jeep Gladiator Willys Crew Cab Pickup 4-Door
2023 Jeep Gladiator Willys Sport Crew Cab Pickup 4-Door
2023 Jeep Gladiator Willys Sport Crew Cab Pickup 4-Door
2022 Jeep Gladiator Altitude Crew Cab Pickup 4-Door
2022 Jeep Gladiator Altitude Crew Cab Pickup 4-Door
2022 Jeep Gladiator High Altitude Crew Cab Pickup 4-Door
2022 Jeep Gladiator High Altitude Crew Cab Pickup 4-Door
2022 Jeep Gladiator Mojave Crew Cab Pickup 4-Door
2022 Jeep Gladiator Overland Crew Cab Pickup 4-Door
2022 Jeep Gladiator Overland Crew Cab Pickup 4-Door
2022 Jeep Gladiator Rubicon Crew Cab Pickup 4-Door
2022 Jeep Gladiator Rubicon Crew Cab Pickup 4-Door
2022 Jeep Gladiator Sport Crew Cab Pickup 4-Door
2022 Jeep Gladiator Sport Crew Cab Pickup 4-Door
2022 Jeep Gladiator Sport S Crew Cab Pickup 4-Door
2022 Jeep Gladiator Sport S Crew Cab Pickup 4-Door
2022 Jeep Gladiator Willys Crew Cab Pickup 4-Door
2022 Jeep Gladiator Willys Crew Cab Pickup 4-Door
2022 Jeep Gladiator Willys Sport Crew Cab Pickup 4-Door
2022 Jeep Gladiator Willys Sport Crew Cab Pickup 4-Door
2021 Jeep Gladiator 80th Anniversary Crew Cab Pickup 4-Door
2021 Jeep Gladiator 80th Anniversary Crew Cab Pickup 4-Door
2021 Jeep Gladiator High Altitude Crew Cab Pickup 4-Door
2021 Jeep Gladiator High Altitude Crew Cab Pickup 4-Door
2021 Jeep Gladiator Mojave Crew Cab Pickup 4-Door
2021 Jeep Gladiator Overland Crew Cab Pickup 4-Door
2021 Jeep Gladiator Overland Crew Cab Pickup 4-Door
2021 Jeep Gladiator Rubicon Crew Cab Pickup 4-Door
2021 Jeep Gladiator Rubicon Crew Cab Pickup 4-Door
2021 Jeep Gladiator Sport Crew Cab Pickup 4-Door
2021 Jeep Gladiator Sport Crew Cab Pickup 4-Door
2021 Jeep Gladiator Sport S Crew Cab Pickup 4-Door
2021 Jeep Gladiator Sport S Crew Cab Pickup 4-Door
2021 Jeep Gladiator Willys Crew Cab Pickup 4-Door
2021 Jeep Gladiator Willys Crew Cab Pickup 4-Door
2021 Jeep Gladiator Willys Sport Crew Cab Pickup 4-Door
2021 Jeep Gladiator Willys Sport Crew Cab Pickup 4-Door
2020 Jeep Gladiator Altitude Crew Cab Pickup 4-Door
2020 Jeep Gladiator Launch Edition Crew Cab Pickup 4-Door
2020 Jeep Gladiator Mojave Crew Cab Pickup 4-Door
2020 Jeep Gladiator North Edition Crew Cab Pickup 4-Door
2020 Jeep Gladiator Overland Crew Cab Pickup 4-Door
2020 Jeep Gladiator Rubicon Crew Cab Pickup 4-Door
2020 Jeep Gladiator Sport Crew Cab Pickup 4-Door
2020 Jeep Gladiator Sport S Crew Cab Pickup 4-Door
2023 Jeep Wrangler Unlimited High Altitude 4xe Sport Utility 4-Door
2023 Jeep Wrangler Unlimited High Altitude Sport Utility 4-Door
2023 Jeep Wrangler Unlimited Rubicon 4xe Sport Utility 4-Door
2023 Jeep Wrangler Unlimited Rubicon 392 Sport Utility 4-Door
2023 Jeep Wrangler Unlimited Rubicon Sport Utility 4-Door
2023 Jeep Wrangler Unlimited Sahara 4xe Sport Utility 4-Door
2023 Jeep Wrangler Unlimited Sahara Altitude Sport Utility 4-Door
2023 Jeep Wrangler Unlimited Sahara High Altitude Sport Utility 4-Door
2023 Jeep Wrangler Unlimited Sahara Sport Utility 4-Door
2023 Jeep Wrangler Unlimited Sport Altitude Sport Utility 4-Door
2023 Jeep Wrangler Unlimited Sport S Sport Utility 4-Door
2023 Jeep Wrangler Unlimited Sport Sport Utility 4-Door
2023 Jeep Wrangler Unlimited Willys 4xe Sport Utility 4-Door
2023 Jeep Wrangler Unlimited Willys Sport Sport Utility 4-Door
2023 Jeep Wrangler Unlimited Willys Sport Utility 4-Door
2022 Jeep Wrangler Unlimited Rubicon 392 Sport Utility 4-Door
2022 Jeep Wrangler Unlimited Rubicon Sport Utility 4-Door
2022 Jeep Wrangler Unlimited Sahara Altitude Sport Utility 4-Door
2022 Jeep Wrangler Unlimited Sahara High Altitude Sport Utility 4-Door
2022 Jeep Wrangler Unlimited Sahara Sport Utility 4-Door
2022 Jeep Wrangler Unlimited Sport Altitude Sport Utility 4-Door
2022 Jeep Wrangler Unlimited Sport S Sport Utility 4-Door
2022 Jeep Wrangler Unlimited Sport Sport Utility 4-Door
2022 Jeep Wrangler Unlimited Willys Sport Sport Utility 4-Door
2022 Jeep Wrangler Unlimited Willys Sport Utility 4-Door
2021 Jeep Wrangler Unlimited 80th Anniversary Sport Utility 4-Door
2021 Jeep Wrangler Unlimited Freedom Sport Utility 4-Door
2021 Jeep Wrangler Unlimited High Altitude Sport Utility 4-Door
2021 Jeep Wrangler Unlimited Islander Sport Utility 4-Door
2021 Jeep Wrangler Unlimited Rubicon 392 Sport Utility 4-Door
2021 Jeep Wrangler Unlimited Rubicon Sport Utility 4-Door
2021 Jeep Wrangler Unlimited Sahara Altitude Sport Utility 4-Door
2021 Jeep Wrangler Unlimited Sahara High Altitude Sport Utility 4-Door
2021 Jeep Wrangler Unlimited Sahara Sport Utility 4-Door
2021 Jeep Wrangler Unlimited Sport Altitude Sport Utility 4-Door
2021 Jeep Wrangler Unlimited Sport S Sport Utility 4-Door
2021 Jeep Wrangler Unlimited Sport Sport Utility 4-Door
2021 Jeep Wrangler Unlimited Willys Sport Sport Utility 4-Door
2021 Jeep Wrangler Unlimited Willys Sport Utility 4-Door
2020 Jeep Wrangler Unlimited Black and Tan Sport Utility 4-Door
2020 Jeep Wrangler Unlimited Freedom Sport Utility 4-Door
2020 Jeep Wrangler Unlimited North Edition Sport Utility 4-Door
2020 Jeep Wrangler Unlimited Recon Sport Utility 4-Door
2020 Jeep Wrangler Unlimited Rubicon Deluxe Sport Utility 4-Door
2020 Jeep Wrangler Unlimited Rubicon Sport Utility 4-Door
2020 Jeep Wrangler Unlimited Rubicon Xtreme Sport Utility 4-Door
2020 Jeep Wrangler Unlimited Sahara Altitude Sport Utility 4-Door
2020 Jeep Wrangler Unlimited Sahara Sport Utility 4-Door
2020 Jeep Wrangler Unlimited Sport Altitude Sport Utility 4-Door
2020 Jeep Wrangler Unlimited Sport S Sport Utility 4-Door
2020 Jeep Wrangler Unlimited Sport Sport Utility 4-Door
2020 Jeep Wrangler Unlimited Willys Sport Utility 4-Door
2019 Jeep Wrangler Unlimited Moab Sport Utility 4-Door
2019 Jeep Wrangler Unlimited Rubicon Sport Utility 4-Door
2019 Jeep Wrangler Unlimited Sahara Altitude Sport Utility 4-Door
2019 Jeep Wrangler Unlimited Sahara Sport Utility 4-Door
2019 Jeep Wrangler Unlimited Sport S Sport Utility 4-Door
2019 Jeep Wrangler Unlimited Sport Sport Utility 4-Door
2018 Jeep Wrangler Unlimited Moab Sport Utility 4-Door
2018 Jeep Wrangler Unlimited Rubicon Sport Utility 4-Door
2018 Jeep Wrangler Unlimited Sahara Sport Utility 4-Door
2018 Jeep Wrangler Unlimited Sport S Sport Utility 4-Door
2018 Jeep Wrangler Unlimited Sport Sport Utility 4-Door