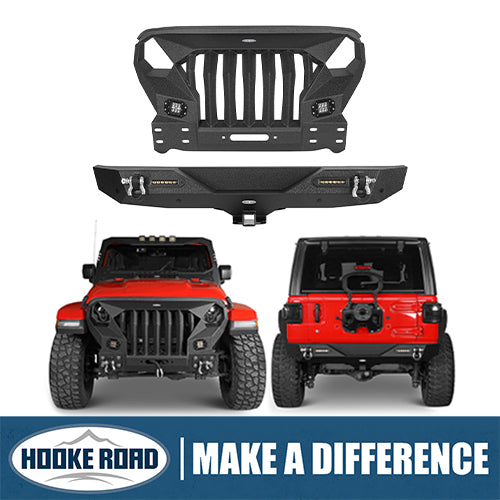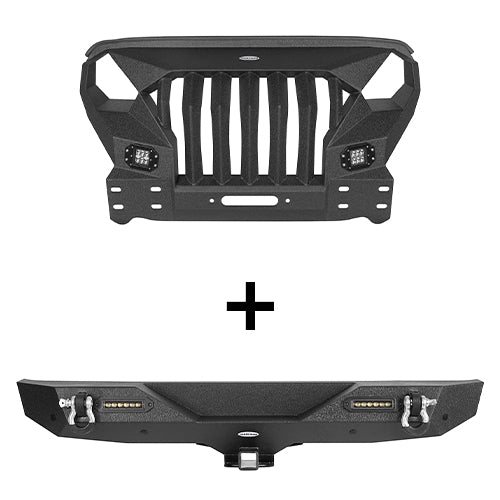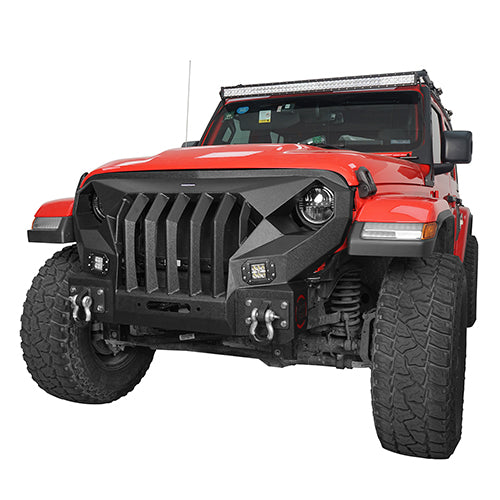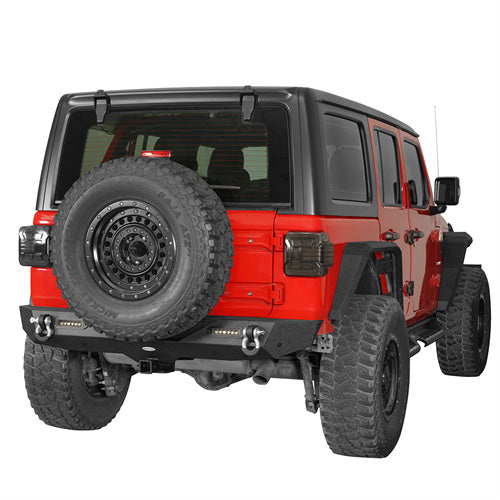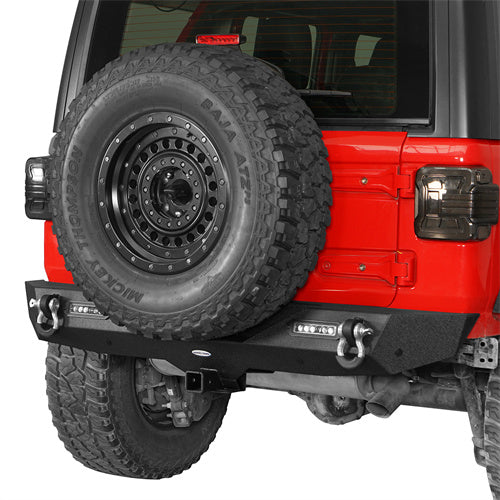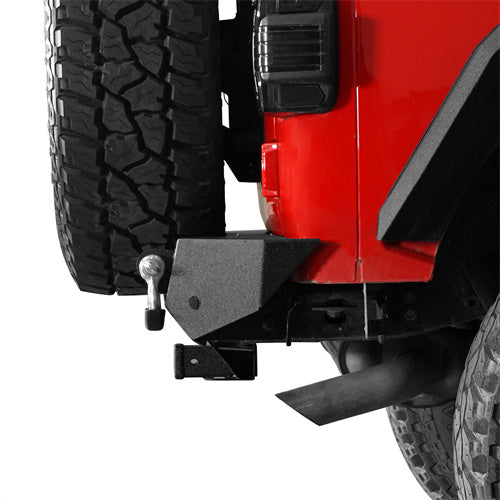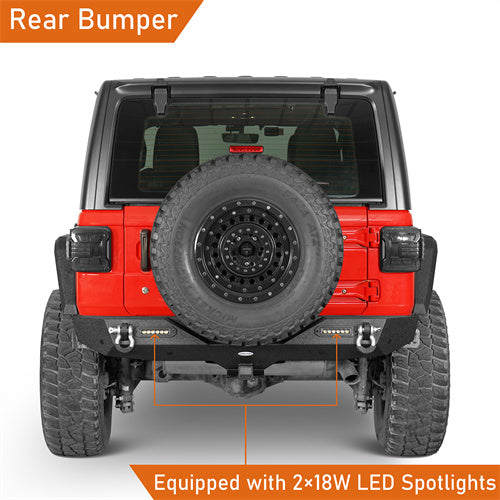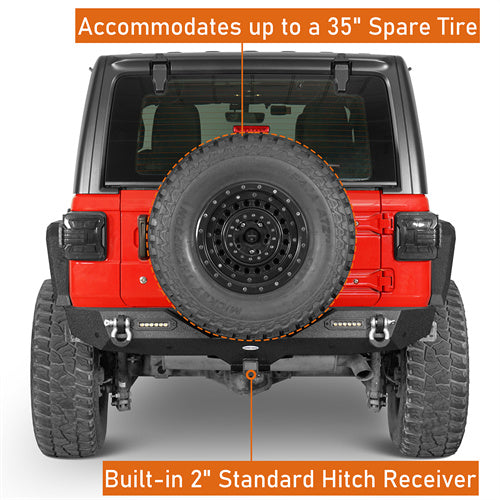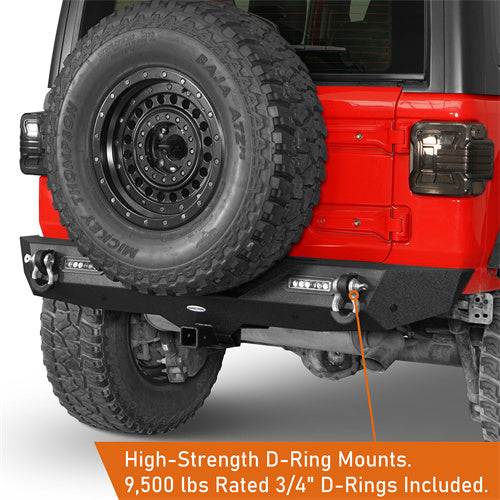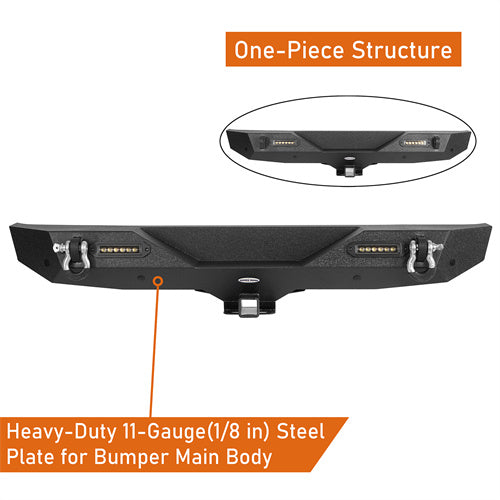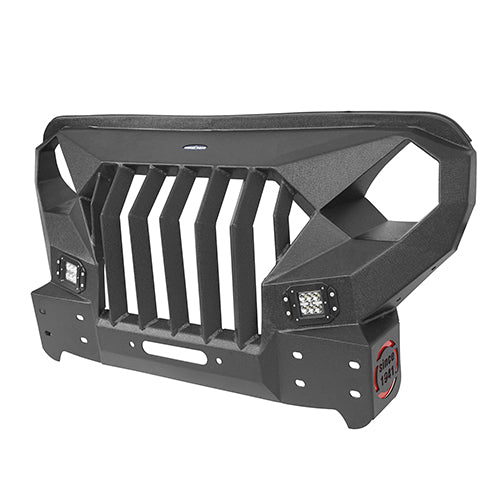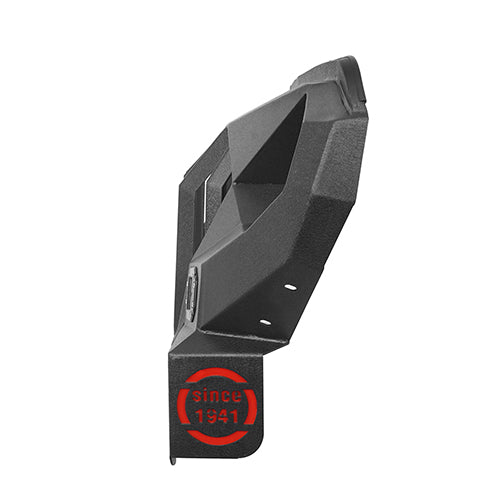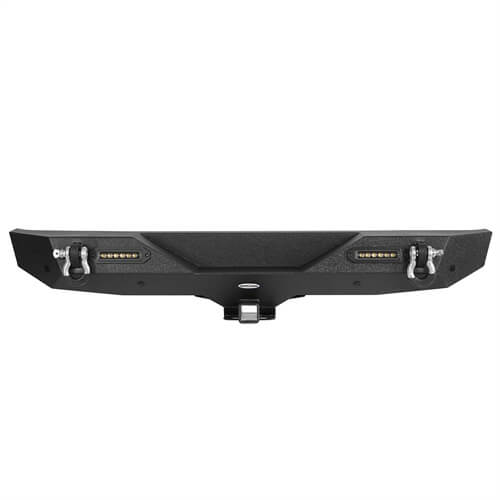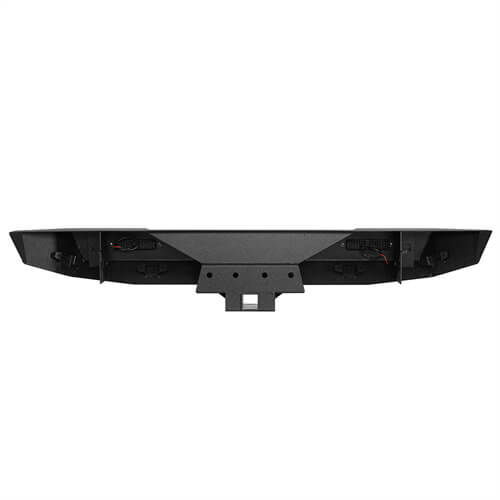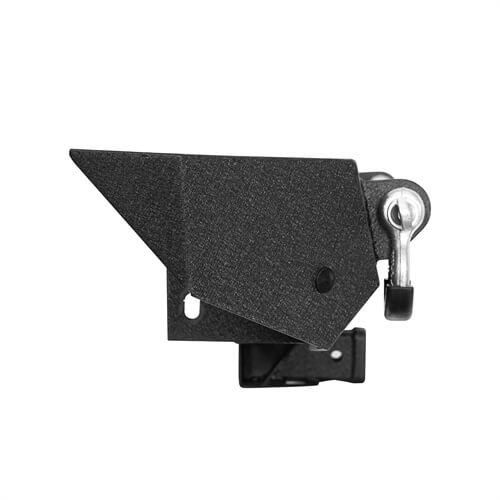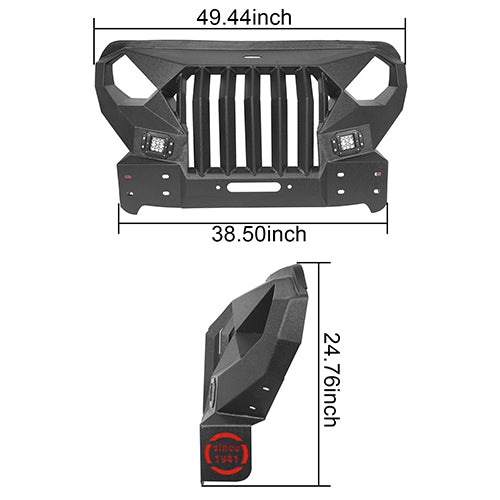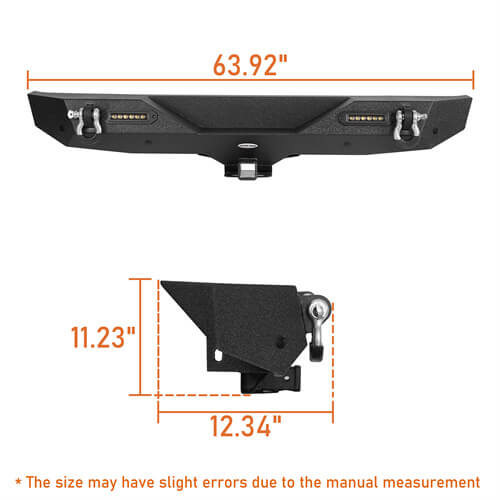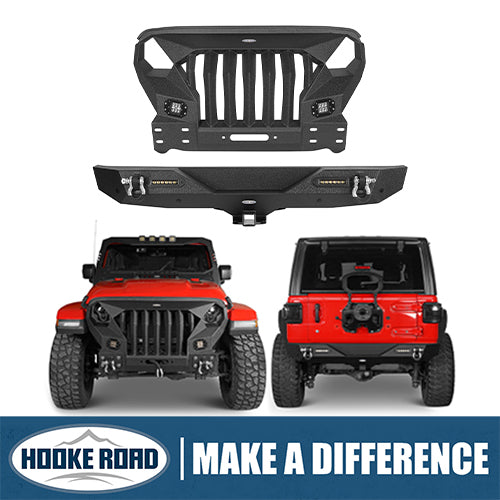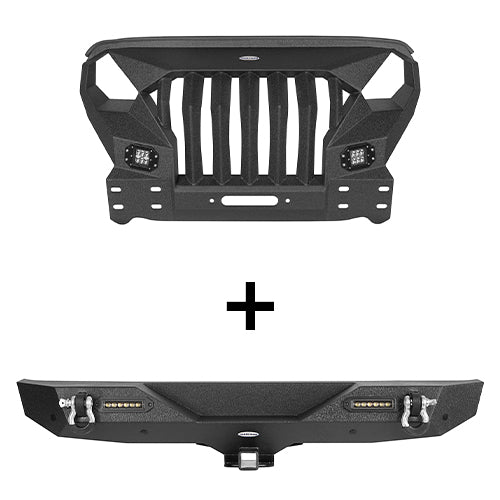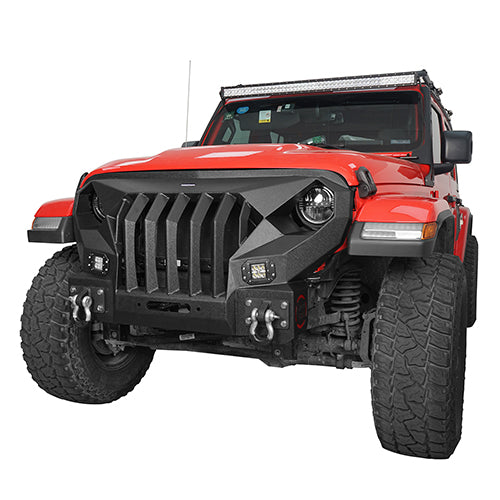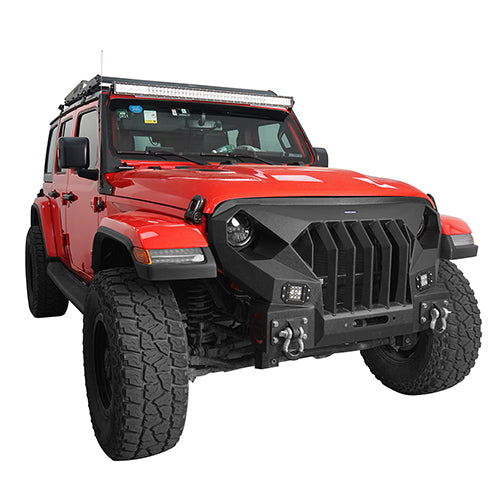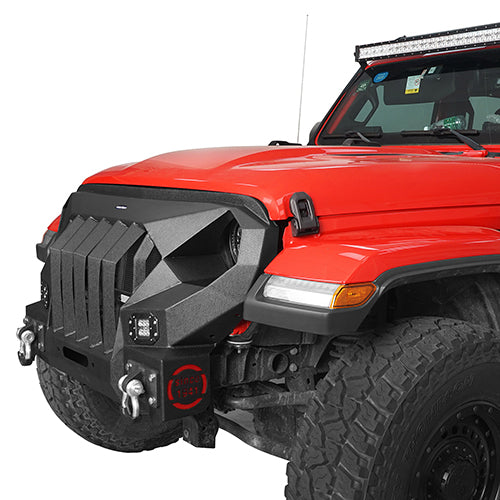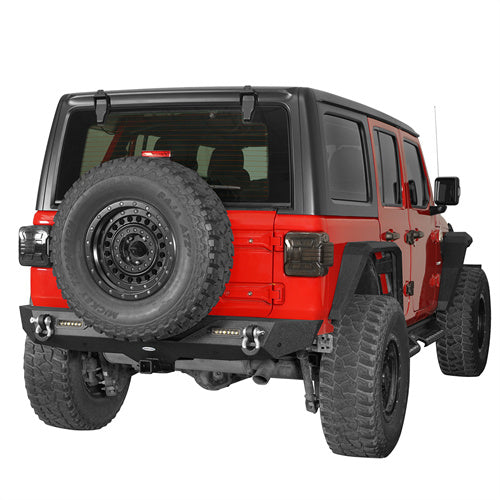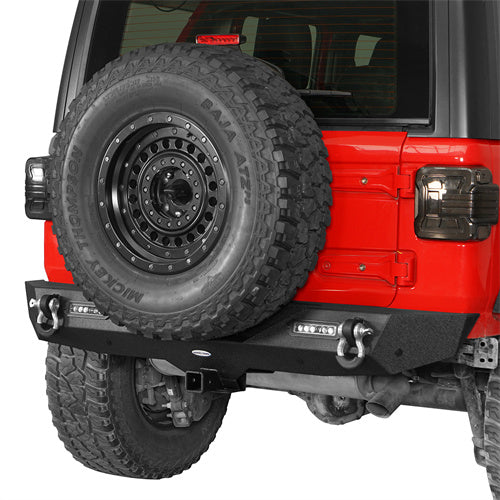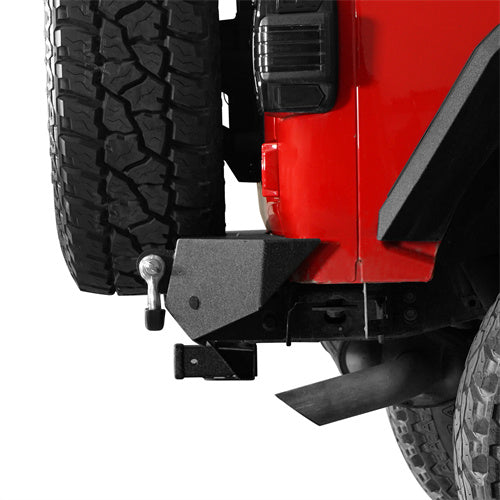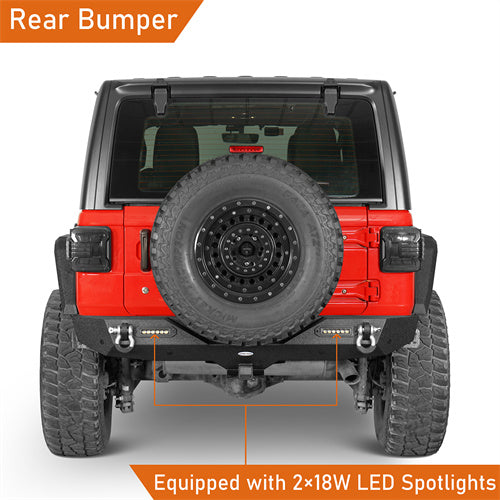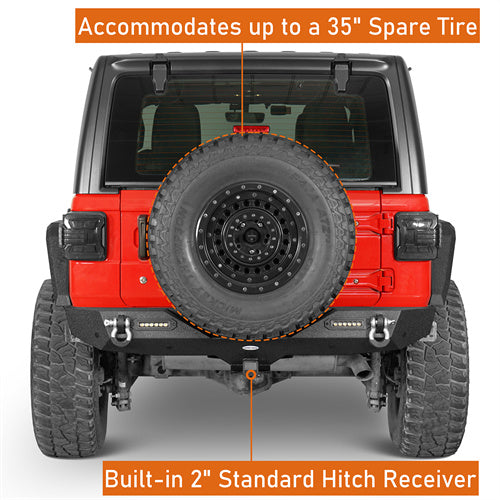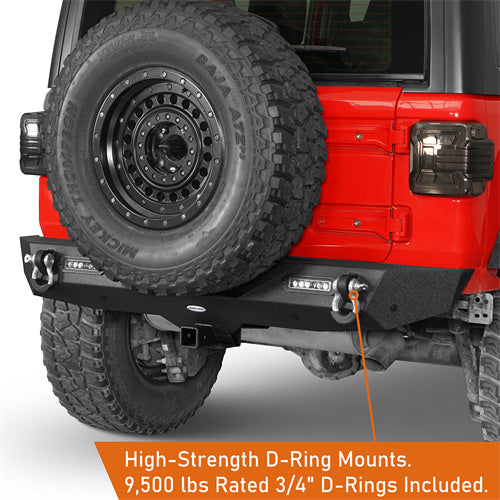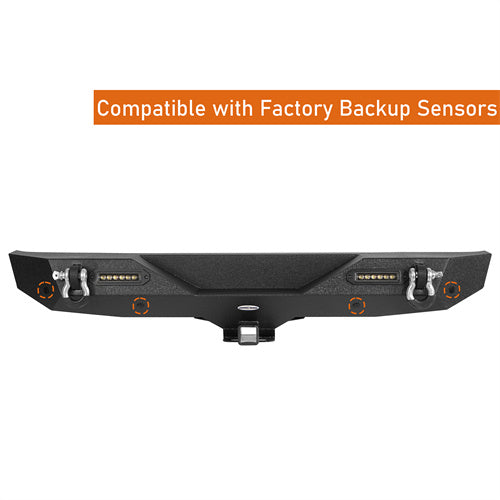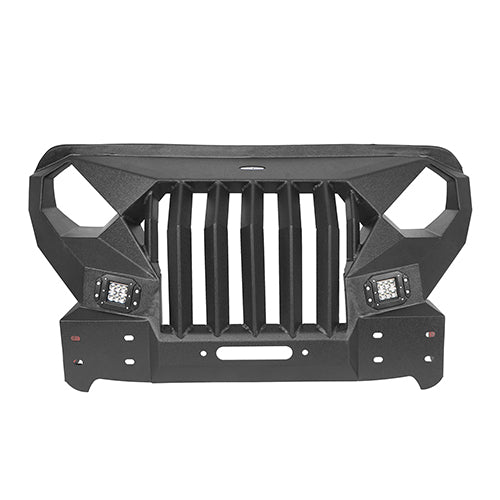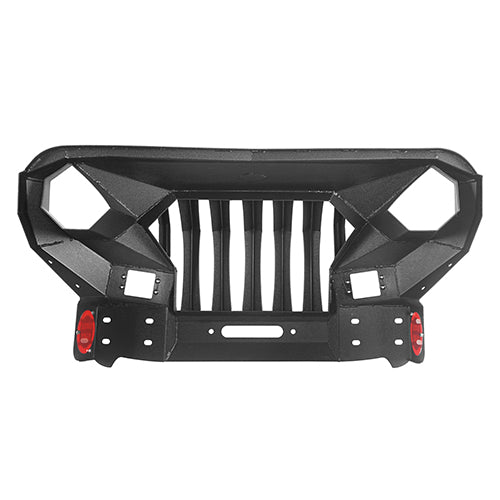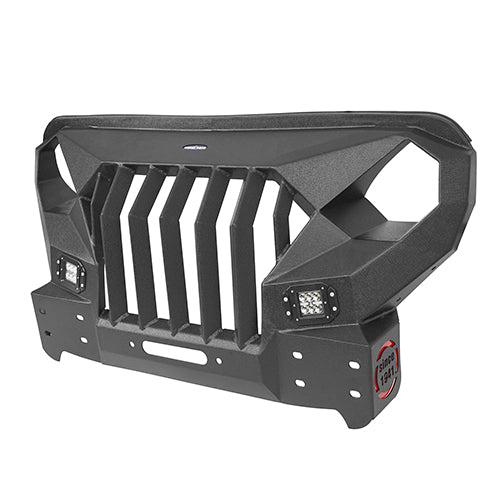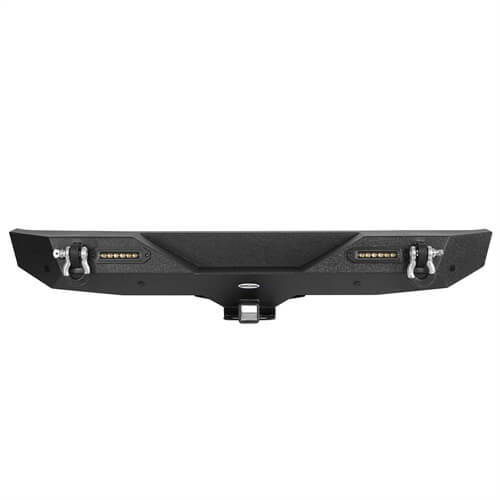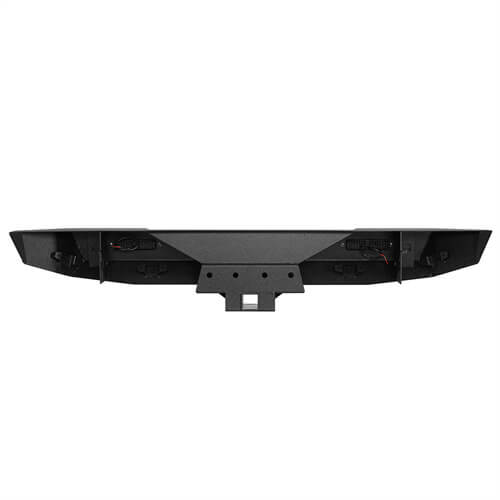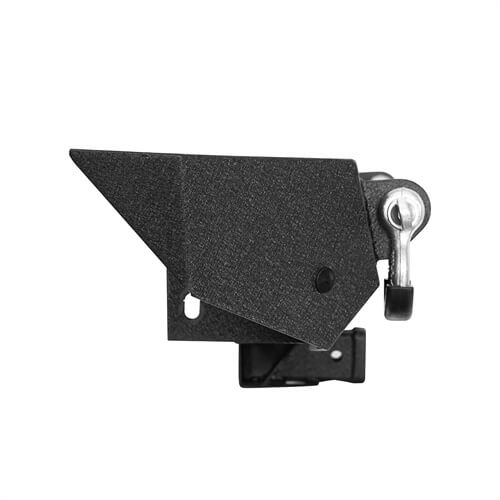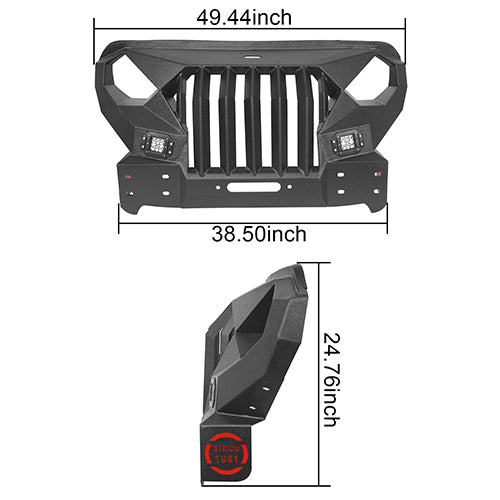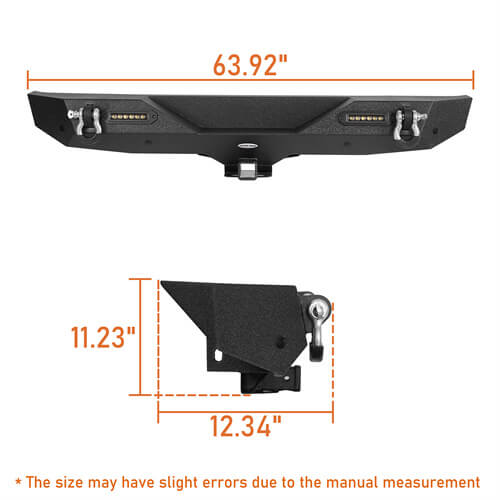 Name: Jeep Wrangler JL 4 Door Full-Width Front Bumper w/Mad Max Grill & Front Bumper
*Update:
Please Double-check All of the Item Pictures to Purchase What you Like
Jeep Wrangler JL Full-width Front Bumper w/Mad Max Grill
Fits 2018-2023 Jeep Wrangler JL; Please Further Confirm your Jeep Model before you Place the Order
About 88 lbs; Winch plate included for up to 12,000lb. Winch; Decorated w/ vivid Red "since 1941" pattern in two sides Contradiction space exterior design style, possess; One-piece structure integrated: grill structure increases structural strength; Stubby front bumper provides greater tire clearance aesthetics exterior, simultaneously own intrepid appearance; 2 stage finish: texture black coated finish on the surface
Simple bolt-on installation


Jeep Wrangler JL Rear Bumper
Fits for 2018-2023 Jeep Wrangler JL Models
About 66 lbs; Heavy Duty 3/16" Steel Construction; D-Rings w/Rubber Rings to Provide Extra Protection Against Abrasion; High Strength D-Ring Mounts; Built-in 2"; Standard Hitch Receiver; Two 3/4" D-Rings and 2" Hitch Receiver that is rated at 9,500 lb
Simple Bolt-on Installation w/Clear and Detailed Instruction
Dimension. Manual Measure. It is a little bit different. Just for Reference Only.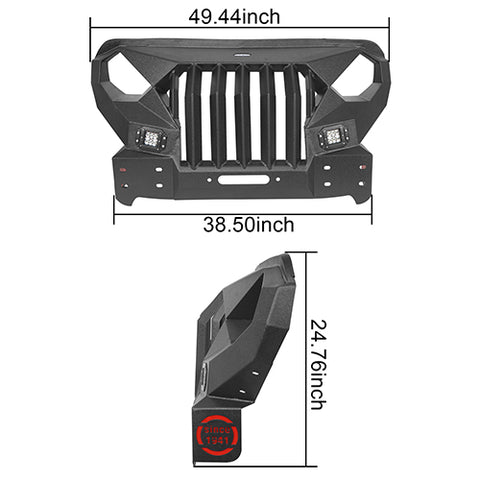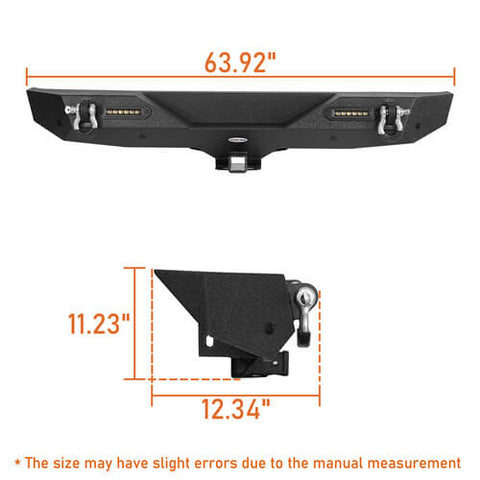 Jeep Wrangler JL Full-width Front Bumper w/Mad Max Grill Package Included

1 x Jeep JL Mad Max Front Bumper
2 x 18W LED Spotlights
Mounting Hardware
Jeep Wrangler JL Rear Bumper Package Included

1 x Jeep JL Explorer Rear Bumper w/2" Hitch Receiver
2 x 18W LED Flush Mount Spotlights
2 x D-rings
Mounting Hardware
2023 Jeep Wrangler Unlimited High Altitude 4xe Sport Utility 4-Door
2023 Jeep Wrangler Unlimited High Altitude Sport Utility 4-Door
2023 Jeep Wrangler Unlimited Rubicon 4xe Sport Utility 4-Door
2023 Jeep Wrangler Unlimited Rubicon 392 Sport Utility 4-Door
2023 Jeep Wrangler Unlimited Rubicon Sport Utility 4-Door
2023 Jeep Wrangler Unlimited Sahara 4xe Sport Utility 4-Door
2023 Jeep Wrangler Unlimited Sahara Altitude Sport Utility 4-Door
2023 Jeep Wrangler Unlimited Sahara High Altitude Sport Utility 4-Door
2023 Jeep Wrangler Unlimited Sahara Sport Utility 4-Door
2023 Jeep Wrangler Unlimited Sport Altitude Sport Utility 4-Door
2023 Jeep Wrangler Unlimited Sport S Sport Utility 4-Door
2023 Jeep Wrangler Unlimited Sport Sport Utility 4-Door
2023 Jeep Wrangler Unlimited Willys 4xe Sport Utility 4-Door
2023 Jeep Wrangler Unlimited Willys Sport Sport Utility 4-Door
2023 Jeep Wrangler Unlimited Willys Sport Utility 4-Door
2022 Jeep Wrangler Unlimited Rubicon 392 Sport Utility 4-Door
2022 Jeep Wrangler Unlimited Rubicon Sport Utility 4-Door
2022 Jeep Wrangler Unlimited Sahara Altitude Sport Utility 4-Door
2022 Jeep Wrangler Unlimited Sahara High Altitude Sport Utility 4-Door
2022 Jeep Wrangler Unlimited Sahara Sport Utility 4-Door
2022 Jeep Wrangler Unlimited Sport Altitude Sport Utility 4-Door
2022 Jeep Wrangler Unlimited Sport S Sport Utility 4-Door
2022 Jeep Wrangler Unlimited Sport Sport Utility 4-Door
2022 Jeep Wrangler Unlimited Willys Sport Sport Utility 4-Door
2022 Jeep Wrangler Unlimited Willys Sport Utility 4-Door
2021 Jeep Wrangler Unlimited 80th Anniversary Sport Utility 4-Door
2021 Jeep Wrangler Unlimited Freedom Sport Utility 4-Door
2021 Jeep Wrangler Unlimited High Altitude Sport Utility 4-Door
2021 Jeep Wrangler Unlimited Islander Sport Utility 4-Door
2021 Jeep Wrangler Unlimited Rubicon 392 Sport Utility 4-Door
2021 Jeep Wrangler Unlimited Rubicon Sport Utility 4-Door
2021 Jeep Wrangler Unlimited Sahara Altitude Sport Utility 4-Door
2021 Jeep Wrangler Unlimited Sahara High Altitude Sport Utility 4-Door
2021 Jeep Wrangler Unlimited Sahara Sport Utility 4-Door
2021 Jeep Wrangler Unlimited Sport Altitude Sport Utility 4-Door
2021 Jeep Wrangler Unlimited Sport S Sport Utility 4-Door
2021 Jeep Wrangler Unlimited Sport Sport Utility 4-Door
2021 Jeep Wrangler Unlimited Willys Sport Sport Utility 4-Door
2021 Jeep Wrangler Unlimited Willys Sport Utility 4-Door
2020 Jeep Wrangler Unlimited Black and Tan Sport Utility 4-Door
2020 Jeep Wrangler Unlimited Freedom Sport Utility 4-Door
2020 Jeep Wrangler Unlimited North Edition Sport Utility 4-Door
2020 Jeep Wrangler Unlimited Recon Sport Utility 4-Door
2020 Jeep Wrangler Unlimited Rubicon Deluxe Sport Utility 4-Door
2020 Jeep Wrangler Unlimited Rubicon Sport Utility 4-Door
2020 Jeep Wrangler Unlimited Rubicon Xtreme Sport Utility 4-Door
2020 Jeep Wrangler Unlimited Sahara Altitude Sport Utility 4-Door
2020 Jeep Wrangler Unlimited Sahara Sport Utility 4-Door
2020 Jeep Wrangler Unlimited Sport Altitude Sport Utility 4-Door
2020 Jeep Wrangler Unlimited Sport S Sport Utility 4-Door
2020 Jeep Wrangler Unlimited Sport Sport Utility 4-Door
2020 Jeep Wrangler Unlimited Willys Sport Utility 4-Door
2019 Jeep Wrangler Unlimited Moab Sport Utility 4-Door
2019 Jeep Wrangler Unlimited Rubicon Sport Utility 4-Door
2019 Jeep Wrangler Unlimited Sahara Altitude Sport Utility 4-Door
2019 Jeep Wrangler Unlimited Sahara Sport Utility 4-Door
2019 Jeep Wrangler Unlimited Sport S Sport Utility 4-Door
2019 Jeep Wrangler Unlimited Sport Sport Utility 4-Door
2018 Jeep Wrangler Unlimited Moab Sport Utility 4-Door
2018 Jeep Wrangler Unlimited Rubicon Sport Utility 4-Door
2018 Jeep Wrangler Unlimited Sahara Sport Utility 4-Door
2018 Jeep Wrangler Unlimited Sport S Sport Utility 4-Door
2018 Jeep Wrangler Unlimited Sport Sport Utility 4-Door
Package Included
Jeep Wrangler JL Full-width Front Bumper w/Mad Max Grill Package Included

1 x Jeep JL Mad Max Front Bumper
2 x 18W LED Spotlights
Mounting Hardware
Jeep Wrangler JL Rear Bumper Package Included

1 x Jeep JL Explorer Rear Bumper w/2" Hitch Receiver
2 x 18W LED Flush Mount Spotlights
2 x D-rings
Mounting Hardware
Fitment
2023 Jeep Wrangler Unlimited High Altitude 4xe Sport Utility 4-Door
2023 Jeep Wrangler Unlimited High Altitude Sport Utility 4-Door
2023 Jeep Wrangler Unlimited Rubicon 4xe Sport Utility 4-Door
2023 Jeep Wrangler Unlimited Rubicon 392 Sport Utility 4-Door
2023 Jeep Wrangler Unlimited Rubicon Sport Utility 4-Door
2023 Jeep Wrangler Unlimited Sahara 4xe Sport Utility 4-Door
2023 Jeep Wrangler Unlimited Sahara Altitude Sport Utility 4-Door
2023 Jeep Wrangler Unlimited Sahara High Altitude Sport Utility 4-Door
2023 Jeep Wrangler Unlimited Sahara Sport Utility 4-Door
2023 Jeep Wrangler Unlimited Sport Altitude Sport Utility 4-Door
2023 Jeep Wrangler Unlimited Sport S Sport Utility 4-Door
2023 Jeep Wrangler Unlimited Sport Sport Utility 4-Door
2023 Jeep Wrangler Unlimited Willys 4xe Sport Utility 4-Door
2023 Jeep Wrangler Unlimited Willys Sport Sport Utility 4-Door
2023 Jeep Wrangler Unlimited Willys Sport Utility 4-Door
2022 Jeep Wrangler Unlimited Rubicon 392 Sport Utility 4-Door
2022 Jeep Wrangler Unlimited Rubicon Sport Utility 4-Door
2022 Jeep Wrangler Unlimited Sahara Altitude Sport Utility 4-Door
2022 Jeep Wrangler Unlimited Sahara High Altitude Sport Utility 4-Door
2022 Jeep Wrangler Unlimited Sahara Sport Utility 4-Door
2022 Jeep Wrangler Unlimited Sport Altitude Sport Utility 4-Door
2022 Jeep Wrangler Unlimited Sport S Sport Utility 4-Door
2022 Jeep Wrangler Unlimited Sport Sport Utility 4-Door
2022 Jeep Wrangler Unlimited Willys Sport Sport Utility 4-Door
2022 Jeep Wrangler Unlimited Willys Sport Utility 4-Door
2021 Jeep Wrangler Unlimited 80th Anniversary Sport Utility 4-Door
2021 Jeep Wrangler Unlimited Freedom Sport Utility 4-Door
2021 Jeep Wrangler Unlimited High Altitude Sport Utility 4-Door
2021 Jeep Wrangler Unlimited Islander Sport Utility 4-Door
2021 Jeep Wrangler Unlimited Rubicon 392 Sport Utility 4-Door
2021 Jeep Wrangler Unlimited Rubicon Sport Utility 4-Door
2021 Jeep Wrangler Unlimited Sahara Altitude Sport Utility 4-Door
2021 Jeep Wrangler Unlimited Sahara High Altitude Sport Utility 4-Door
2021 Jeep Wrangler Unlimited Sahara Sport Utility 4-Door
2021 Jeep Wrangler Unlimited Sport Altitude Sport Utility 4-Door
2021 Jeep Wrangler Unlimited Sport S Sport Utility 4-Door
2021 Jeep Wrangler Unlimited Sport Sport Utility 4-Door
2021 Jeep Wrangler Unlimited Willys Sport Sport Utility 4-Door
2021 Jeep Wrangler Unlimited Willys Sport Utility 4-Door
2020 Jeep Wrangler Unlimited Black and Tan Sport Utility 4-Door
2020 Jeep Wrangler Unlimited Freedom Sport Utility 4-Door
2020 Jeep Wrangler Unlimited North Edition Sport Utility 4-Door
2020 Jeep Wrangler Unlimited Recon Sport Utility 4-Door
2020 Jeep Wrangler Unlimited Rubicon Deluxe Sport Utility 4-Door
2020 Jeep Wrangler Unlimited Rubicon Sport Utility 4-Door
2020 Jeep Wrangler Unlimited Rubicon Xtreme Sport Utility 4-Door
2020 Jeep Wrangler Unlimited Sahara Altitude Sport Utility 4-Door
2020 Jeep Wrangler Unlimited Sahara Sport Utility 4-Door
2020 Jeep Wrangler Unlimited Sport Altitude Sport Utility 4-Door
2020 Jeep Wrangler Unlimited Sport S Sport Utility 4-Door
2020 Jeep Wrangler Unlimited Sport Sport Utility 4-Door
2020 Jeep Wrangler Unlimited Willys Sport Utility 4-Door
2019 Jeep Wrangler Unlimited Moab Sport Utility 4-Door
2019 Jeep Wrangler Unlimited Rubicon Sport Utility 4-Door
2019 Jeep Wrangler Unlimited Sahara Altitude Sport Utility 4-Door
2019 Jeep Wrangler Unlimited Sahara Sport Utility 4-Door
2019 Jeep Wrangler Unlimited Sport S Sport Utility 4-Door
2019 Jeep Wrangler Unlimited Sport Sport Utility 4-Door
2018 Jeep Wrangler Unlimited Moab Sport Utility 4-Door
2018 Jeep Wrangler Unlimited Rubicon Sport Utility 4-Door
2018 Jeep Wrangler Unlimited Sahara Sport Utility 4-Door
2018 Jeep Wrangler Unlimited Sport S Sport Utility 4-Door
2018 Jeep Wrangler Unlimited Sport Sport Utility 4-Door