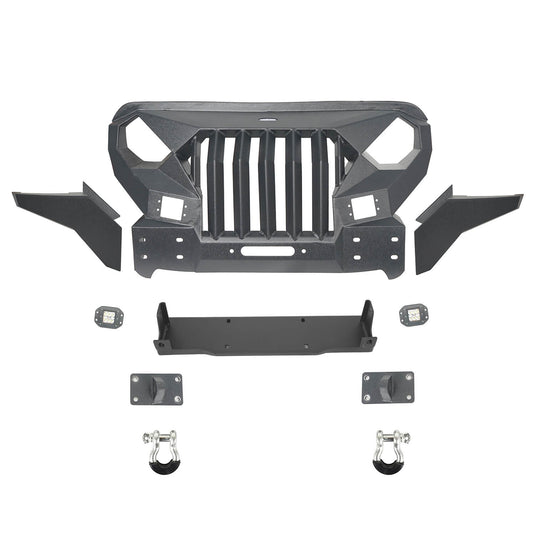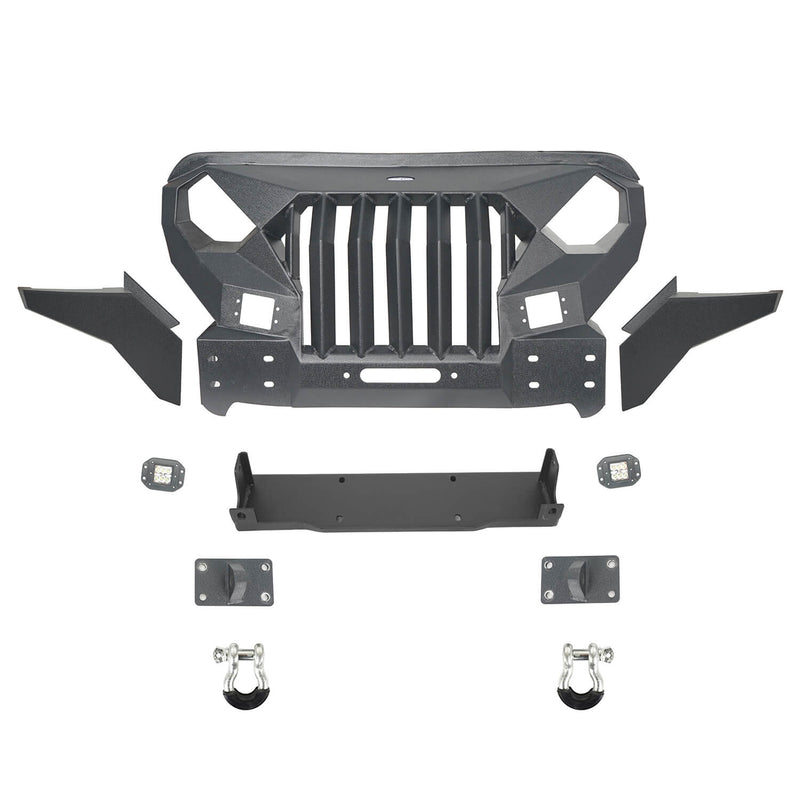 Name: Full-width Front Bumper w/Mad Max Grill
Friendly Reminder:
Please Double-check All of the Item Pictures to Purchase What you Like
Feature
Fits 2018-2023 Jeep Wrangler JL & Gladiator JT Models
Bumper weight: about 104 lbs
Winch plate included for up to 12,000lb. Winch
One-piece structure integrated: grill structure increases structural strength
Full-width front bumper(two mounting blocks in two sides which can be uninstalled easily) perfectly fits factory fender flares
Contradiction space exterior design style, possess aesthetics exterior, simultaneously own intrepid appearance
2 stage finish: texture black coated finish on the surface
Simple bolt-on installation
Dimension
Aggressive Styling and Radical Design.
?
The Full-width Front Bumper offers a revolutionary combination of both grille and winch bumper. This aggressive and sophisticated design is sure to promote the way we look at bumpers going forward for the Jeep Wrangler JL or Gladiator JT.
Heavy Duty Construction.
?
Our manufactures their Grille Guard and Stubby Bumper from heavy-duty, fabricated steel plate for superior strength and rigidity. The D-Ring mounts are bolted into place for strength. We then complete the entire Bumper and Grille assembly in a 2 stage finish using epoxy pre-coating and high-grade textured black powder coating for durability and long-lasting corrosion resistance.
E-Coating Process.
?
E-coat systems can deliver a wide range of lacquer and paint finishes with a combination of state-of-the-art performance and decorative effects. The product percent of pass reaches 100% after?the salt spray test.
Bolt-On Installation.
We engineered their Grille Guard and Full-width Front Bumper to be a direct bolt-on replacement for the original stock grille and bumper reusing the factory mounting points. There is no cutting or modifications required for a clean straight forward install. Installation can be completed in about one hour with just basic hand tools and the help of a friend.
1 x Front Bumper w/Mad Max Grill
2x 18W LED spotlights included
2 x D-rings w/rubber ring
Mounting Hardware
2023 Jeep Gladiator High Altitude Crew Cab Pickup 4-Door
2023 Jeep Gladiator High Altitude Crew Cab Pickup 4-Door
2023 Jeep Gladiator Mojave Crew Cab Pickup 4-Door
2023 Jeep Gladiator Overland Crew Cab Pickup 4-Door
2023 Jeep Gladiator Rubicon Crew Cab Pickup 4-Door
2023 Jeep Gladiator Sport Crew Cab Pickup 4-Door
2023 Jeep Gladiator Sport S Crew Cab Pickup 4-Door
2023 Jeep Gladiator Sport S Crew Cab Pickup 4-Door
2023 Jeep Gladiator Willys Crew Cab Pickup 4-Door
2023 Jeep Gladiator Willys Crew Cab Pickup 4-Door
2023 Jeep Gladiator Willys Sport Crew Cab Pickup 4-Door
2023 Jeep Gladiator Willys Sport Crew Cab Pickup 4-Door
2022 Jeep Gladiator Altitude Crew Cab Pickup 4-Door
2022 Jeep Gladiator Altitude Crew Cab Pickup 4-Door
2022 Jeep Gladiator High Altitude Crew Cab Pickup 4-Door
2022 Jeep Gladiator High Altitude Crew Cab Pickup 4-Door
2022 Jeep Gladiator Mojave Crew Cab Pickup 4-Door
2022 Jeep Gladiator Overland Crew Cab Pickup 4-Door
2022 Jeep Gladiator Overland Crew Cab Pickup 4-Door
2022 Jeep Gladiator Rubicon Crew Cab Pickup 4-Door
2022 Jeep Gladiator Rubicon Crew Cab Pickup 4-Door
2022 Jeep Gladiator Sport Crew Cab Pickup 4-Door
2022 Jeep Gladiator Sport Crew Cab Pickup 4-Door
2022 Jeep Gladiator Sport S Crew Cab Pickup 4-Door
2022 Jeep Gladiator Sport S Crew Cab Pickup 4-Door
2022 Jeep Gladiator Willys Crew Cab Pickup 4-Door
2022 Jeep Gladiator Willys Crew Cab Pickup 4-Door
2022 Jeep Gladiator Willys Sport Crew Cab Pickup 4-Door
2022 Jeep Gladiator Willys Sport Crew Cab Pickup 4-Door
2021 Jeep Gladiator 80th Anniversary Crew Cab Pickup 4-Door
2021 Jeep Gladiator 80th Anniversary Crew Cab Pickup 4-Door
2021 Jeep Gladiator High Altitude Crew Cab Pickup 4-Door
2021 Jeep Gladiator High Altitude Crew Cab Pickup 4-Door
2021 Jeep Gladiator Mojave Crew Cab Pickup 4-Door
2021 Jeep Gladiator Overland Crew Cab Pickup 4-Door
2021 Jeep Gladiator Overland Crew Cab Pickup 4-Door
2021 Jeep Gladiator Rubicon Crew Cab Pickup 4-Door
2021 Jeep Gladiator Rubicon Crew Cab Pickup 4-Door
2021 Jeep Gladiator Sport Crew Cab Pickup 4-Door
2021 Jeep Gladiator Sport Crew Cab Pickup 4-Door
2021 Jeep Gladiator Sport S Crew Cab Pickup 4-Door
2021 Jeep Gladiator Sport S Crew Cab Pickup 4-Door
2021 Jeep Gladiator Willys Crew Cab Pickup 4-Door
2021 Jeep Gladiator Willys Crew Cab Pickup 4-Door
2021 Jeep Gladiator Willys Sport Crew Cab Pickup 4-Door
2021 Jeep Gladiator Willys Sport Crew Cab Pickup 4-Door
2020 Jeep Gladiator Altitude Crew Cab Pickup 4-Door
2020 Jeep Gladiator Launch Edition Crew Cab Pickup 4-Door
2020 Jeep Gladiator Mojave Crew Cab Pickup 4-Door
2020 Jeep Gladiator North Edition Crew Cab Pickup 4-Door
2020 Jeep Gladiator Overland Crew Cab Pickup 4-Door
2020 Jeep Gladiator Rubicon Crew Cab Pickup 4-Door
2020 Jeep Gladiator Sport Crew Cab Pickup 4-Door
2020 Jeep Gladiator Sport S Crew Cab Pickup 4-Door
2023 Jeep Wrangler Rubicon Sport Utility 2-Door
2023 Jeep Wrangler Sport S Sport Utility 2-Door
2023 Jeep Wrangler Sport Sport Utility 2-Door
2023 Jeep Wrangler Unlimited High Altitude 4xe Sport Utility 4-Door
2023 Jeep Wrangler Unlimited High Altitude Sport Utility 4-Door
2023 Jeep Wrangler Unlimited Rubicon 4xe Sport Utility 4-Door
2023 Jeep Wrangler Unlimited Rubicon 392 Sport Utility 4-Door
2023 Jeep Wrangler Unlimited Rubicon Sport Utility 4-Door
2023 Jeep Wrangler Unlimited Sahara 4xe Sport Utility 4-Door
2023 Jeep Wrangler Unlimited Sahara Altitude Sport Utility 4-Door
2023 Jeep Wrangler Unlimited Sahara High Altitude Sport Utility 4-Door
2023 Jeep Wrangler Unlimited Sahara Sport Utility 4-Door
2023 Jeep Wrangler Unlimited Sport Altitude Sport Utility 4-Door
2023 Jeep Wrangler Unlimited Sport S Sport Utility 4-Door
2023 Jeep Wrangler Unlimited Sport Sport Utility 4-Door
2023 Jeep Wrangler Unlimited Willys 4xe Sport Utility 4-Door
2023 Jeep Wrangler Unlimited Willys Sport Sport Utility 4-Door
2023 Jeep Wrangler Unlimited Willys Sport Utility 4-Door
2023 Jeep Wrangler Willys Sport Sport Utility 2-Door
2023 Jeep Wrangler Willys Sport Utility 2-Door
2022 Jeep Wrangler Rubicon Sport Utility 2-Door
2022 Jeep Wrangler Sport S Sport Utility 2-Door
2022 Jeep Wrangler Sport Sport Utility 2-Door
2022 Jeep Wrangler Unlimited Rubicon 392 Sport Utility 4-Door
2022 Jeep Wrangler Unlimited Rubicon Sport Utility 4-Door
2022 Jeep Wrangler Unlimited Sahara Altitude Sport Utility 4-Door
2022 Jeep Wrangler Unlimited Sahara High Altitude Sport Utility 4-Door
2022 Jeep Wrangler Unlimited Sahara Sport Utility 4-Door
2022 Jeep Wrangler Unlimited Sport Altitude Sport Utility 4-Door
2022 Jeep Wrangler Unlimited Sport S Sport Utility 4-Door
2022 Jeep Wrangler Unlimited Sport Sport Utility 4-Door
2022 Jeep Wrangler Unlimited Willys Sport Sport Utility 4-Door
2022 Jeep Wrangler Unlimited Willys Sport Utility 4-Door
2022 Jeep Wrangler Willys Sport Sport Utility 2-Door
2022 Jeep Wrangler Willys Sport Utility 2-Door
2021 Jeep Wrangler 80th Anniversary Sport Utility 2-Door
2021 Jeep Wrangler Freedom Sport Utility 2-Door
2021 Jeep Wrangler Islander Sport Utility 2-Door
2021 Jeep Wrangler Rubicon Sport Utility 2-Door
2021 Jeep Wrangler Sport S Sport Utility 2-Door
2021 Jeep Wrangler Sport Sport Utility 2-Door
2021 Jeep Wrangler Unlimited 80th Anniversary Sport Utility 4-Door
2021 Jeep Wrangler Unlimited Freedom Sport Utility 4-Door
2021 Jeep Wrangler Unlimited High Altitude Sport Utility 4-Door
2021 Jeep Wrangler Unlimited Islander Sport Utility 4-Door
2021 Jeep Wrangler Unlimited Rubicon 392 Sport Utility 4-Door
2021 Jeep Wrangler Unlimited Rubicon Sport Utility 4-Door
2021 Jeep Wrangler Unlimited Sahara Altitude Sport Utility 4-Door
2021 Jeep Wrangler Unlimited Sahara High Altitude Sport Utility 4-Door
2021 Jeep Wrangler Unlimited Sahara Sport Utility 4-Door
2021 Jeep Wrangler Unlimited Sport Altitude Sport Utility 4-Door
2021 Jeep Wrangler Unlimited Sport S Sport Utility 4-Door
2021 Jeep Wrangler Unlimited Sport Sport Utility 4-Door
2021 Jeep Wrangler Unlimited Willys Sport Sport Utility 4-Door
2021 Jeep Wrangler Unlimited Willys Sport Utility 4-Door
2021 Jeep Wrangler Willys Sport Sport Utility 2-Door
2021 Jeep Wrangler Willys Sport Utility 2-Door
2020 Jeep Wrangler Rubicon Deluxe Sport Utility 2-Door
2020 Jeep Wrangler Rubicon Sport Utility 2-Door
2020 Jeep Wrangler Sport S Sport Utility 2-Door
2020 Jeep Wrangler Sport Sport Utility 2-Door
2020 Jeep Wrangler Unlimited Black and Tan Sport Utility 2-Door
2020 Jeep Wrangler Unlimited Black and Tan Sport Utility 4-Door
2020 Jeep Wrangler Unlimited Freedom Sport Utility 2-Door
2020 Jeep Wrangler Unlimited Freedom Sport Utility 4-Door
2020 Jeep Wrangler Unlimited North Edition Sport Utility 4-Door
2020 Jeep Wrangler Unlimited Recon Sport Utility 2-Door
2020 Jeep Wrangler Unlimited Recon Sport Utility 4-Door
2020 Jeep Wrangler Unlimited Rubicon Deluxe Sport Utility 4-Door
2020 Jeep Wrangler Unlimited Rubicon Sport Utility 4-Door
2020 Jeep Wrangler Unlimited Rubicon Xtreme Sport Utility 4-Door
2020 Jeep Wrangler Unlimited Sahara Altitude Sport Utility 4-Door
2020 Jeep Wrangler Unlimited Sahara Sport Utility 4-Door
2020 Jeep Wrangler Unlimited Sport Altitude Sport Utility 4-Door
2020 Jeep Wrangler Unlimited Sport S Sport Utility 4-Door
2020 Jeep Wrangler Unlimited Sport Sport Utility 4-Door
2020 Jeep Wrangler Unlimited Willys Sport Utility 2-Door
2020 Jeep Wrangler Unlimited Willys Sport Utility 4-Door
2019 Jeep Wrangler Rubicon Deluxe Sport Utility 2-Door
2019 Jeep Wrangler Rubicon Sport Utility 2-Door
2019 Jeep Wrangler Sport S Sport Utility 2-Door
2019 Jeep Wrangler Sport Sport Utility 2-Door
2019 Jeep Wrangler Unlimited Moab Sport Utility 4-Door
2019 Jeep Wrangler Unlimited Rubicon Sport Utility 4-Door
2019 Jeep Wrangler Unlimited Sahara Altitude Sport Utility 4-Door
2019 Jeep Wrangler Unlimited Sahara Sport Utility 4-Door
2019 Jeep Wrangler Unlimited Sport S Sport Utility 4-Door
2019 Jeep Wrangler Unlimited Sport Sport Utility 4-Door
2018 Jeep Wrangler Rubicon Sport Utility 2-Door
2018 Jeep Wrangler Sport S Sport Utility 2-Door
2018 Jeep Wrangler Sport Sport Utility 2-Door
2018 Jeep Wrangler Unlimited Moab Sport Utility 4-Door
2018 Jeep Wrangler Unlimited Rubicon Sport Utility 4-Door
2018 Jeep Wrangler Unlimited Sahara Sport Utility 4-Door
2018 Jeep Wrangler Unlimited Sport S Sport Utility 4-Door
2018 Jeep Wrangler Unlimited Sport Sport Utility 4-Door
Package Included
1 x Front Bumper w/Mad Max Grill
2x 18W LED spotlights included
2 x D-rings w/rubber ring
Mounting Hardware
Fitment
2023 Jeep Gladiator High Altitude Crew Cab Pickup 4-Door
2023 Jeep Gladiator High Altitude Crew Cab Pickup 4-Door
2023 Jeep Gladiator Mojave Crew Cab Pickup 4-Door
2023 Jeep Gladiator Overland Crew Cab Pickup 4-Door
2023 Jeep Gladiator Rubicon Crew Cab Pickup 4-Door
2023 Jeep Gladiator Sport Crew Cab Pickup 4-Door
2023 Jeep Gladiator Sport S Crew Cab Pickup 4-Door
2023 Jeep Gladiator Sport S Crew Cab Pickup 4-Door
2023 Jeep Gladiator Willys Crew Cab Pickup 4-Door
2023 Jeep Gladiator Willys Crew Cab Pickup 4-Door
2023 Jeep Gladiator Willys Sport Crew Cab Pickup 4-Door
2023 Jeep Gladiator Willys Sport Crew Cab Pickup 4-Door
2022 Jeep Gladiator Altitude Crew Cab Pickup 4-Door
2022 Jeep Gladiator Altitude Crew Cab Pickup 4-Door
2022 Jeep Gladiator High Altitude Crew Cab Pickup 4-Door
2022 Jeep Gladiator High Altitude Crew Cab Pickup 4-Door
2022 Jeep Gladiator Mojave Crew Cab Pickup 4-Door
2022 Jeep Gladiator Overland Crew Cab Pickup 4-Door
2022 Jeep Gladiator Overland Crew Cab Pickup 4-Door
2022 Jeep Gladiator Rubicon Crew Cab Pickup 4-Door
2022 Jeep Gladiator Rubicon Crew Cab Pickup 4-Door
2022 Jeep Gladiator Sport Crew Cab Pickup 4-Door
2022 Jeep Gladiator Sport Crew Cab Pickup 4-Door
2022 Jeep Gladiator Sport S Crew Cab Pickup 4-Door
2022 Jeep Gladiator Sport S Crew Cab Pickup 4-Door
2022 Jeep Gladiator Willys Crew Cab Pickup 4-Door
2022 Jeep Gladiator Willys Crew Cab Pickup 4-Door
2022 Jeep Gladiator Willys Sport Crew Cab Pickup 4-Door
2022 Jeep Gladiator Willys Sport Crew Cab Pickup 4-Door
2021 Jeep Gladiator 80th Anniversary Crew Cab Pickup 4-Door
2021 Jeep Gladiator 80th Anniversary Crew Cab Pickup 4-Door
2021 Jeep Gladiator High Altitude Crew Cab Pickup 4-Door
2021 Jeep Gladiator High Altitude Crew Cab Pickup 4-Door
2021 Jeep Gladiator Mojave Crew Cab Pickup 4-Door
2021 Jeep Gladiator Overland Crew Cab Pickup 4-Door
2021 Jeep Gladiator Overland Crew Cab Pickup 4-Door
2021 Jeep Gladiator Rubicon Crew Cab Pickup 4-Door
2021 Jeep Gladiator Rubicon Crew Cab Pickup 4-Door
2021 Jeep Gladiator Sport Crew Cab Pickup 4-Door
2021 Jeep Gladiator Sport Crew Cab Pickup 4-Door
2021 Jeep Gladiator Sport S Crew Cab Pickup 4-Door
2021 Jeep Gladiator Sport S Crew Cab Pickup 4-Door
2021 Jeep Gladiator Willys Crew Cab Pickup 4-Door
2021 Jeep Gladiator Willys Crew Cab Pickup 4-Door
2021 Jeep Gladiator Willys Sport Crew Cab Pickup 4-Door
2021 Jeep Gladiator Willys Sport Crew Cab Pickup 4-Door
2020 Jeep Gladiator Altitude Crew Cab Pickup 4-Door
2020 Jeep Gladiator Launch Edition Crew Cab Pickup 4-Door
2020 Jeep Gladiator Mojave Crew Cab Pickup 4-Door
2020 Jeep Gladiator North Edition Crew Cab Pickup 4-Door
2020 Jeep Gladiator Overland Crew Cab Pickup 4-Door
2020 Jeep Gladiator Rubicon Crew Cab Pickup 4-Door
2020 Jeep Gladiator Sport Crew Cab Pickup 4-Door
2020 Jeep Gladiator Sport S Crew Cab Pickup 4-Door
2023 Jeep Wrangler Rubicon Sport Utility 2-Door
2023 Jeep Wrangler Sport S Sport Utility 2-Door
2023 Jeep Wrangler Sport Sport Utility 2-Door
2023 Jeep Wrangler Unlimited High Altitude 4xe Sport Utility 4-Door
2023 Jeep Wrangler Unlimited High Altitude Sport Utility 4-Door
2023 Jeep Wrangler Unlimited Rubicon 4xe Sport Utility 4-Door
2023 Jeep Wrangler Unlimited Rubicon 392 Sport Utility 4-Door
2023 Jeep Wrangler Unlimited Rubicon Sport Utility 4-Door
2023 Jeep Wrangler Unlimited Sahara 4xe Sport Utility 4-Door
2023 Jeep Wrangler Unlimited Sahara Altitude Sport Utility 4-Door
2023 Jeep Wrangler Unlimited Sahara High Altitude Sport Utility 4-Door
2023 Jeep Wrangler Unlimited Sahara Sport Utility 4-Door
2023 Jeep Wrangler Unlimited Sport Altitude Sport Utility 4-Door
2023 Jeep Wrangler Unlimited Sport S Sport Utility 4-Door
2023 Jeep Wrangler Unlimited Sport Sport Utility 4-Door
2023 Jeep Wrangler Unlimited Willys 4xe Sport Utility 4-Door
2023 Jeep Wrangler Unlimited Willys Sport Sport Utility 4-Door
2023 Jeep Wrangler Unlimited Willys Sport Utility 4-Door
2023 Jeep Wrangler Willys Sport Sport Utility 2-Door
2023 Jeep Wrangler Willys Sport Utility 2-Door
2022 Jeep Wrangler Rubicon Sport Utility 2-Door
2022 Jeep Wrangler Sport S Sport Utility 2-Door
2022 Jeep Wrangler Sport Sport Utility 2-Door
2022 Jeep Wrangler Unlimited Rubicon 392 Sport Utility 4-Door
2022 Jeep Wrangler Unlimited Rubicon Sport Utility 4-Door
2022 Jeep Wrangler Unlimited Sahara Altitude Sport Utility 4-Door
2022 Jeep Wrangler Unlimited Sahara High Altitude Sport Utility 4-Door
2022 Jeep Wrangler Unlimited Sahara Sport Utility 4-Door
2022 Jeep Wrangler Unlimited Sport Altitude Sport Utility 4-Door
2022 Jeep Wrangler Unlimited Sport S Sport Utility 4-Door
2022 Jeep Wrangler Unlimited Sport Sport Utility 4-Door
2022 Jeep Wrangler Unlimited Willys Sport Sport Utility 4-Door
2022 Jeep Wrangler Unlimited Willys Sport Utility 4-Door
2022 Jeep Wrangler Willys Sport Sport Utility 2-Door
2022 Jeep Wrangler Willys Sport Utility 2-Door
2021 Jeep Wrangler 80th Anniversary Sport Utility 2-Door
2021 Jeep Wrangler Freedom Sport Utility 2-Door
2021 Jeep Wrangler Islander Sport Utility 2-Door
2021 Jeep Wrangler Rubicon Sport Utility 2-Door
2021 Jeep Wrangler Sport S Sport Utility 2-Door
2021 Jeep Wrangler Sport Sport Utility 2-Door
2021 Jeep Wrangler Unlimited 80th Anniversary Sport Utility 4-Door
2021 Jeep Wrangler Unlimited Freedom Sport Utility 4-Door
2021 Jeep Wrangler Unlimited High Altitude Sport Utility 4-Door
2021 Jeep Wrangler Unlimited Islander Sport Utility 4-Door
2021 Jeep Wrangler Unlimited Rubicon 392 Sport Utility 4-Door
2021 Jeep Wrangler Unlimited Rubicon Sport Utility 4-Door
2021 Jeep Wrangler Unlimited Sahara Altitude Sport Utility 4-Door
2021 Jeep Wrangler Unlimited Sahara High Altitude Sport Utility 4-Door
2021 Jeep Wrangler Unlimited Sahara Sport Utility 4-Door
2021 Jeep Wrangler Unlimited Sport Altitude Sport Utility 4-Door
2021 Jeep Wrangler Unlimited Sport S Sport Utility 4-Door
2021 Jeep Wrangler Unlimited Sport Sport Utility 4-Door
2021 Jeep Wrangler Unlimited Willys Sport Sport Utility 4-Door
2021 Jeep Wrangler Unlimited Willys Sport Utility 4-Door
2021 Jeep Wrangler Willys Sport Sport Utility 2-Door
2021 Jeep Wrangler Willys Sport Utility 2-Door
2020 Jeep Wrangler Rubicon Deluxe Sport Utility 2-Door
2020 Jeep Wrangler Rubicon Sport Utility 2-Door
2020 Jeep Wrangler Sport S Sport Utility 2-Door
2020 Jeep Wrangler Sport Sport Utility 2-Door
2020 Jeep Wrangler Unlimited Black and Tan Sport Utility 2-Door
2020 Jeep Wrangler Unlimited Black and Tan Sport Utility 4-Door
2020 Jeep Wrangler Unlimited Freedom Sport Utility 2-Door
2020 Jeep Wrangler Unlimited Freedom Sport Utility 4-Door
2020 Jeep Wrangler Unlimited North Edition Sport Utility 4-Door
2020 Jeep Wrangler Unlimited Recon Sport Utility 2-Door
2020 Jeep Wrangler Unlimited Recon Sport Utility 4-Door
2020 Jeep Wrangler Unlimited Rubicon Deluxe Sport Utility 4-Door
2020 Jeep Wrangler Unlimited Rubicon Sport Utility 4-Door
2020 Jeep Wrangler Unlimited Rubicon Xtreme Sport Utility 4-Door
2020 Jeep Wrangler Unlimited Sahara Altitude Sport Utility 4-Door
2020 Jeep Wrangler Unlimited Sahara Sport Utility 4-Door
2020 Jeep Wrangler Unlimited Sport Altitude Sport Utility 4-Door
2020 Jeep Wrangler Unlimited Sport S Sport Utility 4-Door
2020 Jeep Wrangler Unlimited Sport Sport Utility 4-Door
2020 Jeep Wrangler Unlimited Willys Sport Utility 2-Door
2020 Jeep Wrangler Unlimited Willys Sport Utility 4-Door
2019 Jeep Wrangler Rubicon Deluxe Sport Utility 2-Door
2019 Jeep Wrangler Rubicon Sport Utility 2-Door
2019 Jeep Wrangler Sport S Sport Utility 2-Door
2019 Jeep Wrangler Sport Sport Utility 2-Door
2019 Jeep Wrangler Unlimited Moab Sport Utility 4-Door
2019 Jeep Wrangler Unlimited Rubicon Sport Utility 4-Door
2019 Jeep Wrangler Unlimited Sahara Altitude Sport Utility 4-Door
2019 Jeep Wrangler Unlimited Sahara Sport Utility 4-Door
2019 Jeep Wrangler Unlimited Sport S Sport Utility 4-Door
2019 Jeep Wrangler Unlimited Sport Sport Utility 4-Door
2018 Jeep Wrangler Rubicon Sport Utility 2-Door
2018 Jeep Wrangler Sport S Sport Utility 2-Door
2018 Jeep Wrangler Sport Sport Utility 2-Door
2018 Jeep Wrangler Unlimited Moab Sport Utility 4-Door
2018 Jeep Wrangler Unlimited Rubicon Sport Utility 4-Door
2018 Jeep Wrangler Unlimited Sahara Sport Utility 4-Door
2018 Jeep Wrangler Unlimited Sport S Sport Utility 4-Door
2018 Jeep Wrangler Unlimited Sport Sport Utility 4-Door