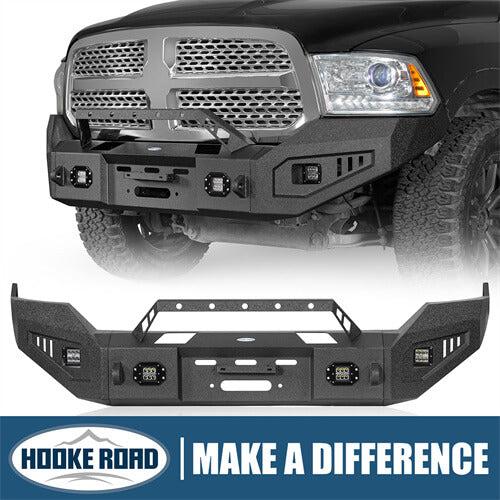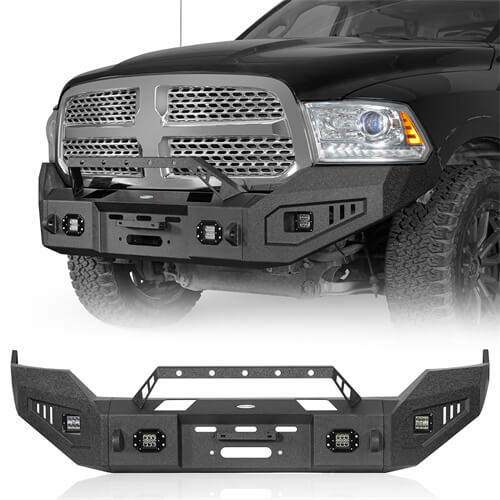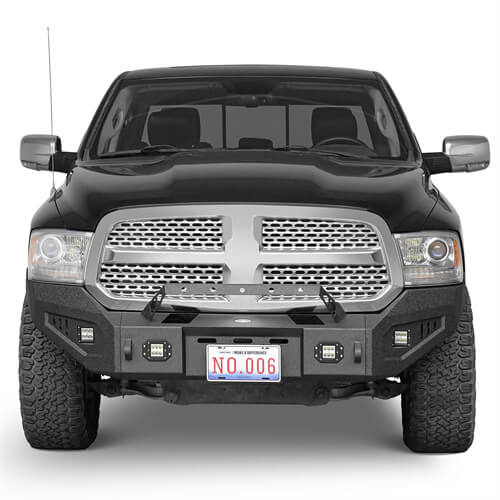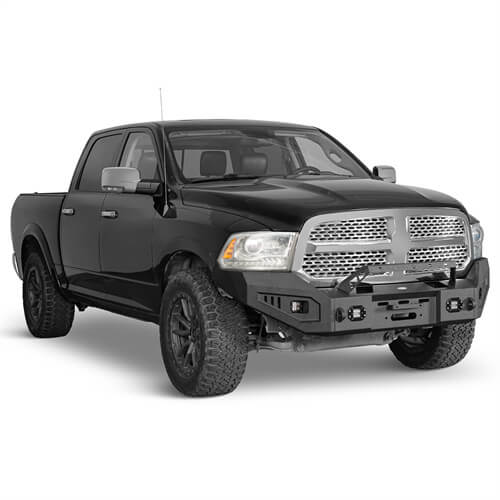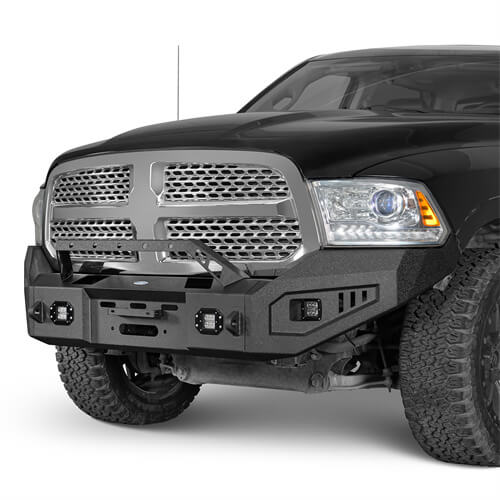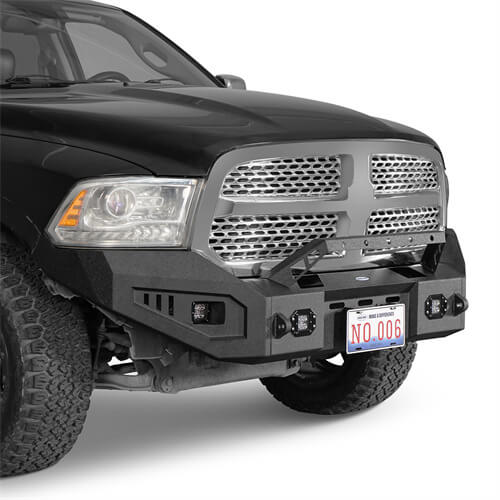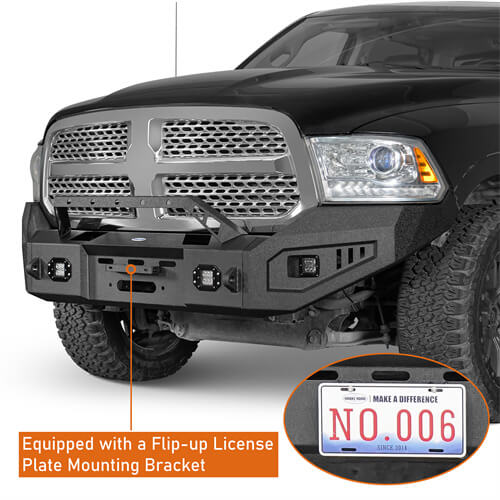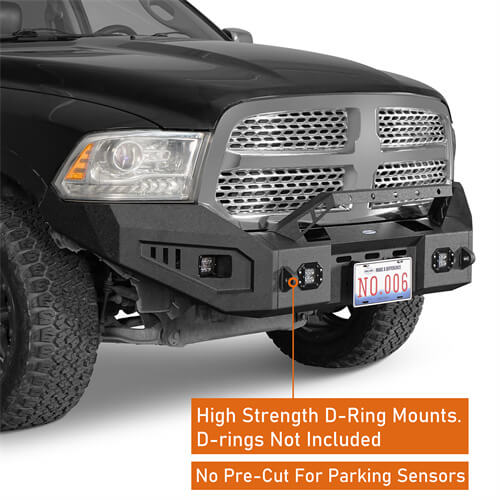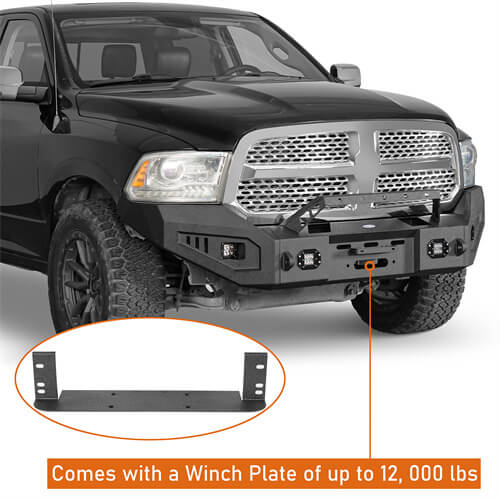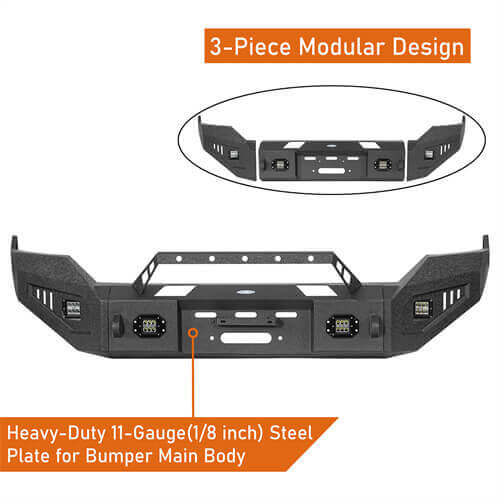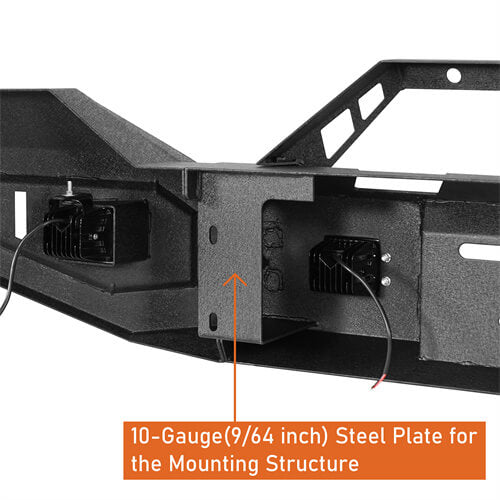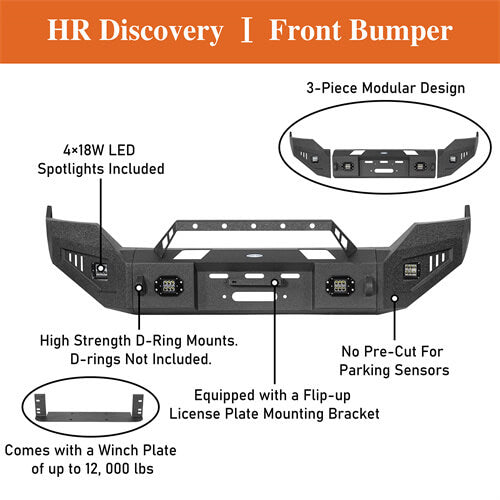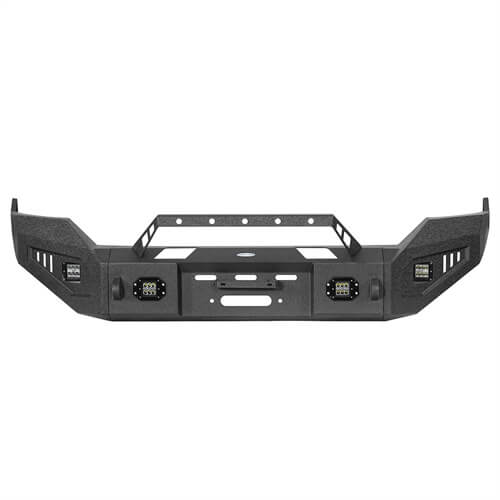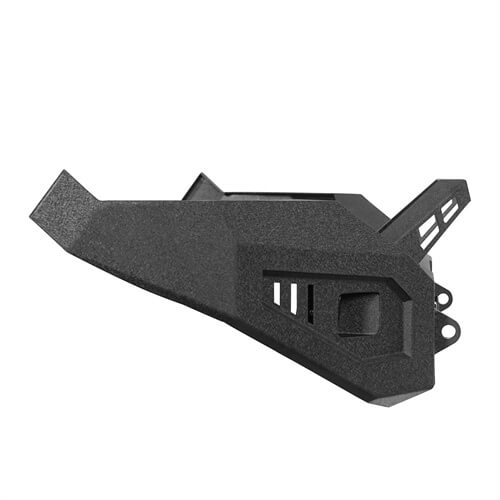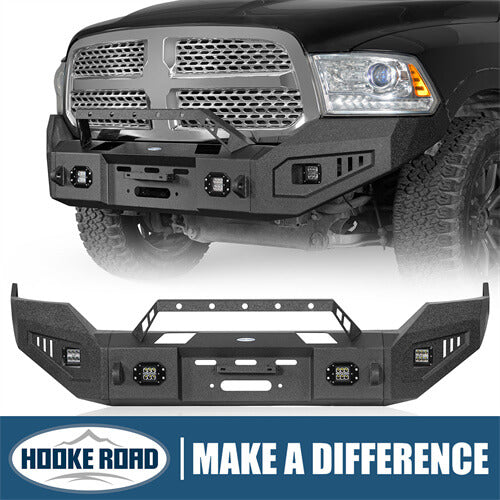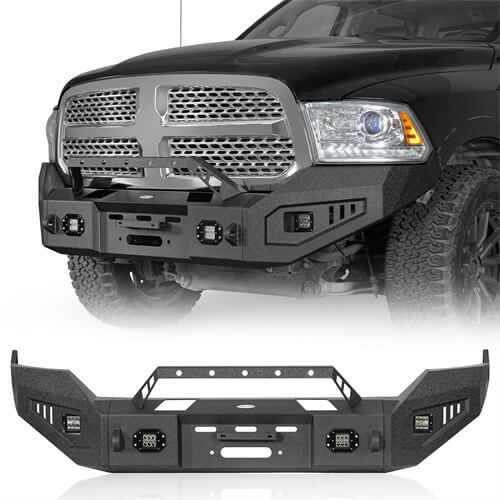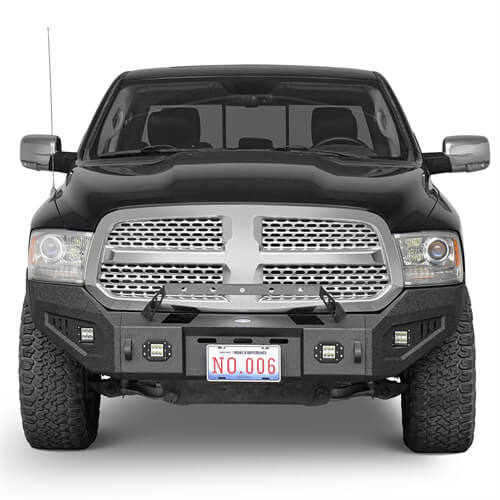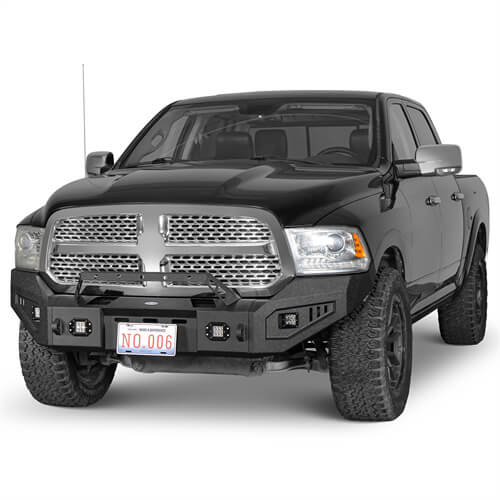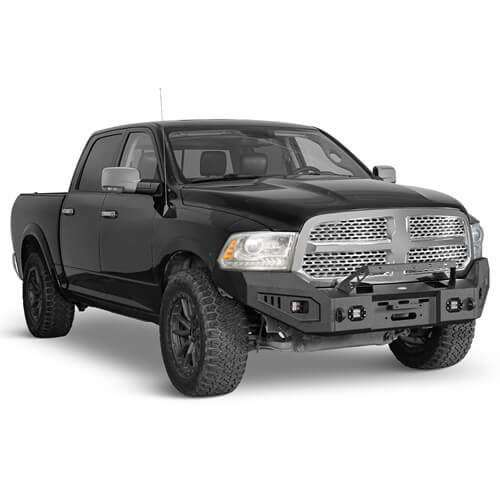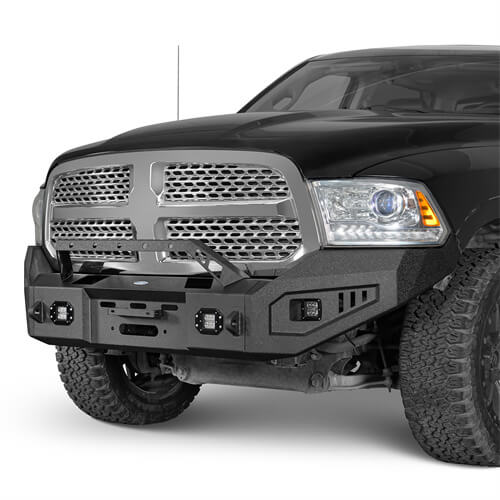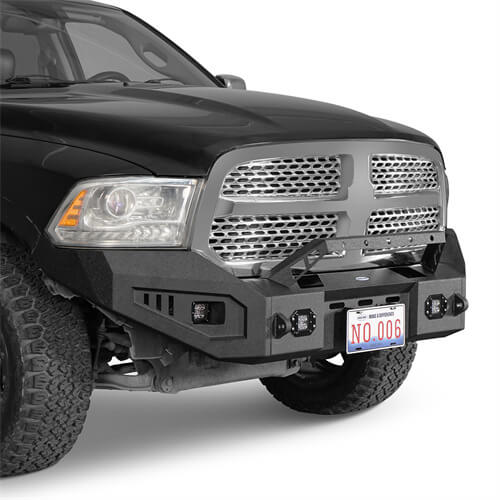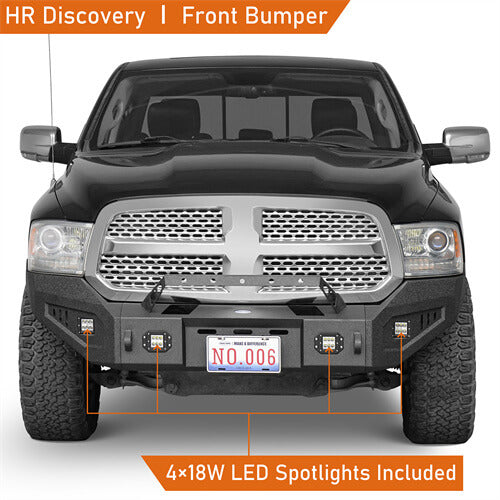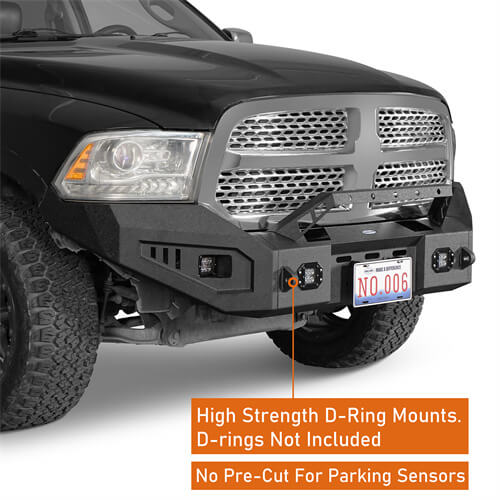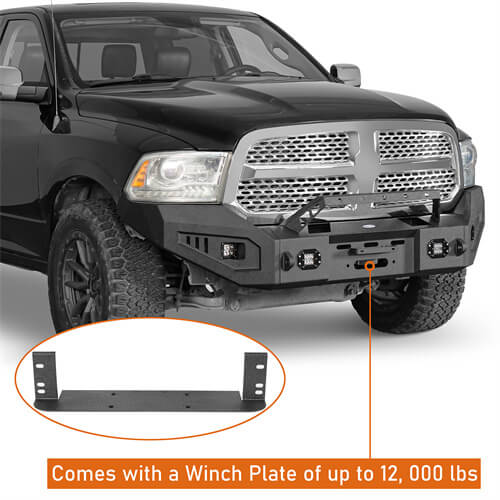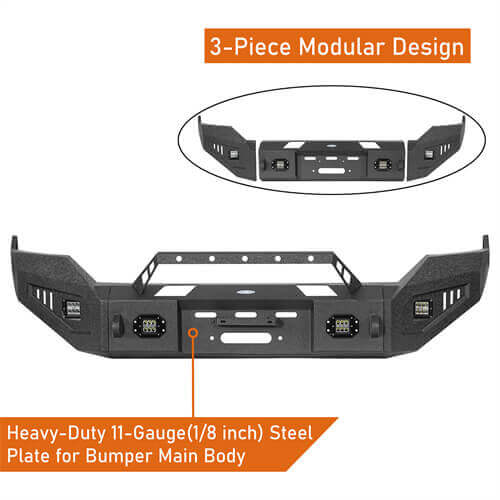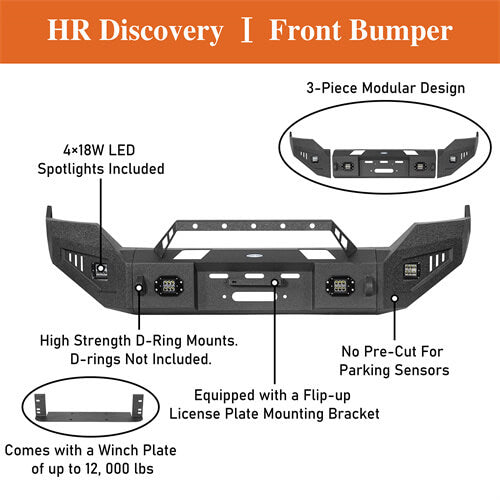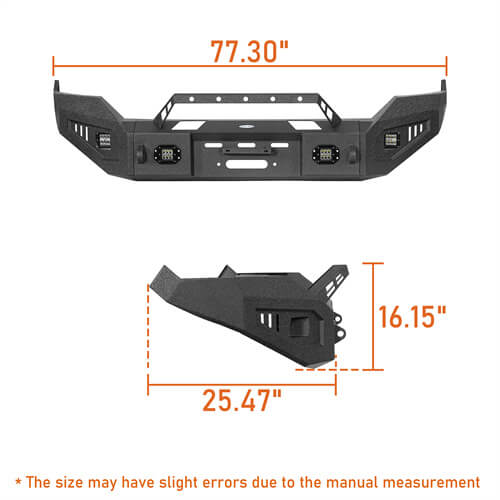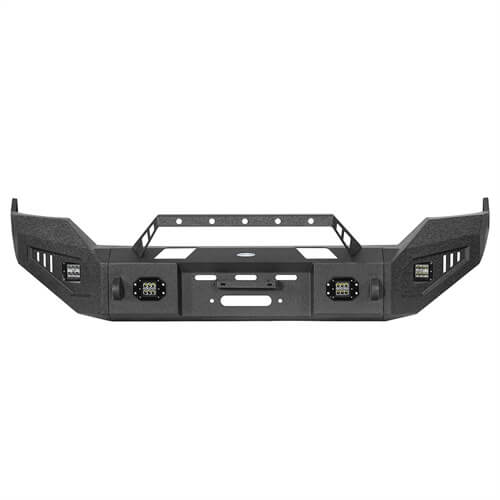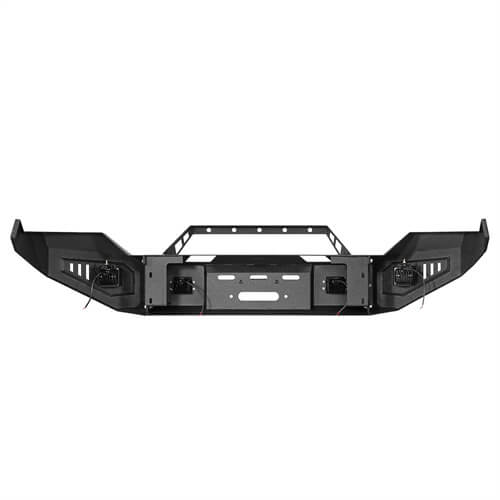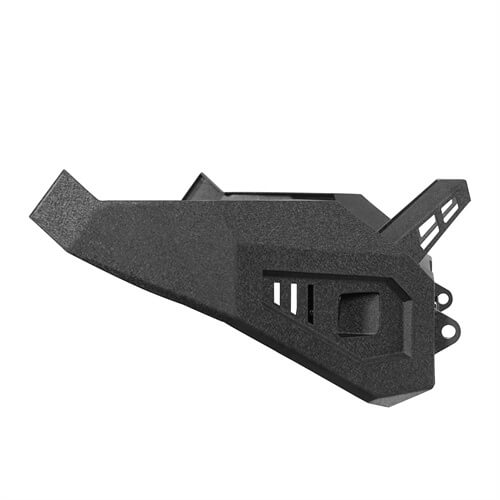 Name: Hooke Road 13-18 Ram 1500 Aftermarket Front Bumper w/ Winch Plate & LED Spotlights
Feature
Compatible with 2013-2018 Ram 1500 Models (Excluding Rebel)
Bumper weight: about 88 lbs, 3-piece modular design
Heavy-duty, high tensile 11-gauge (1/8 in) steel for bumper main body, 10-gauge(9/64 in) steel for mounting structure
Textured black powder coat finish & Premium E-coating process inside
Enhanced protection with assertive off-road style for a rugged and bold appearance
Includes 4×18W LED spotlights
Comes with a winch plate for up to 12, 000 lbs winch
Equipped with a flip-up license plate mounting bracket
Features high strength D-ring mounts, D-rings not included
Not compatible with factory parking sensors
Direct bolt-on installation without drilling or cutting
Dimension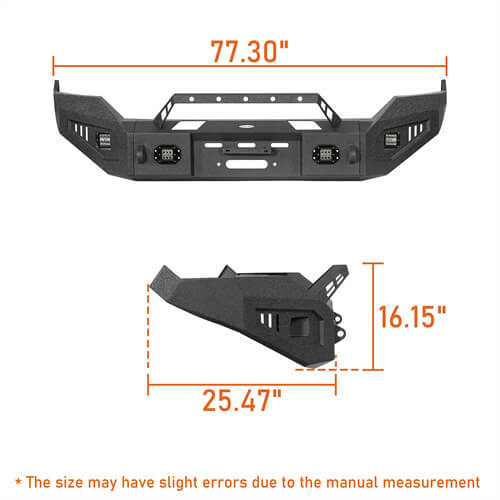 Durable, rugged aesthetics. The HR Discovery Ⅰ Front Bumper, featuring a 3-piece modular design, provides robust protection combined with an aggressive off-road style for a bold and rugged appearance. It comes with four powerful 18W LED spotlights for enhanced illumination. The bumper incorporates high-strength D-ring mounts, though D-rings are not included. With a winch plate supporting up to 12,000 lbs, it's ready for heavy-duty action. Additionally, it's equipped with a flip-up license plate mounting bracket, offering versatility and functionality. This all comes together to enhance your vehicle's capabilities and style in challenging off-road situations.

Heavy Duty Steel Structure. Crafted from heavy-duty, high-tensile 11-gauge (1/8 inch) steel for the bumper main body, and fortified with 10-gauge (9/64 inch) steel for the mounting structure, this bumper offers exceptional strength and durability. It boasts a textured black powder coat finish that not only enhances its appearance but also provides superior protection. Inside, a premium E-coating process further shields against corrosion and rust, ensuring long-lasting quality. This bumper combines rugged durability with refined finishes for a formidable and stylish addition to your vehicle, built to withstand the harshest off-road conditions.

Straightforward Bolt-On Installation. The front bumper installation is a breeze. It's designed for direct bolt-on installation, eliminating the need for drilling or cutting. Begin by removing your vehicle's original bumper. Then, attach the winch plate to the car frame using the provided mounting plates. Assemble the remaining components to create the full bumper and position it onto the car frame, adjusting as necessary. Finally, securely tighten all the bolts. This user-friendly process requires no specialized tools and can be completed quickly and efficiently, enhancing vehicle off-road capabilities without complex installation procedures.
1 × Front Bumper Assembly
4 × LED Spotlights
1 × Winch Plate
1 × License Plate Mounting Bracket
1 × Mounting Hardware Kit
1 × Installation Instruction
2018 Ram 1500 Big Horn
2018 Ram 1500 Express
2018 Ram 1500 HFE
2018 Ram 1500 Laramie
2018 Ram 1500 Lone Star
2018 Ram 1500 Outdoorsman
2018 Ram 1500 SLT
2018 Ram 1500 ST
2018 Ram 1500 SXT
2018 Ram 1500 Special Service Crew Cab
2018 Ram 1500 Sport
2018 Ram 1500 Tradesman
2017 Ram 1500 Big Horn
2017 Ram 1500 Express
2017 Ram 1500 Express
2017 Ram 1500 HFE
2017 Ram 1500 Laramie
2017 Ram 1500 Lone Star
2017 Ram 1500 Outdoorsman
2017 Ram 1500 SLT
2017 Ram 1500 ST
2017 Ram 1500 SXT
2017 Ram 1500 Special Service Crew Cab
2017 Ram 1500 Sport
2017 Ram 1500 Tradesman
2016 Ram 1500 Big Horn
2016 Ram 1500 Express
2016 Ram 1500 HFE
2016 Ram 1500 Laramie
2016 Ram 1500 Lone Star
2016 Ram 1500 Outdoorsman
2016 Ram 1500 SLT
2016 Ram 1500 ST
2016 Ram 1500 SXT
2015 Ram 1500 Big Horn
2015 Ram 1500 Express
2015 Ram 1500 HFE Standard Cab Pickup 2-Door
2015 Ram 1500 Laramie
2015 Ram 1500 Limited Crew Cab
2015 Ram 1500 Lone Star
2015 Ram 1500 Outdoorsman
2015 Ram 1500 SLT
2015 Ram 1500 ST
2015 Ram 1500 SXT
2015 Ram 1500 Special Service Crew Cab Pickup 4-Door
2015 Ram 1500 Sport
2015 Ram 1500 Tradesman
2014 Ram 1500 Big Horn
2014 Ram 1500 Express
2014 Ram 1500 HFE
2014 Ram 1500 Laramie
2014 Ram 1500 Lone Star
2014 Ram 1500 Outdoorsman
2014 Ram 1500 Limited Crew Cab
2014 Ram 1500 Lone Star
2014 Ram 1500 Outdoorsman
2014 Ram 1500 SLT
2014 Ram 1500 ST
2014 Ram 1500 SXT
2014 Ram 1500 Special Service Crew Cab Pickup 4-Door
2014 Ram 1500 Sport
2014 Ram 1500 Tradesman
2013 Ram 1500 Big Horn
2013 Ram 1500 Express
2013 Ram 1500 HFE Standard Cab Pickup 2-Door
2013 Ram 1500 Laramie
2013 Ram 1500 Limited Crew Cab
2013 Ram 1500 Lone Star
2013 Ram 1500 Outdoorsman
2013 Ram 1500 SLT
2013 Ram 1500 ST
2013 Ram 1500 SXT
2013 Ram 1500 Special Service Crew Cab Pickup 4-Door
2013 Ram 1500 Sport
2013 Ram 1500 Tradesman
Package Included
1 × Front Bumper Assembly
4 × LED Spotlights
1 × Winch Plate
1 × License Plate Mounting Bracket
1 × Mounting Hardware Kit
1 × Installation Instruction
Fitment
2018 Ram 1500 Big Horn
2018 Ram 1500 Express
2018 Ram 1500 HFE
2018 Ram 1500 Laramie
2018 Ram 1500 Lone Star
2018 Ram 1500 Outdoorsman
2018 Ram 1500 SLT
2018 Ram 1500 ST
2018 Ram 1500 SXT
2018 Ram 1500 Special Service Crew Cab
2018 Ram 1500 Sport
2018 Ram 1500 Tradesman
2017 Ram 1500 Big Horn
2017 Ram 1500 Express
2017 Ram 1500 Express
2017 Ram 1500 HFE
2017 Ram 1500 Laramie
2017 Ram 1500 Lone Star
2017 Ram 1500 Outdoorsman
2017 Ram 1500 SLT
2017 Ram 1500 ST
2017 Ram 1500 SXT
2017 Ram 1500 Special Service Crew Cab
2017 Ram 1500 Sport
2017 Ram 1500 Tradesman
2016 Ram 1500 Big Horn
2016 Ram 1500 Express
2016 Ram 1500 HFE
2016 Ram 1500 Laramie
2016 Ram 1500 Lone Star
2016 Ram 1500 Outdoorsman
2016 Ram 1500 SLT
2016 Ram 1500 ST
2016 Ram 1500 SXT
2015 Ram 1500 Big Horn
2015 Ram 1500 Express
2015 Ram 1500 HFE Standard Cab Pickup 2-Door
2015 Ram 1500 Laramie
2015 Ram 1500 Limited Crew Cab
2015 Ram 1500 Lone Star
2015 Ram 1500 Outdoorsman
2015 Ram 1500 SLT
2015 Ram 1500 ST
2015 Ram 1500 SXT
2015 Ram 1500 Special Service Crew Cab Pickup 4-Door
2015 Ram 1500 Sport
2015 Ram 1500 Tradesman
2014 Ram 1500 Big Horn
2014 Ram 1500 Express
2014 Ram 1500 HFE
2014 Ram 1500 Laramie
2014 Ram 1500 Lone Star
2014 Ram 1500 Outdoorsman
2014 Ram 1500 Limited Crew Cab
2014 Ram 1500 Lone Star
2014 Ram 1500 Outdoorsman
2014 Ram 1500 SLT
2014 Ram 1500 ST
2014 Ram 1500 SXT
2014 Ram 1500 Special Service Crew Cab Pickup 4-Door
2014 Ram 1500 Sport
2014 Ram 1500 Tradesman
2013 Ram 1500 Big Horn
2013 Ram 1500 Express
2013 Ram 1500 HFE Standard Cab Pickup 2-Door
2013 Ram 1500 Laramie
2013 Ram 1500 Limited Crew Cab
2013 Ram 1500 Lone Star
2013 Ram 1500 Outdoorsman
2013 Ram 1500 SLT
2013 Ram 1500 ST
2013 Ram 1500 SXT
2013 Ram 1500 Special Service Crew Cab Pickup 4-Door
2013 Ram 1500 Sport
2013 Ram 1500 Tradesman