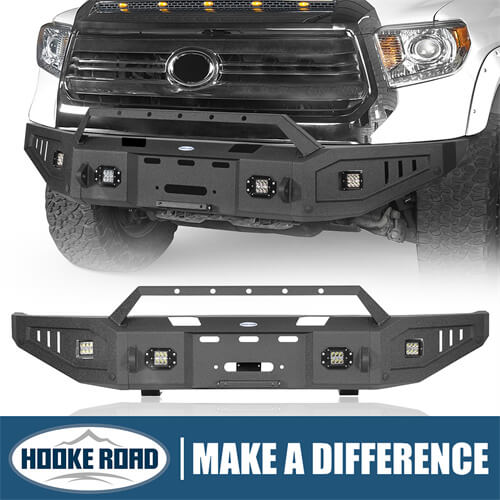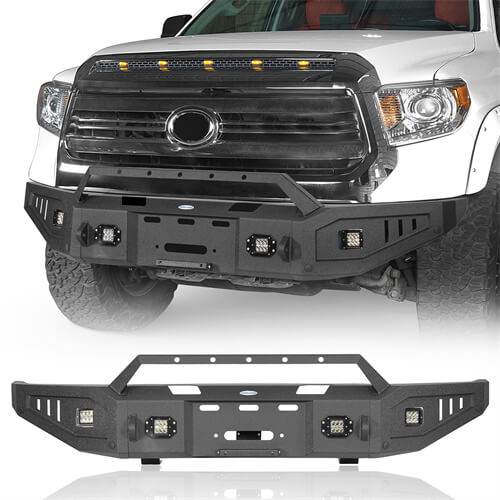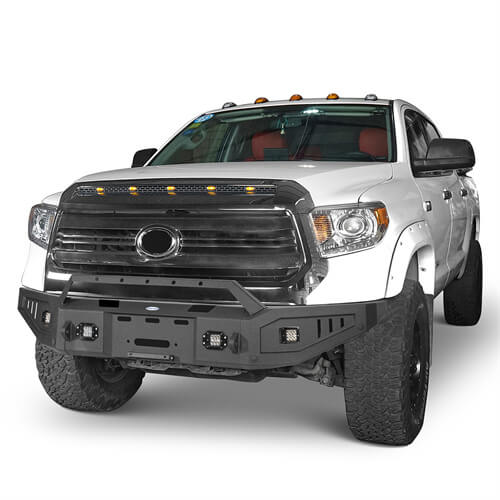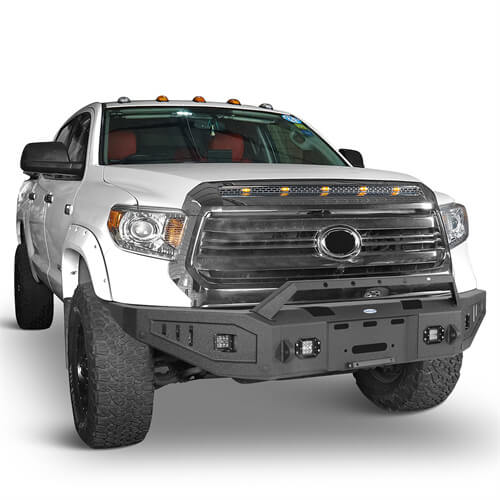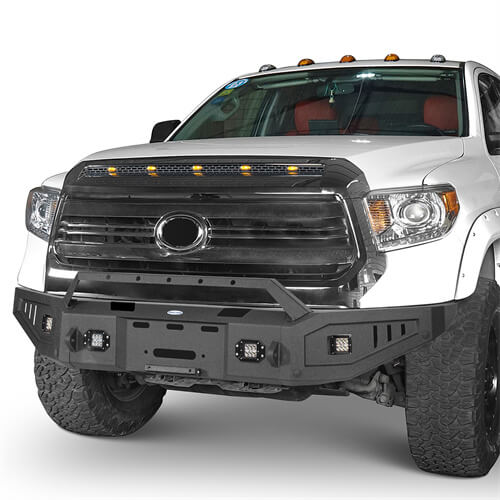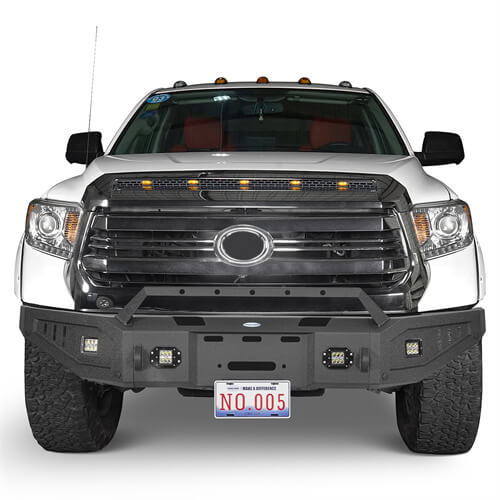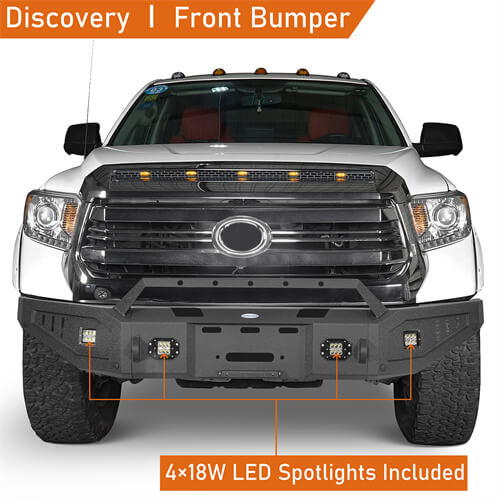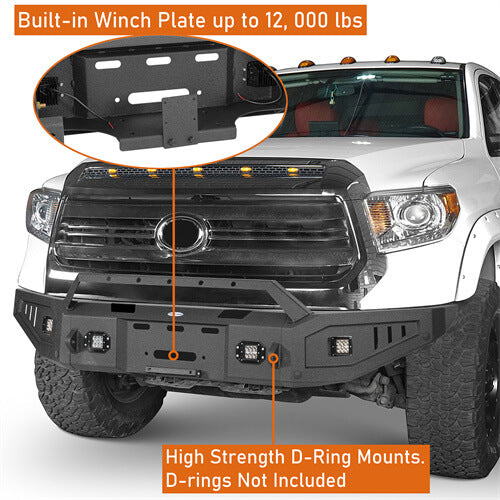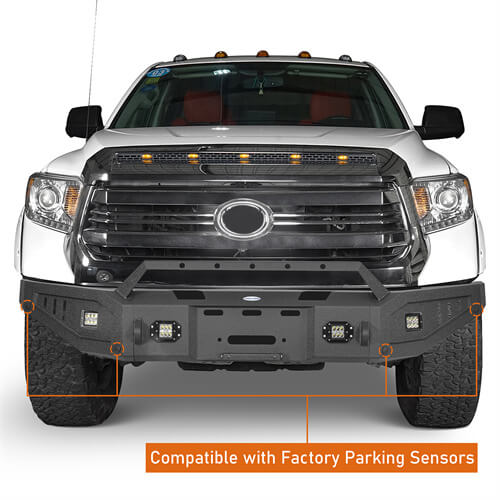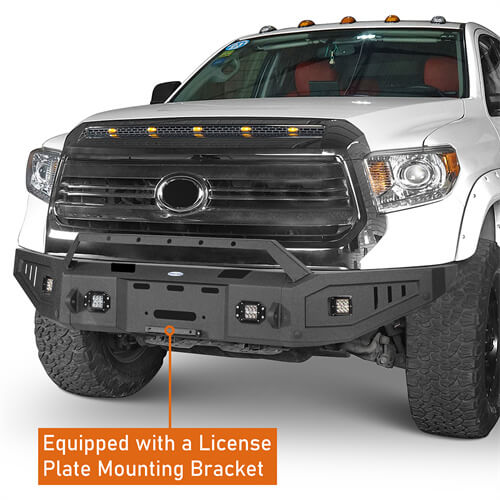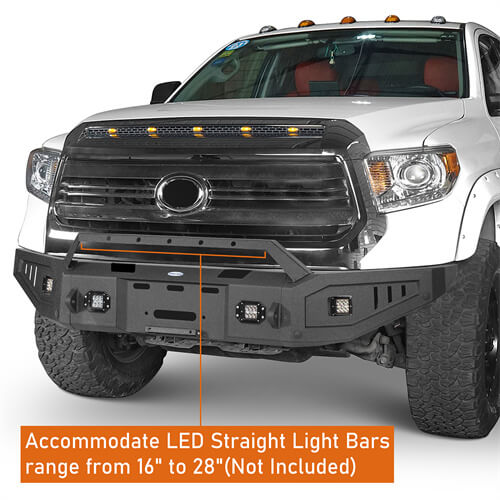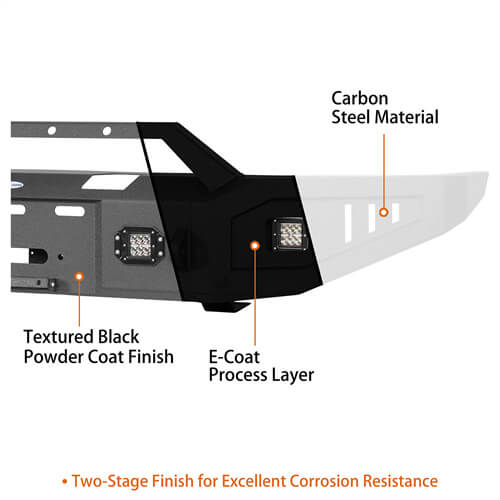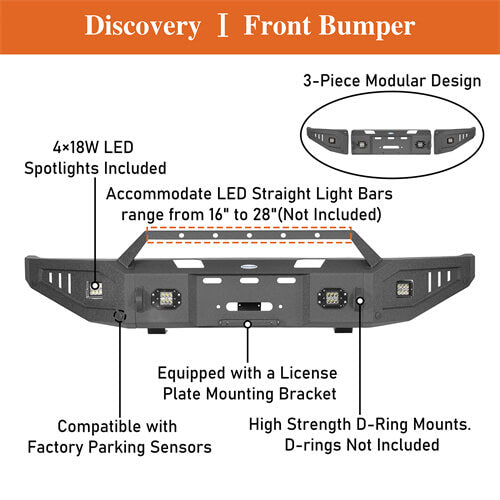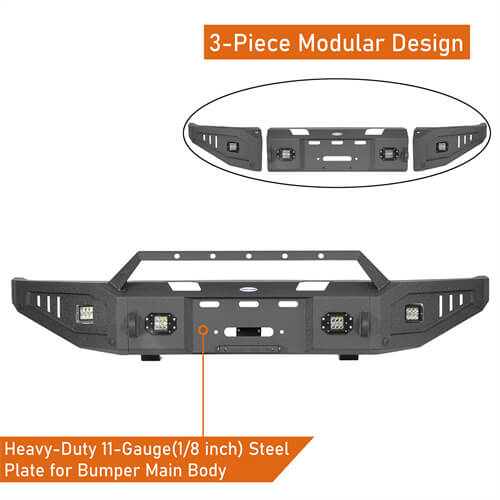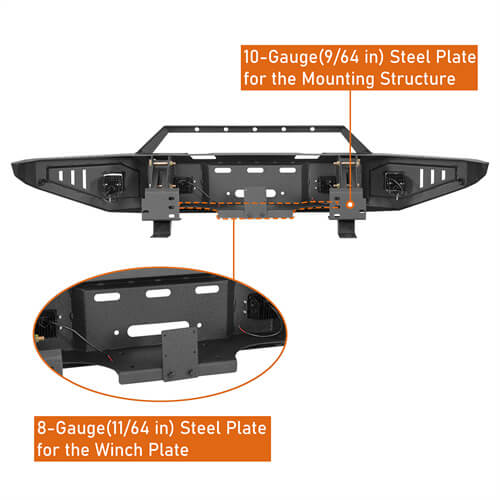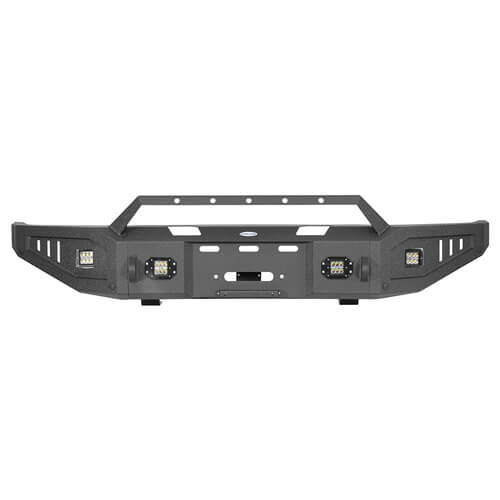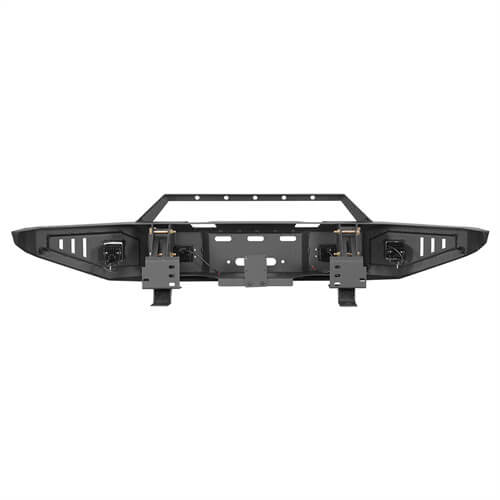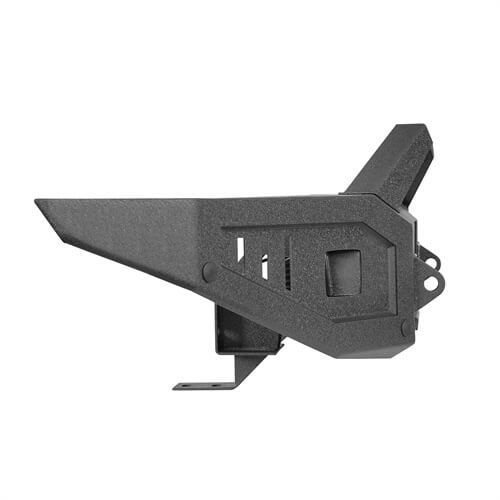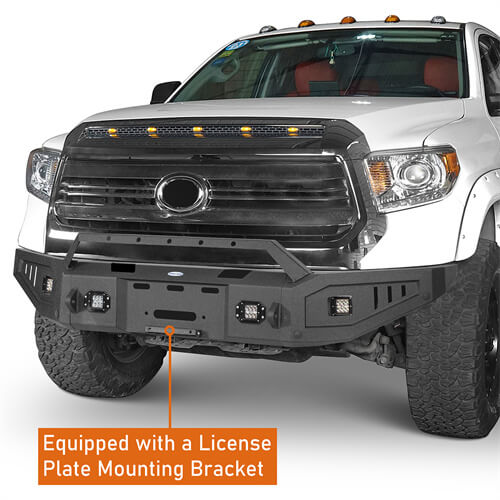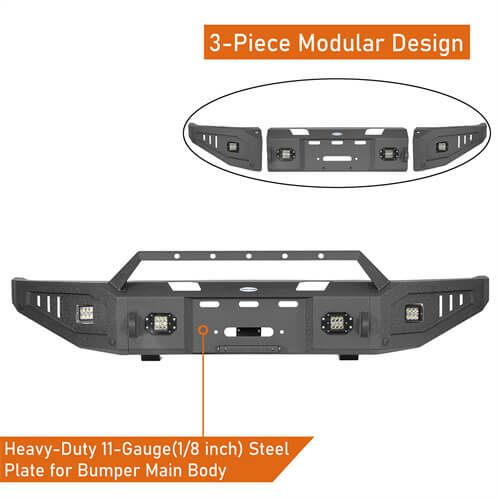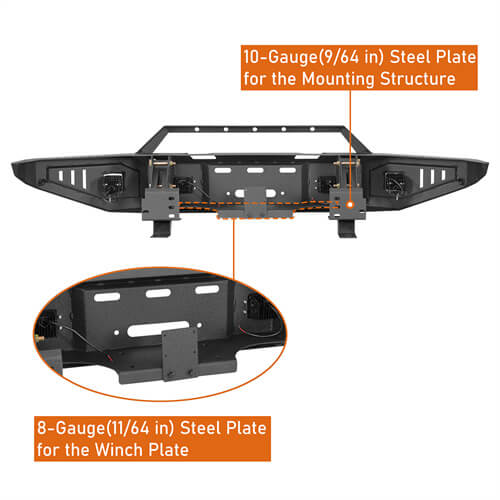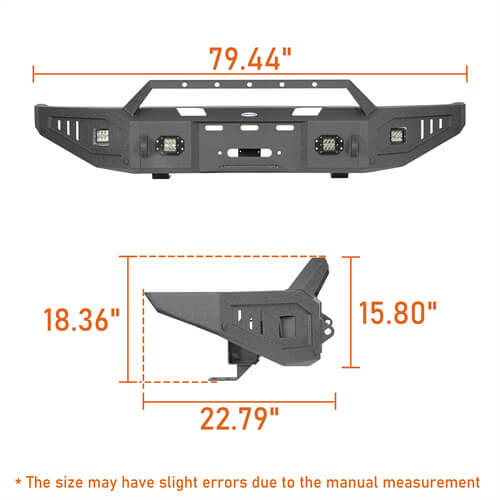 Name: Offroad Full Width Front Bumper w/ Winch Plate & LED Lights
Are you looking for front bumper? The Discovery Ⅰ Full Width Front Bumper offers a range of features designed to enhance its functionality and aesthetics. It includes 4×18W LED spotlights, which contribute to improved visibility during off-road adventures. The bumper has a built-in winch plate capable of handling weights of up to 12,000 lbs, adding to the bumper's versatility. In addition, it is equipped with high strength D-ring mounts and a license plate mounting bracket. These features collectively make it a versatile and functional upgrade for your vehicle.
Feature
Compatible with 2014-2021 Toyota Tundra Models
Bumper weight: about 100 lbs, 3-piece modular design
Heavy-duty, high tensile 11-gauge (1/8 in) steel for the bumper main body, 10-gauge(9/64 in) steel for the mounting structure, 8-gauge(11/64 in) steel for the winch plate
Textured black powder coat finish and premium E-coating process inside
Includes 4×18W LED spotlights
Accommodate LED straight light bars ranging from 16" to 28"(Not Included)
Features high strength D-ring mounts, D-rings not included
Built-in winch plate up to 12, 000 lbs
Equipped with a license plate mounting bracket
Compatible with factory parking sensors
Direct bolt-on installation
Dimension
Something you want to know
Heavy Duty Construction. The Discovery Ⅰ Full Width Front Bumper is constructed using heavy-duty steel for various components, with the bumper main body made from high tensile 11-gauge steel, the mounting structure from 10-gauge steel, and the winch plate from 8-gauge steel. The exterior features a textured black powder coat finish, and the interior is protected by a premium E-coating process against rust and corrosion.

Direct Bolt-On Installation. The front bumper with an easy installation feature comes with clear instructions and all the necessary hardware for attaching the product to your vehicle. Just remove the old bumper and attach the new one using the provided bolts and hardware. Basic hand tools are usually sufficient to complete the installation, and the process can be accomplished without the need for drilling, cutting, or complex modifications.
1 × Front Bumper Assembly
4 × LED Spotlights
2 × Mounting Brackets
1 × License Plate Mounting Bracket
1 × Mounting Hardware Kit
1 × Installation Instruction
2021 Toyota Tundra 1794 Crew Cab Pickup 4-Door
2021 Toyota Tundra Limited Crew Cab Pickup 4-Door
2021 Toyota Tundra Nightshade Crew Cab Pickup 4-Door
2021 Toyota Tundra SR5 Crew Cab Pickup 4-Door
2021 Toyota Tundra TRD Off-Road Crew Cab Pickup 4-Door
2020 Toyota Tundra 1794 Crew Cab Pickup 4-Door
2020 Toyota Tundra Limited Crew Cab Pickup 4-Door
2020 Toyota Tundra SR5 Crew Cab Pickup 4-Door
2019 Toyota Tundra 1794 Crew Cab Pickup 4-Door
2019 Toyota Tundra Limited Crew Cab Pickup 4-Door
2019 Toyota Tundra SR5 Crew Cab Pickup 4-Door
2018 Toyota Tundra 1794 Crew Cab Pickup 4-Door
2018 Toyota Tundra Limited Crew Cab Pickup 4-Door
2018 Toyota Tundra SR5 Crew Cab Pickup 4-Door
2017 Toyota Tundra Limited Crew Cab Pickup 4-Door
2017 Toyota Tundra Limited Crew Cab Pickup 4-Door
2017 Toyota Tundra SR5 Crew Cab Pickup 4-Door
2017 Toyota Tundra SR Standard Cab Pickup 2-Door
2017 Toyota Tundra TRD Pro Crew Cab Pickup 4-Door
2016 Toyota Tundra Limited Crew Cab Pickup 4-Door
2016 Toyota Tundra SR5 Crew Cab Pickup 4-Door
2016 Toyota Tundra SR Standard Cab Pickup 2-Door
2016 Toyota Tundra TRD Pro Crew Cab Pickup 4-Door
2015 Toyota Tundra Limited Crew Cab Pickup 4-Door
2015 Toyota Tundra SR5 Crew Cab Pickup 4-Door
2015 Toyota Tundra SR Standard Cab Pickup 2-Door
2015 Toyota Tundra TRD Pro Crew Cab Pickup 4-Door
2014 Toyota Tundra SR5 Crew Cab Pickup 4-Door
2014 Toyota Tundra SR Standard Cab Pickup 2-Door
2014 Toyota Tundra SR Standard Cab Pickup 2-Door
Package Included
1 × Front Bumper Assembly
4 × LED Spotlights
2 × Mounting Brackets
1 × License Plate Mounting Bracket
1 × Mounting Hardware Kit
1 × Installation Instruction
Fitment
2021 Toyota Tundra 1794 Crew Cab Pickup 4-Door
2021 Toyota Tundra Limited Crew Cab Pickup 4-Door
2021 Toyota Tundra Nightshade Crew Cab Pickup 4-Door
2021 Toyota Tundra SR5 Crew Cab Pickup 4-Door
2021 Toyota Tundra TRD Off-Road Crew Cab Pickup 4-Door
2020 Toyota Tundra 1794 Crew Cab Pickup 4-Door
2020 Toyota Tundra Limited Crew Cab Pickup 4-Door
2020 Toyota Tundra SR5 Crew Cab Pickup 4-Door
2019 Toyota Tundra 1794 Crew Cab Pickup 4-Door
2019 Toyota Tundra Limited Crew Cab Pickup 4-Door
2019 Toyota Tundra SR5 Crew Cab Pickup 4-Door
2018 Toyota Tundra 1794 Crew Cab Pickup 4-Door
2018 Toyota Tundra Limited Crew Cab Pickup 4-Door
2018 Toyota Tundra SR5 Crew Cab Pickup 4-Door
2017 Toyota Tundra Limited Crew Cab Pickup 4-Door
2017 Toyota Tundra Limited Crew Cab Pickup 4-Door
2017 Toyota Tundra SR5 Crew Cab Pickup 4-Door
2017 Toyota Tundra SR Standard Cab Pickup 2-Door
2017 Toyota Tundra TRD Pro Crew Cab Pickup 4-Door
2016 Toyota Tundra Limited Crew Cab Pickup 4-Door
2016 Toyota Tundra SR5 Crew Cab Pickup 4-Door
2016 Toyota Tundra SR Standard Cab Pickup 2-Door
2016 Toyota Tundra TRD Pro Crew Cab Pickup 4-Door
2015 Toyota Tundra Limited Crew Cab Pickup 4-Door
2015 Toyota Tundra SR5 Crew Cab Pickup 4-Door
2015 Toyota Tundra SR Standard Cab Pickup 2-Door
2015 Toyota Tundra TRD Pro Crew Cab Pickup 4-Door
2014 Toyota Tundra SR5 Crew Cab Pickup 4-Door
2014 Toyota Tundra SR Standard Cab Pickup 2-Door
2014 Toyota Tundra SR Standard Cab Pickup 2-Door