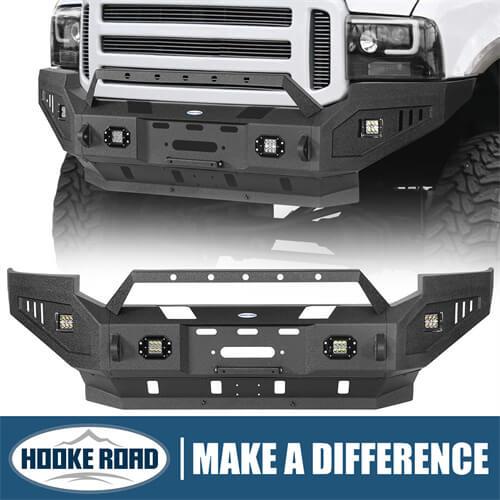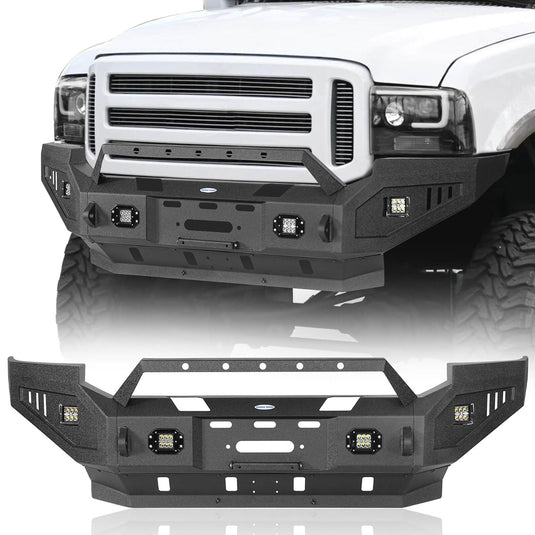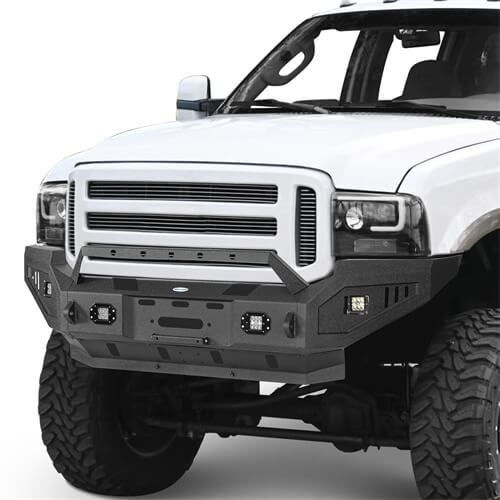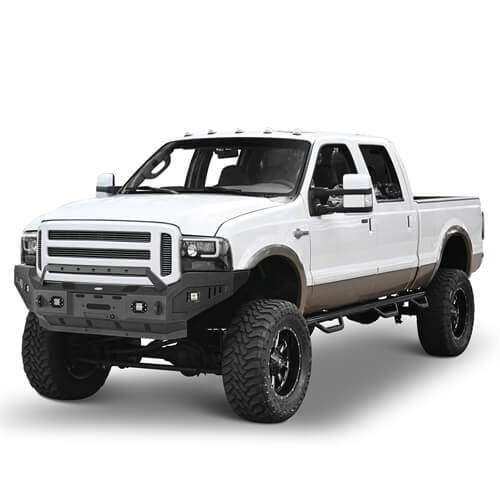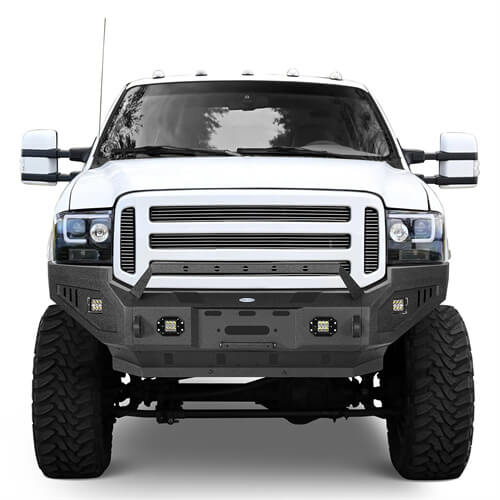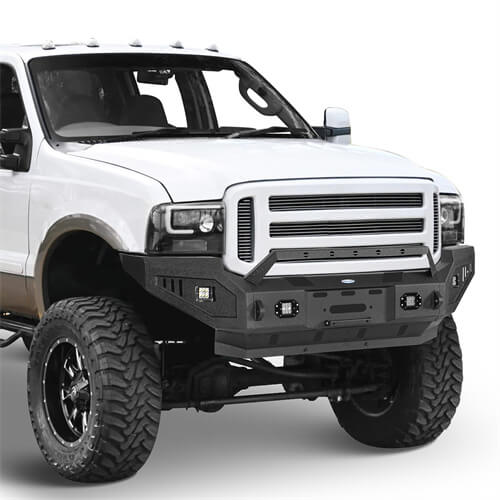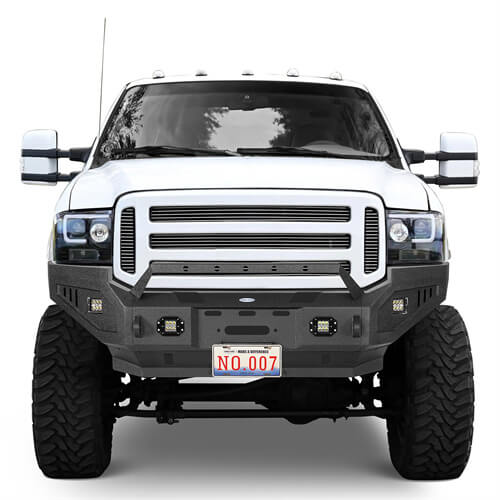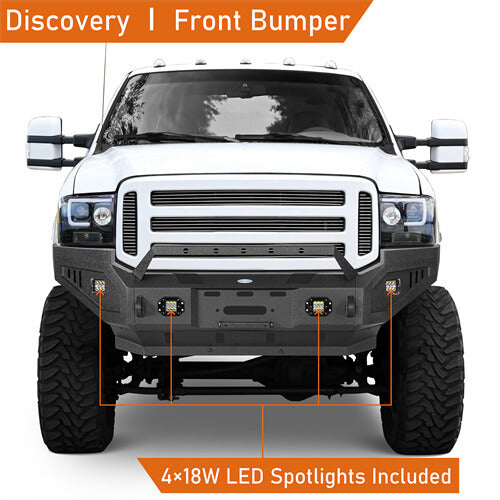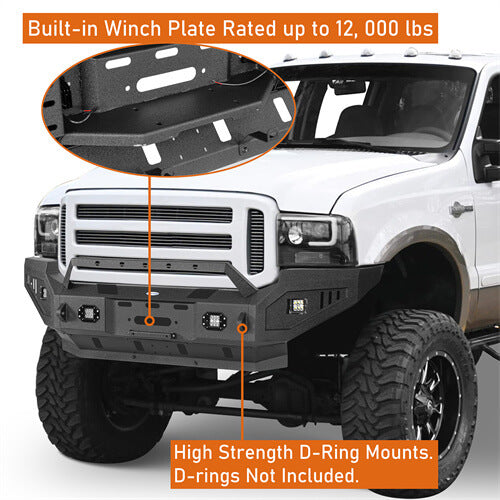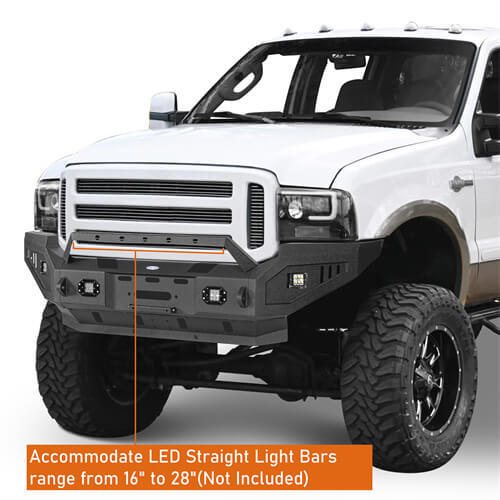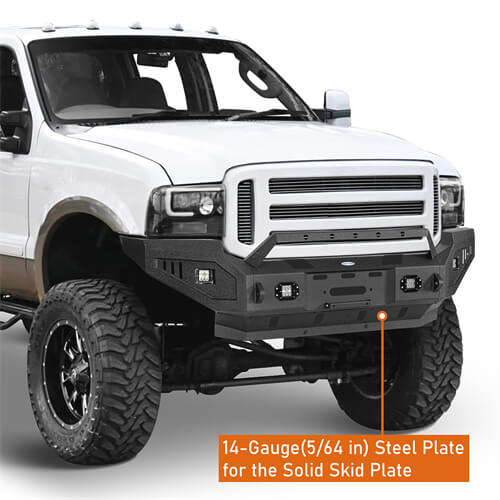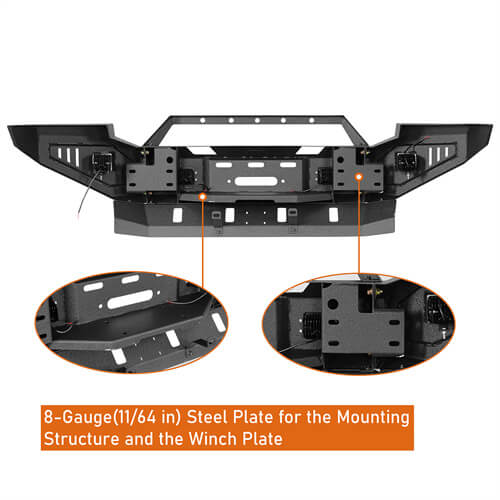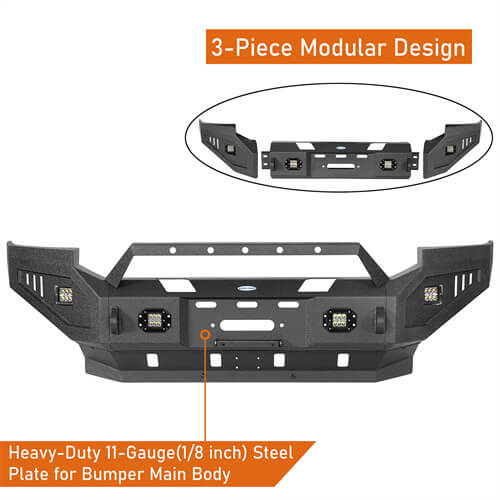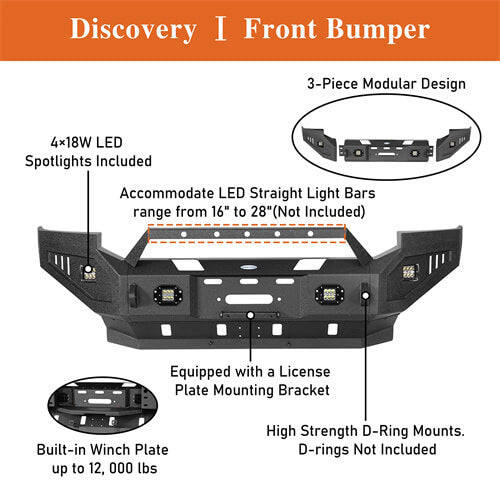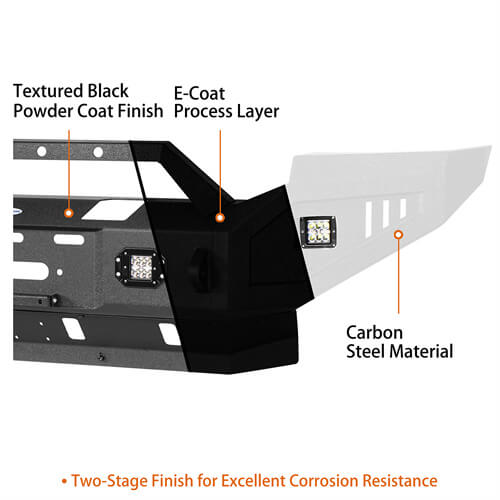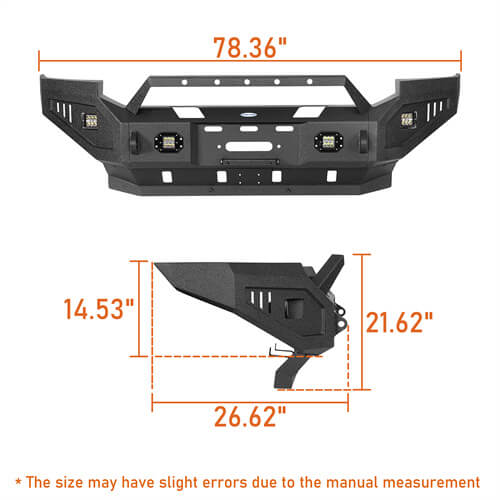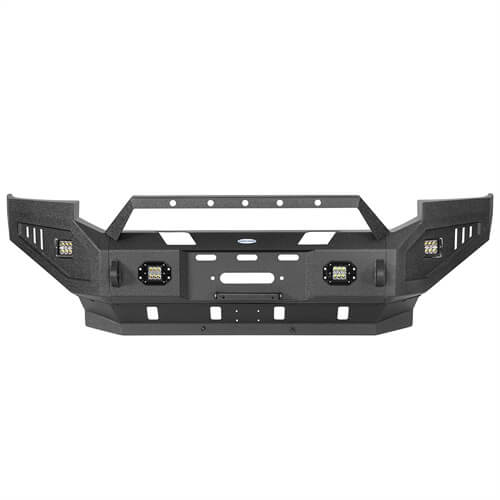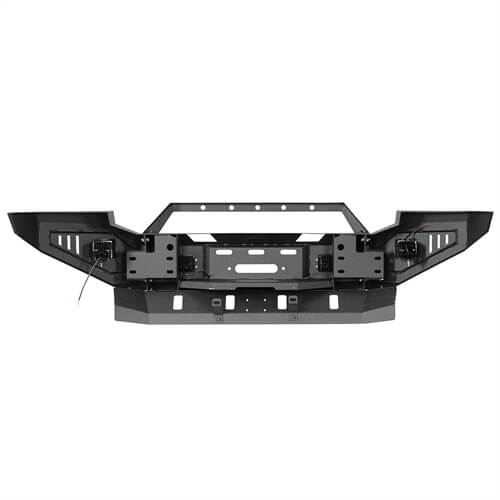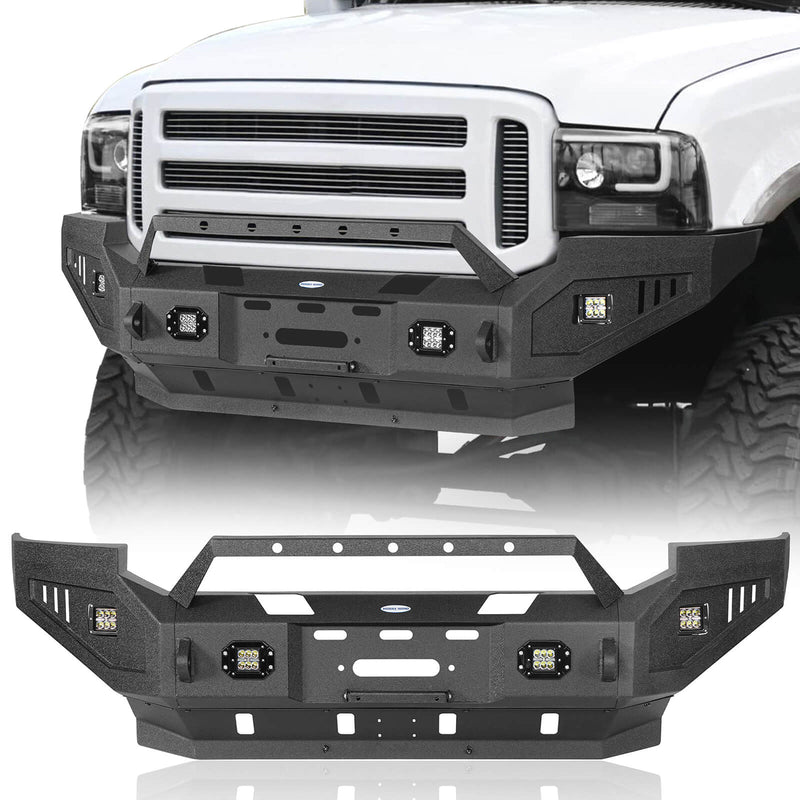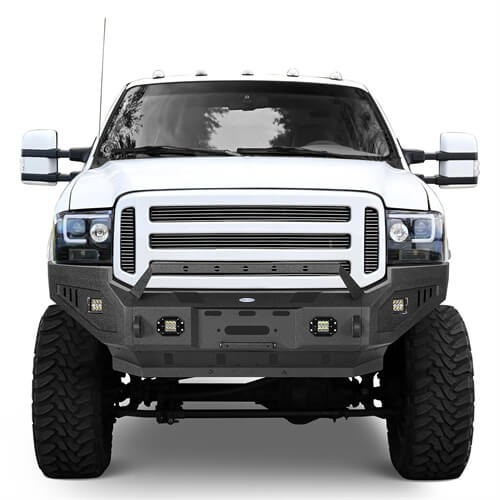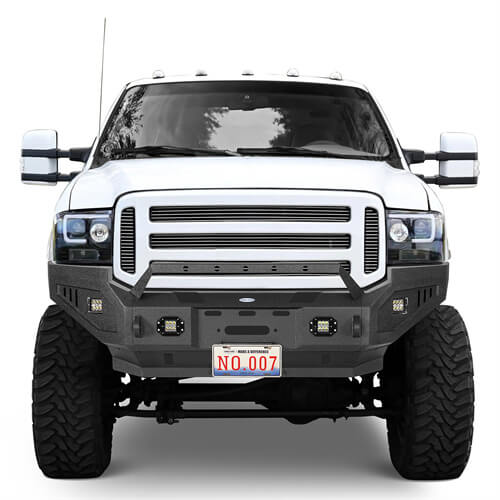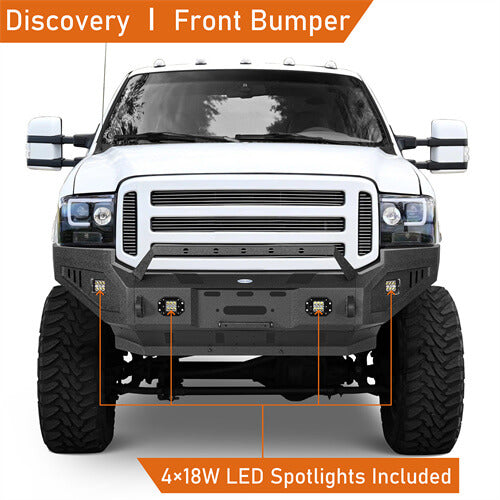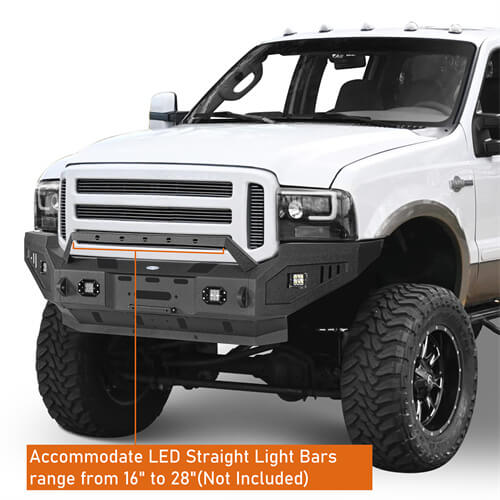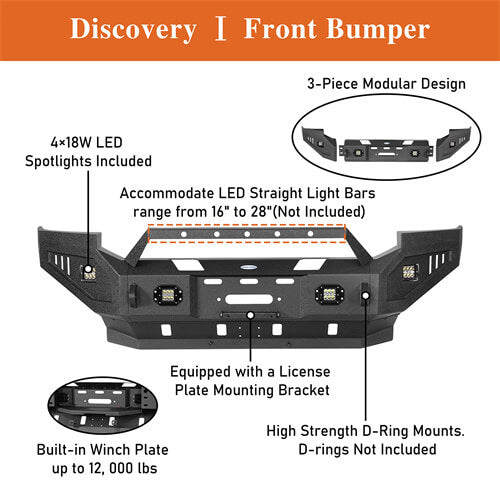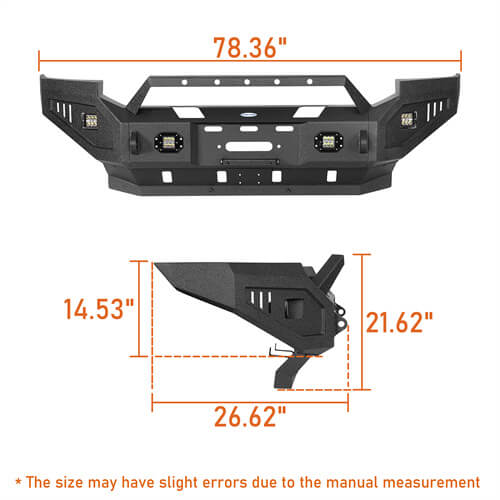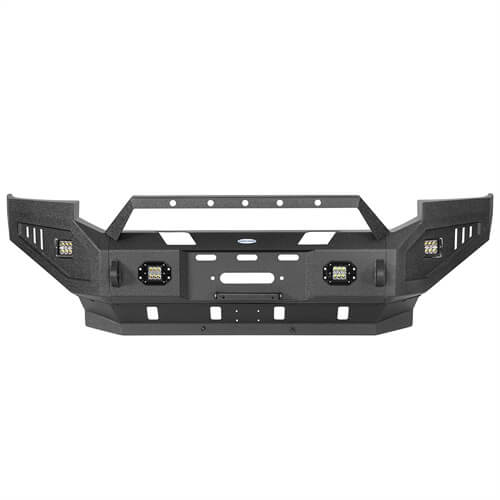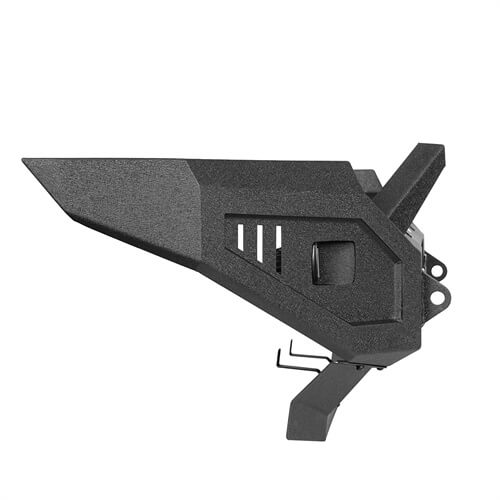 Name: 2005-2007 Ford F-250 Offroad Full Width Front Bumper
Feature
Compatible with 2005-2007 Ford F-250 Models
Bumper weight: about 102 lbs, 3-piece modular design
Heavy-duty, high tensile 11-gauge (1/8 in) steel for the bumper main body, 8-gauge(11/64 in) steel for the mounting structure and the winch palte, 14-gauge(5/64 in) steel for the solid skid plate
Textured black powder coat finish & Premium E-coating process inside
Includes 4×18W LED spotlights
Accommodate LED straight light bars ranging from 16" to 28"(Not Included)
Features high strength D-ring mounts welded both inside and out with a 4.75-ton capacity. D-rings not included.
Equipped with a solid skid plate
Built-in winch plate up to 12, 000 lbs
Equipped with a license plate mounting bracket
No drill easy installation with all installation materials included

Aggressive Design. The front bumper offers a comprehensive set of features for both functionality and style enhancement, which is constructed in a 3-piece modular configuration, offering installation flexibility. It comes with 4×18W LED spotlights, enhancing visibility during low-light situations and off-road journeys. Equipped with a solid skid plate, it offers protection for the vehicle's underside against potential impacts and obstacles. The Discovery Ⅰ Front Bumper is a versatile and functional enhancement for your vehicle, making it a well-rounded upgrade.

Heavy Duty Construction. The Discovery Ⅰ Front Bumper's construction features heavy-duty steel ensures durability and protection., with the bumper main body uses high tensile 11-gauge steel, the mounting structure and winch plate use 8-gauge steel, and the solid skid plate uses 14-gauge steel. The bumper's finishes include a textured black powder coat on the exterior and a premium E-coating process on the interior. This construction ensures both durability and protection against environmental wear and tear.

Bolt-On Installation. Installation is simplified due to the bumper's direct bolt-on design, which avoids the need for complex modifications. The bumper installation capitalizes on the existing factory mounting points of your vehicle, ensuring a secure attachment without the need for extensive adjustments. The installation requires only basic hand tools commonly found in most households or toolkits. The bumper is meticulously designed to fit your specific vehicle model, ensuring proper alignment and compatibility.

1 × Front Bumper Assembly
4 × LED Spotlights
1 × Solid Skid Plate
1 × License Plate Mounting Bracket
1 × Mounting Hardware Kit
1 × Installation Instruction
2007 Ford F-250 Doble Cab
2007 Ford F-250 Flotillera
2007 Ford F-250 XL
2007 Ford F-250 XLT
2007 Ford F-250 Super Duty Harley-Davidson Edition
2007 Ford F-250 Super Duty King Ranch
2007 Ford F-250 Super Duty Lariat 2007 Ford F-250 Super Duty XL
2007 Ford F-250 Super Duty XLT
2006 Ford F-250 Flotillera
2006 Ford F-250 XL
2006 Ford F-250 Super Duty Harley-Davidson Edition
2006 Ford F-250 Super Duty King Ranch
2006 Ford F-250 Super Duty Lariat
2006 Ford F-250 Super Duty XL
2006 Ford F-250 Super Duty XLT
2005 Ford F-250 Flotillera
2005 Ford F-250 XL
2005 Ford F-250 Super Duty Harley-Davidson Edition
2005 Ford F-250 Super Duty King Ranch
2005 Ford F-250 Super Duty Lariat
2005 Ford F-250 Super Duty XL
2005 Ford F-250 Super Duty XLT

Package Included
1 × Front Bumper Assembly
4 × LED Spotlights
1 × Solid Skid Plate
1 × License Plate Mounting Bracket
1 × Mounting Hardware Kit
1 × Installation Instruction
Fitment
2007 Ford F-250 Doble Cab
2007 Ford F-250 Flotillera
2007 Ford F-250 XL
2007 Ford F-250 XLT
2007 Ford F-250 Super Duty Harley-Davidson Edition
2007 Ford F-250 Super Duty King Ranch
2007 Ford F-250 Super Duty Lariat 2007 Ford F-250 Super Duty XL
2007 Ford F-250 Super Duty XLT
2006 Ford F-250 Flotillera
2006 Ford F-250 XL
2006 Ford F-250 Super Duty Harley-Davidson Edition
2006 Ford F-250 Super Duty King Ranch
2006 Ford F-250 Super Duty Lariat
2006 Ford F-250 Super Duty XL
2006 Ford F-250 Super Duty XLT
2005 Ford F-250 Flotillera
2005 Ford F-250 XL
2005 Ford F-250 Super Duty Harley-Davidson Edition
2005 Ford F-250 Super Duty King Ranch
2005 Ford F-250 Super Duty Lariat
2005 Ford F-250 Super Duty XL
2005 Ford F-250 Super Duty XLT