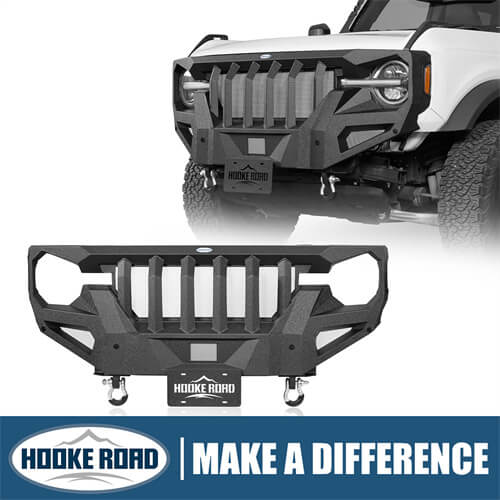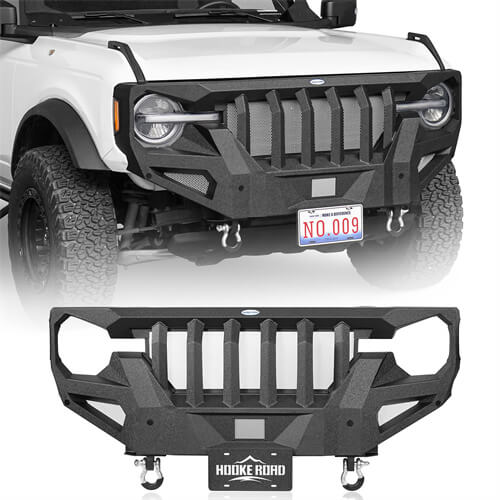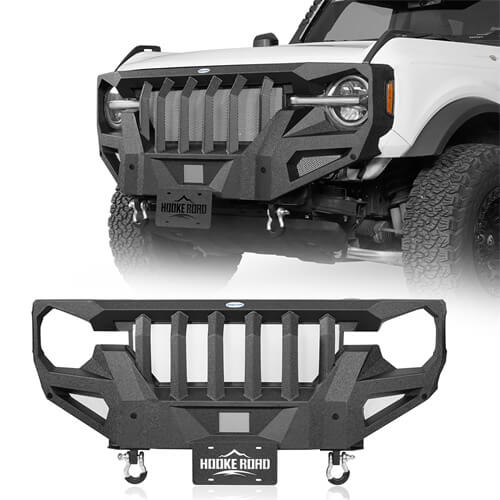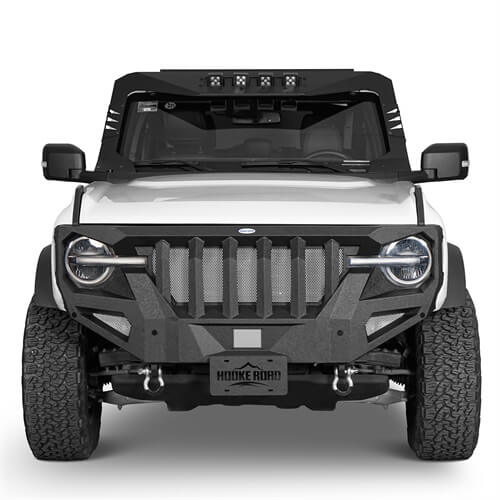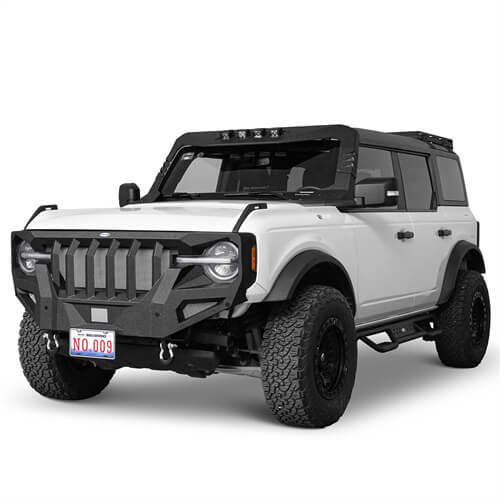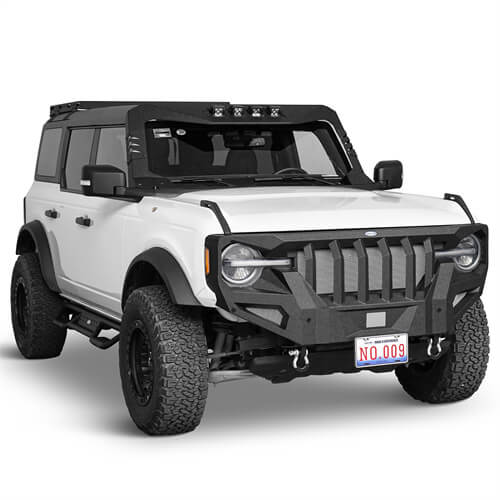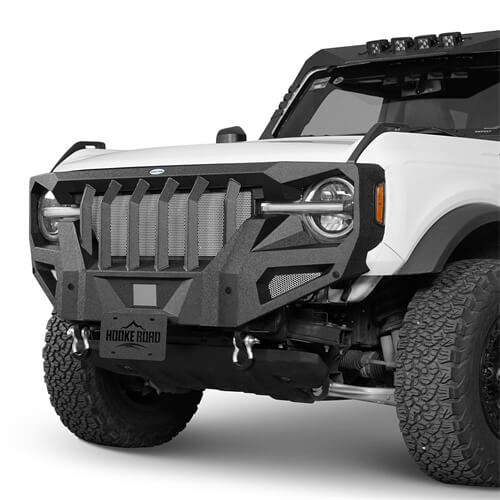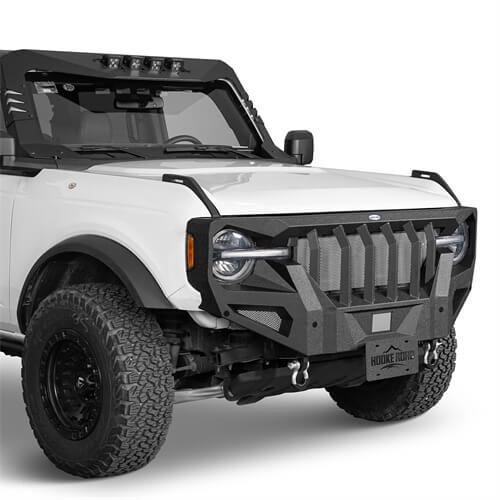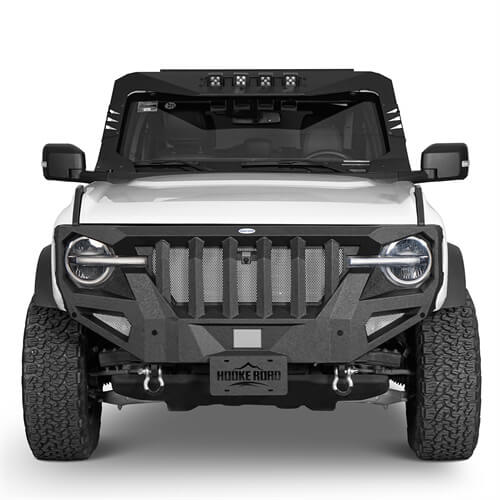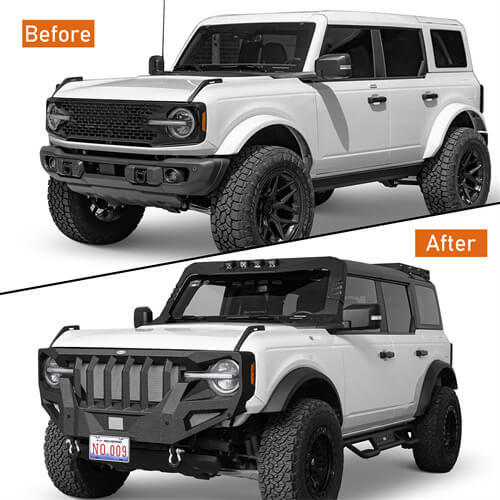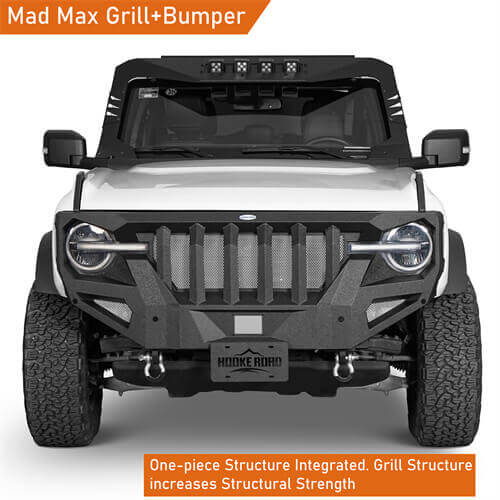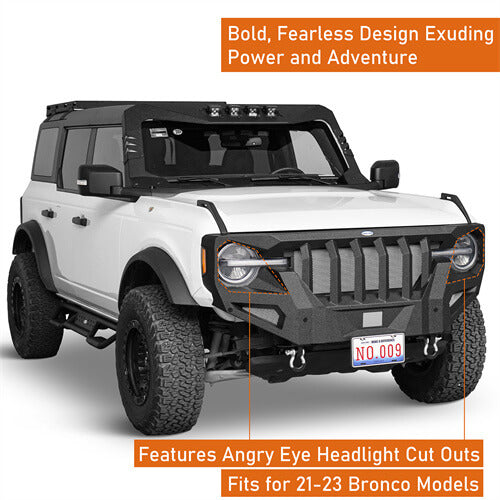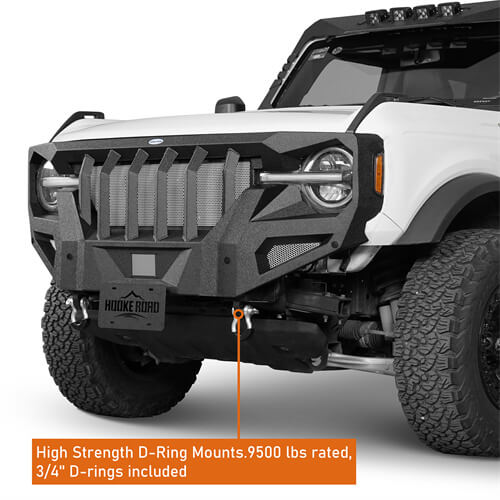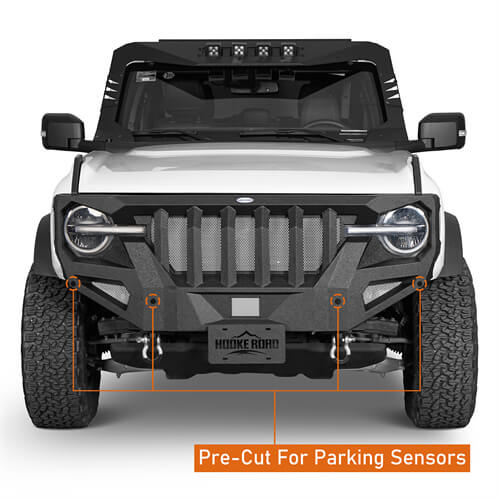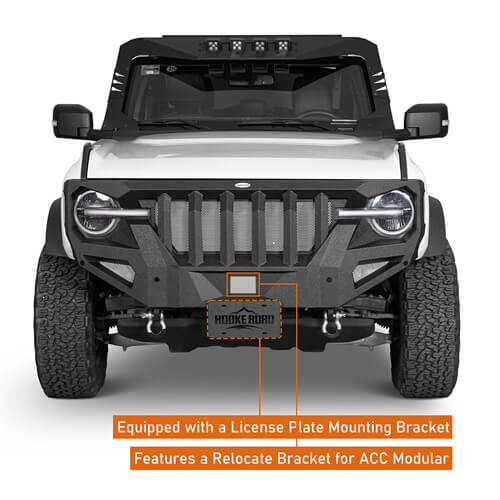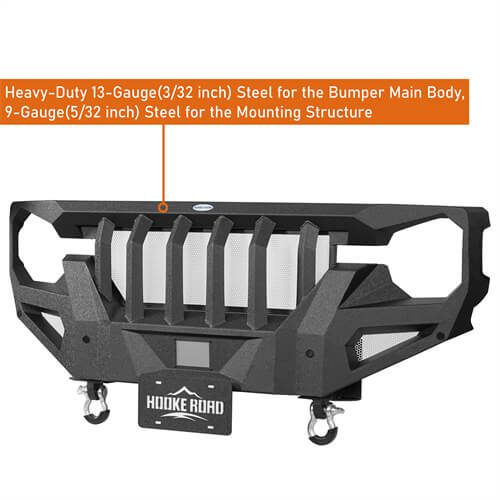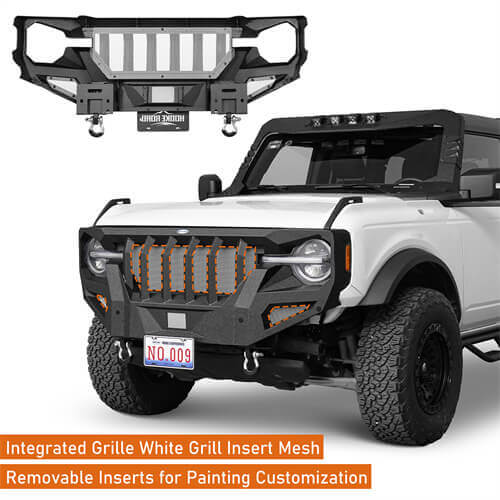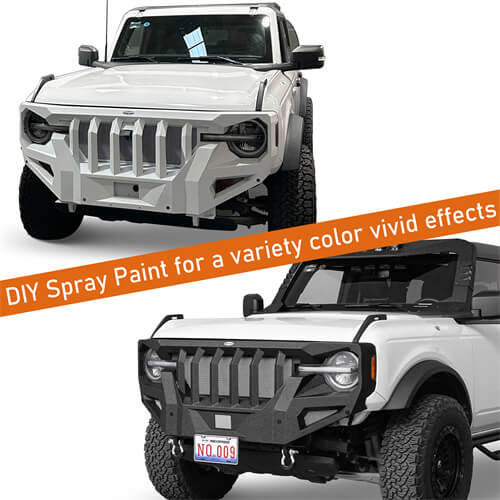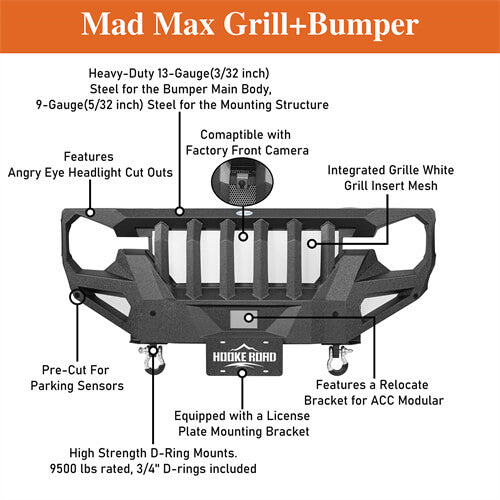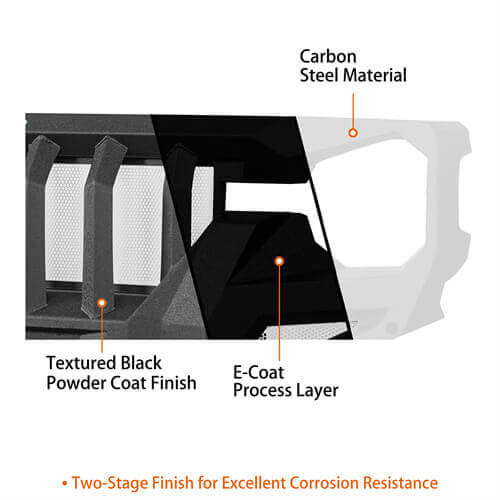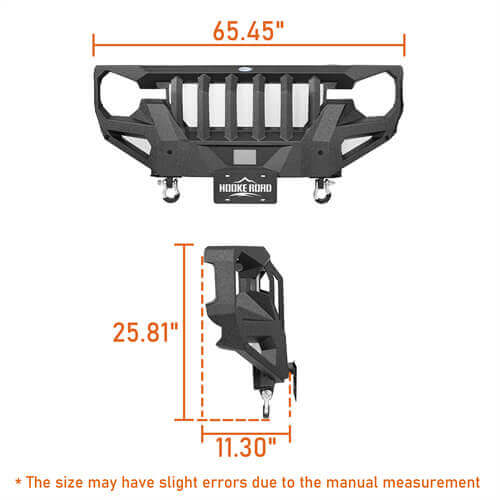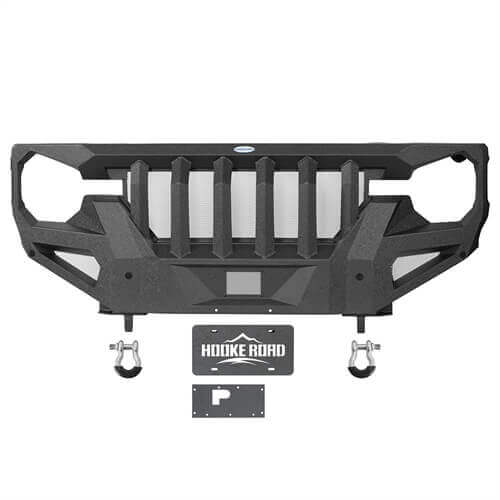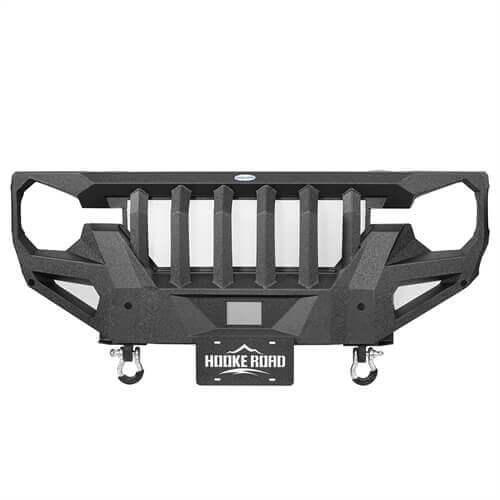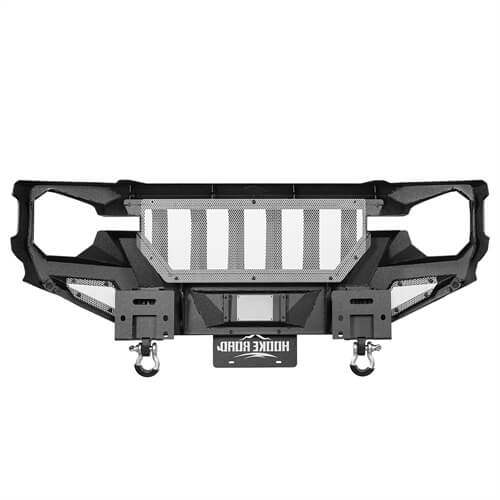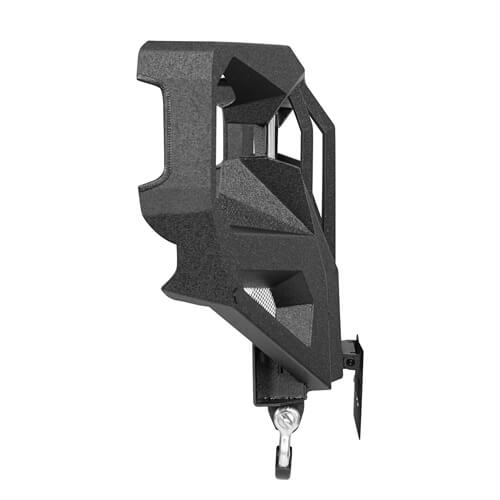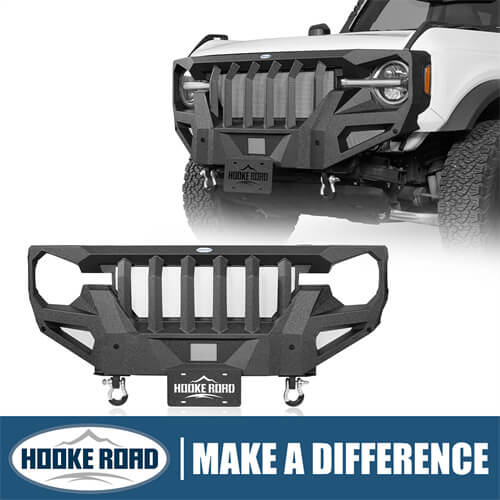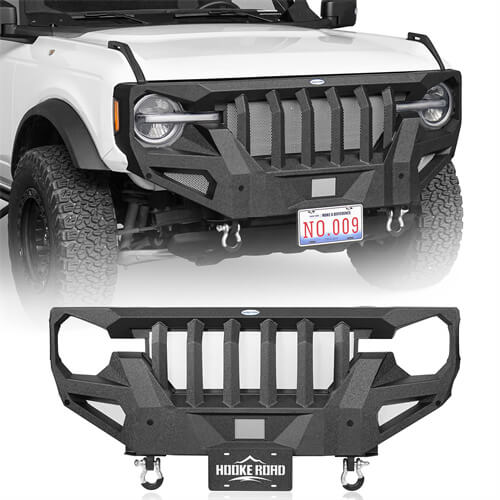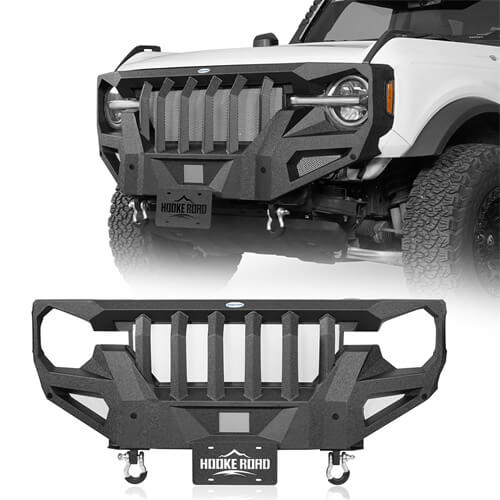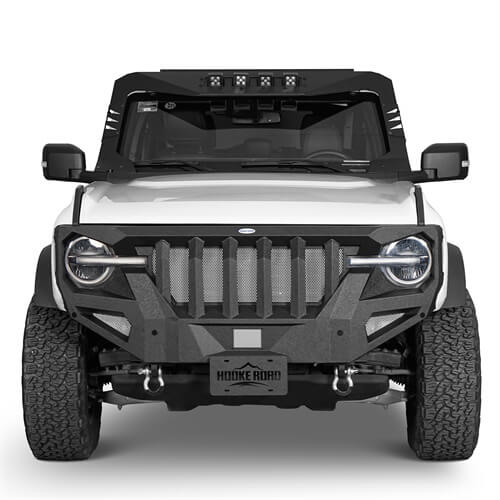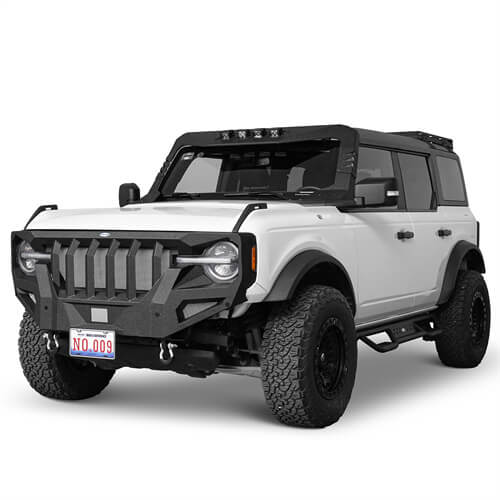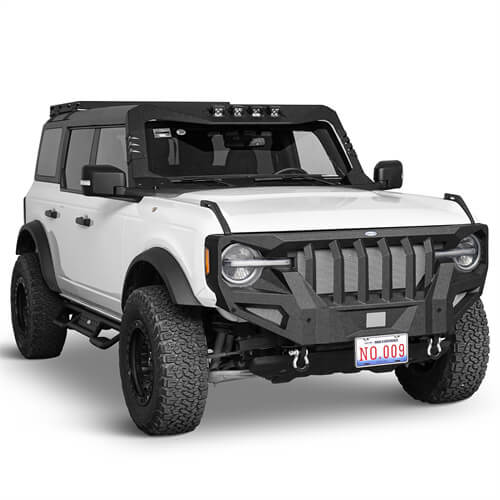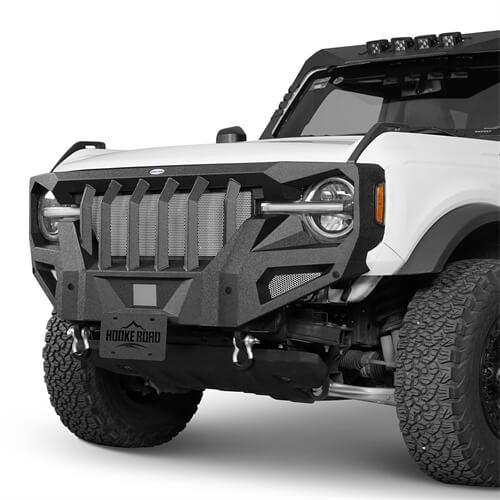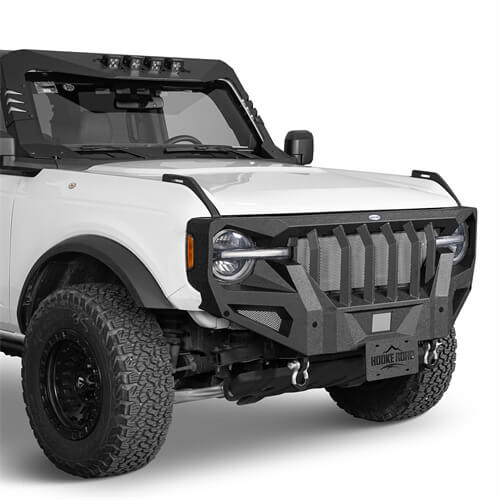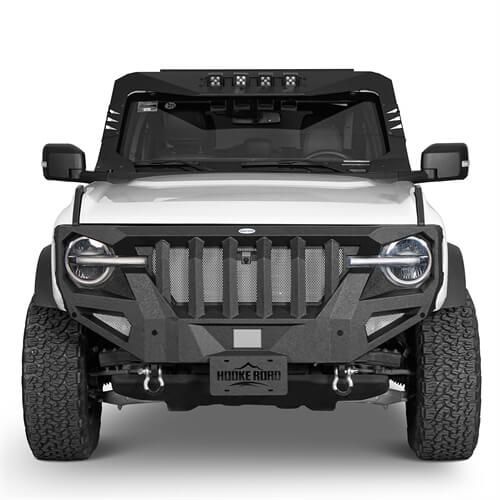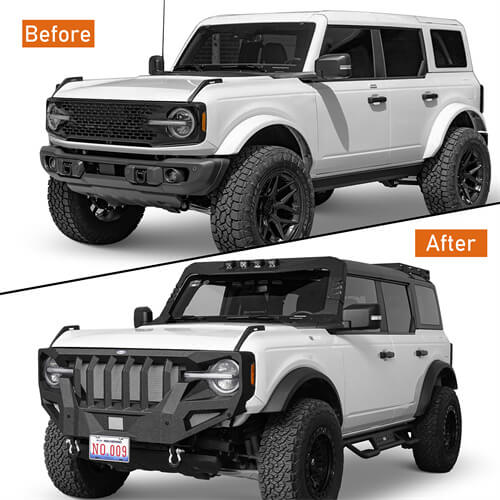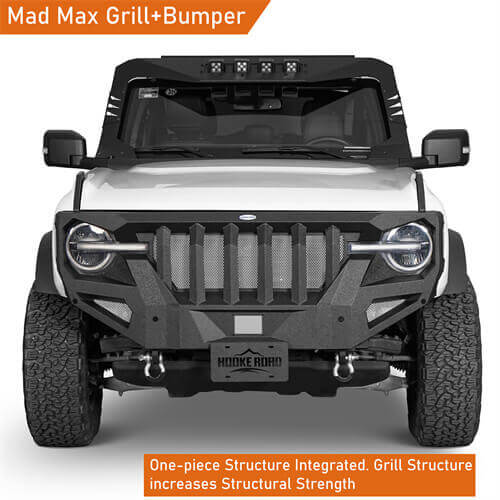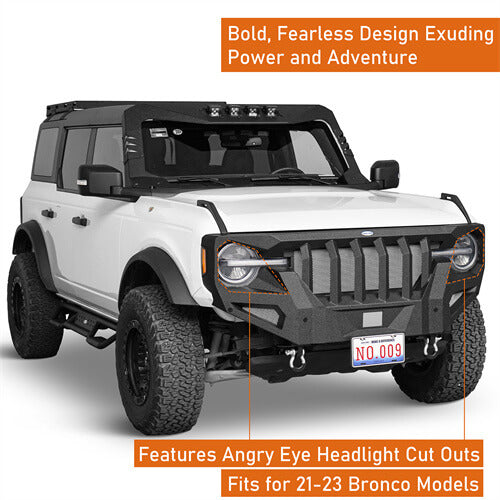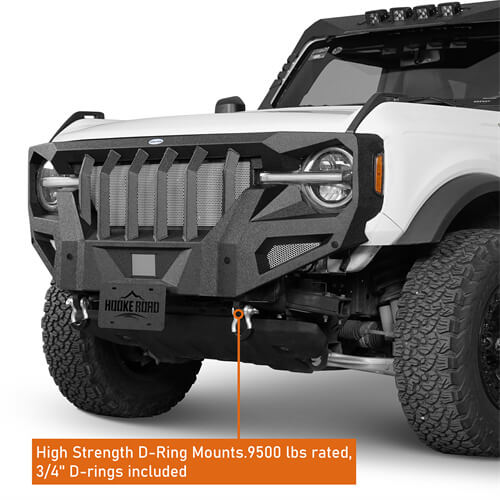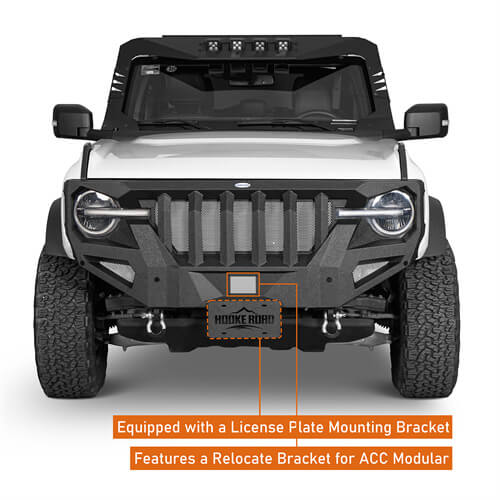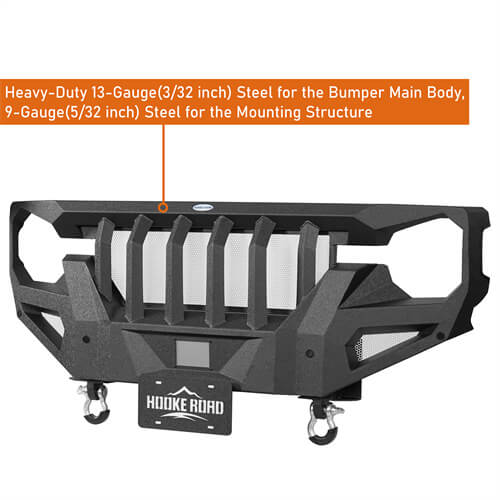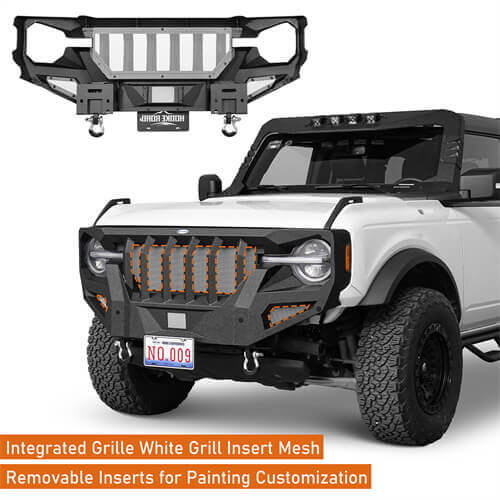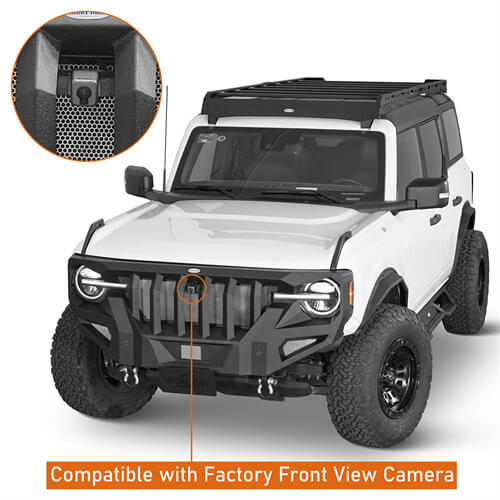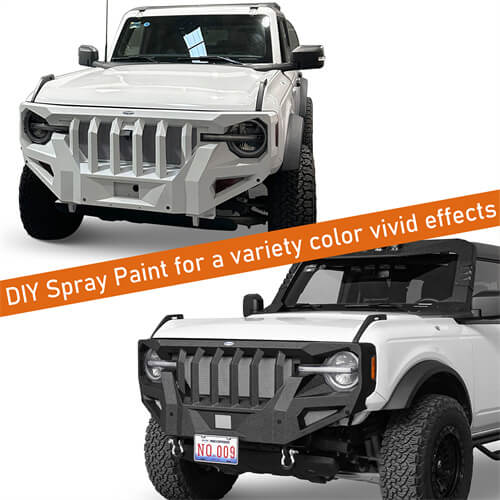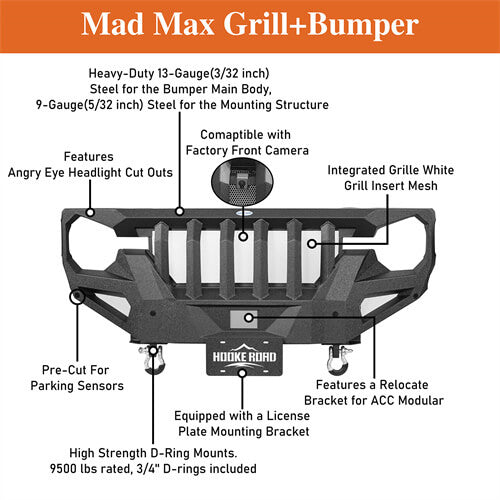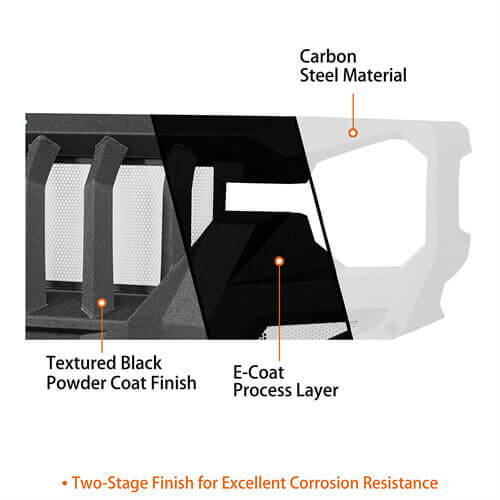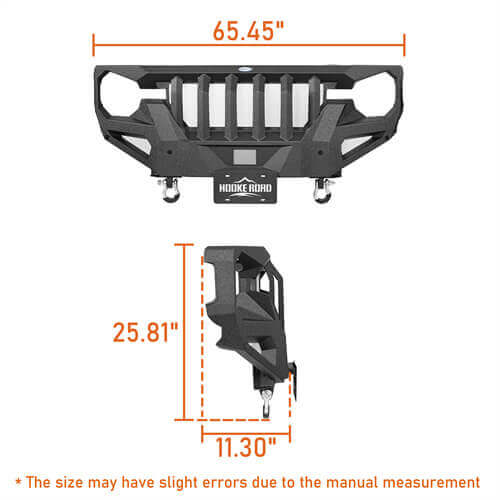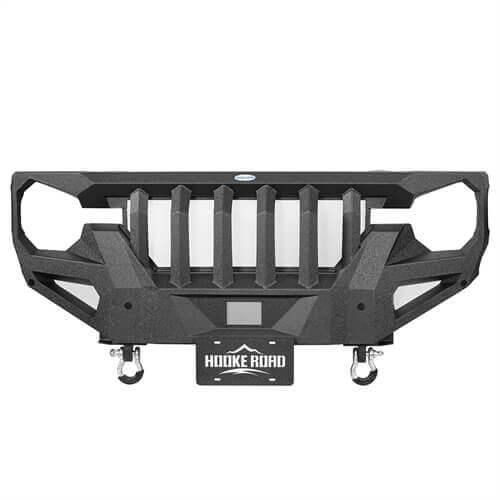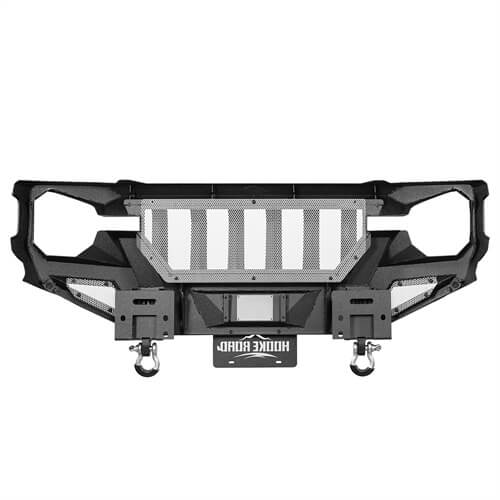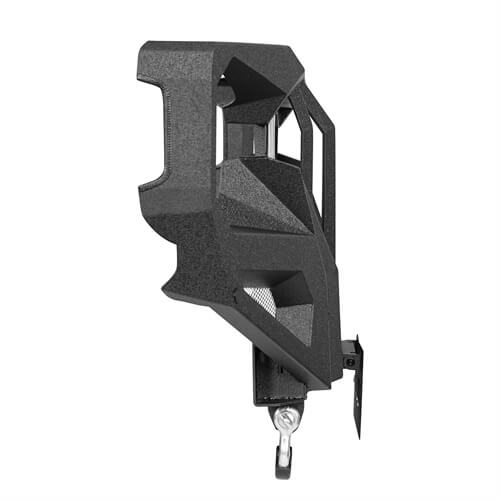 Name:Hooke Road 2021-2023 Ford Bronco Mad Max Front Bumper

Are you looking for Front Bumper? The Hooke Road Mad Max Front Bumper for the Bronco (Excluding Raptor) is a unique and multifunctional addition to your vehicle. This one-piece structure seamlessly combines both grille and bumper elements, creating a unified and robust front-end component. The exterior design exudes an aggressive and adventurous style, embodying the spirit of the Mad Max aesthetic. The inclusion of angry eye headlight cut outs adds a distinctive touch, giving your vehicle an intimidating appearance. Moreover, it features integrated high-strength D-ring mounts, pre-cut outs for front parking sensors, and a license plate mounting bracket for added functionality.
Feature
Fits for 2021-2023 Ford Bronco Models (Excluding Raptor)
Bumper weight: about 91 lbs
Textured black powder coat finish & Premium E-coating process inside
Heavy-duty, high tensile 13-gauge(3/32 inch) steel for the bumper main body, 9-gauge(5/32 Inch) steel for the mounting structure
Pre-cut outs for front parking sensors
Flip-up license plate mounting bracket included
Features relocate brackets for front view camera and ACC module
Mad Max Grill+Bumper, Combines both Grille and Bumper
One-piece structure integrated. Grill structure increases structural strength
Contradiction space exterior design style, possesses aesthetics exterior, simultaneously own intrepid appearance
Features angry eye headlight cut outs
Integrated white grill insert mesh that protects your radiator from debris while off-road and provides increased airflow.
The removable grille insert mesh can be easily painted for customization
Integrated high strength D-ring mounts. 9500 lbs rated, 3/4'' D-rings included
Simple bolt-on installation w/ a clear and detailed instruction
Dimension

Solid Construction. Crafted from heavy-duty, high-tensile steel, this bumper is built to withstand the demands of off-road adventures. The bumper's main body is constructed using 13-gauge (3/32 inch) steel, while the mounting structure is composed of 9-gauge (5/32 inch) steel. This robust steel construction ensures durability and resilience in challenging terrains. The bumper's exterior is finished with a textured black powder coat and a premium E-coating process on the interior, providing both an attractive appearance and protection against rust and corrosion. With a weight of approximately 91 lbs, it maintains a balance between sturdiness and manageability.


Moderate Bolt-on Installation. Installation of the Hooke Road Mad Max Grill+Bumper is a straightforward process, thanks to the included clear and detailed instructions. Please work together with your 2 or 3 partners due to the heavy weight. It's designed for a bolt-on installation, eliminating the need for complex modifications. Firstly, remove the factory bumper and grille. Secondly, be careful to remove the front parking sensors, ACC module, and front view camera and assemble them to the new bumper. Thirdly, place the bumper into the vehicle frame and adjust the position. At last, connect all the wire harnesses and tighten up all the bolts. It takes about 2 hours to finish the installation.
Front Grill Bumper Installation Instructions
Installation instruction video
1 × Front Bumper Assembly
1 × License Plate Bracket
2 × D-Rings
1 × ACC Module Bracket
1 × Front Camera Bracket
4 × Parking Sensor Brackets
1 × Mounting Hardware Kit
1 × Installation Instruction
2023 Ford Bronco Badlands Sport Utility
2023 Ford Bronco Base Sport Utility
2023 Ford Bronco Big Bend Sport Utility
2023 Ford Bronco Black Diamond Sport Utility
2023 Ford Bronco Everglades Sport Utility
2023 Ford Bronco Heritage Edition Sport Utility
2023 Ford Bronco Outer Banks Sport Utility
2023 Ford Bronco Wildtrak Sport Utility
2022 Ford Bronco Badlands Sport Utility
2022 Ford Bronco Base Sport Utility
2022 Ford Bronco Big Bend Sport Utility
2022 Ford Bronco Black Diamond Sport Utility
2022 Ford Bronco Everglades Sport Utility
2022 Ford Bronco Outer Banks Sport Utility
2022 Ford Bronco Wildtrak Sport Utility
2021 Ford Bronco Badlands Sport Utility
2021 Ford Bronco Base Sport Utility
2021 Ford Bronco Big Bend Sport Utility
2021 Ford Bronco Black Diamond Sport Utility
2021 Ford Bronco First Edition Sport Utility
2021 Ford Bronco Outer Banks Sport Utility
2021 Ford Bronco Wildtrak Sport Utility
Package Included
1 × Front Bumper Assembly
1 × License Plate Bracket
2 × D-Rings
1 × ACC Module Bracket
1 × Front Camera Bracket
4 × Parking Sensor Brackets
1 × Mounting Hardware Kit
1 × Installation Instruction
Fitment
2023 Ford Bronco Badlands Sport Utility
2023 Ford Bronco Base Sport Utility
2023 Ford Bronco Big Bend Sport Utility
2023 Ford Bronco Black Diamond Sport Utility
2023 Ford Bronco Everglades Sport Utility
2023 Ford Bronco Heritage Edition Sport Utility
2023 Ford Bronco Outer Banks Sport Utility
2023 Ford Bronco Wildtrak Sport Utility
2022 Ford Bronco Badlands Sport Utility
2022 Ford Bronco Base Sport Utility
2022 Ford Bronco Big Bend Sport Utility
2022 Ford Bronco Black Diamond Sport Utility
2022 Ford Bronco Everglades Sport Utility
2022 Ford Bronco Outer Banks Sport Utility
2022 Ford Bronco Wildtrak Sport Utility
2021 Ford Bronco Badlands Sport Utility
2021 Ford Bronco Base Sport Utility
2021 Ford Bronco Big Bend Sport Utility
2021 Ford Bronco Black Diamond Sport Utility
2021 Ford Bronco First Edition Sport Utility
2021 Ford Bronco Outer Banks Sport Utility
2021 Ford Bronco Wildtrak Sport Utility