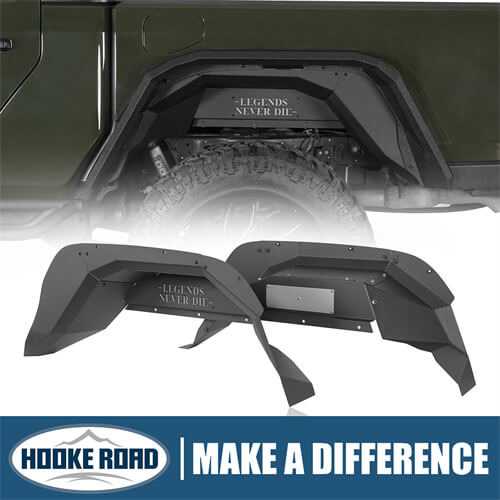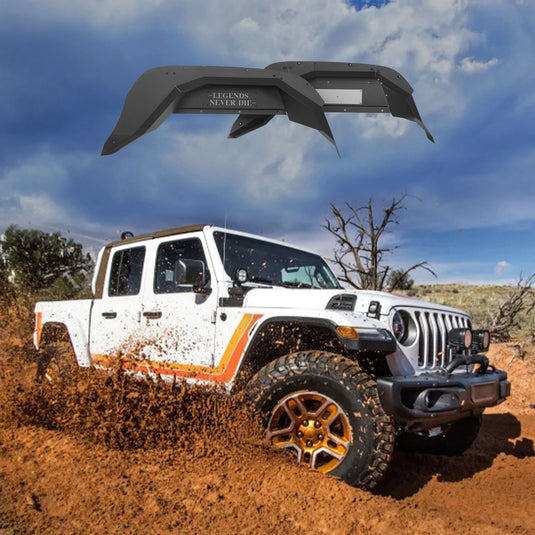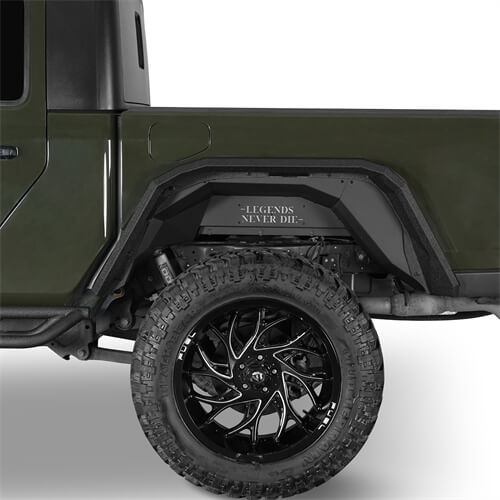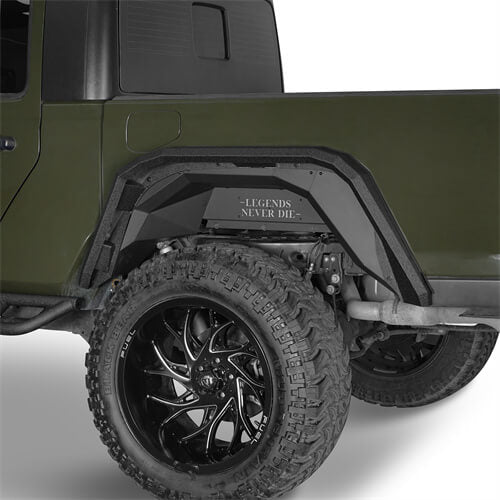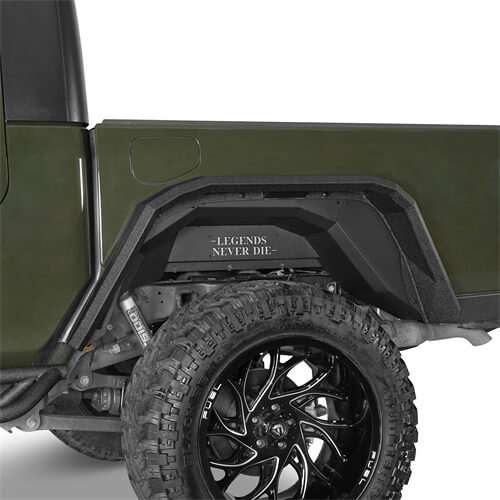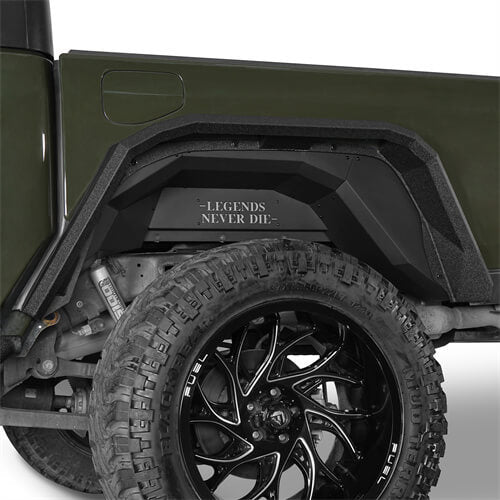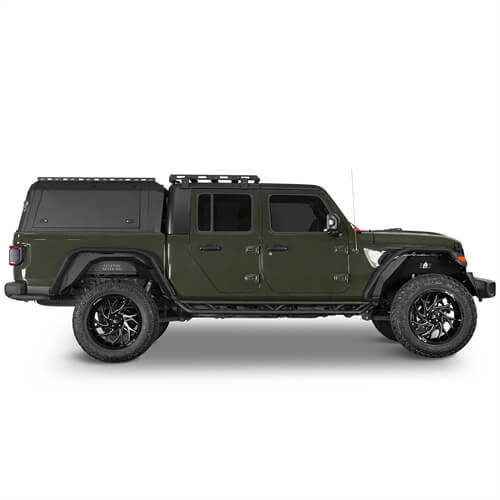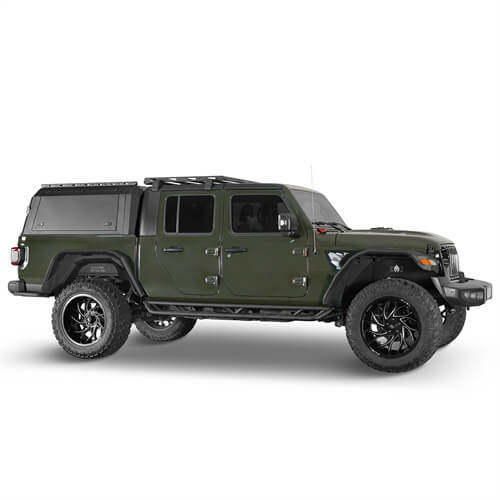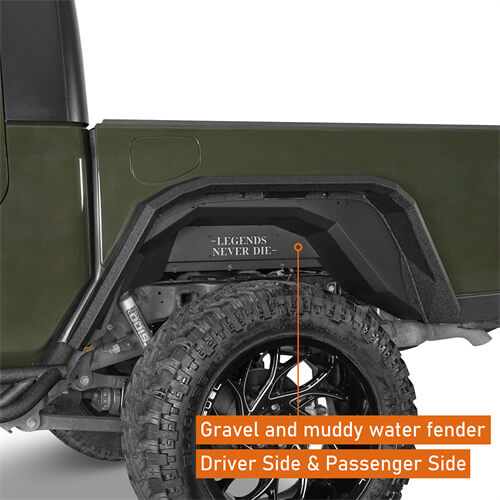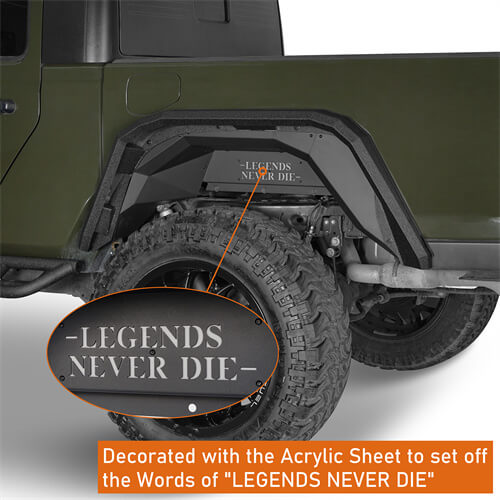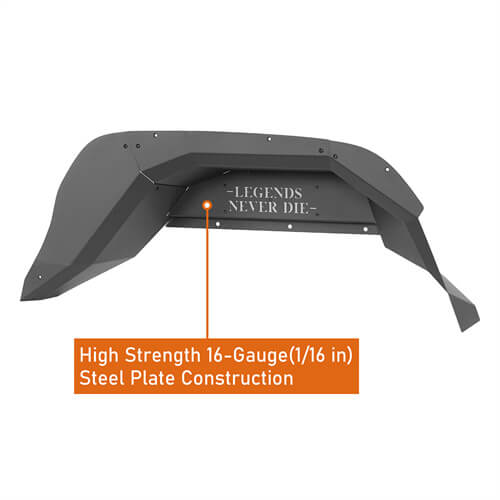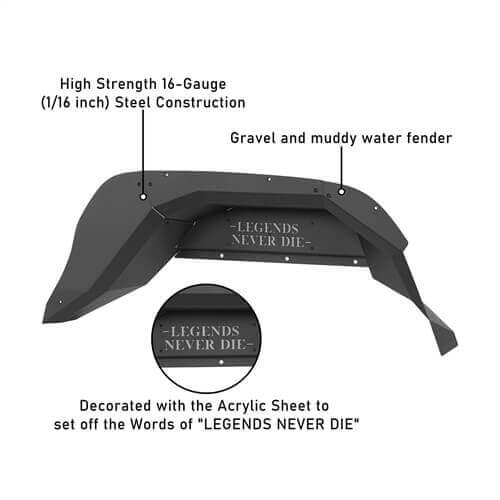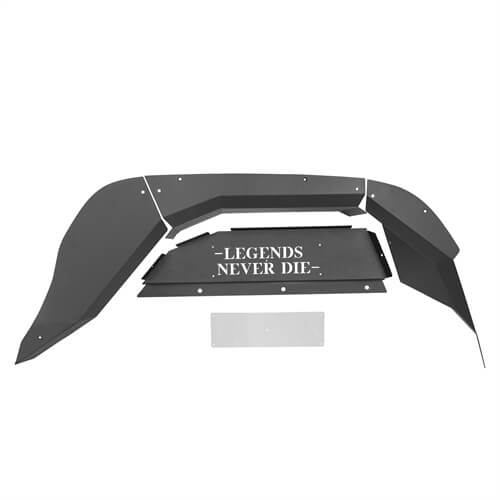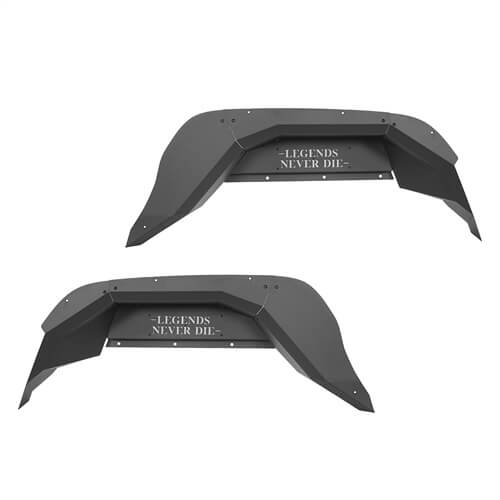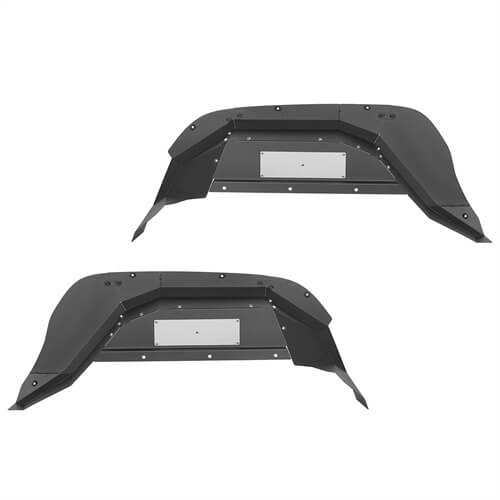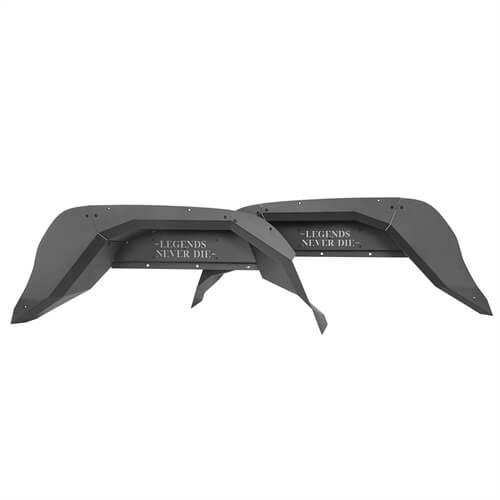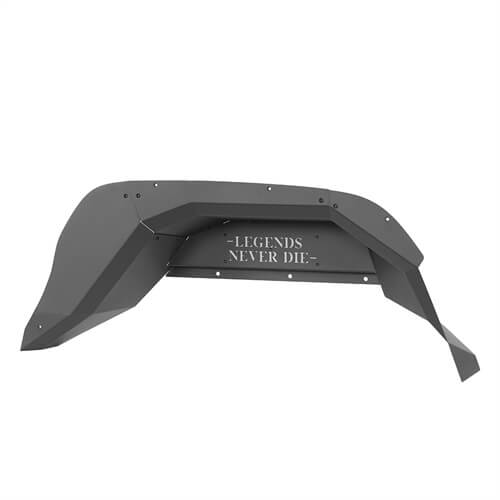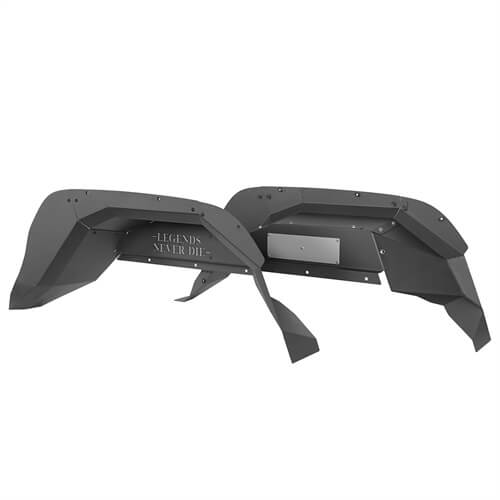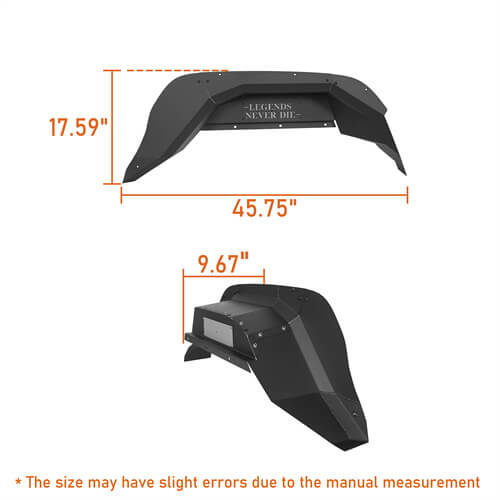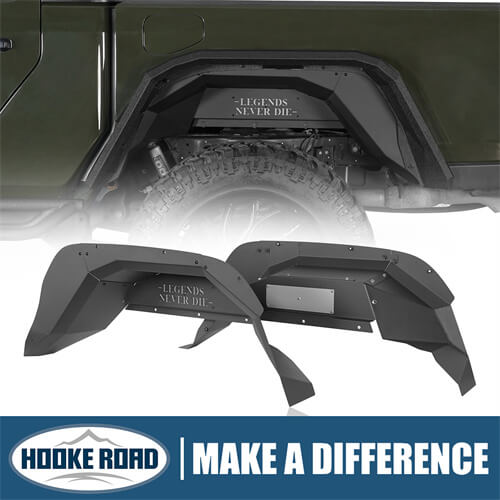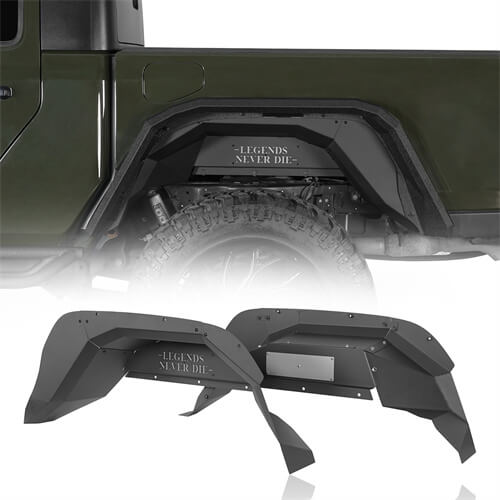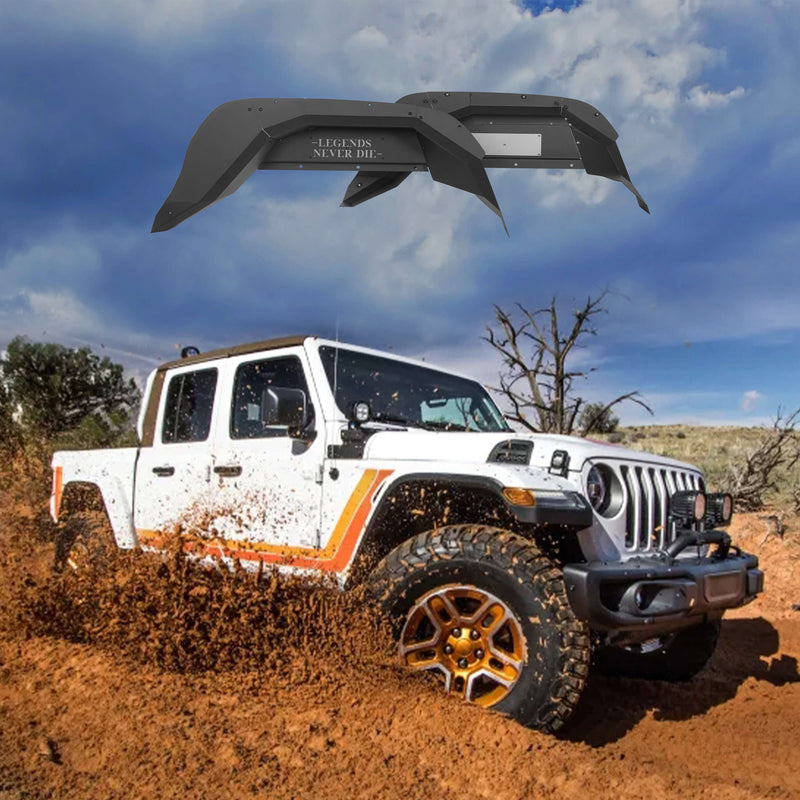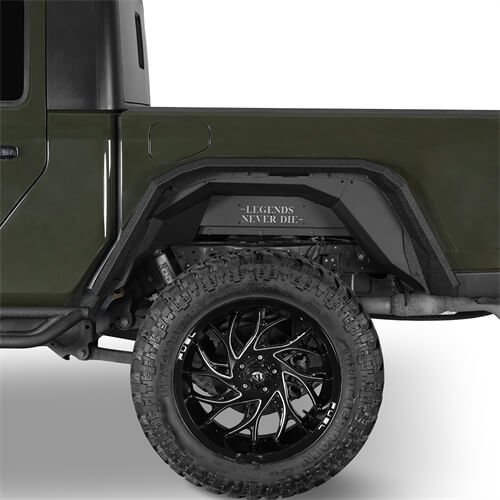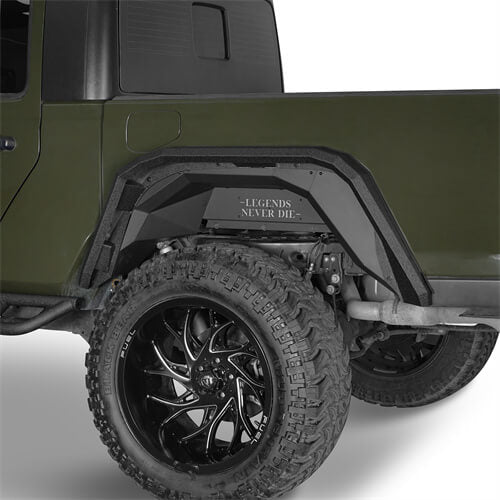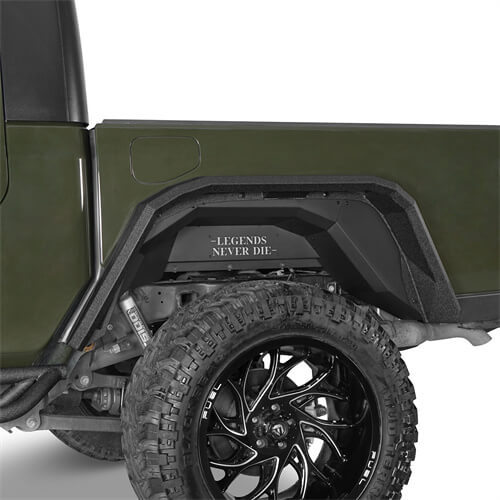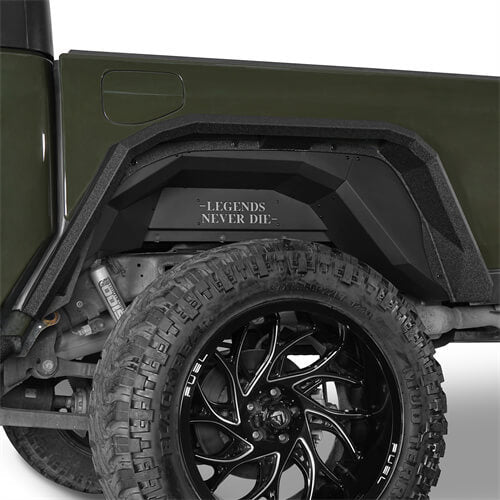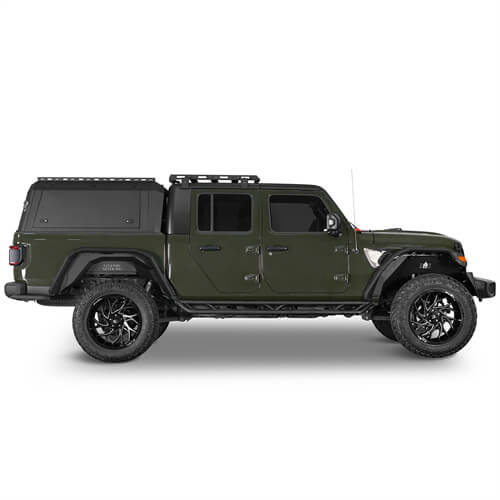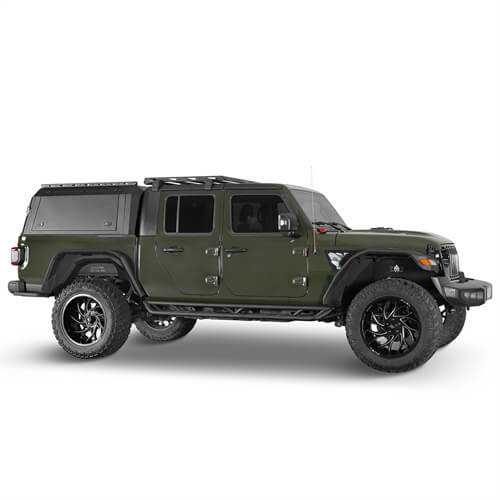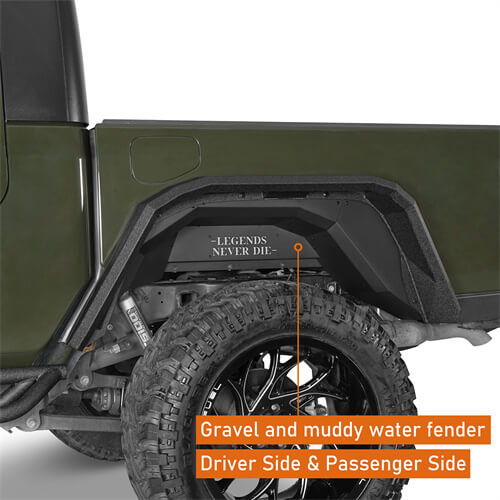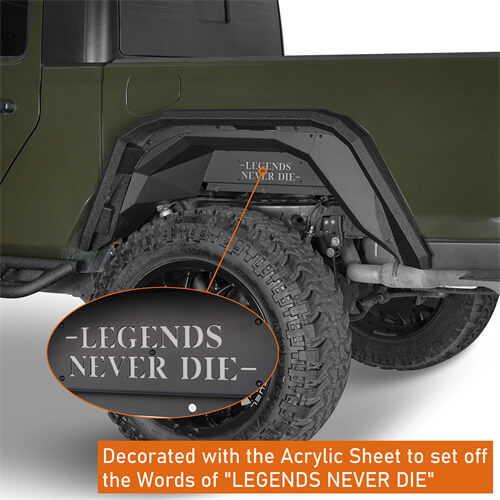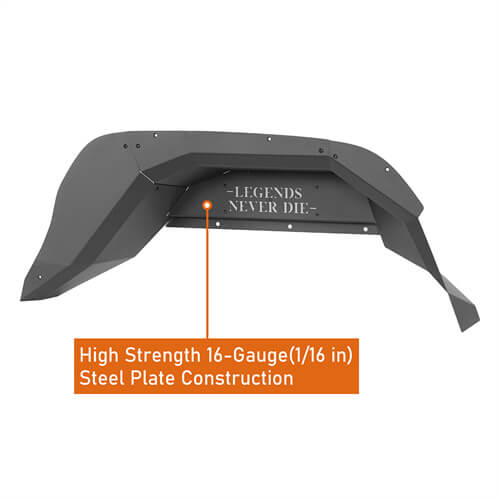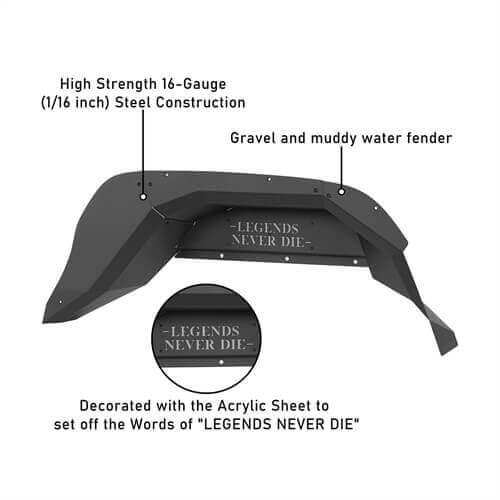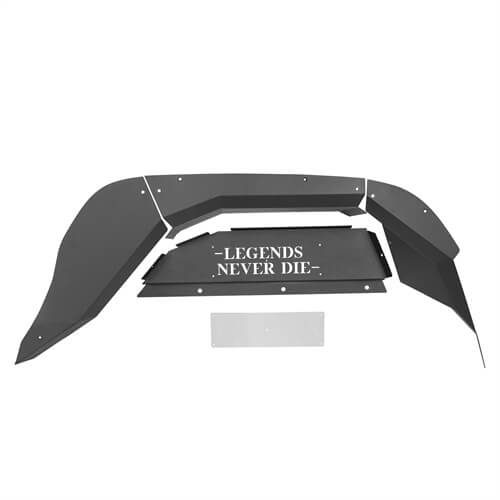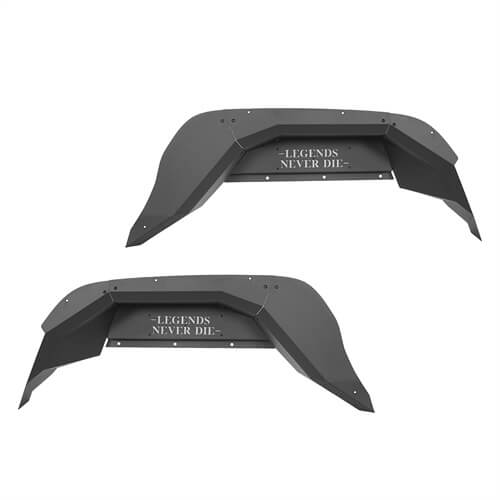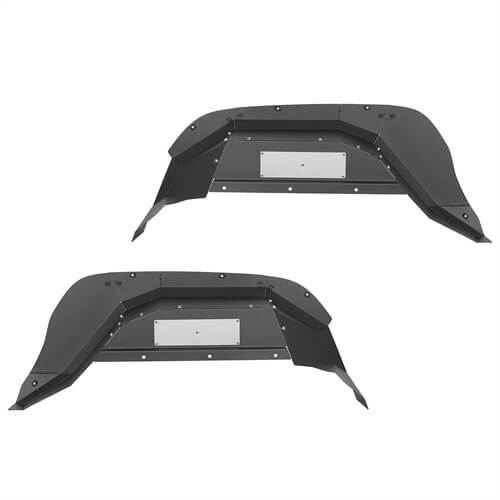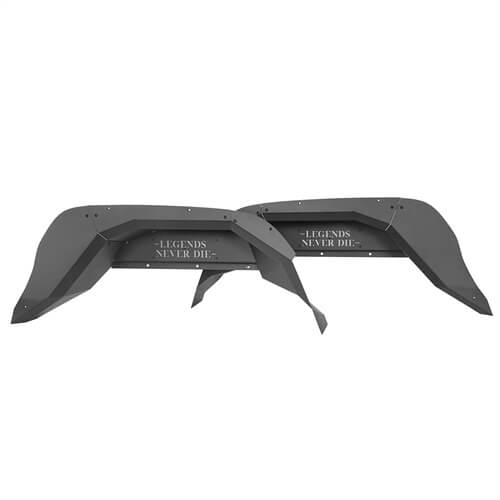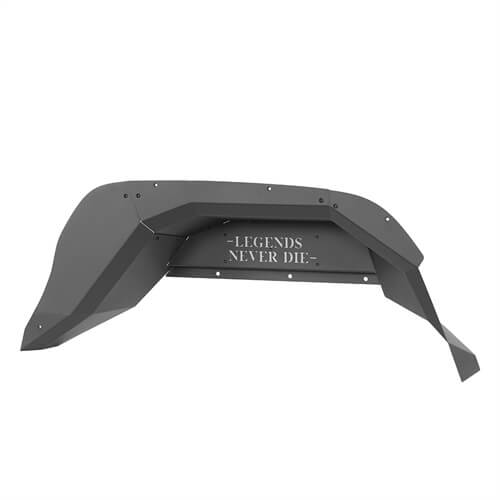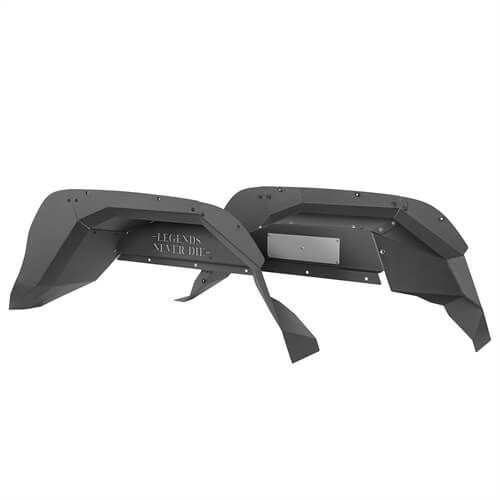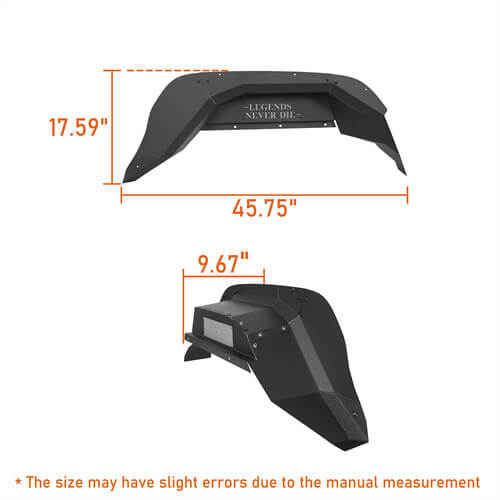 Name: Hooke Road Spartan Front & Rear Inner Fender Liners
Feature
Compatible with 2020-2023 Jeep Gladiator JT Models
Product weight: about 26 lbs
Made from 16-gauge(1/16 inch) steel plate
Durable black powder coat finish
Gravel and muddy water fender
Protects and covers up the vehicle's vital components
Decorated with the acrylic sheet to set off the words of "LEGENDS NEVER DIE"
Both driver and passenger side liners included
Direct bolt-on installation, No drilling or modification is required
Dimension
Something you want to know
Extra Protection. Protect your JT's inner wheel wells from trail damage by installing a set of Hooke Road Rear Inner Fender Liners. Crafted specifically for your Gladiator JT, these durable Steel Inner Fender Well Liners will shield your Gladiator from rocks, mud, and other trail debris. Decorated with the acrylic sheet to set off the Words of "LEGENDS NEVER DIE", these textured black Fender Liners significantly improve the look of your JT's inner fender wells for a more finished appearance.

Solid Construction. These Hooke Road Inner Fenders feature a solid steel construction that gives it exceptional durability ideal for rough off-road driving. A black powder coat finish is applied to give these inner fenders increased resistance to corrosion and rust.

Bolt-on Installation. These Hooke Road Inner Fender Liners are designed for a direct bolt-on installation. No drilling is required. First, remove the original rear fender flares and inner fender liners. Then place the inner fender liners and tighten them up with supplied screws. The kit should take 40 minutes or less to get them down. Attempt to complete the operation in your garage and save you a pretty penny.
2 × Rear Inner Fender Liners(Passenger & Driver Sides)
1 × Mounting Hardware Kit
1 × Installation Instruction
2023 Jeep Gladiator High Altitude Crew Cab Pickup 4-Door
2023 Jeep Gladiator High Altitude Crew Cab Pickup 4-Door
2023 Jeep Gladiator Mojave Crew Cab Pickup 4-Door
2023 Jeep Gladiator Overland Crew Cab Pickup 4-Door
2023 Jeep Gladiator Rubicon Crew Cab Pickup 4-Door
2023 Jeep Gladiator Sport Crew Cab Pickup 4-Door
2023 Jeep Gladiator Sport S Crew Cab Pickup 4-Door
2023 Jeep Gladiator Sport S Crew Cab Pickup 4-Door
2023 Jeep Gladiator Willys Crew Cab Pickup 4-Door
2023 Jeep Gladiator Willys Crew Cab Pickup 4-Door
2023 Jeep Gladiator Willys Sport Crew Cab Pickup 4-Door
2023 Jeep Gladiator Willys Sport Crew Cab Pickup 4-Door
2022 Jeep Gladiator Altitude Crew Cab Pickup 4-Door
2022 Jeep Gladiator Altitude Crew Cab Pickup 4-Door
2022 Jeep Gladiator High Altitude Crew Cab Pickup 4-Door
2022 Jeep Gladiator High Altitude Crew Cab Pickup 4-Door
2022 Jeep Gladiator Mojave Crew Cab Pickup 4-Door
2022 Jeep Gladiator Overland Crew Cab Pickup 4-Door
2022 Jeep Gladiator Overland Crew Cab Pickup 4-Door
2022 Jeep Gladiator Rubicon Crew Cab Pickup 4-Door
2022 Jeep Gladiator Rubicon Crew Cab Pickup 4-Door
2022 Jeep Gladiator Sport Crew Cab Pickup 4-Door
2022 Jeep Gladiator Sport Crew Cab Pickup 4-Door
2022 Jeep Gladiator Sport S Crew Cab Pickup 4-Door
2022 Jeep Gladiator Sport S Crew Cab Pickup 4-Door
2022 Jeep Gladiator Willys Crew Cab Pickup 4-Door
2022 Jeep Gladiator Willys Crew Cab Pickup 4-Door
2022 Jeep Gladiator Willys Sport Crew Cab Pickup 4-Door
2022 Jeep Gladiator Willys Sport Crew Cab Pickup 4-Door
2021 Jeep Gladiator 80th Anniversary Crew Cab Pickup 4-Door
2021 Jeep Gladiator 80th Anniversary Crew Cab Pickup 4-Door
2021 Jeep Gladiator High Altitude Crew Cab Pickup 4-Door
2021 Jeep Gladiator High Altitude Crew Cab Pickup 4-Door
2021 Jeep Gladiator Mojave Crew Cab Pickup 4-Door
2021 Jeep Gladiator Overland Crew Cab Pickup 4-Door
2021 Jeep Gladiator Overland Crew Cab Pickup 4-Door
2021 Jeep Gladiator Rubicon Crew Cab Pickup 4-Door
2021 Jeep Gladiator Rubicon Crew Cab Pickup 4-Door
2021 Jeep Gladiator Sport Crew Cab Pickup 4-Door
2021 Jeep Gladiator Sport Crew Cab Pickup 4-Door
2021 Jeep Gladiator Sport S Crew Cab Pickup 4-Door
2021 Jeep Gladiator Sport S Crew Cab Pickup 4-Door
2021 Jeep Gladiator Willys Crew Cab Pickup 4-Door
2021 Jeep Gladiator Willys Crew Cab Pickup 4-Door
2021 Jeep Gladiator Willys Sport Crew Cab Pickup 4-Door
2021 Jeep Gladiator Willys Sport Crew Cab Pickup 4-Door
2020 Jeep Gladiator Altitude Crew Cab Pickup 4-Door
2020 Jeep Gladiator Launch Edition Crew Cab Pickup 4-Door
2020 Jeep Gladiator Mojave Crew Cab Pickup 4-Door
2020 Jeep Gladiator North Edition Crew Cab Pickup 4-Door
2020 Jeep Gladiator Overland Crew Cab Pickup 4-Door
2020 Jeep Gladiator Rubicon Crew Cab Pickup 4-Door
2020 Jeep Gladiator Sport Crew Cab Pickup 4-Door
2020 Jeep Gladiator Sport S Crew Cab Pickup 4-Door
Package Included
2 × Rear Inner Fender Liners(Passenger & Driver Sides)
1 × Mounting Hardware Kit
1 × Installation Instruction
Fitment
2023 Jeep Gladiator High Altitude Crew Cab Pickup 4-Door
2023 Jeep Gladiator High Altitude Crew Cab Pickup 4-Door
2023 Jeep Gladiator Mojave Crew Cab Pickup 4-Door
2023 Jeep Gladiator Overland Crew Cab Pickup 4-Door
2023 Jeep Gladiator Rubicon Crew Cab Pickup 4-Door
2023 Jeep Gladiator Sport Crew Cab Pickup 4-Door
2023 Jeep Gladiator Sport S Crew Cab Pickup 4-Door
2023 Jeep Gladiator Sport S Crew Cab Pickup 4-Door
2023 Jeep Gladiator Willys Crew Cab Pickup 4-Door
2023 Jeep Gladiator Willys Crew Cab Pickup 4-Door
2023 Jeep Gladiator Willys Sport Crew Cab Pickup 4-Door
2023 Jeep Gladiator Willys Sport Crew Cab Pickup 4-Door
2022 Jeep Gladiator Altitude Crew Cab Pickup 4-Door
2022 Jeep Gladiator Altitude Crew Cab Pickup 4-Door
2022 Jeep Gladiator High Altitude Crew Cab Pickup 4-Door
2022 Jeep Gladiator High Altitude Crew Cab Pickup 4-Door
2022 Jeep Gladiator Mojave Crew Cab Pickup 4-Door
2022 Jeep Gladiator Overland Crew Cab Pickup 4-Door
2022 Jeep Gladiator Overland Crew Cab Pickup 4-Door
2022 Jeep Gladiator Rubicon Crew Cab Pickup 4-Door
2022 Jeep Gladiator Rubicon Crew Cab Pickup 4-Door
2022 Jeep Gladiator Sport Crew Cab Pickup 4-Door
2022 Jeep Gladiator Sport Crew Cab Pickup 4-Door
2022 Jeep Gladiator Sport S Crew Cab Pickup 4-Door
2022 Jeep Gladiator Sport S Crew Cab Pickup 4-Door
2022 Jeep Gladiator Willys Crew Cab Pickup 4-Door
2022 Jeep Gladiator Willys Crew Cab Pickup 4-Door
2022 Jeep Gladiator Willys Sport Crew Cab Pickup 4-Door
2022 Jeep Gladiator Willys Sport Crew Cab Pickup 4-Door
2021 Jeep Gladiator 80th Anniversary Crew Cab Pickup 4-Door
2021 Jeep Gladiator 80th Anniversary Crew Cab Pickup 4-Door
2021 Jeep Gladiator High Altitude Crew Cab Pickup 4-Door
2021 Jeep Gladiator High Altitude Crew Cab Pickup 4-Door
2021 Jeep Gladiator Mojave Crew Cab Pickup 4-Door
2021 Jeep Gladiator Overland Crew Cab Pickup 4-Door
2021 Jeep Gladiator Overland Crew Cab Pickup 4-Door
2021 Jeep Gladiator Rubicon Crew Cab Pickup 4-Door
2021 Jeep Gladiator Rubicon Crew Cab Pickup 4-Door
2021 Jeep Gladiator Sport Crew Cab Pickup 4-Door
2021 Jeep Gladiator Sport Crew Cab Pickup 4-Door
2021 Jeep Gladiator Sport S Crew Cab Pickup 4-Door
2021 Jeep Gladiator Sport S Crew Cab Pickup 4-Door
2021 Jeep Gladiator Willys Crew Cab Pickup 4-Door
2021 Jeep Gladiator Willys Crew Cab Pickup 4-Door
2021 Jeep Gladiator Willys Sport Crew Cab Pickup 4-Door
2021 Jeep Gladiator Willys Sport Crew Cab Pickup 4-Door
2020 Jeep Gladiator Altitude Crew Cab Pickup 4-Door
2020 Jeep Gladiator Launch Edition Crew Cab Pickup 4-Door
2020 Jeep Gladiator Mojave Crew Cab Pickup 4-Door
2020 Jeep Gladiator North Edition Crew Cab Pickup 4-Door
2020 Jeep Gladiator Overland Crew Cab Pickup 4-Door
2020 Jeep Gladiator Rubicon Crew Cab Pickup 4-Door
2020 Jeep Gladiator Sport Crew Cab Pickup 4-Door
2020 Jeep Gladiator Sport S Crew Cab Pickup 4-Door