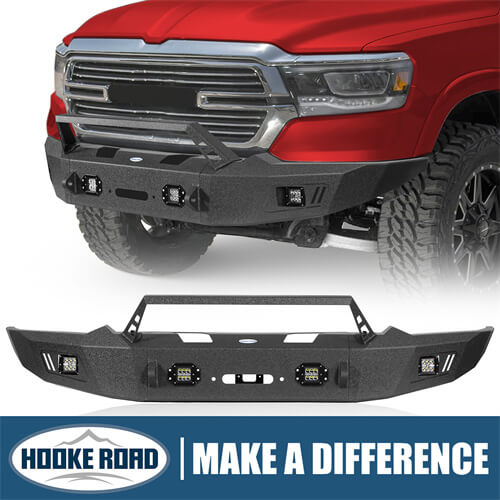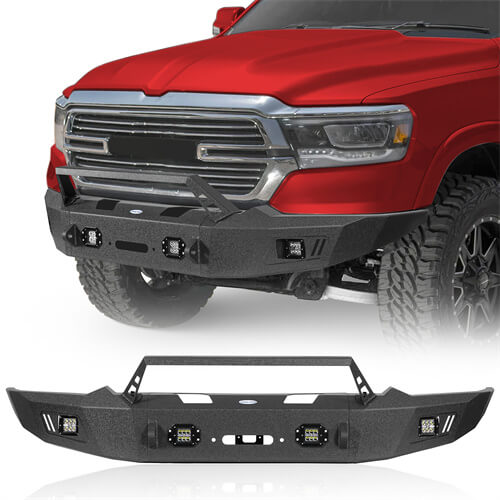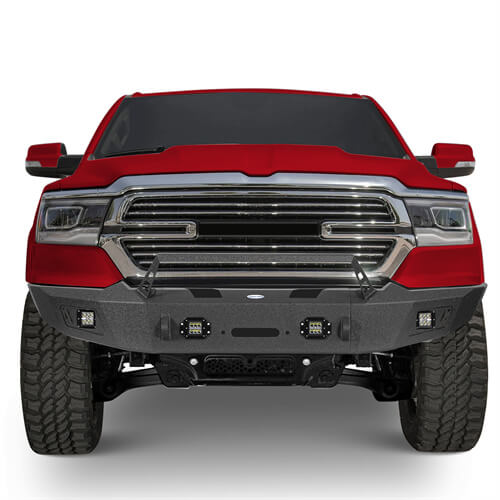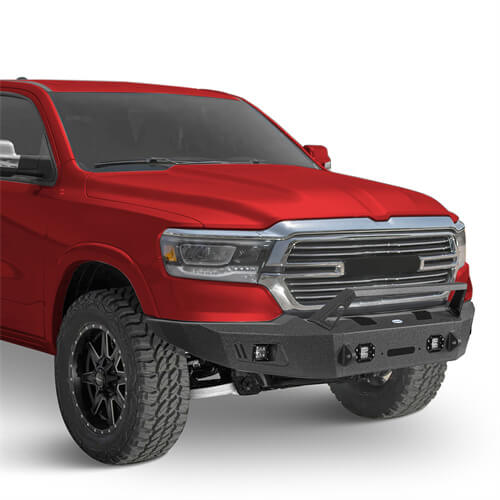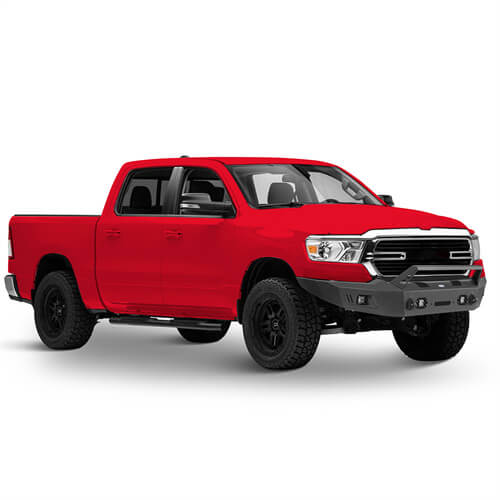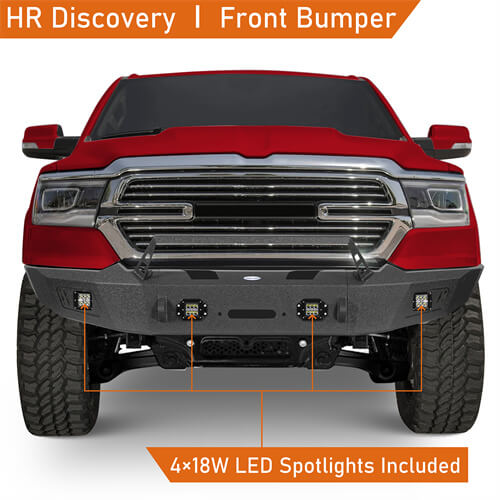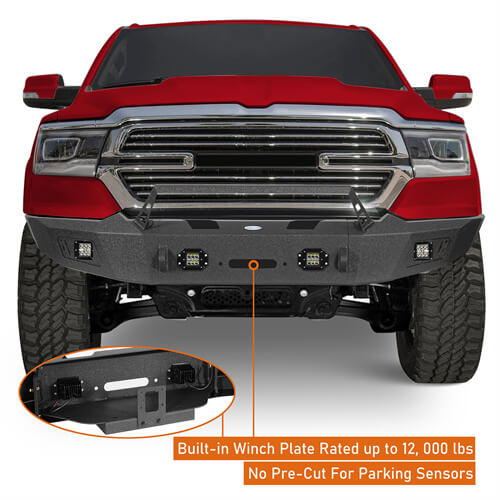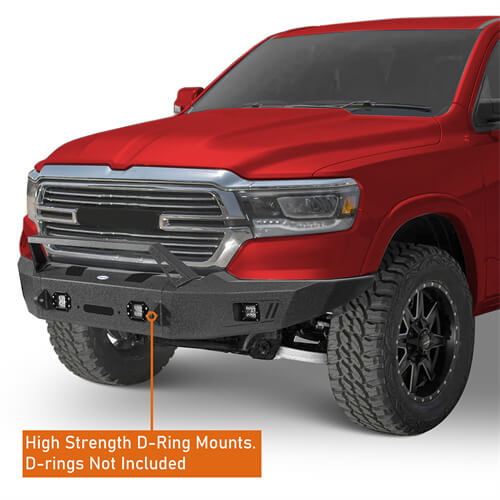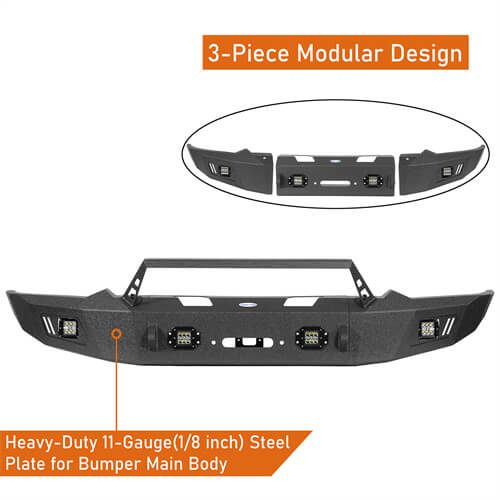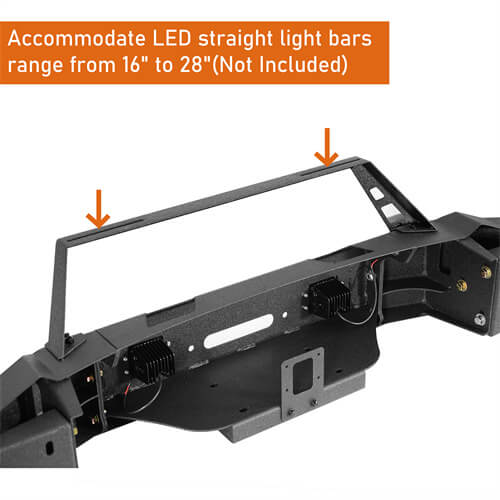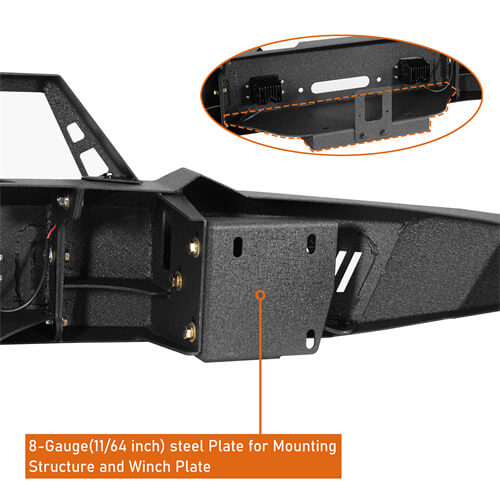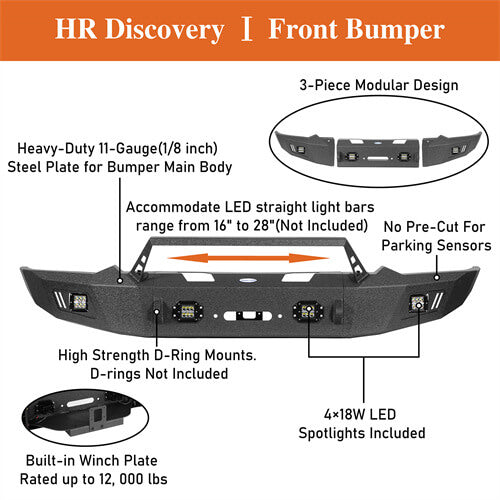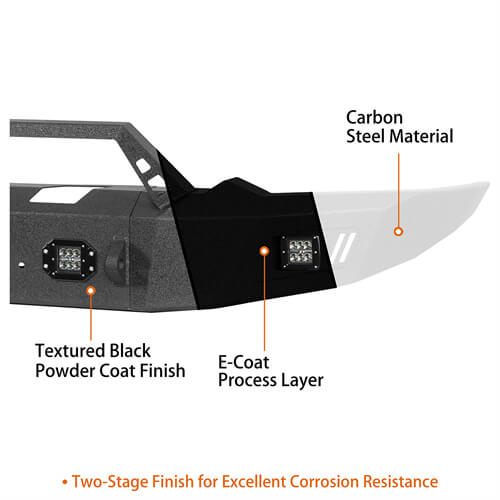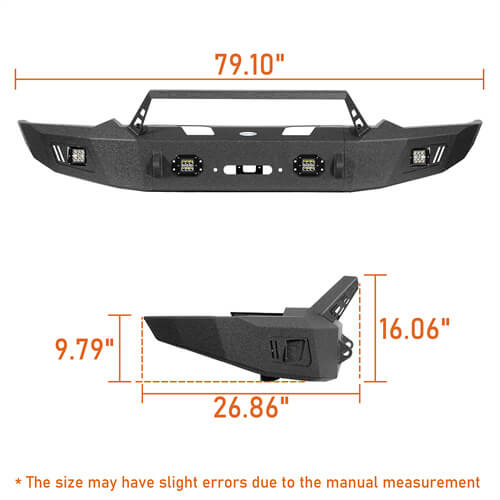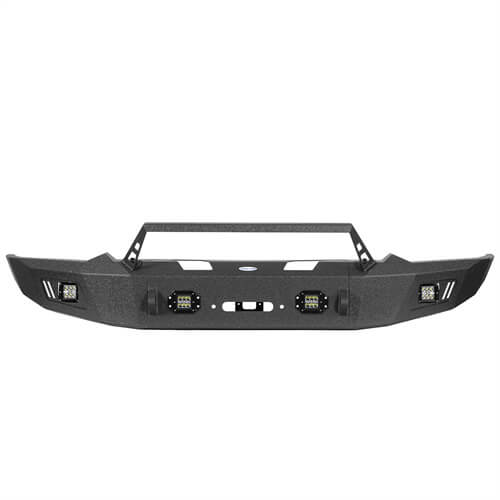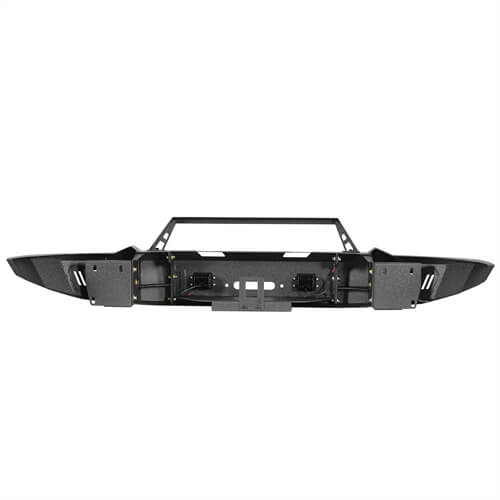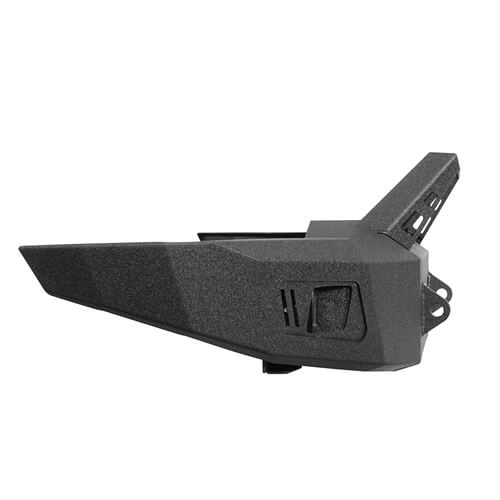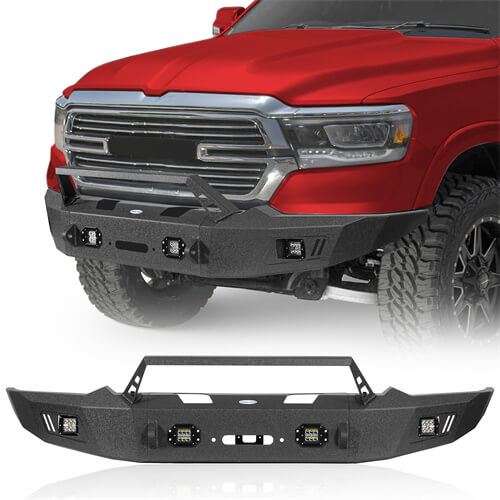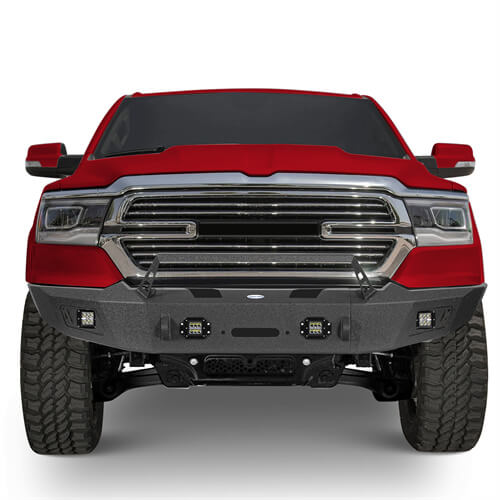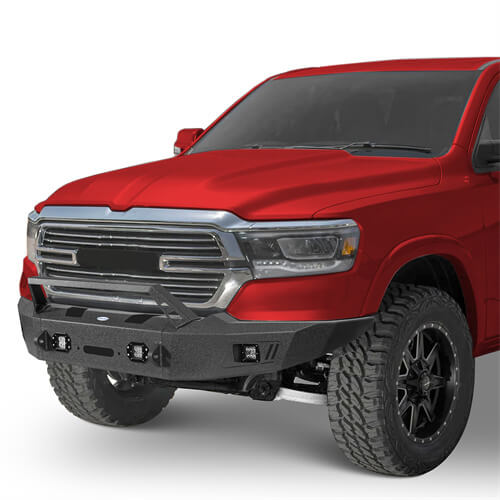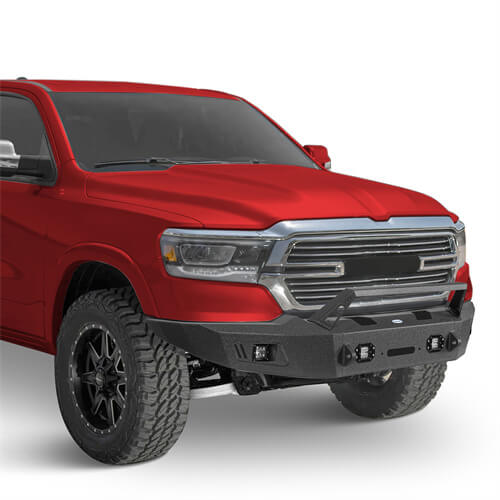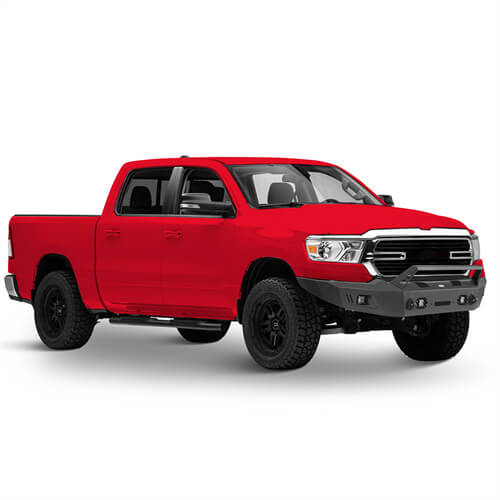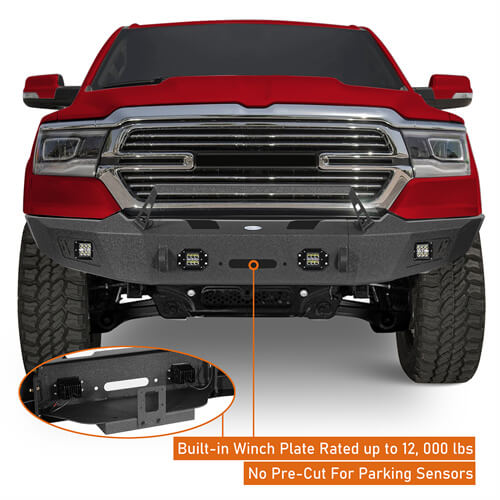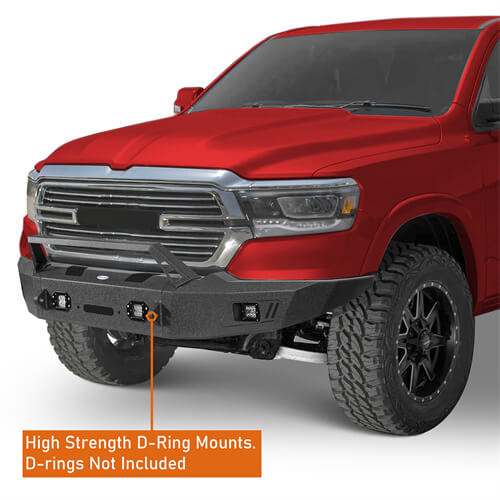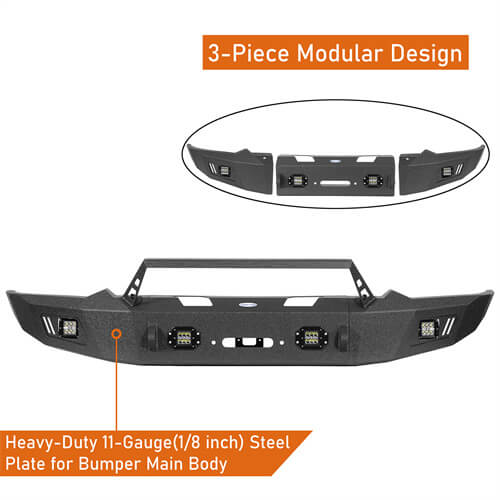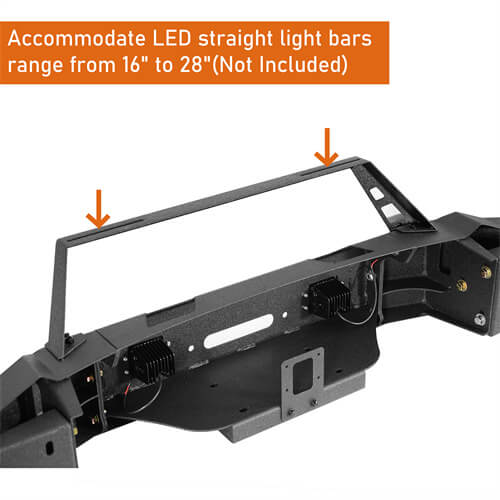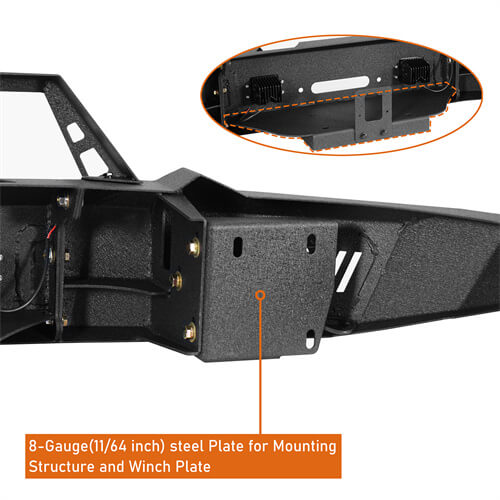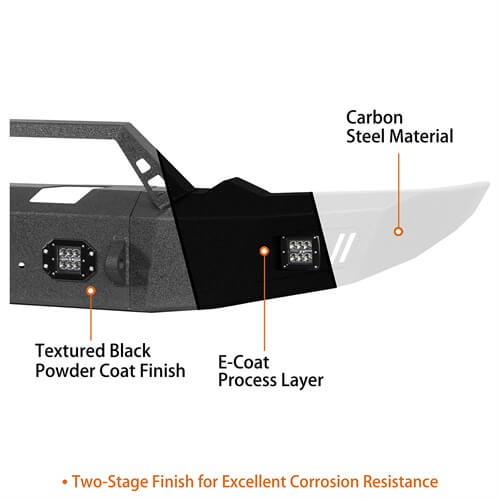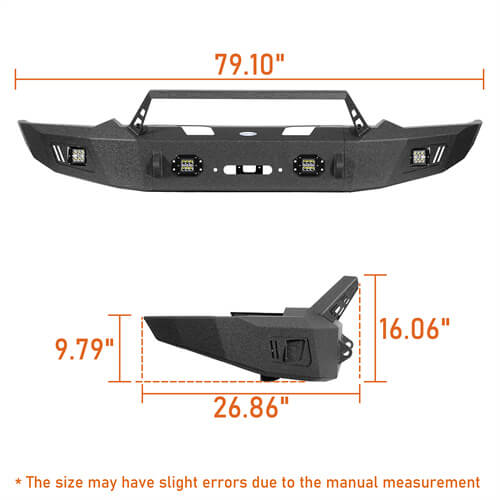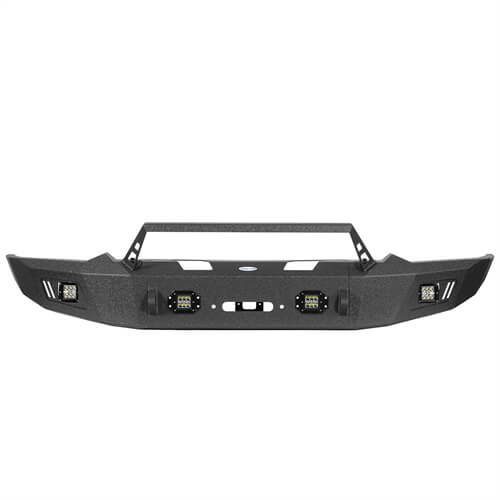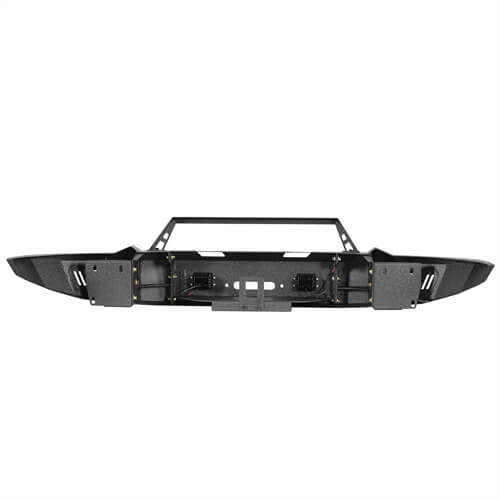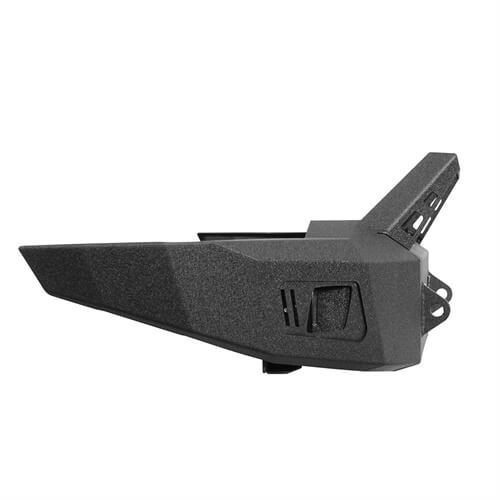 Name: Hooke Road 2019-2023 Ram1500 Aftermarket Full-Width Front Bumper
Feature
Compatible with 2019-2023 Ram 1500 Models (Excluding EcoDiesel, Rebel & TRX, Does not fit for 2019+ Ram 1500 Classic Models)
Bumper weight: about 99 lbs, 3-piece modular design
Heavy-duty, high tensile 11-gauge (1/8 in) steel for bumper main body, 8-gauge(11/64 inch) steel plate for mounting structure and winch plate
Textured black powder coat finish & Premium E-coating process inside
Built-in winch plate for up to 12, 000 lbs winch
Includes 4×18W LED spotlights
High strength D-Ring mounts. D-rings not included
Accommodates LED straight light bars range from 16" to 28" (Not Included)
Durable design shields from trail hazards, providing protection against potential damage
Not compatible with factory parking sensors
Direct bolt-on installation
Dimension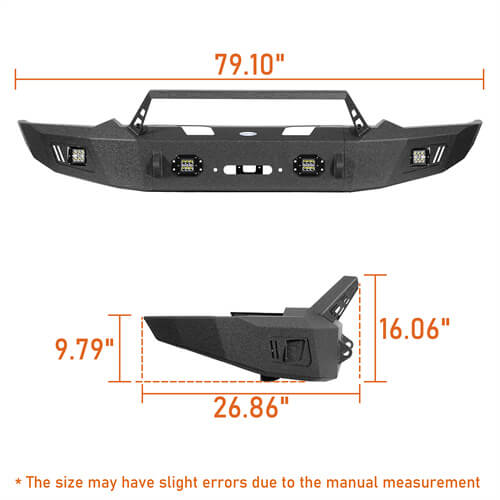 Tough Style, Protective Design. The Front Bumper is a robust and practical addition to your vehicle, designed to provide enhanced protection and functionality. It is equipped with high-strength D-ring mounts, although the D-rings themselves are not included. The bumper comes with four 18W LED spotlights that can significantly improve your visibility during off-road adventures or in low-light conditions. With a winch plate rated for up to 12,000 lbs, this bumper allows you to install a winch, providing additional utility and safety for your off-road excursions.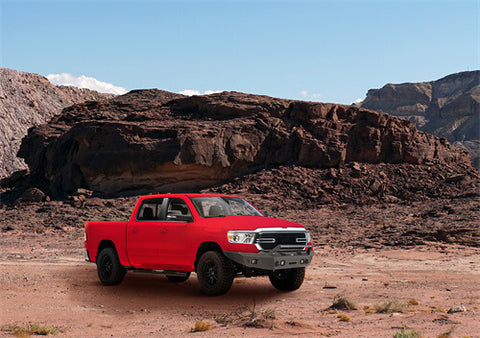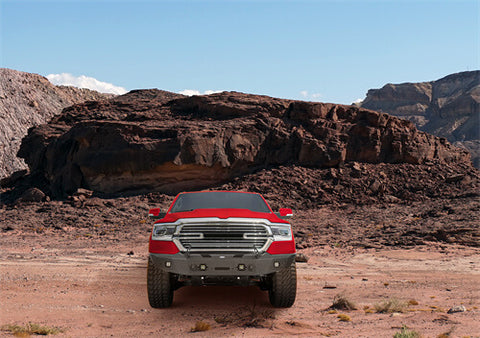 Heavy Duty Steel Structure. The primary structure of the bumper is crafted from high-tensile 11-gauge (1/8 inch) steel. The mounting structure and winch plate, critical components for secure attachment and winch installation, is made from 8-gauge (11/64 inch) steel. The bumper is finished with a textured black powder coat and features a premium E-coating process inside. This dual-layer protection ensures that both the exterior and interior of the bumper are safeguarded from the rigors of off-road use.

Simple Bolt-On Assembly. The bumper is designed to be a suitable replacement for the original stock bumper and can be easily installed using the existing factory hardware and mounting points. Uninstalling the old bumper, assembling the new one, positioning it correctly, and securing it with bolts. It simplifies the installation process, eliminating the need for extensive modifications, cutting, or specialized tools. Basic hand tools and assistance from a friend are typically sufficient to complete the installation.
1 × Front Bumper Assembly
4 × LED Spotlights
1 × Mounting Hardware Kit
1 × Installation Instruction
2023 Ram 2500 Big Horn
2023 Ram 2500 Laramie
2023 Ram 2500 Limited
2023 Ram 2500 Lone Star
2023 Ram 2500 Power Wagon Crew Cab Pickup 4-Door
2023 Ram 2500 Tradesman
2022 Ram 2500 Big Horn
2022 Ram 2500 HD
2022 Ram 2500 Laramie
2022 Ram 2500 Limited
2022 Ram 2500 Lone Star
2022 Ram 2500 Power Wagon
2022 Ram 2500 SLT HD
2022 Ram 2500 Tradesman
2021 Ram 2500 Big Horn
2021 Ram 2500 HD
2021 Ram 2500 Laramie
2021 Ram 2500 Limited
2021 Ram 2500 Lone Star
2021 Ram 2500 Power Wagon Crew Cab Pickup 4-Door
2021 Ram 2500 SLT HD
2021 Ram 2500 Tradesman
2020 Ram 2500 Big Horn
2020 Ram 2500 HD
2020 Ram 2500 Laramie
2020 Ram 2500 Limited
2020 Ram 2500 Lone Star
2020 Ram 2500 Power Wagon Crew Cab Pickup 4-Door
2020 Ram 2500 SLT2020 Ram 2500 Tradesman
2019 Ram 2500 Big Horn
2019 Ram 2500 Laramie
2019 Ram 2500 HD
2019 Ram 2500 Limited
2019 Ram 2500 Lone Star
2019 Ram 2500 Power Wagon Crew Cab Pickup 4-Door
2019 Ram 2500 SLT
2019 Ram 2500 Sport
2019 Ram 2500 Tradesman
2019 Ram 2500 Big Horn
2019 Ram 2500 HD
2019 Ram 2500 Laramie
2019 Ram 2500 Limited
2019 Ram 2500 Lone Star
2019 Ram 2500 Power Wagon Crew Cab Pickup 4-Door
2019 Ram 2500 SLT
2019 Ram 2500 Tradesman
Package Included
1 × Front Bumper Assembly
4 × LED Spotlights
1 × Mounting Hardware Kit
1 × Installation Instruction
Fitment
2023 Ram 2500 Big Horn
2023 Ram 2500 Laramie
2023 Ram 2500 Limited
2023 Ram 2500 Lone Star
2023 Ram 2500 Power Wagon Crew Cab Pickup 4-Door
2023 Ram 2500 Tradesman
2022 Ram 2500 Big Horn
2022 Ram 2500 HD
2022 Ram 2500 Laramie
2022 Ram 2500 Limited
2022 Ram 2500 Lone Star
2022 Ram 2500 Power Wagon
2022 Ram 2500 SLT HD
2022 Ram 2500 Tradesman
2021 Ram 2500 Big Horn
2021 Ram 2500 HD
2021 Ram 2500 Laramie
2021 Ram 2500 Limited
2021 Ram 2500 Lone Star
2021 Ram 2500 Power Wagon Crew Cab Pickup 4-Door
2021 Ram 2500 SLT HD
2021 Ram 2500 Tradesman
2020 Ram 2500 Big Horn
2020 Ram 2500 HD
2020 Ram 2500 Laramie
2020 Ram 2500 Limited
2020 Ram 2500 Lone Star
2020 Ram 2500 Power Wagon Crew Cab Pickup 4-Door
2020 Ram 2500 SLT2020 Ram 2500 Tradesman
2019 Ram 2500 Big Horn
2019 Ram 2500 Laramie
2019 Ram 2500 HD
2019 Ram 2500 Limited
2019 Ram 2500 Lone Star
2019 Ram 2500 Power Wagon Crew Cab Pickup 4-Door
2019 Ram 2500 SLT
2019 Ram 2500 Sport
2019 Ram 2500 Tradesman
2019 Ram 2500 Big Horn
2019 Ram 2500 HD
2019 Ram 2500 Laramie
2019 Ram 2500 Limited
2019 Ram 2500 Lone Star
2019 Ram 2500 Power Wagon Crew Cab Pickup 4-Door
2019 Ram 2500 SLT
2019 Ram 2500 Tradesman