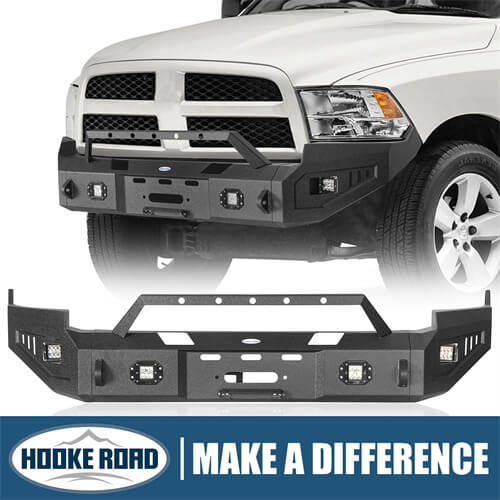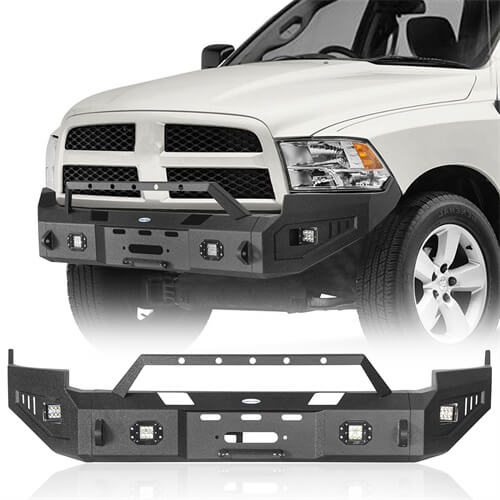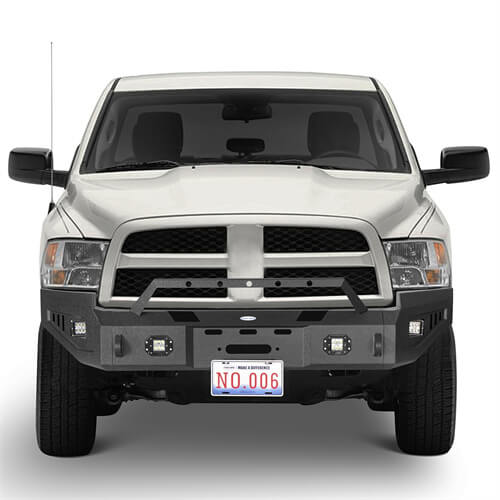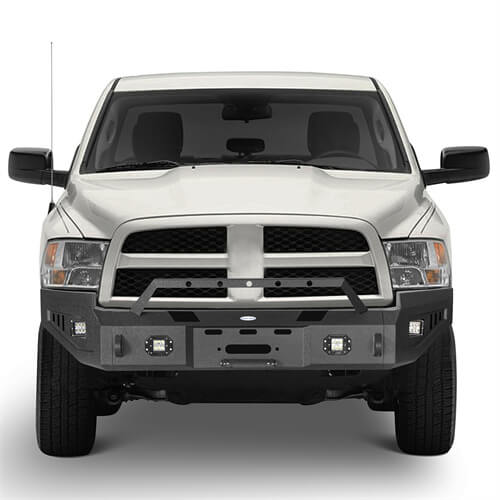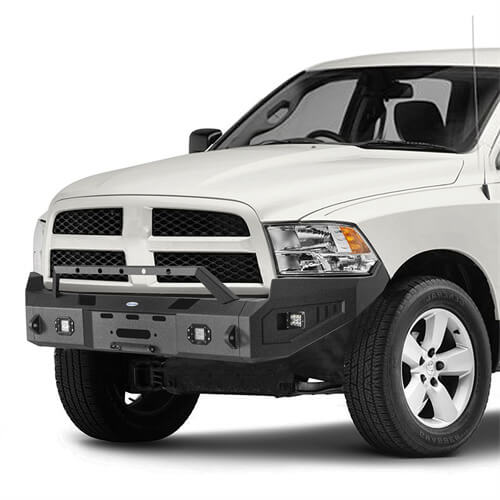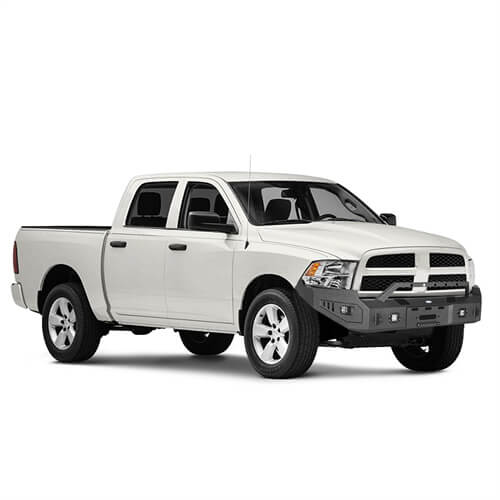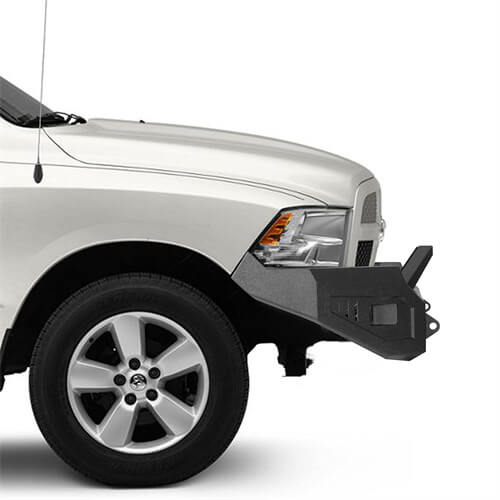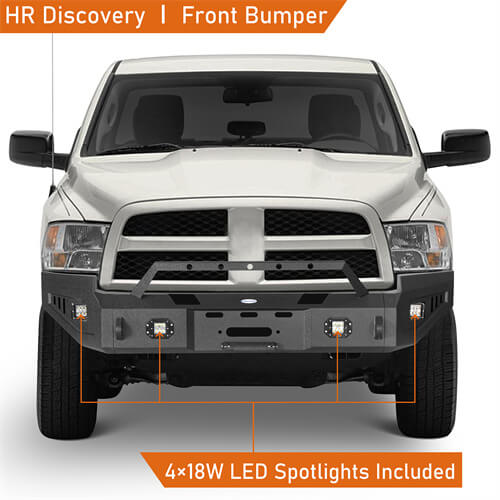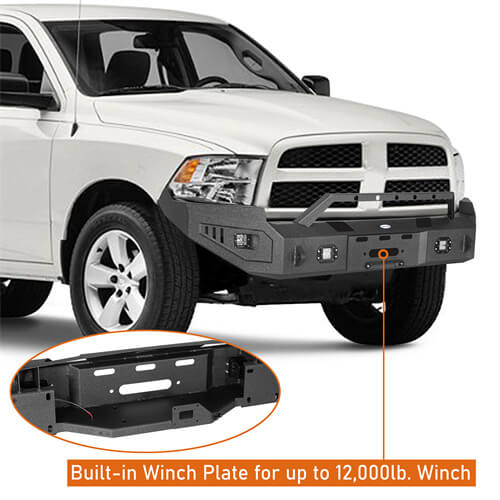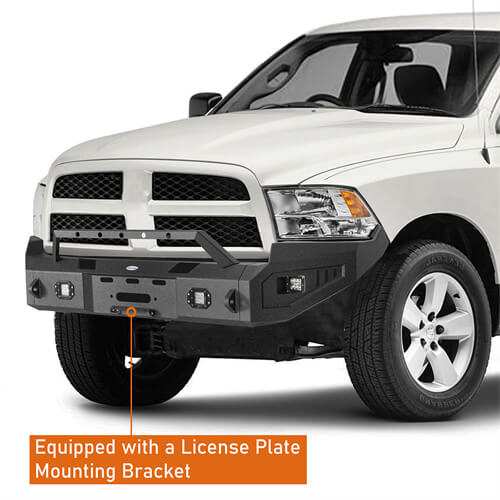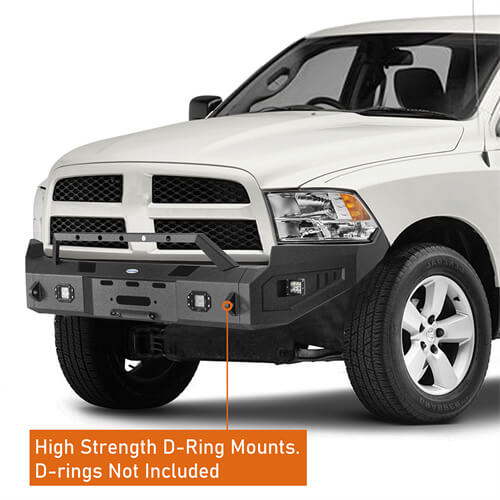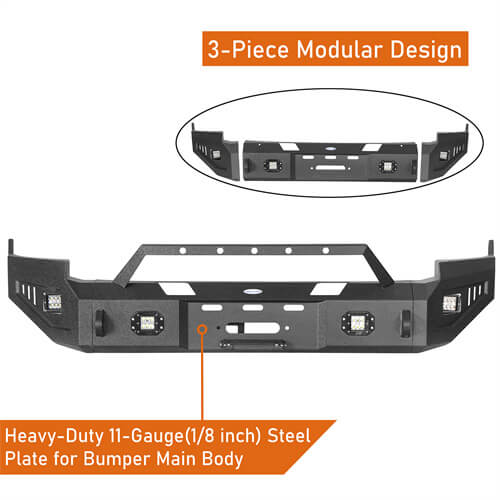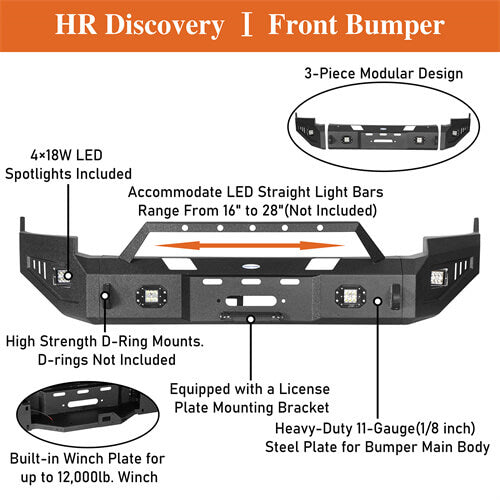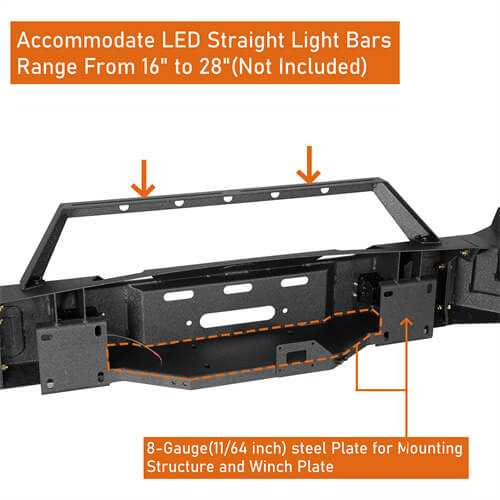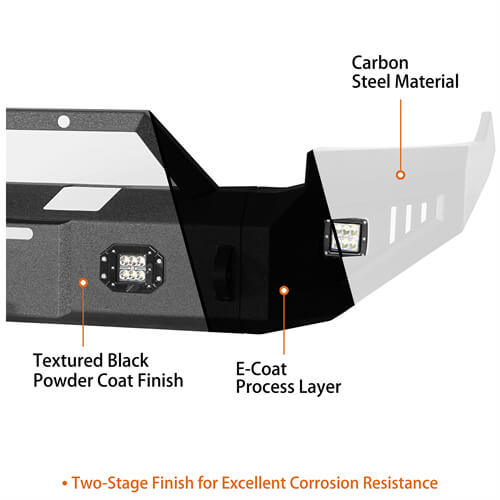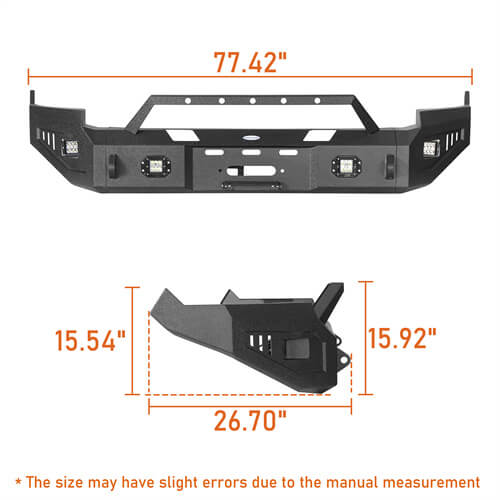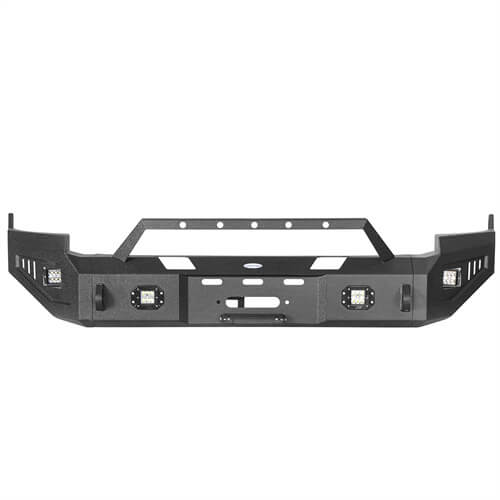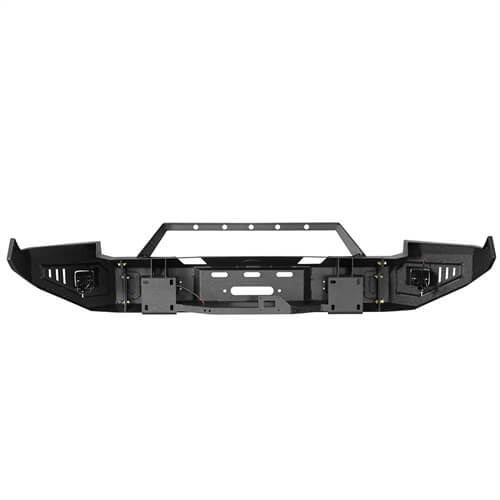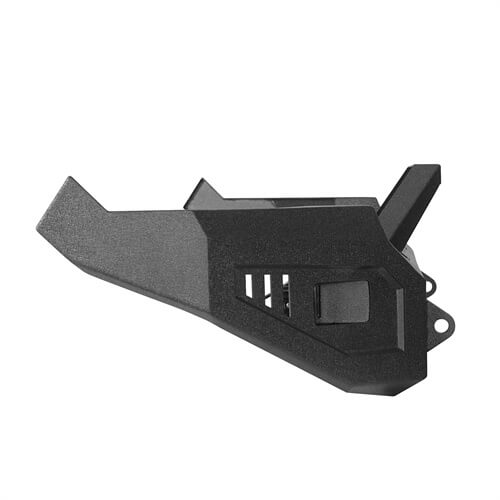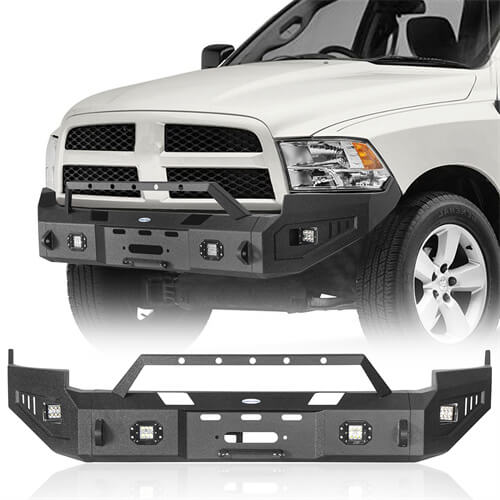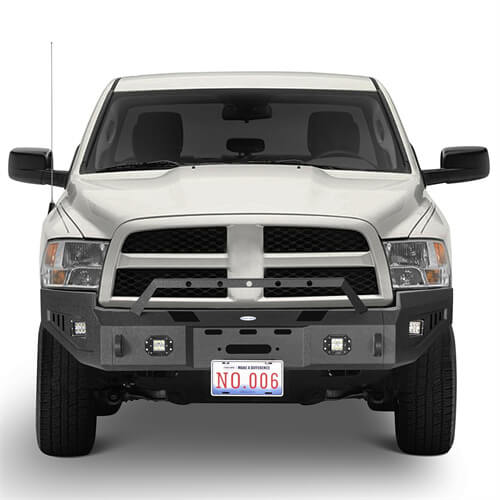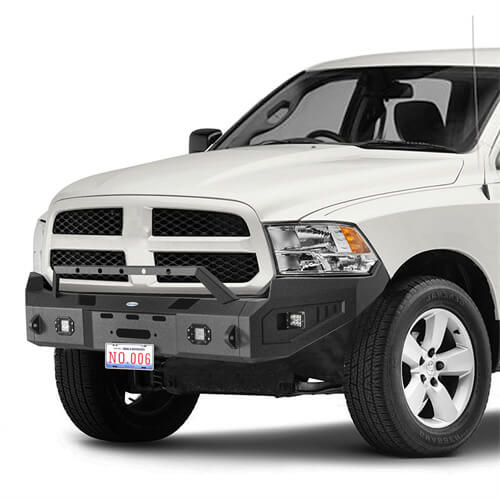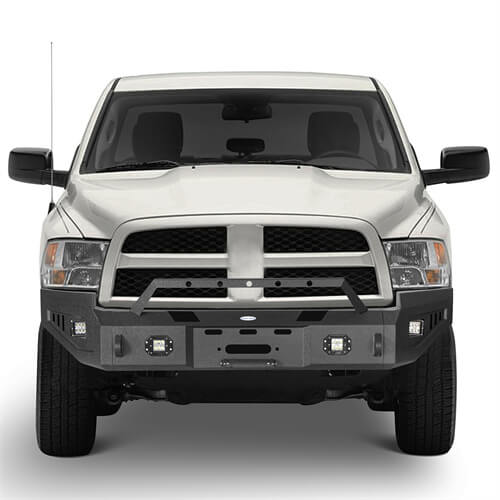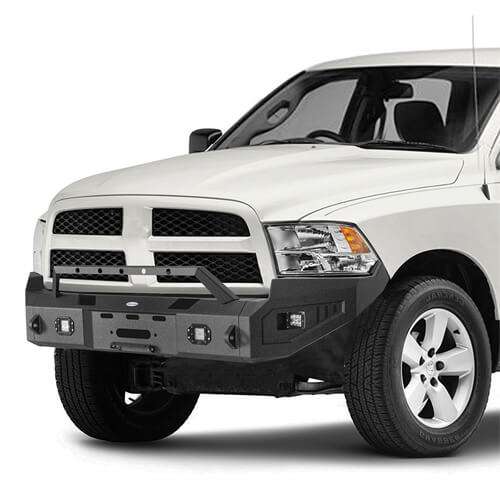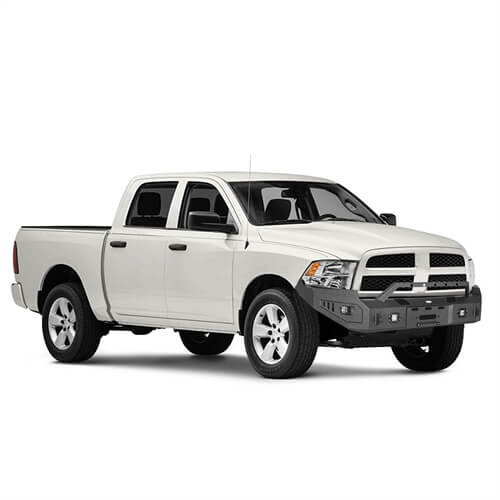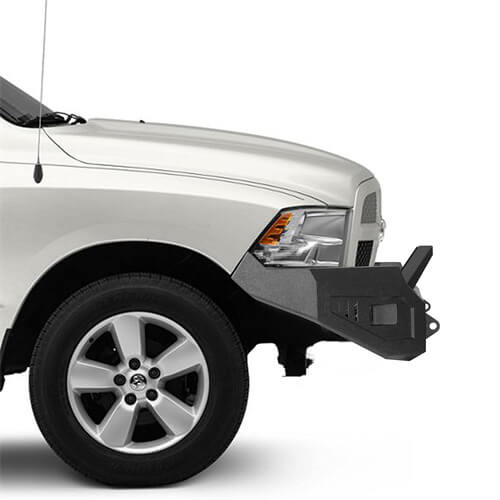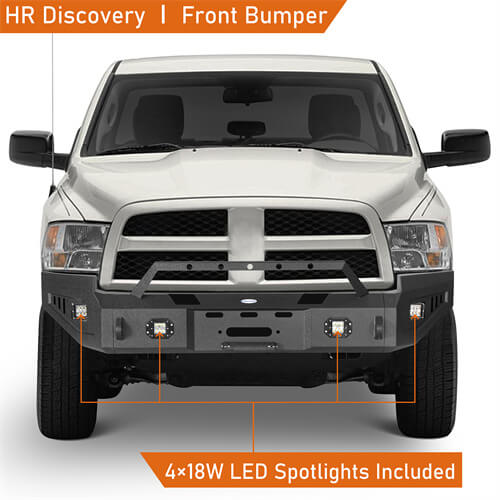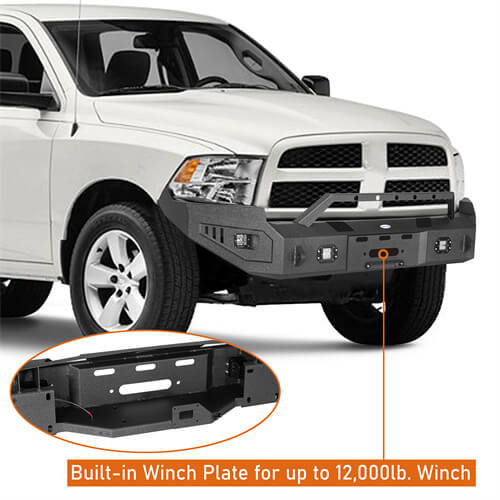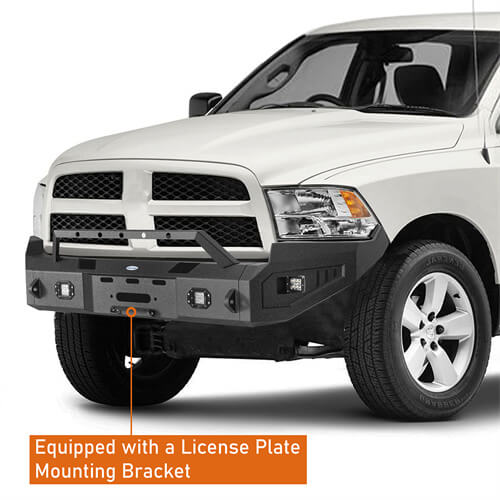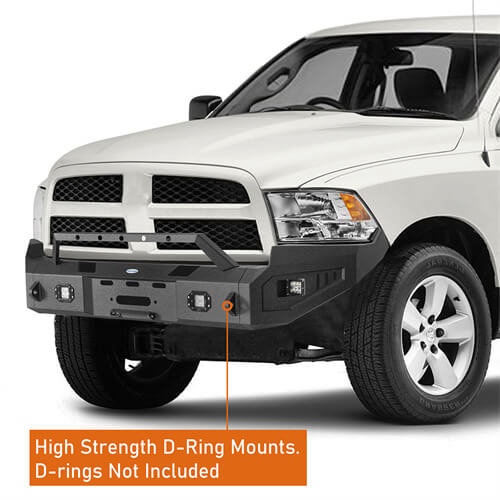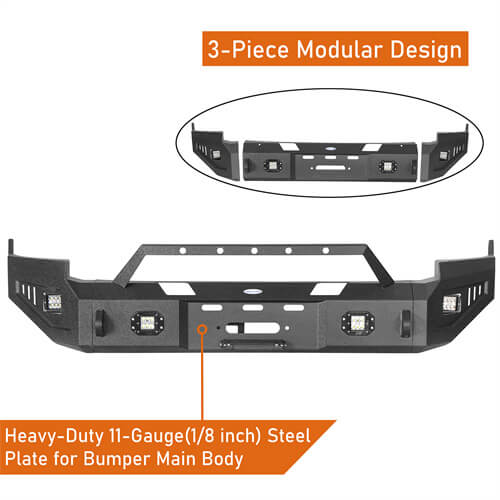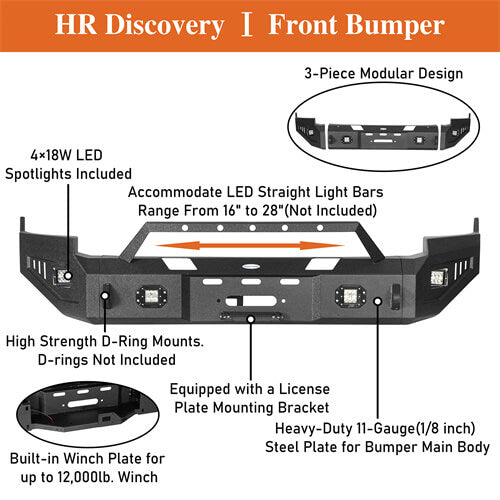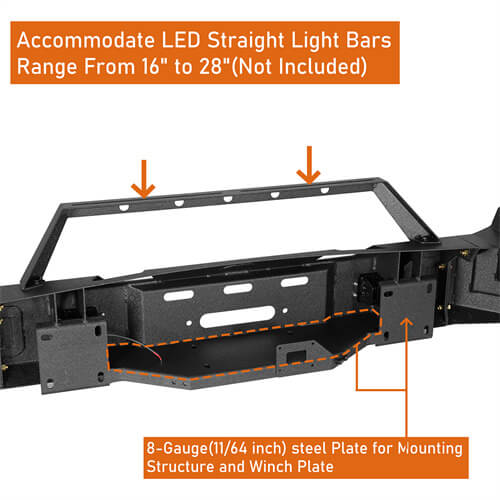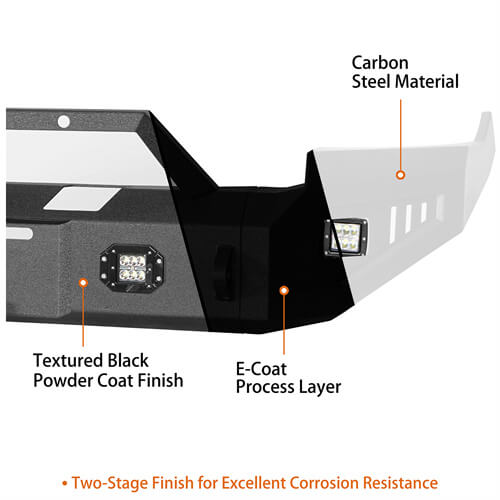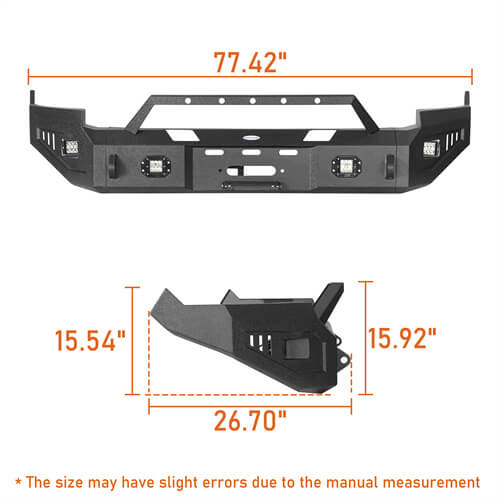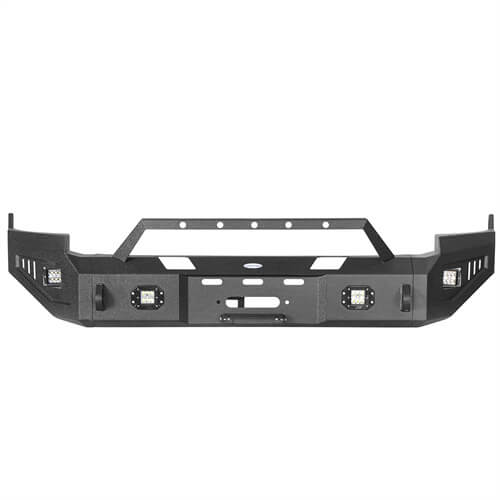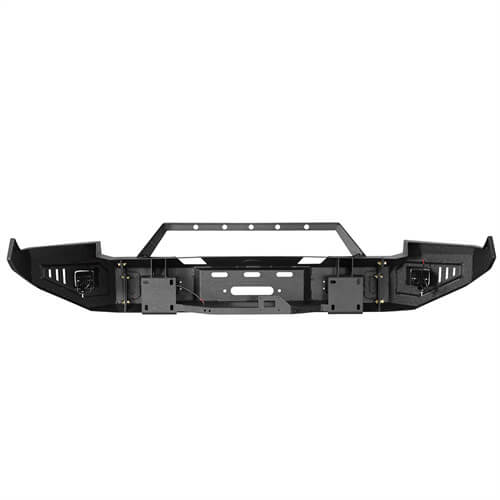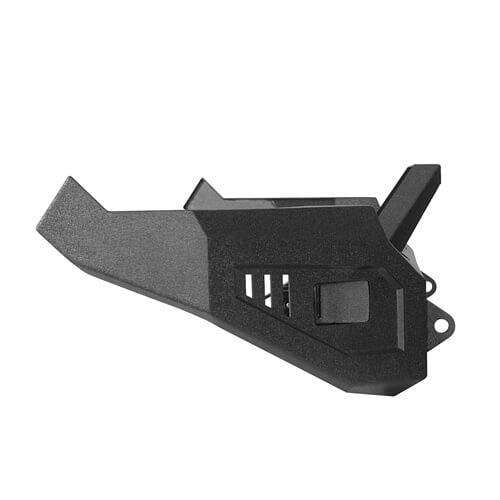 Name: Hooke Road 2009-2012 Ram 1500 Aftermarket Full-Width Front Bumper w/ Winch Plate
Feature
Compatible with 2009-2012 Ram 1500 Models
Bumper weight: about 92 lbs, 3-piece modular design
Heavy-duty, high tensile 11-gauge (1/8 in) steel for bumper main body, 8-gauge(11/64 in) steel for mounting structure and winch plate
Textured black powder coat finish & Premium E-coating process inside
Includes 4×18W white LED spotlights
Built-in winch plate for up to 12, 000 lbs winch
Equipped with a flip-up license plate mounting bracket
Robust design defends against off-road hazards, safeguarding from potential damage and ensuring trail durability
Features high strength D-ring mounts welded both inside and out with a 4.75-ton capacity, D-rings not included
Accommodate LED straight light bars ranging from 16" to 28"(Not Included)
Direct bolt-on installation
Dimension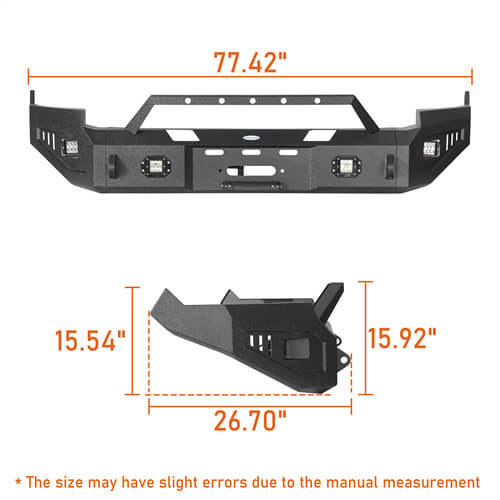 Bold off-road aesthetics. The bumper provides robust protection against off-road hazards and ensures trail durability. It is equipped with high-strength D-ring mounts, expertly welded both inside and out, offering a 4.75-ton capacity for recovery tasks (D-rings not included). The bumper includes four 18W LED spotlights for enhanced visibility. Additionally, it boasts a built-in winch plate capable of supporting up to 12,000 lbs of winching power and comes with a convenient license plate mounting bracket, making it a versatile and functional upgrade for off-road enthusiasts.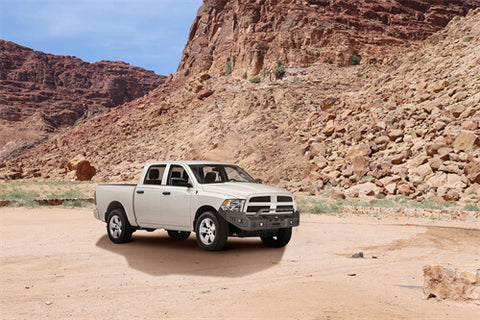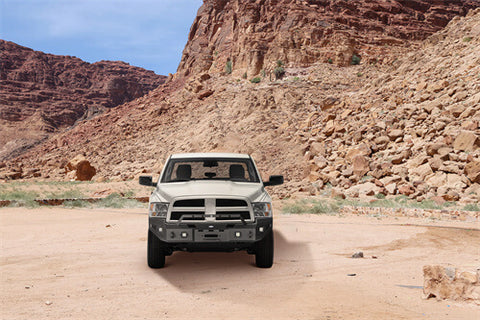 Heavy Duty Steel Structure. The HR Discovery Ⅰ Front Bumper is constructed with heavy-duty, high-tensile 11-gauge (1/8 in) steel for the bumper main body, ensuring durability. The mounting structure and winch plate are crafted from robust 8-gauge (11/64 in) steel. It features a textured black powder coat finish for external protection and a premium E-coating process inside to enhance resistance to rust and corrosion, making it a reliable choice for off-road adventures.

Simple Bolt-On Installation. The bumper offers a hassle-free installation process, serving as a direct bolt-on replacement for the factory bumper. Utilizing the existing hardware and mounting points eliminates the need for cutting or modifications. To install, remove the original bumper, assemble the new one, secure its position, and tighten the bolts. The process is user-friendly, requiring only basic hand tools, and can be expedited with a friend's help. This simplicity ensures that you can enjoy the benefits of enhanced off-road protection without extensive mechanical expertise or additional equipment.
1 × Front Bumper Assembly
4 × LED Spotlights
1 × License Plate Mounting Bracket
1 × Mounting Hardware Kit
1 × Installation Instruction
2012 Ram 1500 Big Horn
2012 Ram 1500 Express
2012 Ram 1500 Laramie
2012 Ram 1500 Outdoorsman
2012 Ram 1500 SLT
2012 Ram 1500 ST
2012 Ram 1500 Sport
2012 Ram 1500 Tradesman
2011 Ram 1500 Big Horn
2011 Ram 1500 Laramie
2011 Ram 1500 Outdoorsman
2011 Ram 1500 SLT
2011 Ram 1500 ST
2011 Ram 1500 SXT
2011 Ram 1500 Sport
2011 Ram 1500 Tradesman
2010 Dodge Ram 1500 Laramie
2010 Dodge Ram 1500 SLT
2010 Dodge Ram 1500 ST
2010 Dodge Ram 1500 Sport
2010 Dodge Ram 1500 TRX4
2010 Dodge Ram 1500 TRX
2009 Dodge Ram 1500 Laramie
2009 Dodge Ram 1500 SLT
2009 Dodge Ram 1500 ST
2009 Dodge Ram 1500 Sport
2009 Dodge Ram 1500 TRX4
2009 Dodge Ram 1500 TRX
Package Included
1 × Front Bumper Assembly
4 × LED Spotlights
1 × License Plate Mounting Bracket
1 × Mounting Hardware Kit
1 × Installation Instruction
Fitment
2012 Ram 1500 Big Horn
2012 Ram 1500 Express
2012 Ram 1500 Laramie
2012 Ram 1500 Outdoorsman
2012 Ram 1500 SLT
2012 Ram 1500 ST
2012 Ram 1500 Sport
2012 Ram 1500 Tradesman
2011 Ram 1500 Big Horn
2011 Ram 1500 Laramie
2011 Ram 1500 Outdoorsman
2011 Ram 1500 SLT
2011 Ram 1500 ST
2011 Ram 1500 SXT
2011 Ram 1500 Sport
2011 Ram 1500 Tradesman
2010 Dodge Ram 1500 Laramie
2010 Dodge Ram 1500 SLT
2010 Dodge Ram 1500 ST
2010 Dodge Ram 1500 Sport
2010 Dodge Ram 1500 TRX4
2010 Dodge Ram 1500 TRX
2009 Dodge Ram 1500 Laramie
2009 Dodge Ram 1500 SLT
2009 Dodge Ram 1500 ST
2009 Dodge Ram 1500 Sport
2009 Dodge Ram 1500 TRX4
2009 Dodge Ram 1500 TRX