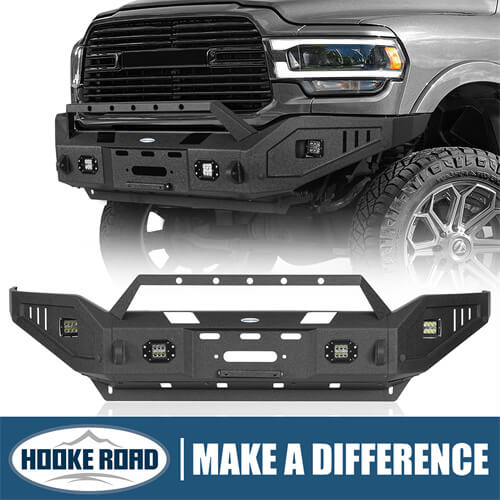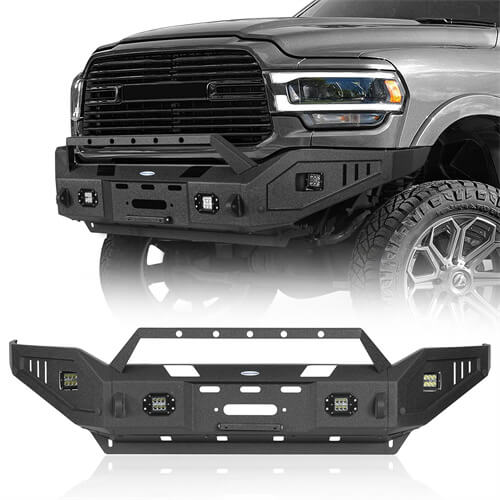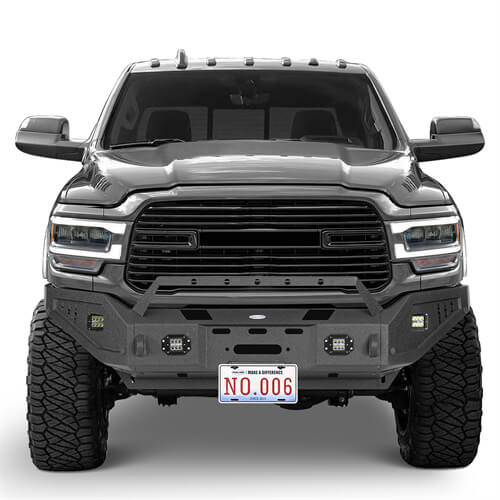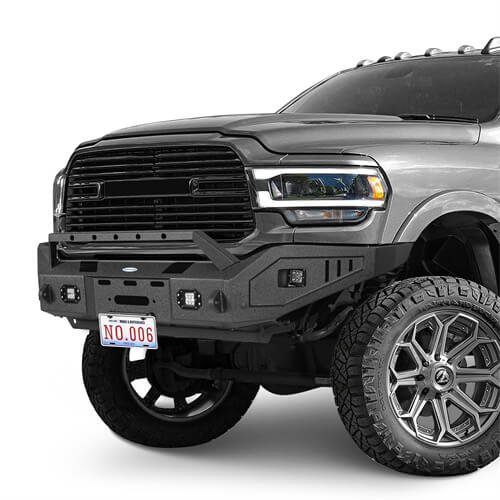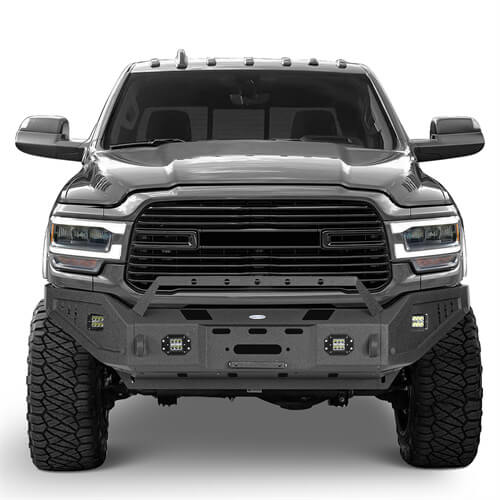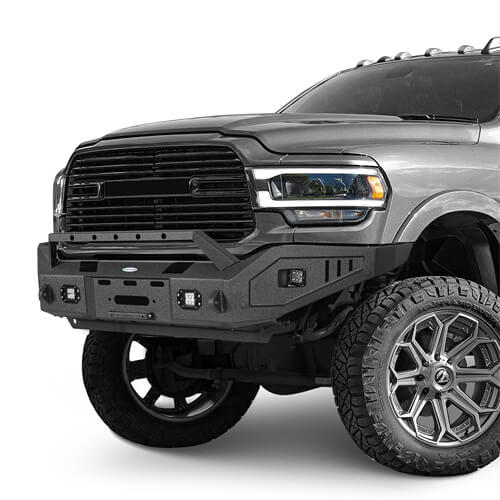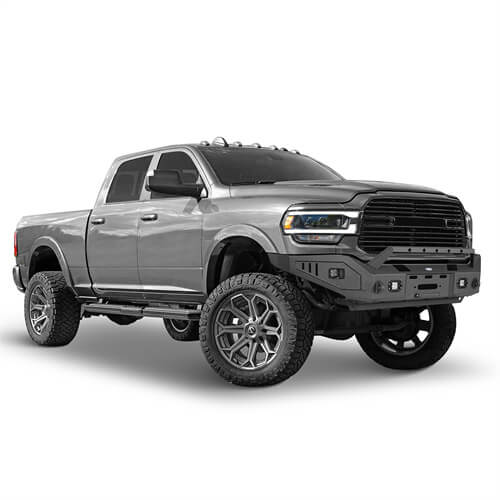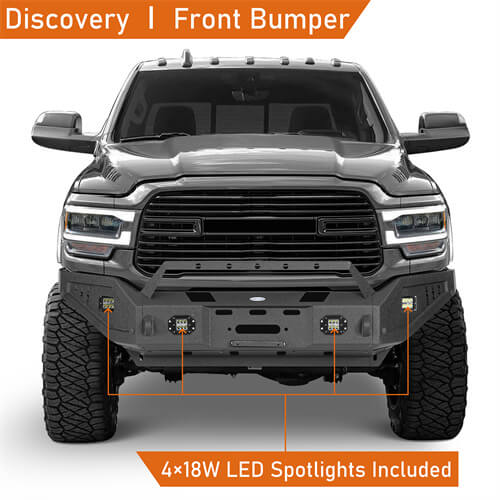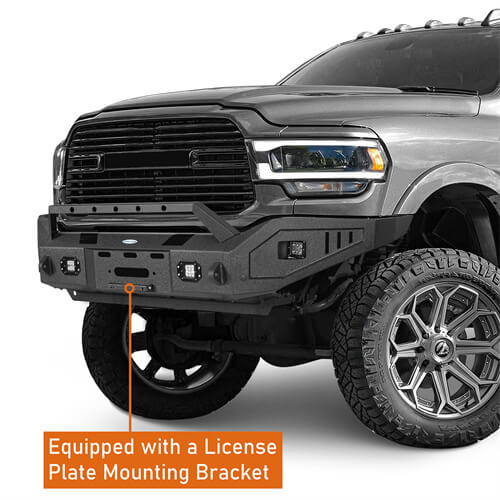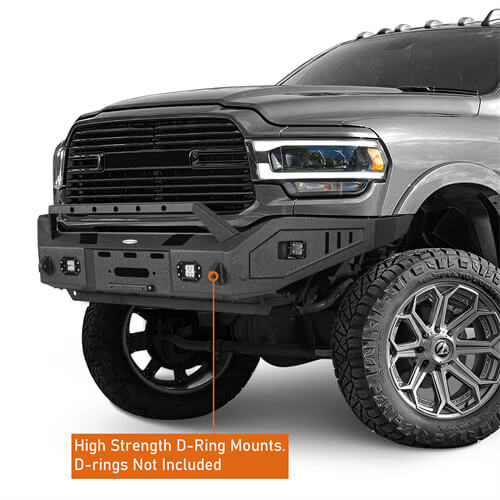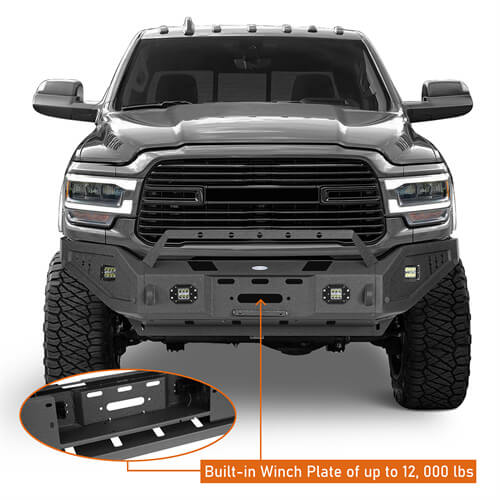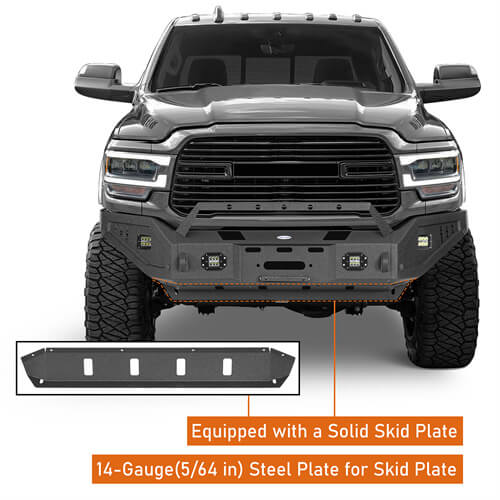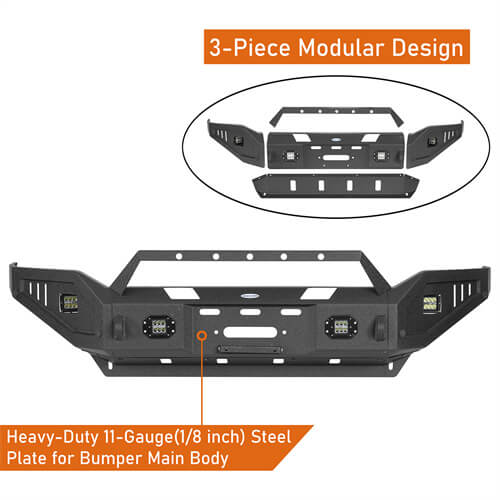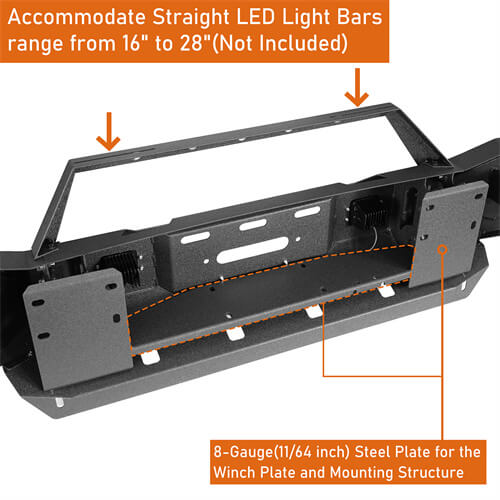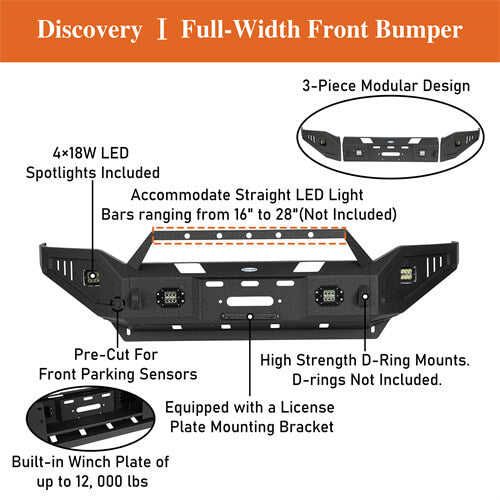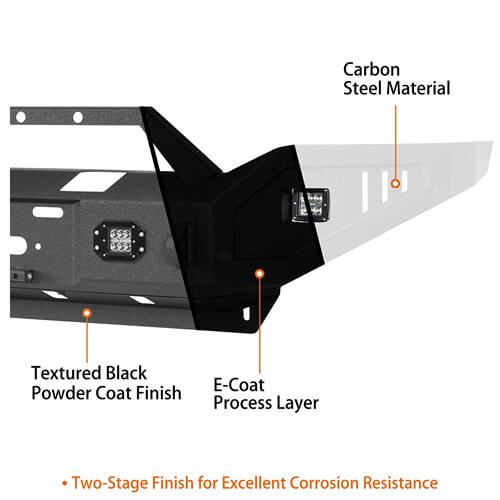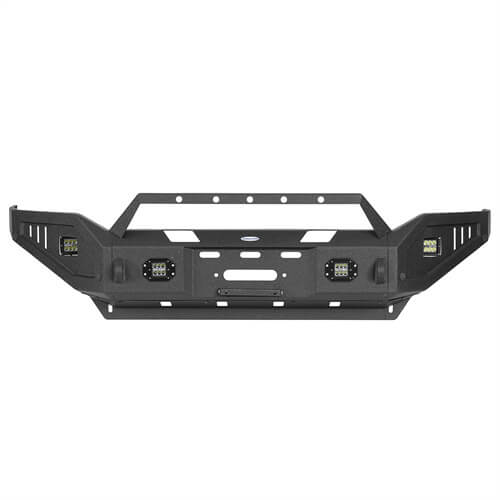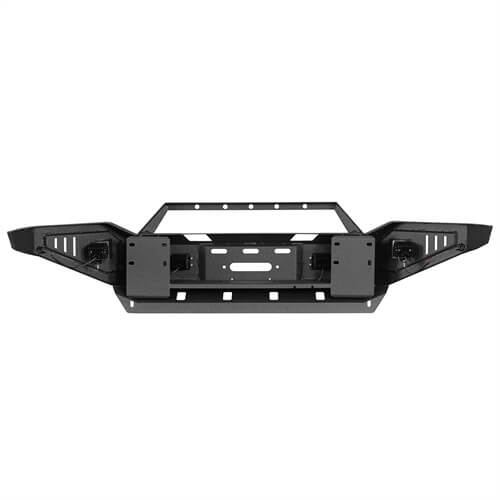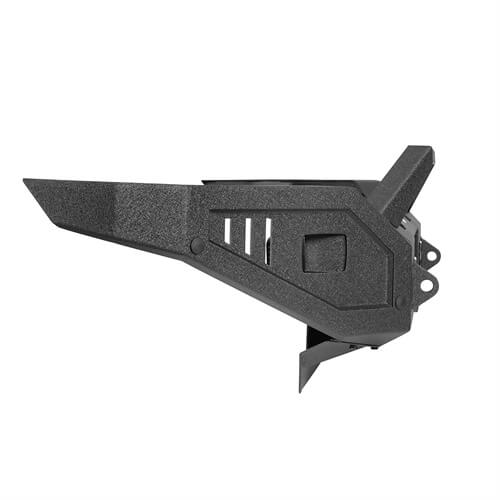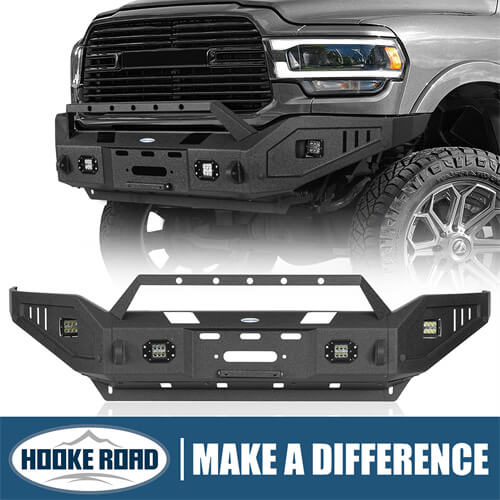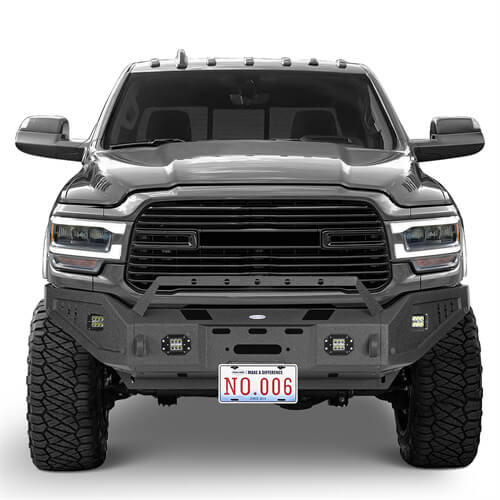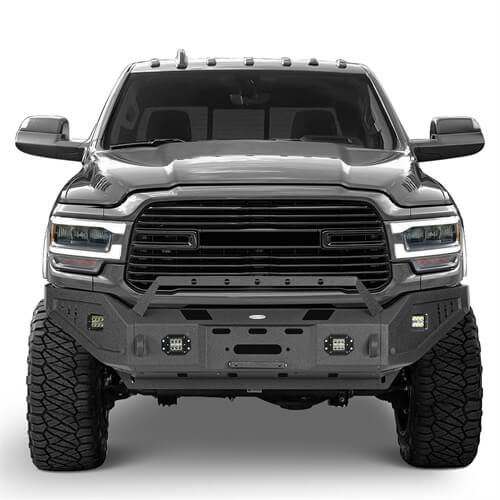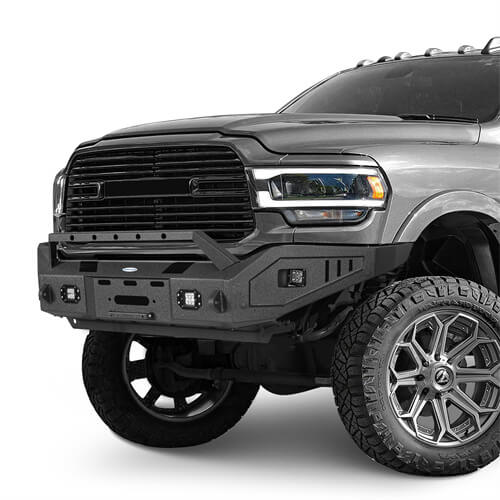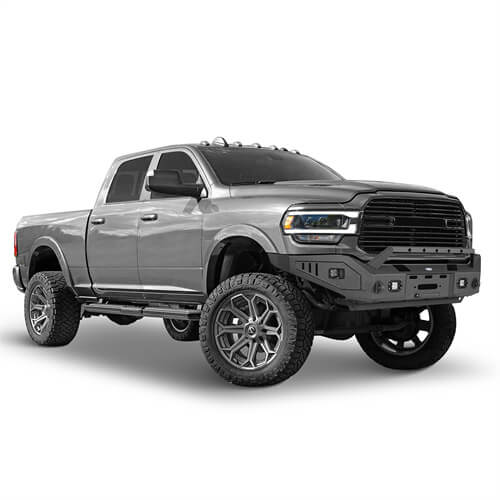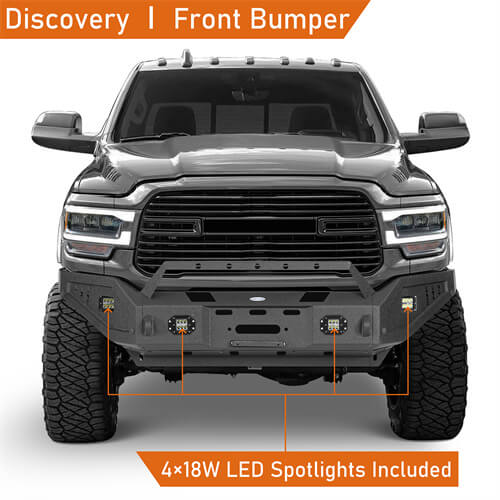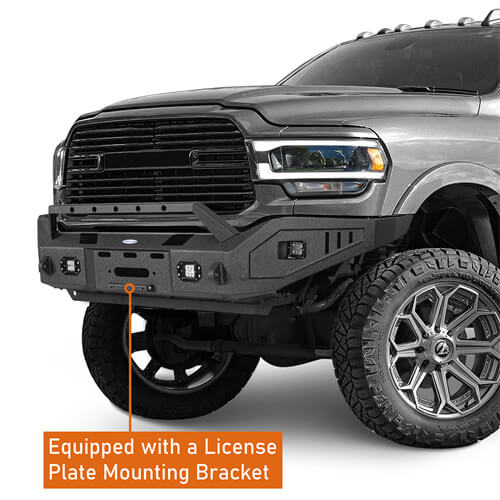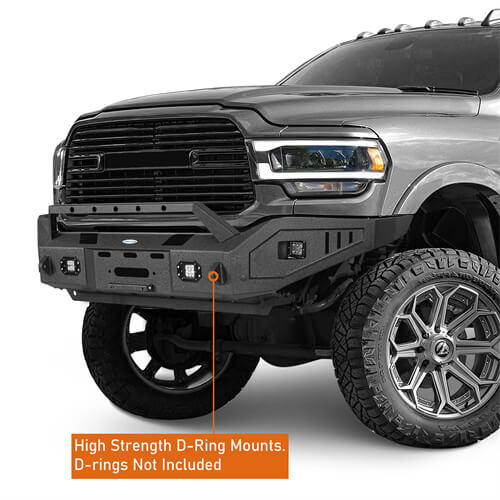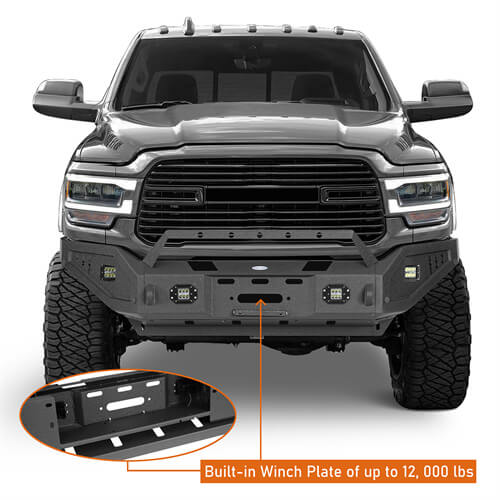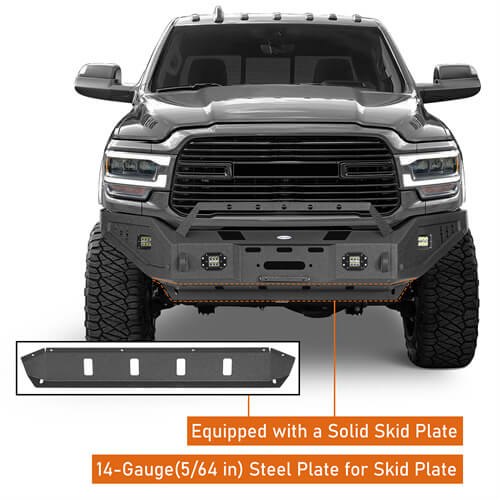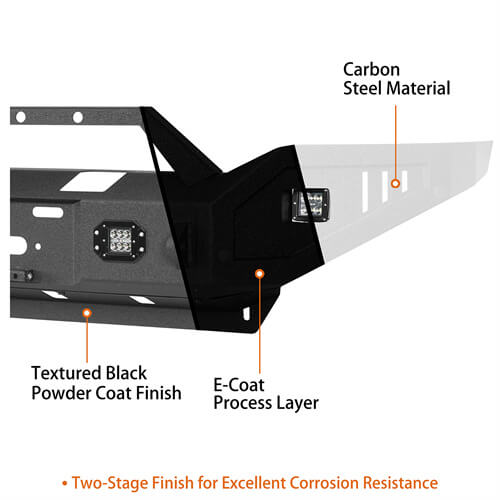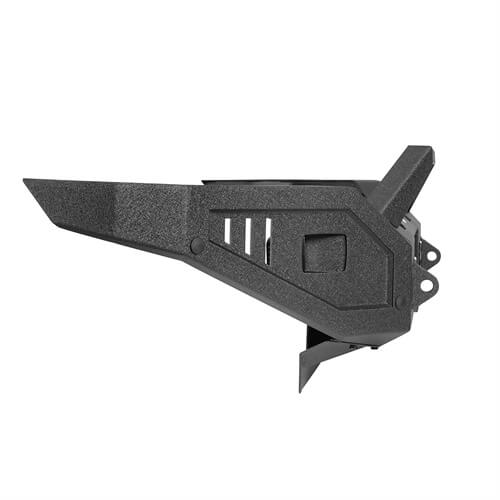 Name: Hooke Road Aftermarket Full Width Front Bumper w/ Winch Plate & LED Lights(19-22 Ram 2500) 
Feature
Compatible with 2019-2023 Ram 2500 Models
Bumper weight: about 110 lbs, 3-piece modular design
Heavy-duty, high tensile 11-gauge (1/8 in) steel for the bumper main body, 8-gauge(11/64 in) steel for the mounting structure and the winch plate, 14-gauge(5/64 in) steel for the solid skid plate
Textured black powder coat finish & Premium E-coating process inside
4×18W LED spotlights included
Accommodate LED straight light bars ranging from 16" to 28"(Not Included)
Features high strength D-ring mounts. D-rings not included
Equipped with a solid skid plate
Built-in winch plate up to 12, 000 lbs
Equipped with a license plate mounting bracket
Not compatible with factory parking sensors
Direct bolt-on installation, No drilling is required
Dimension
Construction and Appearance. The Discovery Ⅰ Front Bumper is designed to offer full-width protection to the front end of your vehicle, enhancing its off-road capability and durability. It includes four 18W LED spotlights, improving visibility, especially in low-light conditions. The bumper features robust D-ring mounts, though the D-rings are not included. It comes equipped with a solid skid plate, protecting the underside of your vehicle against impacts and obstacles. A license plate mounting bracket is included to ensure compliance with legal requirements.

Heavy Duty Structure. The main body of the bumper is constructed from heavy-duty, high tensile 11-gauge (1/8 inch) steel. The mounting structure of the bumper, as well as the winch plate, are made from 8-gauge (11/64 inch) steel. These components offer a solid foundation for both the bumper and any winch with which it's compatible. The combination of exterior powder coating and interior E-coating makes this bumper both strong and resilient. It's well-suited for off-road use and is designed to withstand various environmental challenges while maintaining its structural integrity.

Direct Bolt On Installation. The front bumper is engineered to fit directly onto your vehicle's existing mounting points using the included hardware. Importantly, no cutting or modifications are required when installing this bumper. Basic hand tools are sufficient for the installation process, making it accessible to individuals with standard mechanical skills. Having a friend's assistance during the installation can be helpful, especially when handling larger components or aligning the bumper correctly.

1 × Front Bumper Assembly
4 × LED Spotlights
1 × Winch Plate
1 × Solid Skid Plate
1 × License Plate Mounting Bracket
1 × Mounting Hardware Kit
1 × Installation Instruction
The item includes two packages: Package A & Package B
2023 Ram 2500 Big Horn
2023 Ram 2500 Laramie
2023 Ram 2500 Limited
2023 Ram 2500 Lone Star
2023 Ram 2500 Power Wagon Crew Cab Pickup 4-Door
2023 Ram 2500 Rebel
2023 Ram 2500 Tradesman
2023 Ram 3500 Big Horn
2023 Ram 3500 Laramie
2023 Ram 3500 SLT
2023 Ram 3500 Tradesman
2022 Ram 2500 Big Horn
2022 Ram 2500 HD
2022 Ram 2500 Laramie
2022 Ram 2500 Limited
2022 Ram 2500 Lone Star
2022 Ram 2500 Power Wagon
2022 Ram 2500 SLT HD
2022 Ram 2500 Tradesman
2022 Ram 3500 Big Horn
2022 Ram 3500 Laramie
2022 Ram 3500 Limited
2022 Ram 3500 Lone Star
2022 Ram 3500 SLT
2022 Ram 3500 Tradesman
2021 Ram 2500 Big Horn
2021 Ram 2500 HD
2021 Ram 2500 Laramie
2021 Ram 2500 Limited
2021 Ram 2500 Lone Star
2021 Ram 2500 Power Wagon Crew Cab Pickup 4-Door
2021 Ram 2500 SLT HD
2021 Ram 2500 Tradesman
2021 Ram 3500 Big Horn
2021 Ram 3500 Laramie
2021 Ram 3500 Limited
2021 Ram 3500 Lone Star
2021 Ram 3500 SLT
2021 Ram 3500 Tradesman
2020 Ram 2500 Big Horn
2020 Ram 2500 HD
2020 Ram 2500 Laramie
2020 Ram 2500 Limited
2020 Ram 2500 Lone Star
2020 Ram 2500 Power Wagon Crew Cab Pickup 4-Door
2020 Ram 2500 SLT2020 Ram 2500 Tradesman
2020 Ram 3500 Big Horn
2020 Ram 3500 Laramie
2020 Ram 3500 Limited
2020 Ram 3500 Lone Star
2020 Ram 3500 SLT
2020 Ram 3500 Tradesman
2019 Ram 2500 Big Horn
2019 Ram 2500 Laramie
2019 Ram 2500 HD
2019 Ram 2500 Limited
2019 Ram 2500 Lone Star
2019 Ram 2500 Power Wagon Crew Cab Pickup 4-Door
2019 Ram 2500 R/T
2019 Ram 2500 SLT
2019 Ram 2500 Sport
2019 Ram 2500 Tradesman
2019 Ram 3500 Big Horn
2019 Ram 3500 Laramie2019 Ram 3500 Limited
2019 Ram 2500 Big Horn
2019 Ram 2500 HD
2019 Ram 2500 Laramie
2019 Ram 2500 Limited
2019 Ram 2500 Lone Star
2019 Ram 2500 Power Wagon Crew Cab Pickup 4-Door
2019 Ram 2500 SLT
2019 Ram 2500 Tradesman
2019 Ram 3500 Big Horn2019 Ram 3500 Laramie
2019 Ram 3500 Limited
2019 Ram 3500 Lone Star
Package Included
1 × Front Bumper Assembly
4 × LED Spotlights
1 × Winch Plate
1 × Solid Skid Plate
1 × License Plate Mounting Bracket
1 × Mounting Hardware Kit
1 × Installation Instruction
The item includes two packages: Package A & Package B
Fitment
2023 Ram 2500 Big Horn
2023 Ram 2500 Laramie
2023 Ram 2500 Limited
2023 Ram 2500 Lone Star
2023 Ram 2500 Power Wagon Crew Cab Pickup 4-Door
2023 Ram 2500 Rebel
2023 Ram 2500 Tradesman
2023 Ram 3500 Big Horn
2023 Ram 3500 Laramie
2023 Ram 3500 SLT
2023 Ram 3500 Tradesman
2022 Ram 2500 Big Horn
2022 Ram 2500 HD
2022 Ram 2500 Laramie
2022 Ram 2500 Limited
2022 Ram 2500 Lone Star
2022 Ram 2500 Power Wagon
2022 Ram 2500 SLT HD
2022 Ram 2500 Tradesman
2022 Ram 3500 Big Horn
2022 Ram 3500 Laramie
2022 Ram 3500 Limited
2022 Ram 3500 Lone Star
2022 Ram 3500 SLT
2022 Ram 3500 Tradesman
2021 Ram 2500 Big Horn
2021 Ram 2500 HD
2021 Ram 2500 Laramie
2021 Ram 2500 Limited
2021 Ram 2500 Lone Star
2021 Ram 2500 Power Wagon Crew Cab Pickup 4-Door
2021 Ram 2500 SLT HD
2021 Ram 2500 Tradesman
2021 Ram 3500 Big Horn
2021 Ram 3500 Laramie
2021 Ram 3500 Limited
2021 Ram 3500 Lone Star
2021 Ram 3500 SLT
2021 Ram 3500 Tradesman
2020 Ram 2500 Big Horn
2020 Ram 2500 HD
2020 Ram 2500 Laramie
2020 Ram 2500 Limited
2020 Ram 2500 Lone Star
2020 Ram 2500 Power Wagon Crew Cab Pickup 4-Door
2020 Ram 2500 SLT2020 Ram 2500 Tradesman
2020 Ram 3500 Big Horn
2020 Ram 3500 Laramie
2020 Ram 3500 Limited
2020 Ram 3500 Lone Star
2020 Ram 3500 SLT
2020 Ram 3500 Tradesman
2019 Ram 2500 Big Horn
2019 Ram 2500 Laramie
2019 Ram 2500 HD
2019 Ram 2500 Limited
2019 Ram 2500 Lone Star
2019 Ram 2500 Power Wagon Crew Cab Pickup 4-Door
2019 Ram 2500 R/T
2019 Ram 2500 SLT
2019 Ram 2500 Sport
2019 Ram 2500 Tradesman
2019 Ram 3500 Big Horn
2019 Ram 3500 Laramie2019 Ram 3500 Limited
2019 Ram 2500 Big Horn
2019 Ram 2500 HD
2019 Ram 2500 Laramie
2019 Ram 2500 Limited
2019 Ram 2500 Lone Star
2019 Ram 2500 Power Wagon Crew Cab Pickup 4-Door
2019 Ram 2500 SLT
2019 Ram 2500 Tradesman
2019 Ram 3500 Big Horn2019 Ram 3500 Laramie
2019 Ram 3500 Limited
2019 Ram 3500 Lone Star