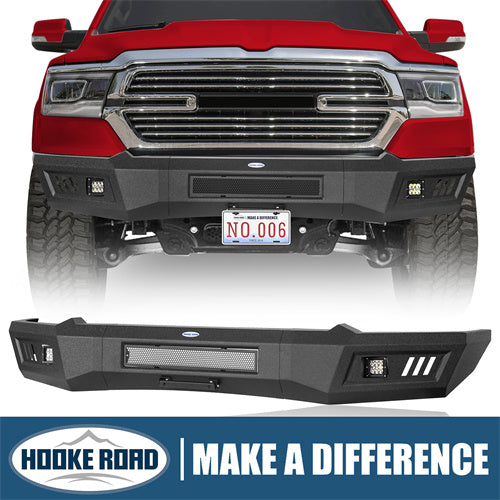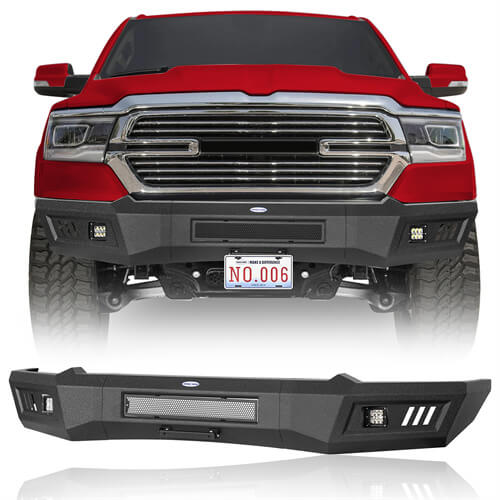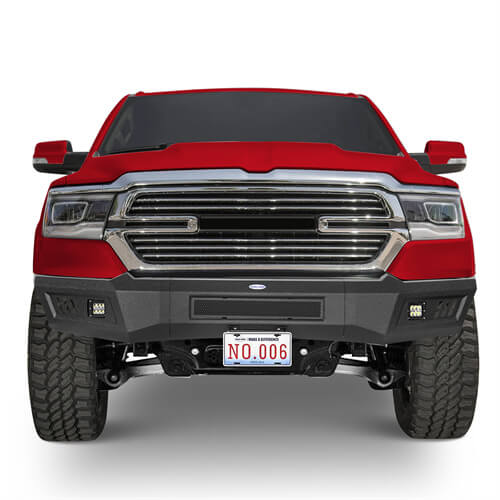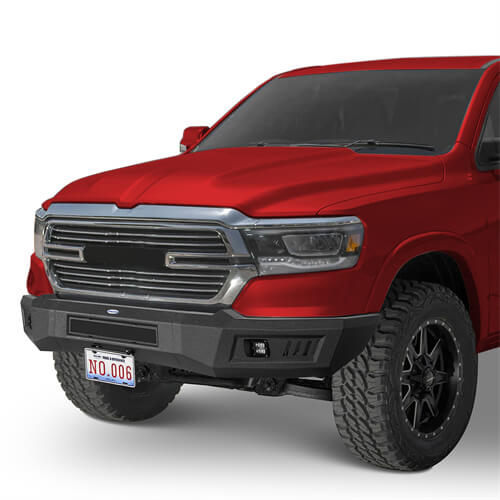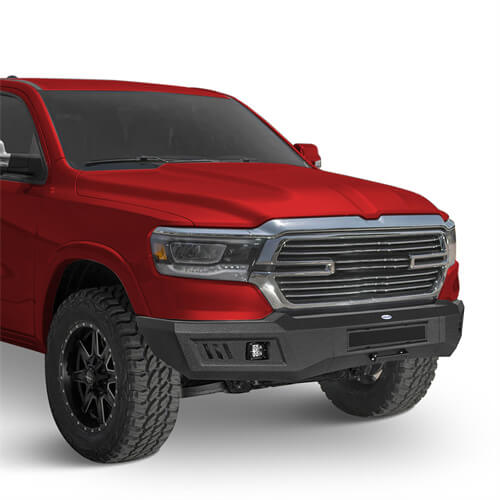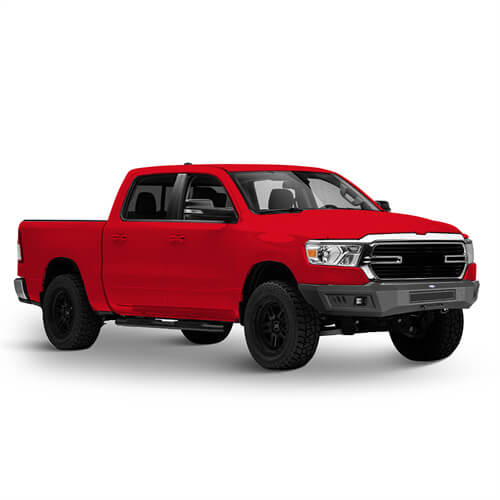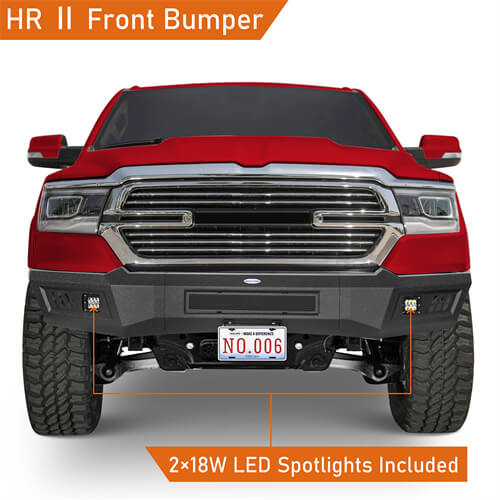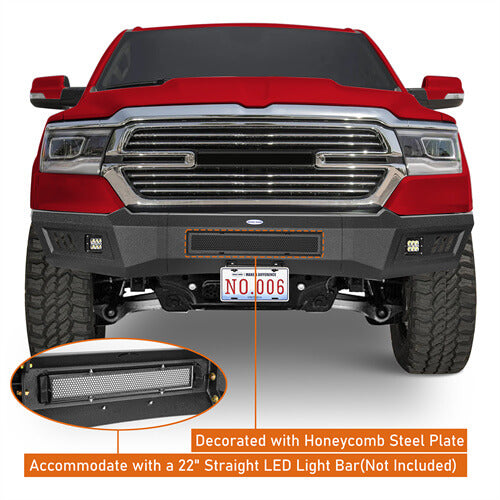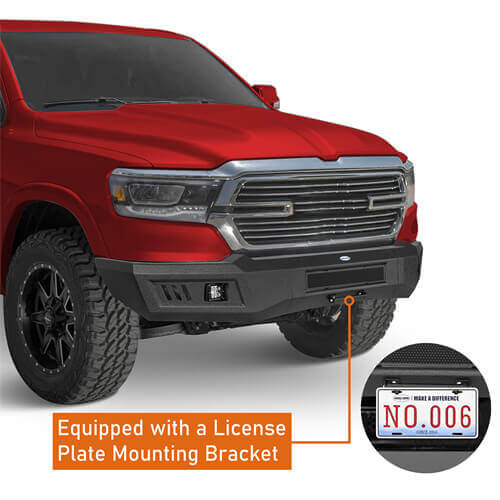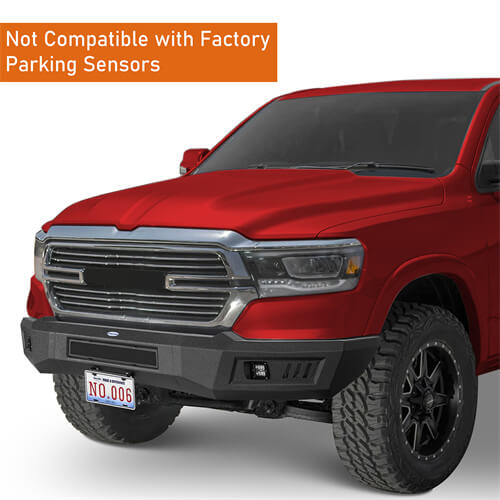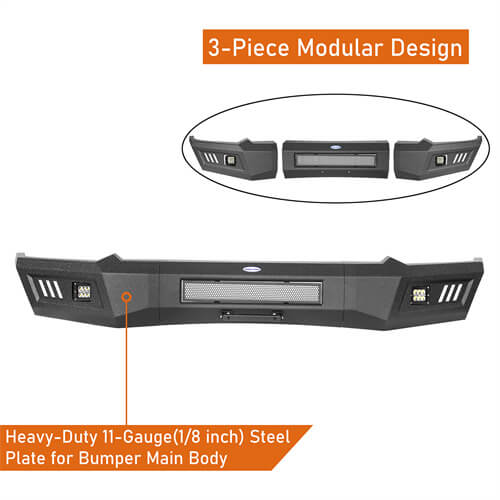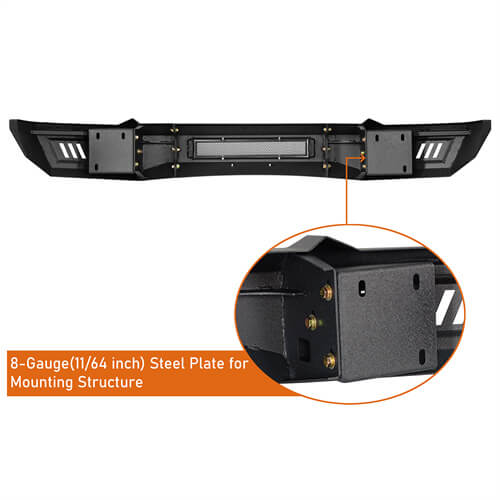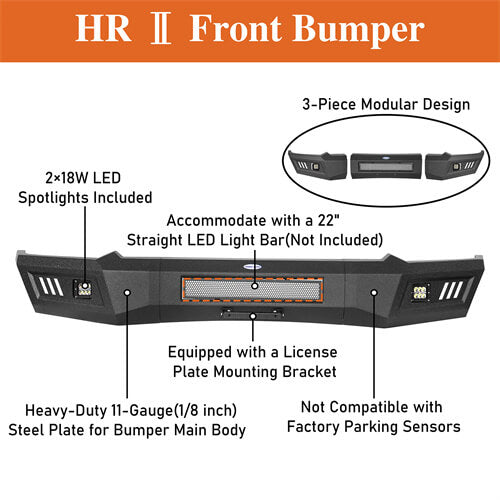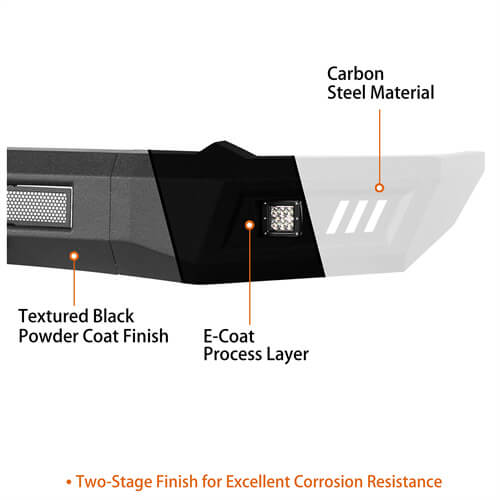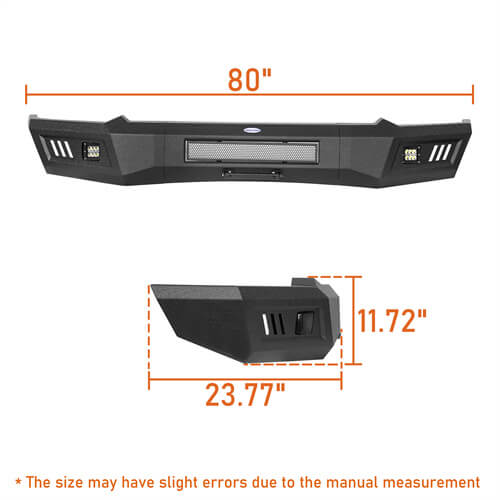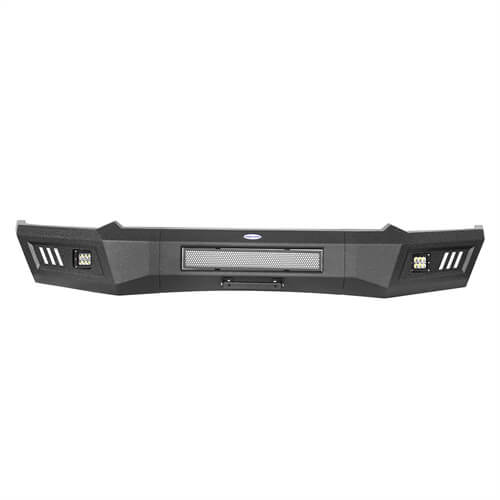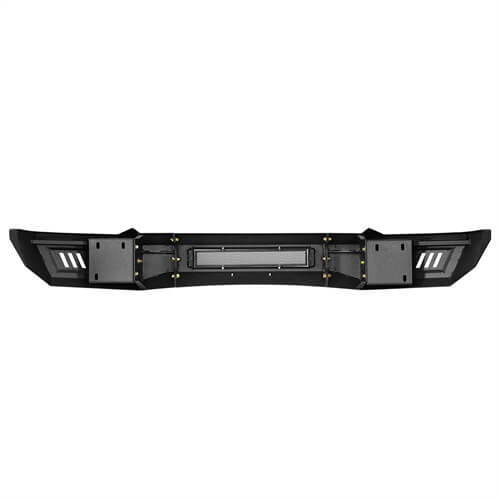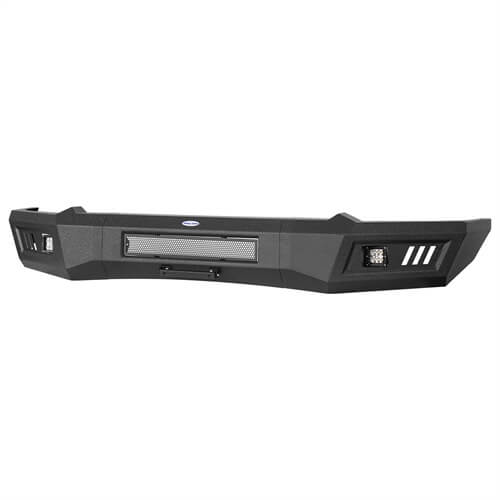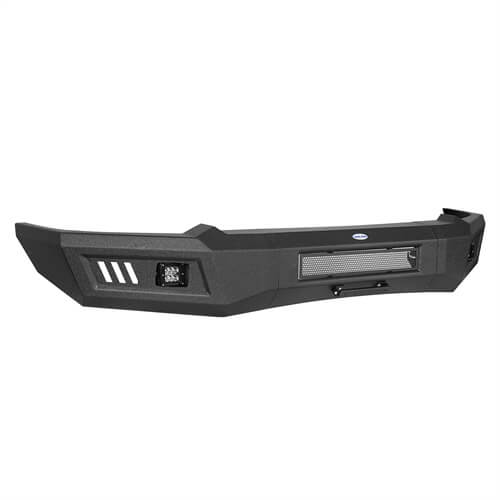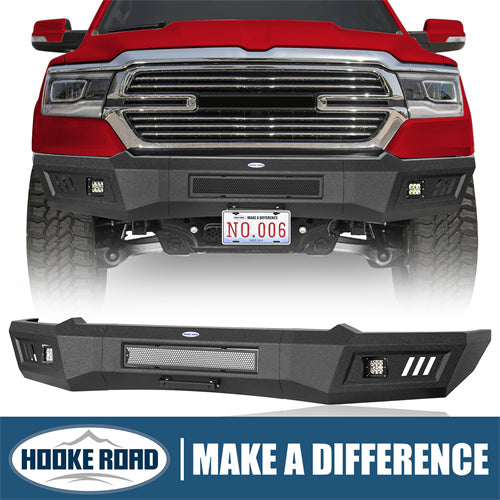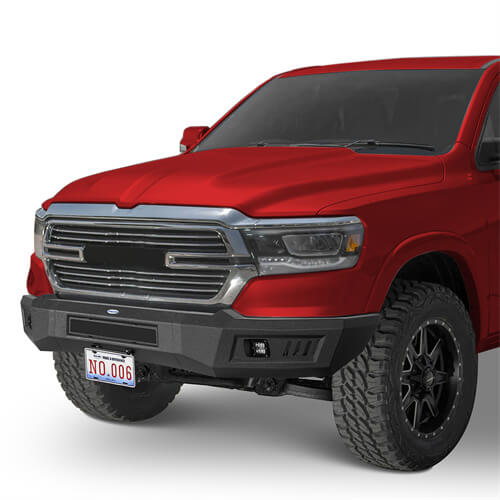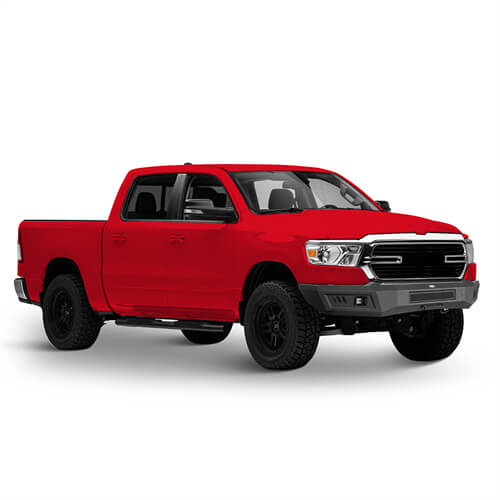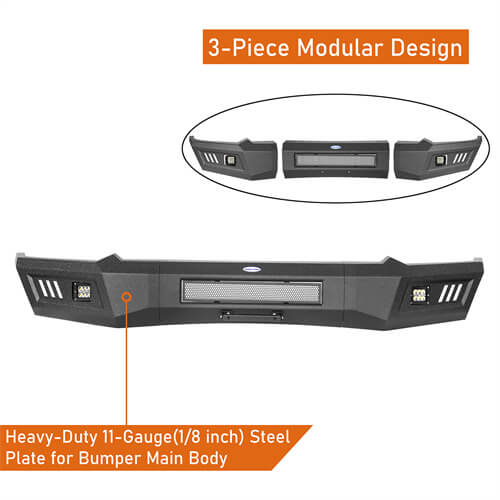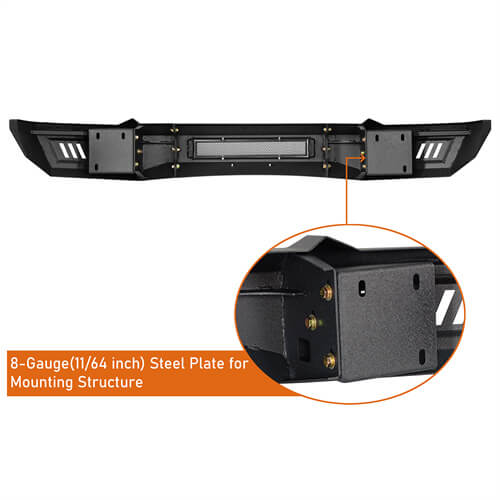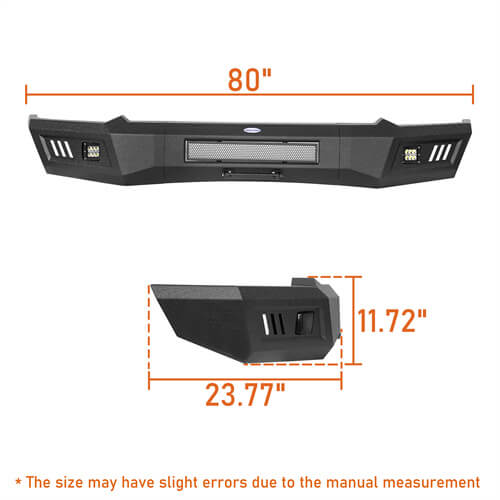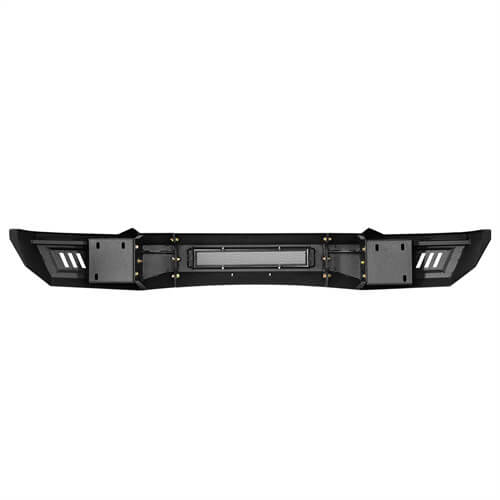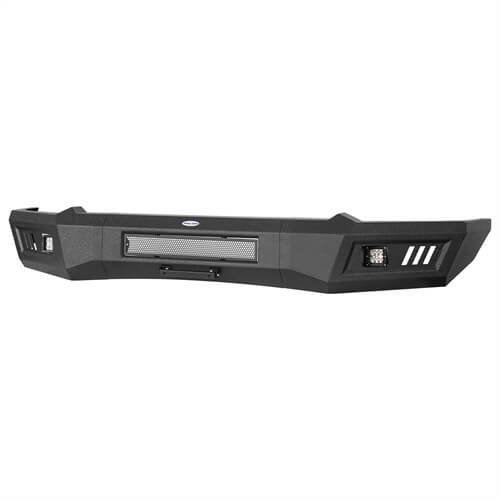 Name: Hooke Road 2019-2023 Ram 1500 Aftermarket Front Full-Width Bumper w/LED Lights
Feature
FCompatible with 2019-2023 Ram 1500 Models, Excluding EcoDiesel, Rebel & TRX, Does not fit for 2019+ Ram 1500 Classic Models
Bumper weight: about 77 lbs, 3-piece modular design
Heavy-duty, high tensile 11-gauge (1/8 in) steel for the bumper main body, 8-gauge(11/64 in) steel for the mounting structure
Textured black powder coat finish & Premium E-coating process inside
Direct bolt-on installation
Accommodated with a 22" straight LED light bar(Not Included)
Includes 2×18W LED spotlights
Equipped with a license plate mounting bracket
Not compatible with factory parking sensors
Rugged styling, Protect against the damaging effects of trail hazards
Decorated with a hollowed-out honeycomb steel plate
Dimension
Exciting Off-Road Styling.
The HR Ⅱ Full-Width Front Bumper boasts a 3-piece modular design with a distinctive hollowed-out honeycomb steel plate. To enhance visibility during low-light conditions or off-road adventures, the bumper is designed to accommodate a 22" straight LED light bar (not included) and include 2×18W LED spotlights. In addition, the bumper is equipped with a license plate mounting bracket for proper license plate display. Nevertheless, it is not compatible with factory parking sensors.
Heavy Duty Steel Structure.
The front bumper is designed with the main body crafted from heavy-duty, high tensile 11-gauge steel, and the mounting structure is composed of 8-gauge steel. This combination of materials guarantees strength, durability, and effective protection against impacts and off-road challenges. The textured black powder coat finish enhances external protection and aesthetics, while the premium E-coating process adds internal resistance against rust and corrosion.
Easy Bolt-On Installation.
The bumper is specifically designed to be a direct bolt-on replacement for the original stock bumper, using the factory hardware and mounting points. Uninstallation of the old bumper, assembly of the new one, proper positioning, and secure tightening of bolts are the main steps involved. This process is straightforward, with no cutting or modifications required. No need for specialized tools or skills – basic hand tools, as well as a friend's assistance, are sufficient.
1 × Front Bumper Assembly
2 × LED Spotlights
2 × Mounting Brackets
1 × License Plate Mounting Bracket
1 × Mounting Hardware Kit
1 × Installation Instruction
2023 Ram 2500 Big Horn
2023 Ram 2500 Laramie
2023 Ram 2500 Limited
2023 Ram 2500 Lone Star
2023 Ram 2500 Power Wagon Crew Cab Pickup 4-Door
2023 Ram 2500 Tradesman
2022 Ram 2500 Big Horn
2022 Ram 2500 HD
2022 Ram 2500 Laramie
2022 Ram 2500 Limited
2022 Ram 2500 Lone Star
2022 Ram 2500 Power Wagon
2022 Ram 2500 SLT HD
2022 Ram 2500 Tradesman
2021 Ram 2500 Big Horn
2021 Ram 2500 HD
2021 Ram 2500 Laramie
2021 Ram 2500 Limited
2021 Ram 2500 Lone Star
2021 Ram 2500 Power Wagon Crew Cab Pickup 4-Door
2021 Ram 2500 SLT HD
2021 Ram 2500 Tradesman
2020 Ram 2500 Big Horn
2020 Ram 2500 HD
2020 Ram 2500 Laramie
2020 Ram 2500 Limited
2020 Ram 2500 Lone Star
2020 Ram 2500 Power Wagon Crew Cab Pickup 4-Door
2020 Ram 2500 SLT2020 Ram 2500 Tradesman
2019 Ram 2500 Big Horn
2019 Ram 2500 Laramie
2019 Ram 2500 HD
2019 Ram 2500 Limited
2019 Ram 2500 Lone Star
2019 Ram 2500 Power Wagon Crew Cab Pickup 4-Door
2019 Ram 2500 SLT
2019 Ram 2500 Sport
2019 Ram 2500 Tradesman
2019 Ram 2500 Big Horn
2019 Ram 2500 HD
2019 Ram 2500 Laramie
2019 Ram 2500 Limited
2019 Ram 2500 Lone Star
2019 Ram 2500 Power Wagon Crew Cab Pickup 4-Door
2019 Ram 2500 SLT
2019 Ram 2500 Tradesman
Package Included
1 × Front Bumper Assembly
2 × LED Spotlights
2 × Mounting Brackets
1 × License Plate Mounting Bracket
1 × Mounting Hardware Kit
1 × Installation Instruction
Fitment
2023 Ram 2500 Big Horn
2023 Ram 2500 Laramie
2023 Ram 2500 Limited
2023 Ram 2500 Lone Star
2023 Ram 2500 Power Wagon Crew Cab Pickup 4-Door
2023 Ram 2500 Tradesman
2022 Ram 2500 Big Horn
2022 Ram 2500 HD
2022 Ram 2500 Laramie
2022 Ram 2500 Limited
2022 Ram 2500 Lone Star
2022 Ram 2500 Power Wagon
2022 Ram 2500 SLT HD
2022 Ram 2500 Tradesman
2021 Ram 2500 Big Horn
2021 Ram 2500 HD
2021 Ram 2500 Laramie
2021 Ram 2500 Limited
2021 Ram 2500 Lone Star
2021 Ram 2500 Power Wagon Crew Cab Pickup 4-Door
2021 Ram 2500 SLT HD
2021 Ram 2500 Tradesman
2020 Ram 2500 Big Horn
2020 Ram 2500 HD
2020 Ram 2500 Laramie
2020 Ram 2500 Limited
2020 Ram 2500 Lone Star
2020 Ram 2500 Power Wagon Crew Cab Pickup 4-Door
2020 Ram 2500 SLT2020 Ram 2500 Tradesman
2019 Ram 2500 Big Horn
2019 Ram 2500 Laramie
2019 Ram 2500 HD
2019 Ram 2500 Limited
2019 Ram 2500 Lone Star
2019 Ram 2500 Power Wagon Crew Cab Pickup 4-Door
2019 Ram 2500 SLT
2019 Ram 2500 Sport
2019 Ram 2500 Tradesman
2019 Ram 2500 Big Horn
2019 Ram 2500 HD
2019 Ram 2500 Laramie
2019 Ram 2500 Limited
2019 Ram 2500 Lone Star
2019 Ram 2500 Power Wagon Crew Cab Pickup 4-Door
2019 Ram 2500 SLT
2019 Ram 2500 Tradesman