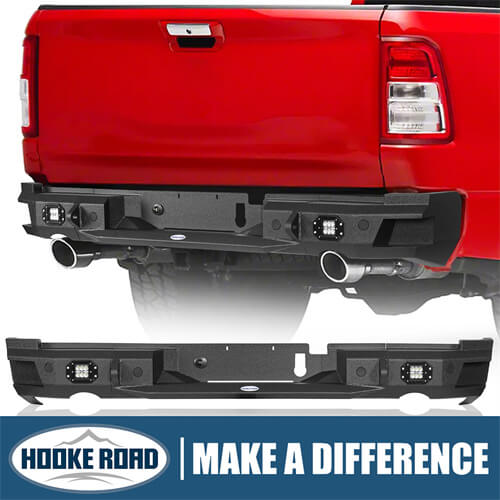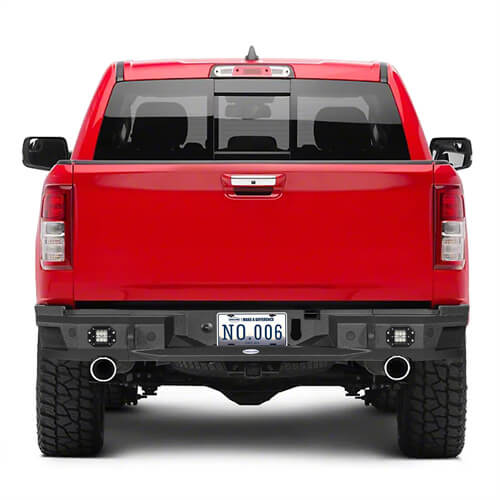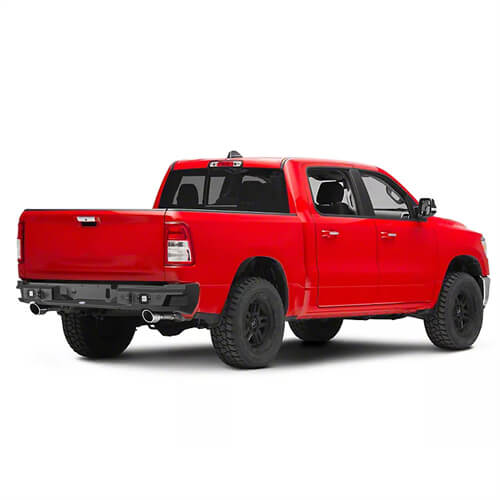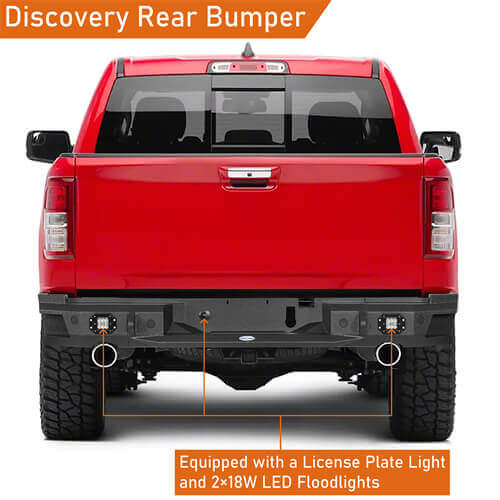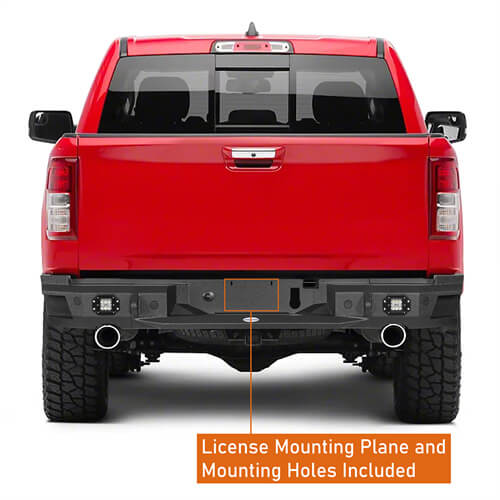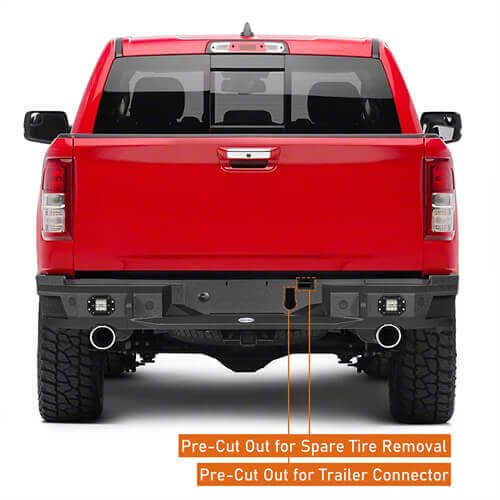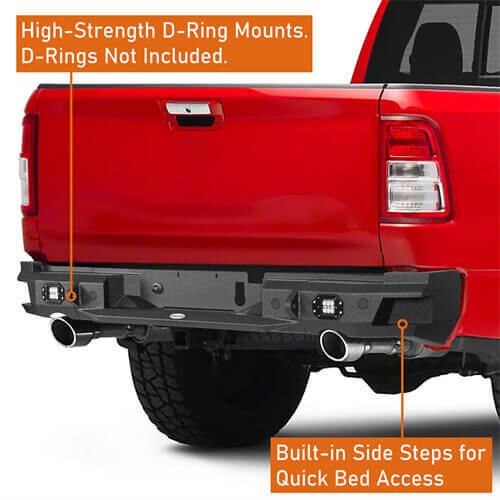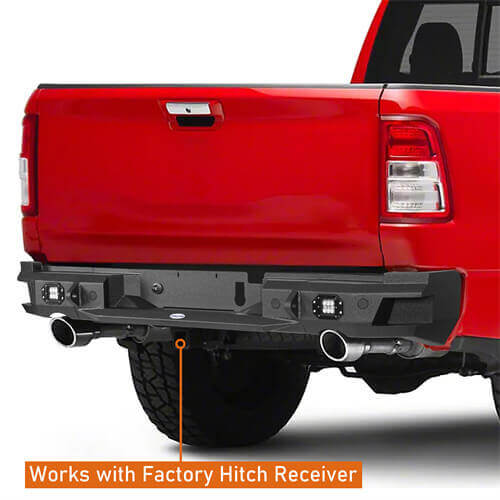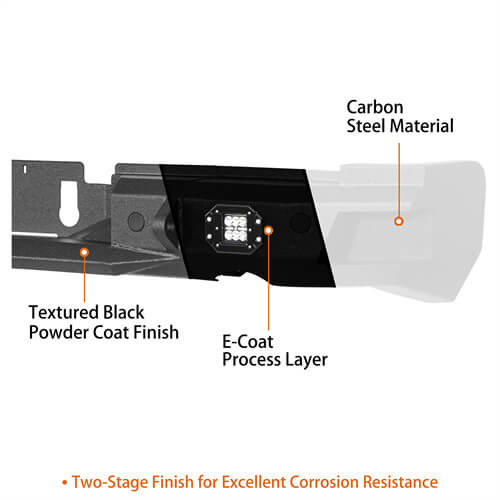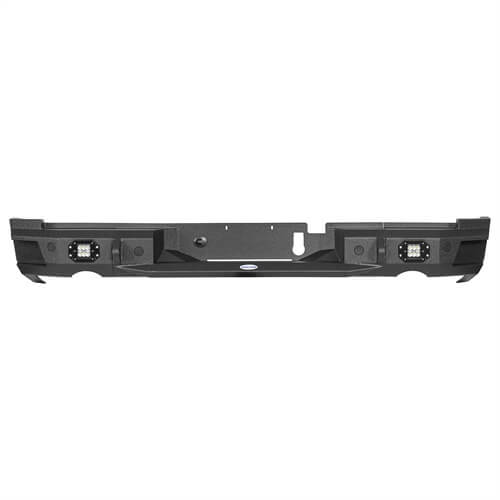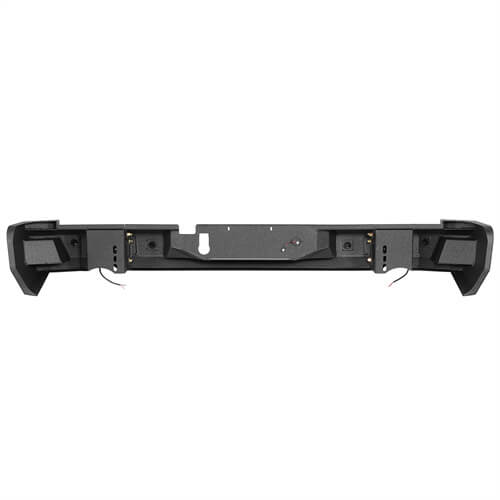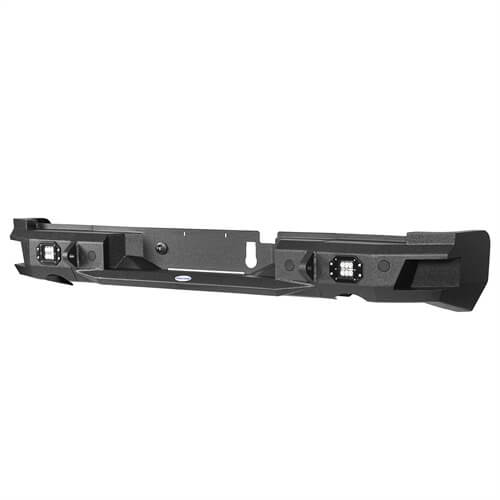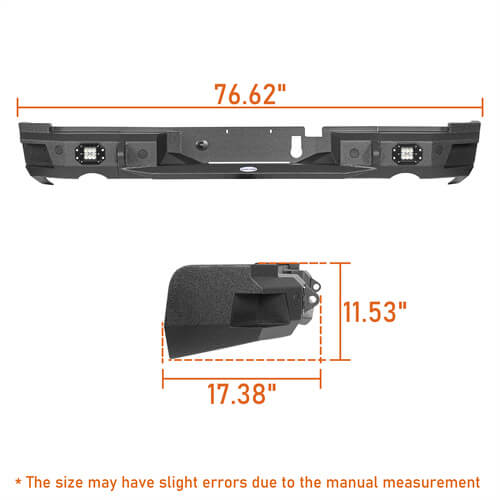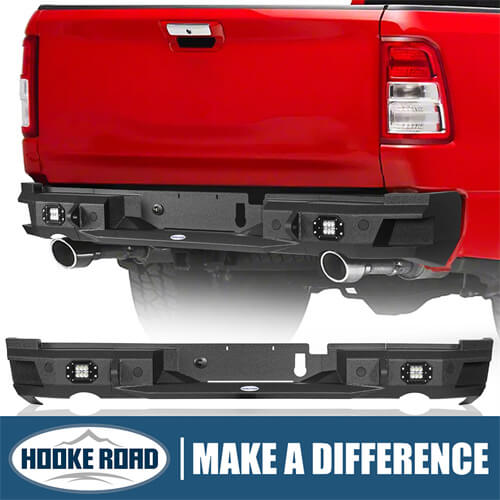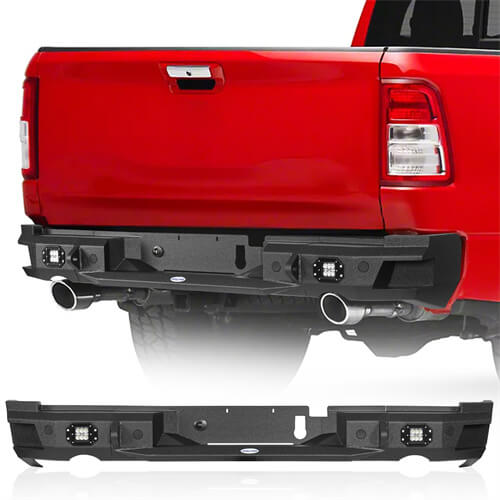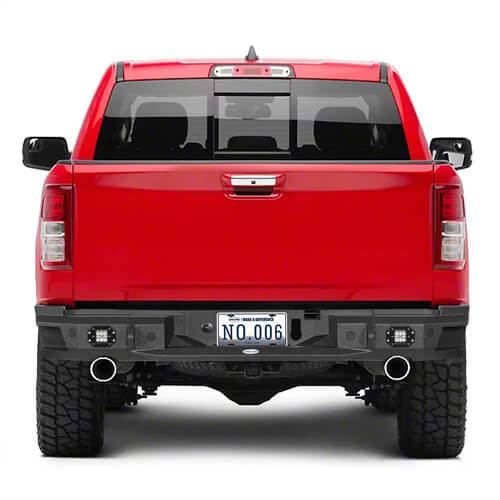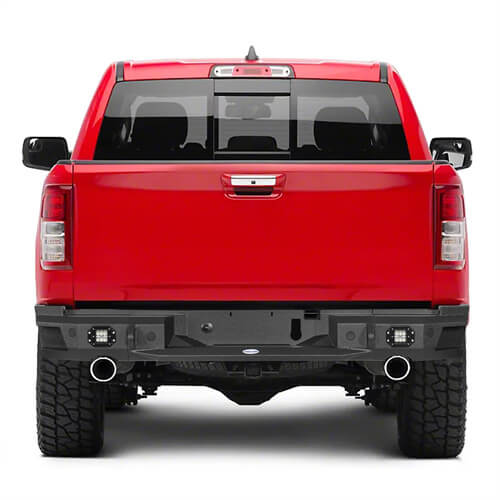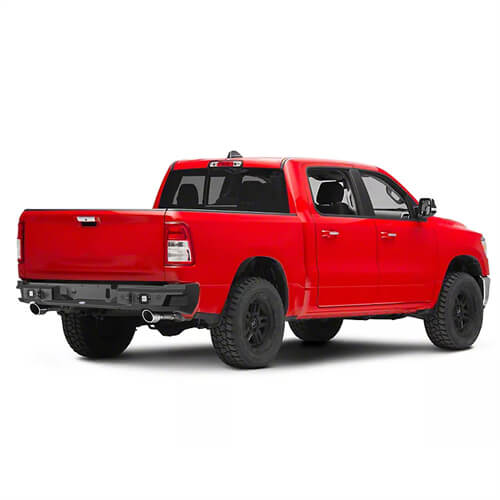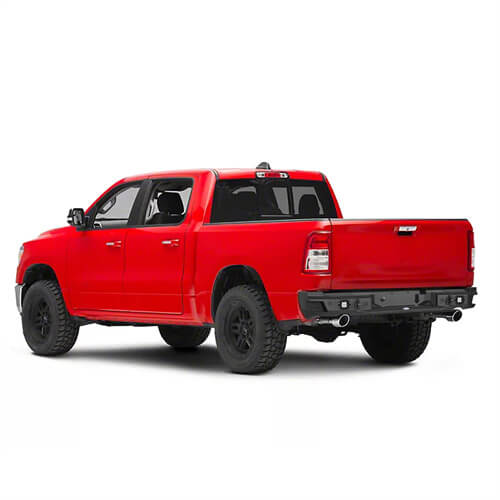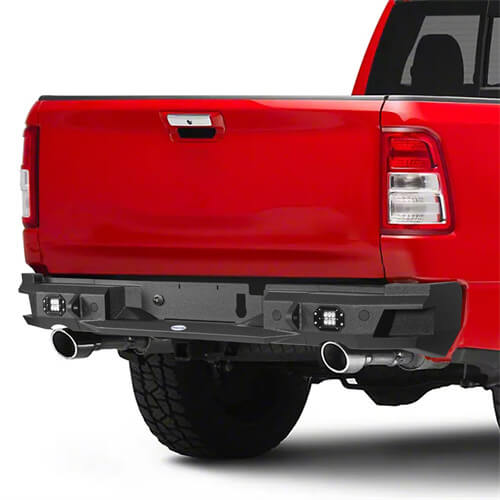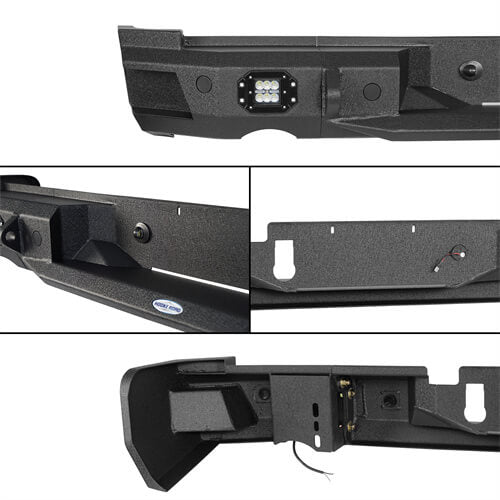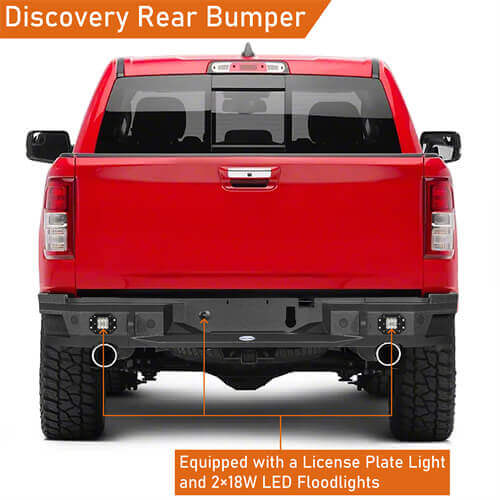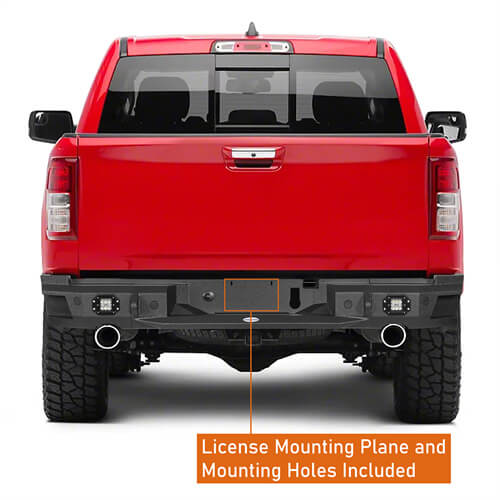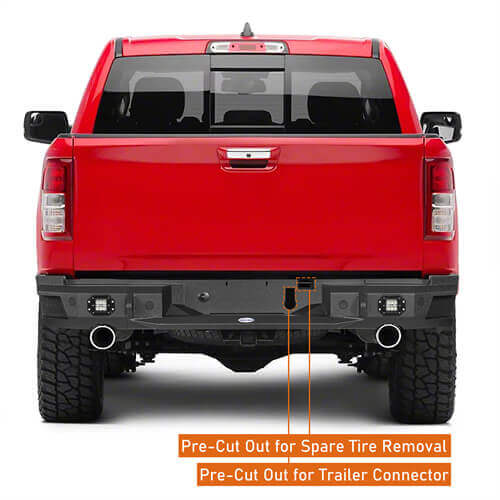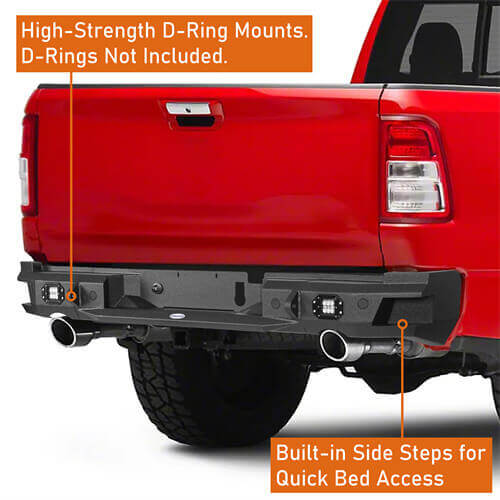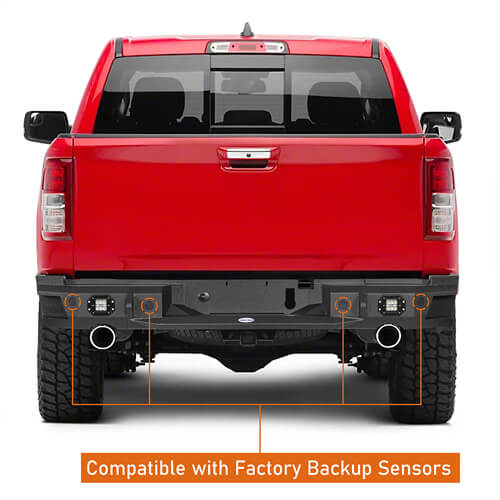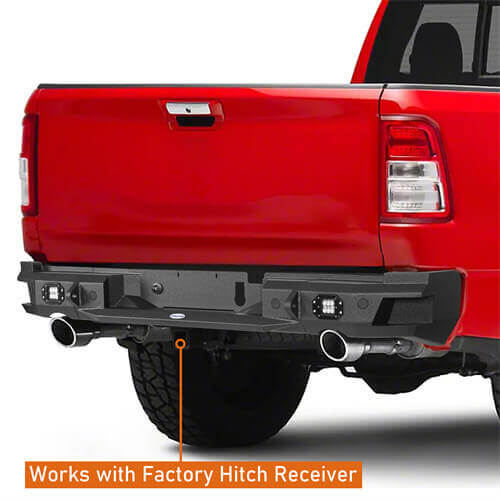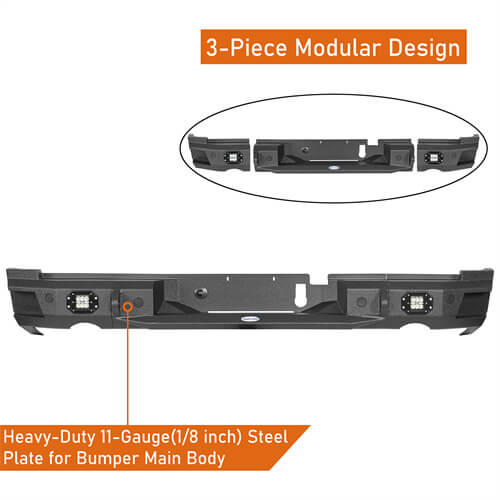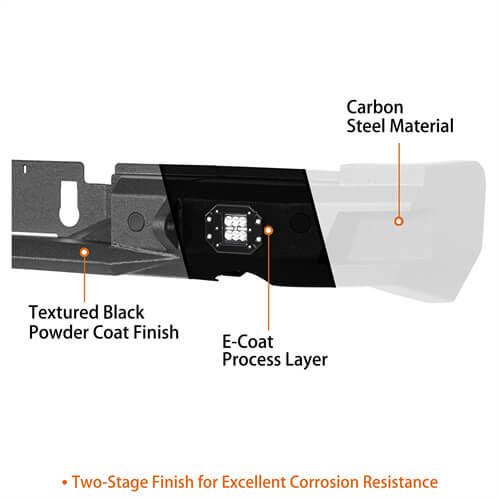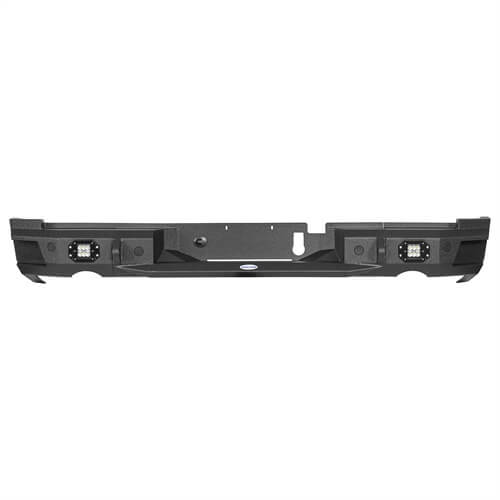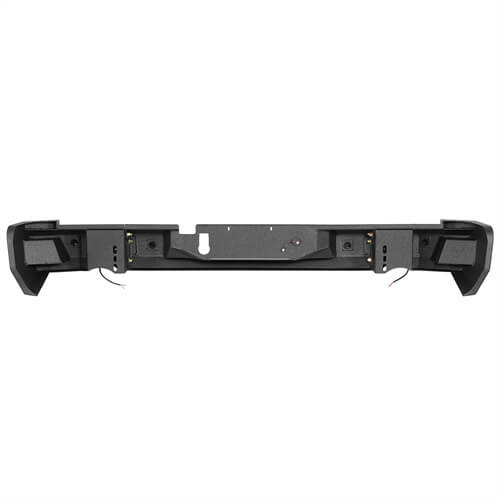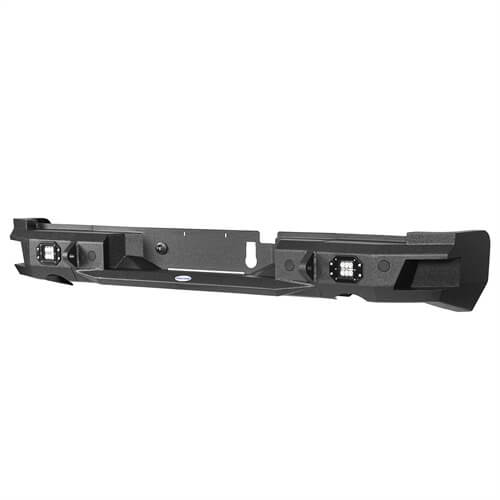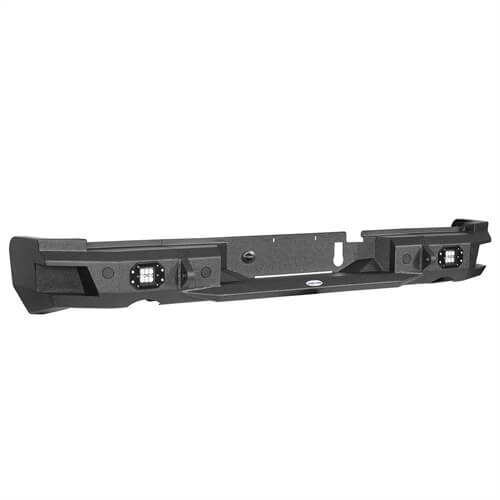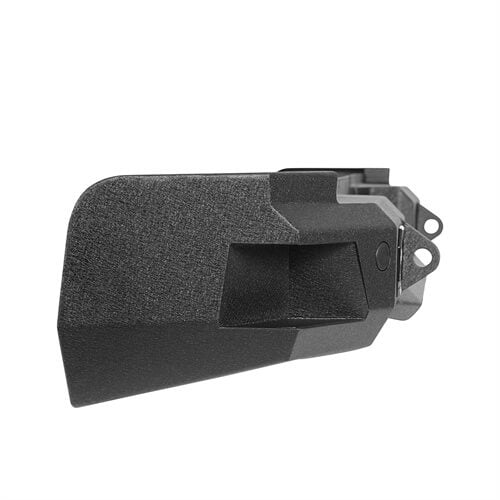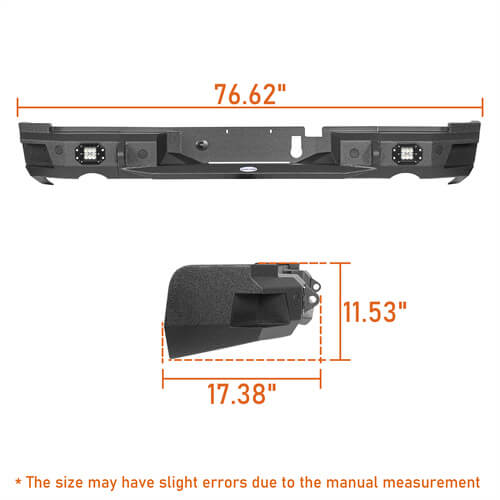 Name: Hooke Road Offroad Aftermarket Rear Bumper For 19-23 Ram 1500
Feature
Compatible with 2019-2023 Ram 1500 Models, Does Not Fit for 2019+ Ram 1500 Classic models
Bumper weight: about 68 lbs
Heavy-duty, high tensile 11-gauge (1/8 in) steel for the bumper main body, 8-gauge(11/64 in) for the mounting structure
Textured black powder coat finish & Premium E-coating process inside
Straightforward bolt-on installation
3-piece modular design, Rugged styling and protection
Features high strength D-ring mounts, D-rings not included
Equipped with a license plate light and 2×18W LED floodlights
Includes license mounting plane and mounting holes
Pre-cut out for trailer connector
Works with factory hitch receiver
Built-in side steps for quick bed access
Pre-cut out for spare tire removal
Compatible with factory backup sensors
Dimension
Atmospheric Off-Road Design. The Discovery Rear Bumper is designed with a 3-piece modular design, offering a blend of style and functionality to protect the rear end of your vehicle. The bumper features high-strength D-ring mounts, providing secure attachment points for recovery purposes, towing, or other off-road needs. Please note that D-rings are not included. Equipped with a license plate light and two 18W LED floodlights, this bumper ensures improved visibility and compliance with road regulations. The bumper includes a license mounting plane and pre-drilled mounting holes, making it easy to install and display your license plate.


Rugged Construction. The Discovery Rear Bumper is constructed with heavy-duty and high-tensile steel to ensure strength and durability. The main body of the bumper is made from high-tensile 11-gauge (1/8 inch) steel. The mounting structure of the bumper is constructed from 8-gauge (11/64 inch) steel, which further reinforces the bumper's strength and rigidity. To enhance its appearance and protect against corrosion, the rear bumper is finished with a textured black powder coat. Inside the bumper, a premium E-coating process is applied, ensuring it can withstand harsh environments and maintain its quality over time.

Straightforward Bolt-On Installation. The Discovery Rear Bumper is designed for a straightforward bolt-on installation. As a replacement for factory bumper, it utilizes the existing factory bumper mounts on your vehicle, ensuring a precise fit and alignment. This means that you won't need to make any additional modifications, drilling, or welding to install it. While no specialized tools are usually required, some common hand tools will be necessary for the installation. Additionally, a moderate amount of mechanical skills or DIY experience can be helpful to ensure a smooth installation process.
1 × Rear Bumper Assembly
2 × LED Floodlights
1 × License Plate Light
1 × Mounting Hardware Kit
1 × Installation Instruction
2023 Ram 2500 Big Horn
2023 Ram 2500 Laramie
2023 Ram 2500 Limited
2023 Ram 2500 Lone Star
2023 Ram 2500 Power Wagon Crew Cab Pickup 4-Door
2023 Ram 2500 Tradesman
2022 Ram 2500 Big Horn
2022 Ram 2500 HD
2022 Ram 2500 Laramie
2022 Ram 2500 Limited
2022 Ram 2500 Lone Star
2022 Ram 2500 Power Wagon
2022 Ram 2500 SLT HD
2022 Ram 2500 Tradesman
2021 Ram 2500 Big Horn
2021 Ram 2500 HD
2021 Ram 2500 Laramie
2021 Ram 2500 Limited
2021 Ram 2500 Lone Star
2021 Ram 2500 Power Wagon Crew Cab Pickup 4-Door
2021 Ram 2500 SLT HD
2021 Ram 2500 Tradesman
2020 Ram 2500 Big Horn
2020 Ram 2500 HD
2020 Ram 2500 Laramie
2020 Ram 2500 Limited
2020 Ram 2500 Lone Star
2020 Ram 2500 Power Wagon Crew Cab Pickup 4-Door
2020 Ram 2500 SLT2020 Ram 2500 Tradesman
2019 Ram 2500 Big Horn
2019 Ram 2500 Laramie
2019 Ram 2500 HD
2019 Ram 2500 Limited
2019 Ram 2500 Lone Star
2019 Ram 2500 Power Wagon Crew Cab Pickup 4-Door
2019 Ram 2500 SLT
2019 Ram 2500 Sport
2019 Ram 2500 Tradesman
2019 Ram 2500 Big Horn
2019 Ram 2500 HD
2019 Ram 2500 Laramie
2019 Ram 2500 Limited
2019 Ram 2500 Lone Star
2019 Ram 2500 Power Wagon Crew Cab Pickup 4-Door
2019 Ram 2500 SLT
2019 Ram 2500 Tradesman
Package Included
1 × Rear Bumper Assembly
2 × LED Floodlights
1 × License Plate Light
1 × Mounting Hardware Kit
1 × Installation Instruction
Fitment
2023 Ram 2500 Big Horn
2023 Ram 2500 Laramie
2023 Ram 2500 Limited
2023 Ram 2500 Lone Star
2023 Ram 2500 Power Wagon Crew Cab Pickup 4-Door
2023 Ram 2500 Tradesman
2022 Ram 2500 Big Horn
2022 Ram 2500 HD
2022 Ram 2500 Laramie
2022 Ram 2500 Limited
2022 Ram 2500 Lone Star
2022 Ram 2500 Power Wagon
2022 Ram 2500 SLT HD
2022 Ram 2500 Tradesman
2021 Ram 2500 Big Horn
2021 Ram 2500 HD
2021 Ram 2500 Laramie
2021 Ram 2500 Limited
2021 Ram 2500 Lone Star
2021 Ram 2500 Power Wagon Crew Cab Pickup 4-Door
2021 Ram 2500 SLT HD
2021 Ram 2500 Tradesman
2020 Ram 2500 Big Horn
2020 Ram 2500 HD
2020 Ram 2500 Laramie
2020 Ram 2500 Limited
2020 Ram 2500 Lone Star
2020 Ram 2500 Power Wagon Crew Cab Pickup 4-Door
2020 Ram 2500 SLT2020 Ram 2500 Tradesman
2019 Ram 2500 Big Horn
2019 Ram 2500 Laramie
2019 Ram 2500 HD
2019 Ram 2500 Limited
2019 Ram 2500 Lone Star
2019 Ram 2500 Power Wagon Crew Cab Pickup 4-Door
2019 Ram 2500 SLT
2019 Ram 2500 Sport
2019 Ram 2500 Tradesman
2019 Ram 2500 Big Horn
2019 Ram 2500 HD
2019 Ram 2500 Laramie
2019 Ram 2500 Limited
2019 Ram 2500 Lone Star
2019 Ram 2500 Power Wagon Crew Cab Pickup 4-Door
2019 Ram 2500 SLT
2019 Ram 2500 Tradesman