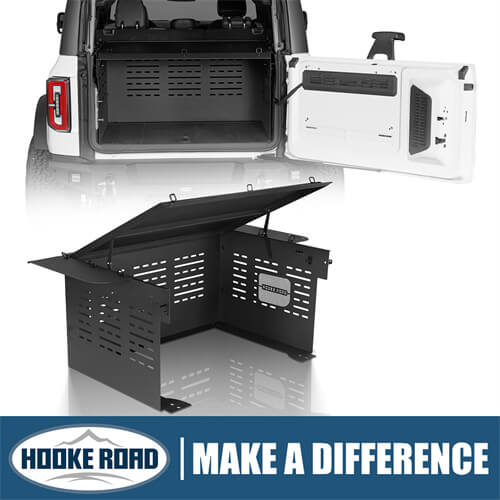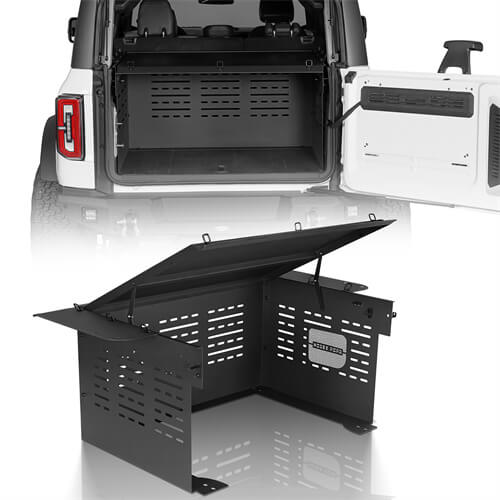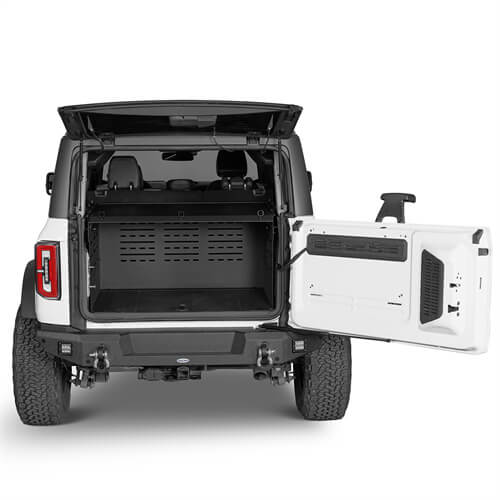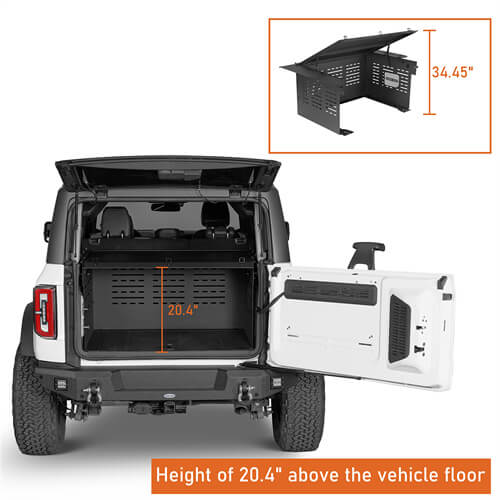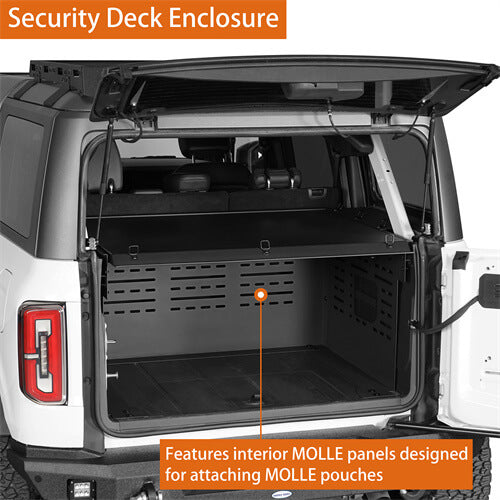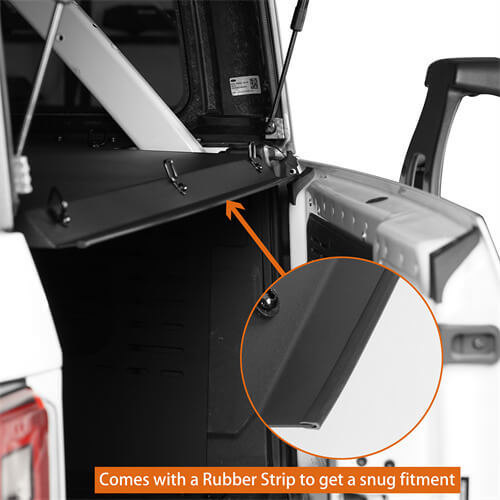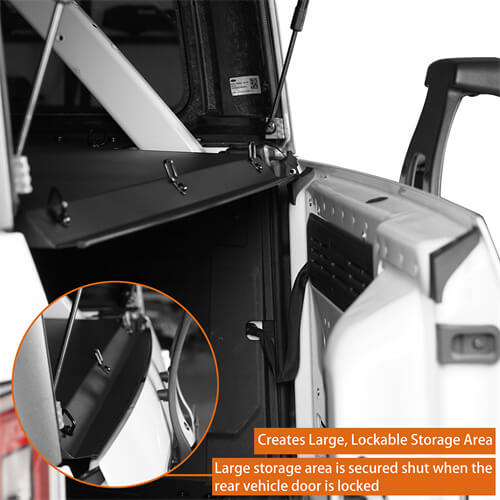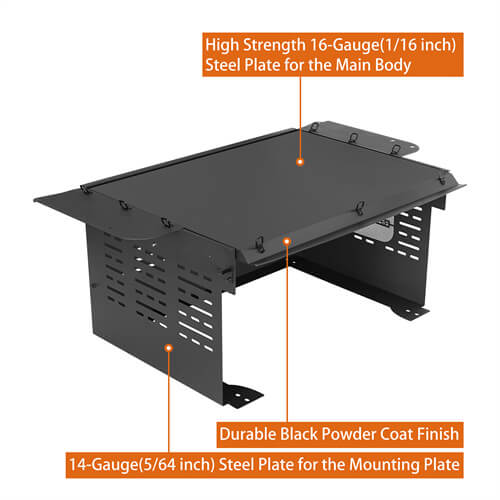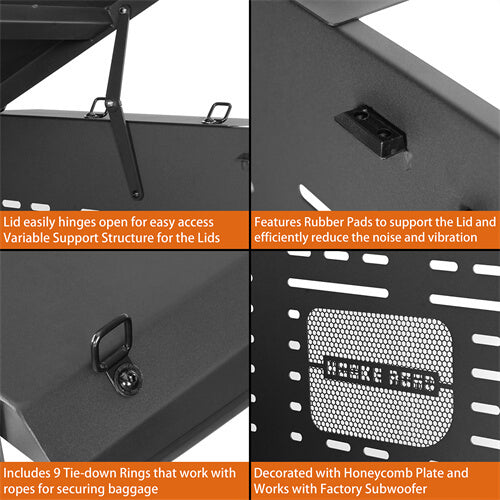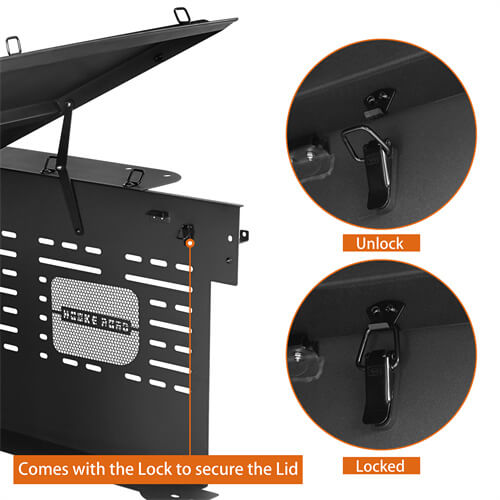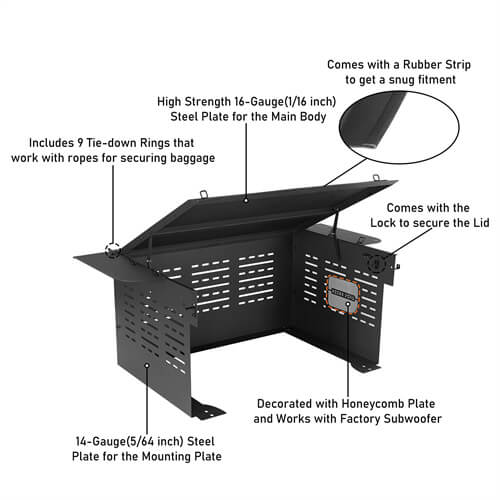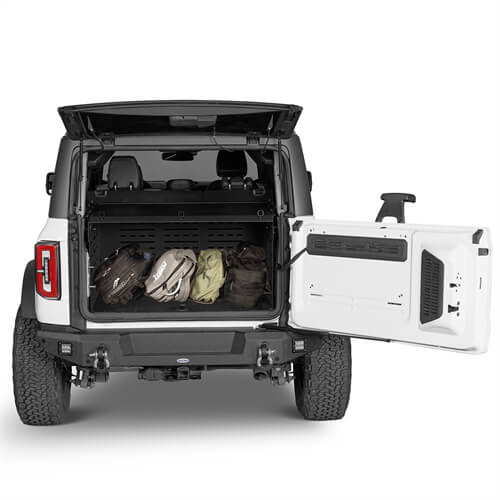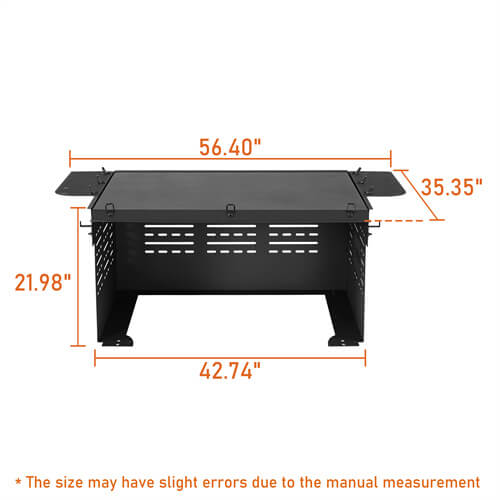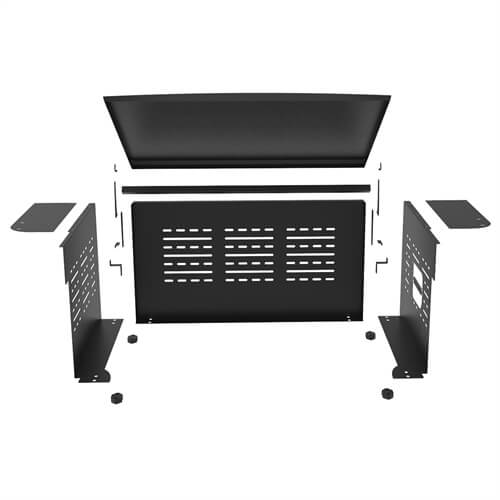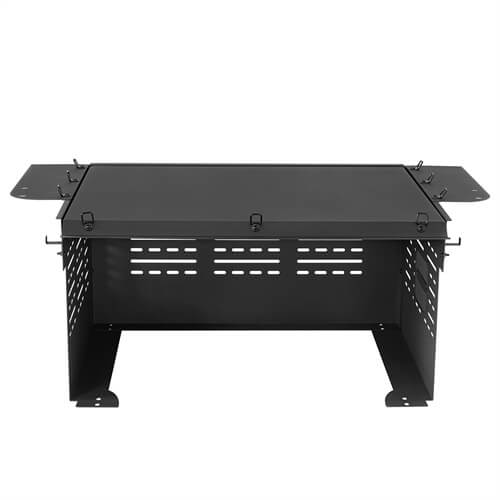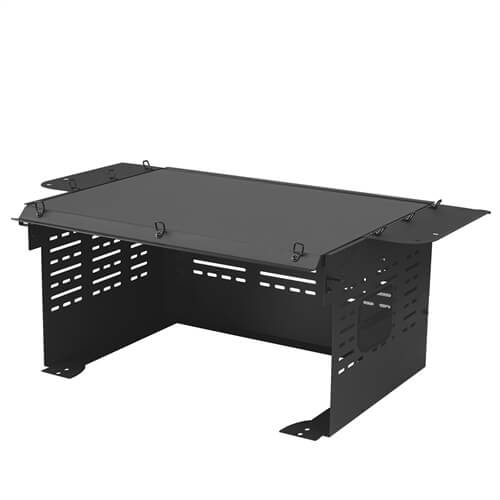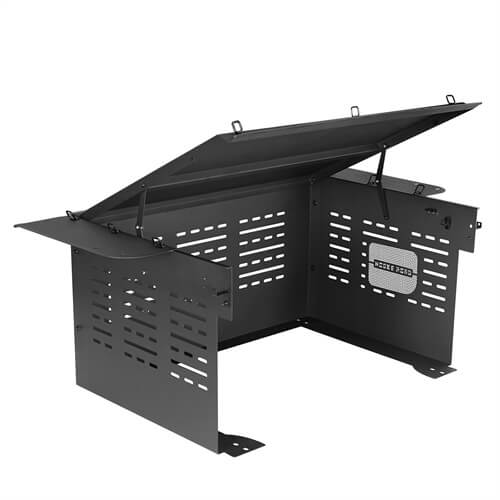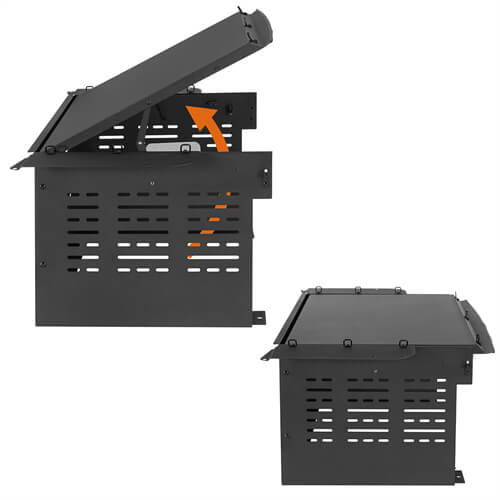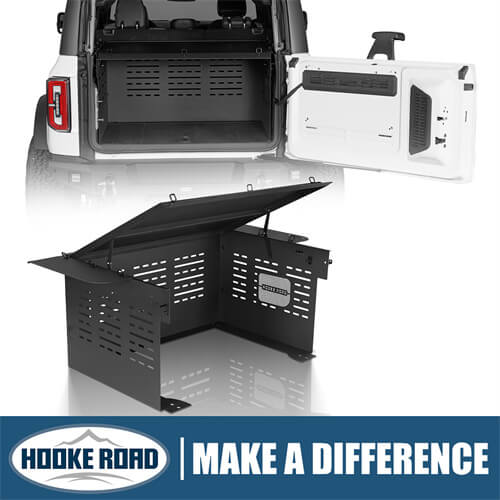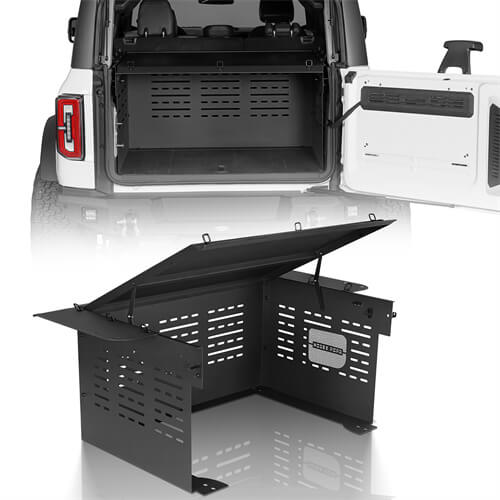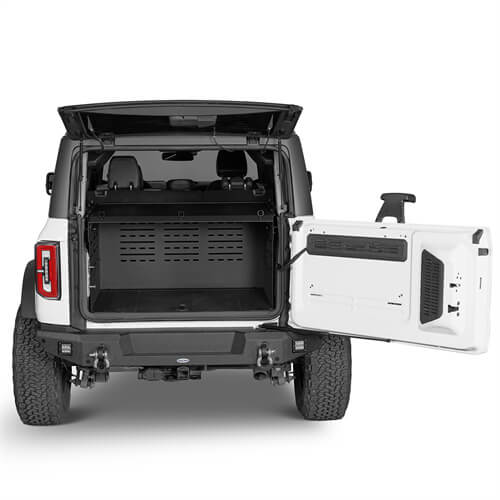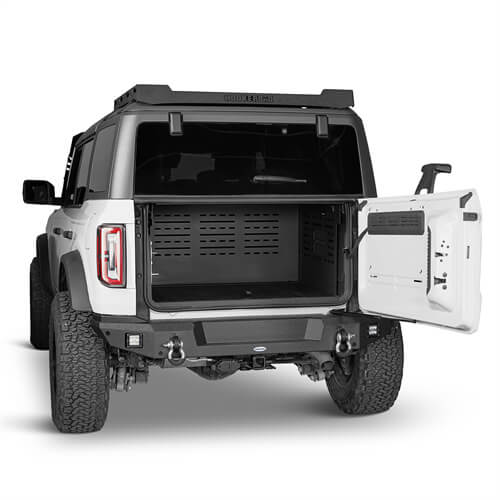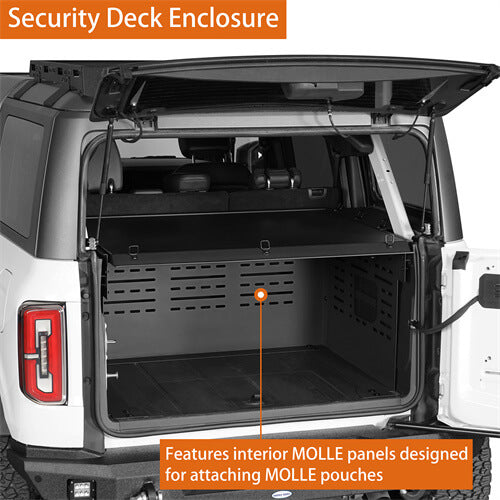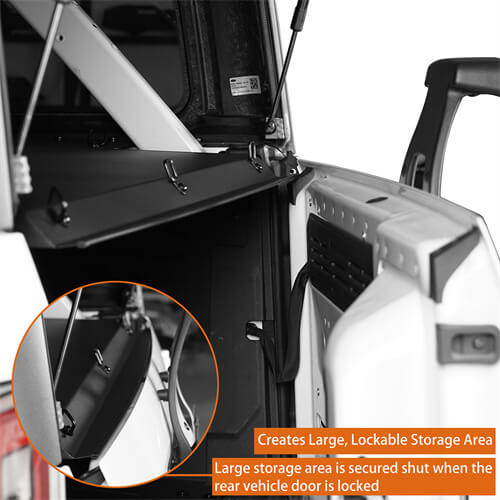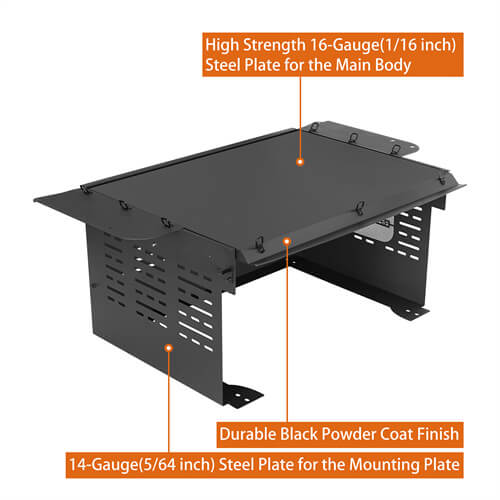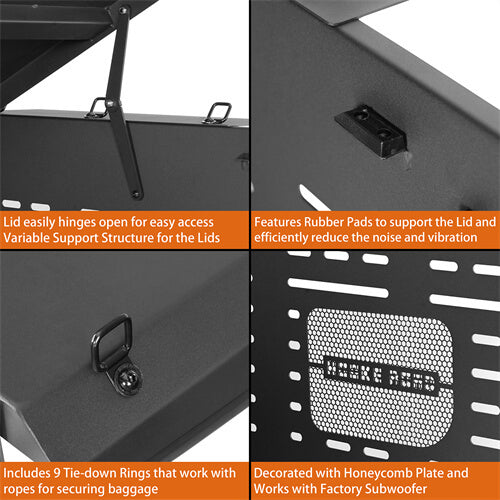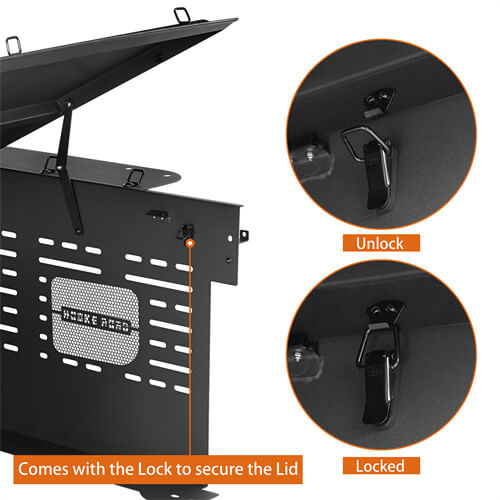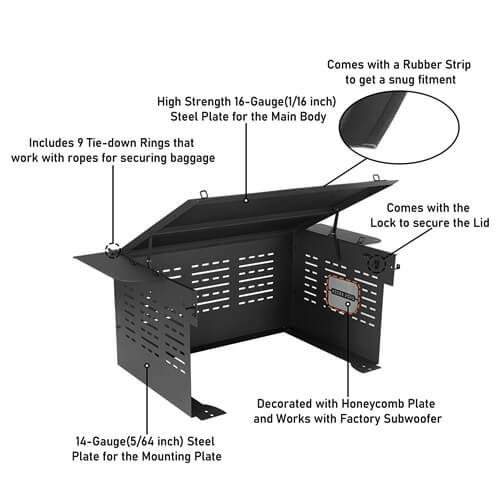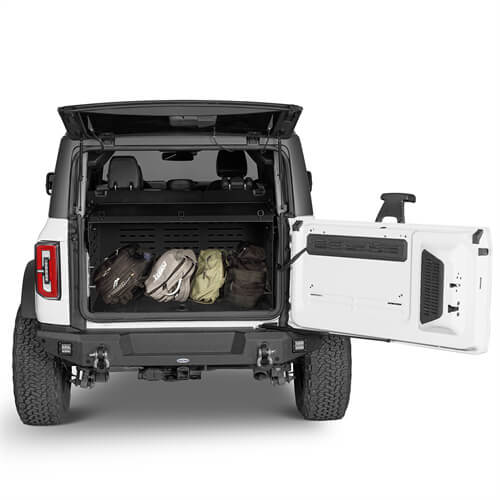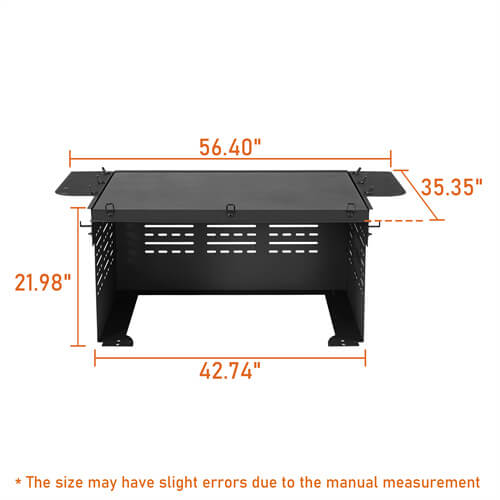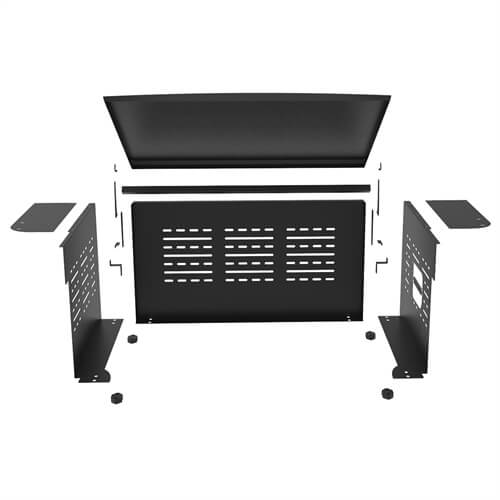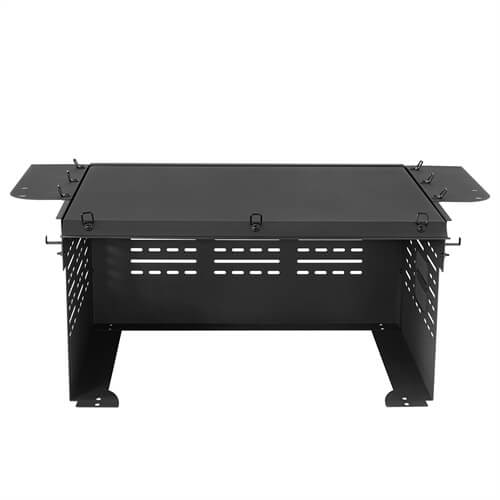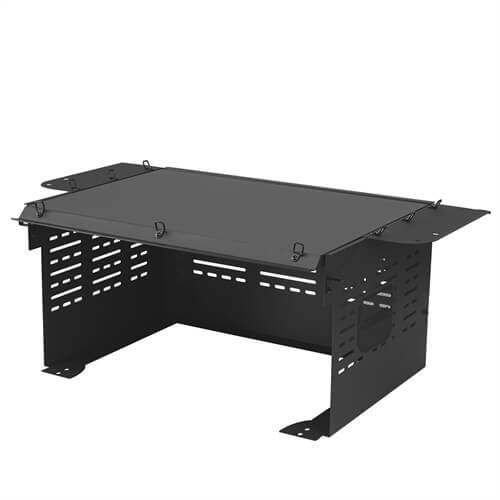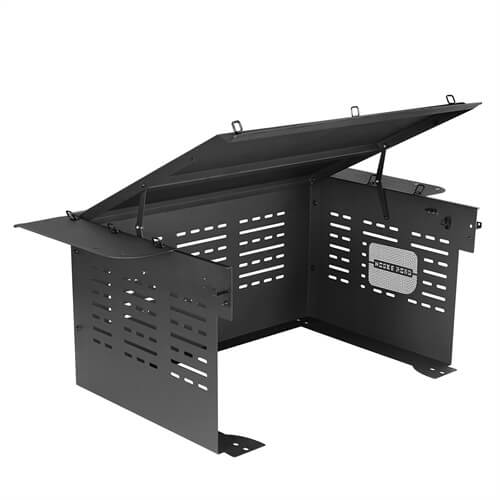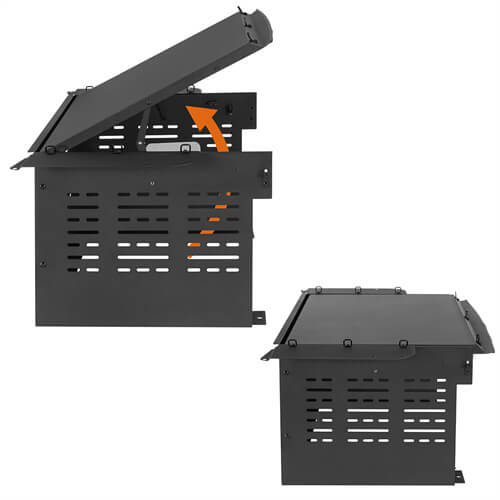 NAME: Hooke Road 2021-2023 Ford Bronco 4 Door Security Deck Enclosure Trunk Luggage Storage

FEATURE
Fits for 2021-2023 Ford Bronco 4-Door Models, Do not fit Ford Bronco Sport model
Durable black powder coat finish
Heavy duty 14-gauge(5/64 inch), 16 gauge(1/16 inch) welded steel construction
Creates a large, lockable storage area. Divided the rear trunk into two useful spaces
Interior Dimensions are about 42.7" L, 35.3" W, 20.4" H.
Large storage area is secured shut when the rear vehicle door is locked
Safeguard your valuables and personal privacy effectively
Lid easily hinges open for easy access when the rear vehicle door is opened
Includes perimeter weather seal
Features rubber pads to support the lid and efficiently reduce noise and vibration
Includes 9 high-quality tie-down rings which work with ropes for baggage fixing
Features interior MOLLE panels designed for attaching MOLLE pouches
Decorated with a honeycomb plate and works with the factory subwoofer
Mounts in vehicles with an OEM hard or soft top,Work with or without tops
Easy bolt-on installation design, no drilling needed
DIMENSION
High Performance Security.
The Hooke Road Security Deck Enclosure, designed for compatibility with Bronco 21-23 4-Door models, is a versatile addition that enhances your vehicle's storage capabilities. This enclosure creates a spacious and lockable storage area in the rear trunk, effectively dividing it into two useful spaces. It provides ample storage room for your gear and valuables. The large storage area is securely locked when the rear vehicle door is locked, ensuring the safety of your belongings and personal privacy. The enclosure's lid easily hinges open when the rear vehicle door is opened, allowing for convenient access. It includes a perimeter weather seal to keep your cargo protected from the elements. Rubber pads are featured to support the lid and minimize noise and vibration during travel. Additionally, the enclosure incorporates nine high-quality tie-down rings, compatible with ropes for securing your baggage. Interior MOLLE panels are designed for attaching MOLLE pouches, adding to the organization and versatility of this storage solution. Furthermore, it is decorated with a honeycomb plate and is compatible with the factory subwoofer.
Solid Construction.
Crafted for durability and strength, this Security Deck Enclosure boasts a durable powder coat finish that not only enhances its aesthetics but also provides exceptional resistance to corrosion and wear. The main structure is constructed from heavy-duty 14-gauge (5/64 inch) welded steel, ensuring robustness and longevity. The enclosure also features 16-gauge (1/16 inch) steel components, adding to its structural integrity. This combination of high-quality steel materials and a powder coat finish ensures that the enclosure can withstand the demands of off-road adventures and maintain its sleek appearance.
Sophisticated Design is Easily Installed.
Using standard hand tools, the enclosure is easily installed to the floor of your vehicle. There's no need for drilling or complex modifications, ensuring that you can quickly and securely mount it in your Bronco 4-Door. This enclosure is versatile, as it mounts in vehicles with an OEM hard or soft top and can be used with or without tops, offering flexibility in its application.
1 × Security Deck Enclosure Assembly
1 × Mounting Hardware Kit
1 × Installation Instruction
2023 Ford Bronco Badlands Sport Utility
2023 Ford Bronco Base Sport Utility
2023 Ford Bronco Big Bend Sport Utility
2023 Ford Bronco Black Diamond Sport Utility
2023 Ford Bronco Everglades Sport Utility
2023 Ford Bronco Heritage Edition Sport Utility
2023 Ford Bronco Outer Banks Sport Utility
2023 Ford Bronco Wildtrak Sport Utility
2022 Ford Bronco Badlands Sport Utility
2022 Ford Bronco Base Sport Utility
2022 Ford Bronco Big Bend Sport Utility
2022 Ford Bronco Black Diamond Sport Utility
2022 Ford Bronco Everglades Sport Utility
2022 Ford Bronco Outer Banks Sport Utility
2022 Ford Bronco Wildtrak Sport Utility
2021 Ford Bronco Badlands Sport Utility
2021 Ford Bronco Base Sport Utility
2021 Ford Bronco Big Bend Sport Utility
2021 Ford Bronco Black Diamond Sport Utility
2021 Ford Bronco First Edition Sport Utility
2021 Ford Bronco Outer Banks Sport Utility
2021 Ford Bronco Wildtrak Sport Utility
Package Included
1 × Security Deck Enclosure Assembly
1 × Mounting Hardware Kit
1 × Installation Instruction
Fitment
2023 Ford Bronco Badlands Sport Utility
2023 Ford Bronco Base Sport Utility
2023 Ford Bronco Big Bend Sport Utility
2023 Ford Bronco Black Diamond Sport Utility
2023 Ford Bronco Everglades Sport Utility
2023 Ford Bronco Heritage Edition Sport Utility
2023 Ford Bronco Outer Banks Sport Utility
2023 Ford Bronco Wildtrak Sport Utility
2022 Ford Bronco Badlands Sport Utility
2022 Ford Bronco Base Sport Utility
2022 Ford Bronco Big Bend Sport Utility
2022 Ford Bronco Black Diamond Sport Utility
2022 Ford Bronco Everglades Sport Utility
2022 Ford Bronco Outer Banks Sport Utility
2022 Ford Bronco Wildtrak Sport Utility
2021 Ford Bronco Badlands Sport Utility
2021 Ford Bronco Base Sport Utility
2021 Ford Bronco Big Bend Sport Utility
2021 Ford Bronco Black Diamond Sport Utility
2021 Ford Bronco First Edition Sport Utility
2021 Ford Bronco Outer Banks Sport Utility
2021 Ford Bronco Wildtrak Sport Utility