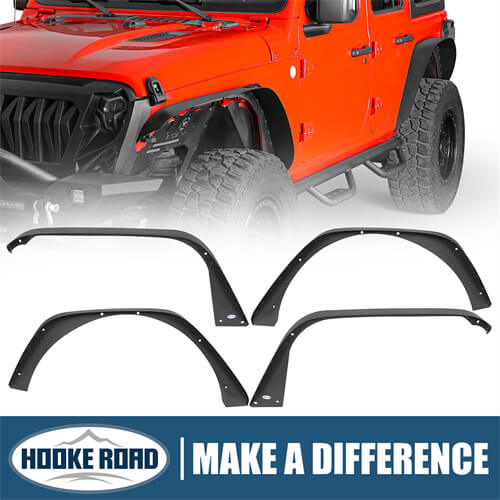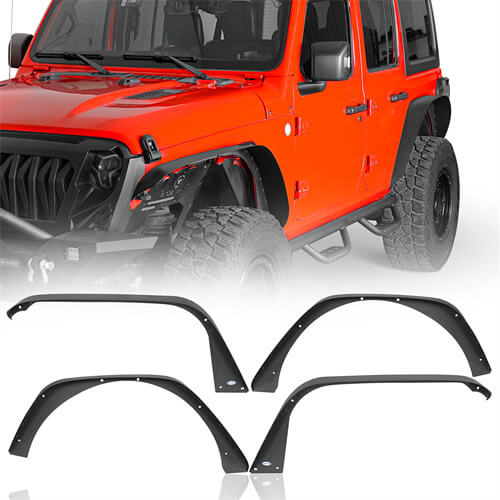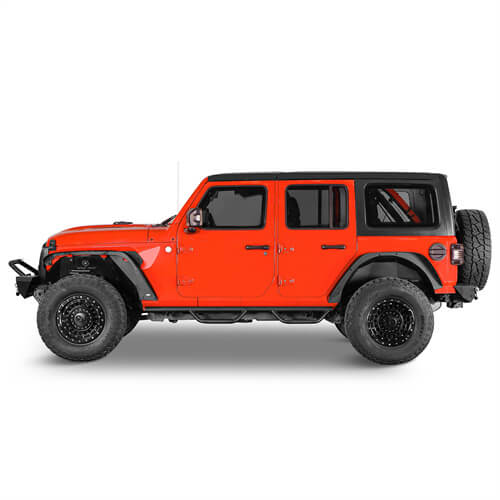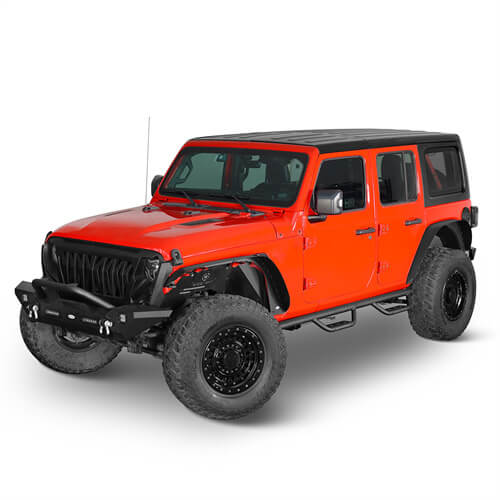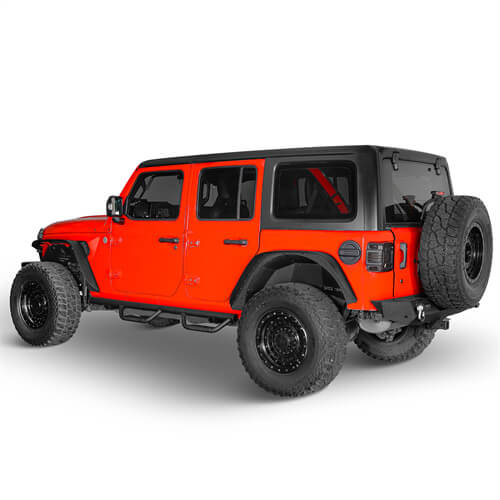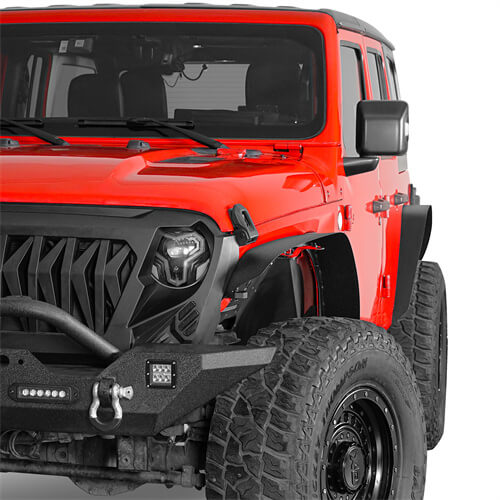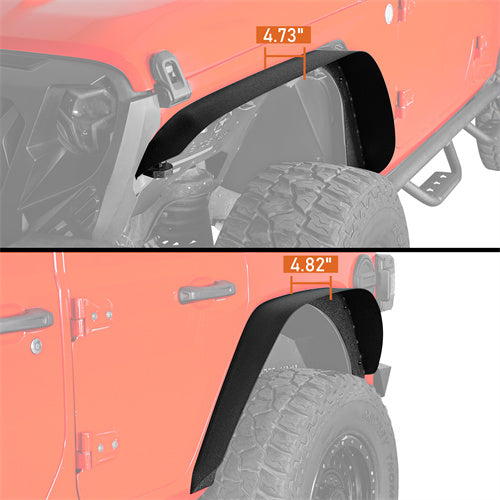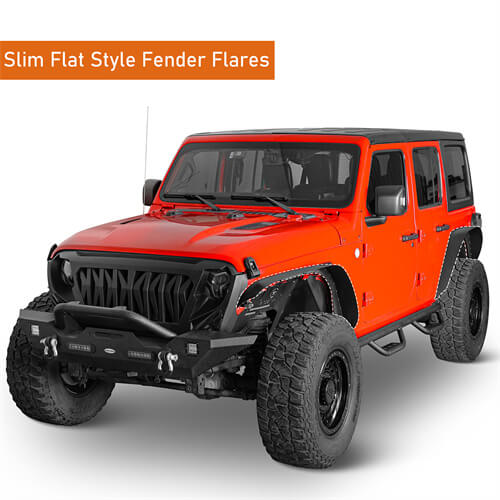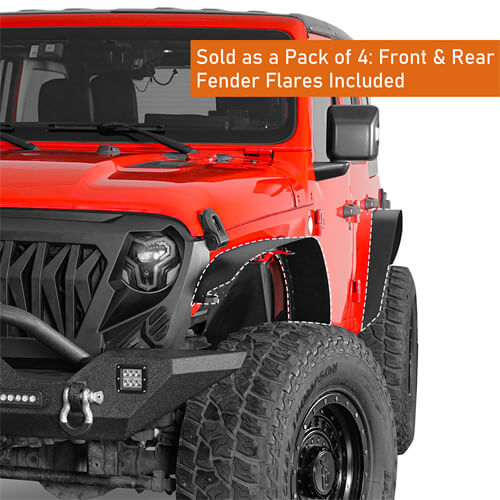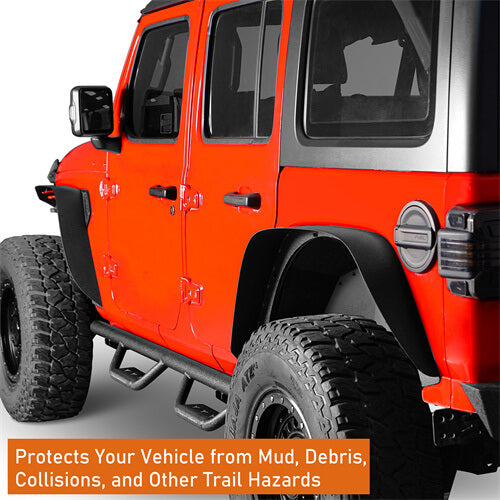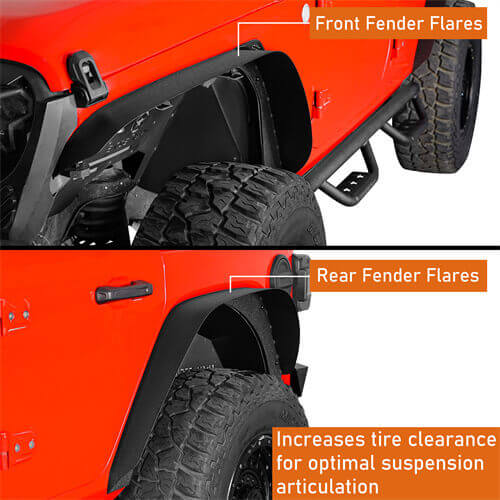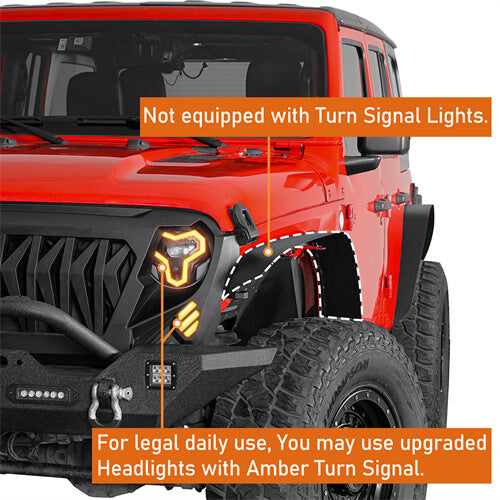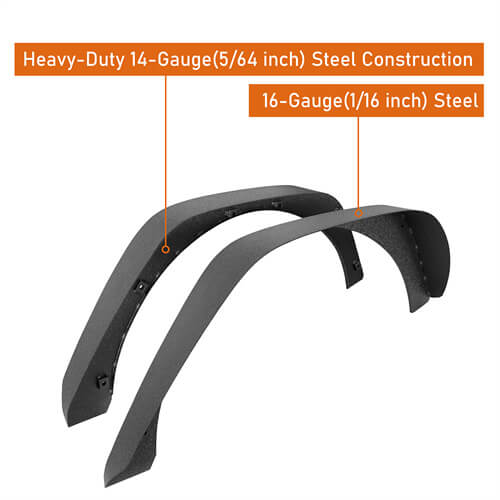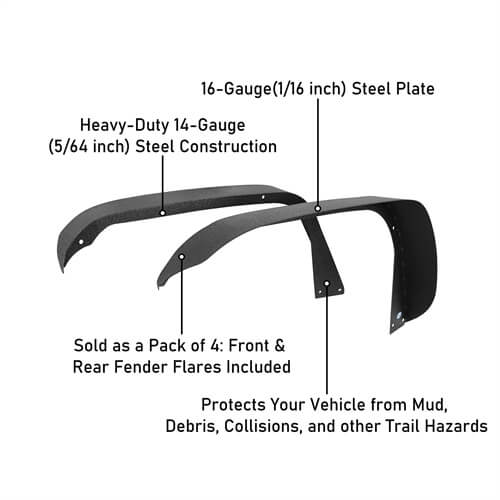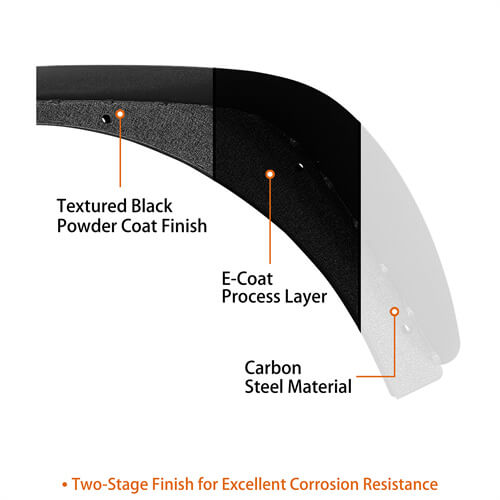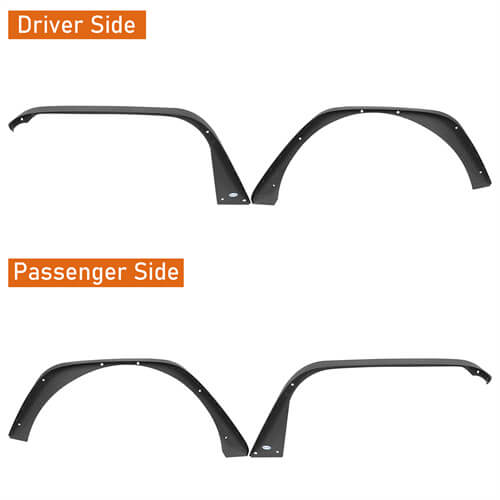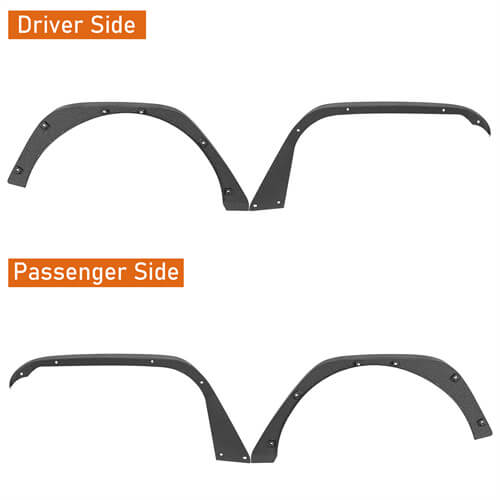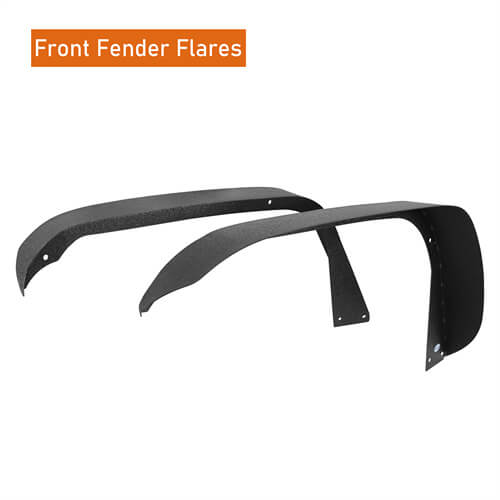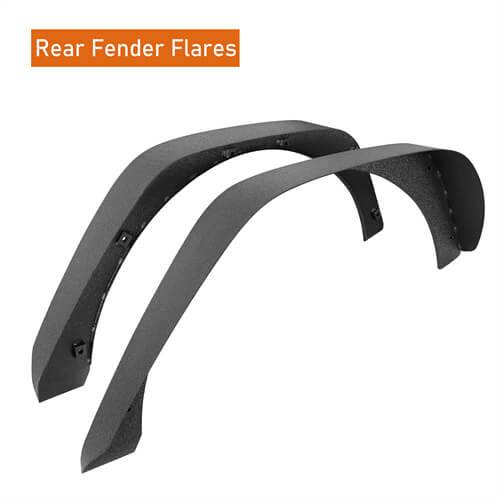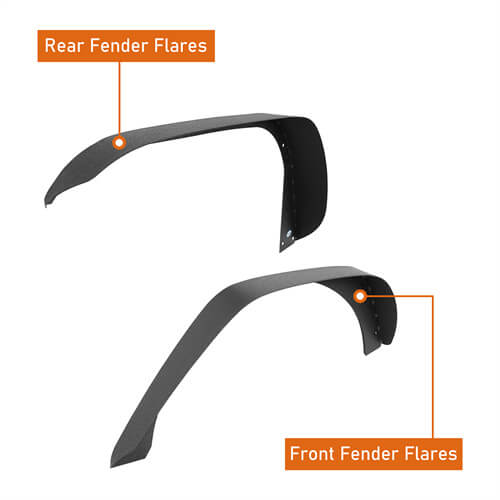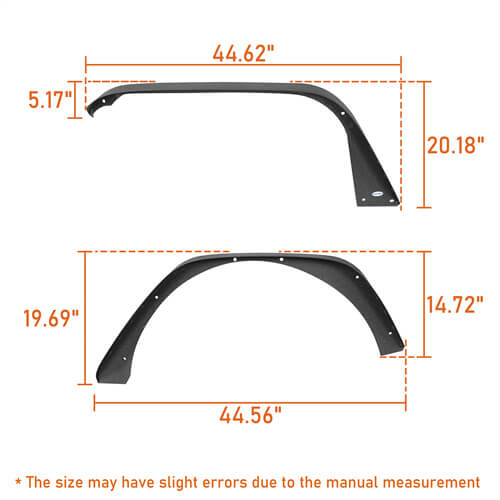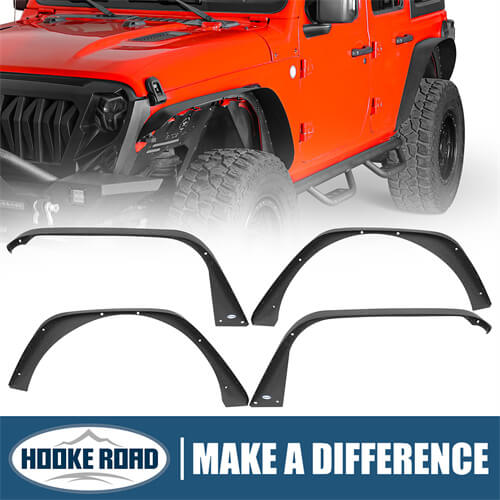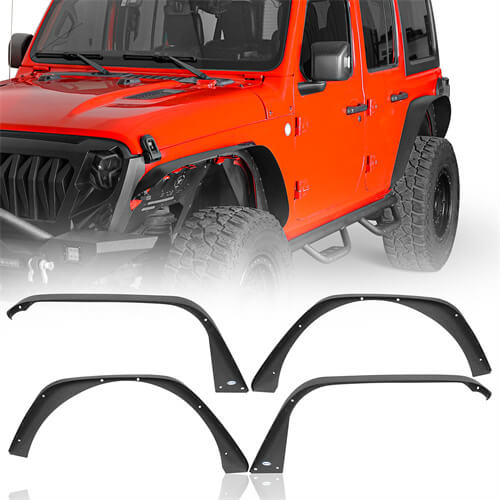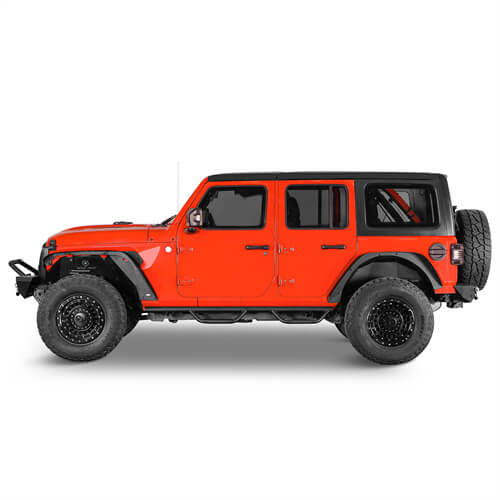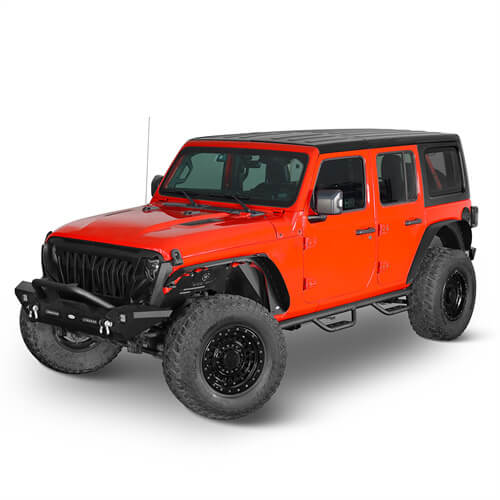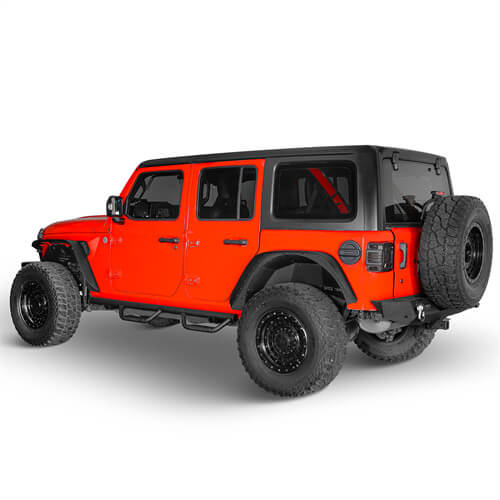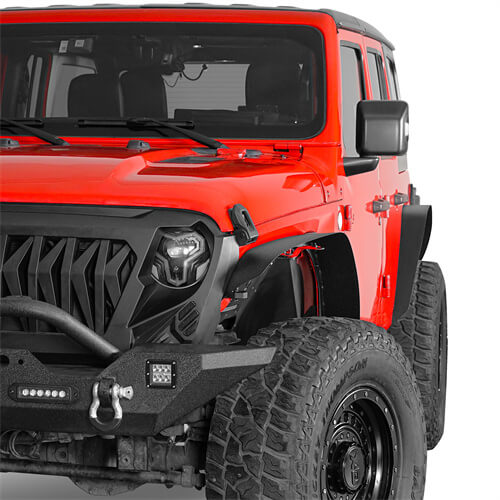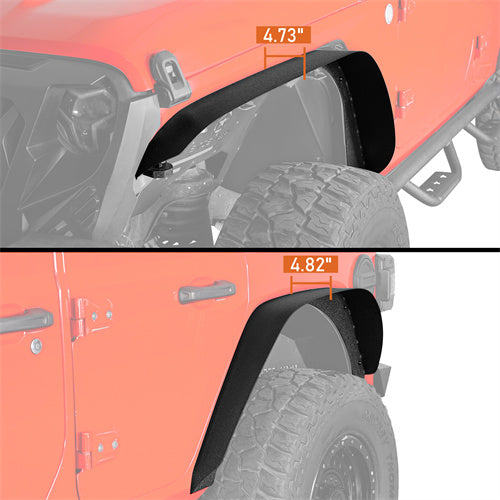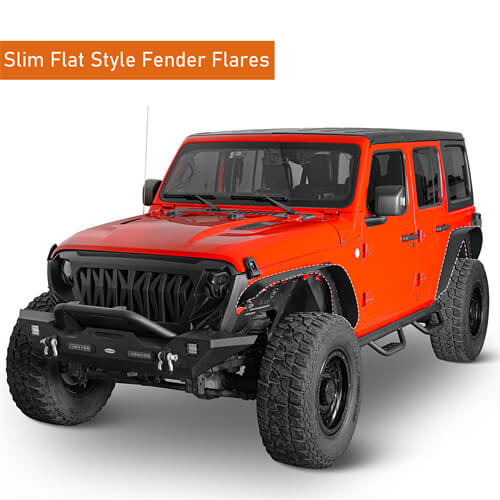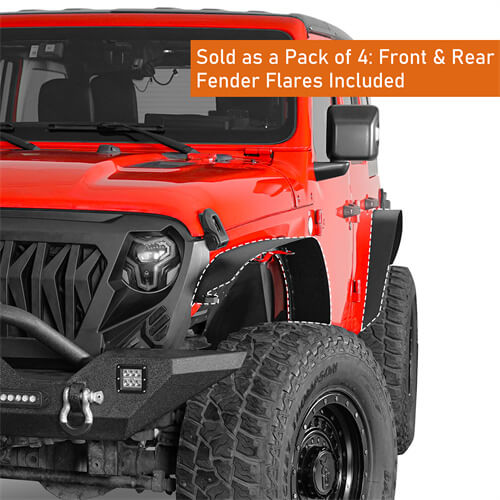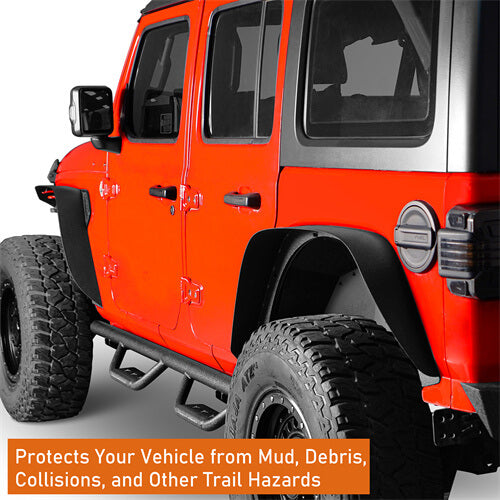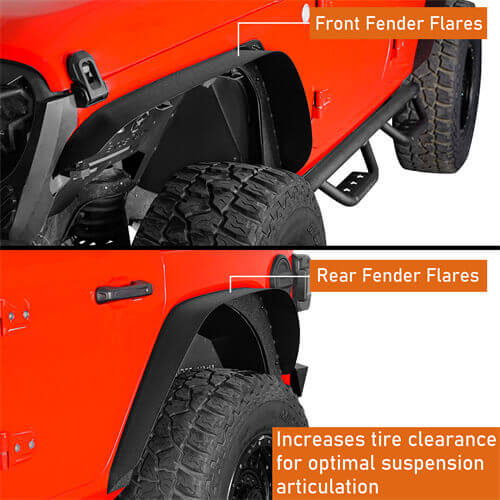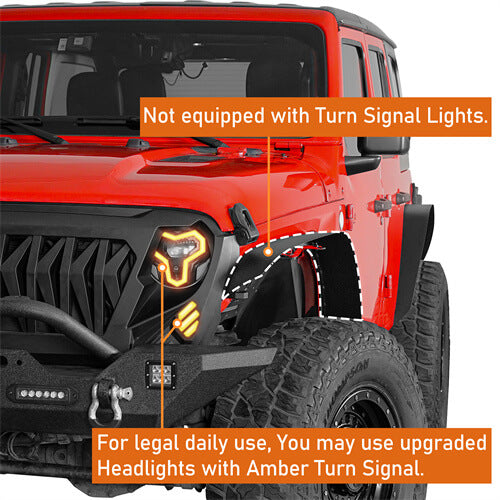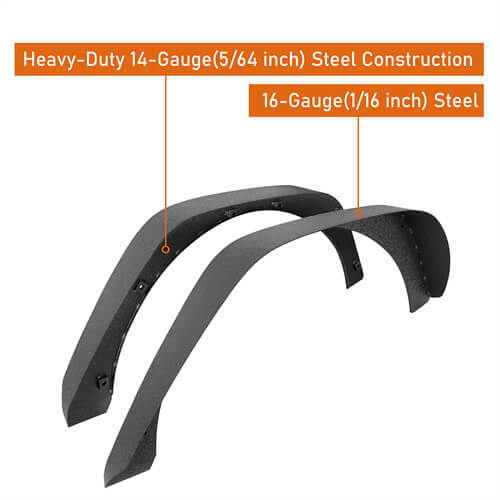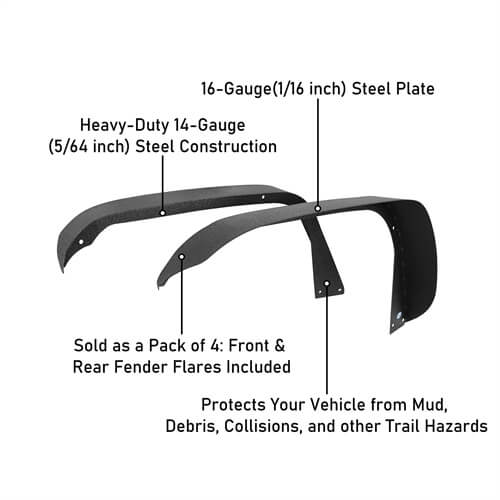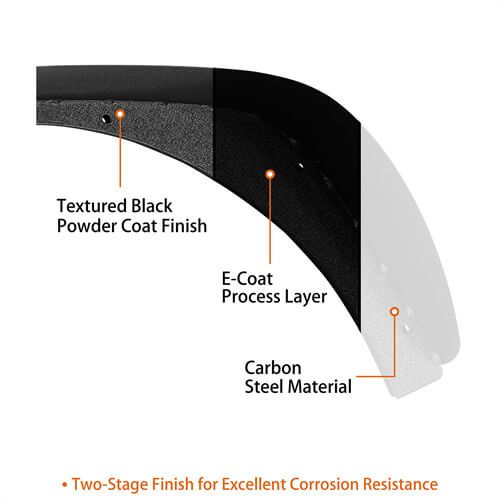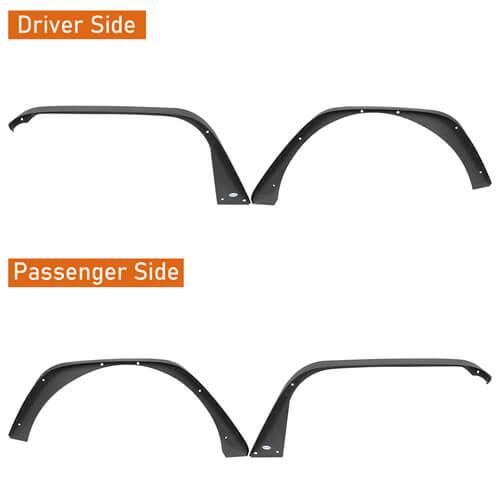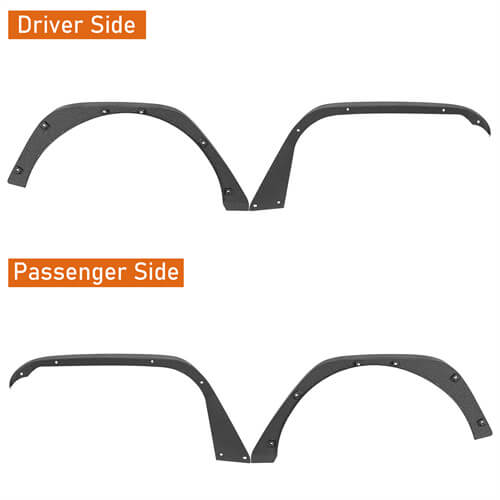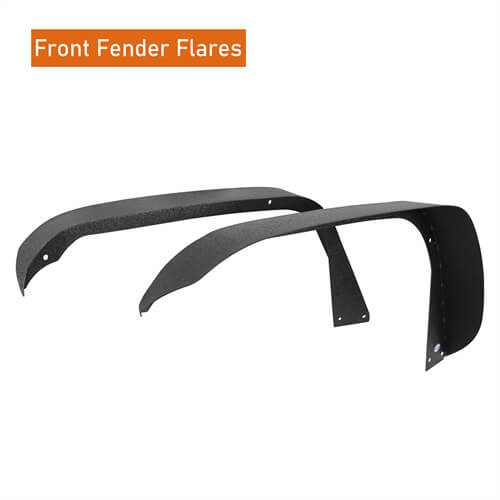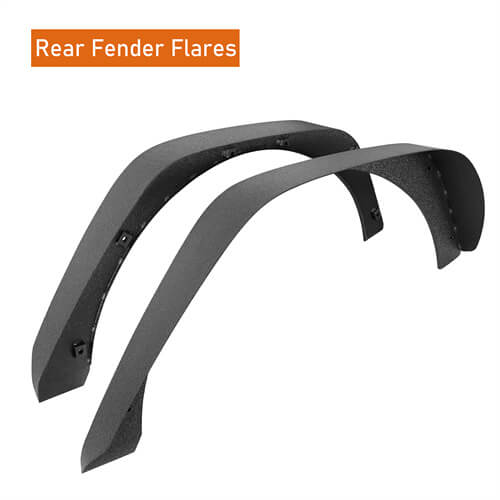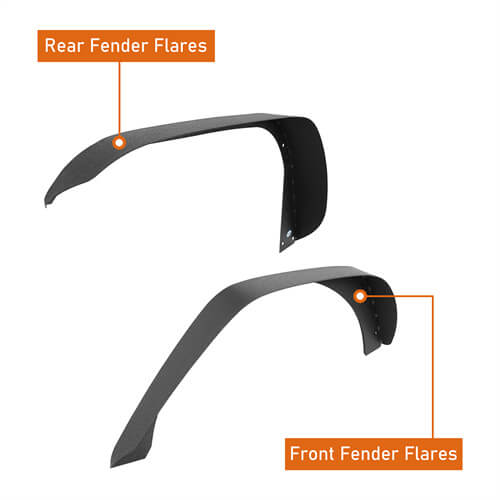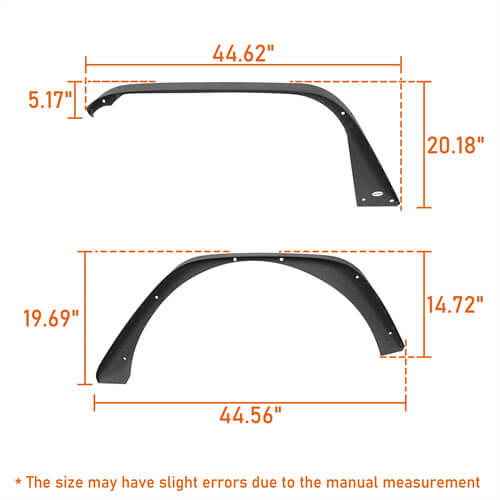 Name:  Hooke Road Jeep JL Front & Rear Slim Flat Fender Flares Kit
Are you looking for Fender Flares? The Hooke Road Fender Flares are an excellent fit for the JL model, enhancing overall performance. These flat fenders provide added clearance, preserving street legality, and expanding wheel well space. With a stripped-down, basic design, they offer affordability and a raw, clean appearance for your vehicle.
Feature
Fits for 2018-2023 Jeep Wrangler JL Models
Product weight: about 33 lbs
16-gauge(1/16 inch) and 14-gauge(5/64 inch) steel construction
Textured black powder coat finish & Premium E-coating process inside
Add a rugged off-road exterior look
Extreme slim and tide design
Protects your vehicle from mud, debris, collisions, and other trail hazards
Increases tire clearance for optimal suspension articulation
Direct bolt-on installation, No drilling is required
Include 4 pcs fender flares (Passenger and Driver Sides)
Please note that the fender flares do not come equipped with Turn Signal Lights! For legal daily use, You may use upgraded Headlights that feature Amber Turn Signals
Dimension
Something you want to know
Steel Construction. When seeking unwavering protection and endurance, trust the Hooke Road Fender Flares. Crafted from substantial steel and finished in textured black powder coating, these fender flares impress with their strength and seamless design.

Effortless Bolt-On Setup. Hooke Road's Fender Flares are engineered for direct bolt-on enhancement with basic hand tools. Begin by removing the factory fender flares. The kit includes a rivnut insert setting tool for rivet insertion into the vehicle frame. Proceed to attach the fender flares using the provided bolts and nuts. The installation typically spans about an hour.
4 × Fender Flares(Passenger and Driver Sides)
1 × Mounting Hardware Kit
1 × Installation Instruction
2023 Jeep Wrangler Unlimited High Altitude 4xe Sport Utility 4-Door
2023 Jeep Wrangler Unlimited High Altitude Sport Utility 4-Door
2023 Jeep Wrangler Unlimited Rubicon 4xe Sport Utility 4-Door
2023 Jeep Wrangler Unlimited Rubicon 392 Sport Utility 4-Door
2023 Jeep Wrangler Unlimited Rubicon Sport Utility 4-Door
2023 Jeep Wrangler Unlimited Sahara 4xe Sport Utility 4-Door
2023 Jeep Wrangler Unlimited Sahara Altitude Sport Utility 4-Door
2023 Jeep Wrangler Unlimited Sahara High Altitude Sport Utility 4-Door
2023 Jeep Wrangler Unlimited Sahara Sport Utility 4-Door
2023 Jeep Wrangler Unlimited Sport Altitude Sport Utility 4-Door
2023 Jeep Wrangler Unlimited Sport S Sport Utility 4-Door
2023 Jeep Wrangler Unlimited Sport Sport Utility 4-Door
2023 Jeep Wrangler Unlimited Willys 4xe Sport Utility 4-Door
2023 Jeep Wrangler Unlimited Willys Sport Sport Utility 4-Door
2023 Jeep Wrangler Unlimited Willys Sport Utility 4-Door
2022 Jeep Wrangler Unlimited Rubicon 392 Sport Utility 4-Door
2022 Jeep Wrangler Unlimited Rubicon Sport Utility 4-Door
2022 Jeep Wrangler Unlimited Sahara Altitude Sport Utility 4-Door
2022 Jeep Wrangler Unlimited Sahara High Altitude Sport Utility 4-Door
2022 Jeep Wrangler Unlimited Sahara Sport Utility 4-Door
2022 Jeep Wrangler Unlimited Sport Altitude Sport Utility 4-Door
2022 Jeep Wrangler Unlimited Sport S Sport Utility 4-Door
2022 Jeep Wrangler Unlimited Sport Sport Utility 4-Door
2022 Jeep Wrangler Unlimited Willys Sport Sport Utility 4-Door
2022 Jeep Wrangler Unlimited Willys Sport Utility 4-Door
2021 Jeep Wrangler Unlimited 80th Anniversary Sport Utility 4-Door
2021 Jeep Wrangler Unlimited Freedom Sport Utility 4-Door
2021 Jeep Wrangler Unlimited High Altitude Sport Utility 4-Door
2021 Jeep Wrangler Unlimited Islander Sport Utility 4-Door
2021 Jeep Wrangler Unlimited Rubicon 392 Sport Utility 4-Door
2021 Jeep Wrangler Unlimited Rubicon Sport Utility 4-Door
2021 Jeep Wrangler Unlimited Sahara Altitude Sport Utility 4-Door
2021 Jeep Wrangler Unlimited Sahara High Altitude Sport Utility 4-Door
2021 Jeep Wrangler Unlimited Sahara Sport Utility 4-Door
2021 Jeep Wrangler Unlimited Sport Altitude Sport Utility 4-Door
2021 Jeep Wrangler Unlimited Sport S Sport Utility 4-Door
2021 Jeep Wrangler Unlimited Sport Sport Utility 4-Door
2021 Jeep Wrangler Unlimited Willys Sport Sport Utility 4-Door
2021 Jeep Wrangler Unlimited Willys Sport Utility 4-Door
2020 Jeep Wrangler Unlimited Black and Tan Sport Utility 4-Door
2020 Jeep Wrangler Unlimited Freedom Sport Utility 4-Door
2020 Jeep Wrangler Unlimited North Edition Sport Utility 4-Door
2020 Jeep Wrangler Unlimited Recon Sport Utility 4-Door
2020 Jeep Wrangler Unlimited Rubicon Deluxe Sport Utility 4-Door
2020 Jeep Wrangler Unlimited Rubicon Sport Utility 4-Door
2020 Jeep Wrangler Unlimited Rubicon Xtreme Sport Utility 4-Door
2020 Jeep Wrangler Unlimited Sahara Altitude Sport Utility 4-Door
2020 Jeep Wrangler Unlimited Sahara Sport Utility 4-Door
2020 Jeep Wrangler Unlimited Sport Altitude Sport Utility 4-Door
2020 Jeep Wrangler Unlimited Sport S Sport Utility 4-Door
2020 Jeep Wrangler Unlimited Sport Sport Utility 4-Door
2020 Jeep Wrangler Unlimited Willys Sport Utility 4-Door
2019 Jeep Wrangler Unlimited Moab Sport Utility 4-Door
2019 Jeep Wrangler Unlimited Rubicon Sport Utility 4-Door
2019 Jeep Wrangler Unlimited Sahara Altitude Sport Utility 4-Door
2019 Jeep Wrangler Unlimited Sahara Sport Utility 4-Door
2019 Jeep Wrangler Unlimited Sport S Sport Utility 4-Door
2019 Jeep Wrangler Unlimited Sport Sport Utility 4-Door
2018 Jeep Wrangler Unlimited Moab Sport Utility 4-Door
2018 Jeep Wrangler Unlimited Rubicon Sport Utility 4-Door
2018 Jeep Wrangler Unlimited Sahara Sport Utility 4-Door
2018 Jeep Wrangler Unlimited Sport S Sport Utility 4-Door
2018 Jeep Wrangler Unlimited Sport Sport Utility 4-Door
Package Included
4 × Fender Flares(Passenger and Driver Sides)
1 × Mounting Hardware Kit
1 × Installation Instruction
Fitment
2023 Jeep Wrangler Unlimited High Altitude 4xe Sport Utility 4-Door
2023 Jeep Wrangler Unlimited High Altitude Sport Utility 4-Door
2023 Jeep Wrangler Unlimited Rubicon 4xe Sport Utility 4-Door
2023 Jeep Wrangler Unlimited Rubicon 392 Sport Utility 4-Door
2023 Jeep Wrangler Unlimited Rubicon Sport Utility 4-Door
2023 Jeep Wrangler Unlimited Sahara 4xe Sport Utility 4-Door
2023 Jeep Wrangler Unlimited Sahara Altitude Sport Utility 4-Door
2023 Jeep Wrangler Unlimited Sahara High Altitude Sport Utility 4-Door
2023 Jeep Wrangler Unlimited Sahara Sport Utility 4-Door
2023 Jeep Wrangler Unlimited Sport Altitude Sport Utility 4-Door
2023 Jeep Wrangler Unlimited Sport S Sport Utility 4-Door
2023 Jeep Wrangler Unlimited Sport Sport Utility 4-Door
2023 Jeep Wrangler Unlimited Willys 4xe Sport Utility 4-Door
2023 Jeep Wrangler Unlimited Willys Sport Sport Utility 4-Door
2023 Jeep Wrangler Unlimited Willys Sport Utility 4-Door
2022 Jeep Wrangler Unlimited Rubicon 392 Sport Utility 4-Door
2022 Jeep Wrangler Unlimited Rubicon Sport Utility 4-Door
2022 Jeep Wrangler Unlimited Sahara Altitude Sport Utility 4-Door
2022 Jeep Wrangler Unlimited Sahara High Altitude Sport Utility 4-Door
2022 Jeep Wrangler Unlimited Sahara Sport Utility 4-Door
2022 Jeep Wrangler Unlimited Sport Altitude Sport Utility 4-Door
2022 Jeep Wrangler Unlimited Sport S Sport Utility 4-Door
2022 Jeep Wrangler Unlimited Sport Sport Utility 4-Door
2022 Jeep Wrangler Unlimited Willys Sport Sport Utility 4-Door
2022 Jeep Wrangler Unlimited Willys Sport Utility 4-Door
2021 Jeep Wrangler Unlimited 80th Anniversary Sport Utility 4-Door
2021 Jeep Wrangler Unlimited Freedom Sport Utility 4-Door
2021 Jeep Wrangler Unlimited High Altitude Sport Utility 4-Door
2021 Jeep Wrangler Unlimited Islander Sport Utility 4-Door
2021 Jeep Wrangler Unlimited Rubicon 392 Sport Utility 4-Door
2021 Jeep Wrangler Unlimited Rubicon Sport Utility 4-Door
2021 Jeep Wrangler Unlimited Sahara Altitude Sport Utility 4-Door
2021 Jeep Wrangler Unlimited Sahara High Altitude Sport Utility 4-Door
2021 Jeep Wrangler Unlimited Sahara Sport Utility 4-Door
2021 Jeep Wrangler Unlimited Sport Altitude Sport Utility 4-Door
2021 Jeep Wrangler Unlimited Sport S Sport Utility 4-Door
2021 Jeep Wrangler Unlimited Sport Sport Utility 4-Door
2021 Jeep Wrangler Unlimited Willys Sport Sport Utility 4-Door
2021 Jeep Wrangler Unlimited Willys Sport Utility 4-Door
2020 Jeep Wrangler Unlimited Black and Tan Sport Utility 4-Door
2020 Jeep Wrangler Unlimited Freedom Sport Utility 4-Door
2020 Jeep Wrangler Unlimited North Edition Sport Utility 4-Door
2020 Jeep Wrangler Unlimited Recon Sport Utility 4-Door
2020 Jeep Wrangler Unlimited Rubicon Deluxe Sport Utility 4-Door
2020 Jeep Wrangler Unlimited Rubicon Sport Utility 4-Door
2020 Jeep Wrangler Unlimited Rubicon Xtreme Sport Utility 4-Door
2020 Jeep Wrangler Unlimited Sahara Altitude Sport Utility 4-Door
2020 Jeep Wrangler Unlimited Sahara Sport Utility 4-Door
2020 Jeep Wrangler Unlimited Sport Altitude Sport Utility 4-Door
2020 Jeep Wrangler Unlimited Sport S Sport Utility 4-Door
2020 Jeep Wrangler Unlimited Sport Sport Utility 4-Door
2020 Jeep Wrangler Unlimited Willys Sport Utility 4-Door
2019 Jeep Wrangler Unlimited Moab Sport Utility 4-Door
2019 Jeep Wrangler Unlimited Rubicon Sport Utility 4-Door
2019 Jeep Wrangler Unlimited Sahara Altitude Sport Utility 4-Door
2019 Jeep Wrangler Unlimited Sahara Sport Utility 4-Door
2019 Jeep Wrangler Unlimited Sport S Sport Utility 4-Door
2019 Jeep Wrangler Unlimited Sport Sport Utility 4-Door
2018 Jeep Wrangler Unlimited Moab Sport Utility 4-Door
2018 Jeep Wrangler Unlimited Rubicon Sport Utility 4-Door
2018 Jeep Wrangler Unlimited Sahara Sport Utility 4-Door
2018 Jeep Wrangler Unlimited Sport S Sport Utility 4-Door
2018 Jeep Wrangler Unlimited Sport Sport Utility 4-Door