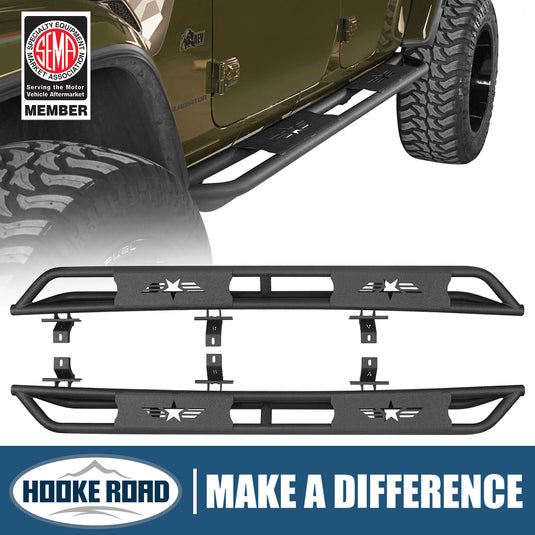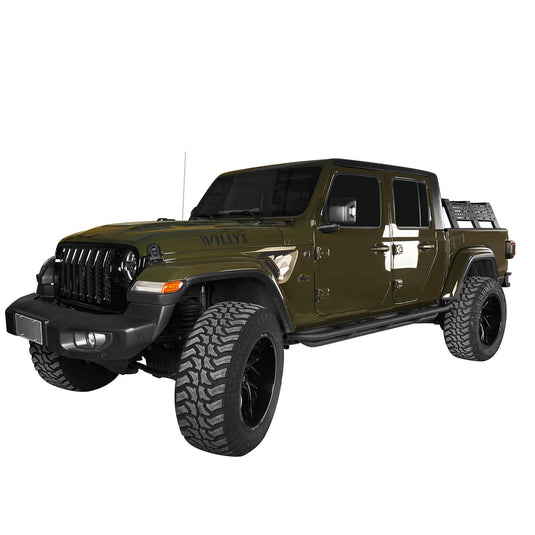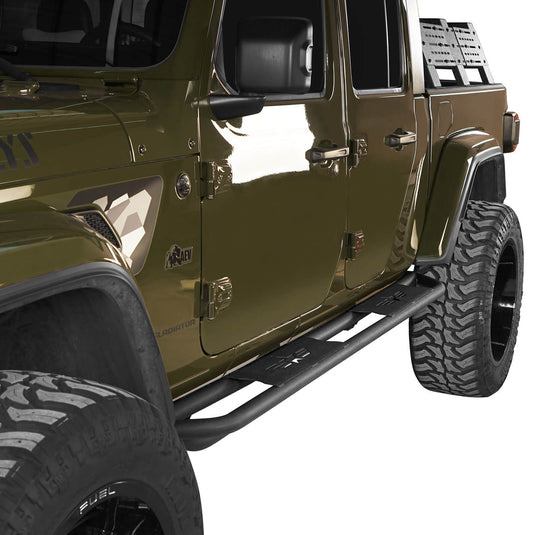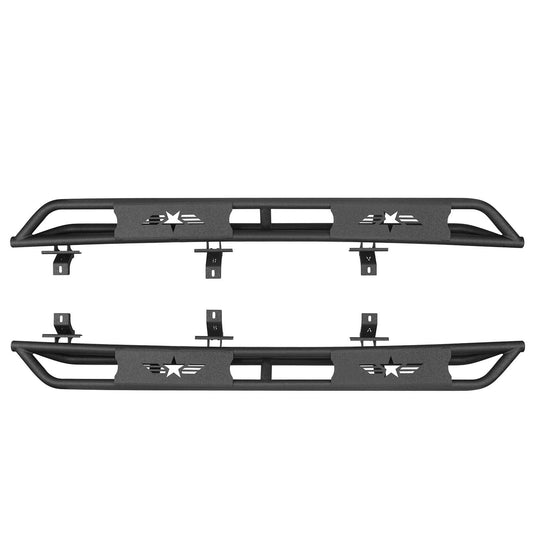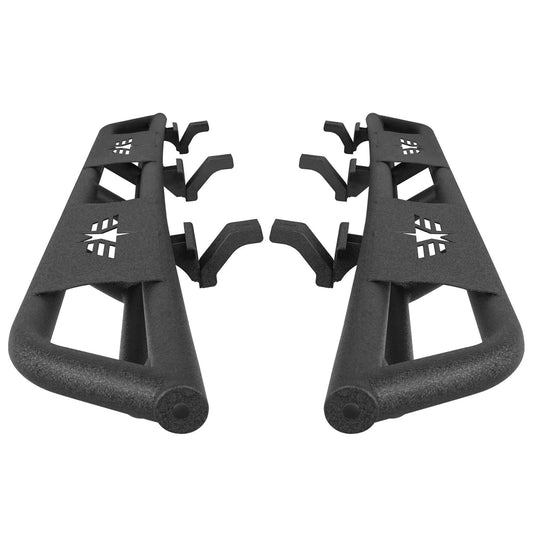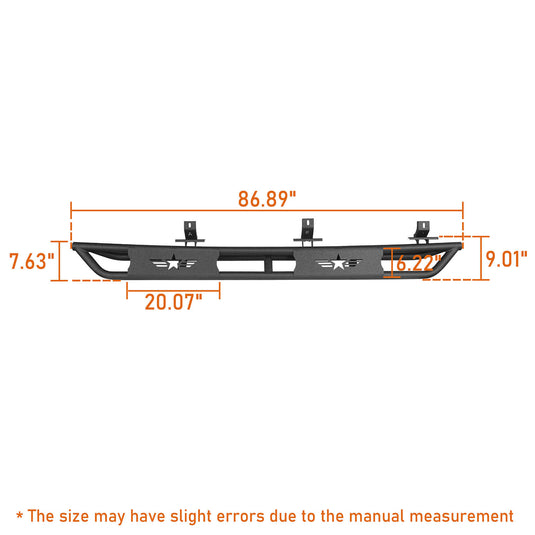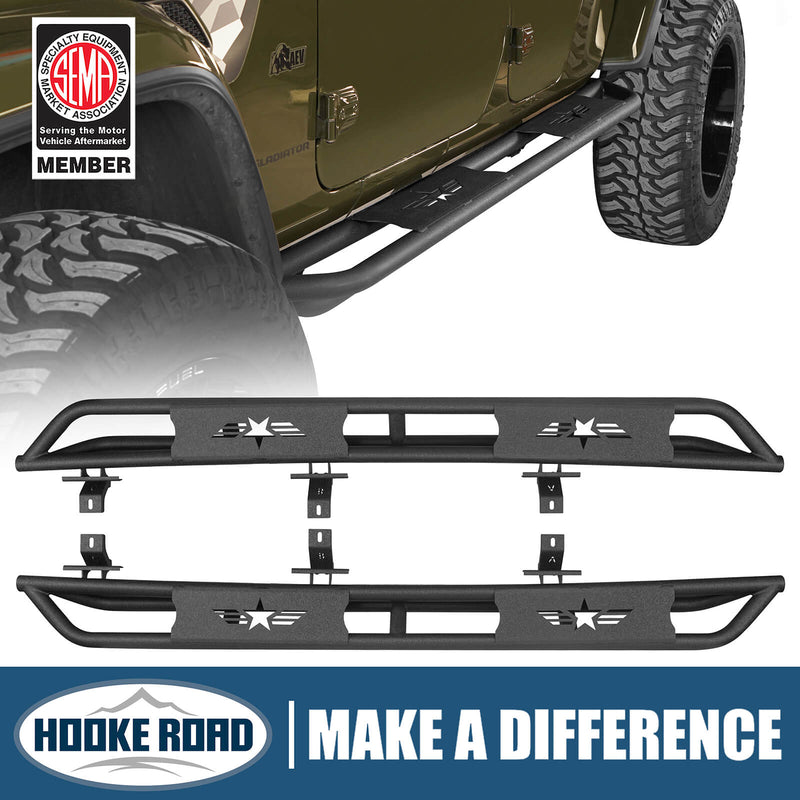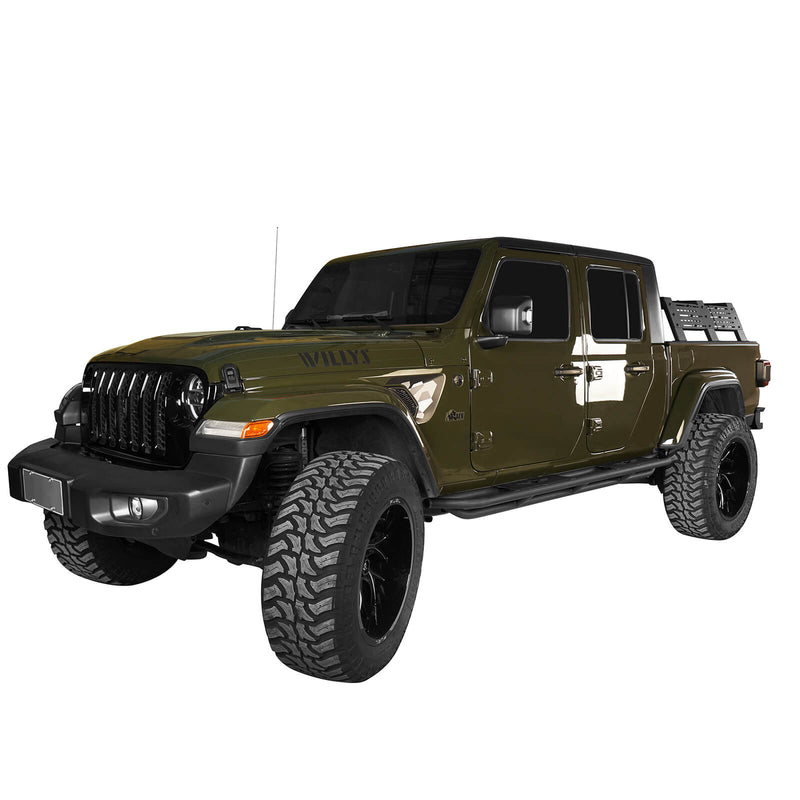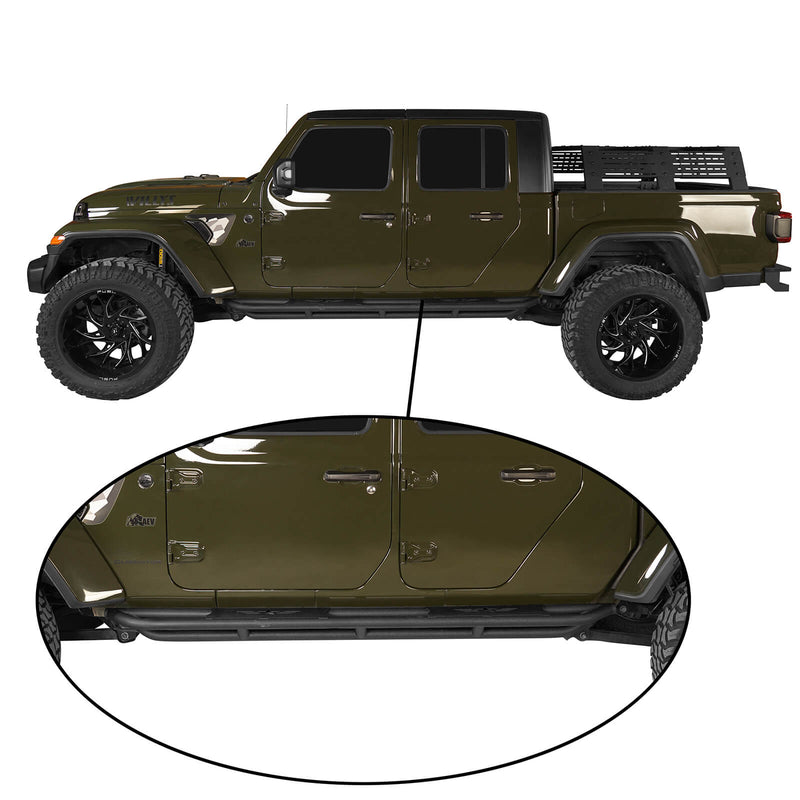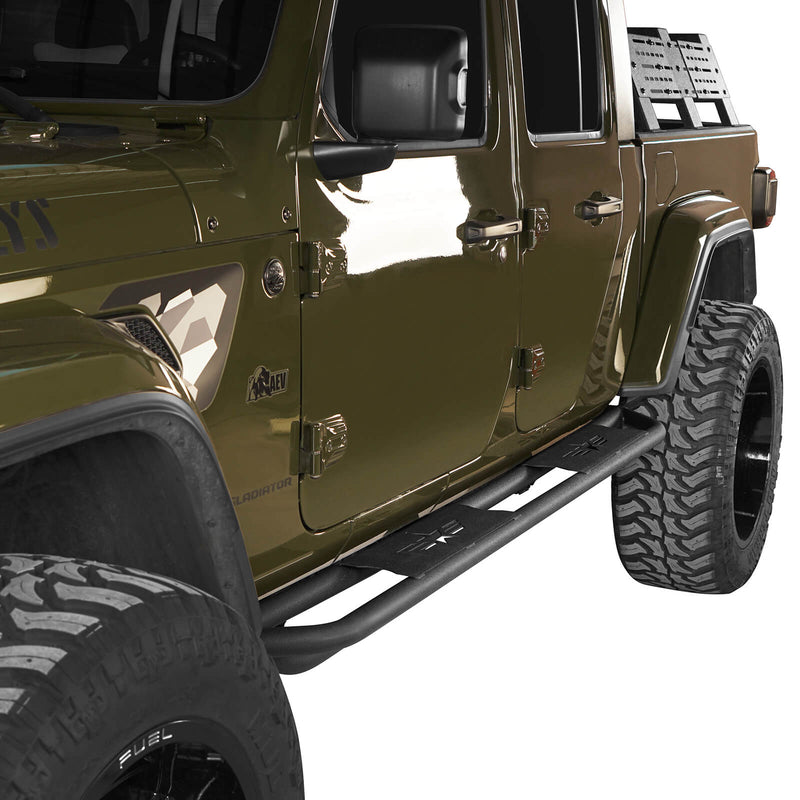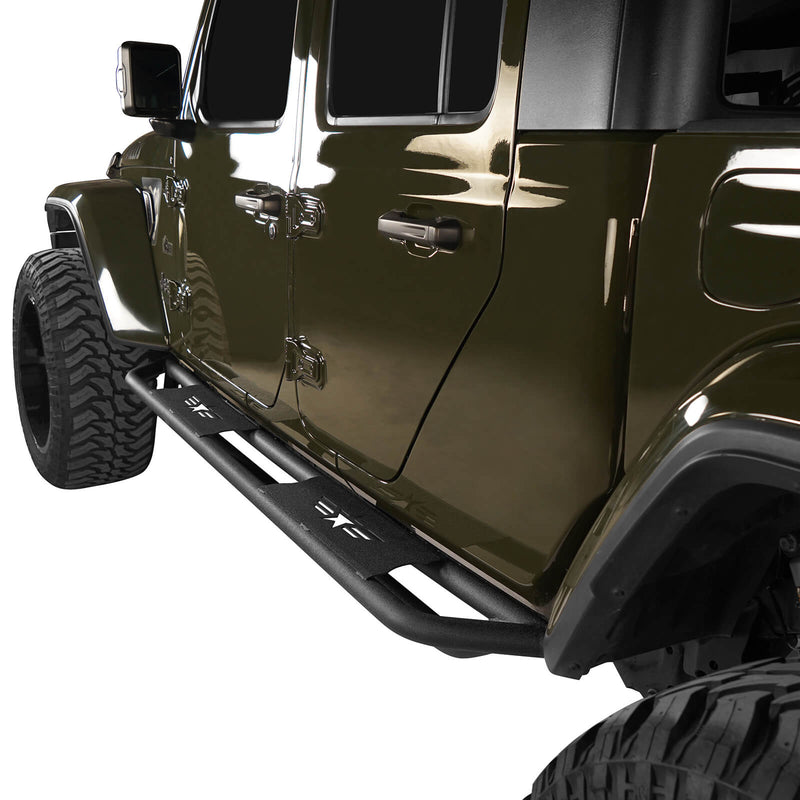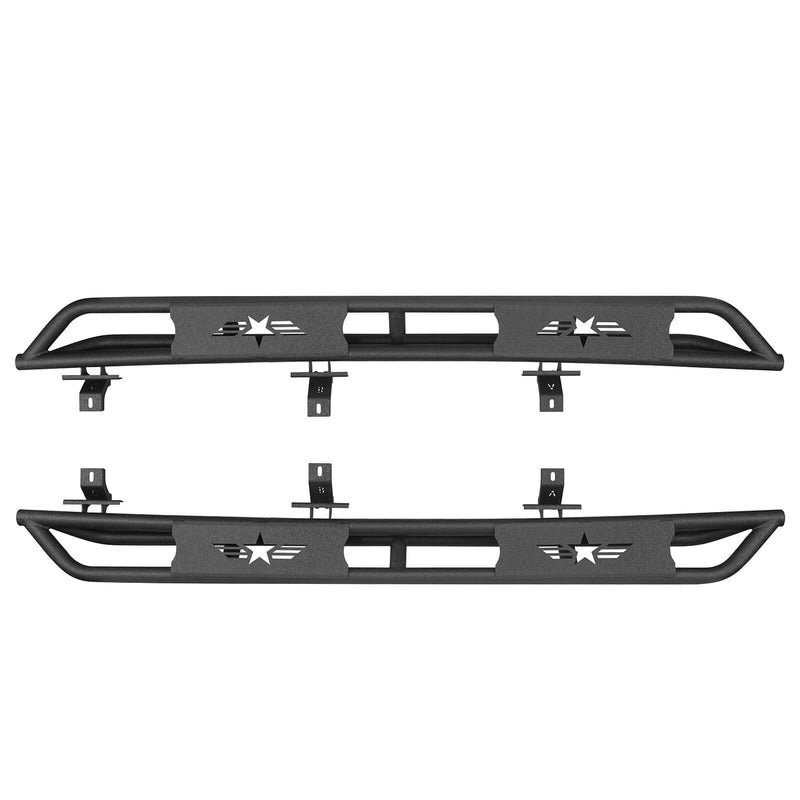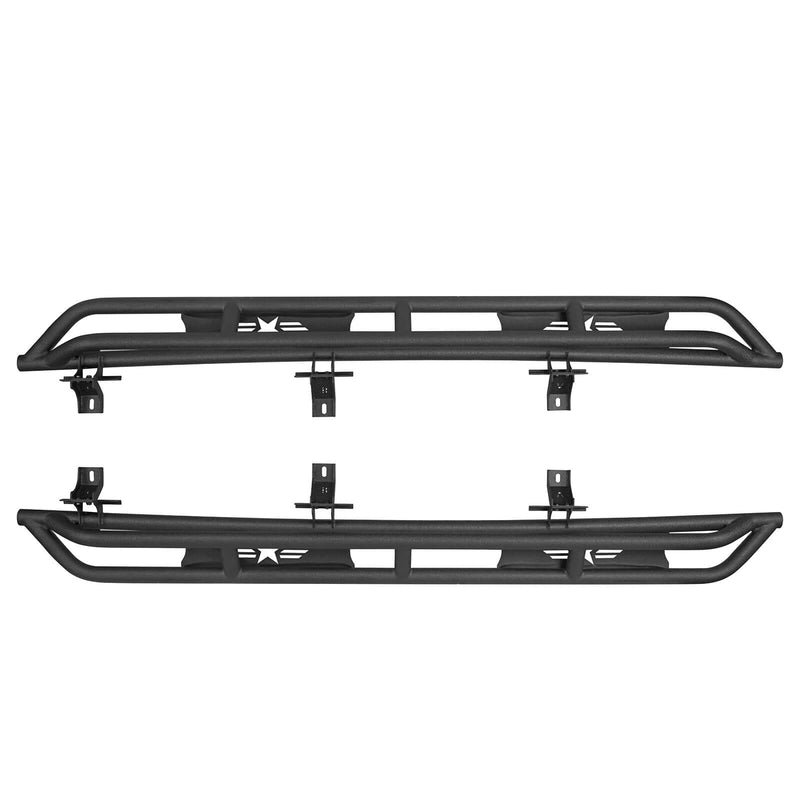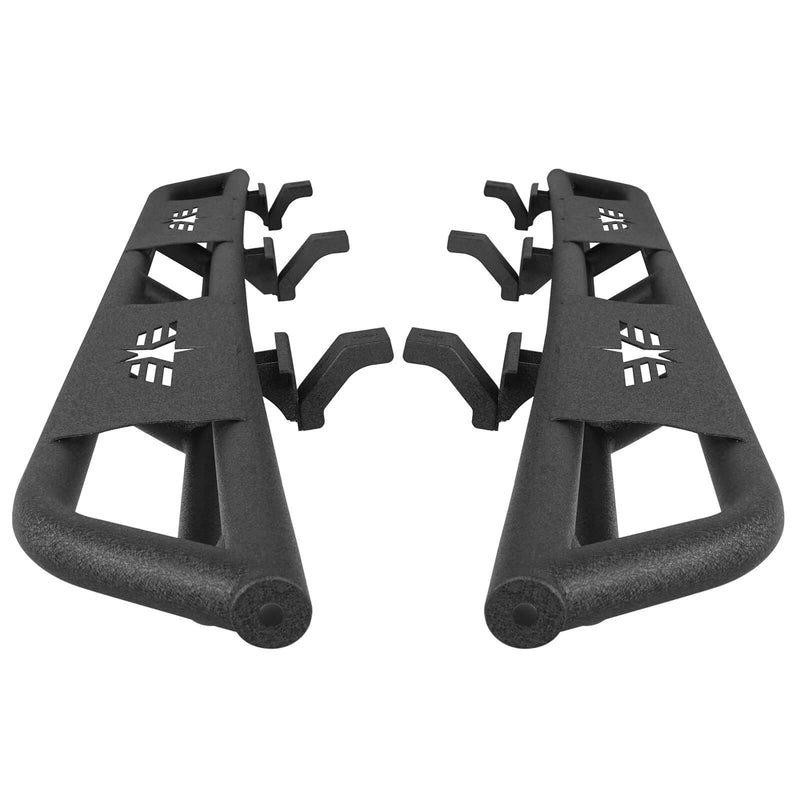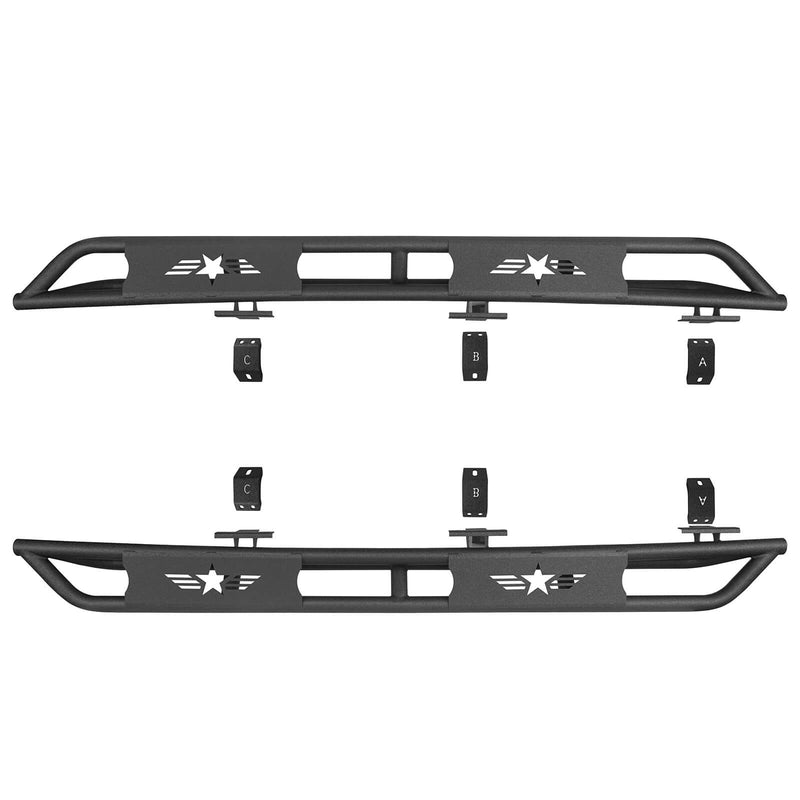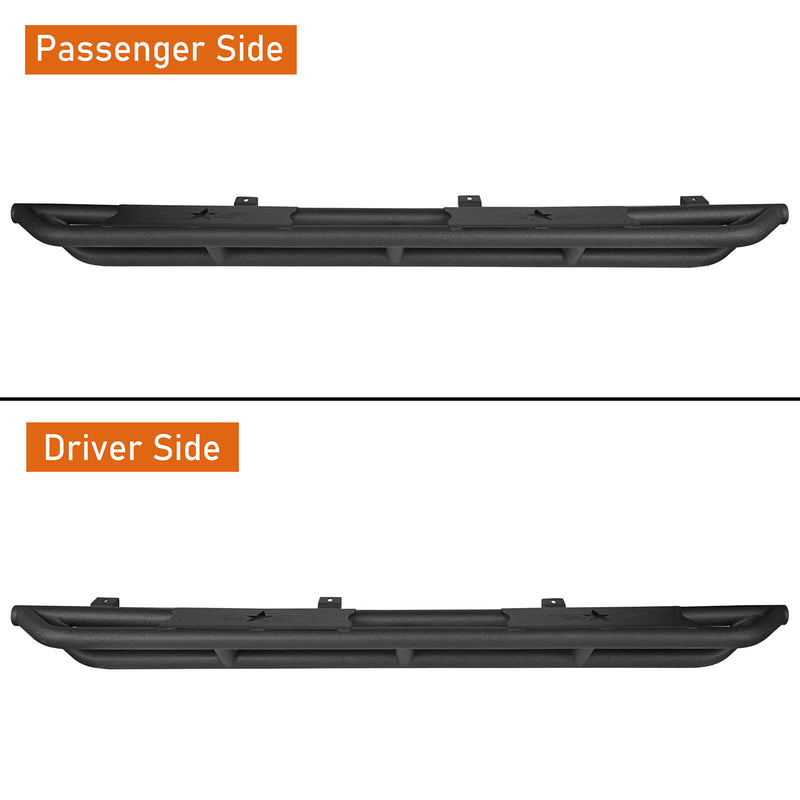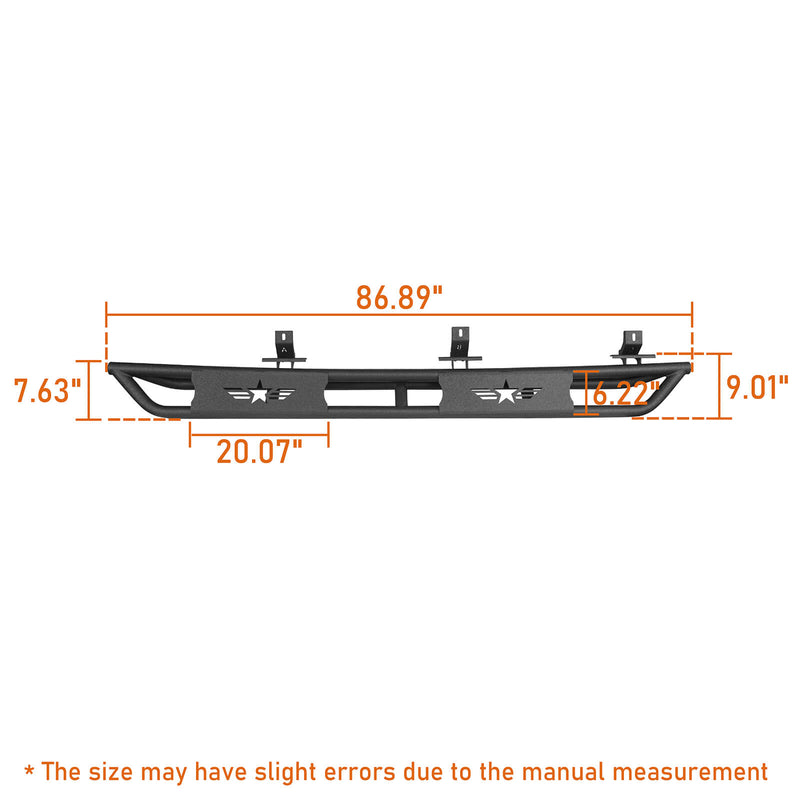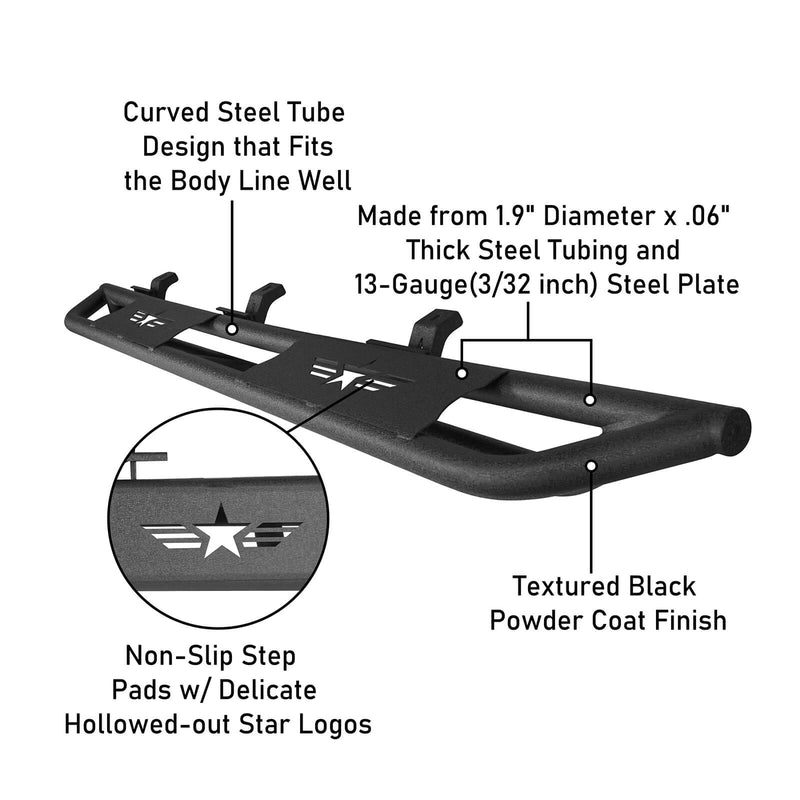 Name: Hooke Road Jeep Gladiator Steel Running Boards Side Steps Nerf Bars Upgraded Version
Fitment:
Fits for 2020-2023 Jeep Gladiator JT Models
Weight:  about 80 lbs
Curved steel tube design that fits the body line well
Simple bolt-on installation 
Rugged off-road appearance w/ delicate hollowed-out star logos

Durable non-slip step pads

Provides a step for easy entry and exit

Superior side and undercarriage protection

Textured black powder coat finish & Premium E-coating process inside
Made from 1.9" diameter x .06" thick steel tubing and 13-gauge(3/32 inch) steel plate

Driver and passenger sides included
Package Included:
1 x

Jeep Gladiator

Side Steps (Passenger & Drive Side Included)
6 × Mounting Brackets 
Mounting Hardware Kit
1

× 

Installation Instruction 
Fitment
Fits Jeep Gladiator, Such as Sport, Sport S, Overland, Rubicon, Rubicon Launch Edition Models .etc
The dimension of this Jeep Gladiator JT Side Steps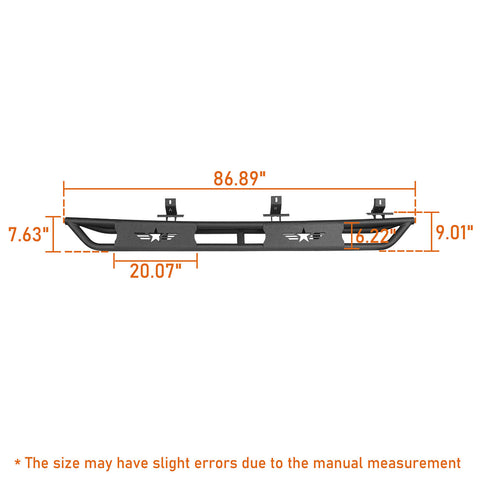 Get Easy Cab Access and Added Style. Give your Gladiator JT a practical upgrade by installing these Hooke Road Side Step Bars in Textured Black. Featuring a rugged, tube steel construction, these upgrades offer a durable performance that helps you get in and out of your JT with ease for years to come. What's more, these Side Step Bars shield your vehicle's rocker panels from trail debris to help preserve the appearance of your JT.

Durable Construction. These JT side steps are crafted from quality steel for impressive strength and long lasting use. They feature a tough, textured black powder coat finish for aggressive styling that will also help prevent damaging rust and corrosion.

Easy Bolt-on Installation. Setting up these side step bars is fairly easy and can be installed by anyone with light to mechanical skills. Using the supplied brackets and hardware, these side step bars can be securely mounted to your vehicle's factory location points. No drilling is required.

SEMA Membership. The Hooke Road Brand has been certified as a member of SEMA. We are studious and gradually growing up to be a professional aftermarket retailer. As a SEMA member, we make, buy, sell and use all kinds of specialty parts and accessories to make vehicles more attractive, more unique, more convenient, faster, safer, more fun, and even like-new again. Wish you have a terrific off-road experience with our products.
1 x Jeep Gladiator Side Steps (Passenger & Drive Side Included)
6 × Mounting Brackets
Mounting Hardware Kit
1 × Installation Instruction
2023 Jeep Gladiator High Altitude
2023 Jeep Gladiator Mojave
2023 Jeep Gladiator Overland
2023 Jeep Gladiator Rubicon
2023 Jeep Gladiator Sport
2023 Jeep Gladiator Willys
2022 Jeep Gladiator Altitude
2022 Jeep Gladiator High Altitude
2022 Jeep Gladiator Mojave 2022 Jeep Gladiator Overland
2022 Jeep Gladiator Rubicon
2022 Jeep Gladiator Sport
2022 Jeep Gladiator Willys
2021 Jeep Gladiator 80th Anniversary
2021 Jeep Gladiator High Altitude
2021 Jeep Gladiator Mojave
2021 Jeep Gladiator Overland
2021 Jeep Gladiator Rubicon
2021 Jeep Gladiator Sport
2021 Jeep Gladiator Sport S
2021 Jeep Gladiator Willys
2020 Jeep Gladiator Altitude
2020 Jeep Gladiator Launch Edition
2020 Jeep Gladiator Mojave2020 Jeep Gladiator North Edition
2020 Jeep Gladiator Overland
2020 Jeep Gladiator Rubicon
2020 Jeep Gladiator Sport
2020 Jeep Gladiator Sport S
Package Included
1 x Jeep Gladiator Side Steps (Passenger & Drive Side Included)
6 × Mounting Brackets
Mounting Hardware Kit
1 × Installation Instruction
Fitment
2023 Jeep Gladiator High Altitude
2023 Jeep Gladiator Mojave
2023 Jeep Gladiator Overland
2023 Jeep Gladiator Rubicon
2023 Jeep Gladiator Sport
2023 Jeep Gladiator Willys
2022 Jeep Gladiator Altitude
2022 Jeep Gladiator High Altitude
2022 Jeep Gladiator Mojave 2022 Jeep Gladiator Overland
2022 Jeep Gladiator Rubicon
2022 Jeep Gladiator Sport
2022 Jeep Gladiator Willys
2021 Jeep Gladiator 80th Anniversary
2021 Jeep Gladiator High Altitude
2021 Jeep Gladiator Mojave
2021 Jeep Gladiator Overland
2021 Jeep Gladiator Rubicon
2021 Jeep Gladiator Sport
2021 Jeep Gladiator Sport S
2021 Jeep Gladiator Willys
2020 Jeep Gladiator Altitude
2020 Jeep Gladiator Launch Edition
2020 Jeep Gladiator Mojave2020 Jeep Gladiator North Edition
2020 Jeep Gladiator Overland
2020 Jeep Gladiator Rubicon
2020 Jeep Gladiator Sport
2020 Jeep Gladiator Sport S