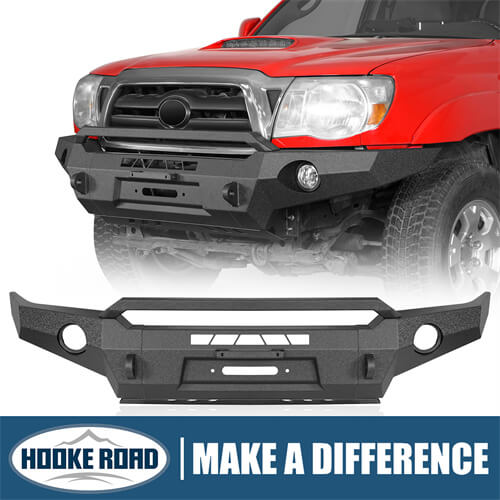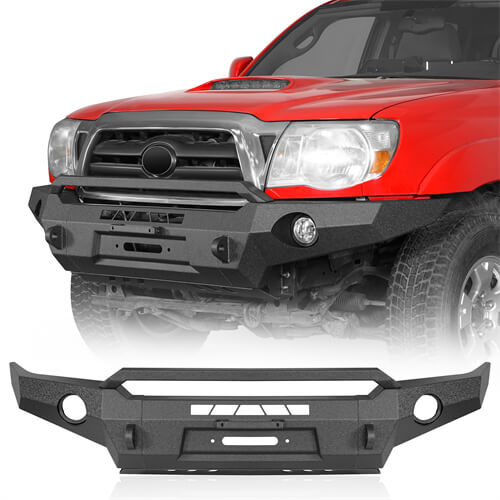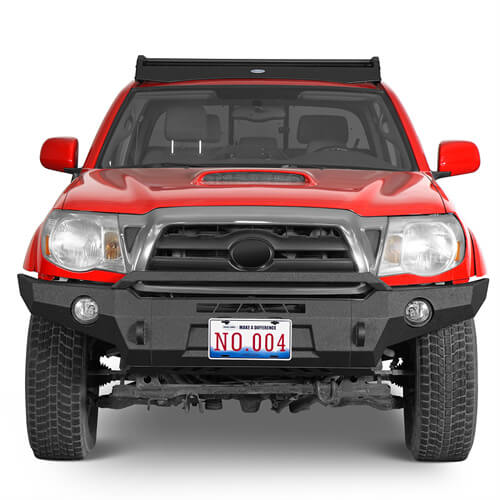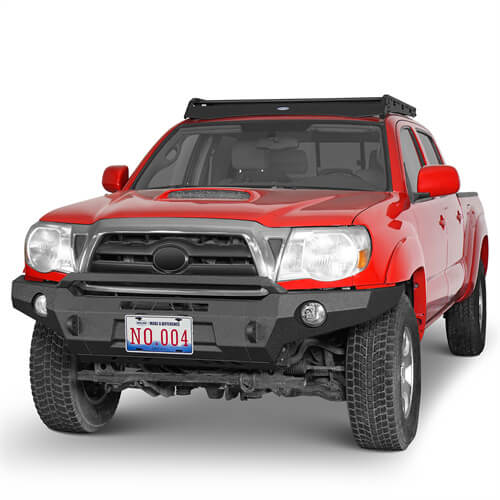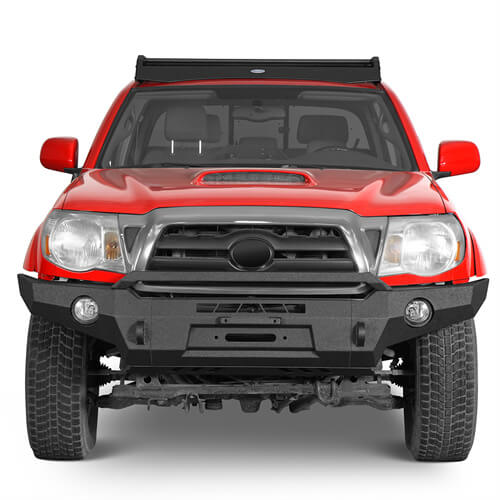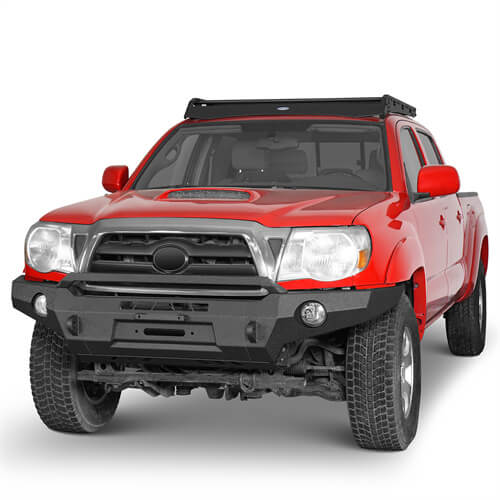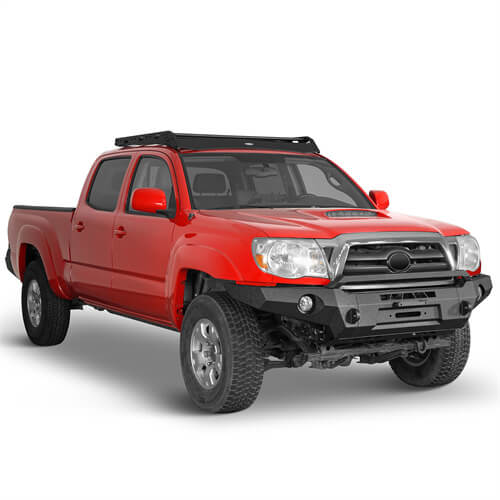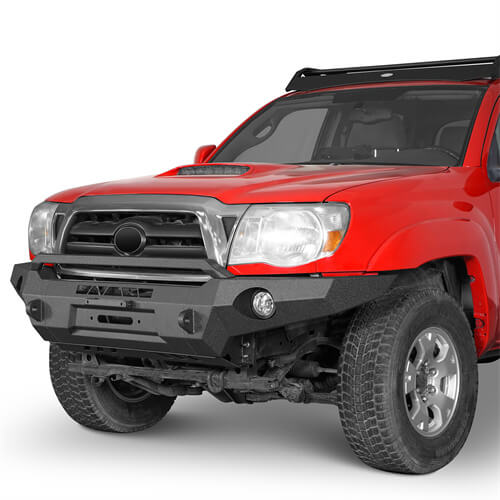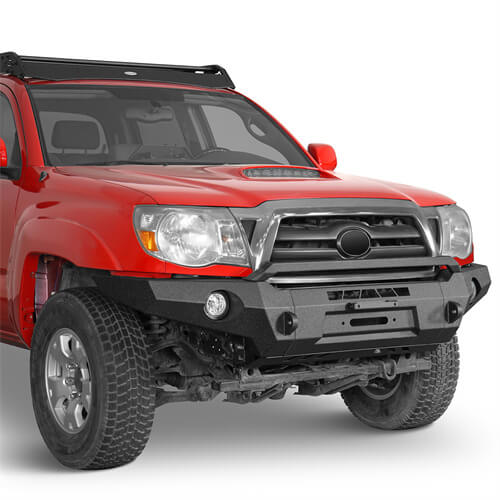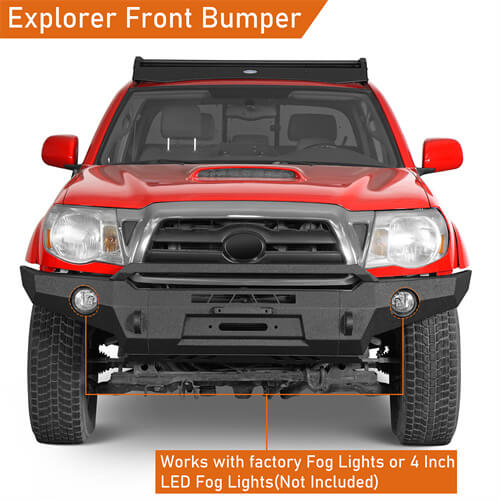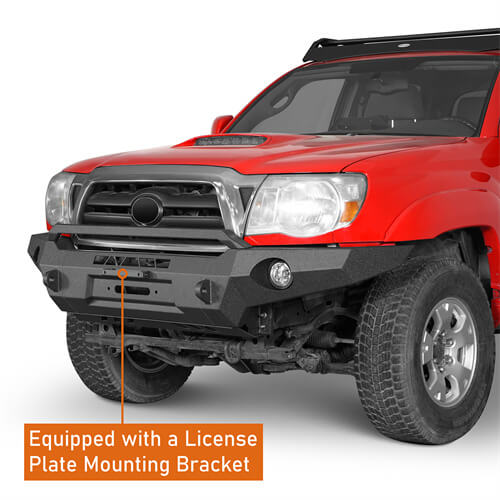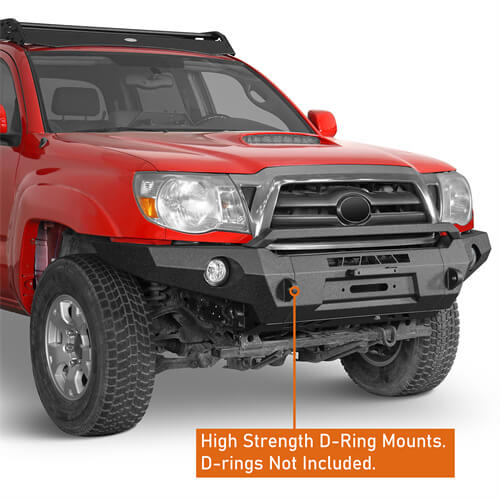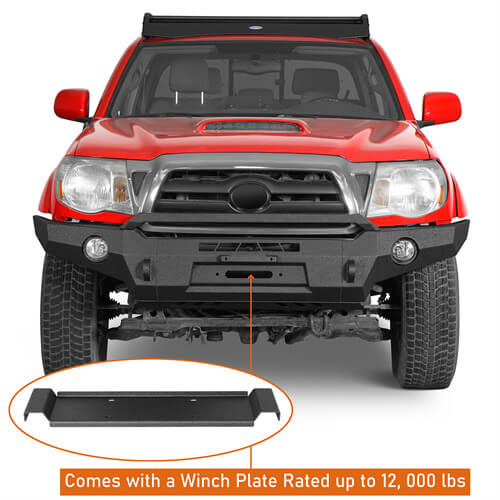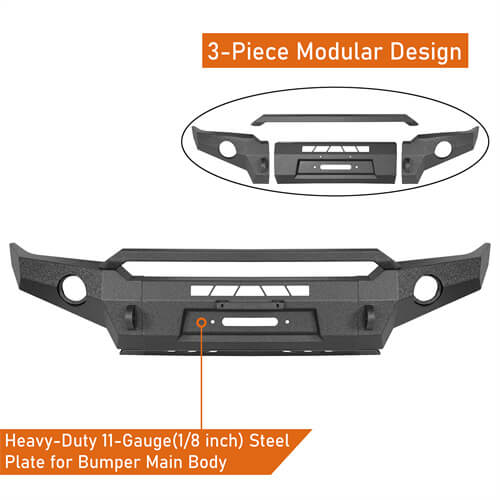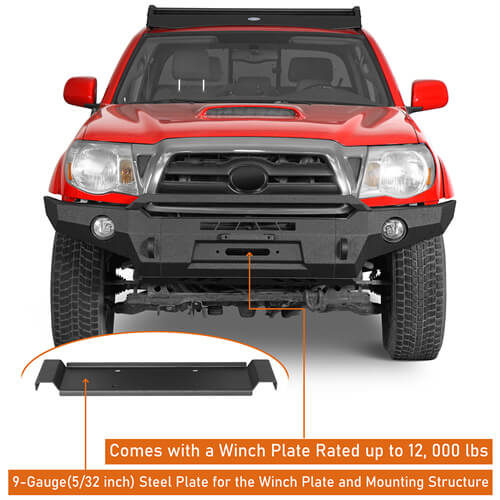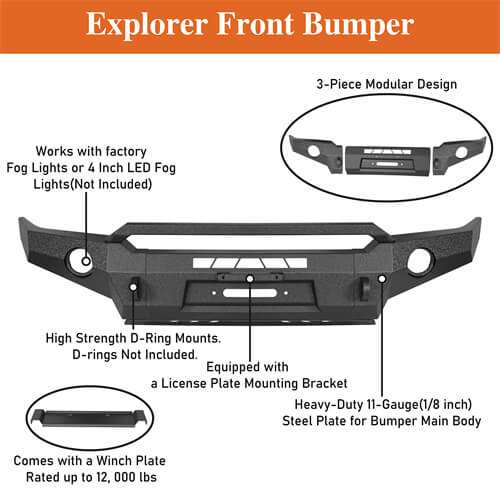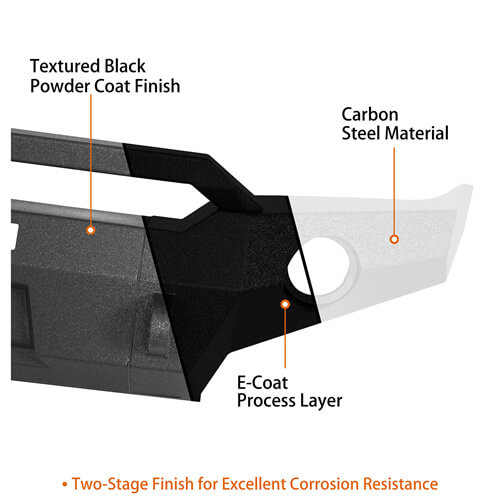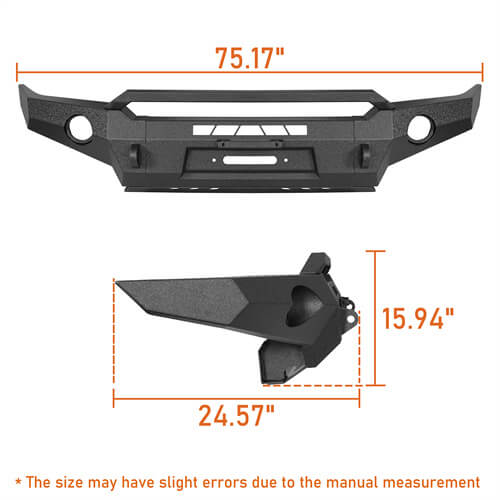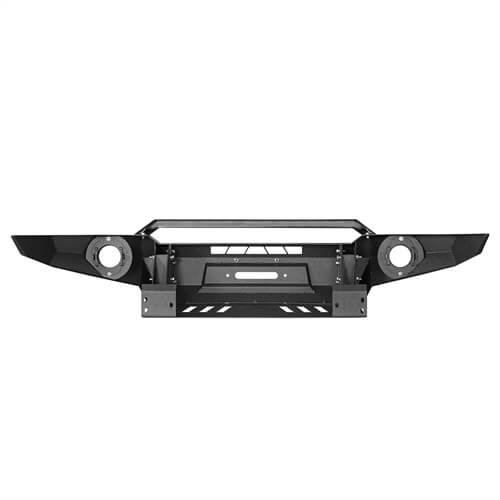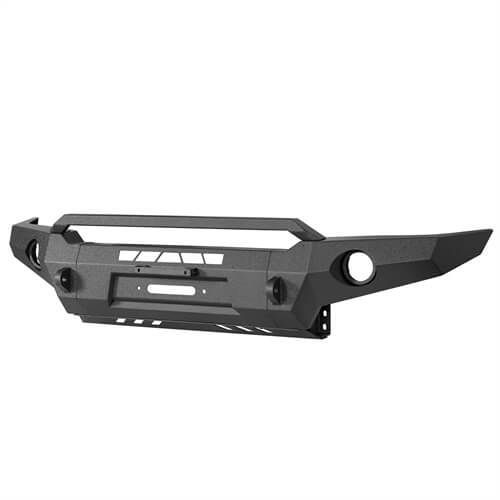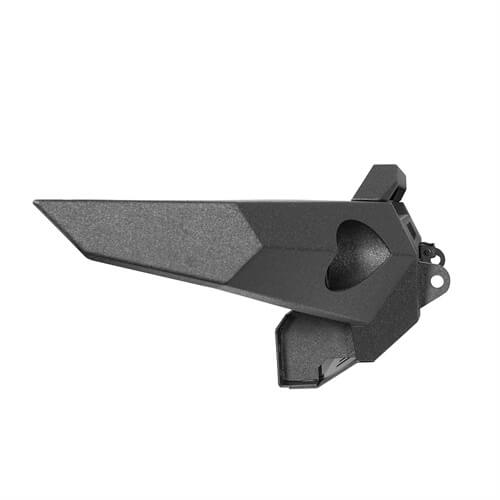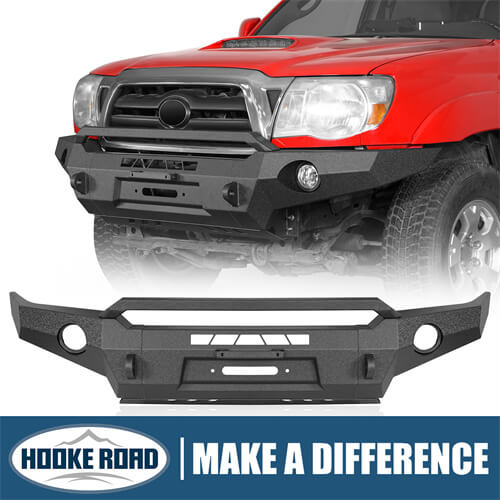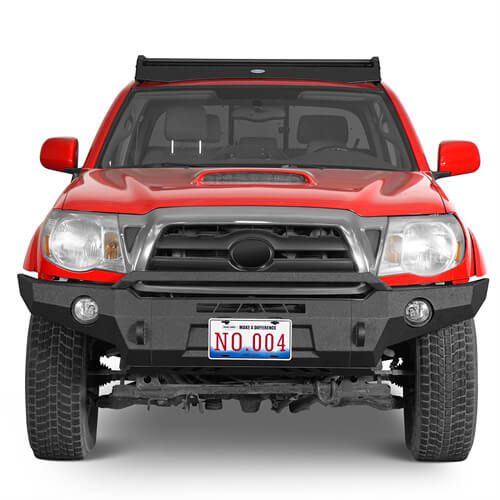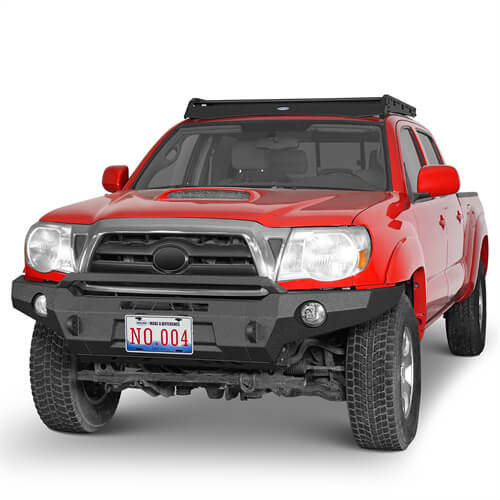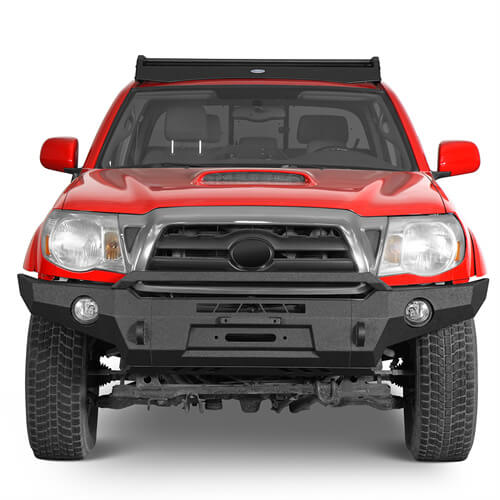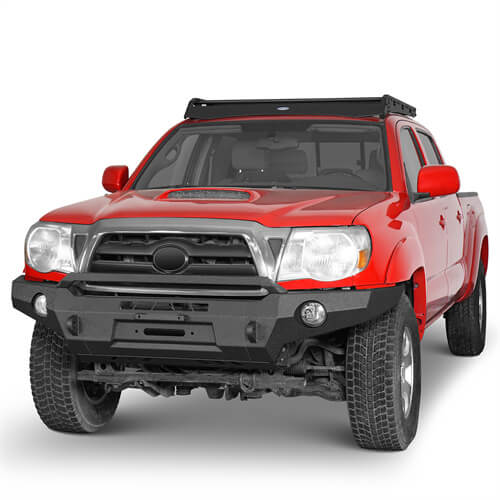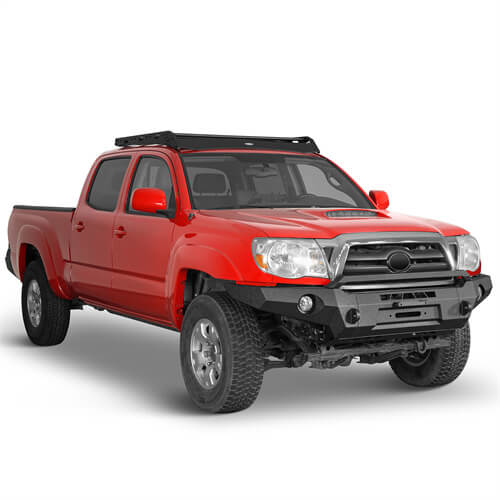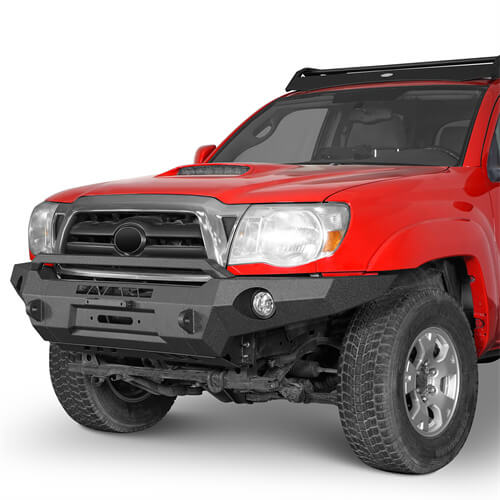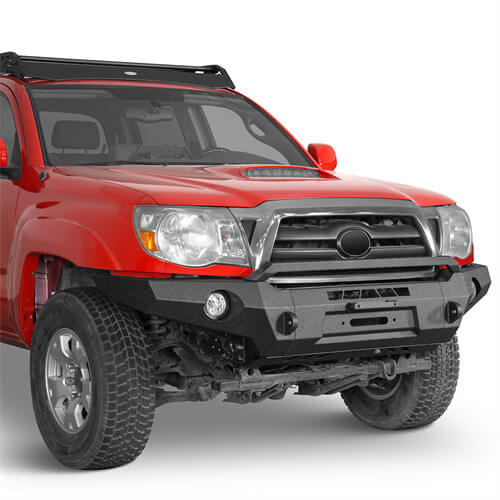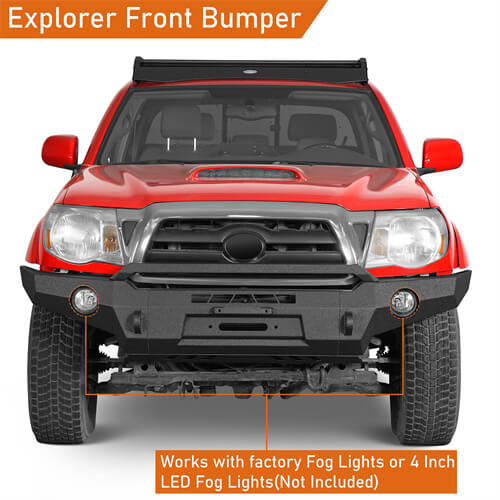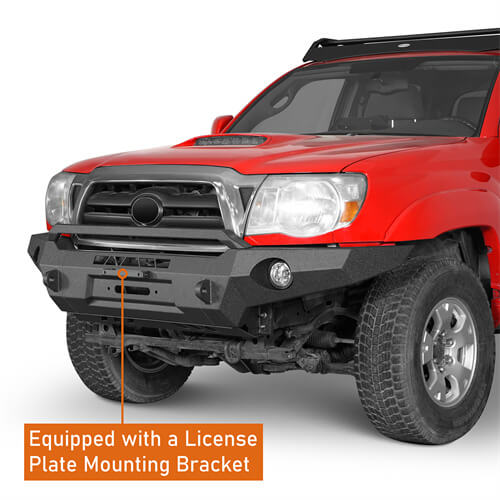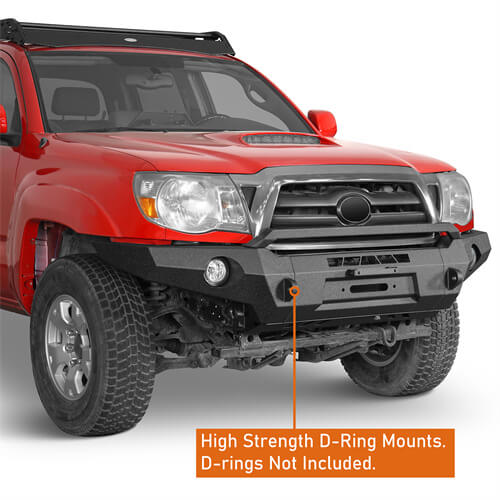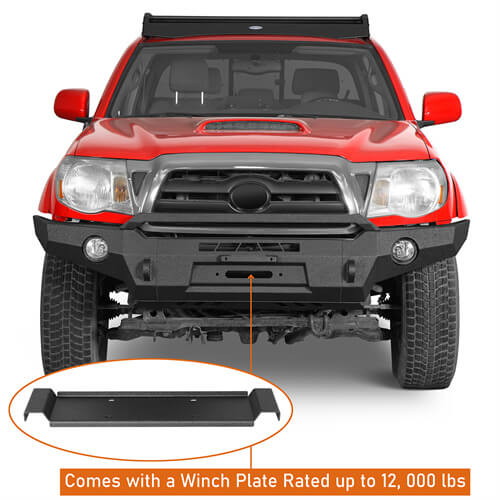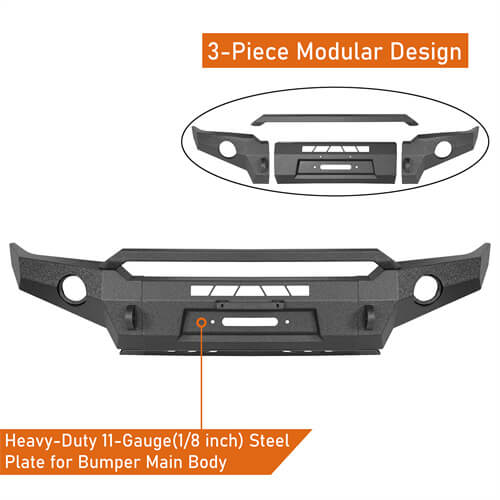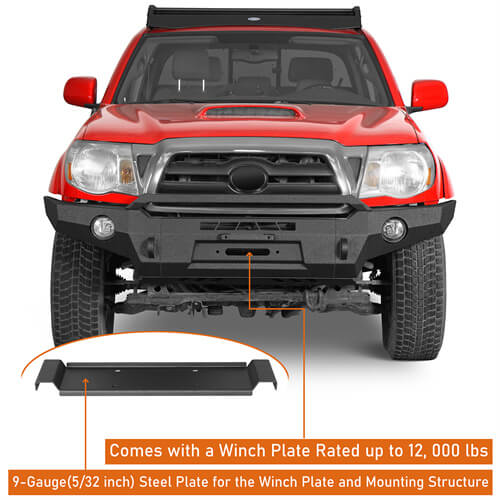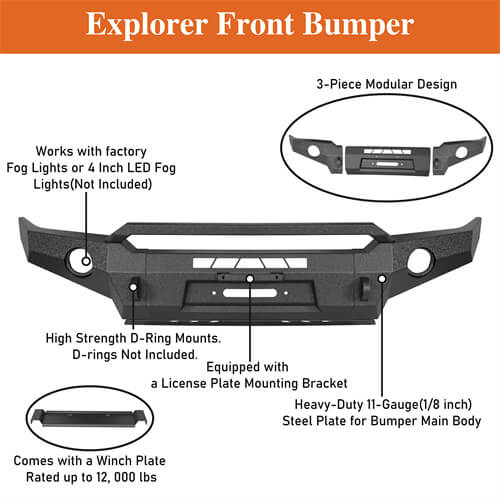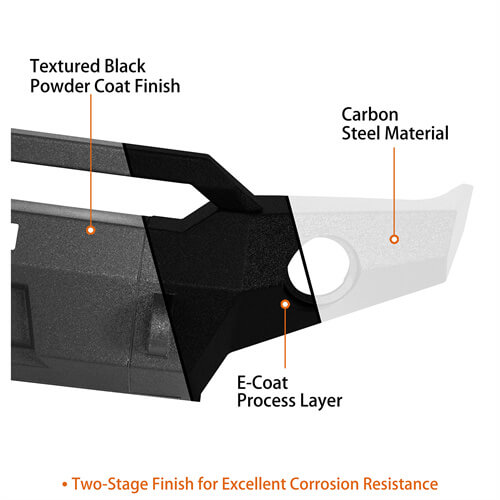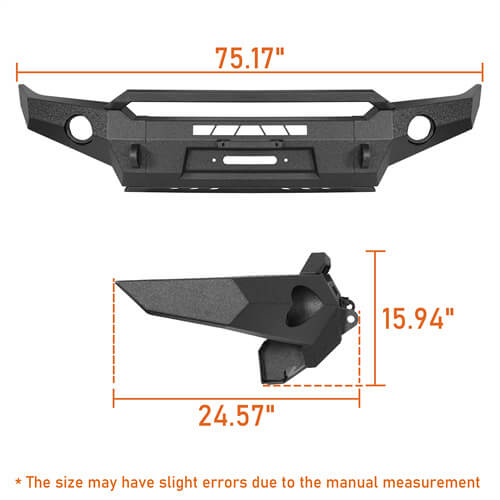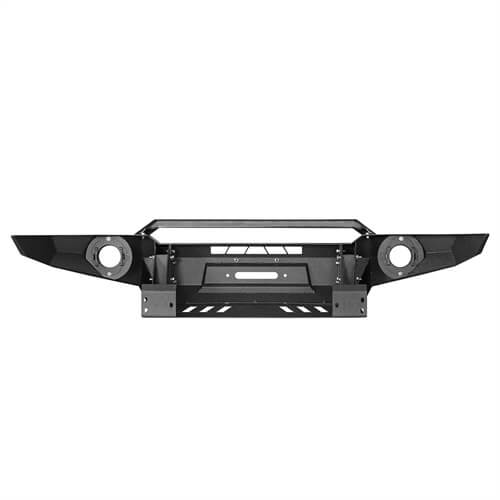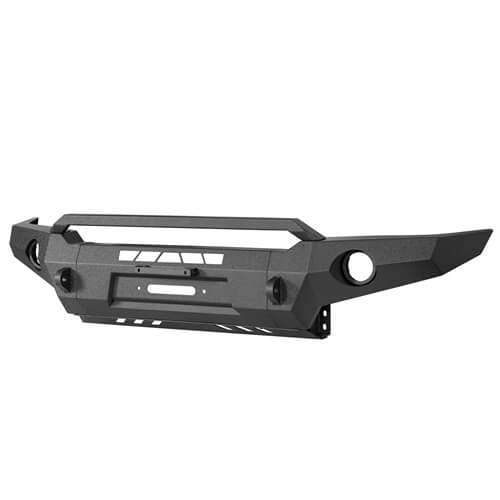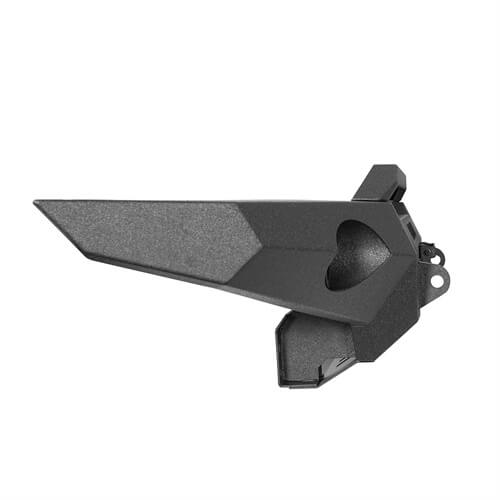 Name: Hooke Road Tacoma Full Width Front Bumper Replacement Aftermarket Bumper w/ Winch Plate

Feature
Compatible with 2005-2011 Toyota Tacoma Models
Bumper weight: about 98 lbs, 3-piece modular design
Heavy-duty 11-gauge(1/8 inch) steel plate for bumper main body, 9-gauge(5/32 inch) steel plate for winch plate and mounting structure
Textured black powder coat finish & Premium E-coating process inside
Equipped with a flip-up license plate mounting bracket
Comes with a winch plate that rated up to 12, 000 lbs
Features a solid skid plate
Rugged off-road design with a low-profile hoop
High strength D-ring mounts, D-rings are not included
Works with factory fog lights and 4-inch LED fog lights (Not Included)
Easy bolt-on installation, Mounting hardware included
Dimension
Rugged design And Reinforced Protection. The Explorer Series Front Bumper boasts a 3-piece modular design with rugged off-road styling and a low-profile hoop. It's designed to work seamlessly with both factory fog lights and 4-inch LED fog lights (not included), ensuring improved visibility in various driving conditions. To enhance under-vehicle protection, this bumper includes a solid skid plate, guarding your vehicle against potential obstacles and debris. In addition, the bumper comes equipped with D-ring mounts, a license plate mounting bracket, and a winch plate.


Heavy-Duty Construction. The bumper main body is made from an 11-gauge (1/8 inch) steel plate. The winch plate and mounting structure are crafted from even thicker 9-gauge (5/32 inch) steel plate, further reinforcing the bumper's strength, especially in the areas where a winch would be mounted. Textured black powder coat finishes with a premium E-coating process inside the bumper, which not only adds to its rugged appearance but also provides excellent resistance against rust and corrosion.

Easy Bolt-On Installation. The Hooke Road Explorer Series Front Bumper is designed for straightforward installation. It comes with all the necessary mounting hardware, making the installation process more convenient. With the included hardware and basic hand tools, you can easily bolt this bumper onto your Tacoma without the need for complex modifications or additional equipment. Correctly install and securely attach this bumper to your Tacoma, allowing you to enjoy its added protection and off-road capabilities.
1 × Front Bumper Assembly
2 × Mounting Brackets
1 × Winch Plate
2 × Fog Light Brackets
1 × License Plate Mount Bracket
1 × Skid Plate
1 × Mounting Hardware Kit
1 × Installation Instruction
2011 Toyota Tacoma Base Crew Cab Pickup 4-Door
2011 Toyota Tacoma Base Crew Cab Pickup 4-Door
2011 Toyota Tacoma Base Extended Cab Pickup 4-Door
2011 Toyota Tacoma Base Extended Cab Pickup 4-Door
2011 Toyota Tacoma Base Standard Cab Pickup 2-Door
2011 Toyota Tacoma Base Standard Cab Pickup 2-Door
2011 Toyota Tacoma Pre Runner Crew Cab Pickup 4-Door
2011 Toyota Tacoma Pre Runner Crew Cab Pickup 4-Door
2011 Toyota Tacoma Pre Runner Extended Cab Pickup 4-Door
2011 Toyota Tacoma Pre Runner Extended Cab Pickup 4-Door
2011 Toyota Tacoma TRD Sport Crew Cab Pickup 4-Door
2011 Toyota Tacoma X-Runner Extended Cab Pickup 4-Door
2010 Toyota Tacoma Base Crew Cab Pickup 4-Door
2010 Toyota Tacoma Base Crew Cab Pickup 4-Door
2010 Toyota Tacoma Base Extended Cab Pickup 4-Door
2010 Toyota Tacoma Base Extended Cab Pickup 4-Door
2010 Toyota Tacoma Base Standard Cab Pickup 2-Door
2010 Toyota Tacoma Base Standard Cab Pickup 2-Door
2010 Toyota Tacoma Pre Runner Crew Cab Pickup 4-Door
2010 Toyota Tacoma Pre Runner Crew Cab Pickup 4-Door
2010 Toyota Tacoma Pre Runner Extended Cab Pickup 4-Door
2010 Toyota Tacoma Pre Runner Extended Cab Pickup 4-Door
2010 Toyota Tacoma Pre Runner Standard Cab Pickup 2-Door
2010 Toyota Tacoma Pre Runner Standard Cab Pickup 2-Door
2010 Toyota Tacoma TRD Sport Crew Cab Pickup 4-Door
2010 Toyota Tacoma X-Runner Extended Cab Pickup 4-Door
2009 Toyota Tacoma Base Crew Cab Pickup 4-Door
2009 Toyota Tacoma Base Crew Cab Pickup 4-Door
2009 Toyota Tacoma Base Extended Cab Pickup 4-Door
2009 Toyota Tacoma Base Extended Cab Pickup 4-Door
2009 Toyota Tacoma Base Standard Cab Pickup 2-Door
2009 Toyota Tacoma Base Standard Cab Pickup 2-Door
2009 Toyota Tacoma Pre Runner Crew Cab Pickup 4-Door
2009 Toyota Tacoma Pre Runner Crew Cab Pickup 4-Door
2009 Toyota Tacoma Pre Runner Extended Cab Pickup 4-Door
2009 Toyota Tacoma Pre Runner Extended Cab Pickup 4-Door
2009 Toyota Tacoma Pre Runner Standard Cab Pickup 2-Door
2009 Toyota Tacoma Pre Runner Standard Cab Pickup 2-Door
2009 Toyota Tacoma SR5 Prerunner Crew Cab Pickup 4-Door
2009 Toyota Tacoma TRD Sport Prerunner Crew Cab Pickup 4-Door
2009 Toyota Tacoma X-Runner Extended Cab Pickup 4-Door
2008 Toyota Tacoma Base Crew Cab Pickup 4-Door
2008 Toyota Tacoma Base Crew Cab Pickup 4-Door
2008 Toyota Tacoma Base Extended Cab Pickup 4-Door
2008 Toyota Tacoma Base Extended Cab Pickup 4-Door
2008 Toyota Tacoma Base Standard Cab Pickup 2-Door
2008 Toyota Tacoma Base Standard Cab Pickup 2-Door
2008 Toyota Tacoma Pre Runner Crew Cab Pickup 4-Door
2008 Toyota Tacoma Pre Runner Crew Cab Pickup 4-Door
2008 Toyota Tacoma Pre Runner Extended Cab Pickup 4-Door
2008 Toyota Tacoma Pre Runner Extended Cab Pickup 4-Door
2008 Toyota Tacoma Pre Runner Standard Cab Pickup 2-Door
2008 Toyota Tacoma Pre Runner Standard Cab Pickup 2-Door
2008 Toyota Tacoma SR5 Prerunner Crew Cab Pickup 4-Door
2008 Toyota Tacoma TRD Sport Prerunner Crew Cab Pickup 4-Door
2008 Toyota Tacoma X-Runner Extended Cab Pickup 4-Door
2007 Toyota Tacoma Base Crew Cab Pickup 4-Door
2007 Toyota Tacoma Base Crew Cab Pickup 4-Door
2007 Toyota Tacoma Base Extended Cab Pickup 4-Door
2007 Toyota Tacoma Base Extended Cab Pickup 4-Door
2007 Toyota Tacoma Base Standard Cab Pickup 2-Door
2007 Toyota Tacoma Base Standard Cab Pickup 2-Door
2007 Toyota Tacoma Pre Runner Crew Cab Pickup 4-Door
2007 Toyota Tacoma Pre Runner Crew Cab Pickup 4-Door
2007 Toyota Tacoma Pre Runner Extended Cab Pickup 4-Door
2007 Toyota Tacoma Pre Runner Extended Cab Pickup 4-Door
2007 Toyota Tacoma Pre Runner Standard Cab Pickup 2-Door
2007 Toyota Tacoma Pre Runner Standard Cab Pickup 2-Door
2007 Toyota Tacoma SR5 Prerunner Crew Cab Pickup 4-Door
2007 Toyota Tacoma TRD Sport Prerunner Crew Cab Pickup 4-Door
2007 Toyota Tacoma X-Runner Extended Cab Pickup 4-Door
2006 Toyota Tacoma Base Crew Cab Pickup 4-Door
2006 Toyota Tacoma Base Crew Cab Pickup 4-Door
2006 Toyota Tacoma Base Extended Cab Pickup 4-Door
2006 Toyota Tacoma Base Extended Cab Pickup 4-Door
2006 Toyota Tacoma Base Prerunner Crew Cab Pickup 4-Door
2006 Toyota Tacoma Base Standard Cab Pickup 2-Door
2006 Toyota Tacoma Base Standard Cab Pickup 2-Door
2006 Toyota Tacoma Pre Runner Crew Cab Pickup 4-Door
2006 Toyota Tacoma Pre Runner Crew Cab Pickup 4-Door
2006 Toyota Tacoma Pre Runner Extended Cab Pickup 4-Door
2006 Toyota Tacoma Pre Runner Extended Cab Pickup 4-Door
2006 Toyota Tacoma Pre Runner Standard Cab Pickup 2-Door
2006 Toyota Tacoma Pre Runner Standard Cab Pickup 2-Door
2006 Toyota Tacoma SR5 Prerunner Crew Cab Pickup 4-Door
2006 Toyota Tacoma TRD Sport Prerunner Crew Cab Pickup 4-Door
2006 Toyota Tacoma X-Runner Extended Cab Pickup 4-Door
2005 Toyota Tacoma Base Crew Cab Pickup 4-Door
2005 Toyota Tacoma Base Crew Cab Pickup 4-Door
2005 Toyota Tacoma Base Extended Cab Pickup 3-Door
2005 Toyota Tacoma Base Extended Cab Pickup 3-Door
2005 Toyota Tacoma Base Standard Cab Pickup 2-Door
2005 Toyota Tacoma Base Standard Cab Pickup 2-Door
2005 Toyota Tacoma Pre Runner Crew Cab Pickup 4-Door
2005 Toyota Tacoma Pre Runner Crew Cab Pickup 4-Door
2005 Toyota Tacoma Pre Runner Extended Cab Pickup 3-Door
2005 Toyota Tacoma Pre Runner Extended Cab Pickup 3-Door
2005 Toyota Tacoma Pre Runner Standard Cab Pickup 2-Door
2005 Toyota Tacoma Pre Runner Standard Cab Pickup 2-Door
2005 Toyota Tacoma X-Runner Extended Cab Pickup 3-Door
Package Included
1 × Front Bumper Assembly
2 × Mounting Brackets
1 × Winch Plate
2 × Fog Light Brackets
1 × License Plate Mount Bracket
1 × Skid Plate
1 × Mounting Hardware Kit
1 × Installation Instruction
Fitment
2011 Toyota Tacoma Base Crew Cab Pickup 4-Door
2011 Toyota Tacoma Base Crew Cab Pickup 4-Door
2011 Toyota Tacoma Base Extended Cab Pickup 4-Door
2011 Toyota Tacoma Base Extended Cab Pickup 4-Door
2011 Toyota Tacoma Base Standard Cab Pickup 2-Door
2011 Toyota Tacoma Base Standard Cab Pickup 2-Door
2011 Toyota Tacoma Pre Runner Crew Cab Pickup 4-Door
2011 Toyota Tacoma Pre Runner Crew Cab Pickup 4-Door
2011 Toyota Tacoma Pre Runner Extended Cab Pickup 4-Door
2011 Toyota Tacoma Pre Runner Extended Cab Pickup 4-Door
2011 Toyota Tacoma TRD Sport Crew Cab Pickup 4-Door
2011 Toyota Tacoma X-Runner Extended Cab Pickup 4-Door
2010 Toyota Tacoma Base Crew Cab Pickup 4-Door
2010 Toyota Tacoma Base Crew Cab Pickup 4-Door
2010 Toyota Tacoma Base Extended Cab Pickup 4-Door
2010 Toyota Tacoma Base Extended Cab Pickup 4-Door
2010 Toyota Tacoma Base Standard Cab Pickup 2-Door
2010 Toyota Tacoma Base Standard Cab Pickup 2-Door
2010 Toyota Tacoma Pre Runner Crew Cab Pickup 4-Door
2010 Toyota Tacoma Pre Runner Crew Cab Pickup 4-Door
2010 Toyota Tacoma Pre Runner Extended Cab Pickup 4-Door
2010 Toyota Tacoma Pre Runner Extended Cab Pickup 4-Door
2010 Toyota Tacoma Pre Runner Standard Cab Pickup 2-Door
2010 Toyota Tacoma Pre Runner Standard Cab Pickup 2-Door
2010 Toyota Tacoma TRD Sport Crew Cab Pickup 4-Door
2010 Toyota Tacoma X-Runner Extended Cab Pickup 4-Door
2009 Toyota Tacoma Base Crew Cab Pickup 4-Door
2009 Toyota Tacoma Base Crew Cab Pickup 4-Door
2009 Toyota Tacoma Base Extended Cab Pickup 4-Door
2009 Toyota Tacoma Base Extended Cab Pickup 4-Door
2009 Toyota Tacoma Base Standard Cab Pickup 2-Door
2009 Toyota Tacoma Base Standard Cab Pickup 2-Door
2009 Toyota Tacoma Pre Runner Crew Cab Pickup 4-Door
2009 Toyota Tacoma Pre Runner Crew Cab Pickup 4-Door
2009 Toyota Tacoma Pre Runner Extended Cab Pickup 4-Door
2009 Toyota Tacoma Pre Runner Extended Cab Pickup 4-Door
2009 Toyota Tacoma Pre Runner Standard Cab Pickup 2-Door
2009 Toyota Tacoma Pre Runner Standard Cab Pickup 2-Door
2009 Toyota Tacoma SR5 Prerunner Crew Cab Pickup 4-Door
2009 Toyota Tacoma TRD Sport Prerunner Crew Cab Pickup 4-Door
2009 Toyota Tacoma X-Runner Extended Cab Pickup 4-Door
2008 Toyota Tacoma Base Crew Cab Pickup 4-Door
2008 Toyota Tacoma Base Crew Cab Pickup 4-Door
2008 Toyota Tacoma Base Extended Cab Pickup 4-Door
2008 Toyota Tacoma Base Extended Cab Pickup 4-Door
2008 Toyota Tacoma Base Standard Cab Pickup 2-Door
2008 Toyota Tacoma Base Standard Cab Pickup 2-Door
2008 Toyota Tacoma Pre Runner Crew Cab Pickup 4-Door
2008 Toyota Tacoma Pre Runner Crew Cab Pickup 4-Door
2008 Toyota Tacoma Pre Runner Extended Cab Pickup 4-Door
2008 Toyota Tacoma Pre Runner Extended Cab Pickup 4-Door
2008 Toyota Tacoma Pre Runner Standard Cab Pickup 2-Door
2008 Toyota Tacoma Pre Runner Standard Cab Pickup 2-Door
2008 Toyota Tacoma SR5 Prerunner Crew Cab Pickup 4-Door
2008 Toyota Tacoma TRD Sport Prerunner Crew Cab Pickup 4-Door
2008 Toyota Tacoma X-Runner Extended Cab Pickup 4-Door
2007 Toyota Tacoma Base Crew Cab Pickup 4-Door
2007 Toyota Tacoma Base Crew Cab Pickup 4-Door
2007 Toyota Tacoma Base Extended Cab Pickup 4-Door
2007 Toyota Tacoma Base Extended Cab Pickup 4-Door
2007 Toyota Tacoma Base Standard Cab Pickup 2-Door
2007 Toyota Tacoma Base Standard Cab Pickup 2-Door
2007 Toyota Tacoma Pre Runner Crew Cab Pickup 4-Door
2007 Toyota Tacoma Pre Runner Crew Cab Pickup 4-Door
2007 Toyota Tacoma Pre Runner Extended Cab Pickup 4-Door
2007 Toyota Tacoma Pre Runner Extended Cab Pickup 4-Door
2007 Toyota Tacoma Pre Runner Standard Cab Pickup 2-Door
2007 Toyota Tacoma Pre Runner Standard Cab Pickup 2-Door
2007 Toyota Tacoma SR5 Prerunner Crew Cab Pickup 4-Door
2007 Toyota Tacoma TRD Sport Prerunner Crew Cab Pickup 4-Door
2007 Toyota Tacoma X-Runner Extended Cab Pickup 4-Door
2006 Toyota Tacoma Base Crew Cab Pickup 4-Door
2006 Toyota Tacoma Base Crew Cab Pickup 4-Door
2006 Toyota Tacoma Base Extended Cab Pickup 4-Door
2006 Toyota Tacoma Base Extended Cab Pickup 4-Door
2006 Toyota Tacoma Base Prerunner Crew Cab Pickup 4-Door
2006 Toyota Tacoma Base Standard Cab Pickup 2-Door
2006 Toyota Tacoma Base Standard Cab Pickup 2-Door
2006 Toyota Tacoma Pre Runner Crew Cab Pickup 4-Door
2006 Toyota Tacoma Pre Runner Crew Cab Pickup 4-Door
2006 Toyota Tacoma Pre Runner Extended Cab Pickup 4-Door
2006 Toyota Tacoma Pre Runner Extended Cab Pickup 4-Door
2006 Toyota Tacoma Pre Runner Standard Cab Pickup 2-Door
2006 Toyota Tacoma Pre Runner Standard Cab Pickup 2-Door
2006 Toyota Tacoma SR5 Prerunner Crew Cab Pickup 4-Door
2006 Toyota Tacoma TRD Sport Prerunner Crew Cab Pickup 4-Door
2006 Toyota Tacoma X-Runner Extended Cab Pickup 4-Door
2005 Toyota Tacoma Base Crew Cab Pickup 4-Door
2005 Toyota Tacoma Base Crew Cab Pickup 4-Door
2005 Toyota Tacoma Base Extended Cab Pickup 3-Door
2005 Toyota Tacoma Base Extended Cab Pickup 3-Door
2005 Toyota Tacoma Base Standard Cab Pickup 2-Door
2005 Toyota Tacoma Base Standard Cab Pickup 2-Door
2005 Toyota Tacoma Pre Runner Crew Cab Pickup 4-Door
2005 Toyota Tacoma Pre Runner Crew Cab Pickup 4-Door
2005 Toyota Tacoma Pre Runner Extended Cab Pickup 3-Door
2005 Toyota Tacoma Pre Runner Extended Cab Pickup 3-Door
2005 Toyota Tacoma Pre Runner Standard Cab Pickup 2-Door
2005 Toyota Tacoma Pre Runner Standard Cab Pickup 2-Door
2005 Toyota Tacoma X-Runner Extended Cab Pickup 3-Door