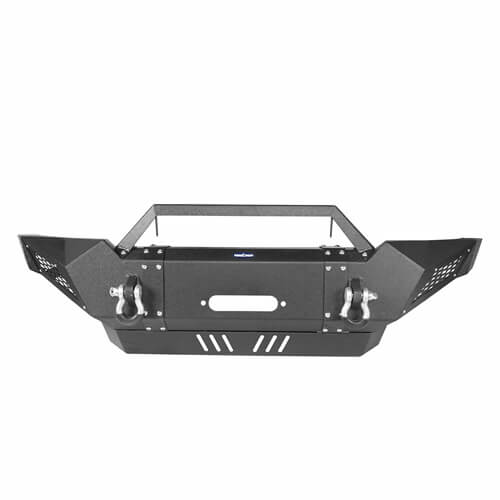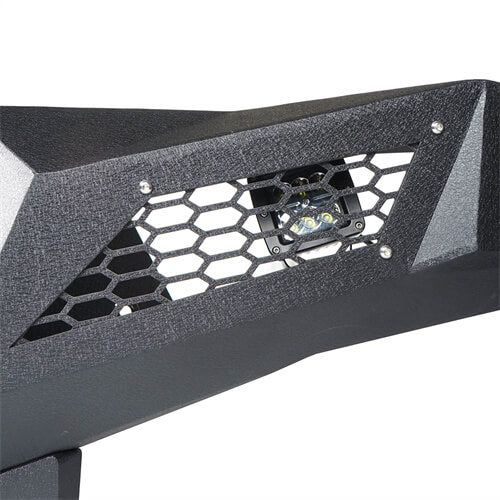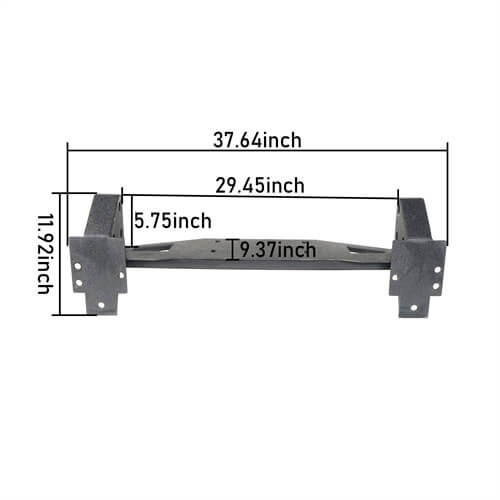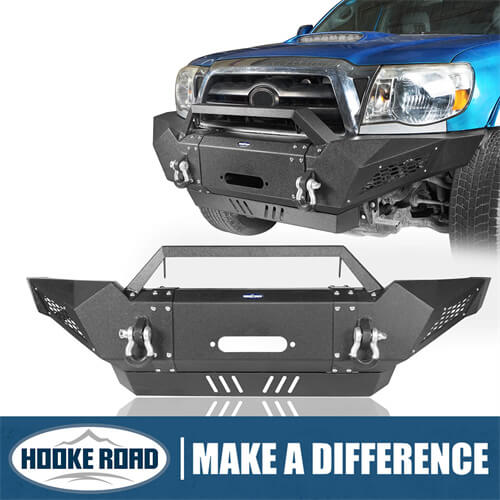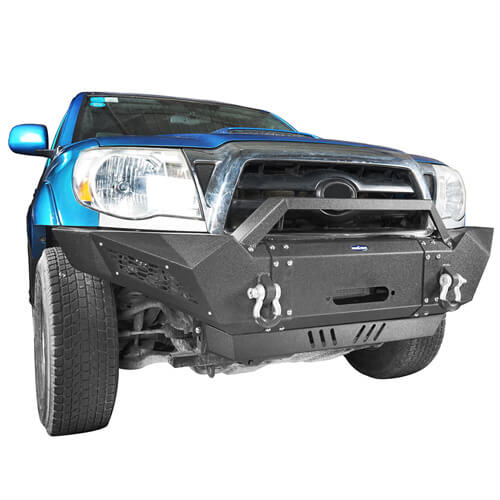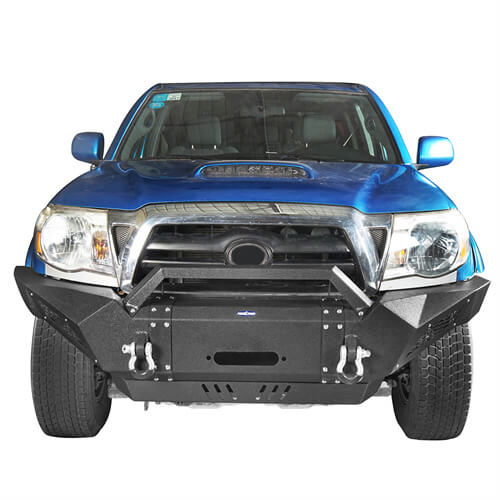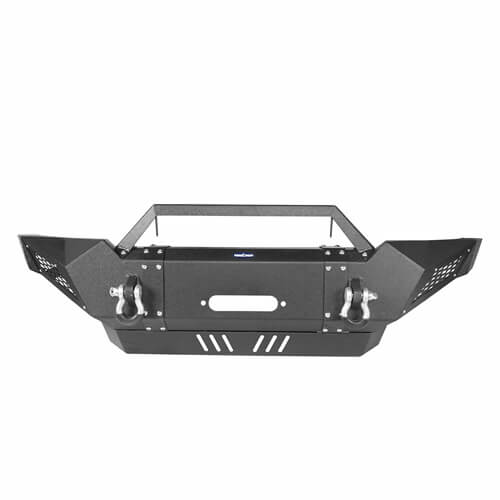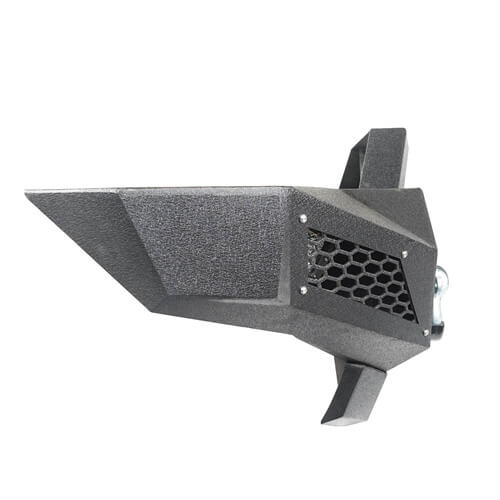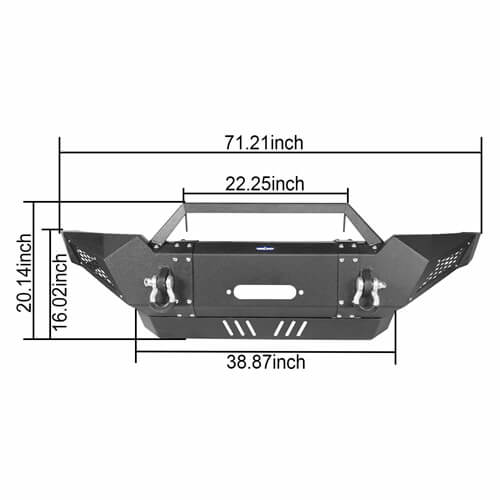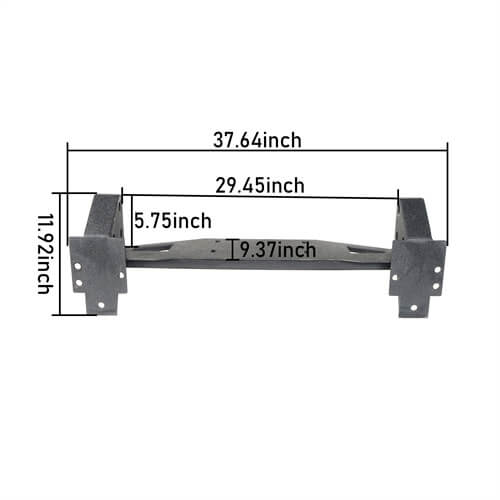 Name: Hooke Road Tacoma Full Width Destroyer Front Bumper

Feature
Fits 2005-2011 Toyota Tacoma Models
Bumper Weight: About 140 lbs
Heavy-Duty, High Tensile Steel Construction; Texured Black Powder Coat Finish
Winch Plate for up to 12000 lbs
3/4'' D-Rings Included, 9500 lbs Rated; D-Rings w/Rubber Rings to Provide Extra Protection Against Abrasion
Comes With a Winch Plate – Only Fits Advanced Wireless Remote Operate Winch without a Manual Clutch Handle. Rated Up to 12,000 Pounds. 
Decorated w/"Hooke Road" LOGO
Stinger Hoop Design w/Powerful Style to Provide Superior Protection
Moderate Bolt-on Installation w/Clear and Detailed Instruction
Please Double-check the distance between front bumper edge and fender below to Purchase What you Like.
Dimension
Details of this Front Bumper
The thickness of the steel that this is constructed with is 5/32.
The stock trailer hitch will work with this bumper.
This front bumper comes with a winch plate that ready for mounting a winch.
Aggressive Styling and Excellent Front End Protection
. This texured black Front Bumper with stinger hoop offers excellent front end protection. No matter what kind of obstacle you and your Toyota Tacoma encounter off-road, you can easily fend them off with this heavy-duty front bumper.Its powerful rugged design gives your Tacoma aggresive appearance.
Solid Construction.
Designed for a bolt-on installation, this front bumper is CNC-cut, formed, and MIG/TIG-welded to perfectly fit on your Tacoma.The provided stinger adds extra protection against forward impacts on steep terrain.
E-Coating Process.
E-coat systems can deliver a wide range of lacquer and paint finishes with a combination of state-of-the art performance and decorative effects. The product percent of pass reaches 100% after the salt spray test.
Installation.
With the help of the supplied detailed instruction,the procedure is demonstrated step by step to help you finish the installation. You should expect to take up to 2 hours installing this unit, based on your level of mechanical skills. Attempt to complete the operation in your garage and save you a pretty penny ranges from 200 to 500 dollars.
1 x Tacoma Full Width Destroyer Front Bumper w/Winch Plate(Comes with 2 Packages)
2 x D-rins w/Rubber Rings
2 x 18W High Power LED Spotlights
Mounting Hardware
2011 Toyota Tacoma Base Crew Cab Pickup 4-Door
2011 Toyota Tacoma Base Crew Cab Pickup 4-Door
2011 Toyota Tacoma Base Extended Cab Pickup 4-Door
2011 Toyota Tacoma Base Extended Cab Pickup 4-Door
2011 Toyota Tacoma Base Standard Cab Pickup 2-Door
2011 Toyota Tacoma Base Standard Cab Pickup 2-Door
2011 Toyota Tacoma Pre Runner Crew Cab Pickup 4-Door
2011 Toyota Tacoma Pre Runner Crew Cab Pickup 4-Door
2011 Toyota Tacoma Pre Runner Extended Cab Pickup 4-Door
2011 Toyota Tacoma Pre Runner Extended Cab Pickup 4-Door
2011 Toyota Tacoma TRD Sport Crew Cab Pickup 4-Door
2011 Toyota Tacoma X-Runner Extended Cab Pickup 4-Door
2010 Toyota Tacoma Base Crew Cab Pickup 4-Door
2010 Toyota Tacoma Base Crew Cab Pickup 4-Door
2010 Toyota Tacoma Base Extended Cab Pickup 4-Door
2010 Toyota Tacoma Base Extended Cab Pickup 4-Door
2010 Toyota Tacoma Base Standard Cab Pickup 2-Door
2010 Toyota Tacoma Base Standard Cab Pickup 2-Door
2010 Toyota Tacoma Pre Runner Crew Cab Pickup 4-Door
2010 Toyota Tacoma Pre Runner Crew Cab Pickup 4-Door
2010 Toyota Tacoma Pre Runner Extended Cab Pickup 4-Door
2010 Toyota Tacoma Pre Runner Extended Cab Pickup 4-Door
2010 Toyota Tacoma Pre Runner Standard Cab Pickup 2-Door
2010 Toyota Tacoma Pre Runner Standard Cab Pickup 2-Door
2010 Toyota Tacoma TRD Sport Crew Cab Pickup 4-Door
2010 Toyota Tacoma X-Runner Extended Cab Pickup 4-Door
2009 Toyota Tacoma Base Crew Cab Pickup 4-Door
2009 Toyota Tacoma Base Crew Cab Pickup 4-Door
2009 Toyota Tacoma Base Extended Cab Pickup 4-Door
2009 Toyota Tacoma Base Extended Cab Pickup 4-Door
2009 Toyota Tacoma Base Standard Cab Pickup 2-Door
2009 Toyota Tacoma Base Standard Cab Pickup 2-Door
2009 Toyota Tacoma Pre Runner Crew Cab Pickup 4-Door
2009 Toyota Tacoma Pre Runner Crew Cab Pickup 4-Door
2009 Toyota Tacoma Pre Runner Extended Cab Pickup 4-Door
2009 Toyota Tacoma Pre Runner Extended Cab Pickup 4-Door
2009 Toyota Tacoma Pre Runner Standard Cab Pickup 2-Door
2009 Toyota Tacoma Pre Runner Standard Cab Pickup 2-Door
2009 Toyota Tacoma SR5 Prerunner Crew Cab Pickup 4-Door
2009 Toyota Tacoma TRD Sport Prerunner Crew Cab Pickup 4-Door
2009 Toyota Tacoma X-Runner Extended Cab Pickup 4-Door
2008 Toyota Tacoma Base Crew Cab Pickup 4-Door
2008 Toyota Tacoma Base Crew Cab Pickup 4-Door
2008 Toyota Tacoma Base Extended Cab Pickup 4-Door
2008 Toyota Tacoma Base Extended Cab Pickup 4-Door
2008 Toyota Tacoma Base Standard Cab Pickup 2-Door
2008 Toyota Tacoma Base Standard Cab Pickup 2-Door
2008 Toyota Tacoma Pre Runner Crew Cab Pickup 4-Door
2008 Toyota Tacoma Pre Runner Crew Cab Pickup 4-Door
2008 Toyota Tacoma Pre Runner Extended Cab Pickup 4-Door
2008 Toyota Tacoma Pre Runner Extended Cab Pickup 4-Door
2008 Toyota Tacoma Pre Runner Standard Cab Pickup 2-Door
2008 Toyota Tacoma Pre Runner Standard Cab Pickup 2-Door
2008 Toyota Tacoma SR5 Prerunner Crew Cab Pickup 4-Door
2008 Toyota Tacoma TRD Sport Prerunner Crew Cab Pickup 4-Door
2008 Toyota Tacoma X-Runner Extended Cab Pickup 4-Door
2007 Toyota Tacoma Base Crew Cab Pickup 4-Door
2007 Toyota Tacoma Base Crew Cab Pickup 4-Door
2007 Toyota Tacoma Base Extended Cab Pickup 4-Door
2007 Toyota Tacoma Base Extended Cab Pickup 4-Door
2007 Toyota Tacoma Base Standard Cab Pickup 2-Door
2007 Toyota Tacoma Base Standard Cab Pickup 2-Door
2007 Toyota Tacoma Pre Runner Crew Cab Pickup 4-Door
2007 Toyota Tacoma Pre Runner Crew Cab Pickup 4-Door
2007 Toyota Tacoma Pre Runner Extended Cab Pickup 4-Door
2007 Toyota Tacoma Pre Runner Extended Cab Pickup 4-Door
2007 Toyota Tacoma Pre Runner Standard Cab Pickup 2-Door
2007 Toyota Tacoma Pre Runner Standard Cab Pickup 2-Door
2007 Toyota Tacoma SR5 Prerunner Crew Cab Pickup 4-Door
2007 Toyota Tacoma TRD Sport Prerunner Crew Cab Pickup 4-Door
2007 Toyota Tacoma X-Runner Extended Cab Pickup 4-Door
2006 Toyota Tacoma Base Crew Cab Pickup 4-Door
2006 Toyota Tacoma Base Crew Cab Pickup 4-Door
2006 Toyota Tacoma Base Extended Cab Pickup 4-Door
2006 Toyota Tacoma Base Extended Cab Pickup 4-Door
2006 Toyota Tacoma Base Prerunner Crew Cab Pickup 4-Door
2006 Toyota Tacoma Base Standard Cab Pickup 2-Door
2006 Toyota Tacoma Base Standard Cab Pickup 2-Door
2006 Toyota Tacoma Pre Runner Crew Cab Pickup 4-Door
2006 Toyota Tacoma Pre Runner Crew Cab Pickup 4-Door
2006 Toyota Tacoma Pre Runner Extended Cab Pickup 4-Door
2006 Toyota Tacoma Pre Runner Extended Cab Pickup 4-Door
2006 Toyota Tacoma Pre Runner Standard Cab Pickup 2-Door
2006 Toyota Tacoma Pre Runner Standard Cab Pickup 2-Door
2006 Toyota Tacoma SR5 Prerunner Crew Cab Pickup 4-Door
2006 Toyota Tacoma TRD Sport Prerunner Crew Cab Pickup 4-Door
2006 Toyota Tacoma X-Runner Extended Cab Pickup 4-Door
2005 Toyota Tacoma Base Crew Cab Pickup 4-Door
2005 Toyota Tacoma Base Crew Cab Pickup 4-Door
2005 Toyota Tacoma Base Extended Cab Pickup 3-Door
2005 Toyota Tacoma Base Extended Cab Pickup 3-Door
2005 Toyota Tacoma Base Standard Cab Pickup 2-Door
2005 Toyota Tacoma Base Standard Cab Pickup 2-Door
2005 Toyota Tacoma Pre Runner Crew Cab Pickup 4-Door
2005 Toyota Tacoma Pre Runner Crew Cab Pickup 4-Door
2005 Toyota Tacoma Pre Runner Extended Cab Pickup 3-Door
2005 Toyota Tacoma Pre Runner Extended Cab Pickup 3-Door
2005 Toyota Tacoma Pre Runner Standard Cab Pickup 2-Door
2005 Toyota Tacoma Pre Runner Standard Cab Pickup 2-Door
2005 Toyota Tacoma X-Runner Extended Cab Pickup 3-Door
Package Included
1 x Tacoma Full Width Destroyer Front Bumper w/Winch Plate(Comes with 2 Packages)
2 x D-rins w/Rubber Rings
2 x 18W High Power LED Spotlights
Mounting Hardware
Fitment
2011 Toyota Tacoma Base Crew Cab Pickup 4-Door
2011 Toyota Tacoma Base Crew Cab Pickup 4-Door
2011 Toyota Tacoma Base Extended Cab Pickup 4-Door
2011 Toyota Tacoma Base Extended Cab Pickup 4-Door
2011 Toyota Tacoma Base Standard Cab Pickup 2-Door
2011 Toyota Tacoma Base Standard Cab Pickup 2-Door
2011 Toyota Tacoma Pre Runner Crew Cab Pickup 4-Door
2011 Toyota Tacoma Pre Runner Crew Cab Pickup 4-Door
2011 Toyota Tacoma Pre Runner Extended Cab Pickup 4-Door
2011 Toyota Tacoma Pre Runner Extended Cab Pickup 4-Door
2011 Toyota Tacoma TRD Sport Crew Cab Pickup 4-Door
2011 Toyota Tacoma X-Runner Extended Cab Pickup 4-Door
2010 Toyota Tacoma Base Crew Cab Pickup 4-Door
2010 Toyota Tacoma Base Crew Cab Pickup 4-Door
2010 Toyota Tacoma Base Extended Cab Pickup 4-Door
2010 Toyota Tacoma Base Extended Cab Pickup 4-Door
2010 Toyota Tacoma Base Standard Cab Pickup 2-Door
2010 Toyota Tacoma Base Standard Cab Pickup 2-Door
2010 Toyota Tacoma Pre Runner Crew Cab Pickup 4-Door
2010 Toyota Tacoma Pre Runner Crew Cab Pickup 4-Door
2010 Toyota Tacoma Pre Runner Extended Cab Pickup 4-Door
2010 Toyota Tacoma Pre Runner Extended Cab Pickup 4-Door
2010 Toyota Tacoma Pre Runner Standard Cab Pickup 2-Door
2010 Toyota Tacoma Pre Runner Standard Cab Pickup 2-Door
2010 Toyota Tacoma TRD Sport Crew Cab Pickup 4-Door
2010 Toyota Tacoma X-Runner Extended Cab Pickup 4-Door
2009 Toyota Tacoma Base Crew Cab Pickup 4-Door
2009 Toyota Tacoma Base Crew Cab Pickup 4-Door
2009 Toyota Tacoma Base Extended Cab Pickup 4-Door
2009 Toyota Tacoma Base Extended Cab Pickup 4-Door
2009 Toyota Tacoma Base Standard Cab Pickup 2-Door
2009 Toyota Tacoma Base Standard Cab Pickup 2-Door
2009 Toyota Tacoma Pre Runner Crew Cab Pickup 4-Door
2009 Toyota Tacoma Pre Runner Crew Cab Pickup 4-Door
2009 Toyota Tacoma Pre Runner Extended Cab Pickup 4-Door
2009 Toyota Tacoma Pre Runner Extended Cab Pickup 4-Door
2009 Toyota Tacoma Pre Runner Standard Cab Pickup 2-Door
2009 Toyota Tacoma Pre Runner Standard Cab Pickup 2-Door
2009 Toyota Tacoma SR5 Prerunner Crew Cab Pickup 4-Door
2009 Toyota Tacoma TRD Sport Prerunner Crew Cab Pickup 4-Door
2009 Toyota Tacoma X-Runner Extended Cab Pickup 4-Door
2008 Toyota Tacoma Base Crew Cab Pickup 4-Door
2008 Toyota Tacoma Base Crew Cab Pickup 4-Door
2008 Toyota Tacoma Base Extended Cab Pickup 4-Door
2008 Toyota Tacoma Base Extended Cab Pickup 4-Door
2008 Toyota Tacoma Base Standard Cab Pickup 2-Door
2008 Toyota Tacoma Base Standard Cab Pickup 2-Door
2008 Toyota Tacoma Pre Runner Crew Cab Pickup 4-Door
2008 Toyota Tacoma Pre Runner Crew Cab Pickup 4-Door
2008 Toyota Tacoma Pre Runner Extended Cab Pickup 4-Door
2008 Toyota Tacoma Pre Runner Extended Cab Pickup 4-Door
2008 Toyota Tacoma Pre Runner Standard Cab Pickup 2-Door
2008 Toyota Tacoma Pre Runner Standard Cab Pickup 2-Door
2008 Toyota Tacoma SR5 Prerunner Crew Cab Pickup 4-Door
2008 Toyota Tacoma TRD Sport Prerunner Crew Cab Pickup 4-Door
2008 Toyota Tacoma X-Runner Extended Cab Pickup 4-Door
2007 Toyota Tacoma Base Crew Cab Pickup 4-Door
2007 Toyota Tacoma Base Crew Cab Pickup 4-Door
2007 Toyota Tacoma Base Extended Cab Pickup 4-Door
2007 Toyota Tacoma Base Extended Cab Pickup 4-Door
2007 Toyota Tacoma Base Standard Cab Pickup 2-Door
2007 Toyota Tacoma Base Standard Cab Pickup 2-Door
2007 Toyota Tacoma Pre Runner Crew Cab Pickup 4-Door
2007 Toyota Tacoma Pre Runner Crew Cab Pickup 4-Door
2007 Toyota Tacoma Pre Runner Extended Cab Pickup 4-Door
2007 Toyota Tacoma Pre Runner Extended Cab Pickup 4-Door
2007 Toyota Tacoma Pre Runner Standard Cab Pickup 2-Door
2007 Toyota Tacoma Pre Runner Standard Cab Pickup 2-Door
2007 Toyota Tacoma SR5 Prerunner Crew Cab Pickup 4-Door
2007 Toyota Tacoma TRD Sport Prerunner Crew Cab Pickup 4-Door
2007 Toyota Tacoma X-Runner Extended Cab Pickup 4-Door
2006 Toyota Tacoma Base Crew Cab Pickup 4-Door
2006 Toyota Tacoma Base Crew Cab Pickup 4-Door
2006 Toyota Tacoma Base Extended Cab Pickup 4-Door
2006 Toyota Tacoma Base Extended Cab Pickup 4-Door
2006 Toyota Tacoma Base Prerunner Crew Cab Pickup 4-Door
2006 Toyota Tacoma Base Standard Cab Pickup 2-Door
2006 Toyota Tacoma Base Standard Cab Pickup 2-Door
2006 Toyota Tacoma Pre Runner Crew Cab Pickup 4-Door
2006 Toyota Tacoma Pre Runner Crew Cab Pickup 4-Door
2006 Toyota Tacoma Pre Runner Extended Cab Pickup 4-Door
2006 Toyota Tacoma Pre Runner Extended Cab Pickup 4-Door
2006 Toyota Tacoma Pre Runner Standard Cab Pickup 2-Door
2006 Toyota Tacoma Pre Runner Standard Cab Pickup 2-Door
2006 Toyota Tacoma SR5 Prerunner Crew Cab Pickup 4-Door
2006 Toyota Tacoma TRD Sport Prerunner Crew Cab Pickup 4-Door
2006 Toyota Tacoma X-Runner Extended Cab Pickup 4-Door
2005 Toyota Tacoma Base Crew Cab Pickup 4-Door
2005 Toyota Tacoma Base Crew Cab Pickup 4-Door
2005 Toyota Tacoma Base Extended Cab Pickup 3-Door
2005 Toyota Tacoma Base Extended Cab Pickup 3-Door
2005 Toyota Tacoma Base Standard Cab Pickup 2-Door
2005 Toyota Tacoma Base Standard Cab Pickup 2-Door
2005 Toyota Tacoma Pre Runner Crew Cab Pickup 4-Door
2005 Toyota Tacoma Pre Runner Crew Cab Pickup 4-Door
2005 Toyota Tacoma Pre Runner Extended Cab Pickup 3-Door
2005 Toyota Tacoma Pre Runner Extended Cab Pickup 3-Door
2005 Toyota Tacoma Pre Runner Standard Cab Pickup 2-Door
2005 Toyota Tacoma Pre Runner Standard Cab Pickup 2-Door
2005 Toyota Tacoma X-Runner Extended Cab Pickup 3-Door