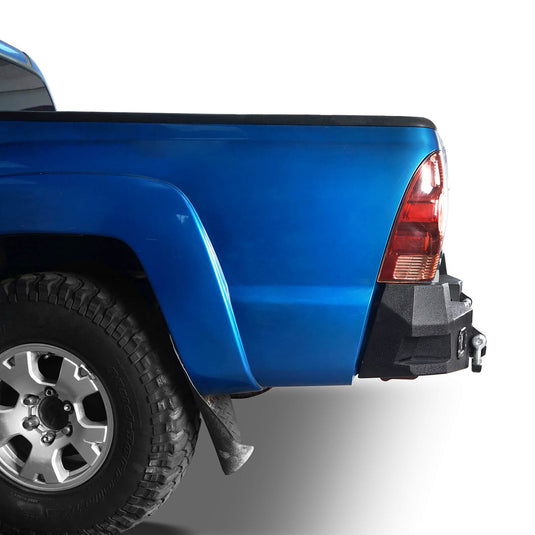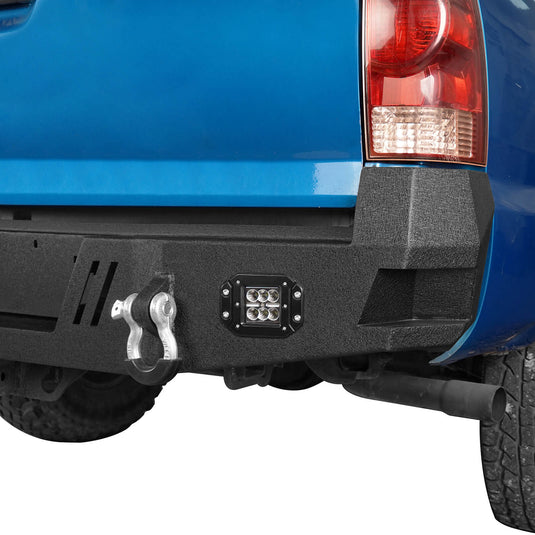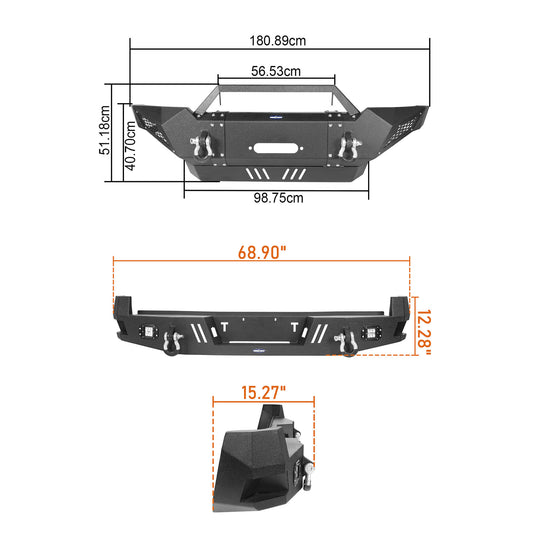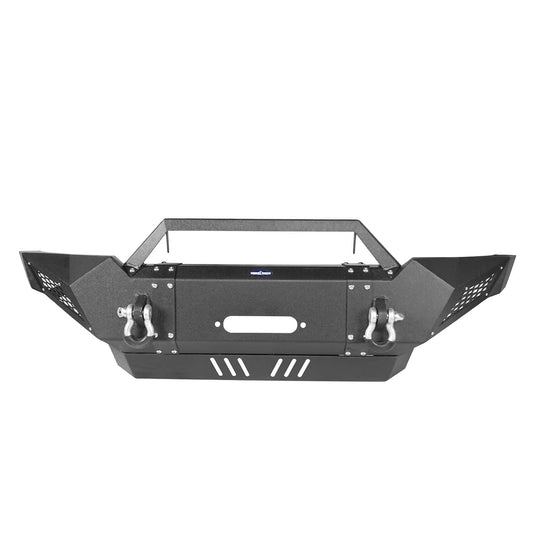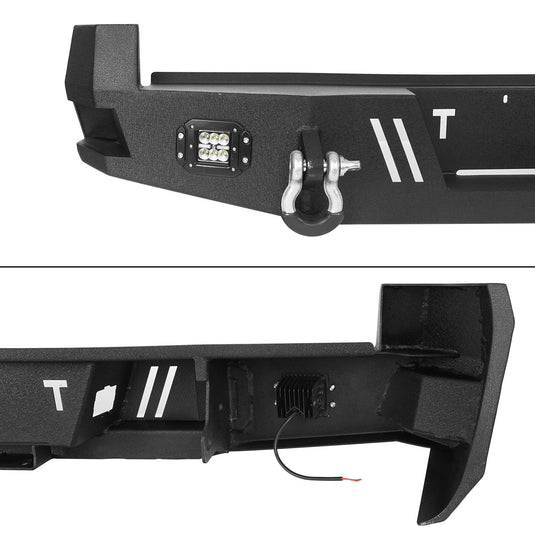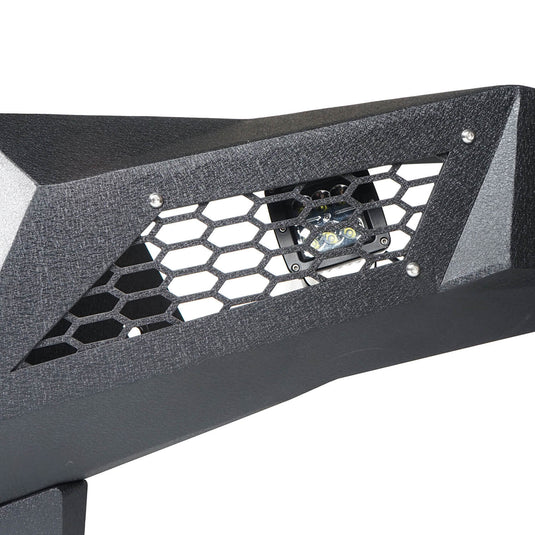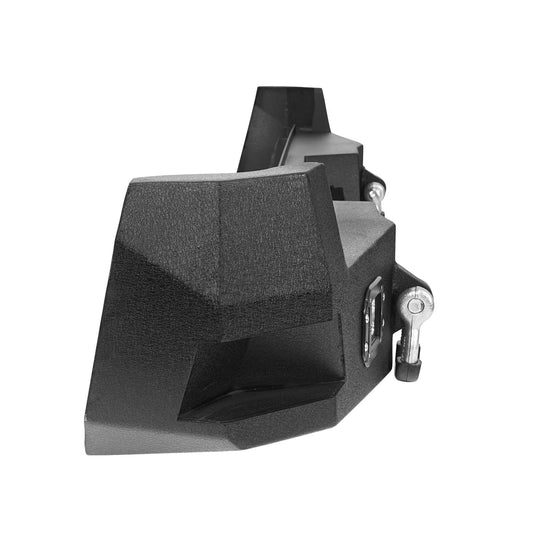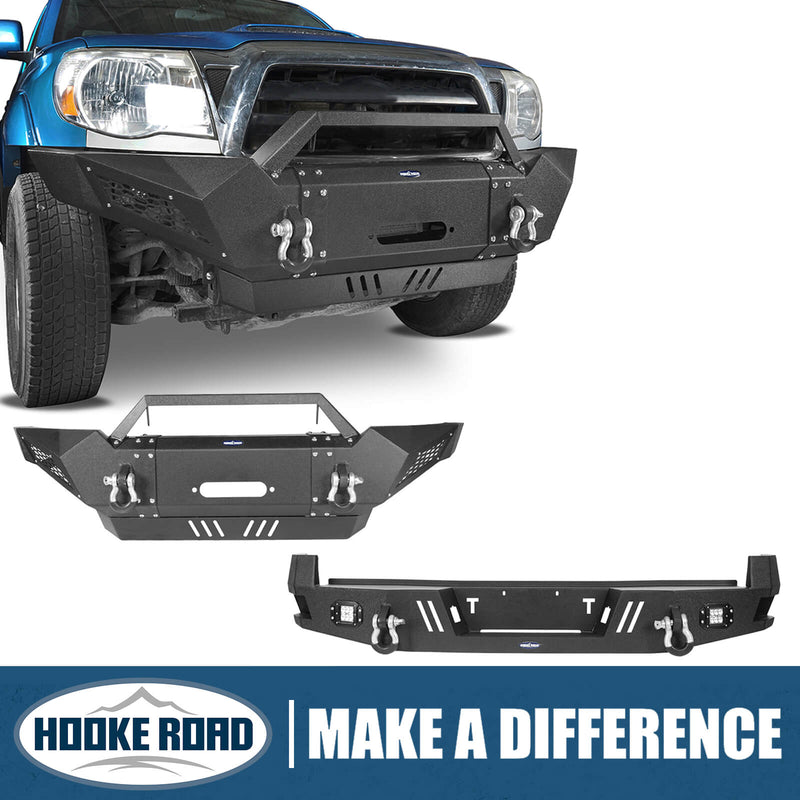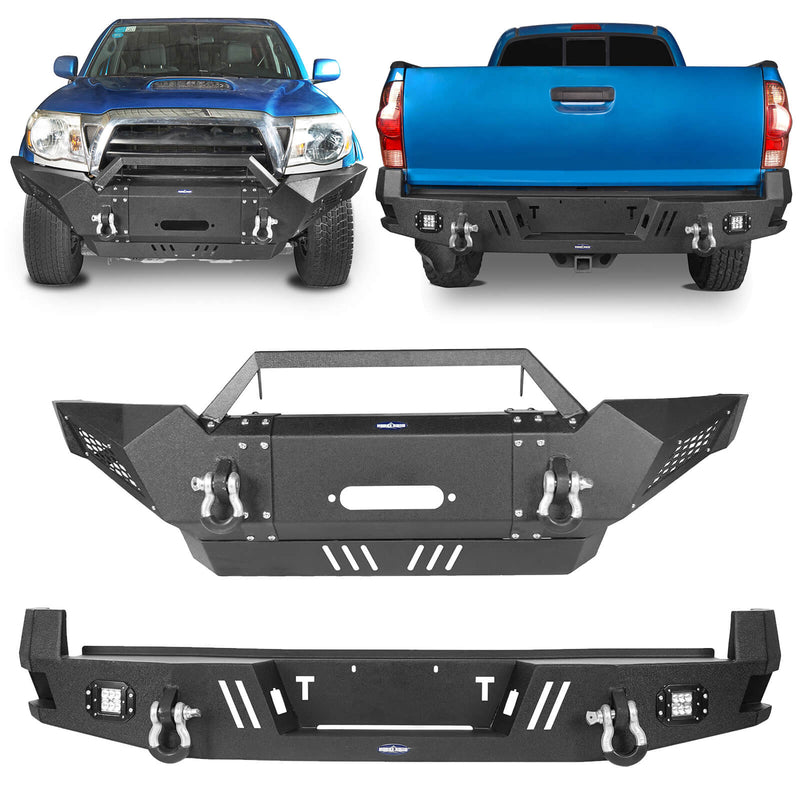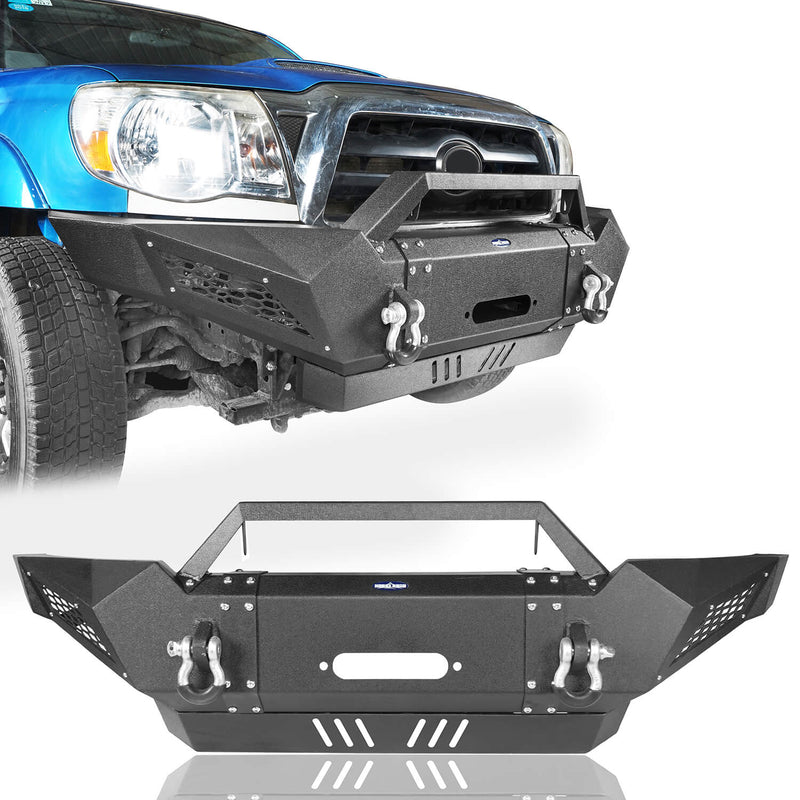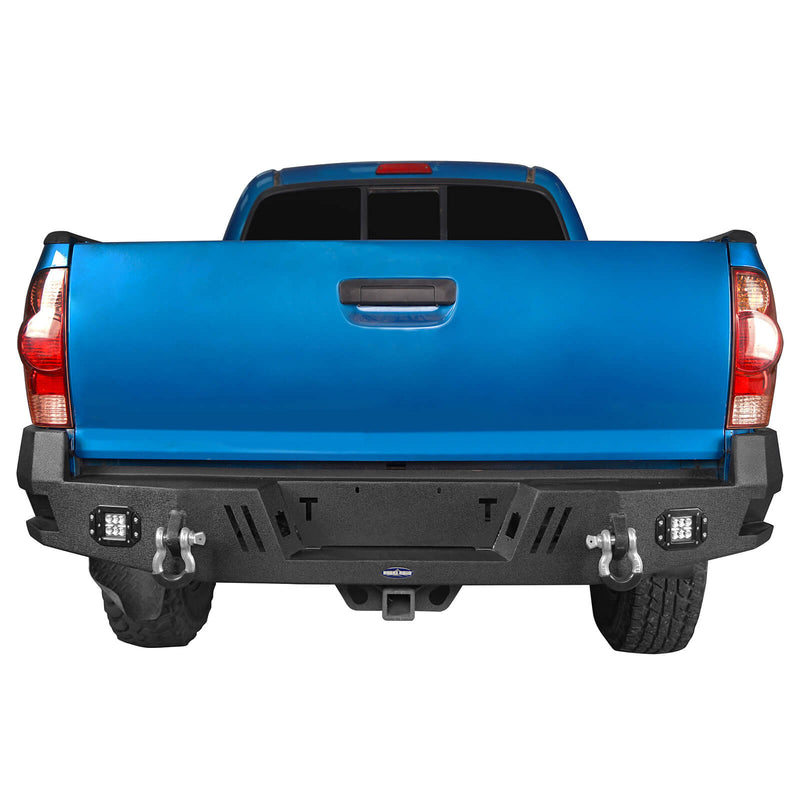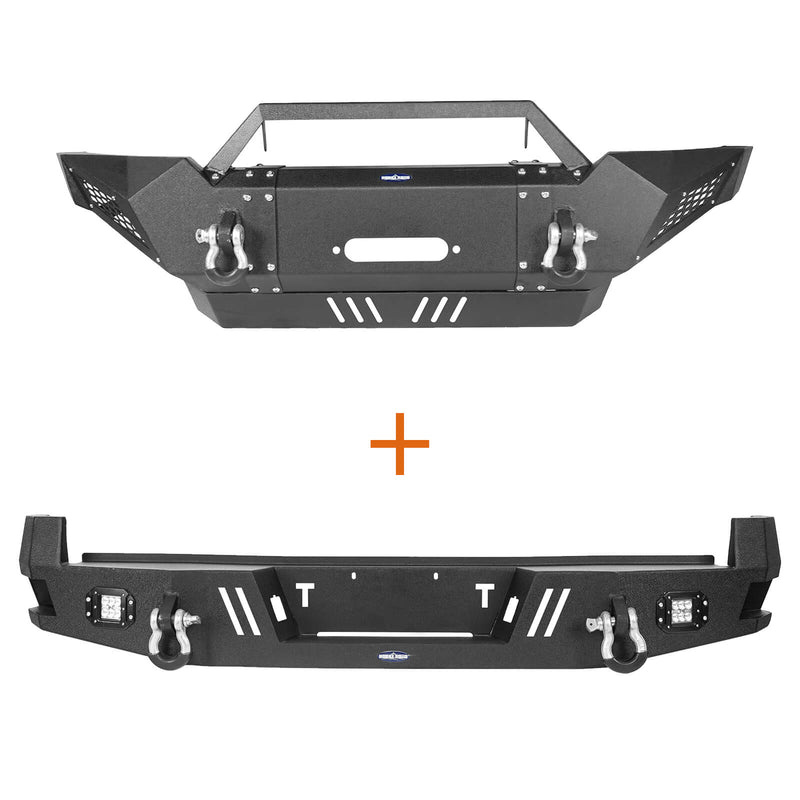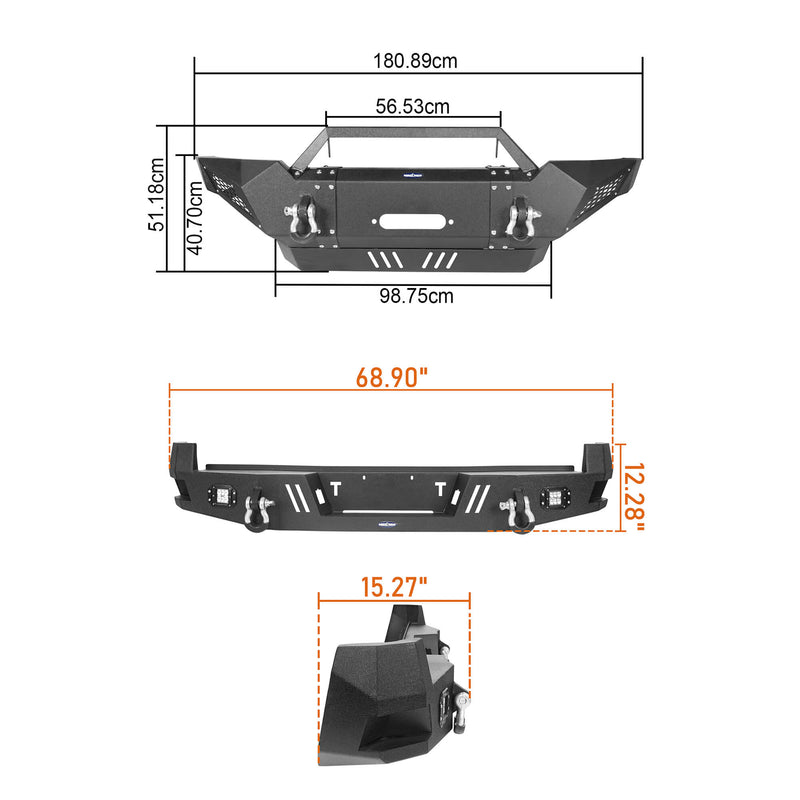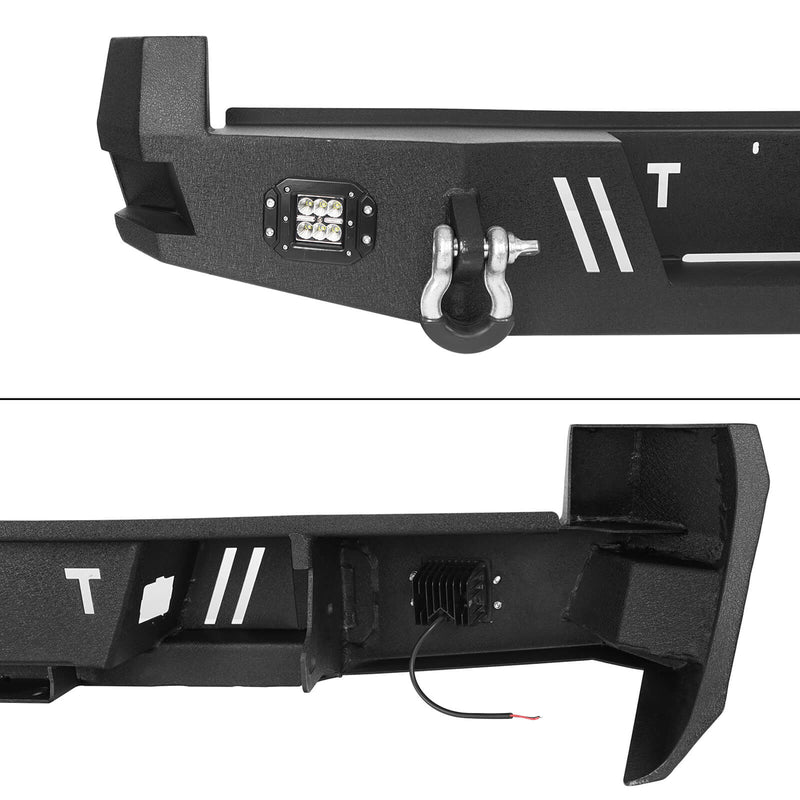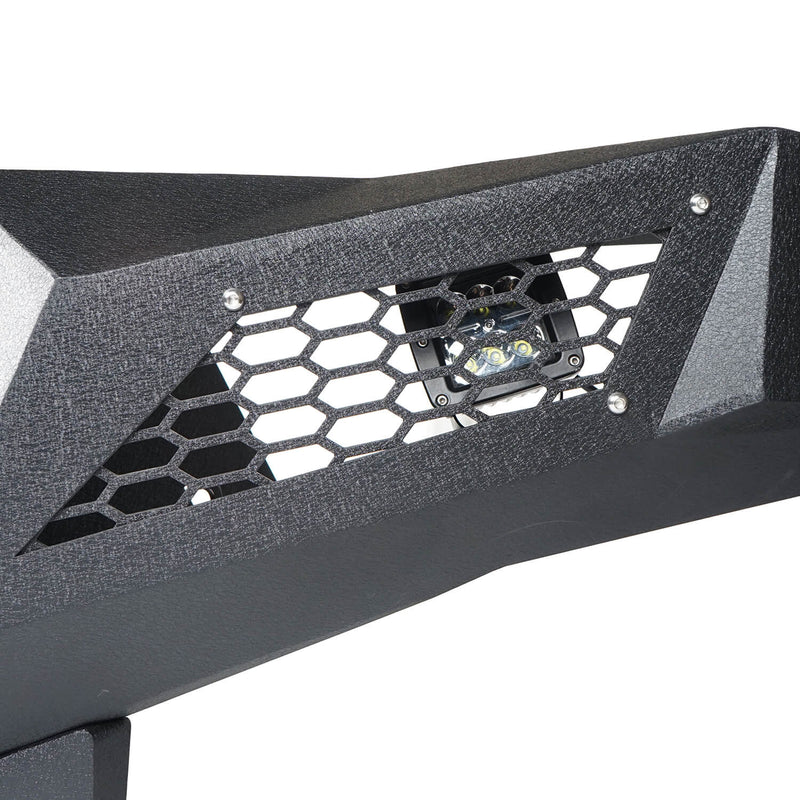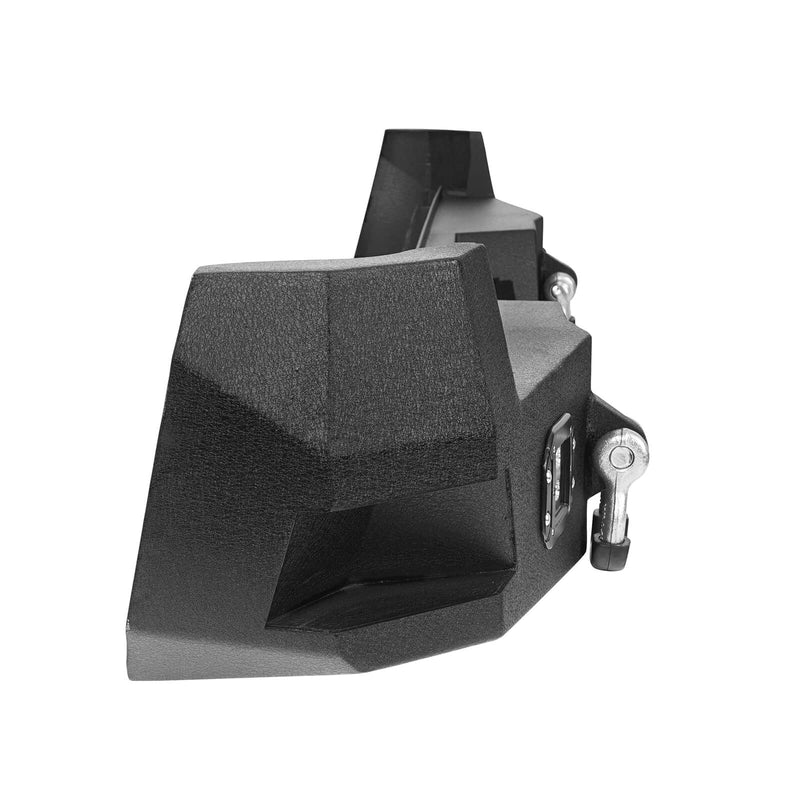 Name: Hooke Road Toyota Tacoma Offroad Front Bumper & Rear Bumper Combo w/2 ×18W LED Floodlights

Toyota Tacoma Front Bumper
Fits 2005-2011 Toyota Tacoma Gen 2nd Models; Only Fits Advanced Wireless Remote Operate Winch Without a Manual Clutch Handle
About 140 lbs; Comes with a Winch Plate – Only Fits Advanced Wireless Remote Operate Winch Without a Manual Clutch Handle. Rated up to 12,000 Pounds. 9500 lbs Rated, 3/4'' D-Rings Included. D-rings w/rubber Ring for Reducing Friction and Crashing with Bumper. High-grade Steel Construction; Specialized Textured Black Powder-Coat Finish.  The Product Percent of Pass Reaches 100% After the Salt Spray Test. Simple Bolt-on Installation; No Drilling Needed
Please Double-check the distance between front bumper edge and fender below to Purchase What you Like.

Toyota Tacoma Rear Bumper
Fits 2005-2011 Toyota Tacoma Models
About 67 lbs; One-Piece, Fully-Welded Structure.  Textured Black Powder Coat Finish & Premium. 3/4 Inch D-rings、Rubber D-ring Isolators are Included, Support Up to 9,500 lbs. Professional Installation is Recommended. 

Dimension
Manual measurement. There may be deviations from the actual product.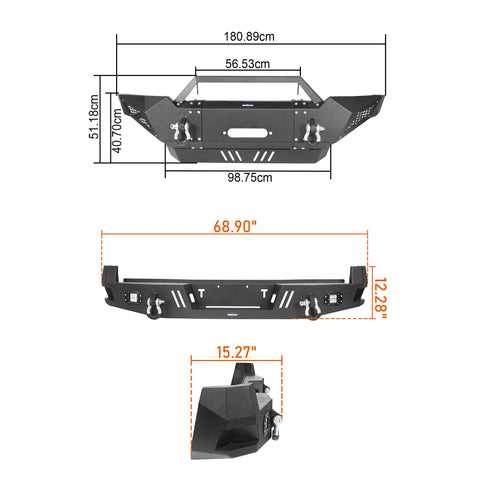 Front Bumper Package Included

1 x Toyota Tacoma Front Bumper w/Winch Plate (Comes with 2 Packages)
2 x 18W White Square Spotlights
2 x D-rings w/rubber ring
Mounting Hardware
Rear Bumper Package Included

1 x Toyota Tacoma Rear Bumper
2 x 18W High-Powered LED Floodlights
2 x Rubber D-ring isolators
Mounting Hardware
2011 Toyota Tacoma Base Crew Cab Pickup 4-Door
2011 Toyota Tacoma Base Crew Cab Pickup 4-Door
2011 Toyota Tacoma Base Extended Cab Pickup 4-Door
2011 Toyota Tacoma Base Extended Cab Pickup 4-Door
2011 Toyota Tacoma Base Standard Cab Pickup 2-Door
2011 Toyota Tacoma Base Standard Cab Pickup 2-Door
2011 Toyota Tacoma Pre Runner Crew Cab Pickup 4-Door
2011 Toyota Tacoma Pre Runner Crew Cab Pickup 4-Door
2011 Toyota Tacoma Pre Runner Extended Cab Pickup 4-Door
2011 Toyota Tacoma Pre Runner Extended Cab Pickup 4-Door
2011 Toyota Tacoma TRD Sport Crew Cab Pickup 4-Door
2011 Toyota Tacoma X-Runner Extended Cab Pickup 4-Door
2010 Toyota Tacoma Base Crew Cab Pickup 4-Door
2010 Toyota Tacoma Base Crew Cab Pickup 4-Door
2010 Toyota Tacoma Base Extended Cab Pickup 4-Door
2010 Toyota Tacoma Base Extended Cab Pickup 4-Door
2010 Toyota Tacoma Base Standard Cab Pickup 2-Door
2010 Toyota Tacoma Base Standard Cab Pickup 2-Door
2010 Toyota Tacoma Pre Runner Crew Cab Pickup 4-Door
2010 Toyota Tacoma Pre Runner Crew Cab Pickup 4-Door
2010 Toyota Tacoma Pre Runner Extended Cab Pickup 4-Door
2010 Toyota Tacoma Pre Runner Extended Cab Pickup 4-Door
2010 Toyota Tacoma Pre Runner Standard Cab Pickup 2-Door
2010 Toyota Tacoma Pre Runner Standard Cab Pickup 2-Door
2010 Toyota Tacoma TRD Sport Crew Cab Pickup 4-Door
2010 Toyota Tacoma X-Runner Extended Cab Pickup 4-Door
2009 Toyota Tacoma Base Crew Cab Pickup 4-Door
2009 Toyota Tacoma Base Crew Cab Pickup 4-Door
2009 Toyota Tacoma Base Extended Cab Pickup 4-Door
2009 Toyota Tacoma Base Extended Cab Pickup 4-Door
2009 Toyota Tacoma Base Standard Cab Pickup 2-Door
2009 Toyota Tacoma Base Standard Cab Pickup 2-Door
2009 Toyota Tacoma Pre Runner Crew Cab Pickup 4-Door
2009 Toyota Tacoma Pre Runner Crew Cab Pickup 4-Door
2009 Toyota Tacoma Pre Runner Extended Cab Pickup 4-Door
2009 Toyota Tacoma Pre Runner Extended Cab Pickup 4-Door
2009 Toyota Tacoma Pre Runner Standard Cab Pickup 2-Door
2009 Toyota Tacoma Pre Runner Standard Cab Pickup 2-Door
2009 Toyota Tacoma SR5 Prerunner Crew Cab Pickup 4-Door
2009 Toyota Tacoma TRD Sport Prerunner Crew Cab Pickup 4-Door
2009 Toyota Tacoma X-Runner Extended Cab Pickup 4-Door
2008 Toyota Tacoma Base Crew Cab Pickup 4-Door
2008 Toyota Tacoma Base Crew Cab Pickup 4-Door
2008 Toyota Tacoma Base Extended Cab Pickup 4-Door
2008 Toyota Tacoma Base Extended Cab Pickup 4-Door
2008 Toyota Tacoma Base Standard Cab Pickup 2-Door
2008 Toyota Tacoma Base Standard Cab Pickup 2-Door
2008 Toyota Tacoma Pre Runner Crew Cab Pickup 4-Door
2008 Toyota Tacoma Pre Runner Crew Cab Pickup 4-Door
2008 Toyota Tacoma Pre Runner Extended Cab Pickup 4-Door
2008 Toyota Tacoma Pre Runner Extended Cab Pickup 4-Door
2008 Toyota Tacoma Pre Runner Standard Cab Pickup 2-Door
2008 Toyota Tacoma Pre Runner Standard Cab Pickup 2-Door
2008 Toyota Tacoma SR5 Prerunner Crew Cab Pickup 4-Door
2008 Toyota Tacoma TRD Sport Prerunner Crew Cab Pickup 4-Door
2008 Toyota Tacoma X-Runner Extended Cab Pickup 4-Door
2007 Toyota Tacoma Base Crew Cab Pickup 4-Door
2007 Toyota Tacoma Base Crew Cab Pickup 4-Door
2007 Toyota Tacoma Base Extended Cab Pickup 4-Door
2007 Toyota Tacoma Base Extended Cab Pickup 4-Door
2007 Toyota Tacoma Base Standard Cab Pickup 2-Door
2007 Toyota Tacoma Base Standard Cab Pickup 2-Door
2007 Toyota Tacoma Pre Runner Crew Cab Pickup 4-Door
2007 Toyota Tacoma Pre Runner Crew Cab Pickup 4-Door
2007 Toyota Tacoma Pre Runner Extended Cab Pickup 4-Door
2007 Toyota Tacoma Pre Runner Extended Cab Pickup 4-Door
2007 Toyota Tacoma Pre Runner Standard Cab Pickup 2-Door
2007 Toyota Tacoma Pre Runner Standard Cab Pickup 2-Door
2007 Toyota Tacoma SR5 Prerunner Crew Cab Pickup 4-Door
2007 Toyota Tacoma TRD Sport Prerunner Crew Cab Pickup 4-Door
2007 Toyota Tacoma X-Runner Extended Cab Pickup 4-Door
2006 Toyota Tacoma Base Crew Cab Pickup 4-Door
2006 Toyota Tacoma Base Crew Cab Pickup 4-Door
2006 Toyota Tacoma Base Extended Cab Pickup 4-Door
2006 Toyota Tacoma Base Extended Cab Pickup 4-Door
2006 Toyota Tacoma Base Prerunner Crew Cab Pickup 4-Door
2006 Toyota Tacoma Base Standard Cab Pickup 2-Door
2006 Toyota Tacoma Base Standard Cab Pickup 2-Door
2006 Toyota Tacoma Pre Runner Crew Cab Pickup 4-Door
2006 Toyota Tacoma Pre Runner Crew Cab Pickup 4-Door
2006 Toyota Tacoma Pre Runner Extended Cab Pickup 4-Door
2006 Toyota Tacoma Pre Runner Extended Cab Pickup 4-Door
2006 Toyota Tacoma Pre Runner Standard Cab Pickup 2-Door
2006 Toyota Tacoma Pre Runner Standard Cab Pickup 2-Door
2006 Toyota Tacoma SR5 Prerunner Crew Cab Pickup 4-Door
2006 Toyota Tacoma TRD Sport Prerunner Crew Cab Pickup 4-Door
2006 Toyota Tacoma X-Runner Extended Cab Pickup 4-Door
2005 Toyota Tacoma Base Crew Cab Pickup 4-Door
2005 Toyota Tacoma Base Crew Cab Pickup 4-Door
2005 Toyota Tacoma Base Extended Cab Pickup 3-Door
2005 Toyota Tacoma Base Extended Cab Pickup 3-Door
2005 Toyota Tacoma Base Standard Cab Pickup 2-Door
2005 Toyota Tacoma Base Standard Cab Pickup 2-Door
2005 Toyota Tacoma Pre Runner Crew Cab Pickup 4-Door
2005 Toyota Tacoma Pre Runner Crew Cab Pickup 4-Door
2005 Toyota Tacoma Pre Runner Extended Cab Pickup 3-Door
2005 Toyota Tacoma Pre Runner Extended Cab Pickup 3-Door
2005 Toyota Tacoma Pre Runner Standard Cab Pickup 2-Door
2005 Toyota Tacoma Pre Runner Standard Cab Pickup 2-Door
2005 Toyota Tacoma X-Runner Extended Cab Pickup 3-Door
Package Included
Front Bumper Package Included

1 x Toyota Tacoma Front Bumper w/Winch Plate (Comes with 2 Packages)
2 x 18W White Square Spotlights
2 x D-rings w/rubber ring
Mounting Hardware
Rear Bumper Package Included

1 x Toyota Tacoma Rear Bumper
2 x 18W High-Powered LED Floodlights
2 x Rubber D-ring isolators
Mounting Hardware
Fitment
2011 Toyota Tacoma Base Crew Cab Pickup 4-Door
2011 Toyota Tacoma Base Crew Cab Pickup 4-Door
2011 Toyota Tacoma Base Extended Cab Pickup 4-Door
2011 Toyota Tacoma Base Extended Cab Pickup 4-Door
2011 Toyota Tacoma Base Standard Cab Pickup 2-Door
2011 Toyota Tacoma Base Standard Cab Pickup 2-Door
2011 Toyota Tacoma Pre Runner Crew Cab Pickup 4-Door
2011 Toyota Tacoma Pre Runner Crew Cab Pickup 4-Door
2011 Toyota Tacoma Pre Runner Extended Cab Pickup 4-Door
2011 Toyota Tacoma Pre Runner Extended Cab Pickup 4-Door
2011 Toyota Tacoma TRD Sport Crew Cab Pickup 4-Door
2011 Toyota Tacoma X-Runner Extended Cab Pickup 4-Door
2010 Toyota Tacoma Base Crew Cab Pickup 4-Door
2010 Toyota Tacoma Base Crew Cab Pickup 4-Door
2010 Toyota Tacoma Base Extended Cab Pickup 4-Door
2010 Toyota Tacoma Base Extended Cab Pickup 4-Door
2010 Toyota Tacoma Base Standard Cab Pickup 2-Door
2010 Toyota Tacoma Base Standard Cab Pickup 2-Door
2010 Toyota Tacoma Pre Runner Crew Cab Pickup 4-Door
2010 Toyota Tacoma Pre Runner Crew Cab Pickup 4-Door
2010 Toyota Tacoma Pre Runner Extended Cab Pickup 4-Door
2010 Toyota Tacoma Pre Runner Extended Cab Pickup 4-Door
2010 Toyota Tacoma Pre Runner Standard Cab Pickup 2-Door
2010 Toyota Tacoma Pre Runner Standard Cab Pickup 2-Door
2010 Toyota Tacoma TRD Sport Crew Cab Pickup 4-Door
2010 Toyota Tacoma X-Runner Extended Cab Pickup 4-Door
2009 Toyota Tacoma Base Crew Cab Pickup 4-Door
2009 Toyota Tacoma Base Crew Cab Pickup 4-Door
2009 Toyota Tacoma Base Extended Cab Pickup 4-Door
2009 Toyota Tacoma Base Extended Cab Pickup 4-Door
2009 Toyota Tacoma Base Standard Cab Pickup 2-Door
2009 Toyota Tacoma Base Standard Cab Pickup 2-Door
2009 Toyota Tacoma Pre Runner Crew Cab Pickup 4-Door
2009 Toyota Tacoma Pre Runner Crew Cab Pickup 4-Door
2009 Toyota Tacoma Pre Runner Extended Cab Pickup 4-Door
2009 Toyota Tacoma Pre Runner Extended Cab Pickup 4-Door
2009 Toyota Tacoma Pre Runner Standard Cab Pickup 2-Door
2009 Toyota Tacoma Pre Runner Standard Cab Pickup 2-Door
2009 Toyota Tacoma SR5 Prerunner Crew Cab Pickup 4-Door
2009 Toyota Tacoma TRD Sport Prerunner Crew Cab Pickup 4-Door
2009 Toyota Tacoma X-Runner Extended Cab Pickup 4-Door
2008 Toyota Tacoma Base Crew Cab Pickup 4-Door
2008 Toyota Tacoma Base Crew Cab Pickup 4-Door
2008 Toyota Tacoma Base Extended Cab Pickup 4-Door
2008 Toyota Tacoma Base Extended Cab Pickup 4-Door
2008 Toyota Tacoma Base Standard Cab Pickup 2-Door
2008 Toyota Tacoma Base Standard Cab Pickup 2-Door
2008 Toyota Tacoma Pre Runner Crew Cab Pickup 4-Door
2008 Toyota Tacoma Pre Runner Crew Cab Pickup 4-Door
2008 Toyota Tacoma Pre Runner Extended Cab Pickup 4-Door
2008 Toyota Tacoma Pre Runner Extended Cab Pickup 4-Door
2008 Toyota Tacoma Pre Runner Standard Cab Pickup 2-Door
2008 Toyota Tacoma Pre Runner Standard Cab Pickup 2-Door
2008 Toyota Tacoma SR5 Prerunner Crew Cab Pickup 4-Door
2008 Toyota Tacoma TRD Sport Prerunner Crew Cab Pickup 4-Door
2008 Toyota Tacoma X-Runner Extended Cab Pickup 4-Door
2007 Toyota Tacoma Base Crew Cab Pickup 4-Door
2007 Toyota Tacoma Base Crew Cab Pickup 4-Door
2007 Toyota Tacoma Base Extended Cab Pickup 4-Door
2007 Toyota Tacoma Base Extended Cab Pickup 4-Door
2007 Toyota Tacoma Base Standard Cab Pickup 2-Door
2007 Toyota Tacoma Base Standard Cab Pickup 2-Door
2007 Toyota Tacoma Pre Runner Crew Cab Pickup 4-Door
2007 Toyota Tacoma Pre Runner Crew Cab Pickup 4-Door
2007 Toyota Tacoma Pre Runner Extended Cab Pickup 4-Door
2007 Toyota Tacoma Pre Runner Extended Cab Pickup 4-Door
2007 Toyota Tacoma Pre Runner Standard Cab Pickup 2-Door
2007 Toyota Tacoma Pre Runner Standard Cab Pickup 2-Door
2007 Toyota Tacoma SR5 Prerunner Crew Cab Pickup 4-Door
2007 Toyota Tacoma TRD Sport Prerunner Crew Cab Pickup 4-Door
2007 Toyota Tacoma X-Runner Extended Cab Pickup 4-Door
2006 Toyota Tacoma Base Crew Cab Pickup 4-Door
2006 Toyota Tacoma Base Crew Cab Pickup 4-Door
2006 Toyota Tacoma Base Extended Cab Pickup 4-Door
2006 Toyota Tacoma Base Extended Cab Pickup 4-Door
2006 Toyota Tacoma Base Prerunner Crew Cab Pickup 4-Door
2006 Toyota Tacoma Base Standard Cab Pickup 2-Door
2006 Toyota Tacoma Base Standard Cab Pickup 2-Door
2006 Toyota Tacoma Pre Runner Crew Cab Pickup 4-Door
2006 Toyota Tacoma Pre Runner Crew Cab Pickup 4-Door
2006 Toyota Tacoma Pre Runner Extended Cab Pickup 4-Door
2006 Toyota Tacoma Pre Runner Extended Cab Pickup 4-Door
2006 Toyota Tacoma Pre Runner Standard Cab Pickup 2-Door
2006 Toyota Tacoma Pre Runner Standard Cab Pickup 2-Door
2006 Toyota Tacoma SR5 Prerunner Crew Cab Pickup 4-Door
2006 Toyota Tacoma TRD Sport Prerunner Crew Cab Pickup 4-Door
2006 Toyota Tacoma X-Runner Extended Cab Pickup 4-Door
2005 Toyota Tacoma Base Crew Cab Pickup 4-Door
2005 Toyota Tacoma Base Crew Cab Pickup 4-Door
2005 Toyota Tacoma Base Extended Cab Pickup 3-Door
2005 Toyota Tacoma Base Extended Cab Pickup 3-Door
2005 Toyota Tacoma Base Standard Cab Pickup 2-Door
2005 Toyota Tacoma Base Standard Cab Pickup 2-Door
2005 Toyota Tacoma Pre Runner Crew Cab Pickup 4-Door
2005 Toyota Tacoma Pre Runner Crew Cab Pickup 4-Door
2005 Toyota Tacoma Pre Runner Extended Cab Pickup 3-Door
2005 Toyota Tacoma Pre Runner Extended Cab Pickup 3-Door
2005 Toyota Tacoma Pre Runner Standard Cab Pickup 2-Door
2005 Toyota Tacoma Pre Runner Standard Cab Pickup 2-Door
2005 Toyota Tacoma X-Runner Extended Cab Pickup 3-Door