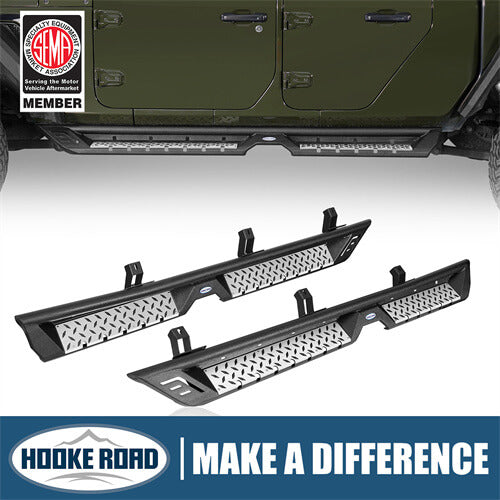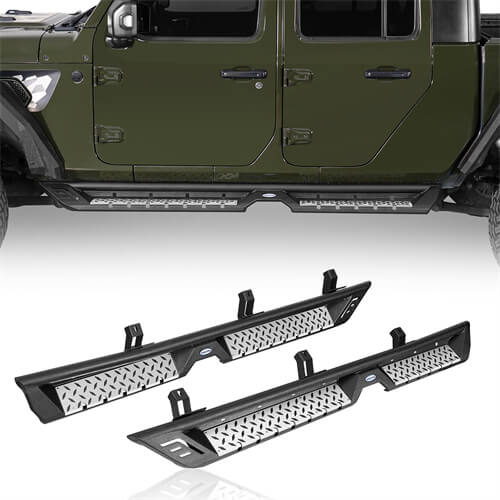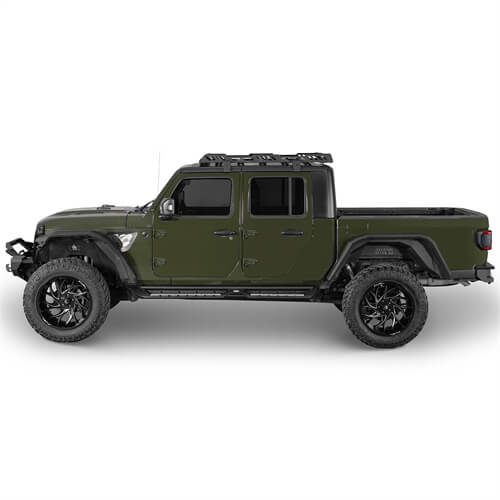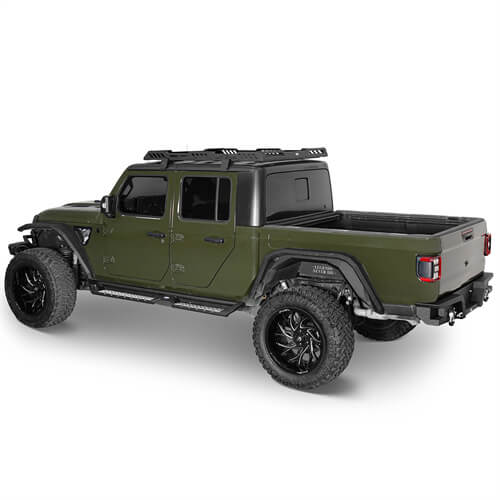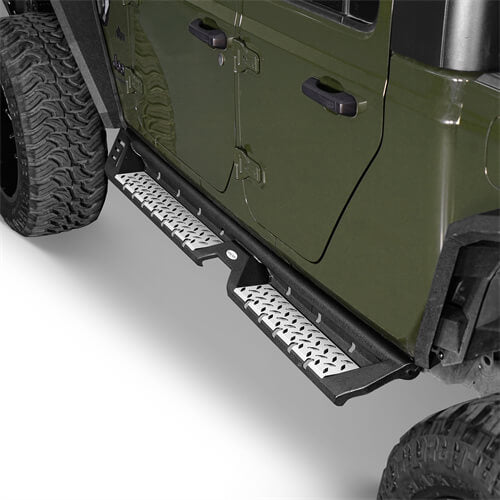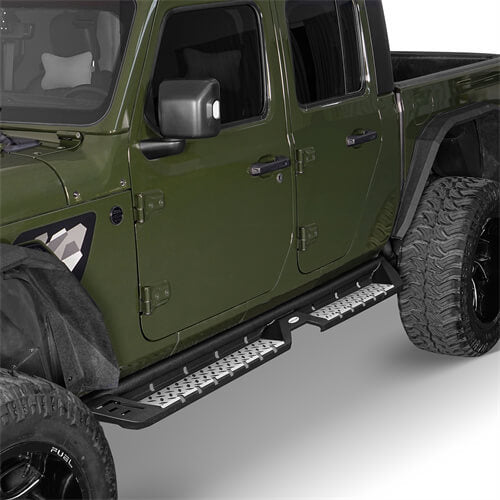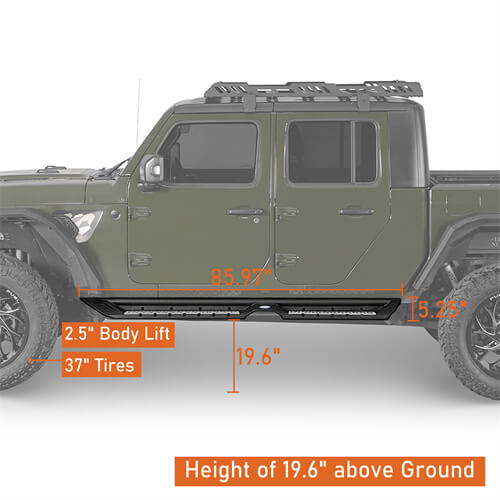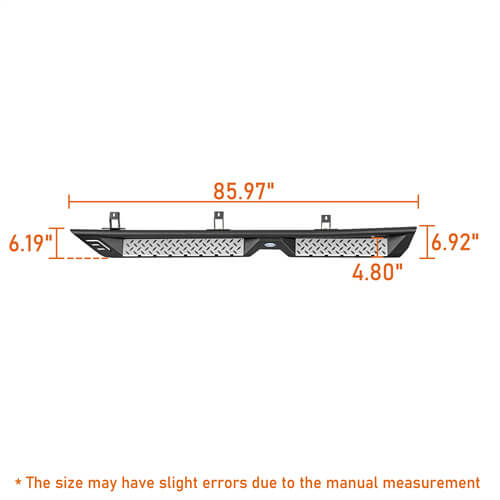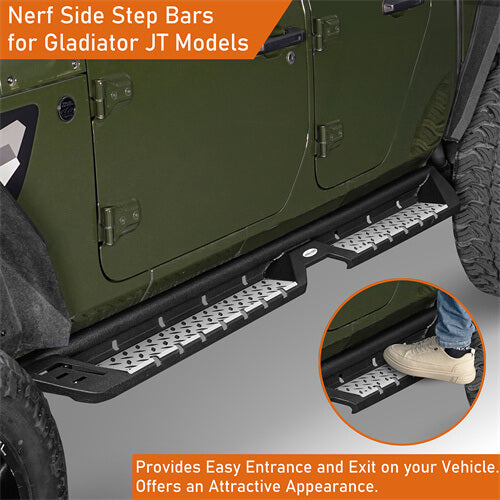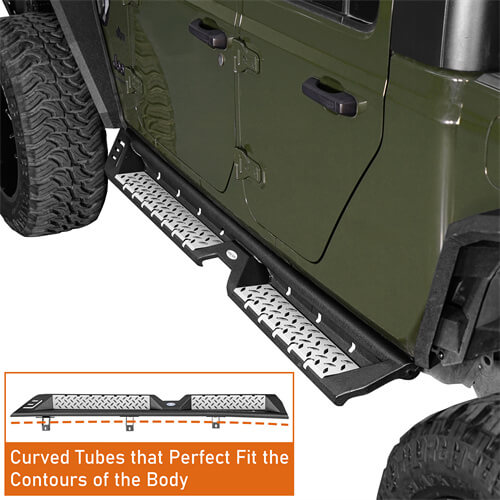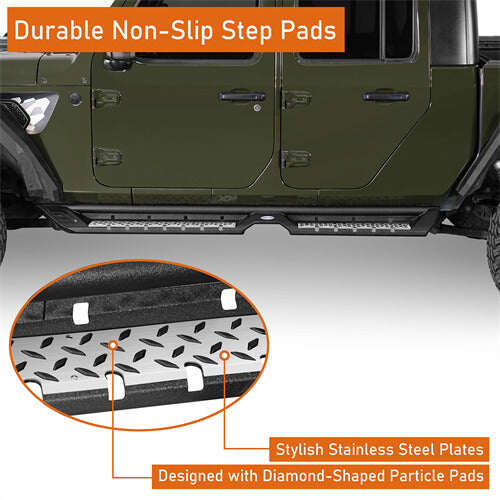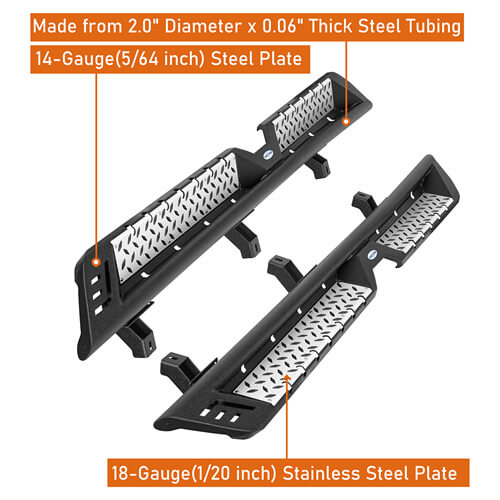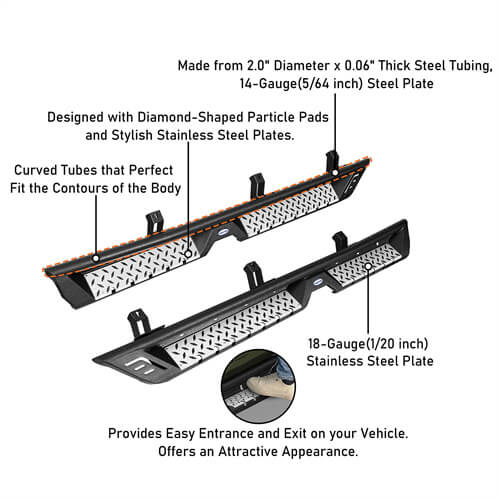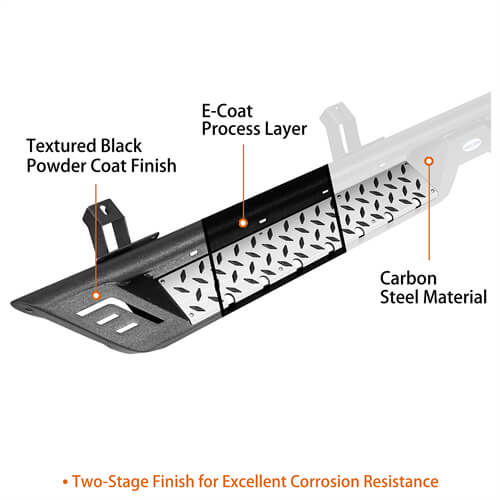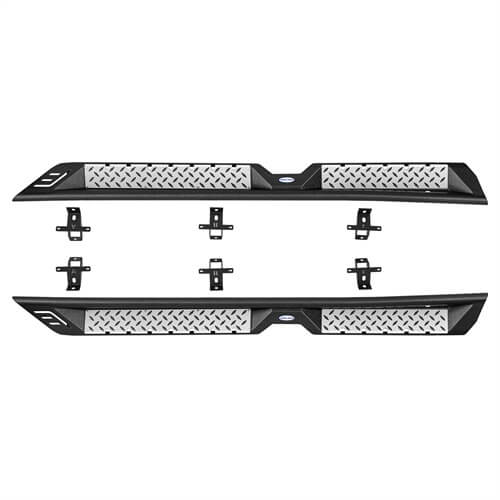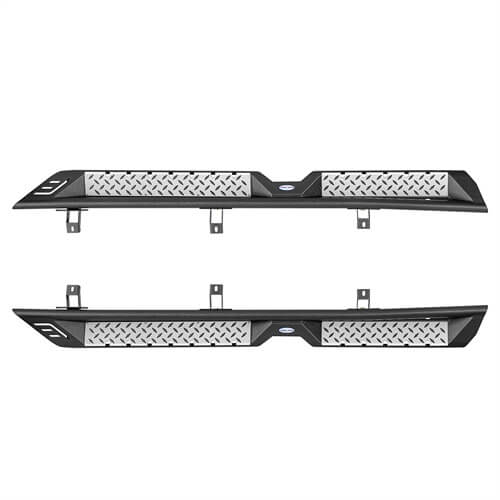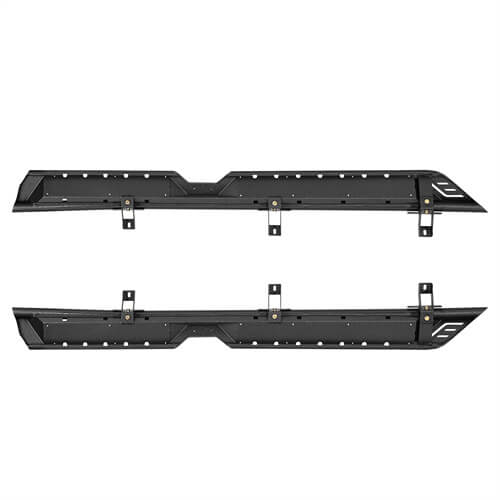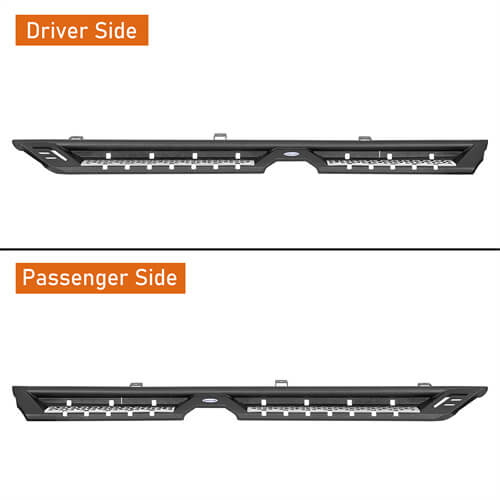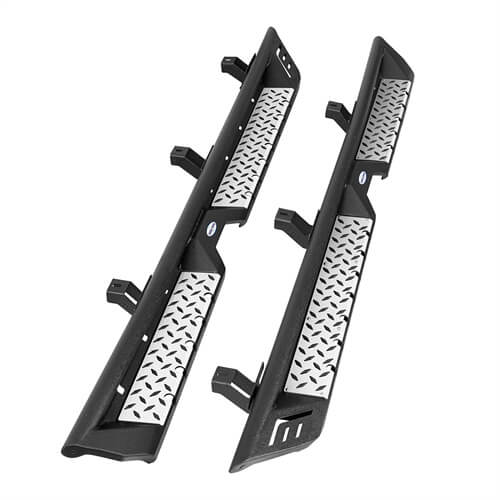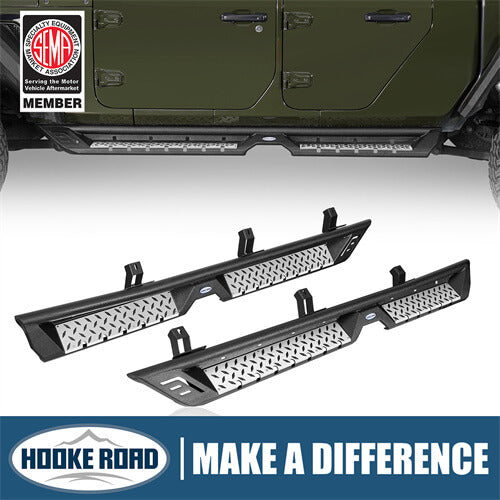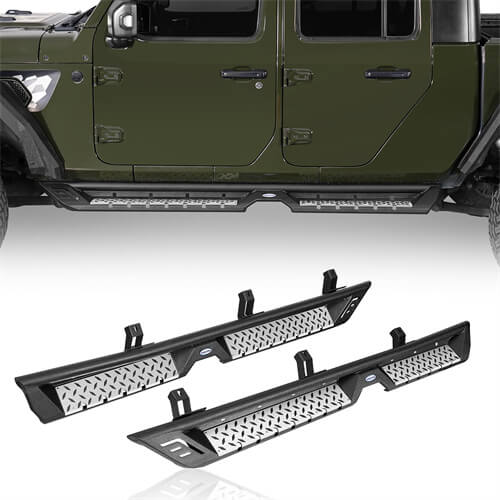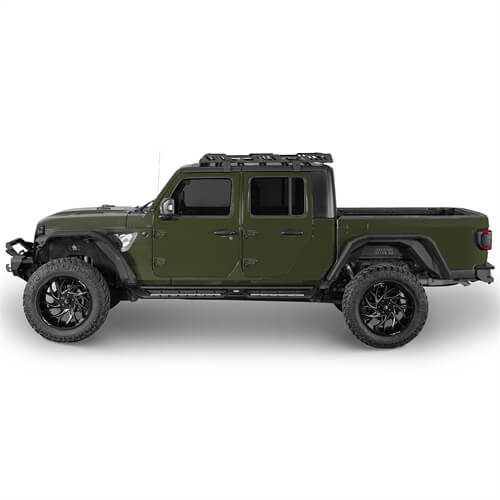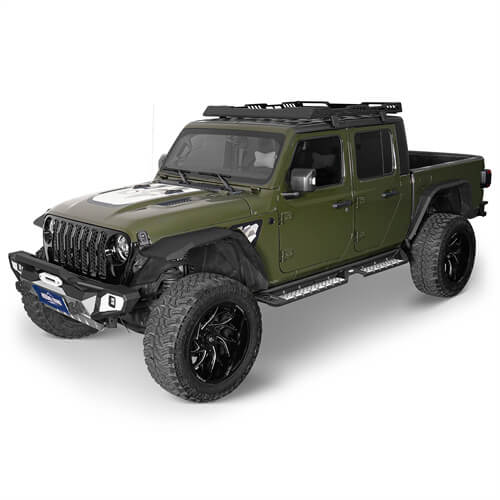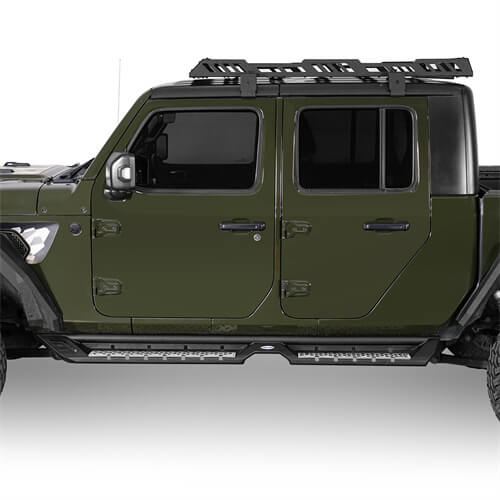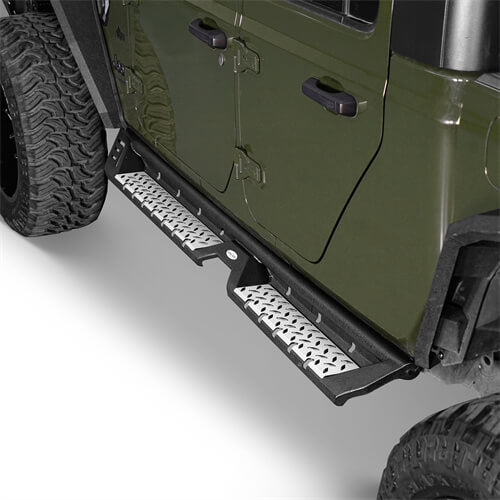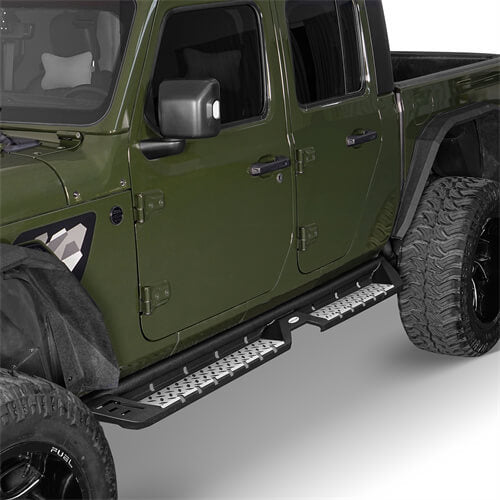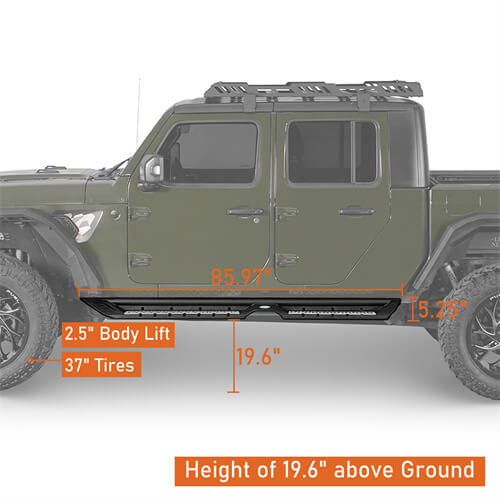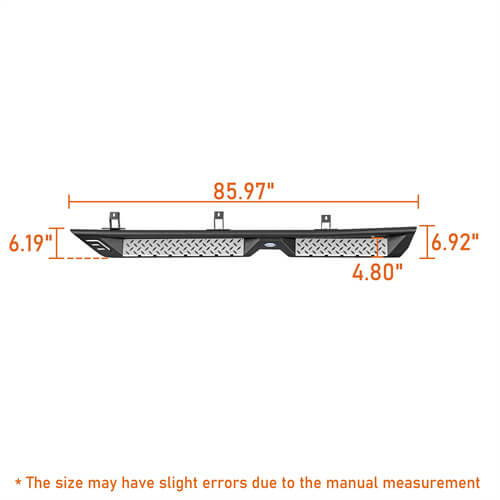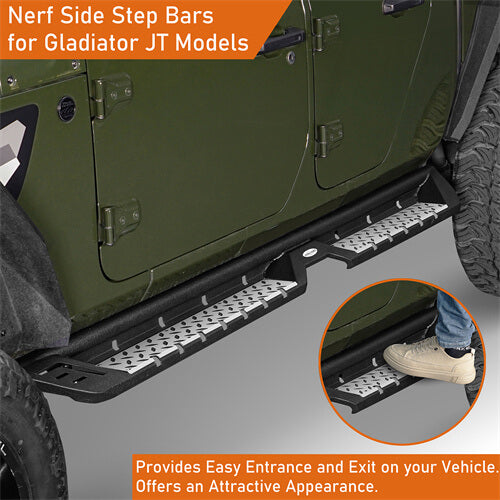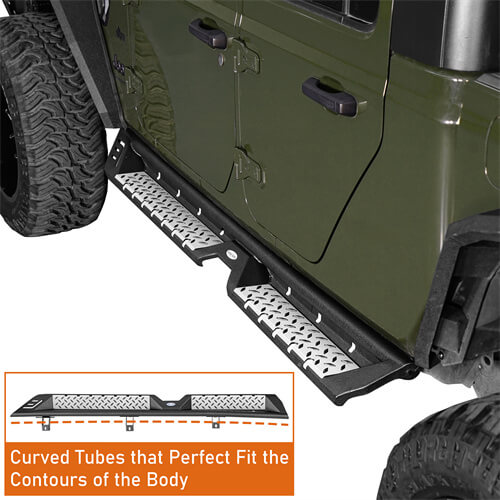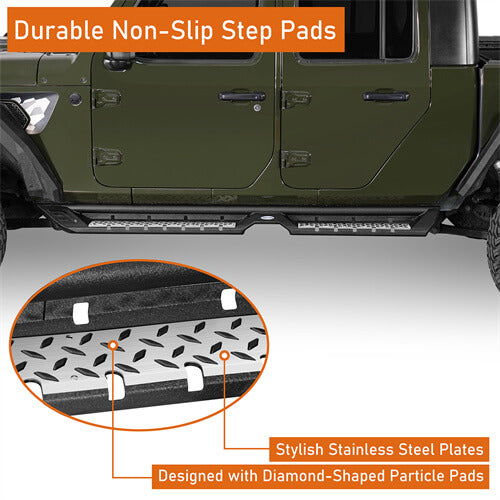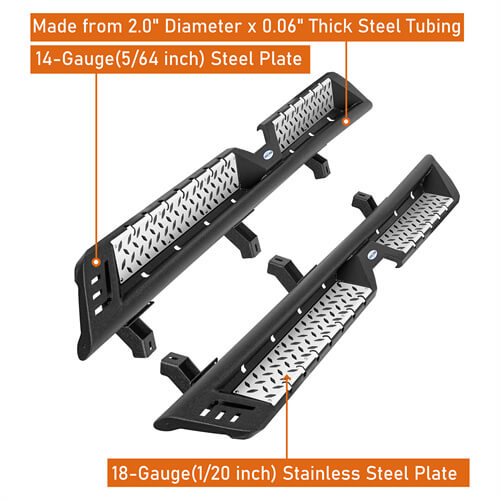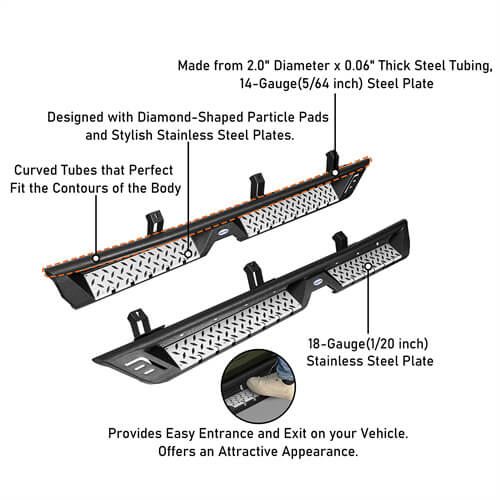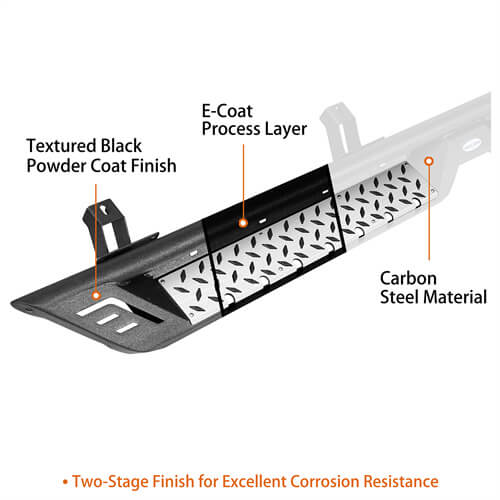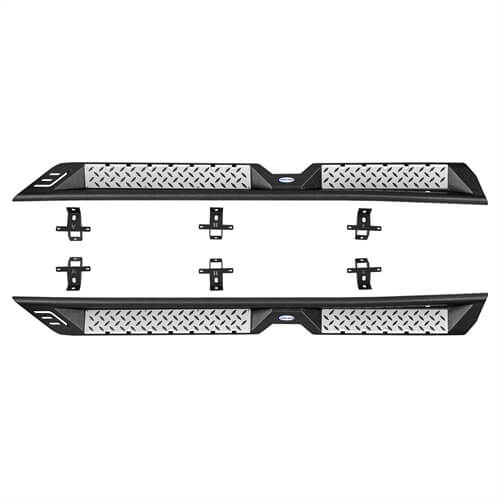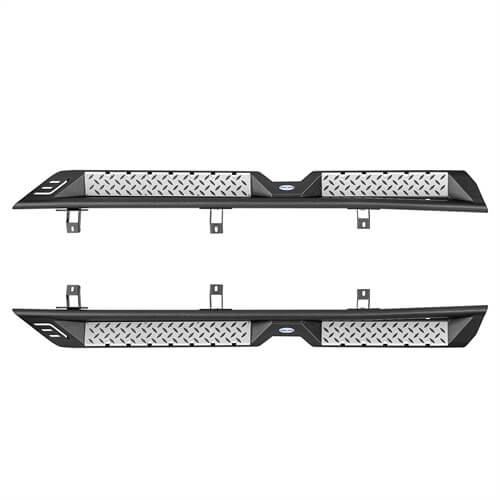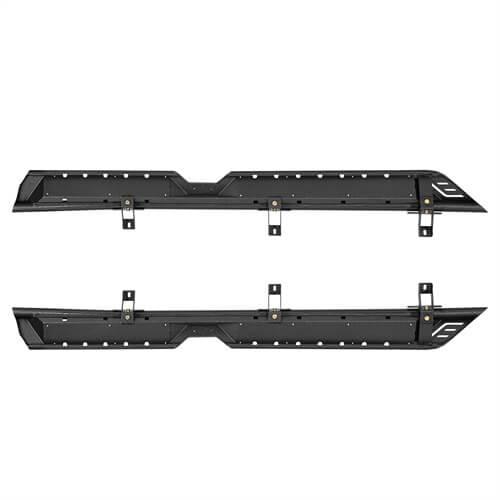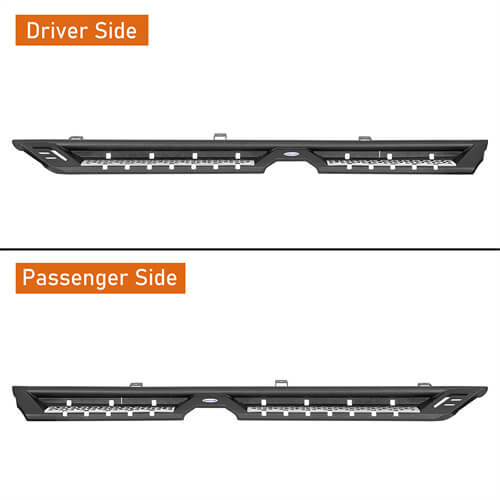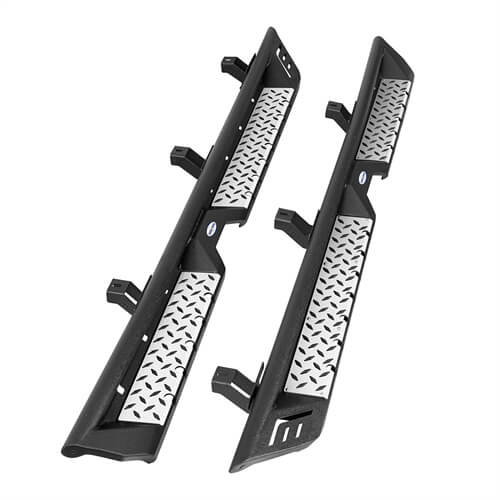 Name: Hooke Road 2020-2023 Jeep Gladiator Side Steps

Jeep Gladiator Side Steps Feature
Fits for 2020-2023 Jeep Gladiator JT Models
Product weight: about 63 lbs
Made from 2.0" diameter x 0.06" thick steel tubing, 14-gauge(5/64 inch) steel plate, and 18-gauge(1/20 inch) stainless steel plate
Apply with the textured black powder coat finish and premium E-coating process inside for the steel material
Offers easier vehicle entry and exit
Curved long tubes design that perfectly fit the contour of vehicle
Featuring non-slip step pads, Designed with diamond-shaped particle pads and stylish stainless steel plates which offer enhanced stability and an attractive appearance
Sturdy side and undercarriage protection
Driver and passenger sides included
Simple bolt-on installation
Jeep Gladiator Side Steps Package Included
2 × Side Steps(Passenger and Driver Side)
6 × Mounting Brackets
1 × Mounting Hardware Kit
1 × Installation Instruction
Jeep Gladiator Side Steps Installation Instructions
Jeep Gladiator Side Steps Dimension
Easier Vehicle Access. The Hooke Road Nerf Side Step Bars are designed to provide easier access to your truck, making vehicle entry and exit a breeze. These side step bars are not only functional but also complement the contours of your vehicle, adding to its overall aesthetic appeal. With non-slip step pads featuring diamond-shaped particle patterns and stylish stainless steel plates, these side steps offer enhanced stability while exuding an attractive appearance. They not only serve as convenient steps but also provide sturdy protection to the side and undercarriage of your vehicle.


Heavy Duty Construction. Constructed from durable materials, the Hooke Road Nerf Side Step Bars are built to withstand the rigors of off-road use. Made from 2.0" diameter x 0.06" thick steel tubing, along with 14-gauge steel plate and 18-gauge stainless steel plate, these side steps offer exceptional strength and resilience. They are finished with a textured black powder coat finish, which not only provides a sleek look but also adds corrosion resistance. The premium E-coating process inside further enhances the durability and longevity of the side step bars. With a product weight of approximately 63 lbs, you can expect robust construction and reliable performance.

Direct Bolt-On Installation. Installing the Hooke Road Nerf Side Step Bars is a simple bolt-on process. The package includes side steps for both the driver and passenger sides, ensuring a complete installation. With the necessary hardware included, you can easily mount these side steps to your truck without any complicated modifications or drilling required. The straightforward installation process allows you to enjoy the benefits of these side steps quickly and conveniently, adding both functionality and style to your vehicle.
2 × Side Steps(Passenger and Driver Side)
6 × Mounting Brackets
1 × Mounting Hardware Kit
1 × Installation Instruction
2023 Jeep Gladiator High Altitude
2023 Jeep Gladiator Mojave
2023 Jeep Gladiator Overland
2023 Jeep Gladiator Rubicon
2023 Jeep Gladiator Sport
2023 Jeep Gladiator Willys
2022 Jeep Gladiator Altitude
2022 Jeep Gladiator High Altitude
2022 Jeep Gladiator Mojave 2022 Jeep Gladiator Overland
2022 Jeep Gladiator Rubicon
2022 Jeep Gladiator Sport
2022 Jeep Gladiator Willys
2021 Jeep Gladiator 80th Anniversary
2021 Jeep Gladiator High Altitude
2021 Jeep Gladiator Mojave
2021 Jeep Gladiator Overland
2021 Jeep Gladiator Rubicon
2021 Jeep Gladiator Sport
2021 Jeep Gladiator Sport S
2021 Jeep Gladiator Willys
2020 Jeep Gladiator Altitude
2020 Jeep Gladiator Launch Edition
2020 Jeep Gladiator Mojave2020 Jeep Gladiator North Edition
2020 Jeep Gladiator Overland
2020 Jeep Gladiator Rubicon
2020 Jeep Gladiator Sport
2020 Jeep Gladiator Sport S
Package Included
2 × Side Steps(Passenger and Driver Side)
6 × Mounting Brackets
1 × Mounting Hardware Kit
1 × Installation Instruction
Fitment
2023 Jeep Gladiator High Altitude
2023 Jeep Gladiator Mojave
2023 Jeep Gladiator Overland
2023 Jeep Gladiator Rubicon
2023 Jeep Gladiator Sport
2023 Jeep Gladiator Willys
2022 Jeep Gladiator Altitude
2022 Jeep Gladiator High Altitude
2022 Jeep Gladiator Mojave 2022 Jeep Gladiator Overland
2022 Jeep Gladiator Rubicon
2022 Jeep Gladiator Sport
2022 Jeep Gladiator Willys
2021 Jeep Gladiator 80th Anniversary
2021 Jeep Gladiator High Altitude
2021 Jeep Gladiator Mojave
2021 Jeep Gladiator Overland
2021 Jeep Gladiator Rubicon
2021 Jeep Gladiator Sport
2021 Jeep Gladiator Sport S
2021 Jeep Gladiator Willys
2020 Jeep Gladiator Altitude
2020 Jeep Gladiator Launch Edition
2020 Jeep Gladiator Mojave2020 Jeep Gladiator North Edition
2020 Jeep Gladiator Overland
2020 Jeep Gladiator Rubicon
2020 Jeep Gladiator Sport
2020 Jeep Gladiator Sport S