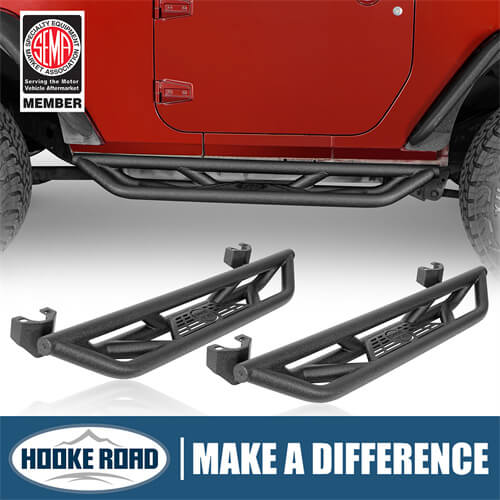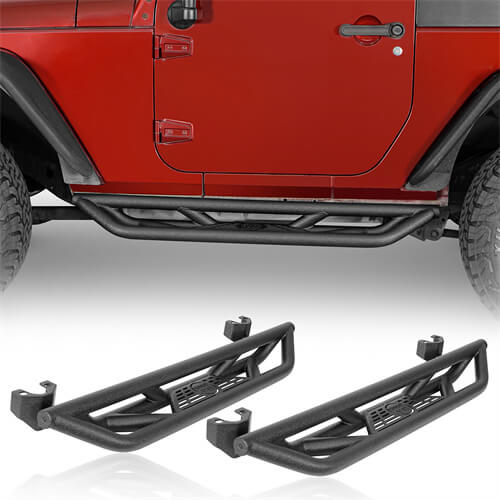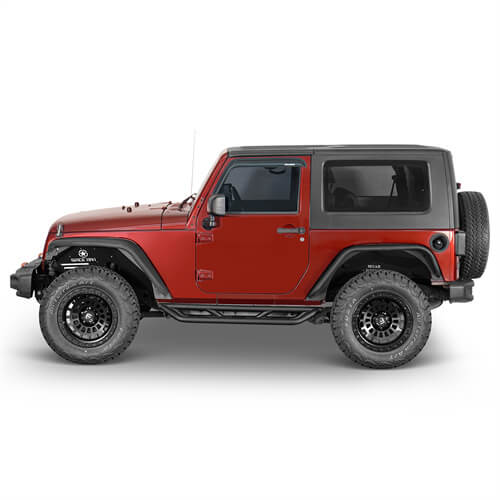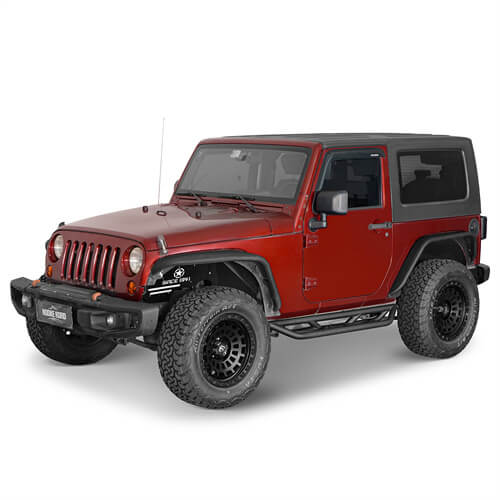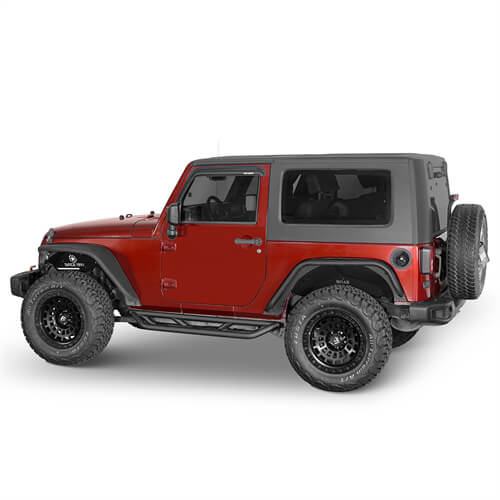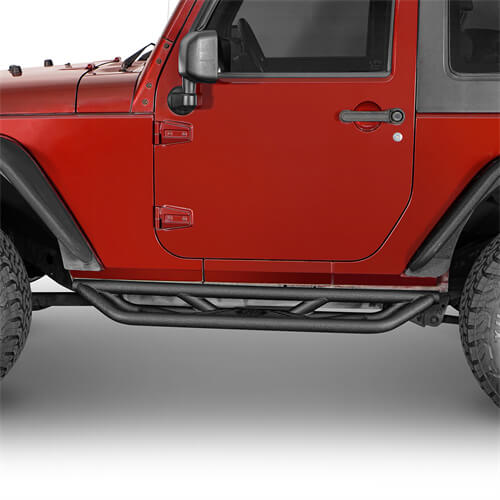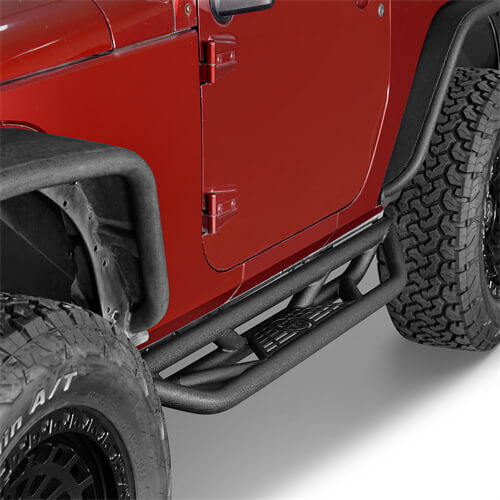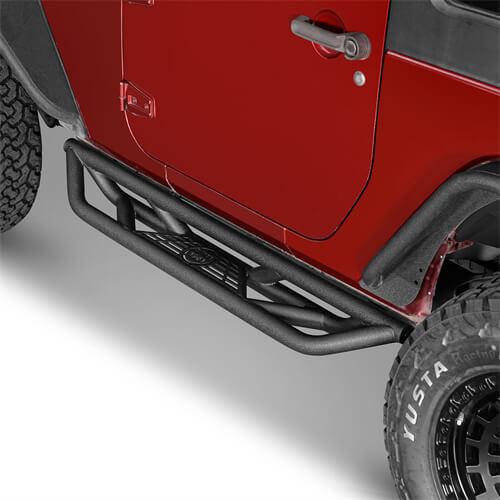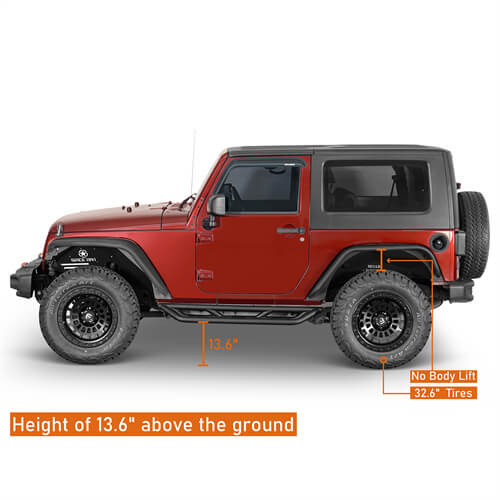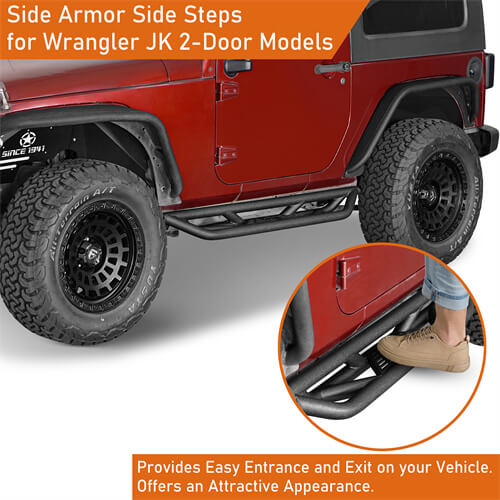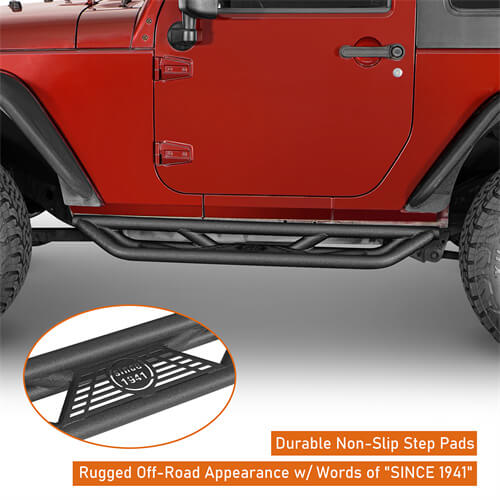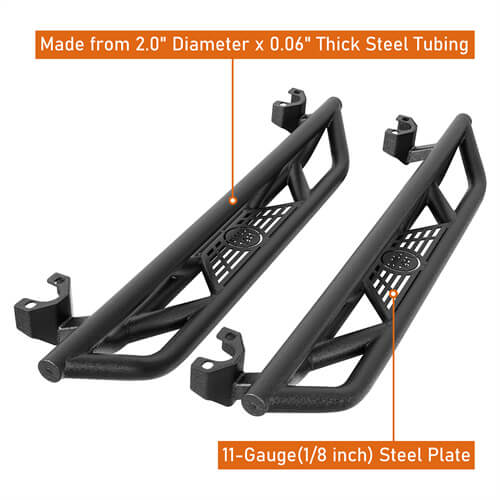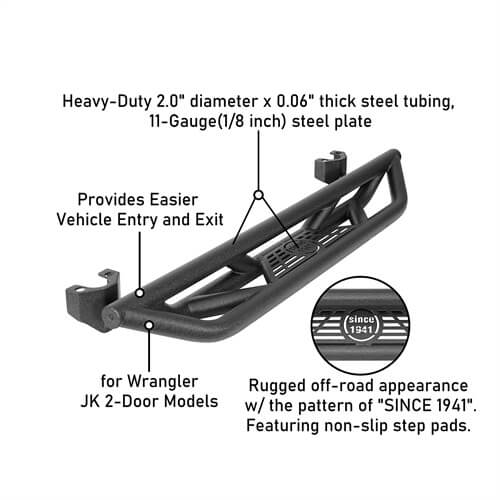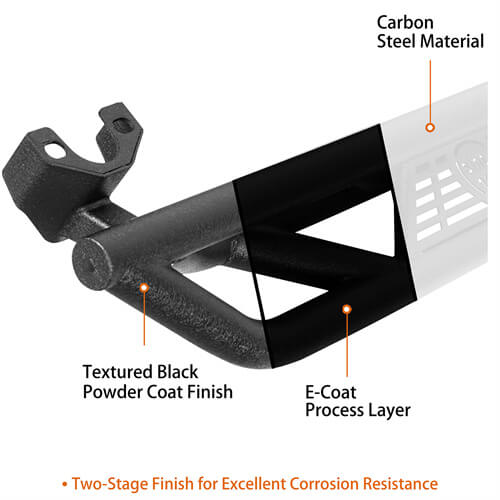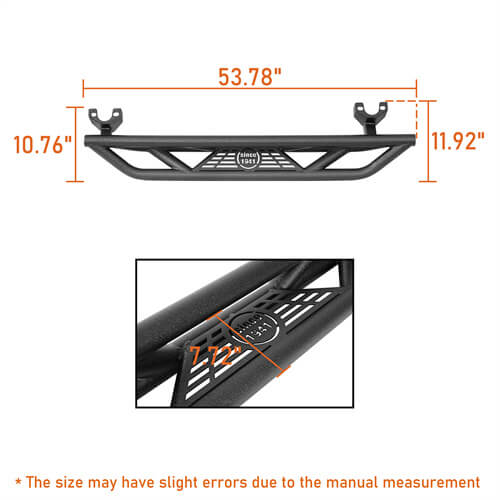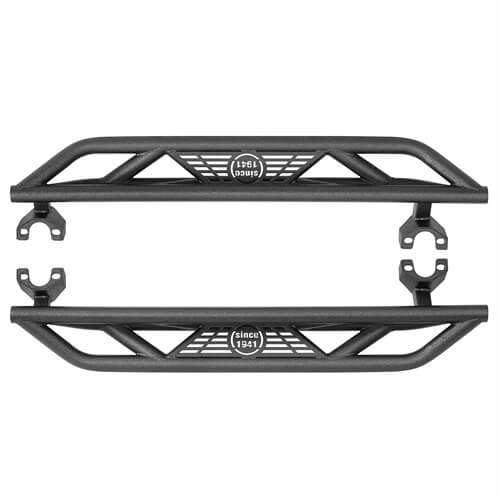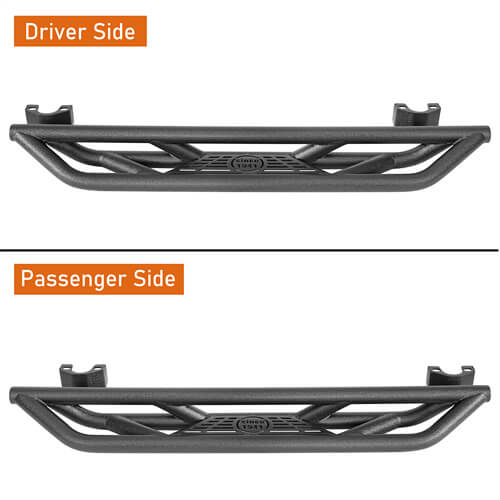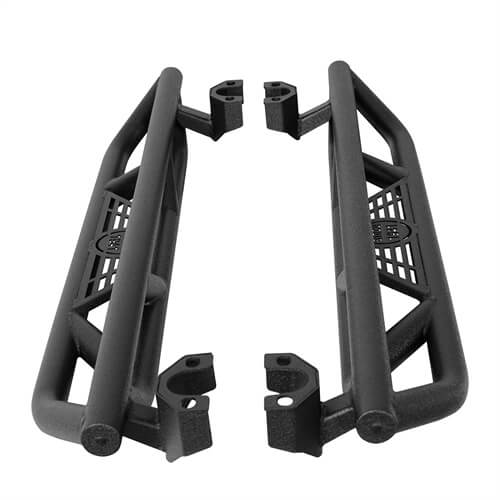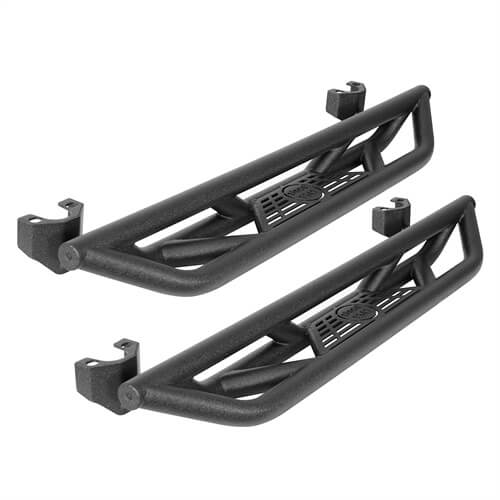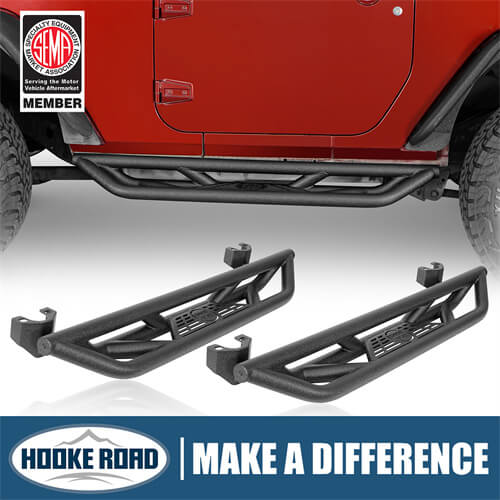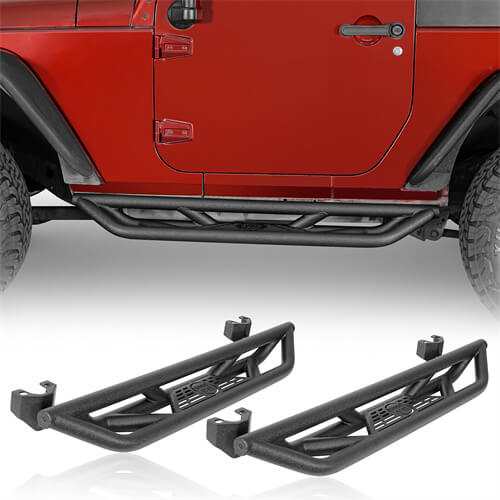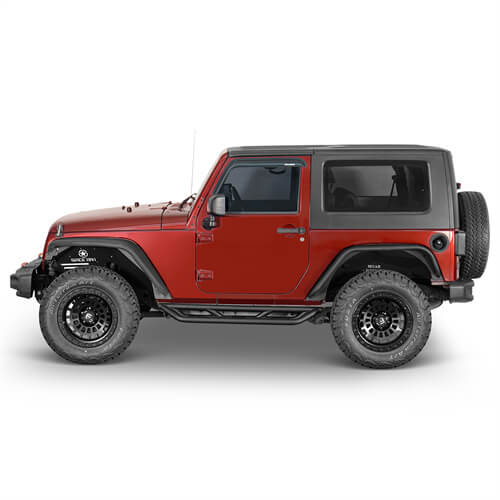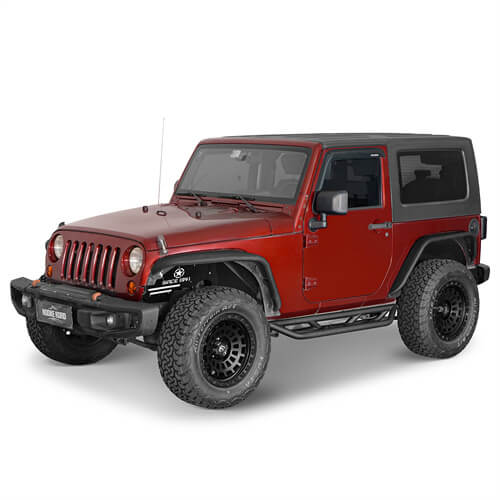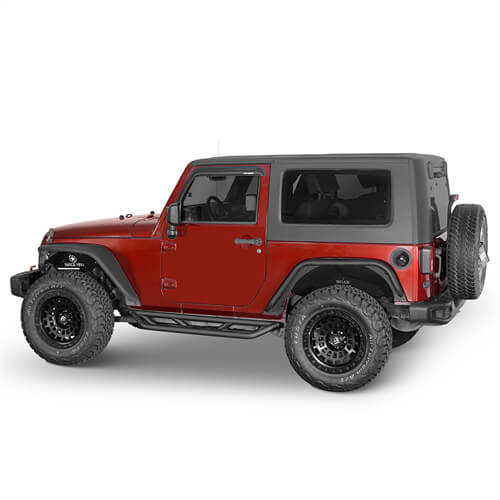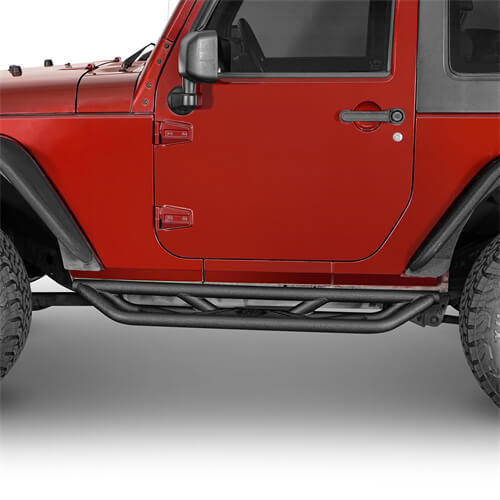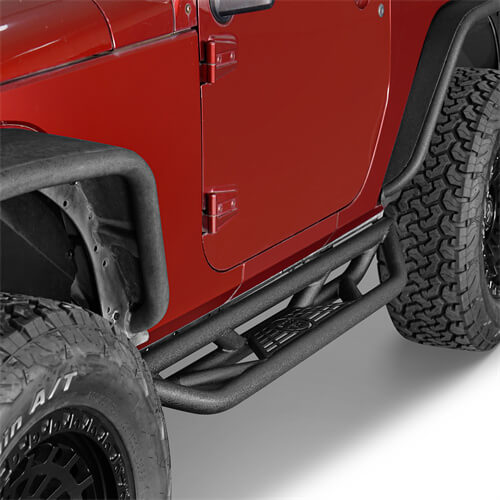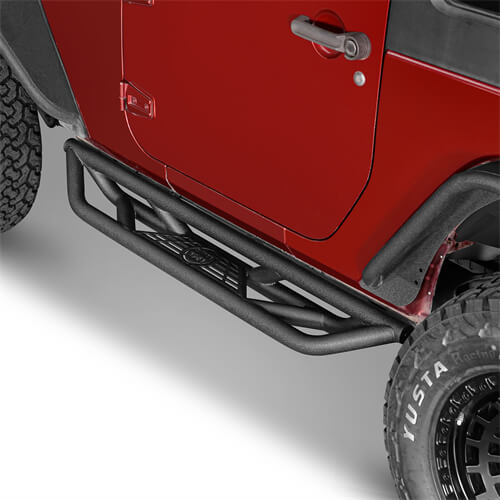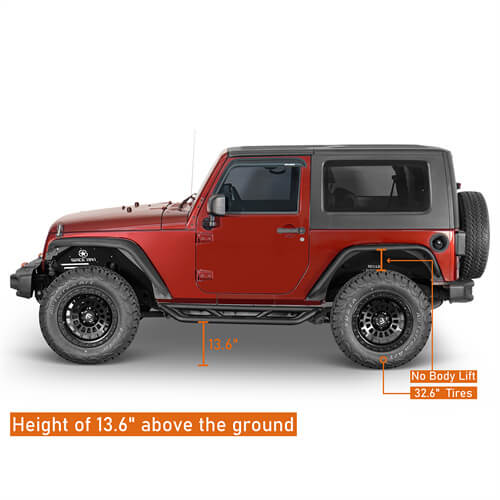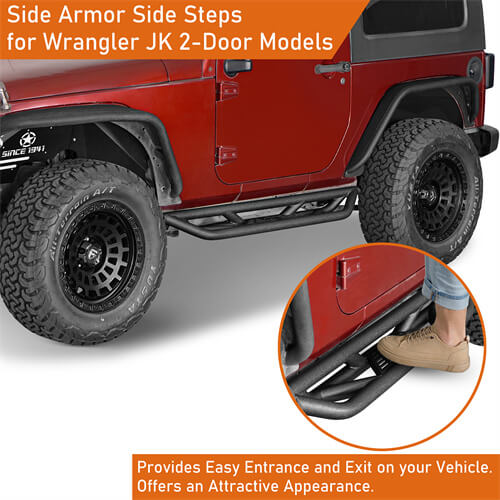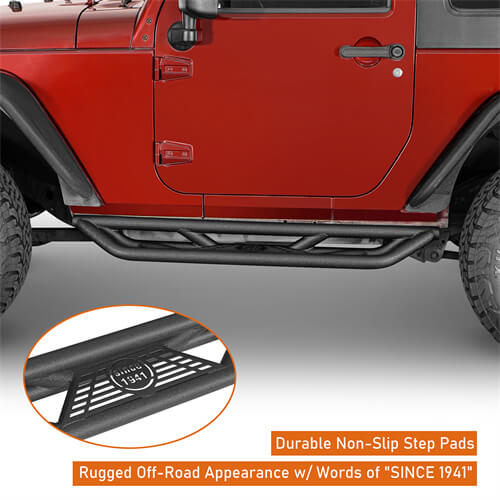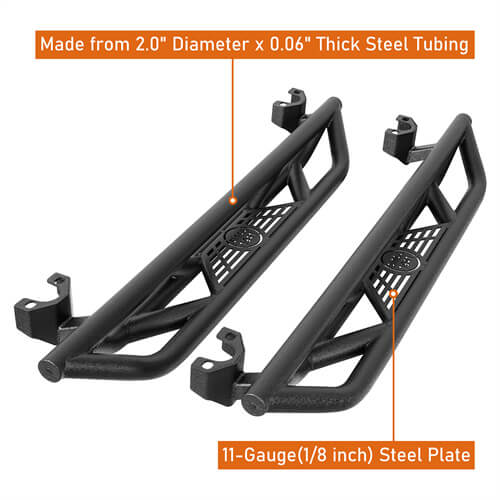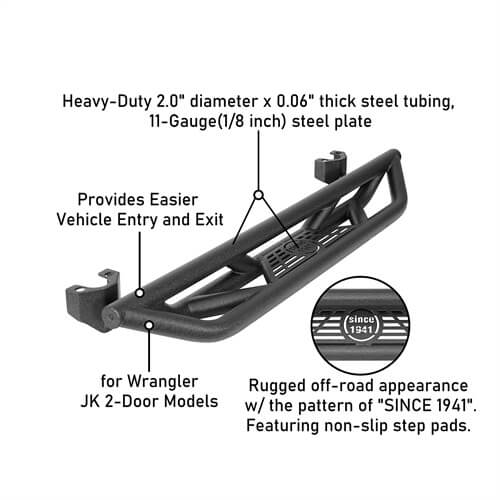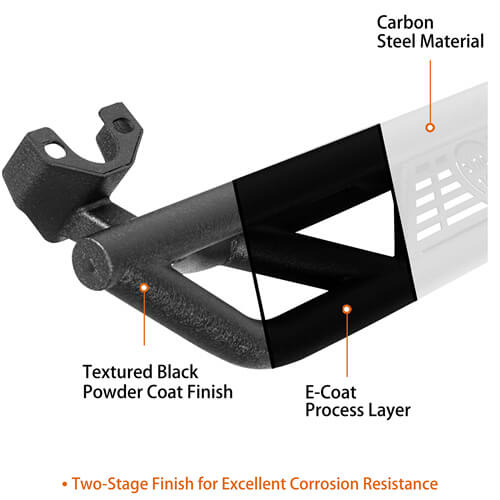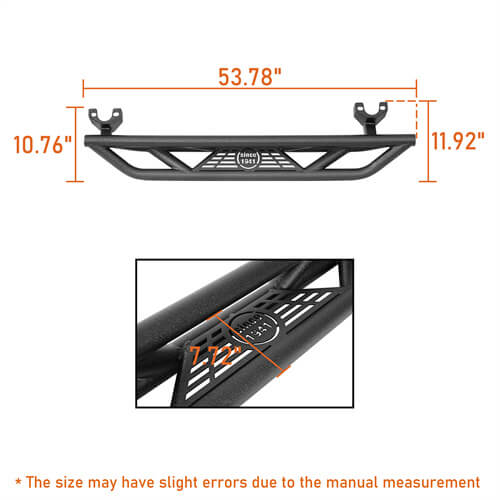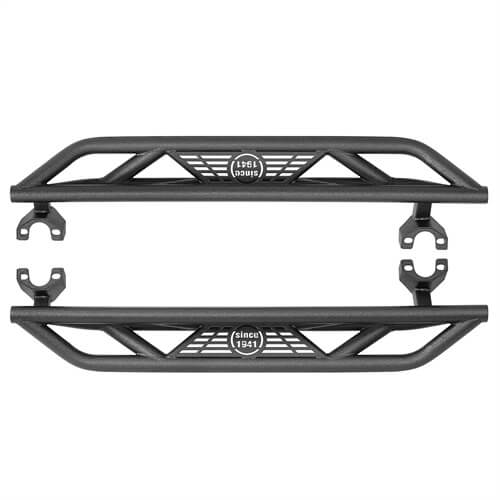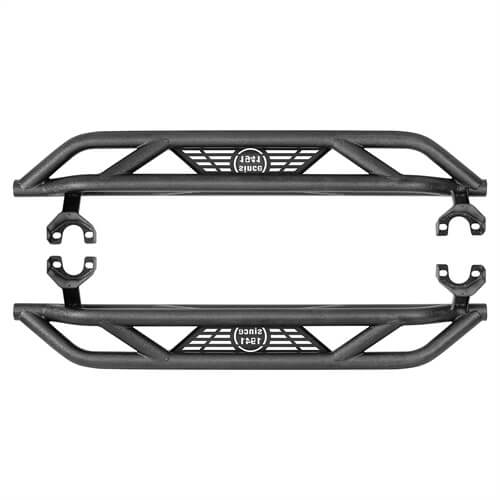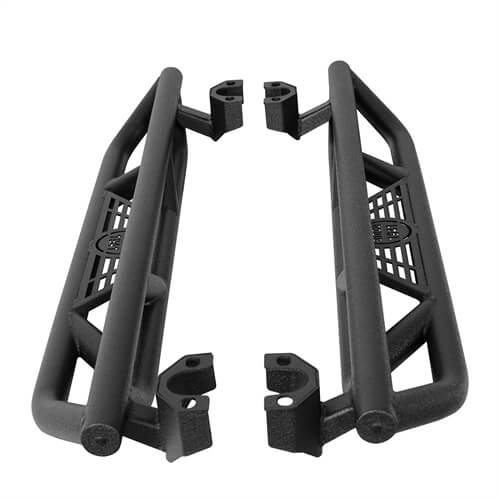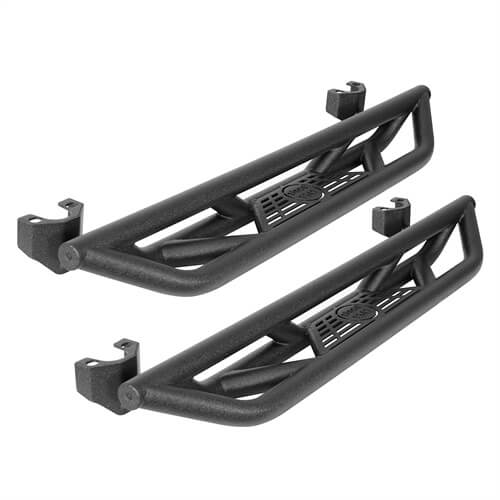 Name: Hooke Road Jeep Wrangler JK 2 Door Wheel To Wheel Running Boards Nerf Side Step Bars
FEATURE
Fits for 2007-2018 Jeep Wrangler JK 2-Door Models
Product weight: about 47 lbs
Made from 2.0" diameter x 0.06" thick steel tubing and 11-gauge(1/8 inch) steel plate
Textured black powder coat finish & Premium E-coating process inside
Rugged off-road appearance w/ the hollowed-out words of "SINCE 1941"
Provides a step for easy entry and exit
Durable non-slip step pads. The step pads feature a width of 4.9 in
Side and undercarriage protection
Driver and passenger sides included
Simple bolt-on installation
PACKAGE INCLUDED
2 × Side Steps(Passenger & Driver Sides)
1 × Installation Instruction
DIMENSION
SOMETHING YOU WANT TO KNOW
Dual Function. Hooke Road Side Steps will give your JK 2-Door models an aggressive off-road appearance while providing a convenient step for easy entry into your lifted vehicle. Plus these Side Steps also double as side armor to provide additional protection from brush, trail hazards, and door dings.

Heavy Duty Construction. These side steps are crafted from quality steel for impressive strength and long lasting use. These step bars exhibit incredible durability, so you can power through any off-road obstacle with complete confidence.

Direct Bolt-on Installation. Hooke Road engineered their Side Step Bars to be a direct bolt-on upgrade reusing the factory mounting points. There is no cutting or modifications required for a clean straight forward installation. Installation can be completed in about 30 minutes with just basic hand tools.
2 × Side Steps(Passenger & Driver Sides)
1 × Installation Instruction
2018 Jeep Wrangler (JK) Rubicon (2-Door)
2018 Jeep Wrangler (JK) Sahara (2-Door)
2018 Jeep Wrangler (JK) Sport (2-Door)
2017 Jeep Wrangler (JK) Rubicon (2-Door)
2017 Jeep Wrangler (JK) Sahara (2-Door)
2017 Jeep Wrangler (JK) Sport (2-Door)
2016 Jeep Wrangler (JK) Rubicon (2-Door)
2016 Jeep Wrangler (JK) Sahara (2-Door)
2016 Jeep Wrangler (JK) Sport (2-Door)
2016 Jeep Wrangler (JK) Sport S (2-Door)
2016 Jeep Wrangler (JK) 75th Anniversary (2-Door)
2015 Jeep Wrangler (JK) Rubicon (2-Door)
2015 Jeep Wrangler (JK) Sahara (2-Door)
2015 Jeep Wrangler (JK) Sport (2-Door)
2014 Jeep Wrangler (JK) Rubicon (2-Door)
2014 Jeep Wrangler (JK) Sahara (2-Door)
2014 Jeep Wrangler (JK) Sport (2-Door)
2013 Jeep Wrangler (JK) Rubicon (2-Door)
2013 Jeep Wrangler (JK) Sahara (2-Door)
2013 Jeep Wrangler (JK) Sport (2-Door)
2012 Jeep Wrangler (JK) Rubicon (2-Door)
2012 Jeep Wrangler (JK) Sahara (2-Door)
2012 Jeep Wrangler (JK) Sport (2-Door)
2011 Jeep Wrangler (JK) Rubicon (2-Door)
2011 Jeep Wrangler (JK) Sahara (2-Door)
2011 Jeep Wrangler (JK) Sport (2-Door)
2011 Jeep Wrangler (JK) 70th Anniversary (2-Door)
2010 Jeep Wrangler (JK) Rubicon (2-Door)
2010 Jeep Wrangler (JK) Sahara (2-Door)
2010 Jeep Wrangler (JK) X (2-Door)
2010 Jeep Wrangler (JK) Sport (2-Door)
2009 Jeep Wrangler (JK) Rubicon (2-Door)
2009 Jeep Wrangler (JK) Sahara (2-Door)
2009 Jeep Wrangler (JK) X (2-Door)
2008 Jeep Wrangler (JK) X (2-Door)
2008 Jeep Wrangler (JK) Sahara (2-Door)
2008 Jeep Wrangler (JK) Rubicon (2-Door)
2007 Jeep Wrangler (JK) Rubicon (2-Door)
2007 Jeep Wrangler (JK) Sahara (2-Door)
2007 Jeep Wrangler (JK) X (2-Door)
Package Included
2 × Side Steps(Passenger & Driver Sides)
1 × Installation Instruction
Fitment
2018 Jeep Wrangler (JK) Rubicon (2-Door)
2018 Jeep Wrangler (JK) Sahara (2-Door)
2018 Jeep Wrangler (JK) Sport (2-Door)
2017 Jeep Wrangler (JK) Rubicon (2-Door)
2017 Jeep Wrangler (JK) Sahara (2-Door)
2017 Jeep Wrangler (JK) Sport (2-Door)
2016 Jeep Wrangler (JK) Rubicon (2-Door)
2016 Jeep Wrangler (JK) Sahara (2-Door)
2016 Jeep Wrangler (JK) Sport (2-Door)
2016 Jeep Wrangler (JK) Sport S (2-Door)
2016 Jeep Wrangler (JK) 75th Anniversary (2-Door)
2015 Jeep Wrangler (JK) Rubicon (2-Door)
2015 Jeep Wrangler (JK) Sahara (2-Door)
2015 Jeep Wrangler (JK) Sport (2-Door)
2014 Jeep Wrangler (JK) Rubicon (2-Door)
2014 Jeep Wrangler (JK) Sahara (2-Door)
2014 Jeep Wrangler (JK) Sport (2-Door)
2013 Jeep Wrangler (JK) Rubicon (2-Door)
2013 Jeep Wrangler (JK) Sahara (2-Door)
2013 Jeep Wrangler (JK) Sport (2-Door)
2012 Jeep Wrangler (JK) Rubicon (2-Door)
2012 Jeep Wrangler (JK) Sahara (2-Door)
2012 Jeep Wrangler (JK) Sport (2-Door)
2011 Jeep Wrangler (JK) Rubicon (2-Door)
2011 Jeep Wrangler (JK) Sahara (2-Door)
2011 Jeep Wrangler (JK) Sport (2-Door)
2011 Jeep Wrangler (JK) 70th Anniversary (2-Door)
2010 Jeep Wrangler (JK) Rubicon (2-Door)
2010 Jeep Wrangler (JK) Sahara (2-Door)
2010 Jeep Wrangler (JK) X (2-Door)
2010 Jeep Wrangler (JK) Sport (2-Door)
2009 Jeep Wrangler (JK) Rubicon (2-Door)
2009 Jeep Wrangler (JK) Sahara (2-Door)
2009 Jeep Wrangler (JK) X (2-Door)
2008 Jeep Wrangler (JK) X (2-Door)
2008 Jeep Wrangler (JK) Sahara (2-Door)
2008 Jeep Wrangler (JK) Rubicon (2-Door)
2007 Jeep Wrangler (JK) Rubicon (2-Door)
2007 Jeep Wrangler (JK) Sahara (2-Door)
2007 Jeep Wrangler (JK) X (2-Door)