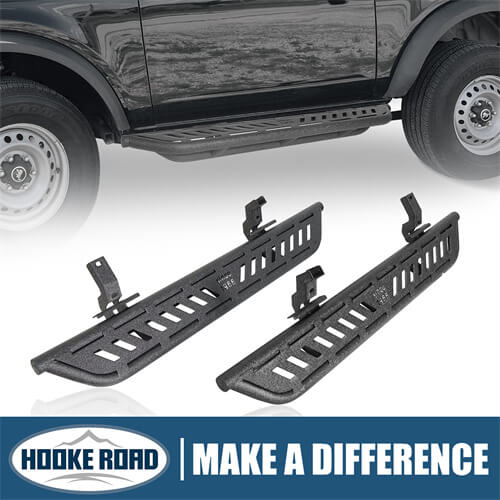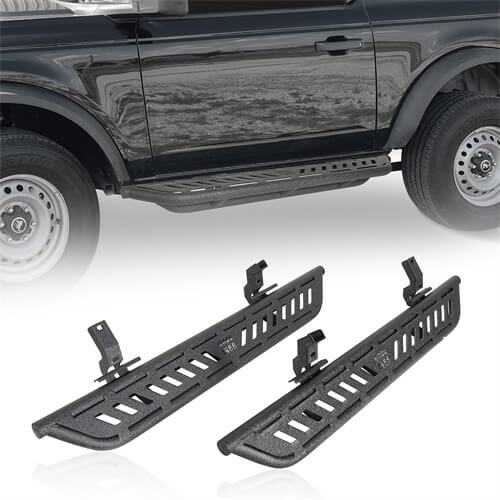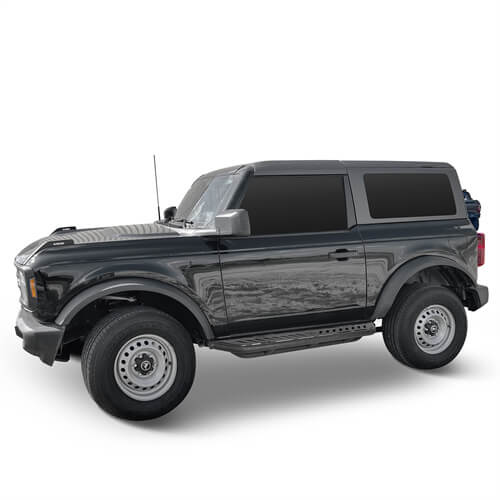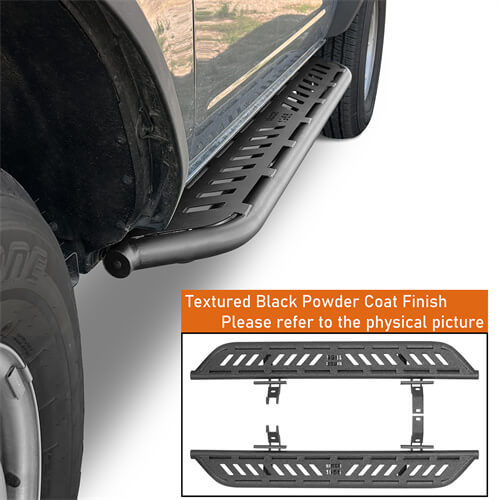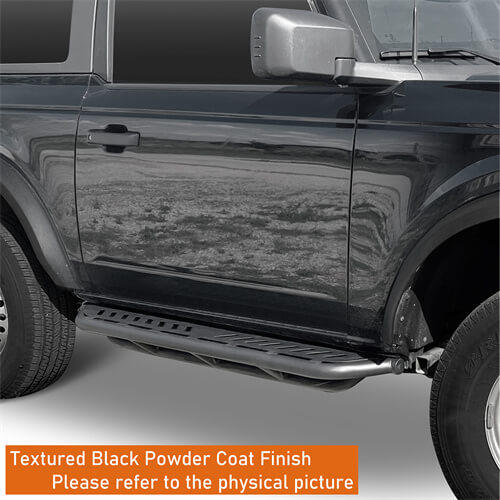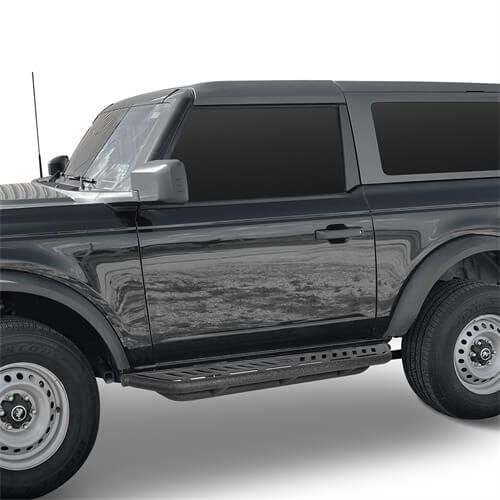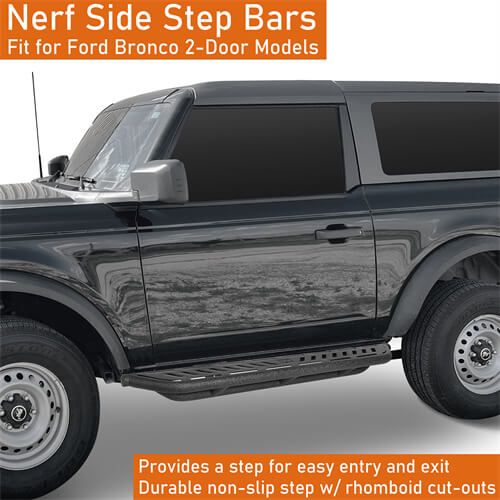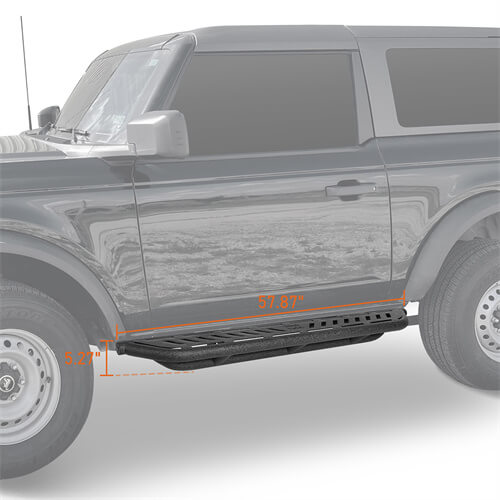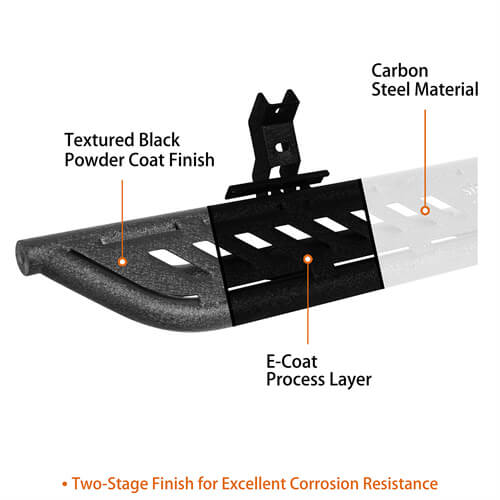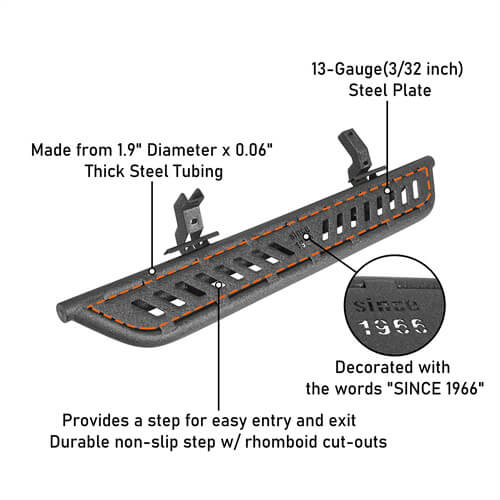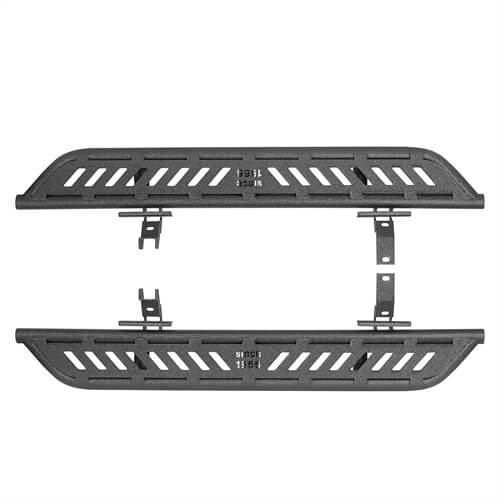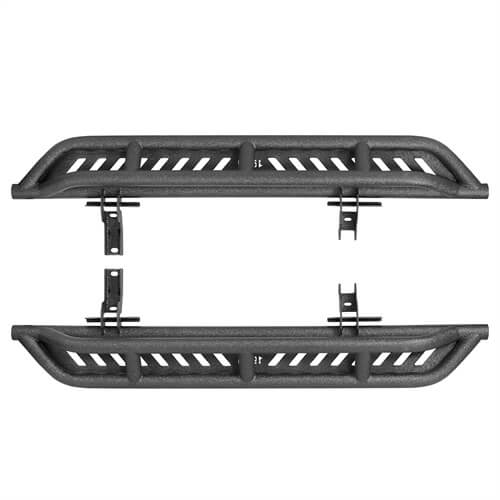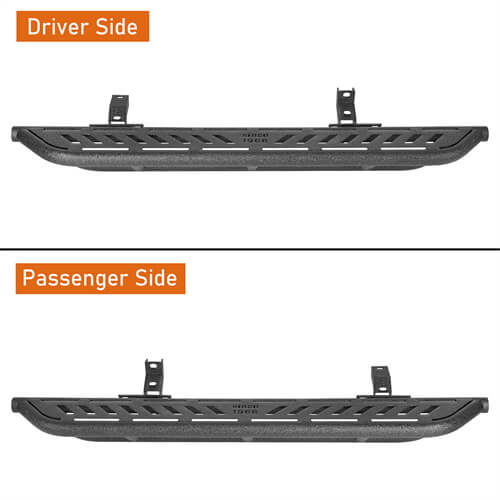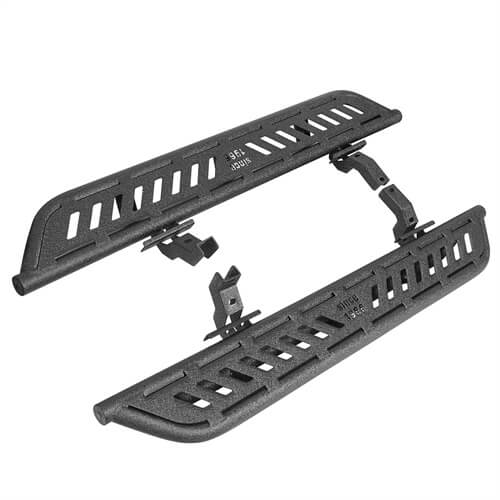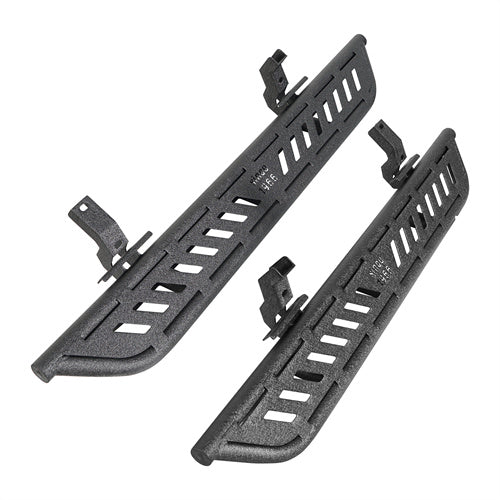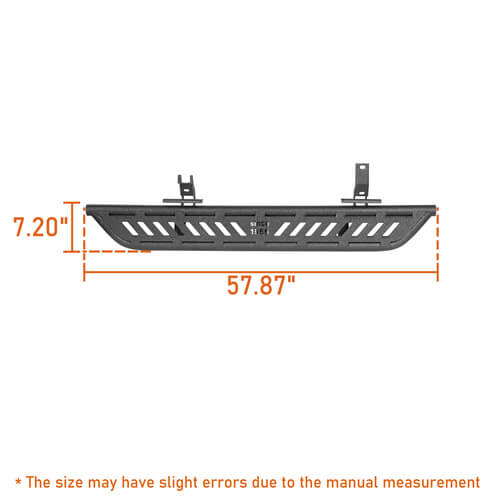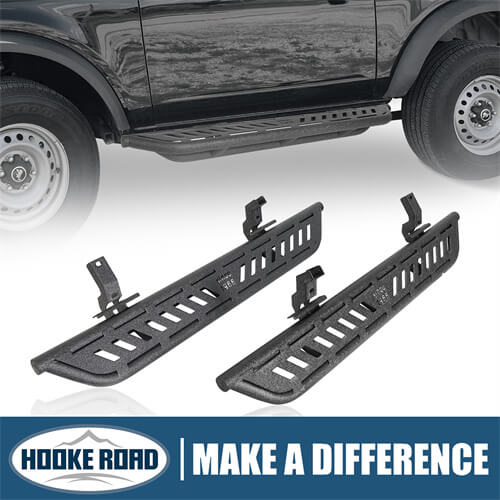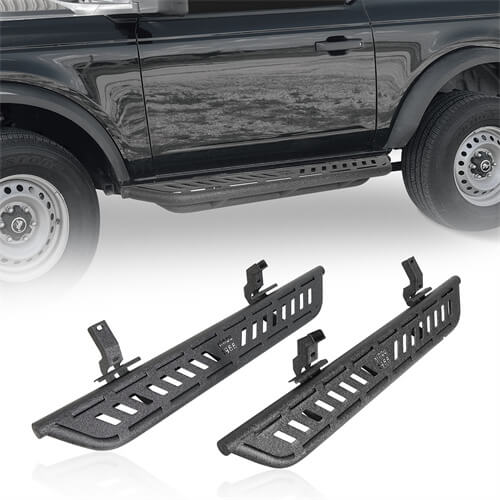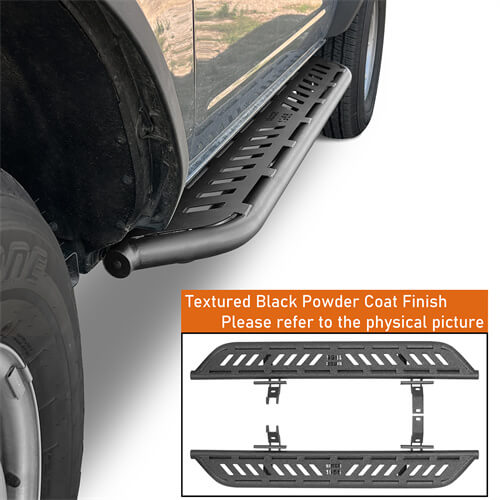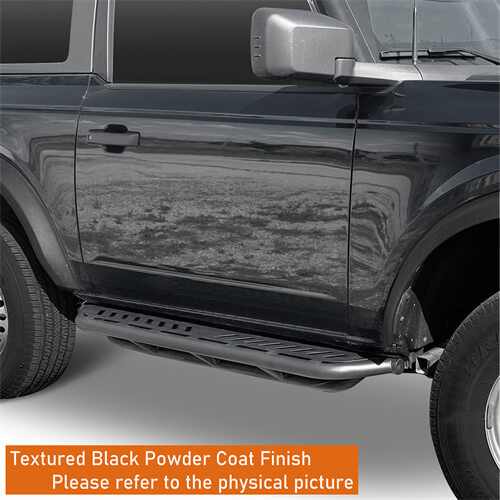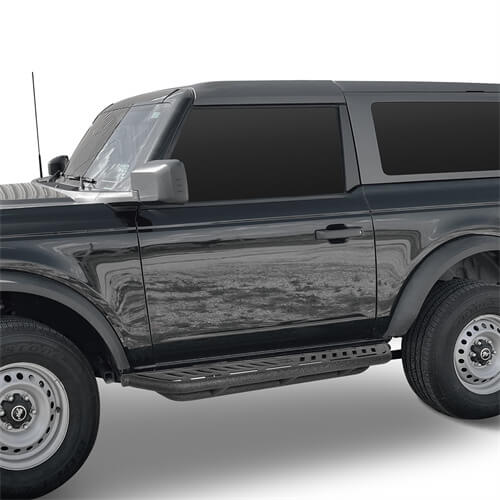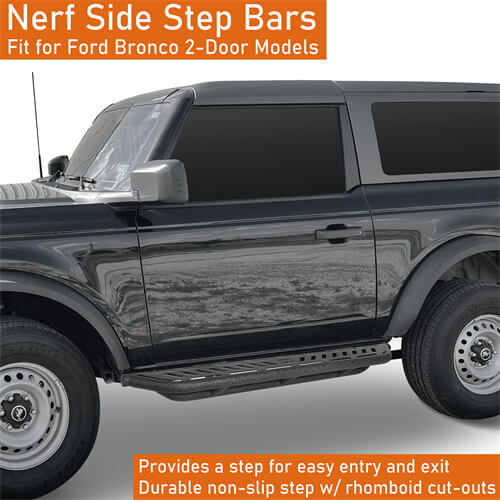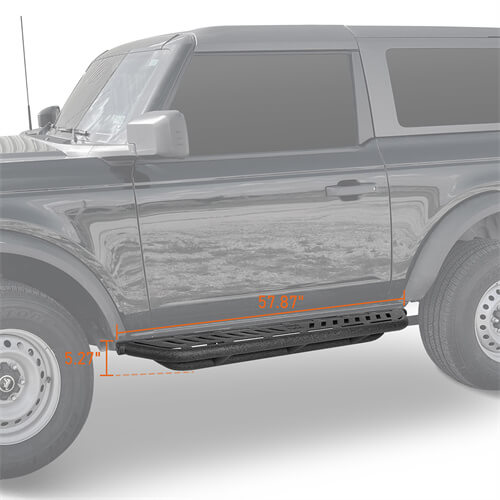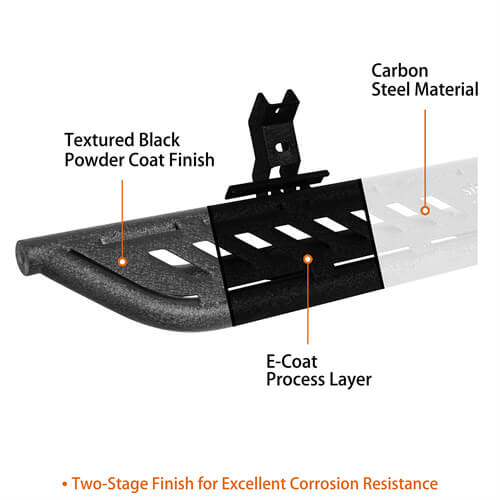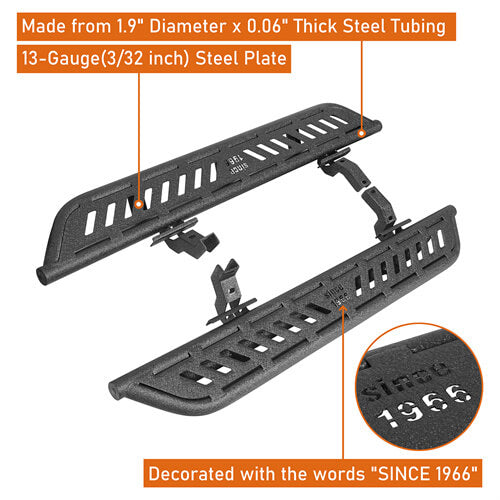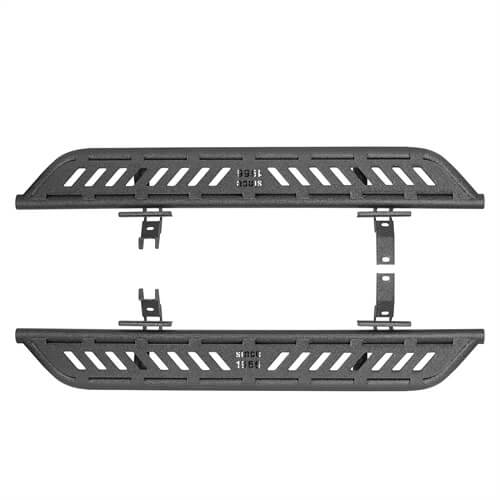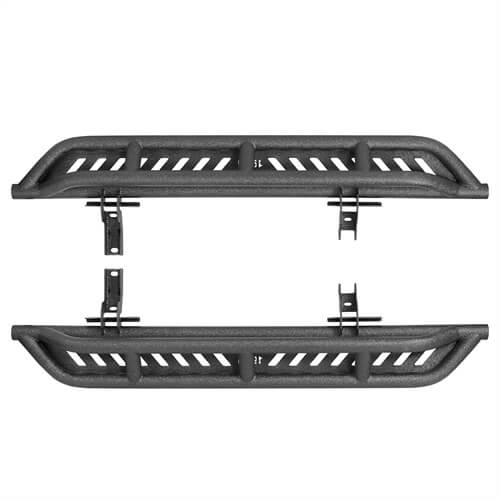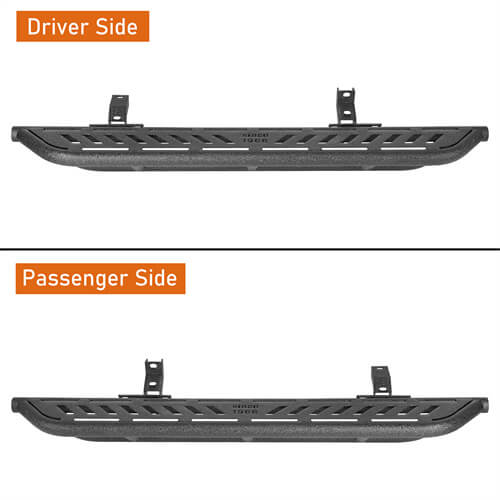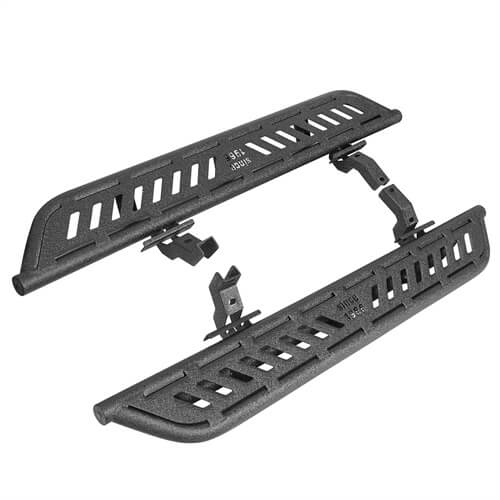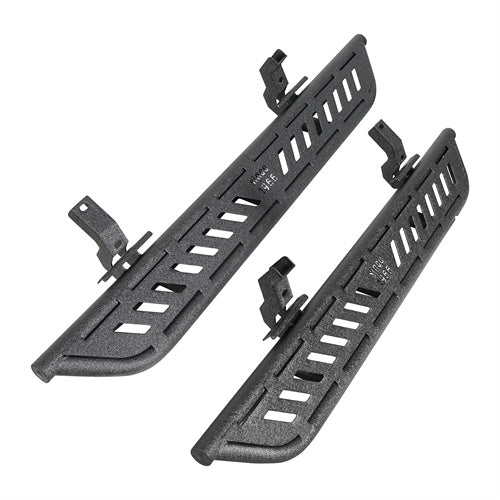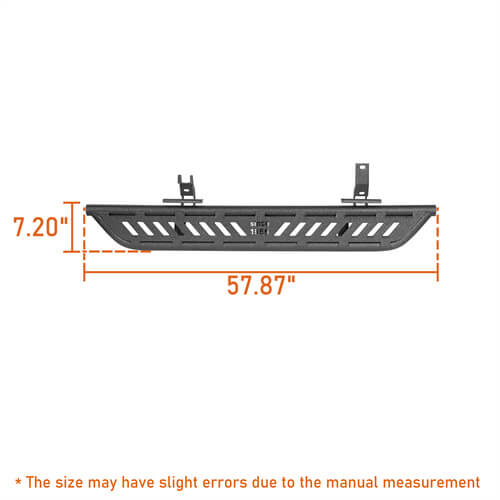 Name:  Ford Bronco 2 Door Wheel To Wheel Running Boards Side Steps
FEATURE
Fits for 2021-2023 Ford Bronco 2-Door Models
Product weight: about 65 lbs
Made from 1.9" diameter x 0.06" thick steel tubing and 13-gauge(3/32 inch) steel plate
Textured black powder coat finish and premium E-coating process inside
Rugged off-road appearance
Decorated w/ the words "SINCE 1966" in the middle
Provides a step for easy entry and exit
Durable non-slip step w/ rhomboid cut-outs
Side and undercarriage protection
Driver and passenger sides included
Simple bolt-on installation
DIMENSION
SOMTHING YOU MIGHT WANT TO KNOW
Dual Function. Hooke Road Side Step Bars are designed to enhance both the function and off-road style of your Ford Bronco. Their primary function is to protect your Bronco from potential hazards on both the road and the trail. Decorated with the words "SINCE 1966" in the middle, the side step bars offer a rugged appearance, and easy entry, and exit, In addition, they feature rhomboid cut-outs that provide a non-slip surface, ensuring safe footing even in wet or muddy conditions.


Heavy Duty Construction. These side step bars are made from 1.9" diameter x 0.06" thick steel tubing and a 13-gauge (3/32 inch) steel plate, emphasizing durability and strength. Hooke Road Side Step Bars feature a textured black powder coat finish, providing a combination of corrosion resistance and a sleek look. Additionally, a Premium E-coating process is applied on the inside for further protection.

Direct Bolt-on Installation. Hooke Road Side Step Bars are designed to be a direct bolt-on upgrade, utilizing the existing factory mounting points. The installation process is designed to be straightforward, requiring no cutting or modifications. With basic hand tools, the installation can be completed in about 1 hour. This approach aims to provide an efficient and hassle-free way to enhance your vehicle's functionality and appearance.

2 × Side Steps(Passenger & Driver Sides)
1 × Mounting Hardware Kit
1 × Installation Instruction
2023 Ford Bronco Badlands Sport Utility
2023 Ford Bronco Base Sport Utility
2023 Ford Bronco Big Bend Sport Utility
2023 Ford Bronco Black Diamond Sport Utility
2023 Ford Bronco Everglades Sport Utility
2023 Ford Bronco Heritage Edition Sport Utility
2023 Ford Bronco Outer Banks Sport Utility
2023 Ford Bronco Raptor Sport Utility
2023 Ford Bronco Wildtrak Sport Utility
2022 Ford Bronco Badlands Sport Utility
2022 Ford Bronco Base Sport Utility
2022 Ford Bronco Big Bend Sport Utility
2022 Ford Bronco Black Diamond Sport Utility
2022 Ford Bronco Everglades Sport Utility
2022 Ford Bronco Outer Banks Sport Utility
2022 Ford Bronco Raptor Sport Utility
2022 Ford Bronco Wildtrak Sport Utility
2021 Ford Bronco Badlands Sport Utility
2021 Ford Bronco Base Sport Utility
2021 Ford Bronco Big Bend Sport Utility
2021 Ford Bronco Black Diamond Sport Utility
2021 Ford Bronco First Edition Sport Utility
2021 Ford Bronco Outer Banks Sport Utility
2021 Ford Bronco Wildtrak Sport Utility
Package Included
2 × Side Steps(Passenger & Driver Sides)
1 × Mounting Hardware Kit
1 × Installation Instruction
Fitment
2023 Ford Bronco Badlands Sport Utility
2023 Ford Bronco Base Sport Utility
2023 Ford Bronco Big Bend Sport Utility
2023 Ford Bronco Black Diamond Sport Utility
2023 Ford Bronco Everglades Sport Utility
2023 Ford Bronco Heritage Edition Sport Utility
2023 Ford Bronco Outer Banks Sport Utility
2023 Ford Bronco Raptor Sport Utility
2023 Ford Bronco Wildtrak Sport Utility
2022 Ford Bronco Badlands Sport Utility
2022 Ford Bronco Base Sport Utility
2022 Ford Bronco Big Bend Sport Utility
2022 Ford Bronco Black Diamond Sport Utility
2022 Ford Bronco Everglades Sport Utility
2022 Ford Bronco Outer Banks Sport Utility
2022 Ford Bronco Raptor Sport Utility
2022 Ford Bronco Wildtrak Sport Utility
2021 Ford Bronco Badlands Sport Utility
2021 Ford Bronco Base Sport Utility
2021 Ford Bronco Big Bend Sport Utility
2021 Ford Bronco Black Diamond Sport Utility
2021 Ford Bronco First Edition Sport Utility
2021 Ford Bronco Outer Banks Sport Utility
2021 Ford Bronco Wildtrak Sport Utility